Baggage insurance is not so obviously necessary.a thing like regular travel insurance, but it can be useful, because losing a baggage is a rather unpleasant thing and at least some compensation can brighten up the situation. Usually insure luggage if you fly on an airplane, but you can insure and using another type of transport, it's just less common.
First of all, I recommend reading my main post about travel insurance, learn a lot of new things, and also be able to choose the main insurance, it is much more important than insurance of baggage.
The content of the article
Baggage insurance
Why do you need luggage insurance?
Sure to look My main post about insurancewhere I told how to properly useinsurance, how to choose it, wrote about all the necessary and unnecessary options. Plus I made a rating after analyzing a huge amount of reviews and my personal experience (plus I have insights sometimes). I try to update it promptly so that you can always choose more worker insurance.
In the case of air travel, responsibility for yourluggage is carried by the airline carrier. And she is obliged to pay compensation for each kilogram of weight in accordance with the Warsaw Convention in case of loss or damage of baggage. But the maximum payout amount is quite small.
When buying insurance for baggage receivedThe amount may be significantly higher. Of course, the airline will still pay compensation, and its insurance amount will be deducted from its insurance payment, but it will turn out to be more profitable as a result. On the other hand, if you don't carry less valuable items in your luggage, then it is possible that the airline's compensation will suit you, because shorts and T-shirts are almost everywhere cheap and you can generally lose them. However, if the baggage obviously has value (I, for example, have a tripod there, charging for different devices, expensive shoes), then it makes sense to make baggage insurance in an insurance company.
Thus, having baggage insurance, if you losethereof, you will receive less real compensation. By the way, you can also insure a delay in baggage, because it happens that luggage is lost, but it is found after a day, and this day must somehow be twisted out by buying hygiene items and at least some clothes.
Where can I buy
In fact, you have only 3 options.
one. Baggage insurance is most often bought as an additional option to the usual travel insurance. That is, they chose the basic insurance and added an option for luggage. The case is voluntary. The cost is quite small, and often the option is already included in the insurance by default. How to check and add? Come to my beloved service Cherehapa, put a tick, choose the insured amount for baggage and see the filtered results. You can also tick "baggage delay". Instructions on how to use the service.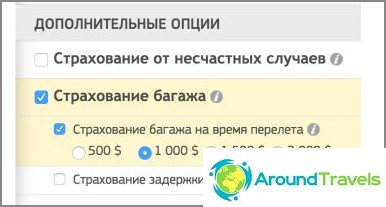 2 Probably the most unpopular option is buying a separate luggage insurance. You can do this, as in some specific insurance companies, and again at Cherehapa. Specify all the parameters (country, date) and then tick the "Baggage insurance" checkbox, and tick the "Medical insurance" box. True, the filtered results will be quite a bit, since very few people offer such insurance as a separate product.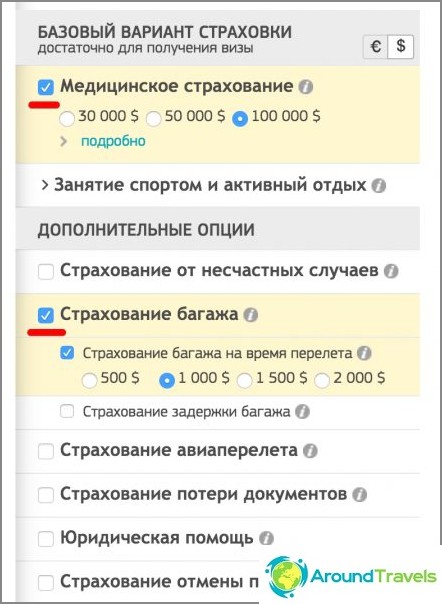 3 During the purchase of a ticket, almost all online agencies that sell you a ticket will also be intrusive to offer you to buy luggage insurance (as well as other options). Remember, you do not need to buy baggage insurance a second time if it is already included in your main travel insurance. And I really do not recommend buying the main tour insurance from these agencies, they will not offer a good one.
Insurance terms and conditions
Luggage is considered lost if it is not found infor a certain number of days. Usually found during the first day and may even bring to the hotel. If the baggage is not found in the end, then an insured event occurs. Insurance companies usually consider such cases for quite a long time, so first you may be compensated by the airline after it acknowledges that the baggage was indeed lost to it. Again, the insurance will deduct from its payment the amount already paid by the airline.
When purchasing luggage insurance, as an extraoptions, you can sometimes choose the cost (estimated) of your luggage. The insured amount ranges from 500 to 2500 dollars / euro. This is the maximum amount in case of total loss, in the case of baggage damage, compensation will be paid only for damaged items, and here it also depends on how much you can prove the damage.
Sometimes luggage insurance is already included yourTourist health insurance by default, if it is good and not the most budgetary insurance. Need to look for specific insurance programs. Other options may also be included.
Holders of some bank cards (usuallypremium cards or credit cards have their annual travel insurance limit on the number of days or trips. And this insurance may also include baggage insurance. Learn specifics from your bank that issued the card. But usually only loss of baggage is insured, delayed baggage claim is not insured. And, for example, in order to start operating insurance on the Avangard bank card, you must either initially pay for the ticket with their card, or buy something in a duty free at the airport of departure, and this is important just in the case of baggage.
Some nuances.
If baggage insurance is an option to the maininsurance, you need to know this. The action of baggage insurance starts from the moment you check in at the airport, so this calendar day (day of departure) must also be included in your main insurance. Just some save on one day, buying insurance from the next day after the day of departure. In this case, do not do this. The same is true of returning home - the travel insurance policy ends at 12 at night on the day the contract ends, so if the departure is delayed or the plane is late, the insurance may end. Therefore, it makes sense to buy insurance for one day longer than the trip.
In a standard baggage insurance contract, usuallycompensation is provided for loss or damage during transport or as a result of sudden force majeure: natural disasters, fire, robbery, robbery, road accident, terrorist attack, strikes and military actions. Insurance is not paid in case of damage by rodents or the fault of the passenger, as well as in the case of confiscation of baggage.
It is possible to insure luggage as at the time of the flight.and for the entire duration of the journey, but only on condition that it is stored in the hotel, in the storage room. What you carry with you is not compensated for in case of damage or loss.
Some insurance companies use whenluggage insurance unconditional franchise. This is a fixed amount or percentage of the sum insured, which is not compensated. If the damage for you was less than this amount, then the compensation is not paid. For example, if the deductible is $ 15 and the damage is $ 10, then compensation is not paid. If the damage is greater than this amount, then you will receive cash compensation minus the deductible.
Separately, only luggage is insured rarely. If only it is not particularly valuable items such as antiques, but in this case they constitute a separate insurance contract and this is another topic that we will not touch on now.
Airline reimbursement (airport insurance)
As I wrote, you can simply usereimbursement from the airline, in fact, also insurance. But the amount will be small, in accordance with the company's standard rates for 1 kg of luggage. And no matter how valuable your baggage is, the airline has a maximum amount for payments, you will not be able to get more.
For example, Aeroflot is not responsible forslight damage to the baggage, and if the contents are damaged or lost, it pays $ 20 per 1 kg of weight. But this is ideal, because you will have to prove the value of things, and there everything depends on whether they agree with you.
There is another option. If you have something valuable in your luggage (for example, a quadcopter), you can check in your bag at the front desk as baggage with declared value. That is, you declare in advance the items contained in the baggage and write their cost in the inventory. But the airline usually takes an additional fee for valuable baggage, about 5-10% of the declared value, as well as at high cost, require checks. So buying a baggage insurance at an insurance company can again be cheaper. And given that this whole procedure with the processing of valuable baggage is quite long (you must arrive in advance to have time to declare the baggage), then again it is easier to buy insurance, this is done in 2 clicks.
Insurance case with baggage
What to do
In case of loss or damage of baggage, the first thingyou need to do - at the Lost and Found counter, draw up a PIR act (property irregularity report) Without a PIR number, it will not be possible to receive compensation later. After drawing up the act, you must be given a written confirmation and registration number.
Save your air ticket, boarding pass, baggage check. The entire list of documents required for obtaining material compensation should be obtained from the representative of the airline.
Immediately contact your insurance and receive instructions from asistents. When calling, you must provide the name, number of the policy, the place where the insured event occurred.
In the Lost and Found service, you need to write a statement aboutloss or damage, with inventory of things. If your baggage is lost or damaged, you should make a statement about this no more than 24 hours after the incident. First, a protocol is drawn up with airport employees to record the fact of the incident.
The representative of the carrier must make an actloss or damage. If he refuses to do this, you need to take a written refusal from him. After arriving back home in the office of the insurance company, you must provide a protocol and other documents.
How to get an insurance payment
By completing the steps above, collecting alldocuments, you must also write to the airline claim letter describing the circumstances of the incident, your requirements. If this is damage to the baggage, then indicate what exactly was spoiled and how much. If you have lost your baggage, attach checks for essential goods that you bought immediately after your baggage was lost (if this happened at the beginning of your trip). Send all documents for consideration within a certain period.
In the insurance within 30 days after returnyou need to write a statement and attach all the documents - the act of missing or damaged baggage, baggage receipts and documents about receiving compensation from the airline. If she was. Usually within two weeks after submitting an application to the insurance, she pays compensation.
P.S. Himself pah-pah-pah luggage has not yet lost, but my friends lost. True, the suitcase was found within a few hours and therefore there were no insurance claims. Therefore, I will be glad if someone shares his experience regarding refunds.
Life hacking 1 - how to buy a good insurance

Choosing insurance is now unrealistically difficult, so to help all travelers, I compile a rating. To do this, I constantly monitor forums, study insurance contracts and use insurance by myself.

Life hacking 2 - how to find a hotel 20% cheaper

First, choose a hotel on Booking. They have a good offer base, but the prices are NOT the best! The same hotel can often be found 20% cheaper in other systems through the RoomGuru service.

Discount hotels