In Kiev is not possible not to fall in love at first sight. This is an amazing city that can be re-opened every time, and you don't know it to the end, because there will always be some secluded corner where there is still a lot of interesting things left.
The left bank of Kiev is given to two largeresidential areas and industrial zone, which fell into decay along with the decline of the Union. But it was on the Left Bank that the Khrushchev Courtyards, planted with lilac bushes, were preserved, with benches in front of each porch, where discordant boyish voices loudly at night when the guitars jingle. It is here that the linens are still hung out on the street, and the omnipresent Anna Nikolaevna know everything about everyone and sitting on the benches "look after" the third generation of children.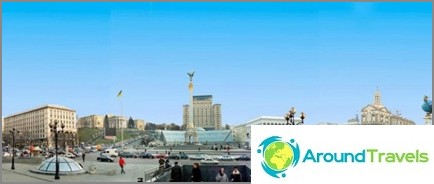 Here the property is not too expensive, althoughyou still overpay for a house, standing from the 60th year without repair, even if you buy an apartment in perfect condition. But to rent an apartment in Kiev in the area of ​​Old Darnitsa is very profitable - it costs a bit less than in a panel house, although in terms of comfort it is not much inferior to it.
Kiev hotels located on the Left Bank -few in number. This is, first of all, "Bratislava", which is conveniently located near the metro station, so many visitors stop here to spend the night, and in the morning they can easily go about their business. And "Slapvutich", standing on the Dnieper embankment. The hotels were built in Soviet times, therefore they are distinguished by enviable monumentalism, something resembling a beehive. Recently, hotels have been rebuilt, but basically these modifications have not radically changed these hotels.
The right bank of Kiev is his heart. It is here that there are those places that are referred to in the ancient legend of the city and which once saw the famous princes of the past, Yaroslav the Wise, Vladimir the Red Sun, Monomakh. It is from these slopes that the Orthodox faith originates.
Naturally, for such a "zest" haspay extra, so rent an apartment in these places can be very wealthy people, because in both old and new houses there are apartments that you will not find in many hotels.
In general, one way or another, Kiev will find you a place to spend the night, but maybe you will not need it, because night Kiev is very different from daytime, and you also need to get to know it!
Life hacking 1 - how to buy a good insurance

Choosing insurance is now unrealistically difficult, so to help all travelers, I compile a rating. To do this, I constantly monitor forums, study insurance contracts and use insurance by myself.

Life hacking 2 - how to find a hotel 20% cheaper

First, choose a hotel on Booking. They have a good offer base, but the prices are NOT the best! The same hotel can often be found 20% cheaper in other systems through the RoomGuru service.

Discount hotels