Krabi Airport in Thailand is quite small. It consists of two terminals (1 and 2) interconnected by a bridge. To get from one terminal to another you just need to follow the signs and it will take you 5 minutes to move. That is, even if your flight is from another terminal, you don't need to run headlong, everything is close by, and the terminals are small.
The content of the article
Krabi Airport
How to fly to Krabi
Krabi is not a resort where you can fly fromMoscow direct flight. Yes, one time there were flying charters, but now they are not. Unfortunately, there are no regular direct flights. Only with transfer in Bangkok or in some Guangzhou. Alternatively, fly to Phuket or Bangkok and from there, familiar to all of AirAsia, already fly to Krabi.
Tickets I always look in two search engines: Aviasales.ru and Skyscanner.ru. I will not say that I see the difference in price, they give out about the same thing, but in one it is convenient for me to watch one, in the other another. Below you can check out Krabi tickets.
Online display of the departure and arrival in Krabi
Below is an online scoreboard with arrivals anddeparting flights. Information on the board is displayed in real time and you can always see which flight is expected, which one is delayed and so on.
Airport Description
English name Krabi Airport, airport code KBV.
I have been to the airport several times, but neverunderstood how the terminals are divided. It seems that the 2nd terminal is sharpened by Airasia and Nokair, that for departure, that for arrival. At least we had a departure from the second terminal and I met those who arrived in it.
At Crab Airport there are ATMs, severalcoffee shops and several shops (1st terminal). Opposite each terminal is a large parking lot. There is nothing else around. Actually, nothing is expected, it's a small local airport.
If you flew to Krabi and are looking for where to stay, I remind you that we have personally collected me catalog of houses in Krabiwhere more than 70 houses with a map and photo. Housing the same for a short period, while you are looking for a house, you can forget it through RoomGuruThis is the most convenient service.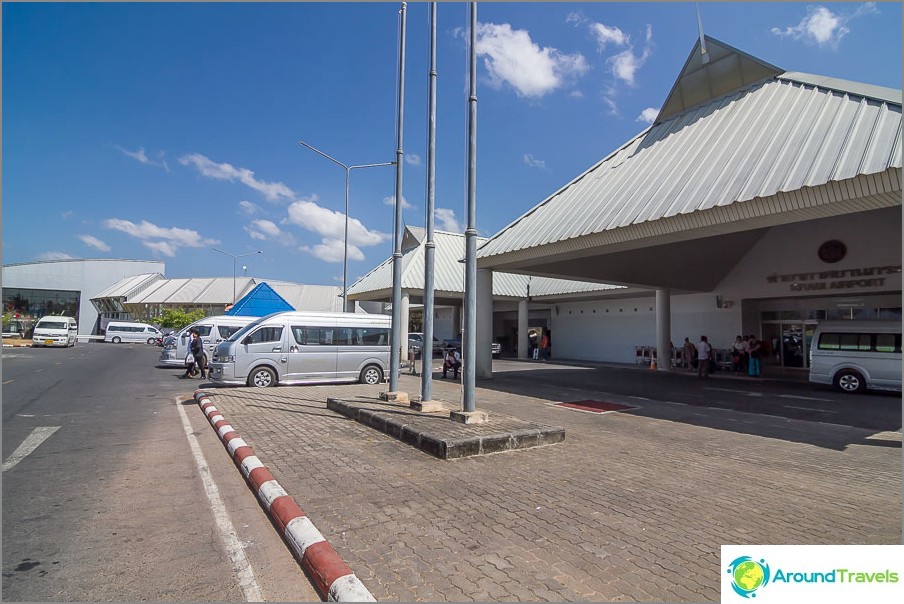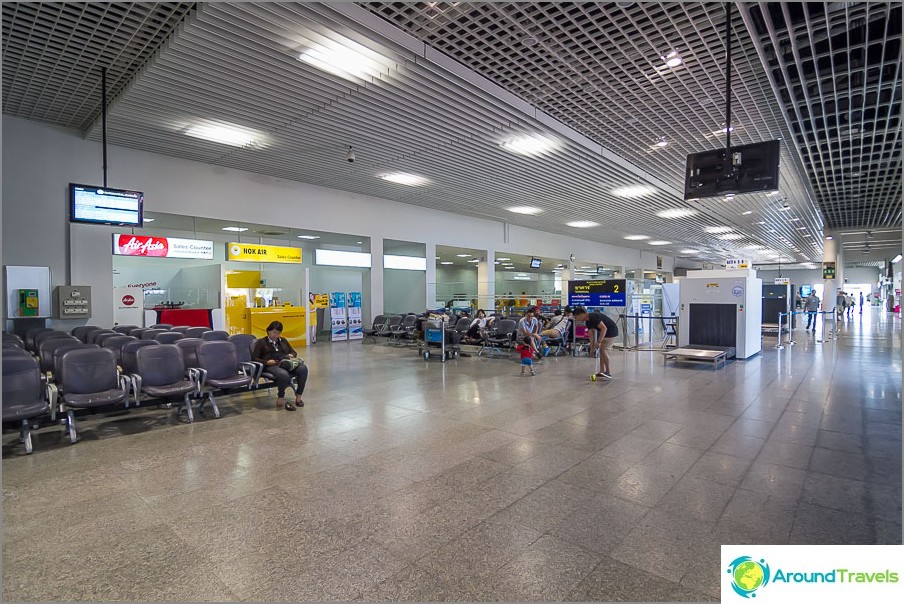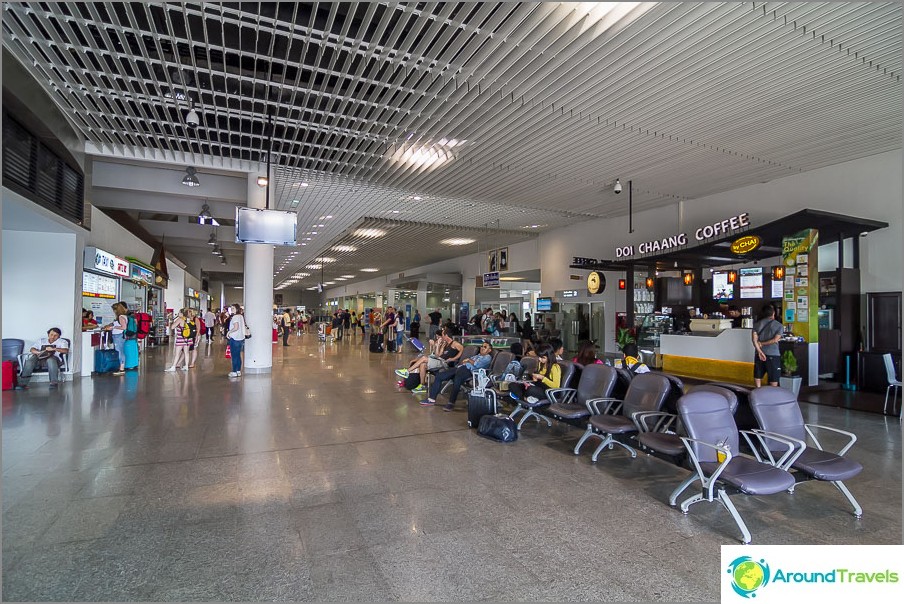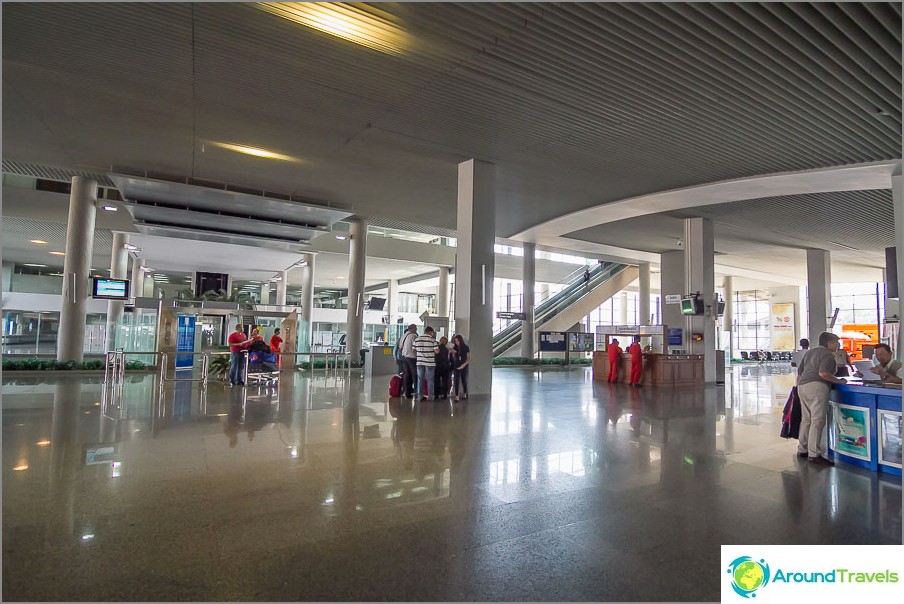 How to get to Aonang and Krabi Town
Bus
There are regular buses from the airport. Their schedule is tailored to the flights. The plane arrived and immediately the bus filed. Moreover, it is possible to leave on it, that from the 2nd terminal (it starts from here), that from the 1st (it calls in here). However, if you are traveling from the 1st terminal, then you just have to go to the ticket sales counter and say about yourself, then they will ask the bus to go to the 1st terminal on the radio. I was exactly like that. I bought a ticket for the bus and the airport employee led me to the place of the stop, said something to the walkie-talkie, waited with me for the bus and put it into it.
The cost of the bus to Aonang is 150 baht, to Krabi town 80 baht. The journey takes about an hour. You can also read how from Aonang to the airport.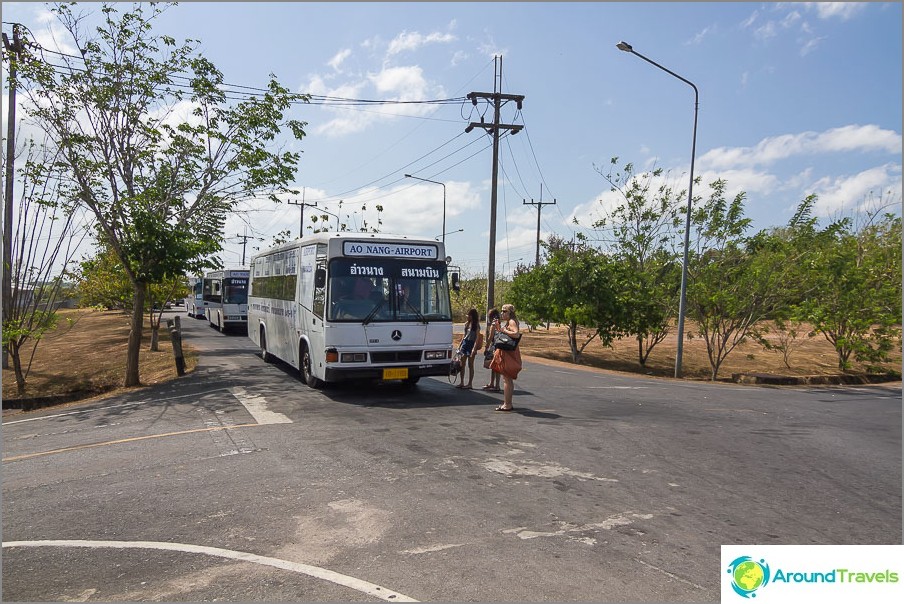 Taxi
In addition to the bus there is a taxi, which you can takein some moment. It is more expensive than the bus, but it is a taxi. In addition, if you have a few people, then a taxi will come out as much for the price as the bus. You can also take a taxi not only to Krabi town and Ao Nang, but also to Phuket, Surat Thani and other places in Krabi province. To Phuket a very short distance, by the way, to go about 2.5 hours by car. And there is a taxi at any time, and the bus is only on schedule.
The cost of a taxi to Aonang from 600-1050 baht per car.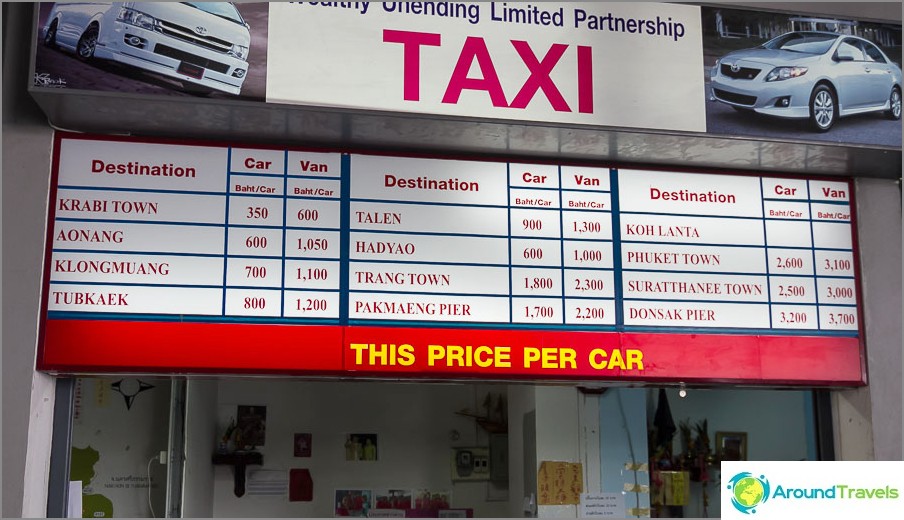 Internet transfer
Anyone who wants at least a minimum of body movements canOrder the transfer in Kiwitaxi via the Internet in advance. You will be met in the arrival hall, you will take luggage, put you in a car and take you to the right place. The method is good because there are no problems at all, and the price will be almost the same as that of a regular taxi on the spot. See for yourself what is more convenient for you, I prefer to do as much as possible through the Internet.
Transfer to hotel in Ao Nang>
I have traveled through this company many times. For example, here is my review. how Kiwitaxi works in Phuket. Yes, another resort, but the meaning is the same.
By the way, I'll say right away, don't take a transfer from the hotelthey lomyat for this price in 1500 baht. It is not clear why this is so, I have already lost my mind once. Cheaper and more convenient, either through the Internet, or right on the spot at the airport.
Car rental
Recently, I constantly take the car toThailand, as on arrival, and living somewhere. A car seems to me a much more convenient means of transportation than a bike or, especially, public transport. Yes, in Bangkok, a very cheap taxi is the subway, but in resorts with public transport it is not very good, so the car! Very convenient if with family and child. Very detailed about all the nuances car rental in thailand.
Racks of network distributors (Hertz, Avis, Sixt,Thai car) are in the 1st terminal. It was there that I returned the car to Hertz and took another from Avis. But if you arrive at the 2nd terminal, this is not a problem, they are very close to each other and are connected by a corridor. It is very convenient to take it right at the airport, flew in and drove off. In addition, in an international company, it is much less risky to take than private traders; there may be no insurance or technical inspection of any.
Car rental discount>
I usually book through Economybookings. On one site there will be offers from all international distributors, you don't have to go through sites one by one and compare prices. But the most important thing will be cheaper by 2 times. Most often I take from Hertz, for some reason it turns out.
Krabi Airport on the map
Krabi Airport
Krabi Airport
Airport in Krabi, here you can fly to AirAsia and Nokair at quite reasonable prices.
Read more.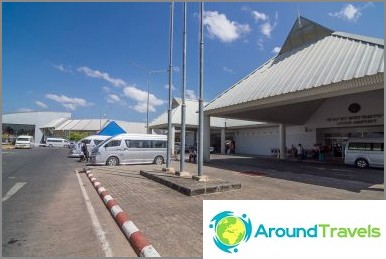 Airport in Krabi, here you can fly to AirAsia and Nokair at quite reasonable prices. In more detail.
Life hacking 1 - how to buy a good insurance

Choosing insurance is now unrealistically difficult, so to help all travelers, I compile a rating. To do this, I constantly monitor forums, study insurance contracts and use insurance by myself.

Life hacking 2 - how to find a hotel 20% cheaper

First, choose a hotel on Booking. They have a good offer base, but the prices are NOT the best! The same hotel can often be found 20% cheaper in other systems through the RoomGuru service.

Discount hotels