I was not going to write anything about the city of Krasnodar,but having walked around the bedroom area called Europei, I thought it made sense to tell about it. Suddenly, someone does not know. No, this is not a classic landmark, but in principle it can be. Still, Europe's visually looks quite unusual for Russia, and the closest thing I've seen was Krasnaya Polyana. A kind of zakos under Europe.
The post may be useful to those who are thinking about moving to Krasnodar and considering it as a place to live. And if you move, why not in "Europe"?
The content of the article
A little bit about Krasnodar
Many times already drove past Krasnodar and eventhrough, but never walked around the city. Therefore, this time I decided to stop by, especially if we are considering Sochi on the subject of wintering and generally buying apartments there, then why not see Krasnodar. Here, too, the winter is short and warm, and it's literally 2 hours by car to the sea and the mountains, and real estate prices, food and services are much lower than in Sochi. And on some issues, you still sometimes have to travel from Sochi to Krasnodar (all sorts of tests / examinations, Ikea, Auchan, etc.), so the option is not bad. Our friends have already lived alone in Krasnodar for a couple of years, others quite recently moved from Thailand.
On the other hand, I understand that it is not a fact that weit makes sense to particularly twitch from Moscow, since it is unlikely that we will find a place much better on the totality of the parameters we need. Therefore, I perceive my attempts to try on this or that city for relocation as a kind of hobby. I like to go somewhere and instead of seeing the sights, just live the usual life with going to the supermarket, to the dentist, with walks in the nearest squares and parks, or even to the sleeping areas. So it was in Krasnodar, my friends and I walked around some sleeping areas (East Kruglikovskaya, Yubileiny, Europe, etc.), instead of looking for sights. Yes, and the city is not a tourist at all, there's really nothing to watch, it's enough to stroll along the Red River and take a trip to Sunny Island.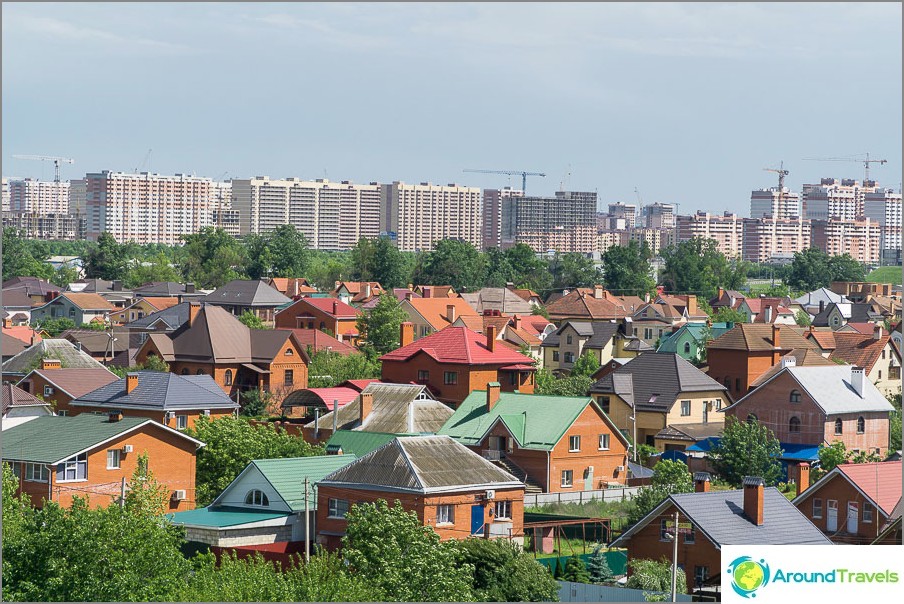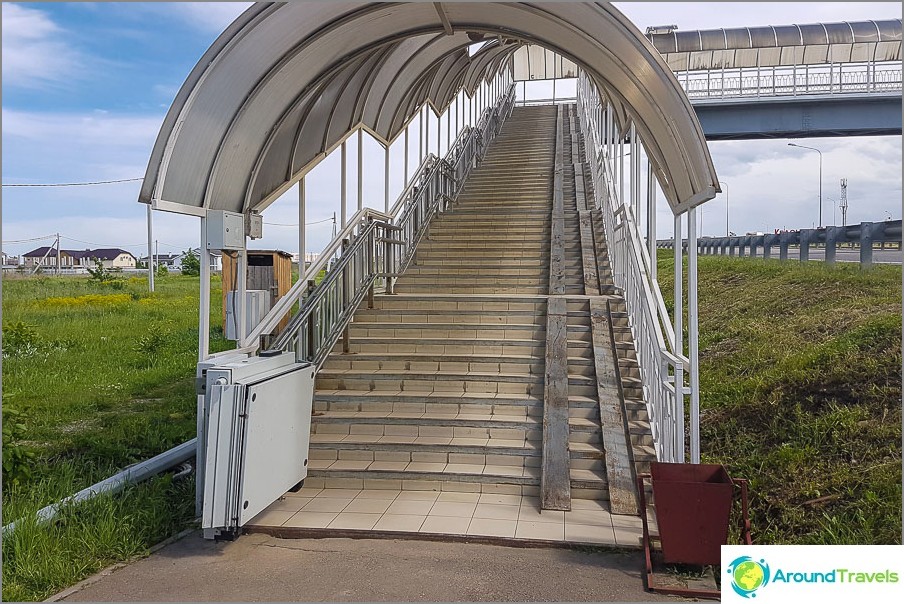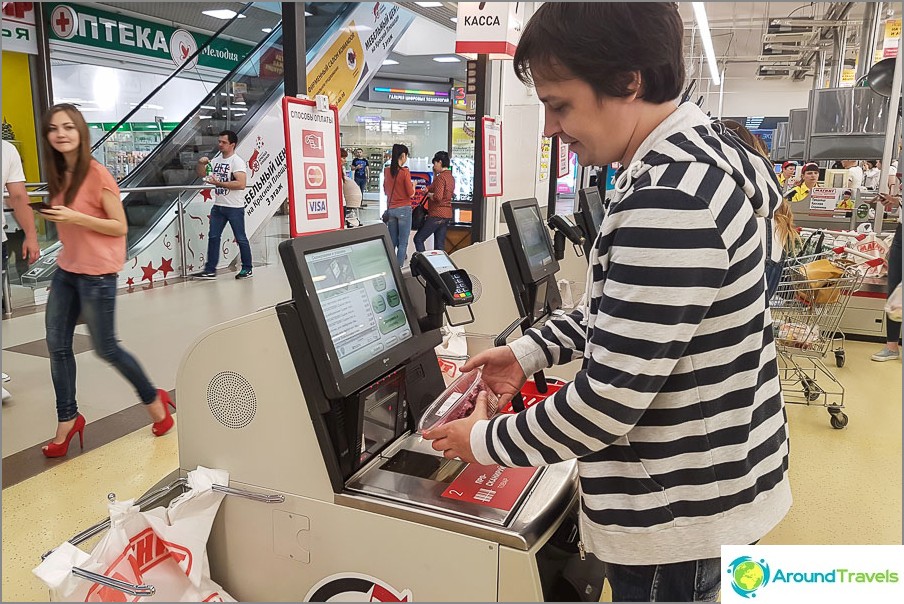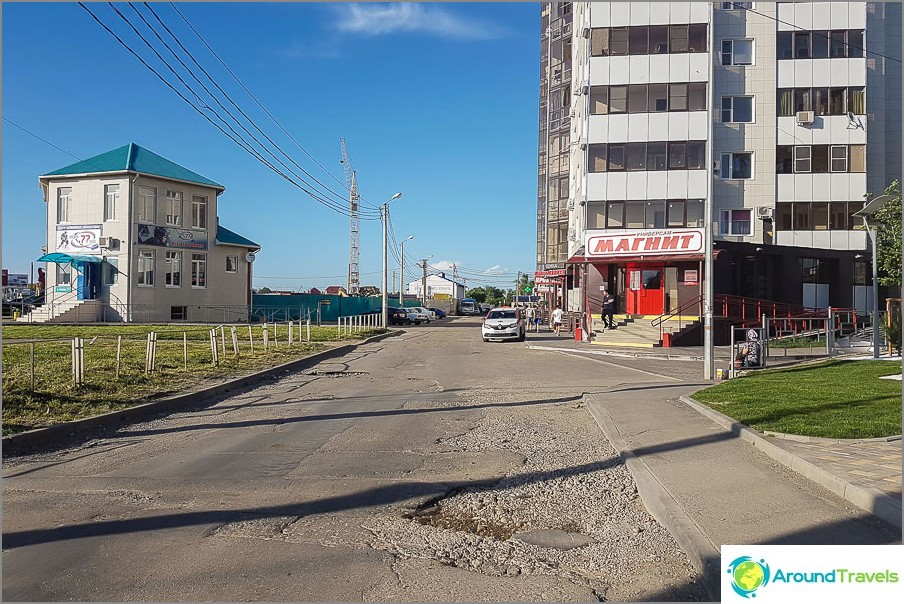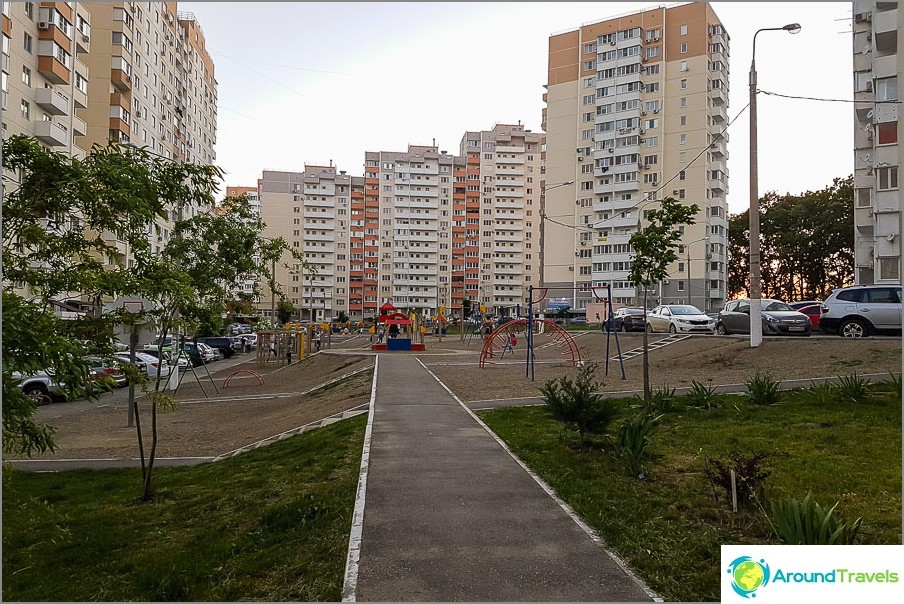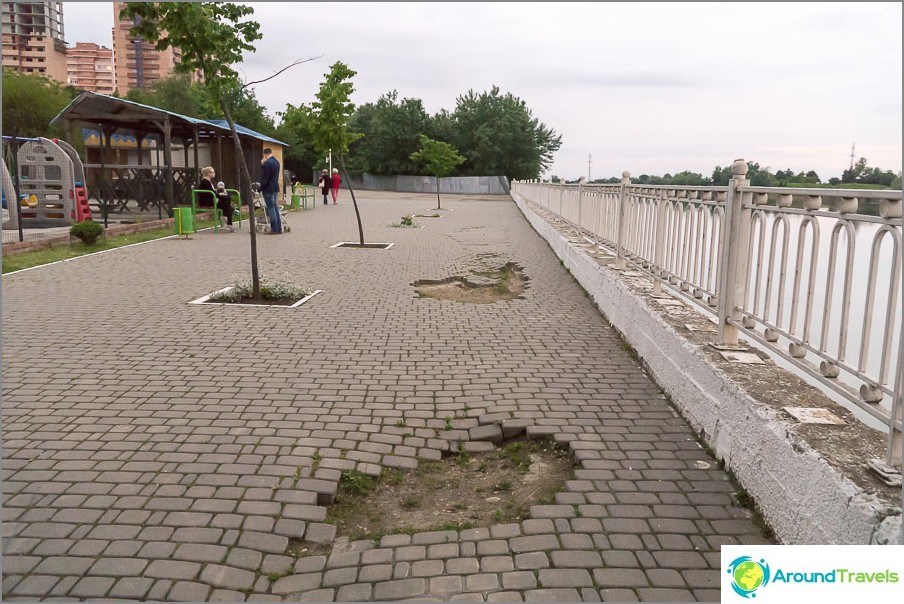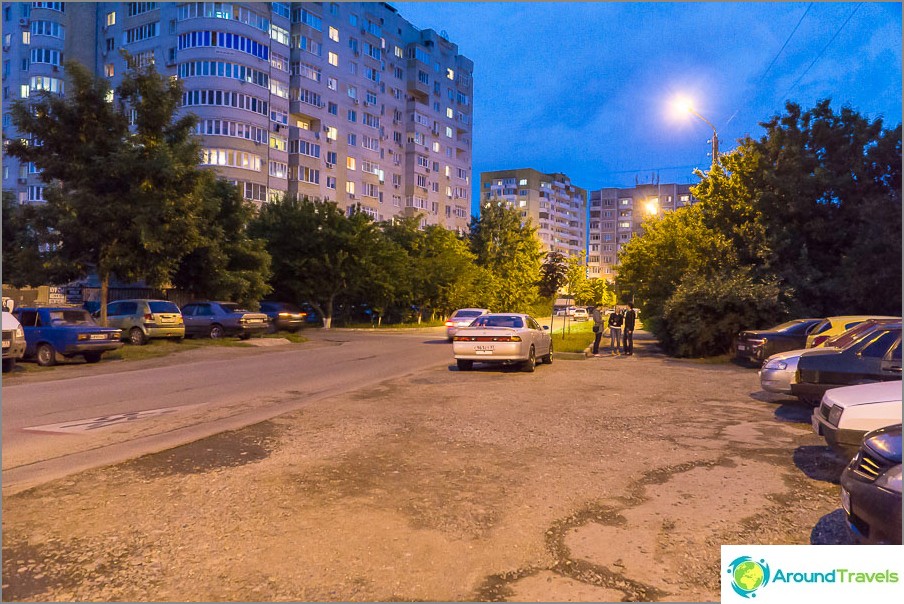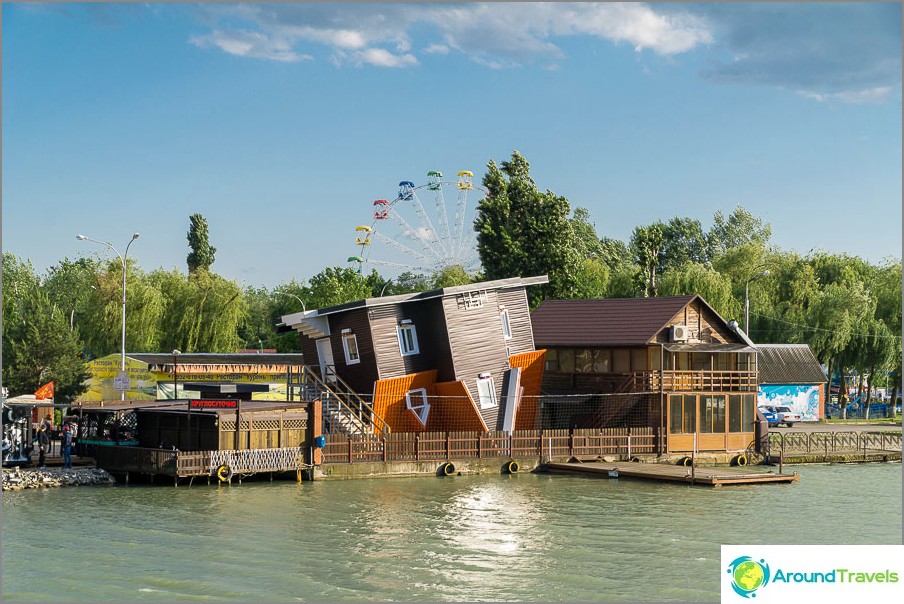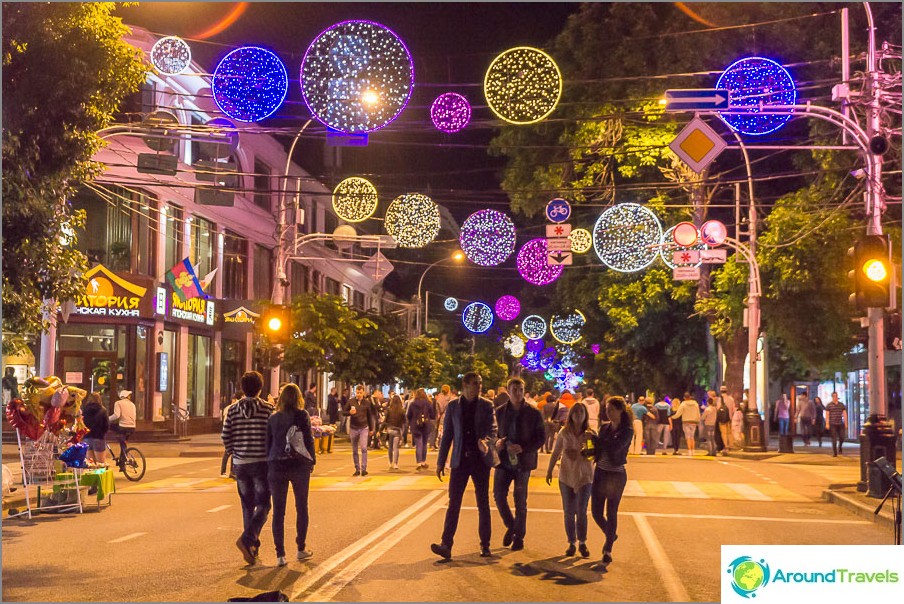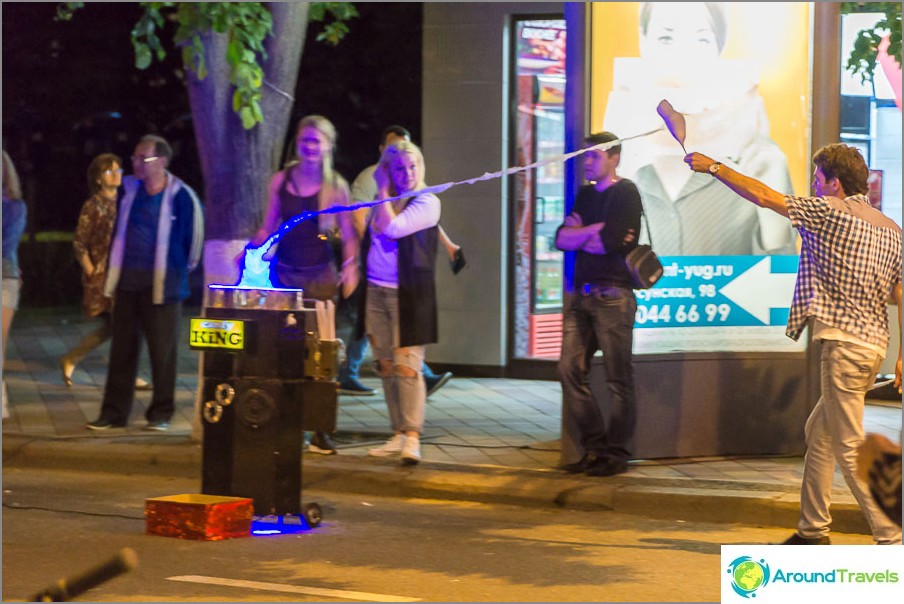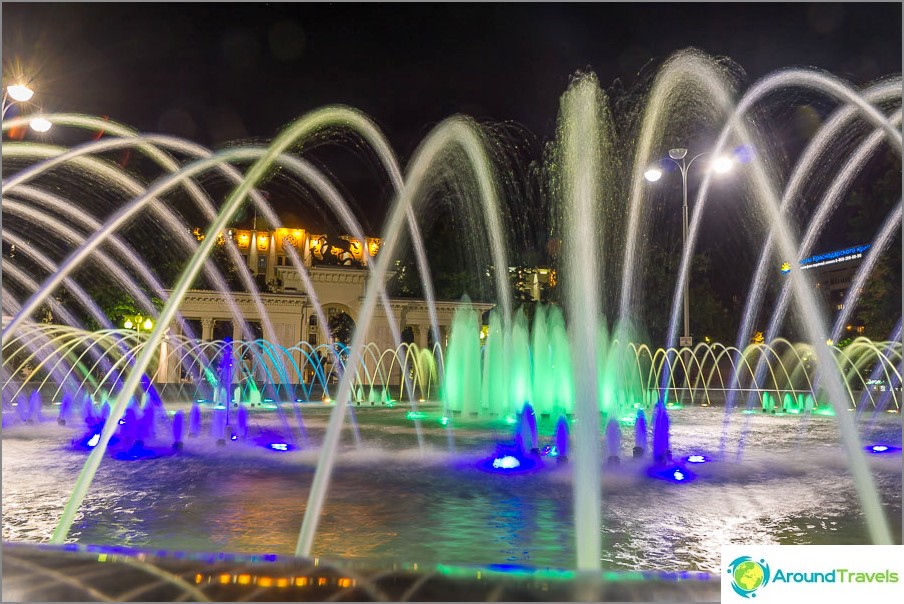 Most did not like the road in Krasnodar(although everything is relative) - narrow and often broken-down, and incomprehensible strange layout of the city. There was a feeling that there was no master plan, some chaos: the private sector, industrial zones with warehouses, residential high-rise blocks, fields, all mixed up. Although it may be historically so, but I just unusual. I have repeatedly seen how a multistory candle stands, and around the industrial zone, where to walk with a child and how to look at it from the window? Or there is a flat sleeping area for thousands of hectares without a breather, but the road leads to the single lane and the infrastructure clearly cannot serve it.
Europe district in Krasnodar
About Europe
I will not write in detail about the other bedroomsareas, I will tell only about Europe. Or rather show photos. Visually, I really liked it there. The territory is just gorgeous! Lawns, paths, playgrounds, there is a lake with a walking area and a cafe. And the most important thing is the low number of floors, which means there are no problems with parking, which is usually present in other areas of Krasnodar.
In reality, the whole project resembles Europeancity, cozy and cute. Maybe someone doesn't care, but our depressing gray buildings are depressing me, especially old and battered Khrushchev / brezhnevka. In conjunction with sub-broken sidewalks / roads and the absence of flower beds / lawns, such sleeping areas as Mordor look like. I know, someone will say, snickering, but people are just used to this, although it is not normal in my opinion. Houses in new areas are being built more prettier, but due to the high number of floors and small distances between the houses, it turns out to be some kind of gas chamber. I would live in a country house ...
LCD Europe consists of several zones: German village, Europe City, Portugal, Italy, France, Spain and Modegrad. We walked around Europe City and the German Village, both quarters are almost complete. The rest of micro-districts are in their infancy, with the exception of Portugal, there are already about a dozen ready-made three-story buildings. In total, the area of ​​all of Europe and it turns out huge, not to go for a walk. This is true for families with children, in general you can not go on a walk anywhere, and every time you look happy when you leave the house. It remains only to wait until they finish their megaproject. But even now one can fully feel all the delights of living there, if you buy an apartment in Europe City or the German Village, they are close to each other and their territory is enough for life.
Europe City
Europe City is 7-9-storey fun housescolors. They are relatively crowded, there are enough parking places, playgrounds too. At the moment, the territory is not fenced and I do not know if there are plans to fence it. You can buy an apartment, both in the newly built house and in the finished one. It is better to look at the prices on their website, I looked at odnushki (38 sq.m) for example and you can take ready for 1.6-2 million (depending on the floor and letter), or 1.4 million at the excavation stage. Probably, if we decided to buy, we would take here and ready.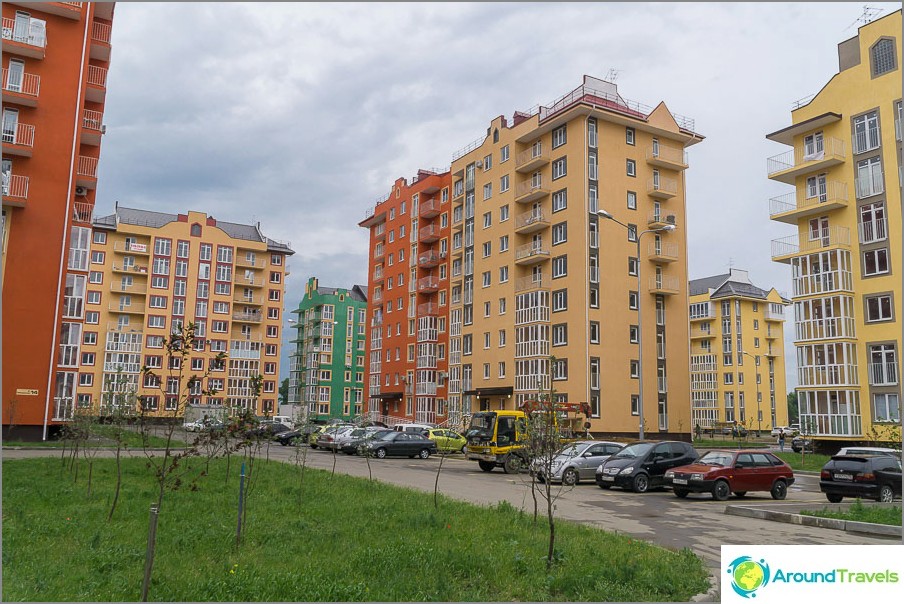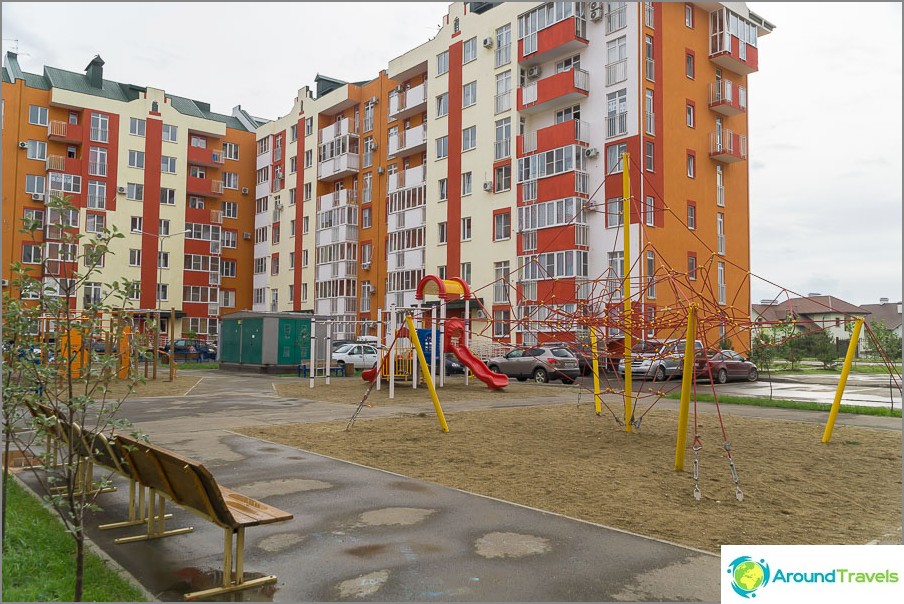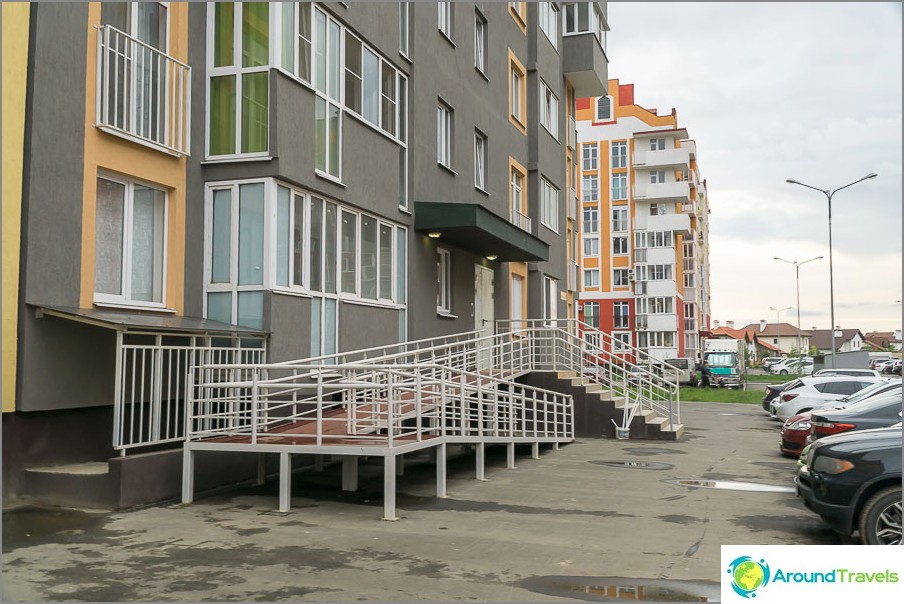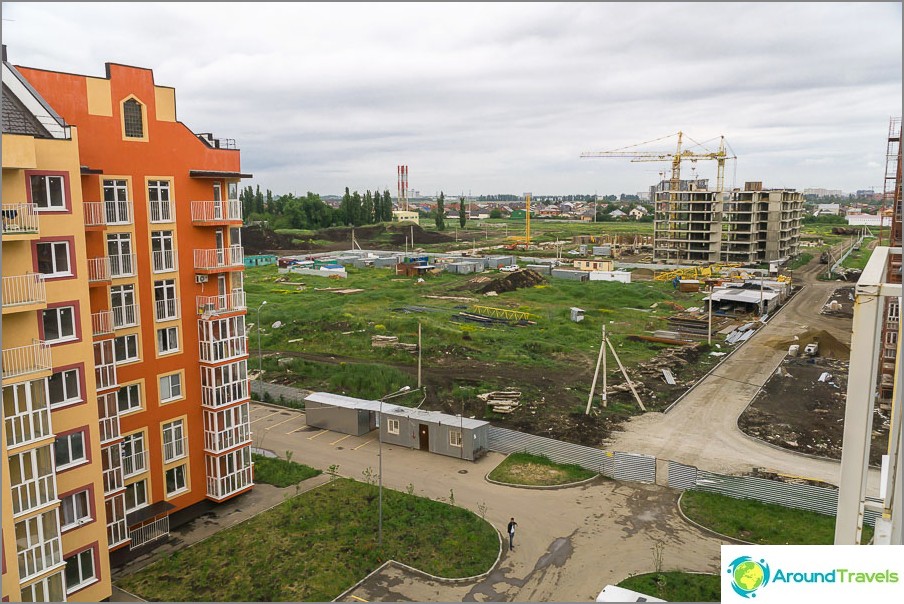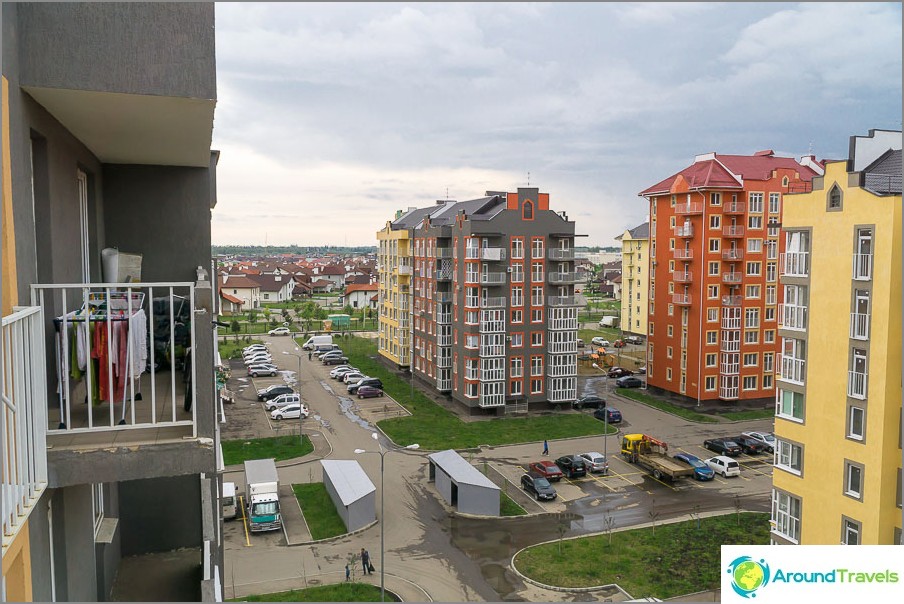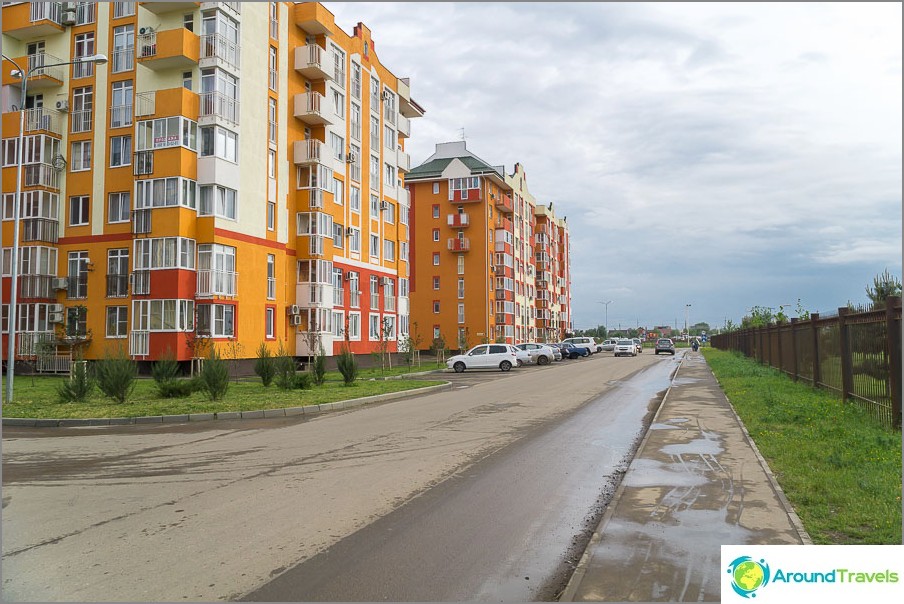 German village
The German village is the face of Europe, visitingcard. This is where the lake and recreation area is located around it. The territory of the village is fenced, but residents of the same Europe-City can come here without problems. The buildings are different: large cottages, 5-storey and 3-storey floors without an elevator (there are elevators in the buildings of Europe City), townhouses, and a central complex of twelve 6-storey floors, united under one roof and with a common underground parking. This sector is the most rebuilt and ready. Also here is a school and kindergarten.
I liked the idea with the townhouses, not verygreat price, and at the same time full of space for life. Townhouses are still under construction, you can buy. And the apartments are almost all sold out, as they were built among the first.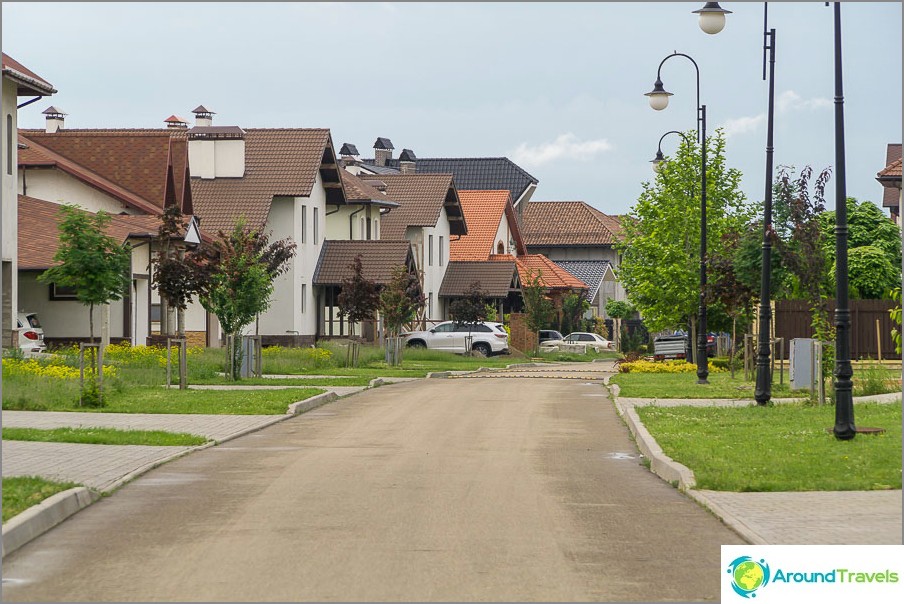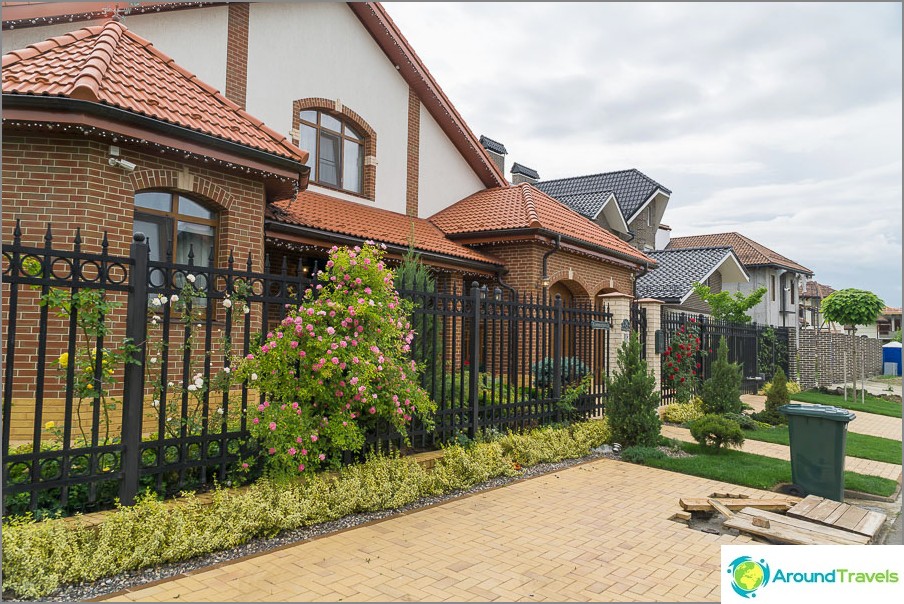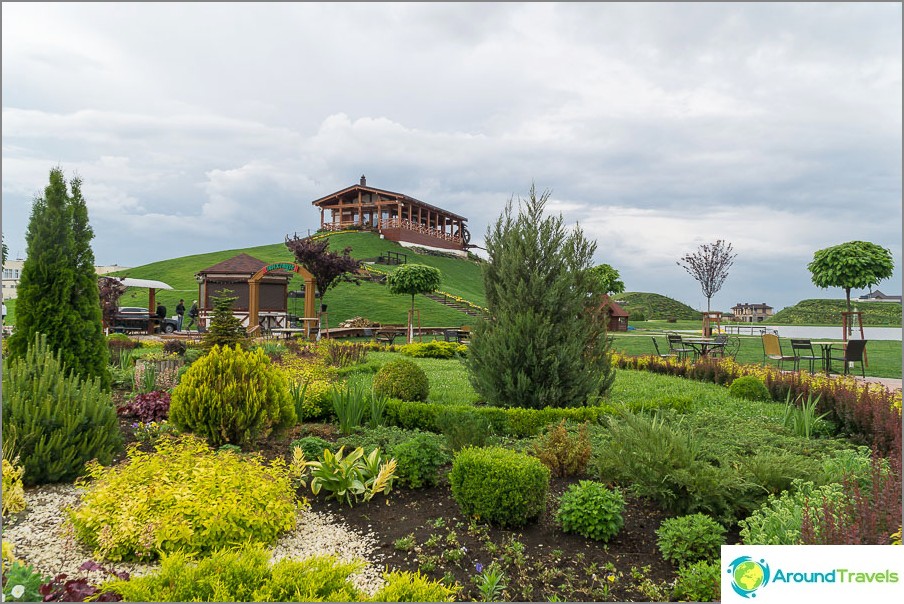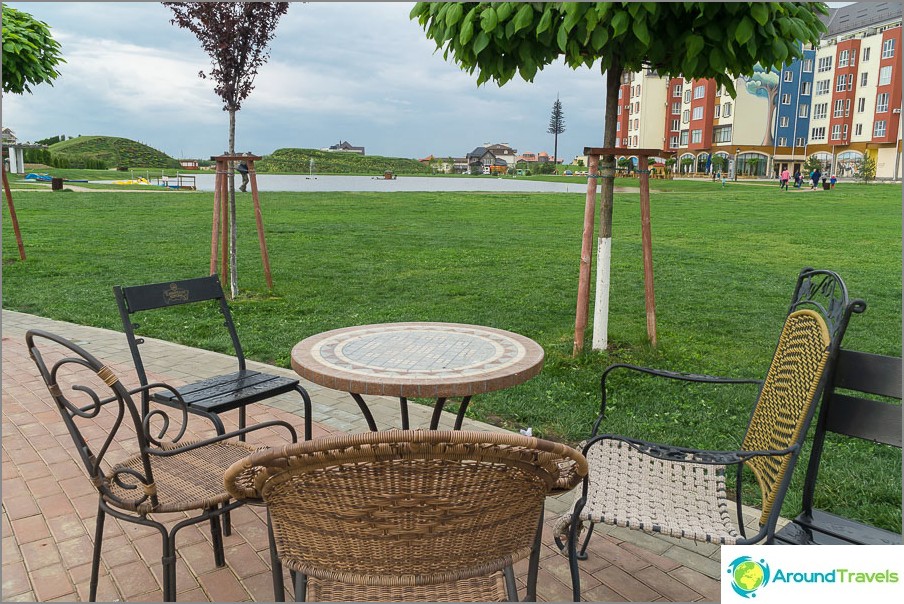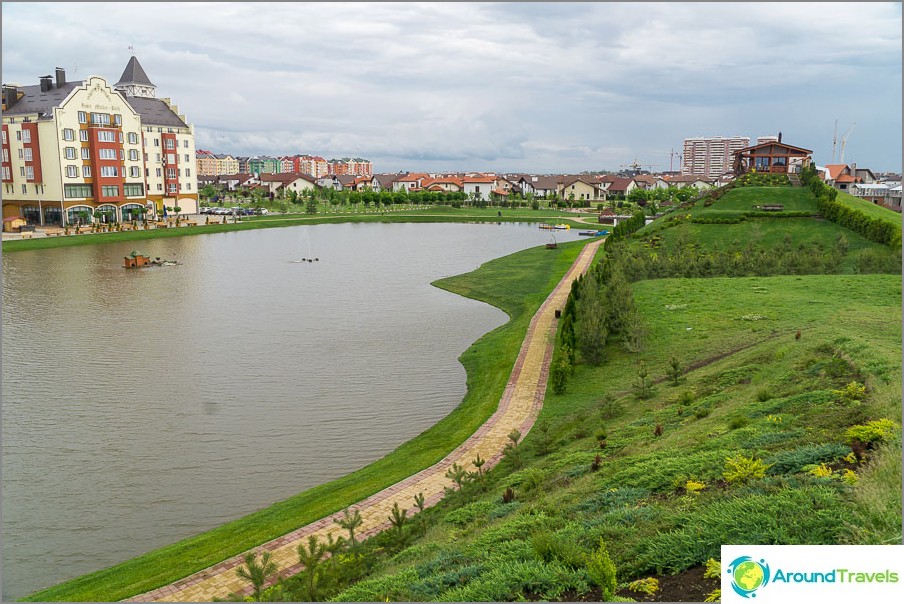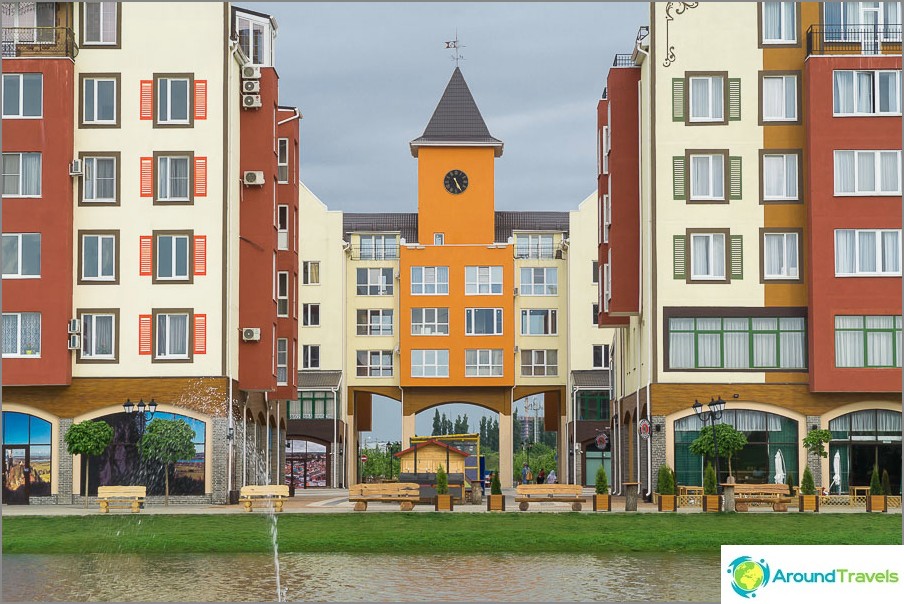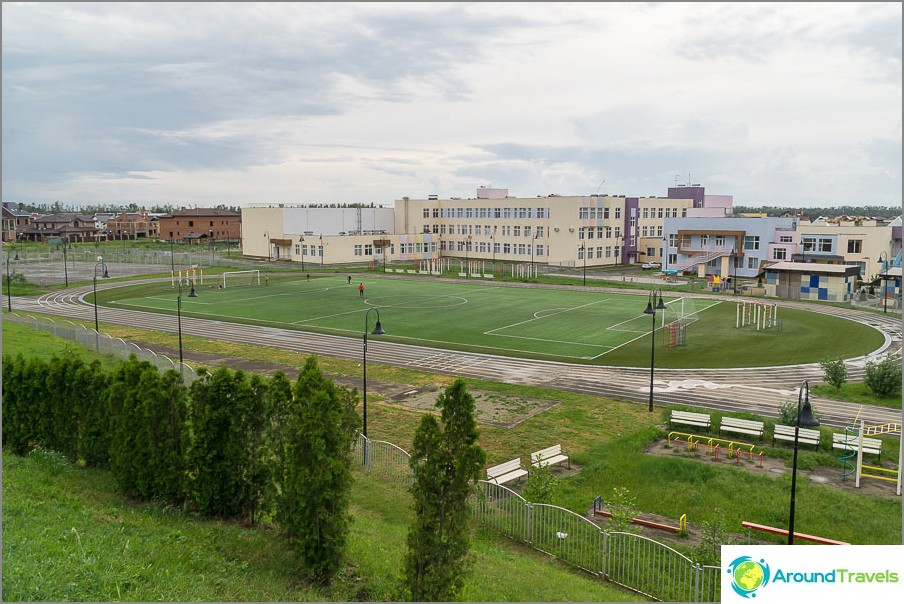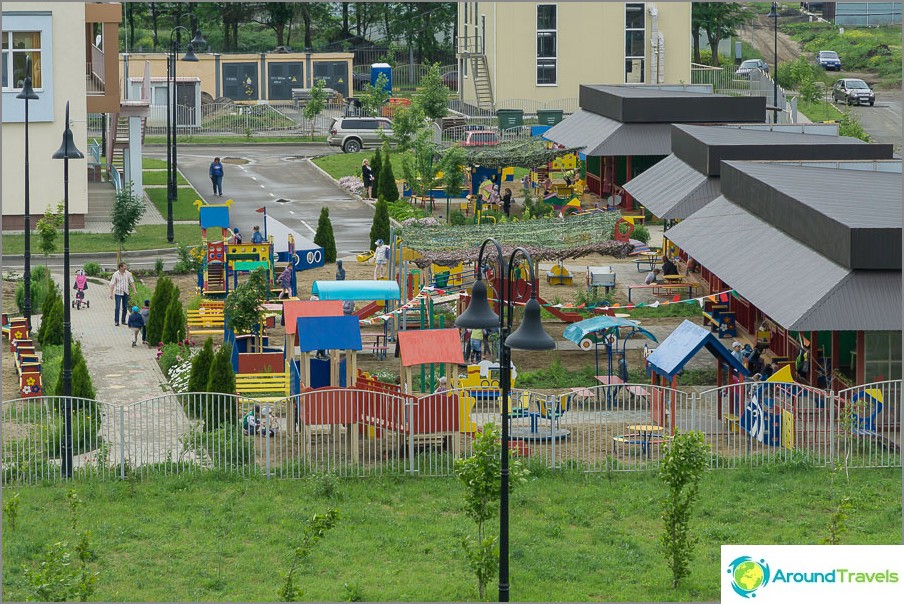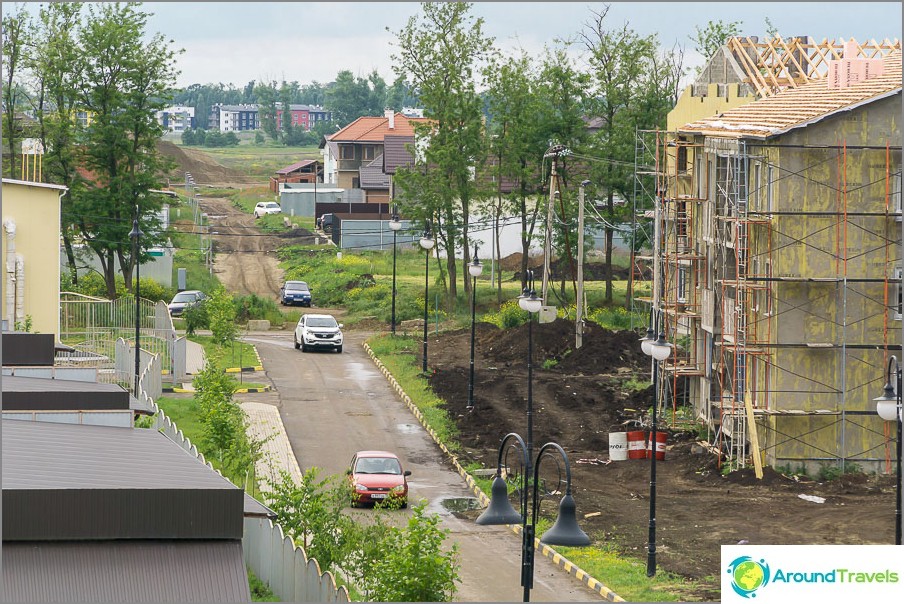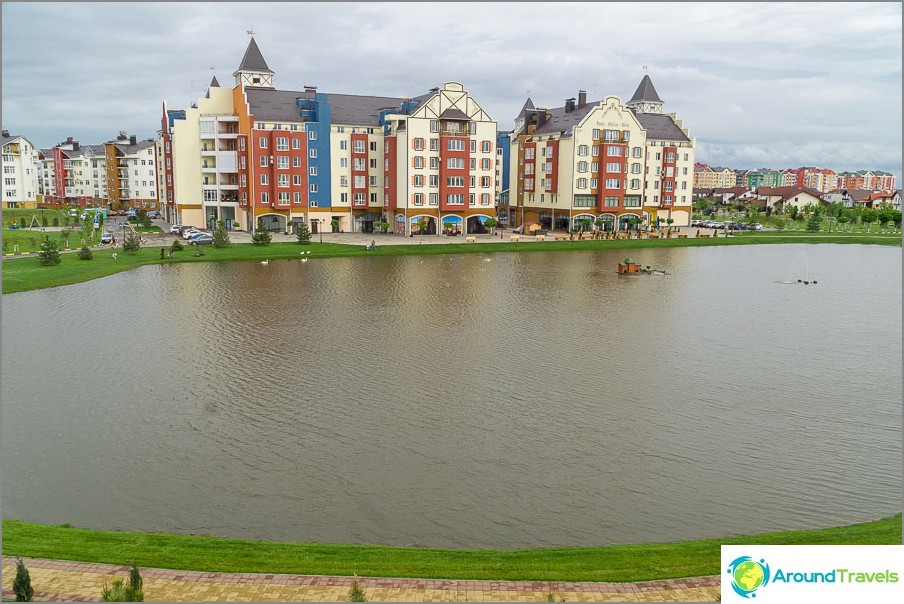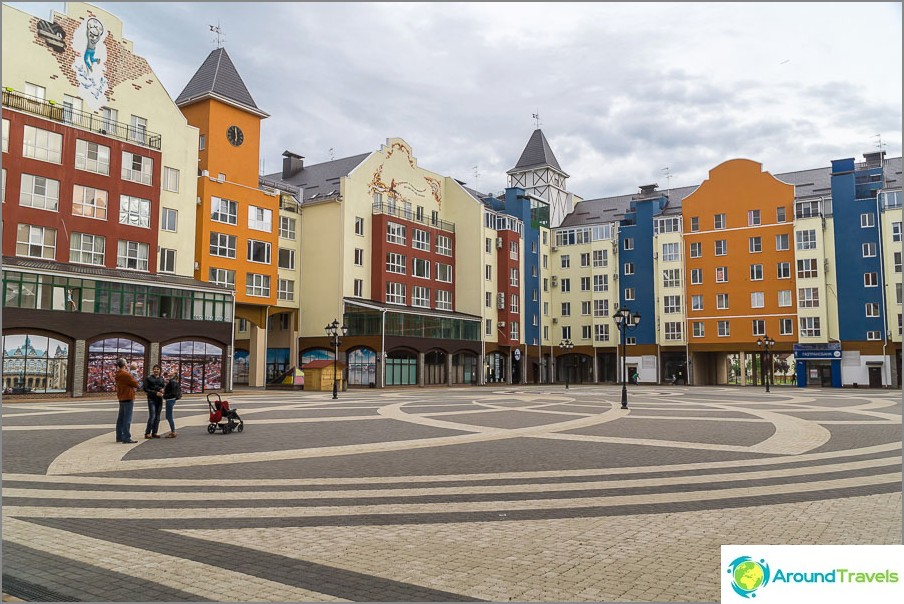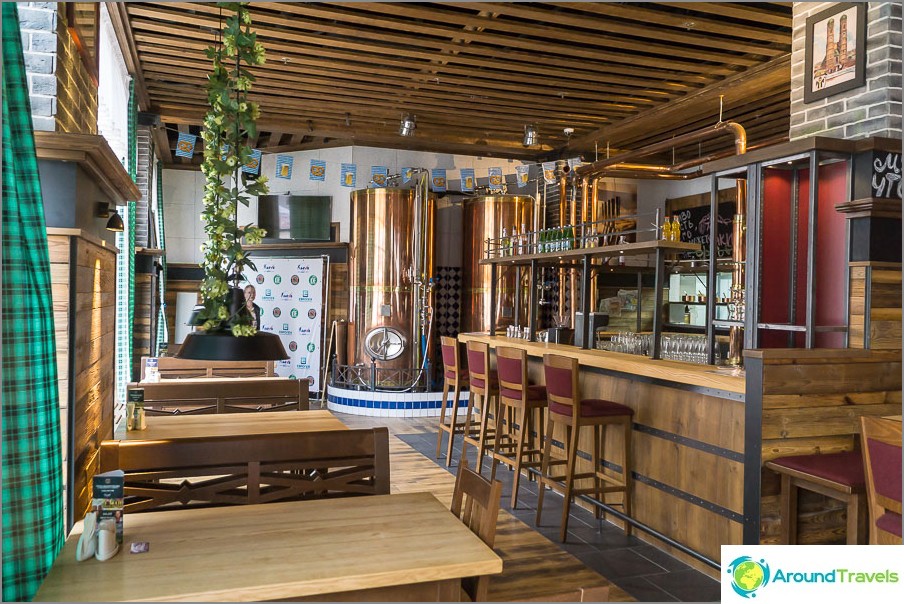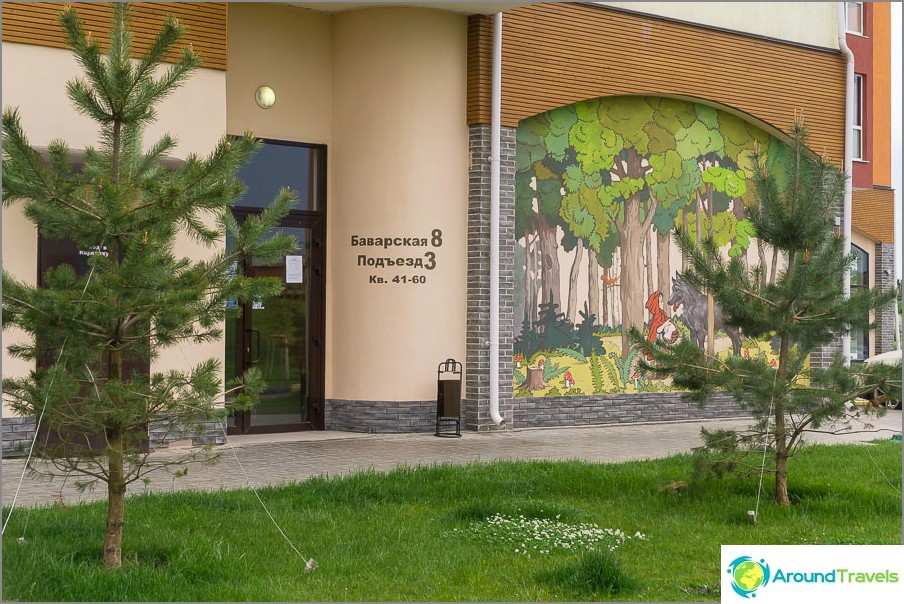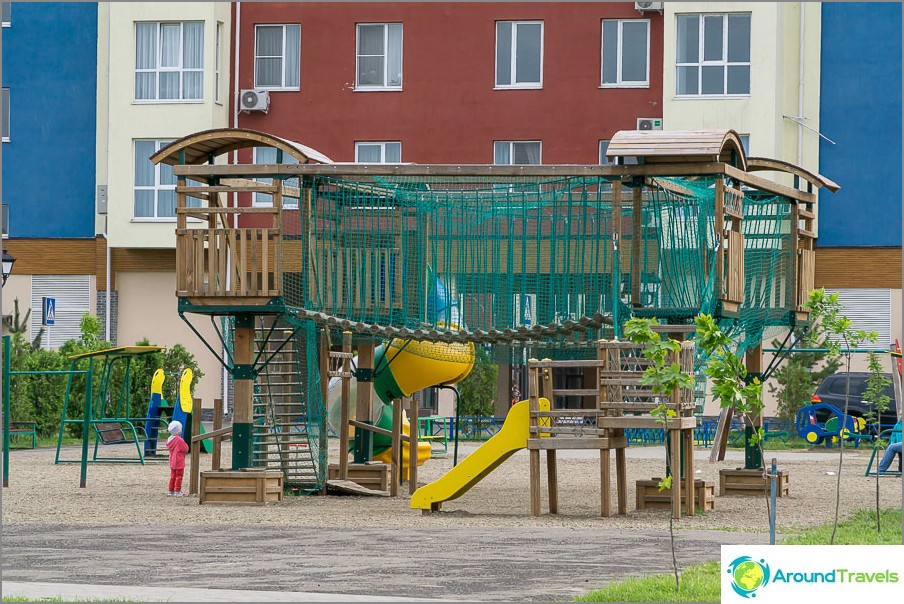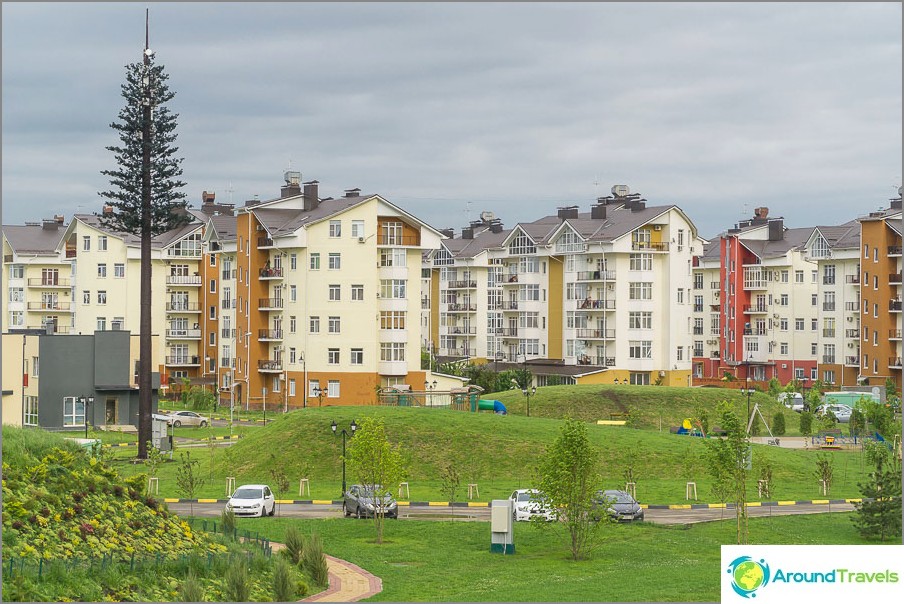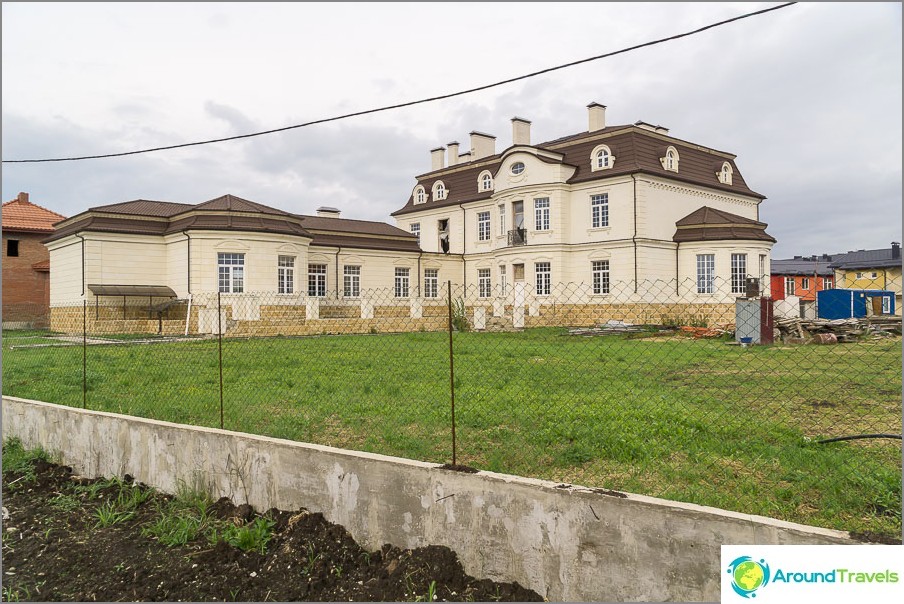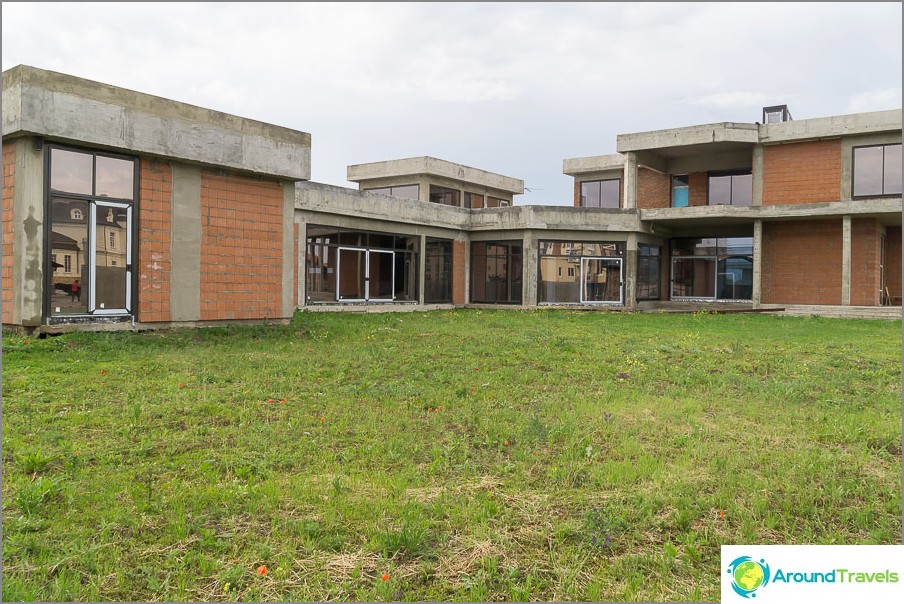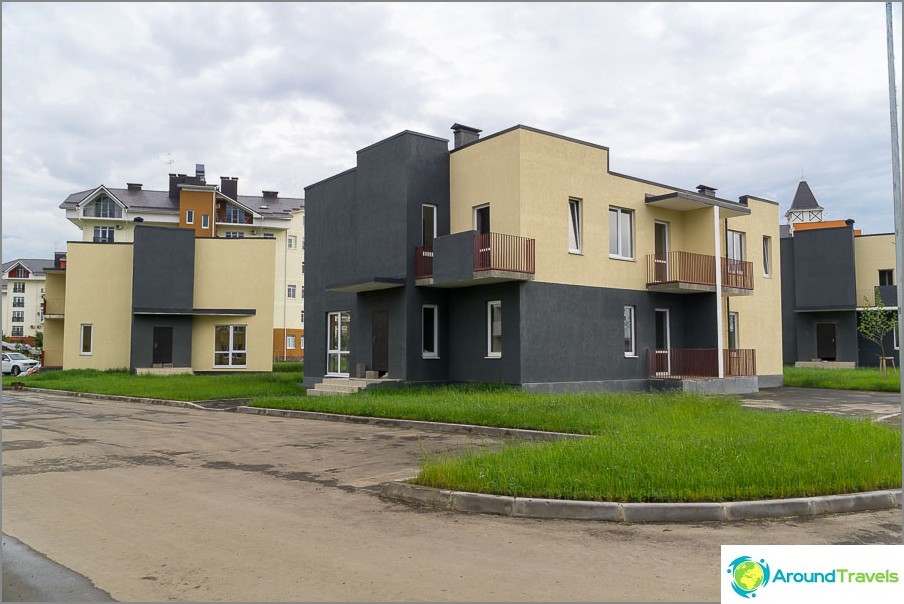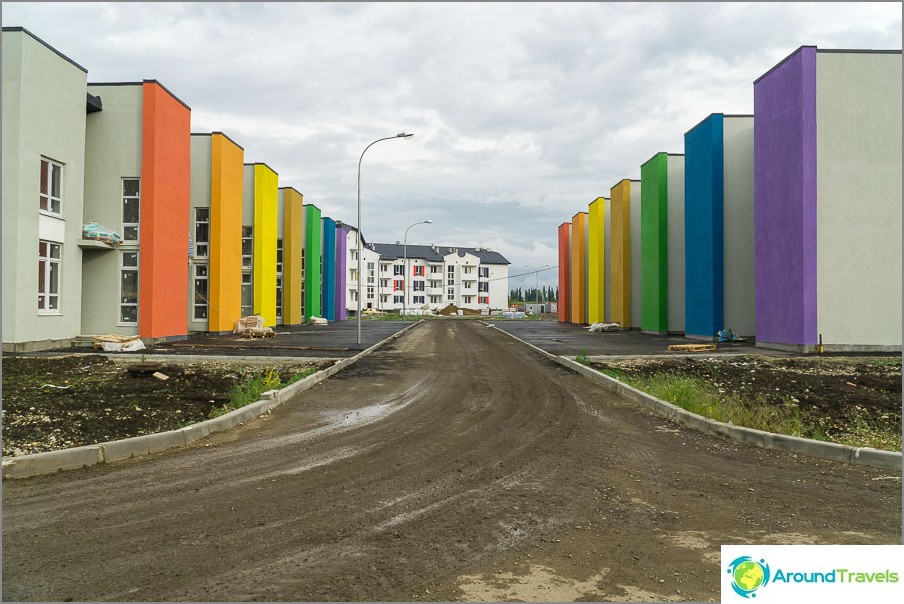 Advantages and disadvantages
Of course, the visual component is not the most importantwhen buying an apartment, but, unfortunately, I can't tell anything about the developer and other pitfalls, because I'm not a realtor. From a conversation with a friend who bought an apartment there - the main problem is the delay of approximately 1-2 years. The construction is quite large-scale and I personally would not have risked buying something at the stage of the foundation pit. But the finished is quite possible to immediately call in, make repairs and live (well, or take).
I can briefly describe the pros and cons of Europefor myself, but not in comparison with other districts of Krasnodar, but in general as a whole. It may not be entirely correct, but it is more convenient for me, because I consider specific places to live. I would be glad if you add something in the comments. I can be mistaken about something, because to understand to the end, you have to live.
+ Very beautiful area, NOT depressive!
+ There is, where to walk with the child, large spaces and playgrounds
+ No parking problems
+ Next to the Europa-City Big Magnit (about 2 km), you can reach the large shopping center Krasnaya Ploshchad in 15 minutes, the city center 30 minutes
+ Pros of Krasnodar: 2 hours by car to the sea and mountains, warm climate, good ecology, reasonable prices for everything compared to Moscow and Sochi, sport is developed
- Delay in construction time
- I didn't like the layout of the apartments in Europe City and Portugal
- The forums say not very high quality materials used
- By the standards of Krasnodar, the area is located very far from the center
- Cons of Krasnodar: traffic jams, bad roads, nepotism, medicine and rehabilitation are so-so compared to Moscow, the heat in summer
On the map
European
European
The area in Krasnodar, visually reminiscent of Europe. Can be attributed to the attractions of the city

Read more
The area in Krasnodar, visually reminiscent of Europe. Can be attributed to the attractions of the city
Read more
P.S. If someone from the marketing department of Europe sees this post, then you can offer me a discount on the purchase of an apartment
In turn, I can then promise to tell about you from the point of view of the buyer and, accordingly, the tenant.