For a long time there were no posts related toblogging ... But today is not a practical, but a philosophical post. It is possible for someone to have a very strange and incomprehensible title for this article, but you can try to rephrase and ask in the context of the subject of our blog, mostly related to travel - you travel, because you yourself want to go there, or because you need a blog. write about it? The theme of the question can be any, in fact, it all depends on who is writing about what. Where does the favorite thing end and the work begin?
Once upon a time, when I was just starting to leadblog, I had this question in my head and I answered it to myself one by one. And just recently, I was asked by one person, and I answered quite differently. Everything is changing. Now I will try to talk about my thoughts about this, and I would also be happy to hear your point of view in the comments. I think active bloggers would be interesting to speculate on this topic.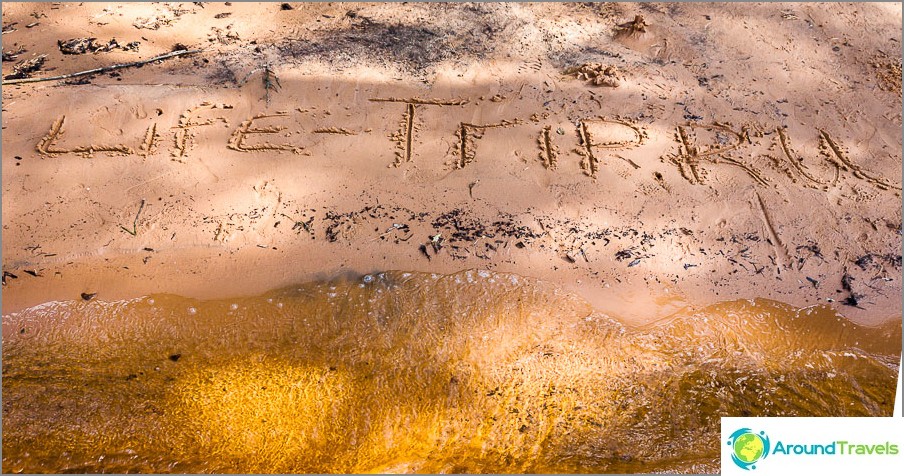 The content of the article
What is a favorite thing?
I remember, even before the blog, I was looking for a favorite thing,which I would like to study and which would bring me money. I tried different things, creative and not so, but I could not find anything. Until I realized that I already knew a long time ago what it was, I simply could not admit to myself. After leaving the office, I clearly understood that I wanted to travel. At that time, the blog was only a couple of months old and I had no idea what I would do with it, and what I would write to it, I'm generally silent about any income, I didn't know anything about it, and I didn't get involved in head, how can you go somewhere and get paid for it. You can read about how to start blogging. how to make money on a blog, and my other articles on this topic.
Then somehow it all came together in a single picturecombined travel, writing articles and photographing. And how much I have not tried to share it all, I understand that it is in such a bundle - this is my favorite business. One without the other, somehow do not want to. Of course, now we already have many other topics on the blog and there are a lot of other thoughts about the development of certain areas, but as long as the information collected over the years brings us money.
A couple of questions
The first question arises: will I go there, about which I will not write?
Answer: most likely not, I will not go. But it should be so, if I'm not interested in writing about this, it means that I'm not interested in going there. It is logical.
The second question is also logical: Do I go somewhere for the sake of a blog, that is, to the place about which I need to write, but I don't want to go?
Answer: Different. Here I suggest to stop in more detail.
Every second rushing
My initial mistake in finding my favorite business was that I was looking for something from which "every second rushing". Favorite thing, it means peret
But it does not happen, at least for me. Sooner or later, everything becomes a routine, if you do a lot of this, no matter how much you love this act. Therefore, "every second rushing" happens only at first or only in periods. I cannot say that I am already tired of writing or traveling, but I want to take breaks, albeit infrequently. And also you need to do something that seems to be not so pleasant. One thing is to quickly write a post about your impressions, another is to collect information on forums and blogs for several days in order to structurally present it in an article about how to get somewhere. Similarly, travel to those places that are "exactly" to be described on the blog is needed, because people ask about it.
So for me, this is quite a normal situation,when, in general, all activity brings satisfaction, but there are moments associated with the "necessary". I personally have not found anything better for myself, except for such a ratio. Also, my activity has one peculiarity - I have no work and no rest. And I also do not regard travel as a rest, it is an integral part of my activity. But this has its drawbacks. We discussed this in more detail in the article - 3 years without work and without rest.
Blog is a good motivator
In general, I am by nature a fan of living in thecomfort ", when everything is clear, adjusted and there is no need to develop further. Therefore, I need any factors that will force me to do something and get out of the hole. And a blog is a great thing for this! He promised publicly, be kind
Perhaps not the surest way to motivate, but heworks. In addition, I often write articles on request. That is, if I am often asked a question, then I understand that it's time to write about it, as much as I would not like. Or it is possible to ask directly to write a post on a particular topic, adding information to the blog.
In general, a blog is similar to a diary or personala diary where you write down what you want to do or what you have already done. He stimulates and pushes for action, helps to analyze, makes you think (when other people write their opinions). And you can always go back a year ago and see what happened then, compare whether there is progress.
And my wife and I try to match thatwhat we write, we ask ourselves a line of conduct or some positive note, although people already consider us to be such from the beginning. But in reality we are only striving for this, we are implementing it in the process. True or not, the blog and the awareness of how we are seen gives us a push, a kick in the ass, giving us acceleration in terms of some actions. We set the bar and stretch to it, be it a journey, when you tear yourself away from a warm and familiar place and pull yourself out onto the street, or write a positive post, when, in spite of a bad mood, you realize that it is time to stop feeling depressed and you need to write something something positive. I think many who keep a blog have something similar.
You can say it is not real, so notright and so on. And perhaps this would be so, if not for one thing. After overpowering yourself, you will do something, even if it's "for the blog's sake," you still rejoice that you could, you don't regret anything. Honestly, I don't know how we would cope with our problems if it were not for this blog and the support of our readers.
Life hacking 1 - how to buy a good insurance

Choosing insurance is now unrealistically difficult, so to help all travelers, I compile a rating. To do this, I constantly monitor forums, study insurance contracts and use insurance by myself.

Life hacking 2 - how to find a hotel 20% cheaper

First, choose a hotel on Booking. They have a good offer base, but the prices are NOT the best! The same hotel can often be found 20% cheaper in other systems through the RoomGuru service.

Discount hotels