Here we are in Phuket! And here we will stay the whole 4 months ... Well, or "only" 4 months, depending on how you look at it. We have return tickets for April 2016. I hope nothing changes, and we can use them. I already forgot when I bought return tickets, all the time without them, it's easier. But nothing, if everything goes according to plan, then in April-May we will also go to Europe. And in March we will be guarded to Singapore, a visa for 3 months and we will have to leave and check in again.
The content of the article
Why Thailand
Honestly, this time flew to Thailand withmixed feelings. On the one hand, here it is that native Tai, in which I have not been for a year and a half. On the other hand, I wanted so much to go to Europe / Serbia (tuned in), and everything was ready for the trip: the route was thought out, a visit to Warsaw was planned, where we could remake Egor's orthoses. However, if we talk about Yegor, then now he objectively needed a little sea, plenty of swimming, poking around in the sand, eating fruit. In addition, it was not possible to make a Schengen visa. That is why we flew to Phuket. Probably, if it were not for the sea, I would have advocated a trip to Chiang Mai, I personally like the mountains more, and there are cheaper there, and more suitable for a long life.
Once such circumstances, we decided to dopause and relax a bit. It needs all of us three. I really hope that I can also indulge in tropicosis at least once in my life (for the last 3 winterings I never met them), otherwise I completely forgot how to relax. You know, I have such a stupid state when it is boring to rest, but I'm already tired of working. And so it comes - "sticking"! When you sit at the computer, and not really relax, and not really work. My head understands that I have to either work or rest, but I just can't take myself in hand. Perhaps this can be attributed to cons freelancing. True, they usually talk about the inability to organize themselves for work, but, as practice has shown, one must also be able to self-organize for rest.
How to prepare
The preparation was traditional. We collected two 27kg suitcases, two city backpacks, scattered things around the apartment (Daria's brother will live there), bought tickets, insurance, booked a house for a few days on Airbnb, which was booked immediately for a month ...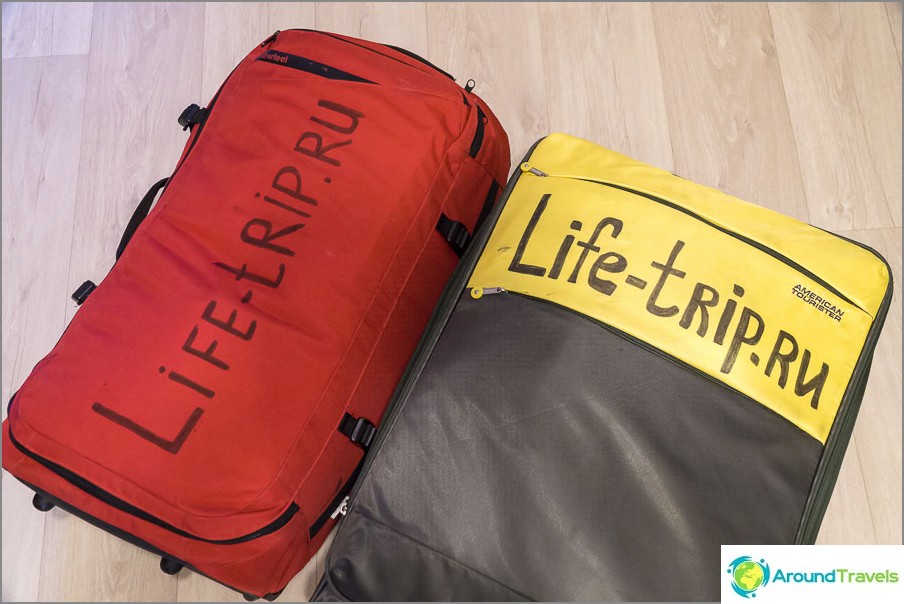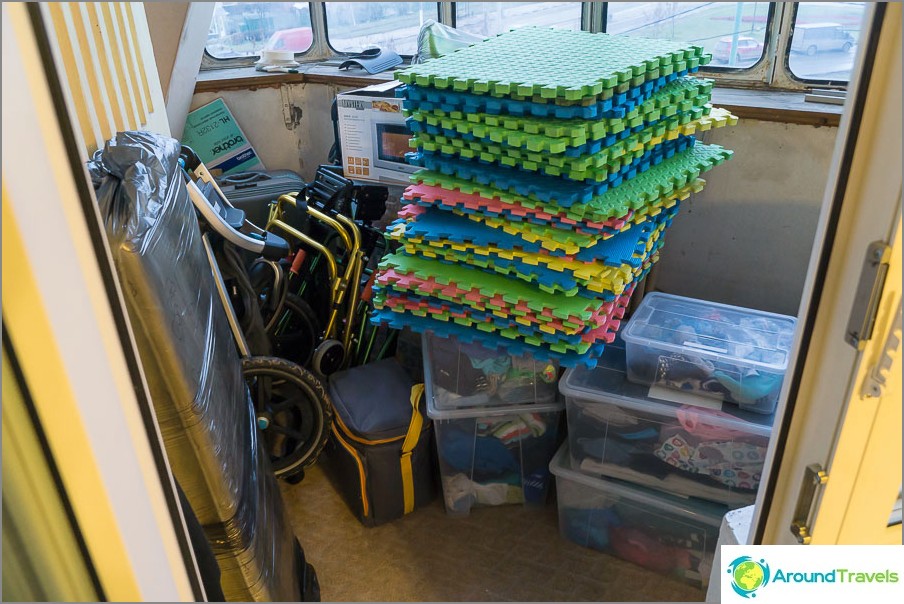 Round trip tickets Moscow-Phuket with a change inDubai for three came in 105 thousand rubles. In principle, the price is not the best, but December is not the best time for the flight, considering that I bought the tickets a week before departure. Bought traditionally through Aviaseels. At first I wanted last minute, but even though they came out more expensive, but it was a direct flight, for us this is true. But I did not have time to buy, there were no tickets left, but for other dates it was too expensive.
Visa issued immediately in Moscow, unfortunately, single. If someone does not know, then dvukhrotok no more, but there is multivisa.
Insurance looked at Cherehap, by itself took andYegor is more expensive, and Daria and I are a bit cheaper, the price was tasty, and then it will come in handy for Europe. I decided to try a cheaper one too, otherwise I'm writing posts about insurance, I need to type more personal experience. But to be honest, I hope I don't have to use it, I really wouldn't like it.
With housing came an interesting story. Hotels decided not to book, as we need a kitchen, so there was only one way out - a house through Airbnb (if you register using the link, you will receive a bonus of $ 20). I corresponded with the hostess of the house, where we wanted to spend 3-4 days, and the devil pulled me to ask if the house is available for a monthly surrender. The hostess immediately took and sent me a special offer for 20 thousand baht, such as for the first month. I answered her, they say, first I want to see the house, so I will book only for 3 days, and then we will decide in terms of a monthly surrender. Agreed And then, despite the fact that I chose only 3 days in the calendar, the reservation still went according to the special offer of 20 thousand baht. The hostess said that they say, come and see on the spot. In support of Airbnb, they answered (they answered me promptly enough, moreover, by phone) that it was easy for the owner to redo everything. I decided to confide in fate, not to shake the owner about this, and not to pressure him through support. What came of it? Upon arrival, the hostess promised me to return 14 thousand baht in cash (20 thousand - 6 thousand in 3 days), when the money reached her. Here I wait.
How flew
We flew, as I said, through Dubaiairline emirates. I liked the planes, the service and the pre-selection of food from as many as 20 options. I had a seafood meal, Daria has a kosher meal, Yegor has a dietary meal. And Daria even knocked us 4 seats on the first segment, which is very cool, for Egor is lying down 2.5. Still, with the transit, it is still rather difficult for us to fly, especially if the first segment is so unsuccessful. We flew out at 12 at night from Moscow and landed at Dubai at 5 in the morning. Given the take-off and landing, when it is necessary to sit in a chair, Egor was given only 3 hours of sleep, which is very little for a night's sleep. Okay, we can not sleep for a day, but then he either starts to stand on the ears, turns it off, or these two states at the same time. Therefore, we tried to sleep it in various ways: first sitting in the plane during the landing (but almost did not work), then on the handles (while riding the bus from the plane to the airport), then in Emirates wheelchairs, then in the waiting room. By the way, a very good idea with strollers, because we were taken immediately to Phuket. Only they are painfully dirty and broken-up, one does not lower the back, the second wheel did not go, but Maclaren.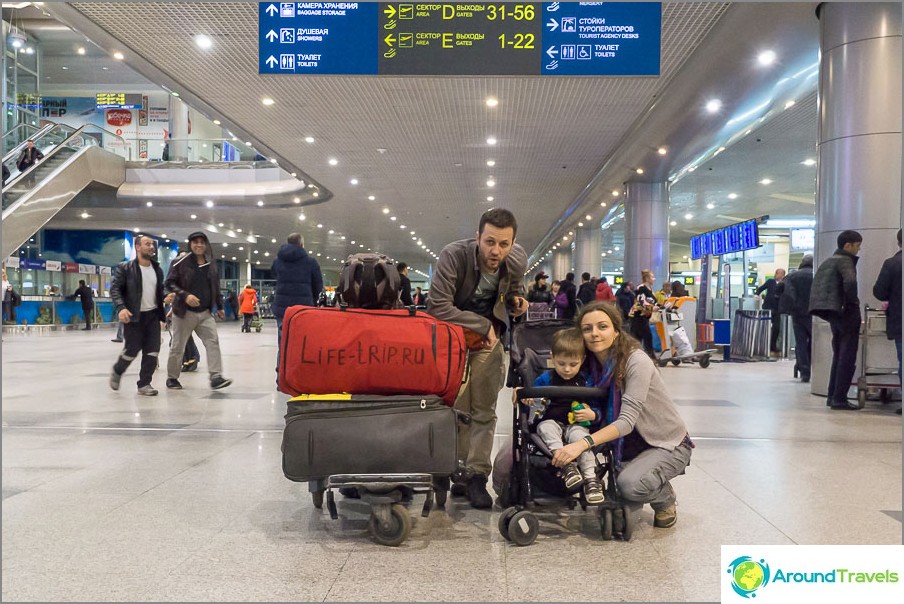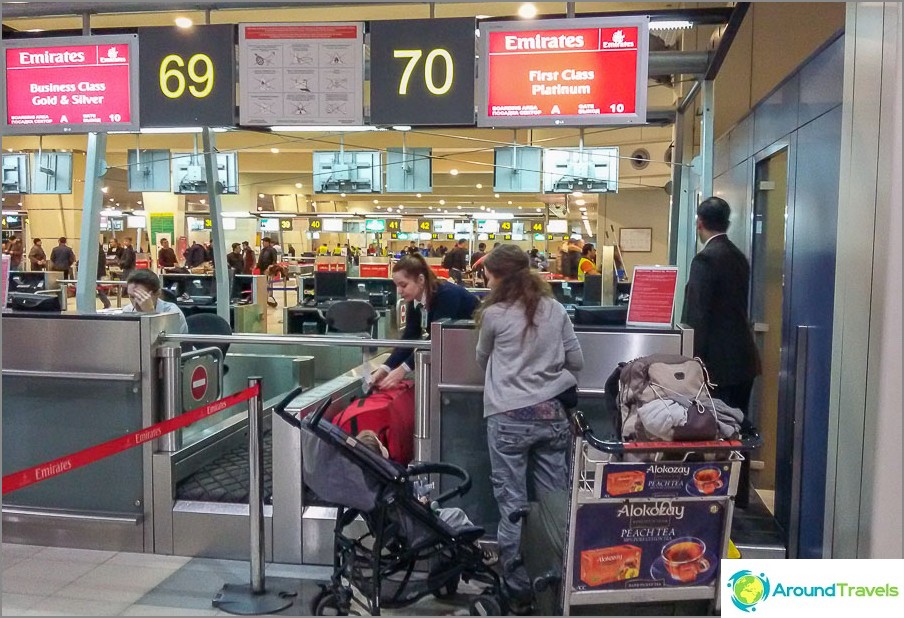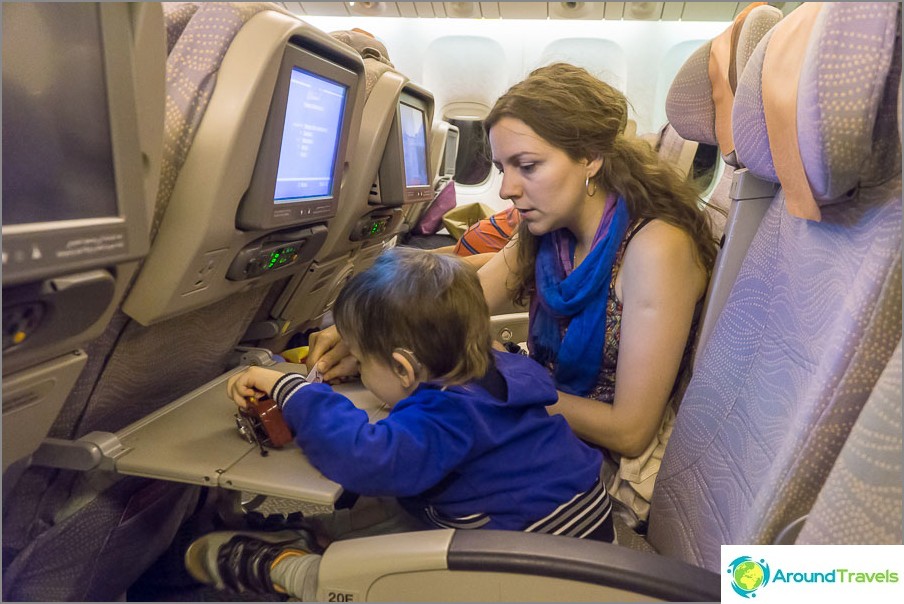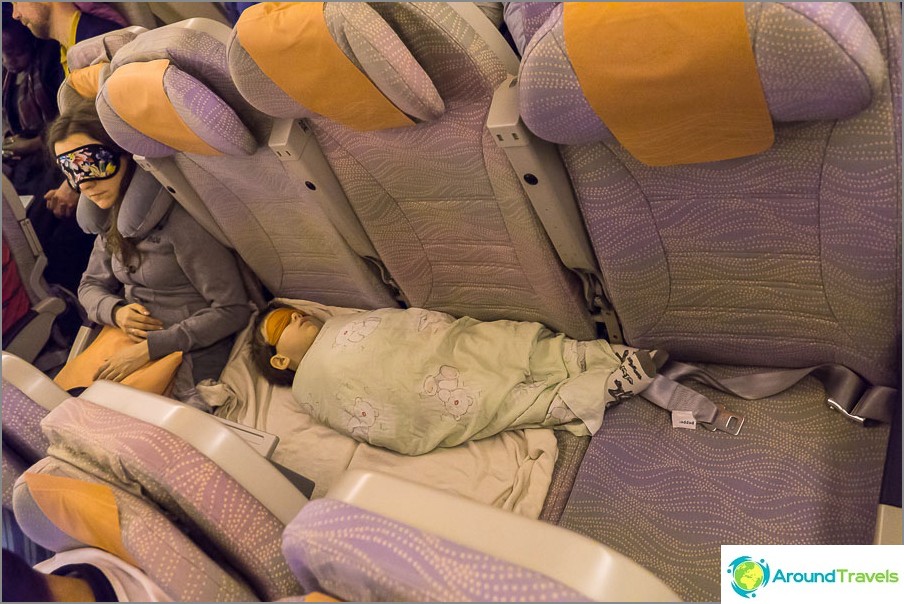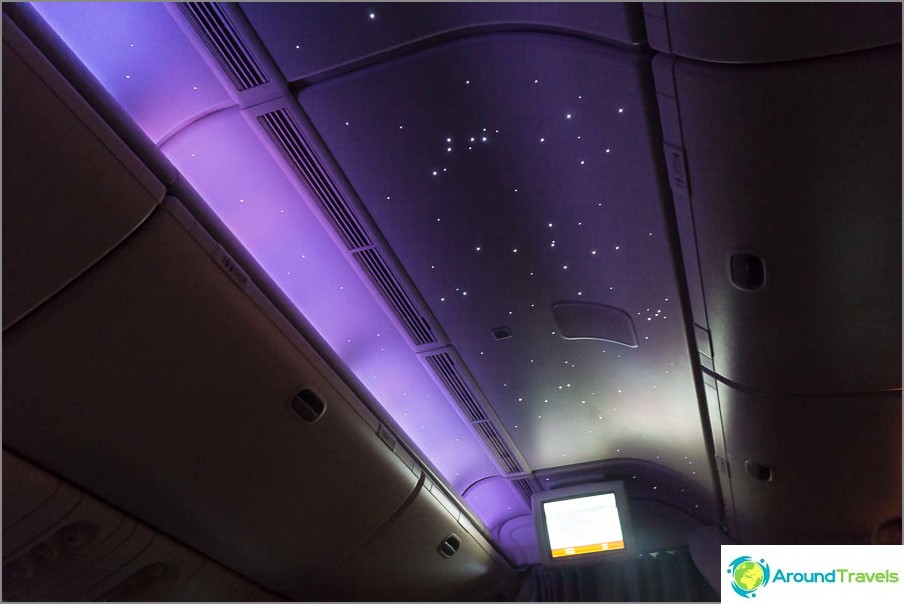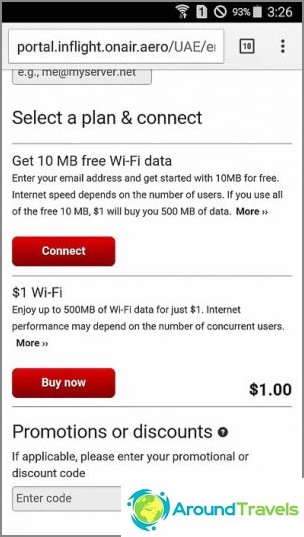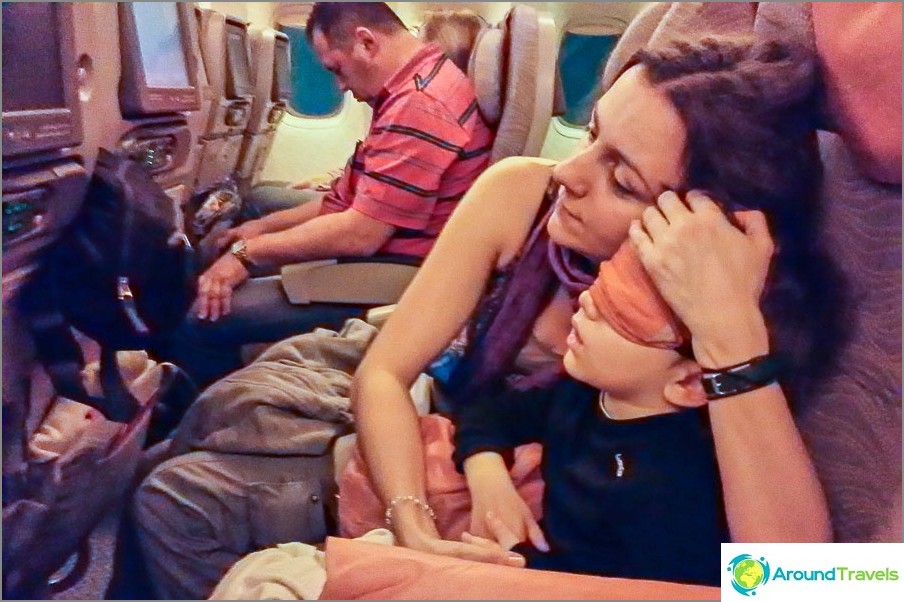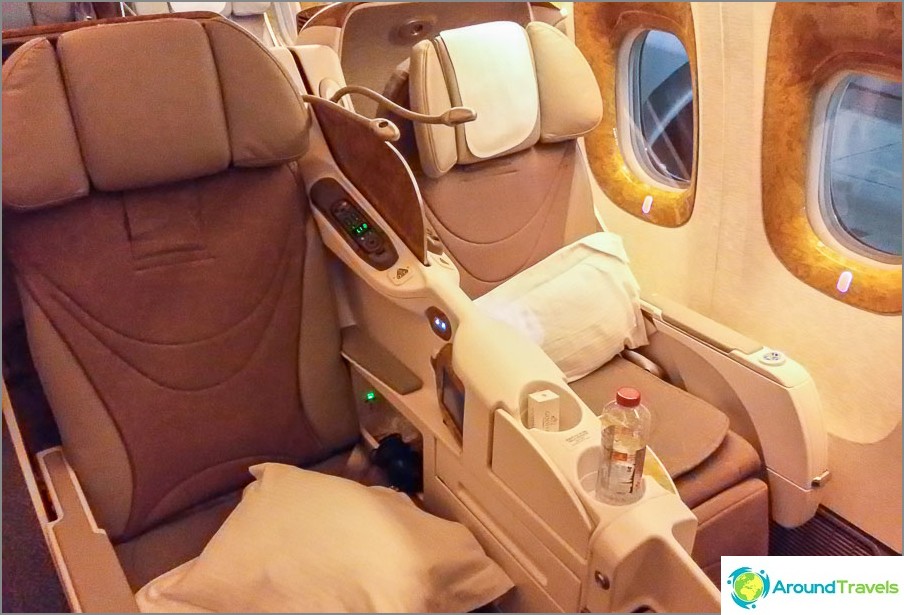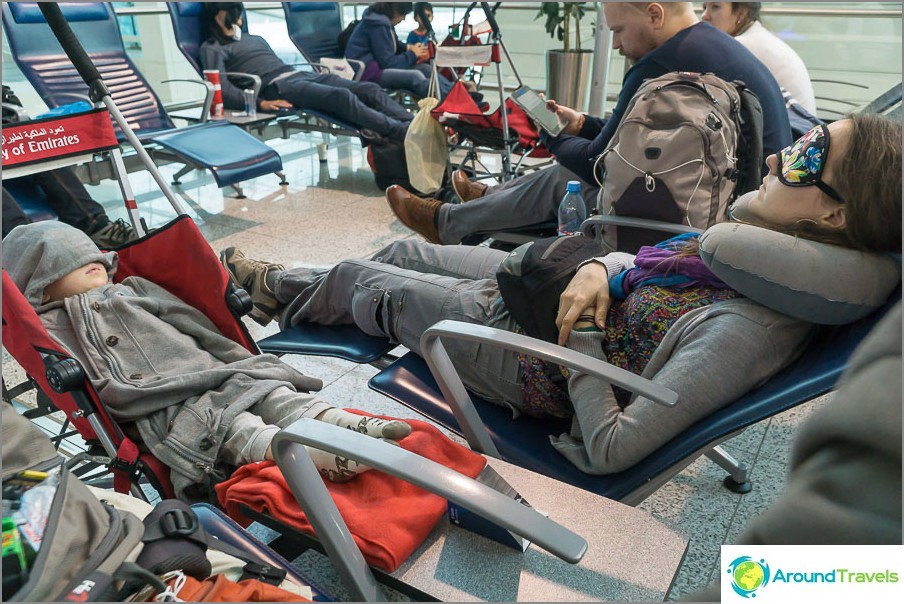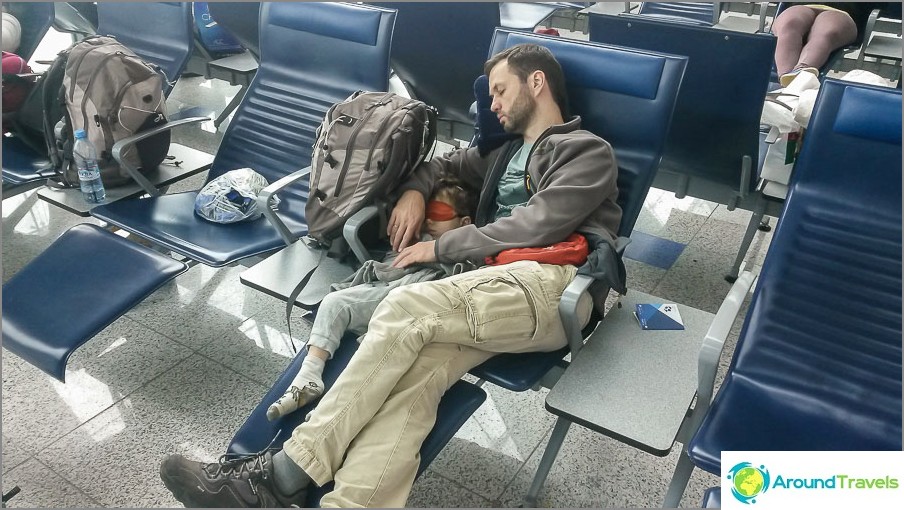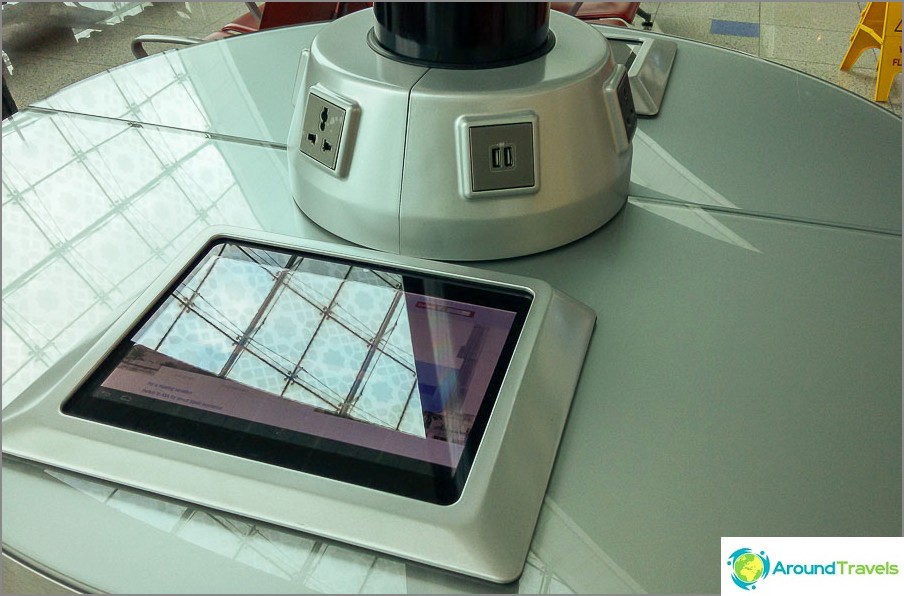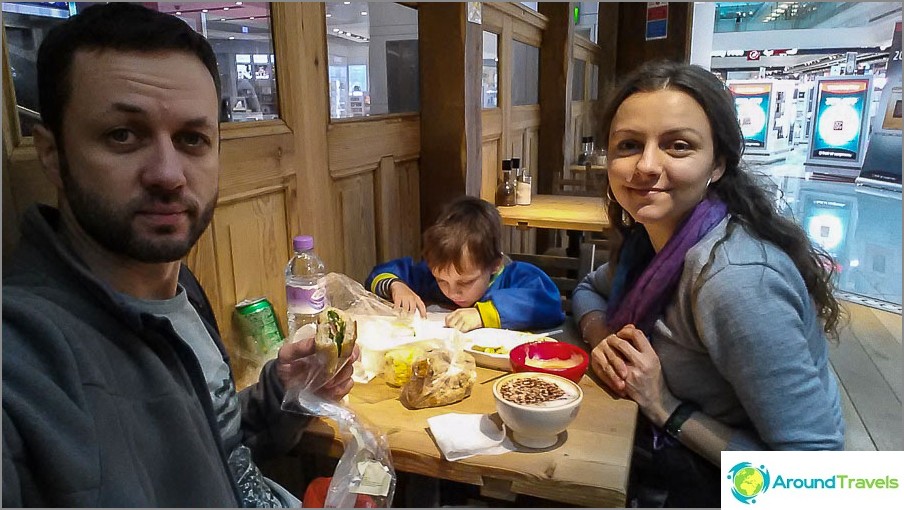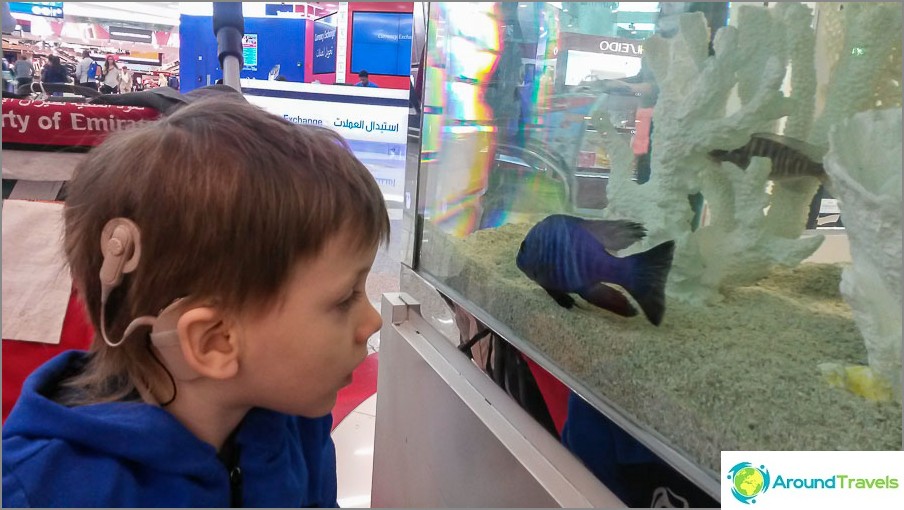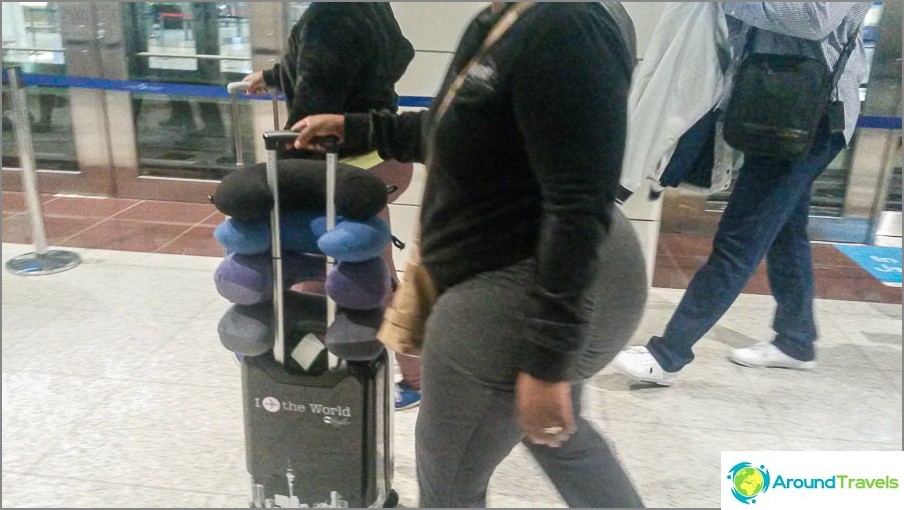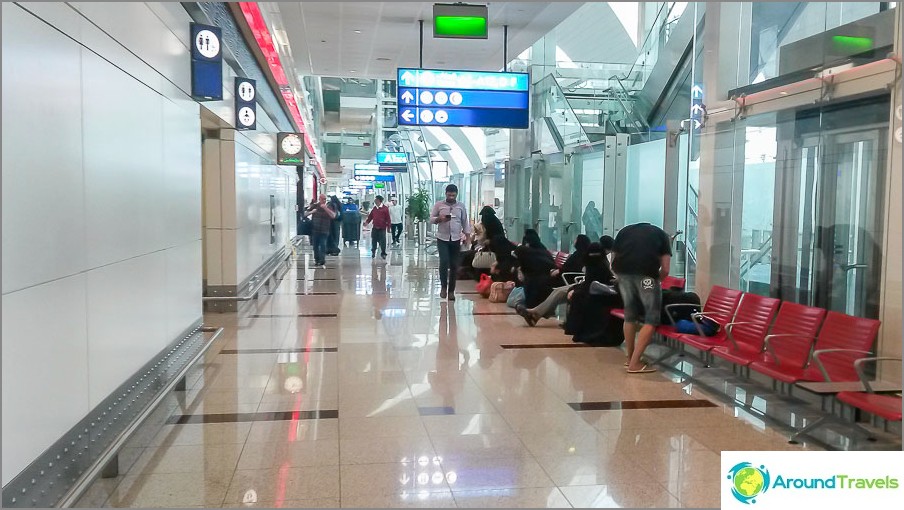 Dubai Airport, of course, is huge and gorgeous. A large area (we drove about 20 minutes from the plane), several terminals, between two of which there is an electric train without a driver, a waterfall on the wall, a series of elevators. But the transit turned out to be boring and not interesting, and there could be no question of exploring the airport or going to the city, although we initially did not intend to. Back from Phuket we will fly during the daylight hours and not at night, it should be much easier, there will be only one day's sleep.
The second segment was much easier, harderit was only for us, because it had a sleepless night. I was able to persuade (smooth) Egor for an hour's sleep in an hour, and I myself sat on the floor between the seats (it's good to be small), since we already had only 3 seats on this segment.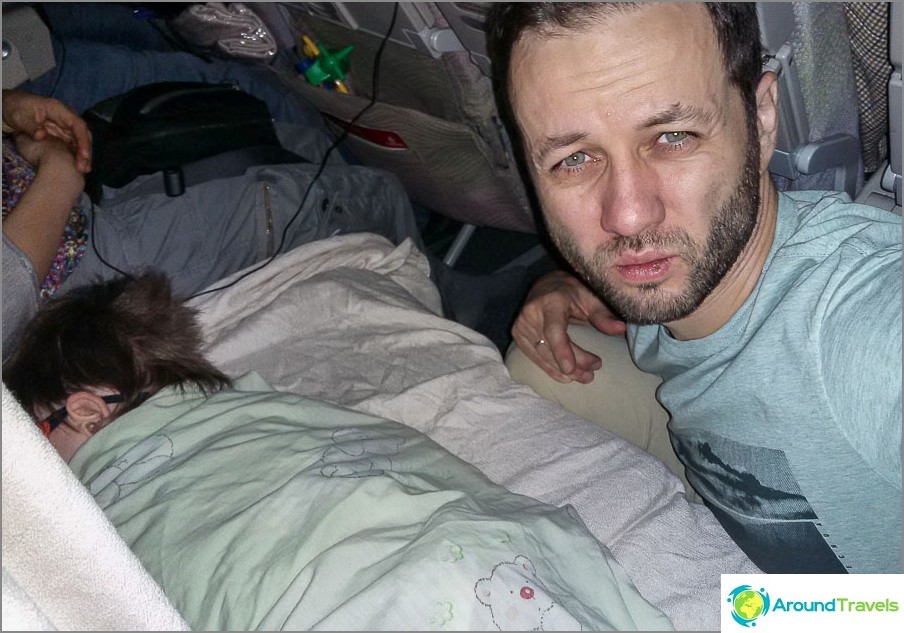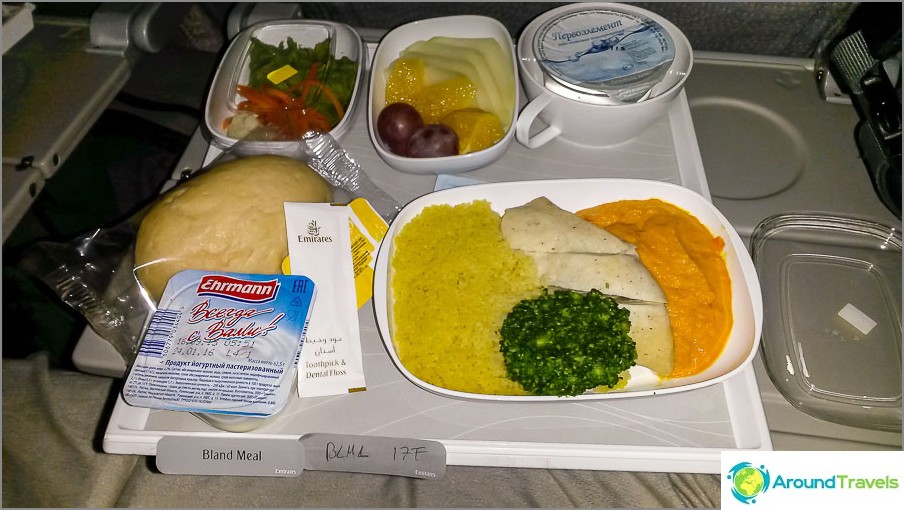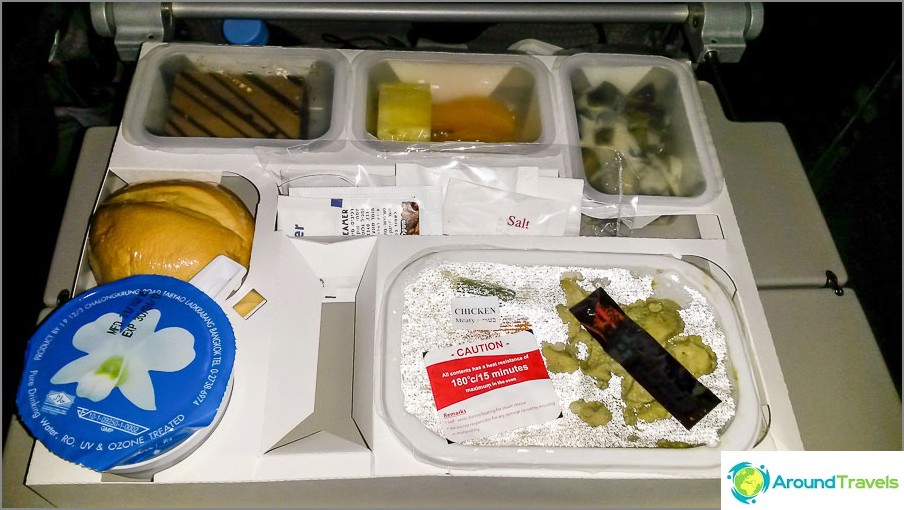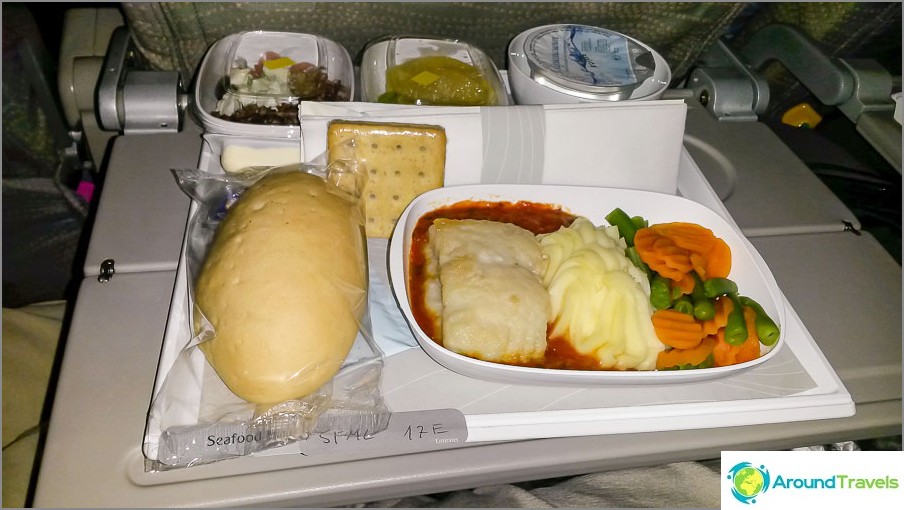 We arrived in Tai in the evening, arrived at the houselocal at 11 pm, while eating, while decomposed, the night has already happened. Then he slept all the next day. In total, somewhere in 3 days more or less they came to their senses, but so far I still want to sleep not when I have to, and Egor does not sleep during the day. Remembering our first flight Moscow-BangkokI understand that now everything has become much easier.
Where we live
The mistress of the house where we lived by the day the first 3of the day, very much insisted that we stay with her. She was even ready to turn in a house for 15,500 baht, instead of the original 20,000 baht (and in Airbnb she donates it for 23,000 baht). But we wanted walking distance to the sea, no more than 15-20 minutes, so that Daria could walk with the pram herself. And from the first house it was necessary somewhere 30-35 minutes, which is far away.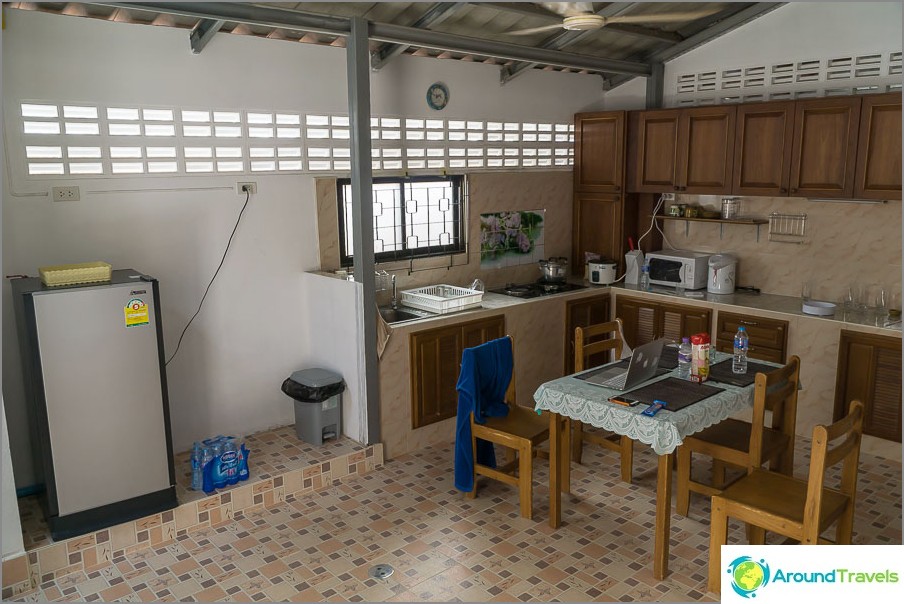 Now we live in a classroom in 15 minutesfrom the beach and 15 minutes from the supermarket. It costs 18,500 baht per month. More expensive than I would like, but I did not find anything better in a couple of days. By and large, even the bike could not be removed, but I did take it to have mobility and be able to quickly drive to the store or somewhere else. I have a Honda Click 125 for 3,400 baht / month. A few days later I will release a post with a review of our house in the format of photo + video.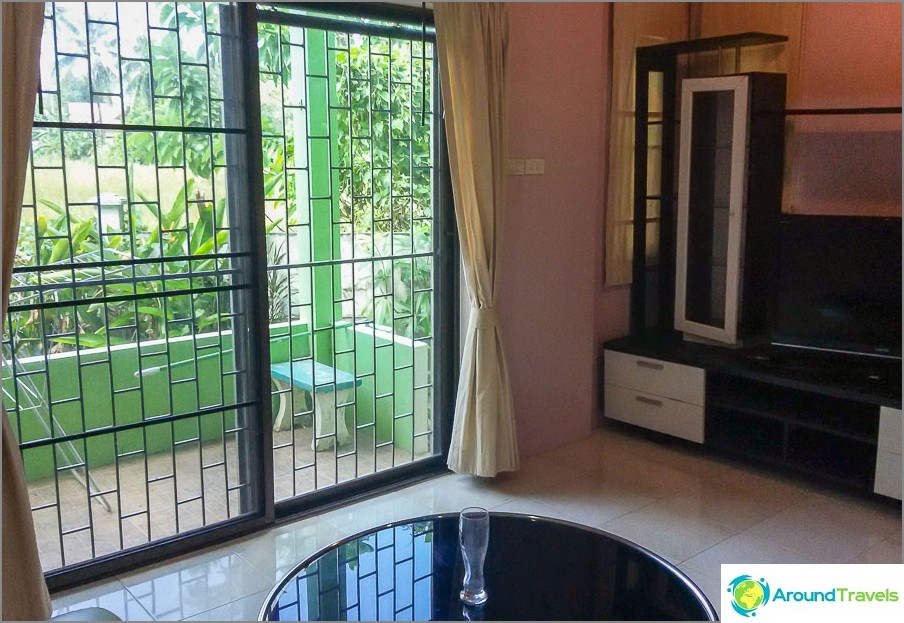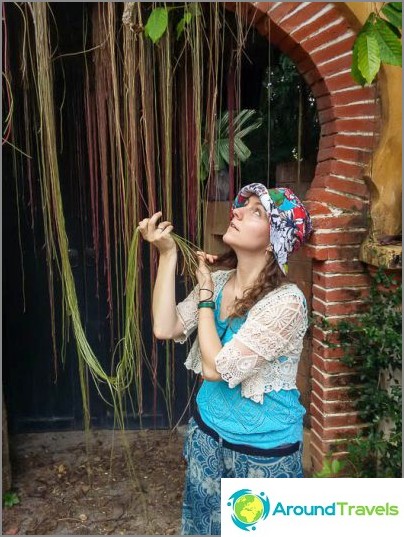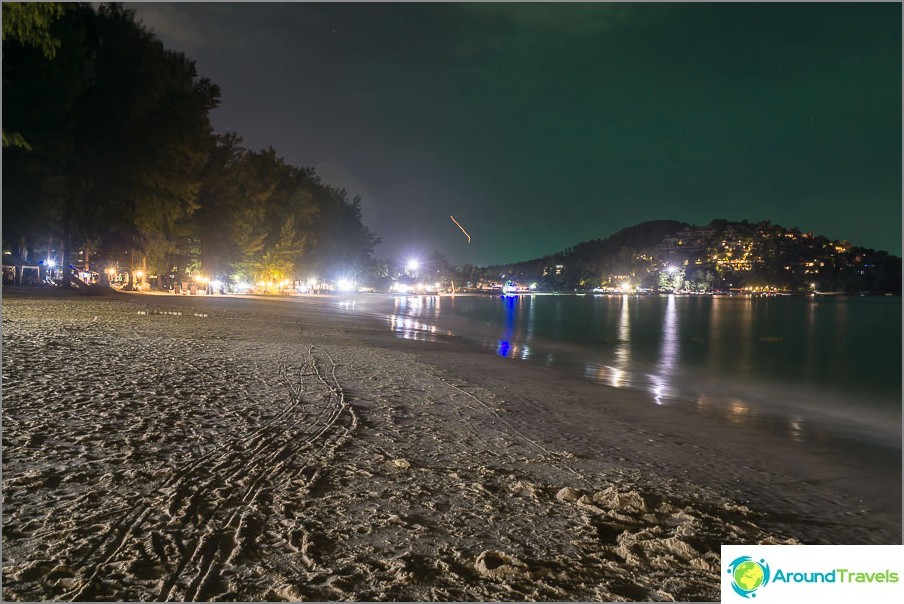 Video
A small video sketch ... True, we were tired and sleepy, like flies, so it turned out sluggishly.
Live Broadcasts
I do not know about you, but I really likedapplication and social network Periscope (our login there Life_trip_ru). Much more like it than Youtube, if we talk about the video format. Very convenient - go online, tell something, show, answer questions. And while no installation and processing. Well, and still a sense of communion, both from the audience and the author himself. Here are a couple of broadcasts related to this post: from Domodedovo and immediately upon arrival. Still, the point is not to revise them later (these are not dynamic videos on Youtube), namely, in the broadcast itself in real time. For me, the perfect format: text blog + online broadcast. Apparently I will be conducting a broadcast in the near future, I want to understand whether it will go with me or not.