Travel insurance makes sense evenunless it is a requirement to enter the country. You feel safer with her, and in which case, you can really save money. I have already laid out my megapolezny and detailed post with all the nuances of choice and a review of Russian insurance companies (here is the link, be sure to read). But there was a small gap with local insurance, and in particular, Thailand Travel Shield.
The content of the article
Cons of this insurance
I decided not to buy this insurance, for me it is inconvenient. But the choice is always yours, think about this option.
Be sure to read my mega post about insurance, in order to understand what is what: how to choose, how to use it correctly, what options are useless, what is asistens and why it is more important than insurance.
This is a kind of alternative to Russian insurance, yes. But there are several critical moments that can push away from its purchase and they need to be known in advance. In general, a specific product is not for all travelers. Be sure to read the reviews below from those who used. And just in case - if you buy, then the policy on the email comes only about a week later.
Communication with the insurance will be in English. And knowing what the Thais have is English (Taiglish), and how difficult it is to solve any issues on the phone, even with a good level of language, I understand that I don't really want to get involved with it. Moreover, my English is also far from perfect, I'm afraid in a difficult case I won't be able to speak at all because of the excitement.
Insurance is only for Thailand, so if youIf you are planning to travel to several countries in Southeast Asia, or you are going to buy an annual policy for all countries at once, then it will not be very convenient. Well, only if you buy it a second.
Insurance does not cover active recreation, there is not even such an option.
Entry into the country must be carried out by plane, overland is impossible. They can ask for e-tickets to show, and when you make a policy, you will need to write the flight you fly in.
Well, the last condition is more concernedwintering camps - the limit on the stay of the country in 60 days, because they usually go for 3 months. Then I will tell you more about this in the insurance conditions. And also, if you suddenly decided to leave for a week with the current policy, it will be annulled.
The following insurance companies from Thailand take part in the program, but most likely their names will not tell you much. I don't know them, and I can't say anything at all about them.
- Muang Thai Insurance
- Chao Phraya Insurance
- Siam City Insurance (Siam City Insurance)
- Krungthai Panich Insurance (Krungthai Panich Insurance)
Local insurance in Thailand
Insurance Terms
I do not think that everyone will massively do thisThai insurance, but to know about it makes sense. I myself still continue to make insurance through the mega-useful service Cherehapa, where you can find out the price for 16 insurance at once, and something will be cheaper or with better conditions. So keep a finger on the pulse and monitor what is happening in the world of insurance.
Insurance "Thailand Travel Shield" can be issuedonly online in advance and it begins to act only at the entrance to Thailand. That is, you need to buy it, while still in Russia or another country. It will not work to take advantage of this insurance, if you make it out while being in Thailand. To start working, you have to get to the nearest border and make a border wound. This is a logical precaution, given the huge number of people who are trying by hook or by crook to stay in Thailand longer and cheaper. By this rule, Thai people cut off the possibility of frauds with a product designed exclusively for tourists to longsteers.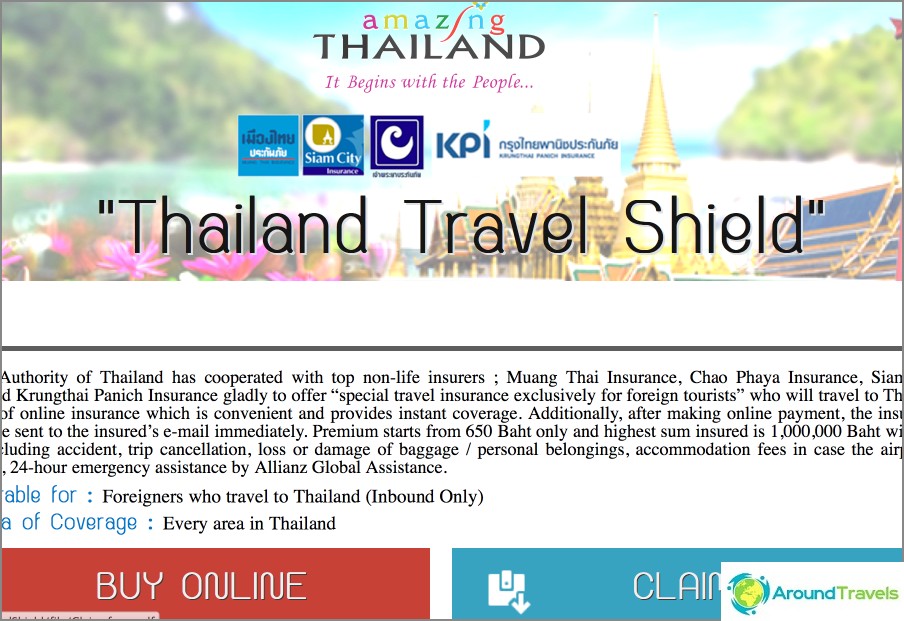 coverage 24 hours 7 days a week for the whole trip
active rest (sport) this insurance does not cover
The age of the insured must be between 1 and 70 years.
no medical examination required
random choice of insurance plan
insurance coverage does not exceed 60 days
By the term of coverage in the last paragraph is obtainedinteresting picture. Even if you decide to buy annual insurance, it is considered solely as a mutually beneficial commercial transaction. That is, you were offered a product at a discount, and you agreed to buy it. But at the same time, no one closes his eyes to the fact that a tourist needs to leave after 60 days after his stay in the country. We need a "medical border wound." And it is inconvenient.
The Traveler Support service is provided by Allianz Global Assistance (AGA). The traveler is required to provide information on the country of entry of the following nature:
- required vaccinations
- current weather
- current exchange rate
- medical consultation by phone
- assistance with seeking medical care
- assistance in case of loss of baggage or documents
- assistance with contacting the embassy
Insurance plans
When filling out the application form, you willchoose one of two proposed insurance plans, which I will discuss in more detail below. The size of the insurance premium can be as much as 2 million baht, and with full coverage of such risks as:
- accidents;
- flight cancellation;
- loss or damage to baggage and personal belongings;
- living expenses in case of closing the airport;
- A round-the-clock ambulance from Allianz Global Assistance
Insurance case Plan 1 Plan 2 1. Loss of life, limbs,
partial or complete disability
maximum 1 mln baht received during the trip Maximum 2 mln baht 2. Medical expenses for
treatment after accidents or illnessmore than 1 million baht not higher than 2 million baht 3. Cancellation of a trip no higher than 15,000 baht no higher than 30,000 baht 4. Reduction of the duration of a trip no higher than 15,000 baht no higher than 30,000 baht 5. Robbery
(2,000 baht for every 12 hours) maximum 20,000 baht maximum 40,000 baht 6. Trip delay (over 6 hours) 3,000 baht per day,
maximum 12,000 baht 6,000 baht per day,
maximum 18,000 baht 7. Loss of or damage to luggage and personal belongings The actual value of things
but not more than 12,500 baht The actual value of things
but not more than 25,000 baht 8. Baggage delay The actual value of things
but not higher than 7,500 baht The actual cost of things
but not higher than 15,000 baht 9. Civil liability Actual value
but not more than 750 000 baht Actual cost
but not more than 1.5 million baht 10. Travel support * maximum 10 million baht maximum 10 million baht

Price list
Duration of travel Plan 1 Plan 2 1-7 days 650 baht 1 100 baht 8-14 days 1 000 baht 1 750 baht 5-30 days 1 400 baht 2 850 baht 31-60 days 1 750 baht 3 150 baht Annual journey 6 900 baht 12,000 baht
The price includes value added tax (VAT) and state fees.
Assistance Contacts
• Online purchase
• Telephone: +66 (0) 2342 3255
• Facsimile: +66 (0) 2305 8523
• E-mail: [email protected]
Appeal on the insurance case
Thailand Travel Shield guarantees protection against a number of possible risks listed by me above. But, as with communicating with any other insurance company, you must first report the insured event by phone +66 (0) 2342 3255, and only then wait where you will be told to go. As I wrote above, I will speak with you in English.
The faster you get in touch with representativesthe insurer, the sooner the hospital will receive a letter of guarantee about the costs. If necessary, you will have to provide all the information about police reports, damage assessment, medical reports, as well as the original recipes or proof of ownership.
Insurance rates are in Thai Baht. The insurer makes payment of bills from the hospital directly to speed up the process.
In case you get hurt, the policesurpassed itself and caught the attacker, and he even managed to pay you some of the damage, the insurance company will pay only the difference between the actual loss and the refunded amount.
P.S. There are few reviews on this insurance. Therefore, if someone used it, please write in the comments, as it is, what are the pitfalls.
Life hacking 1 - how to buy a good insurance

Choosing insurance is now unrealistically difficult, so to help all travelers, I compile a rating. To do this, I constantly monitor forums, study insurance contracts and use insurance by myself.

Life hacking 2 - how to find a hotel 20% cheaper

First, choose a hotel on Booking. They have a good offer base, but the prices are NOT the best! The same hotel can often be found 20% cheaper in other systems through the RoomGuru service.

Discount hotels