Once upon a time, we first got to holiday Loy Kratnog and Yipeng festivalwhich pass on the same date. We have already written an article about this and will repeat what these events are, I will not now. Two years later, I again went to Chiang Mai for these holidays and found myself in the thick of things, so I really want to share fresh photos from there. Although it has already passed about 3 months from that moment (I didn't get it all on my blog), all this extravaganza of light and sound is still in my memory, as if it were yesterday. Though I am not a fan of being in a crowd, but for a while, sometimes I want to plunge into this unrestrained merriment, considering that everyone behaves kindly and there are almost no drunk people.
In 2012, the action in Chiang Mai was held 27-29November, although in total the people launched kratongs into the water (small rafts with a candle) and the sky in the sky (sky lanterns) all week. And the main parade and the maximum number of lamps were on November 28th. Each year, the date changes, because it is tied to the lunar calendar, or more precisely to the full moon of the 12th month. It seems that this always happens in November. If you are looking for a date, then first of all you should look at the official sites or specifically on Chiang Mai here on this link. As I understand it, everything will happen on November 16-18, 2013.
By the way, I remind you that the photos on the blog in new articles are 1200 pixels wide, and by clicking on the photo you can watch them on the whole screen in a large size, flipping from one to another.
Loy Krathong and Yipeng Festival
Photos will not go in chronologicalsequence, and interspersed. The fact is, I was in two parades (the 27th and 28th numbers), and although they may have quite different meanings for the locals, they are very similar for foreigners, so there is no reason to distinguish them. Well, and the launch of craton and sky lanterns is an interesting show on any given day.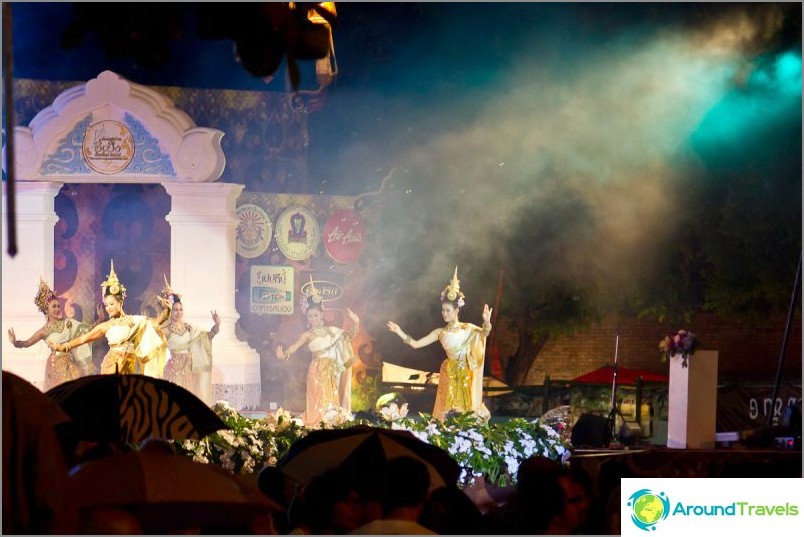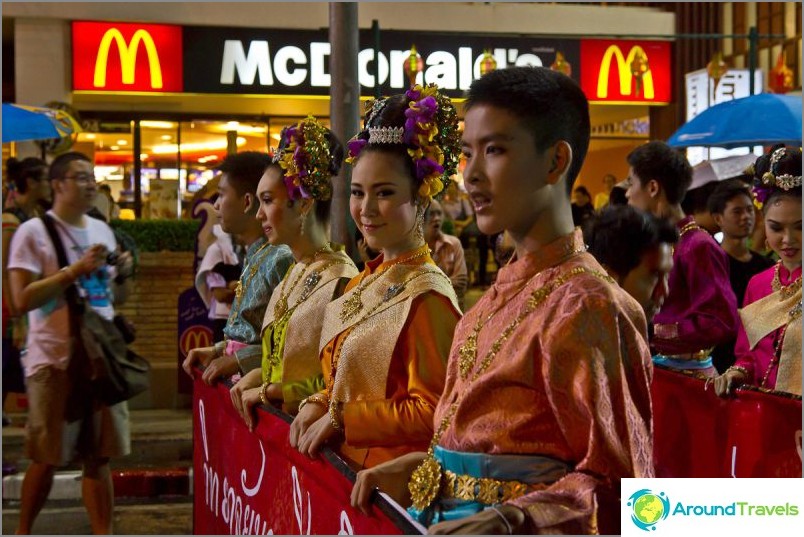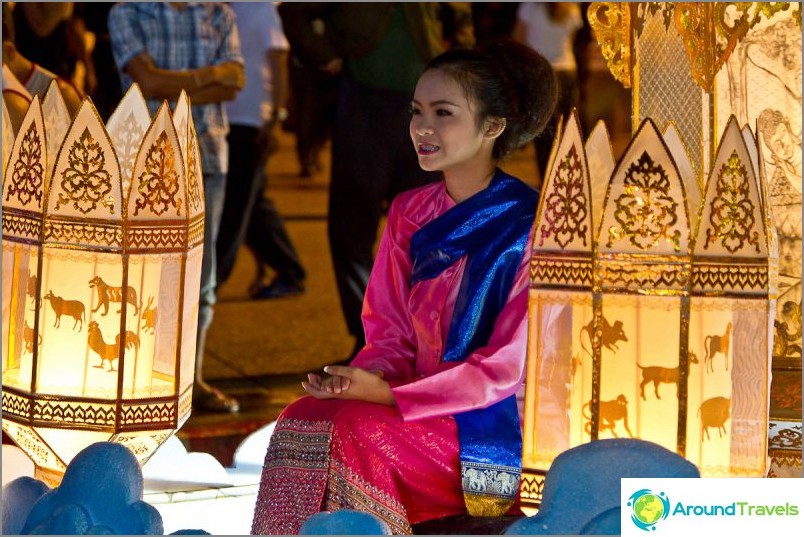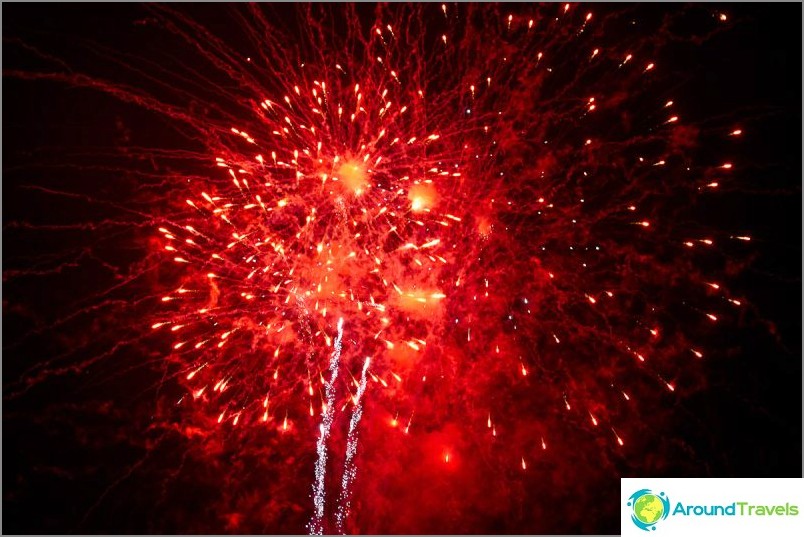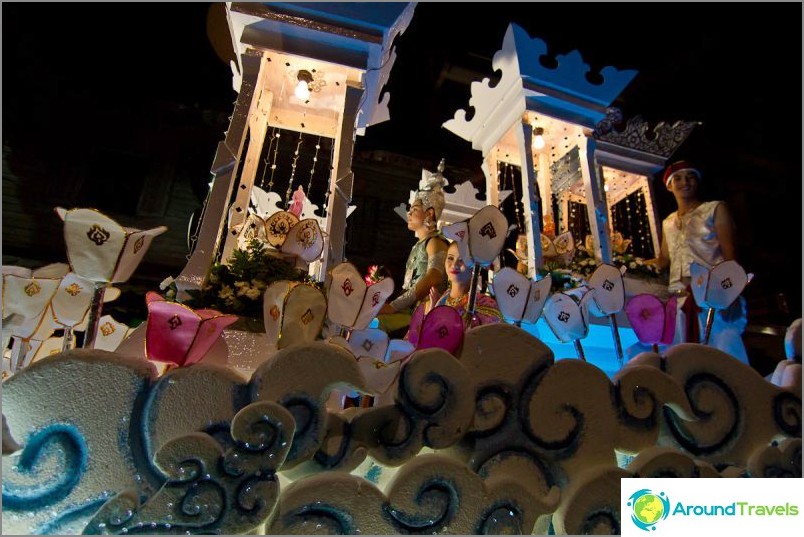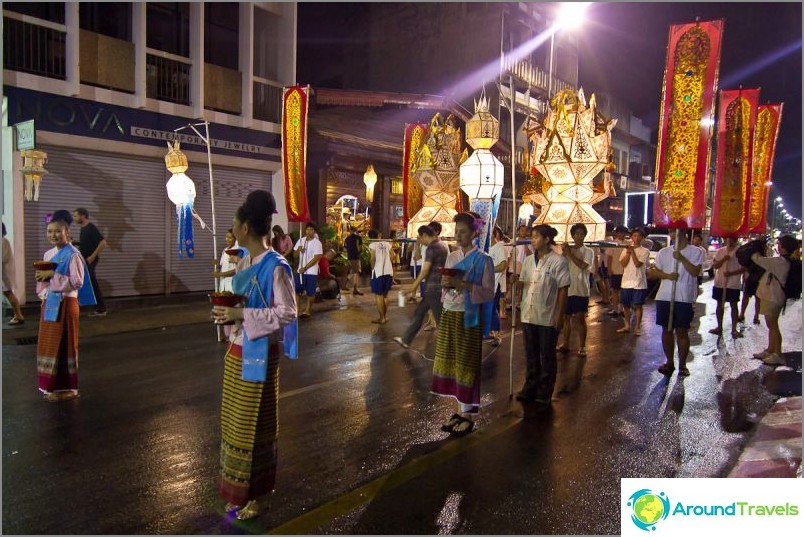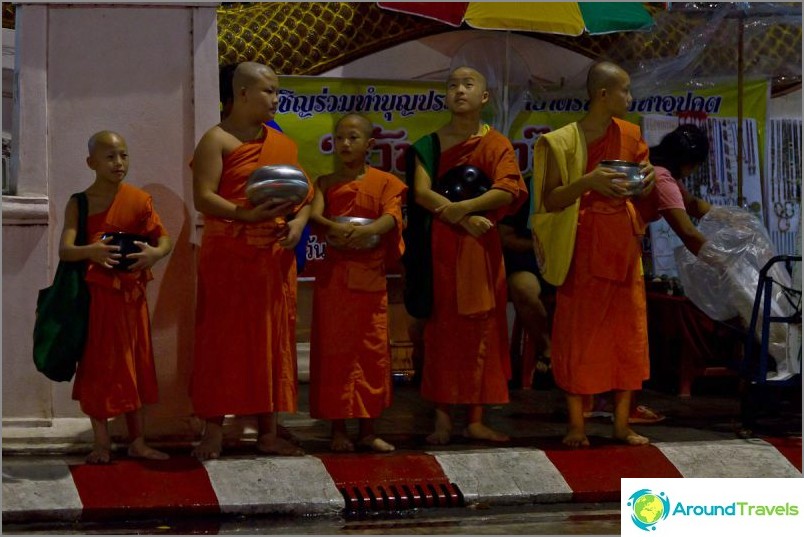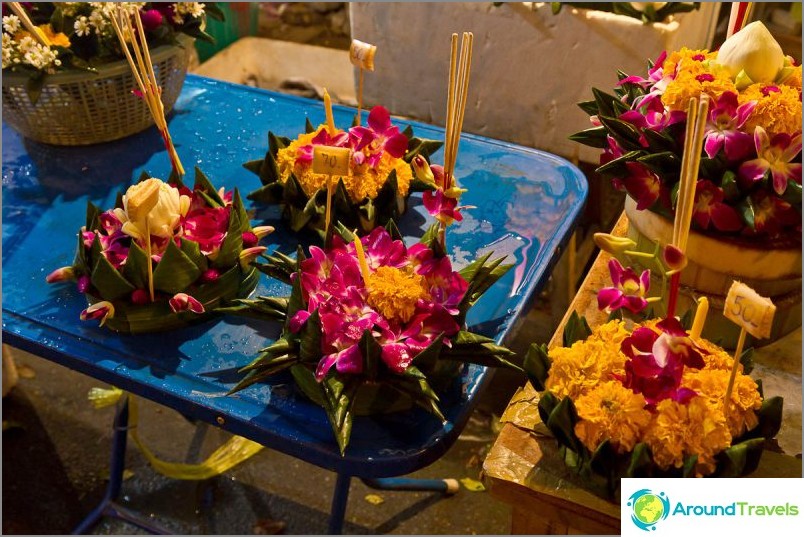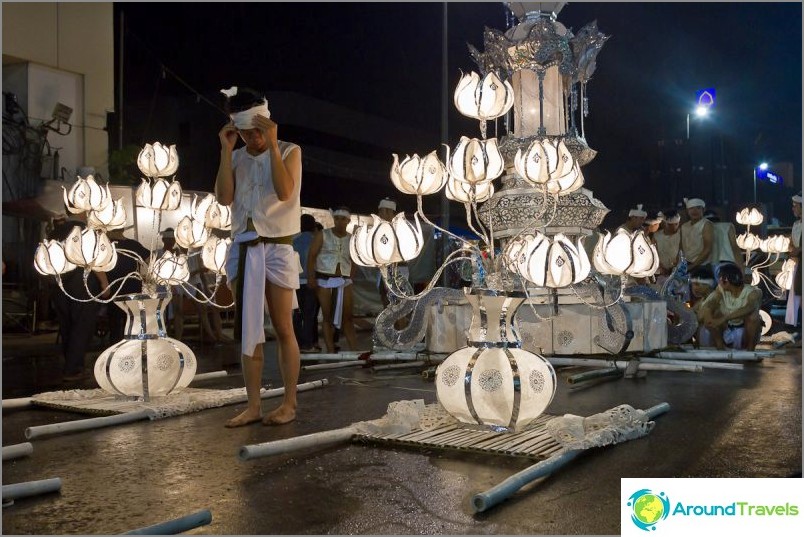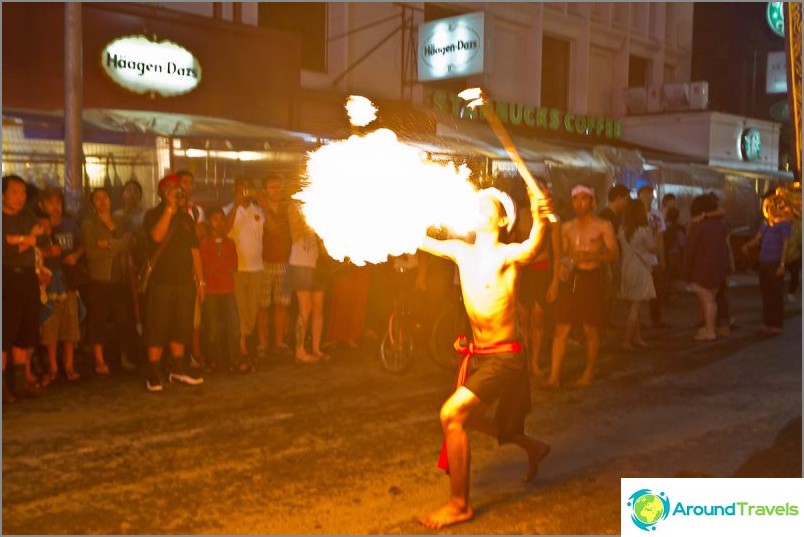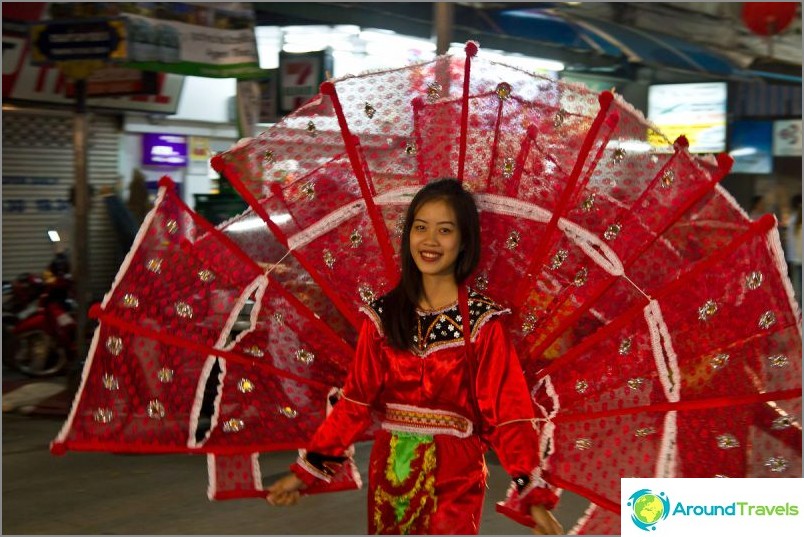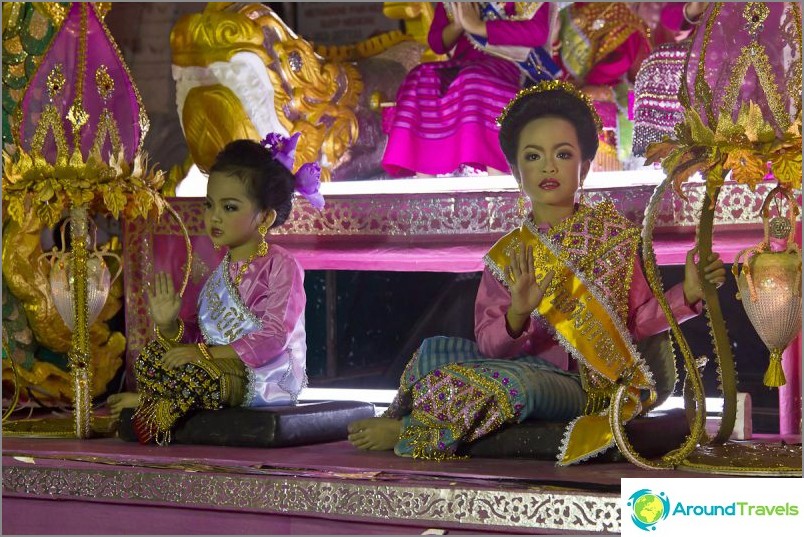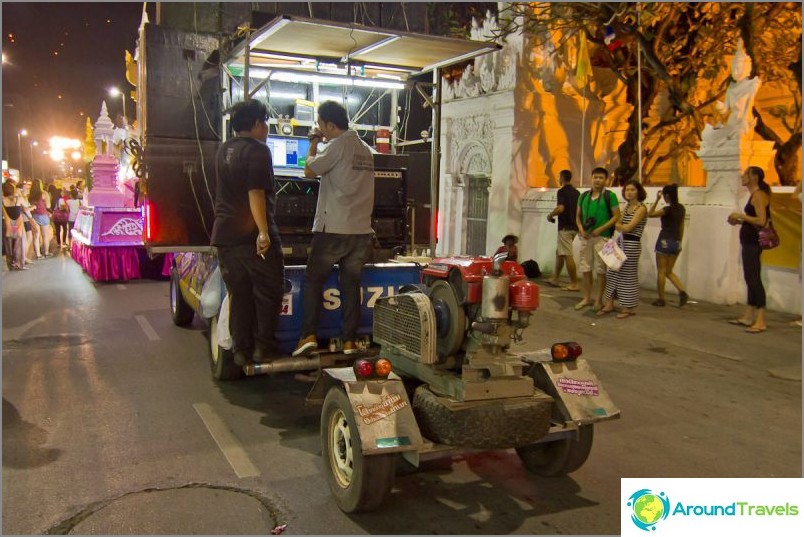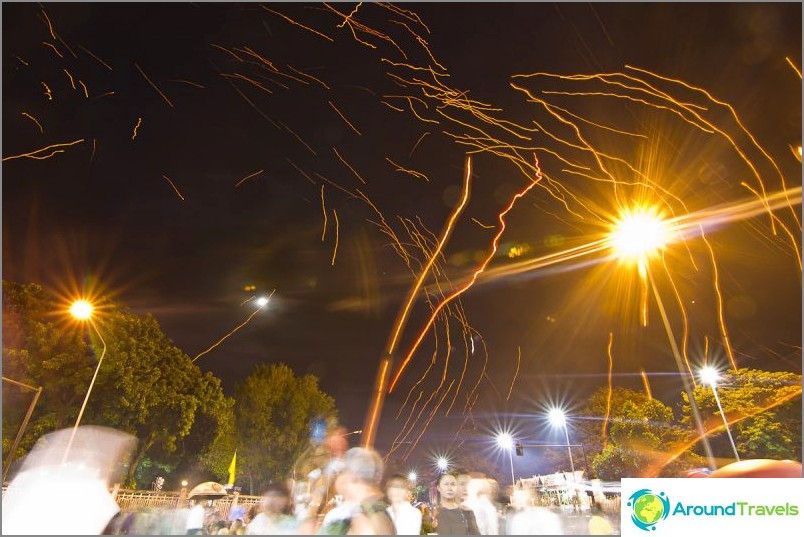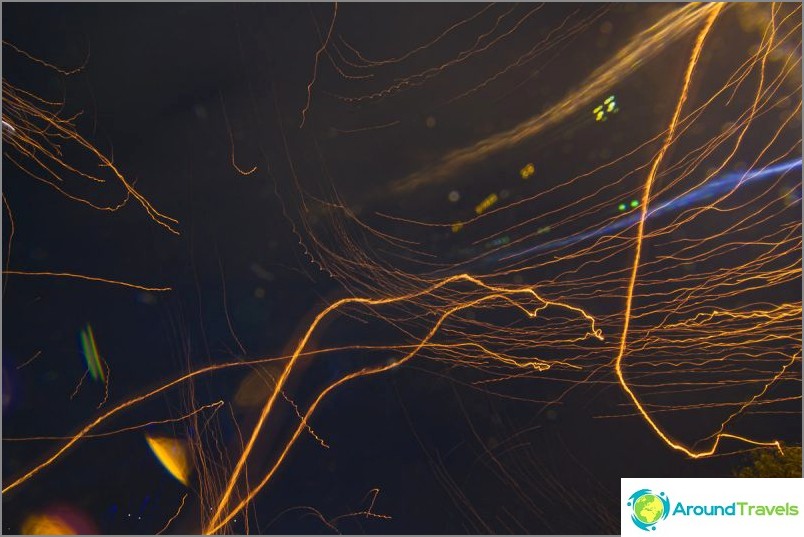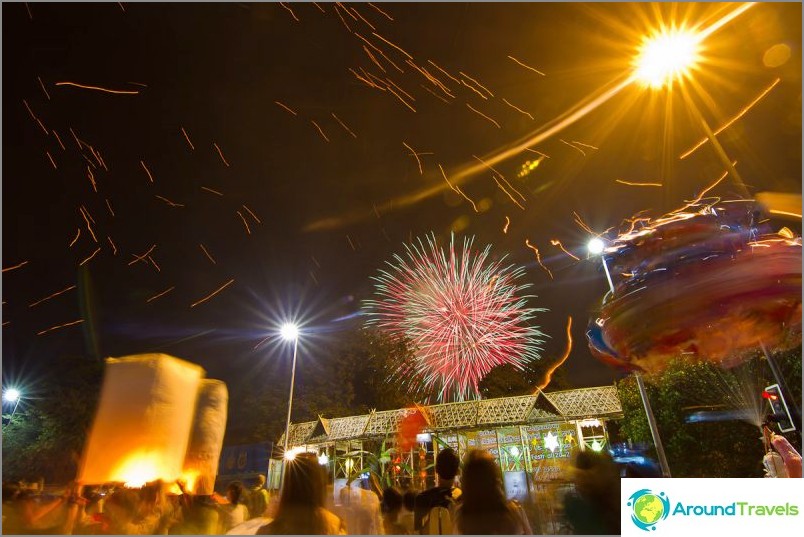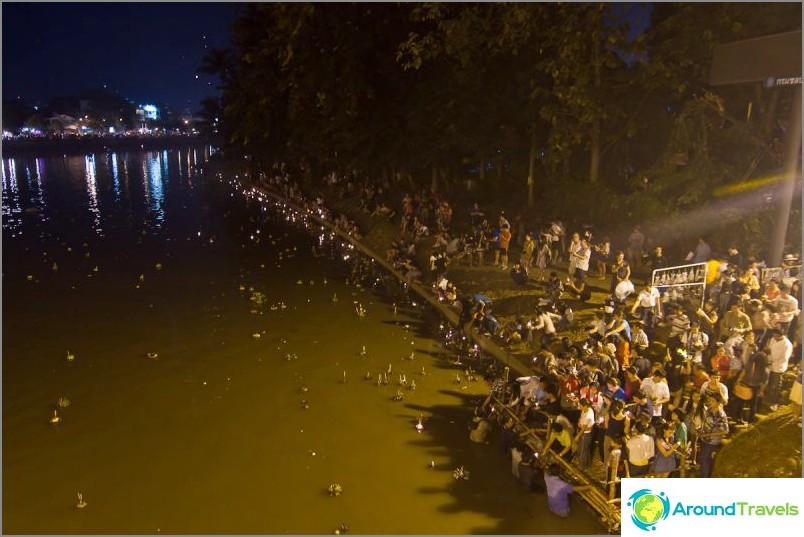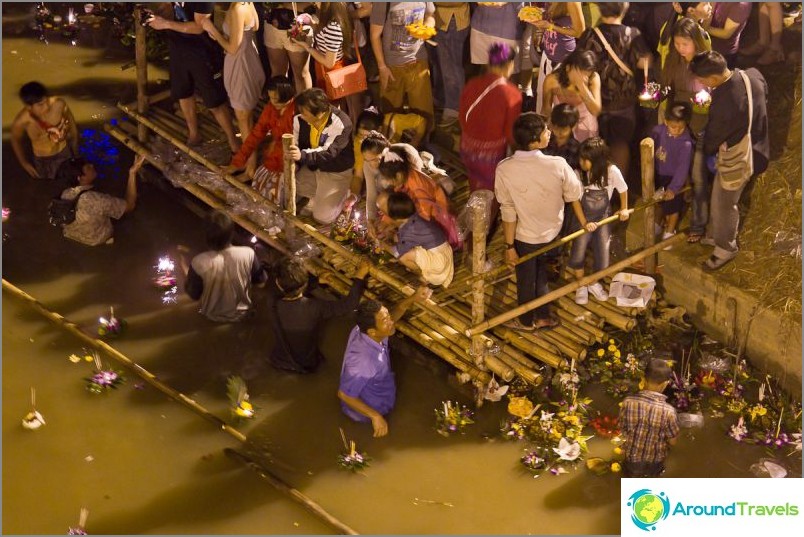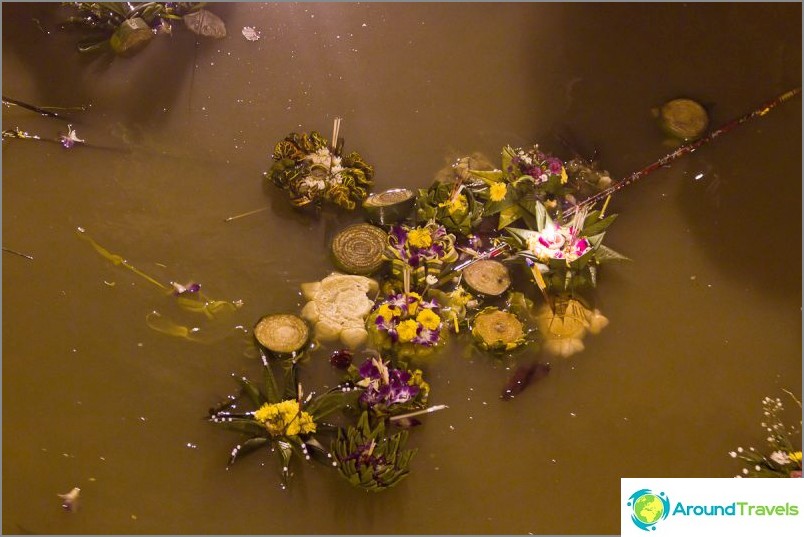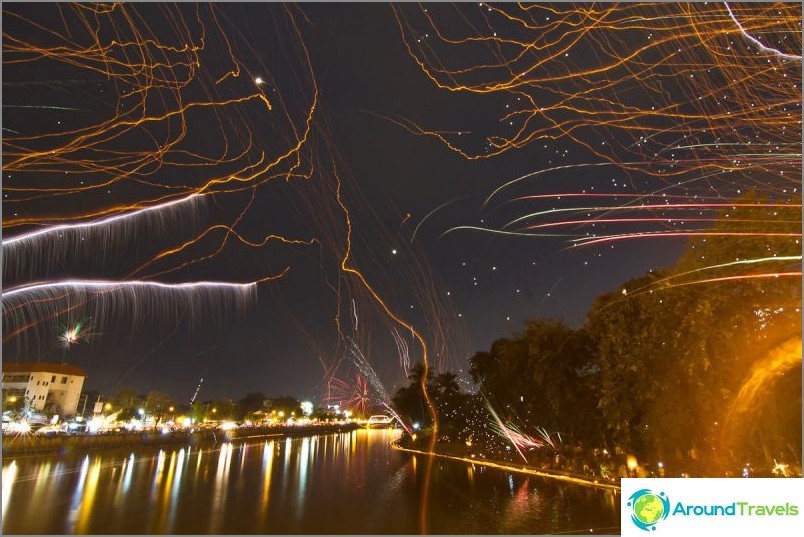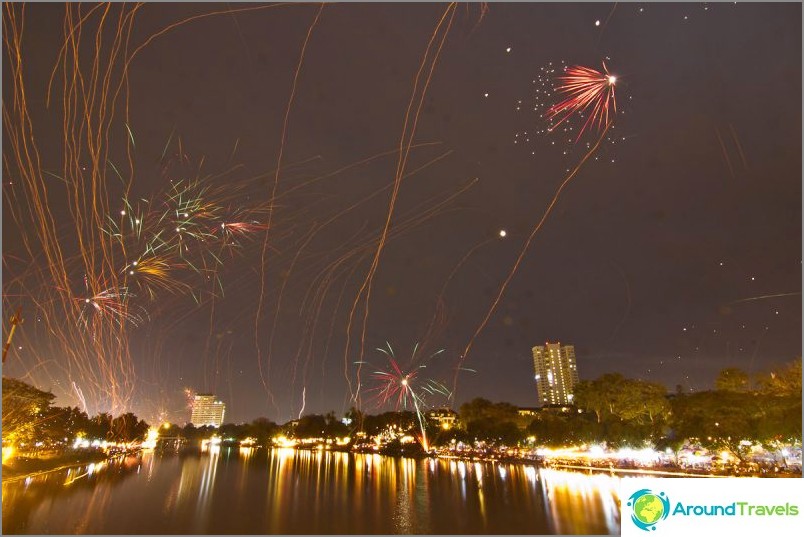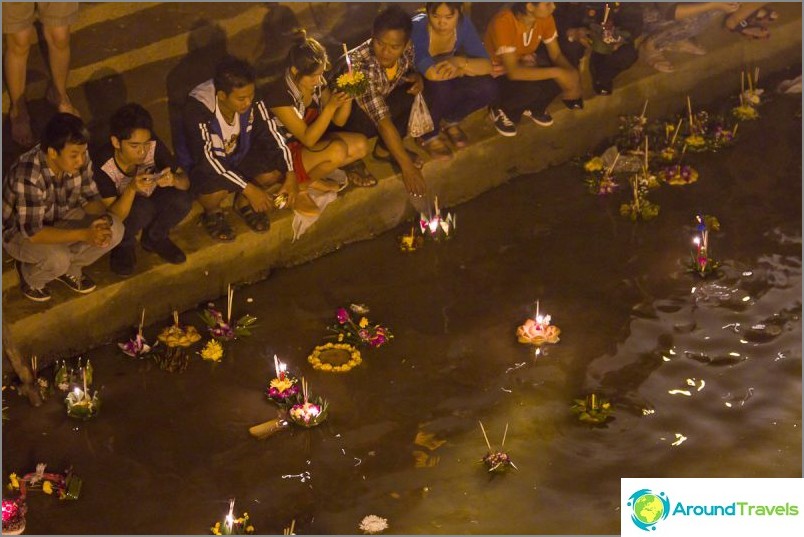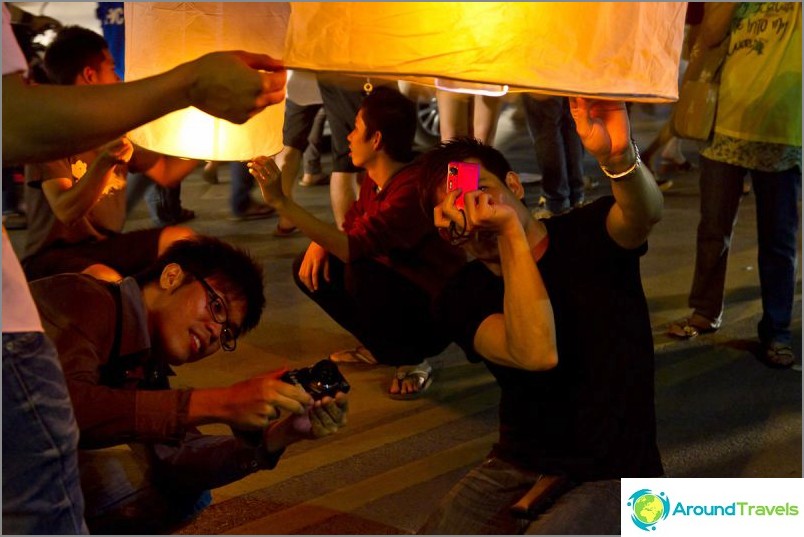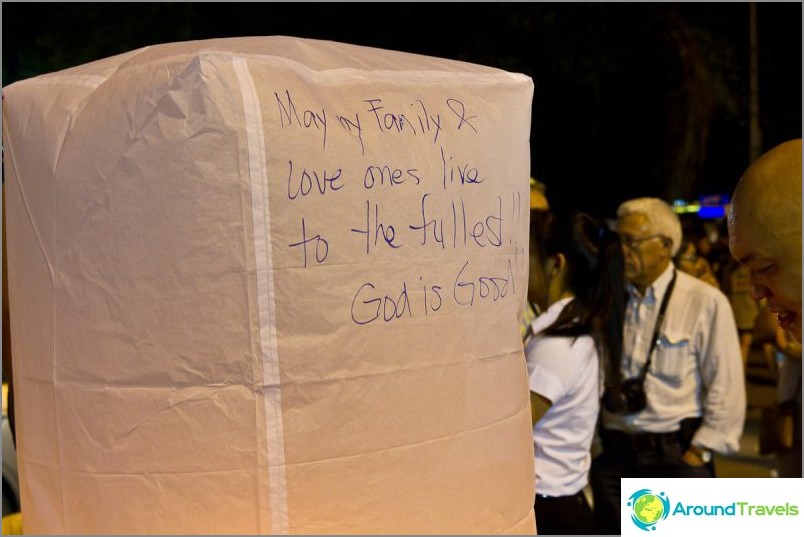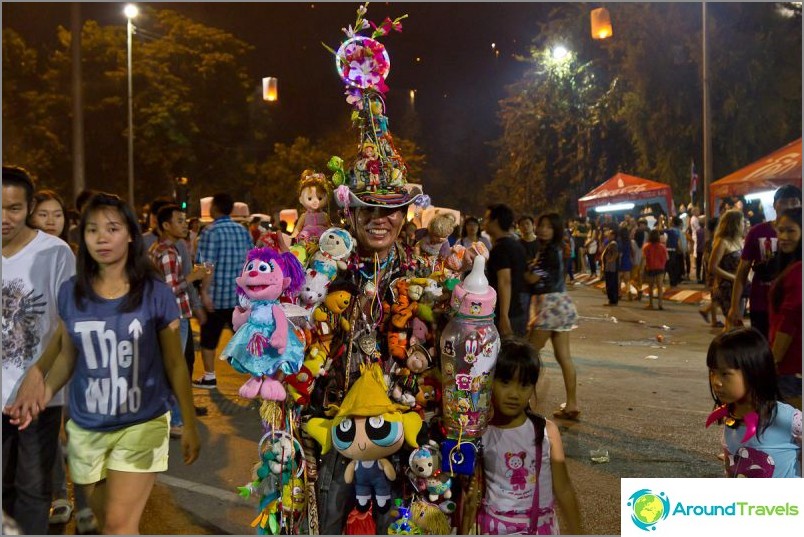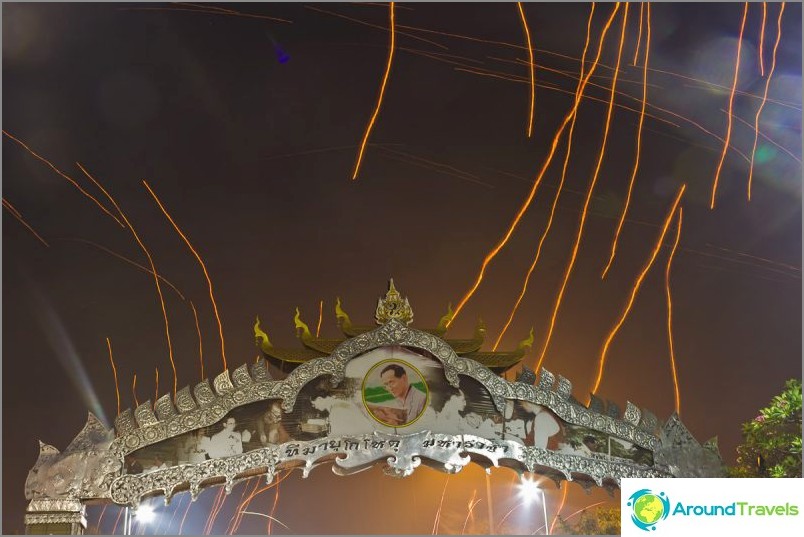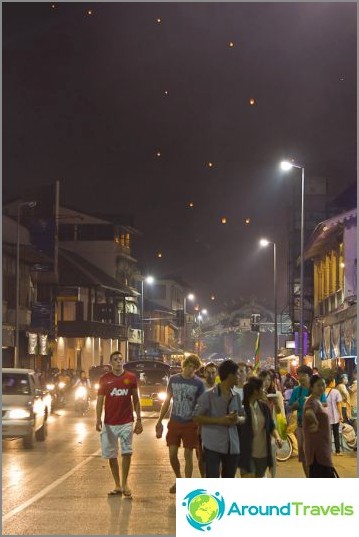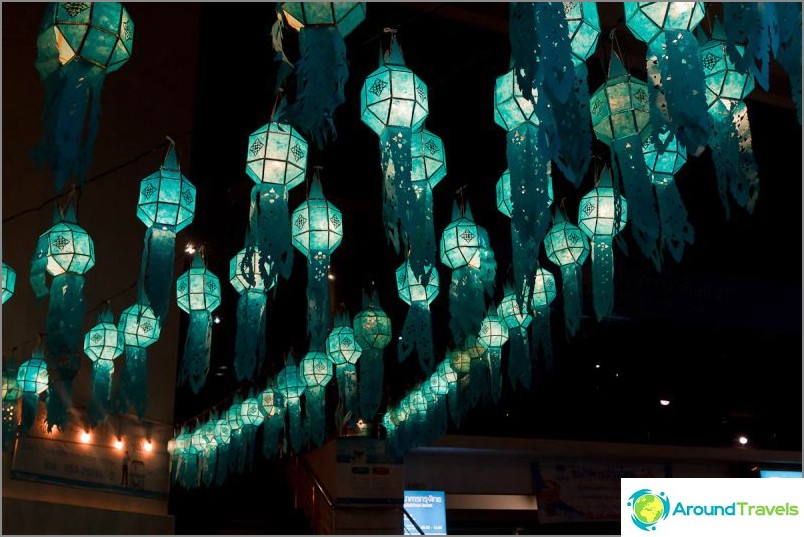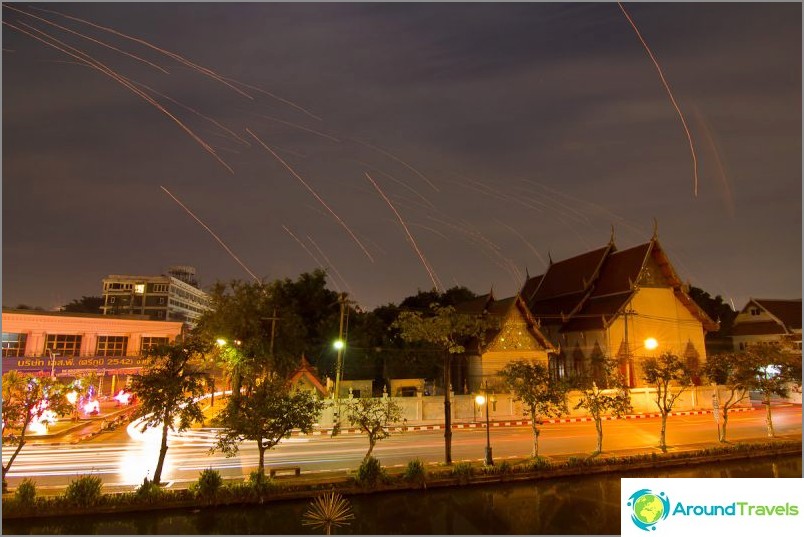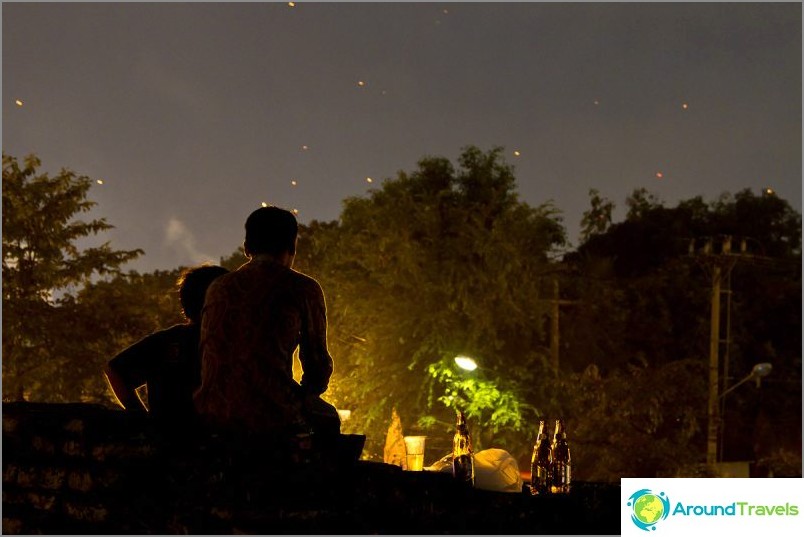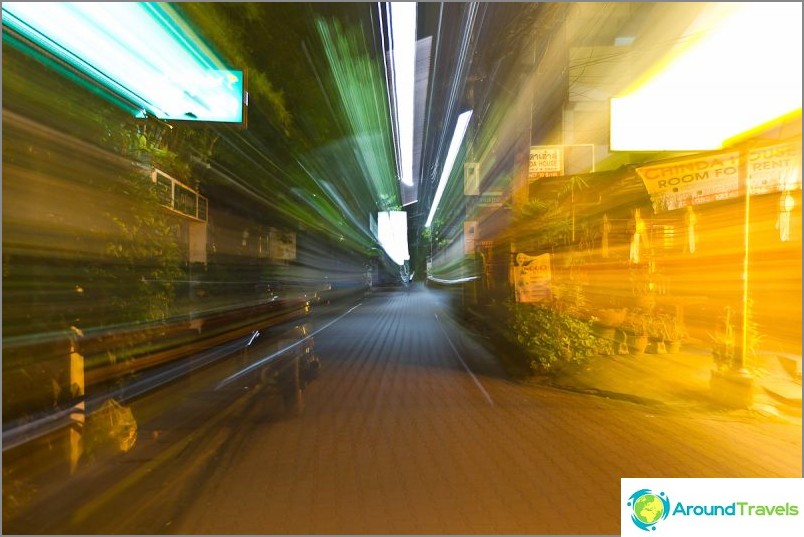 Enormous sound photos can not convey, but I canto say that it was very noisy, especially near the river, where basically all people were. The noise was not from the people themselves, but from fireworks and firecrackers, sometimes the smoke cut my eyes. The only thing that strained when some Thai or Farang put a big cracker pouring liquid fire right in the center of the crowd, and just run away from the sparks. I remember doing this all the time on the bridge, while I was taking pictures of the launch of craton. So the radius of action of the sparks coincided with the width of the bridge, so you had to directly press the fence, but this did not save.
And still it still surprises me why their fires do not happen ...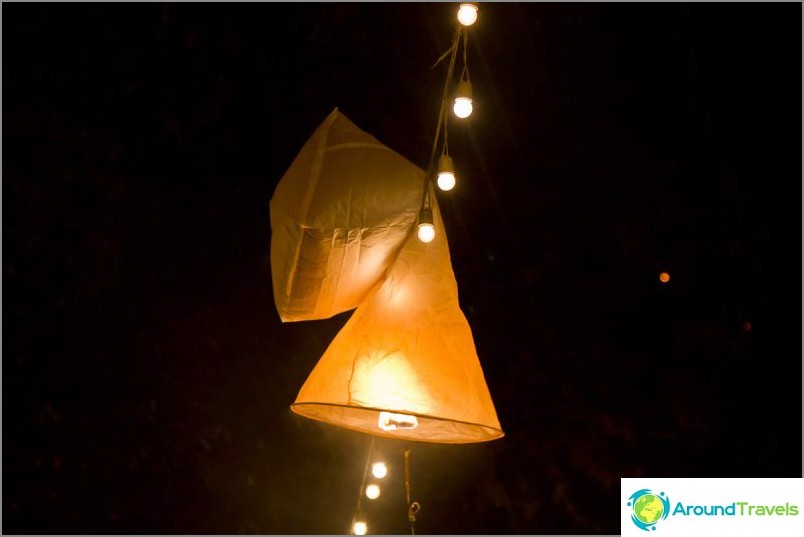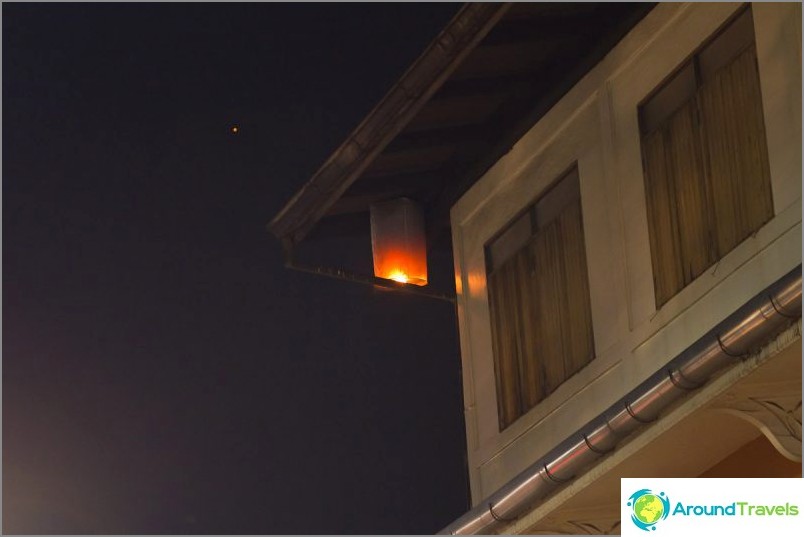 Separate launch of flashlights
Surely everyone has seen photos on the Internetsky lanterns from Thailand, when they are in the sky just darkness. It turns out that these photos are only indirectly related to the Loy Krathong and Yipeng festivals. The fact is that such a launch is done on a separate territory outside the city and it is not spontaneous, as in Chiang Mai, but planned. Moreover, there are two such launches, the first is training and free for local, the second for foreign tourists and for money ($ 80-3000). Not weak, huh? At http://www.yeepenglanna.net/ everything is told about this organized event.
My friends and I went for a free launch, butbecause of traffic jams, a huge crowd, and the fact that we were from the site across the river (and the bridges are far away), we did not have time to get to the epicenter by the very beginning, and therefore I missed the most interesting and could not take a picture. It's a shame, of course, but with my eyes I saw everything from afar. Indeed, a terrific mass launch, but $ 3000 is definitely not worth it. Therefore, if you go, go much in advance and for a free launch for local ones.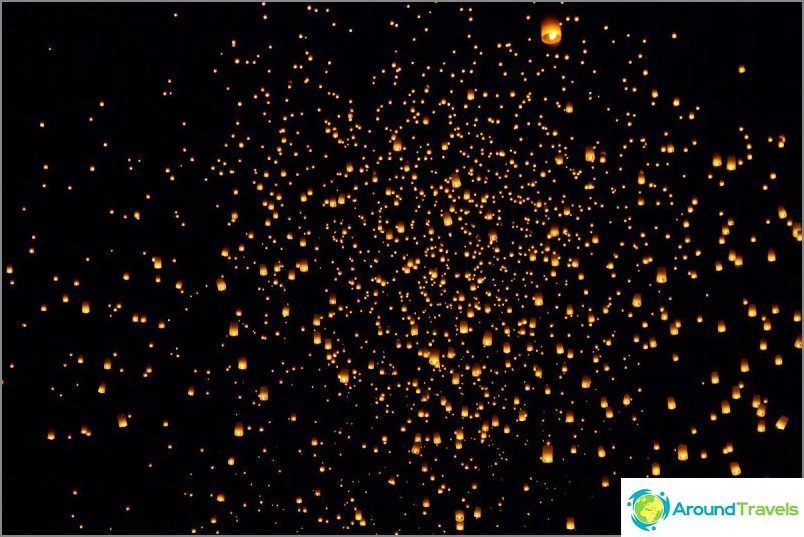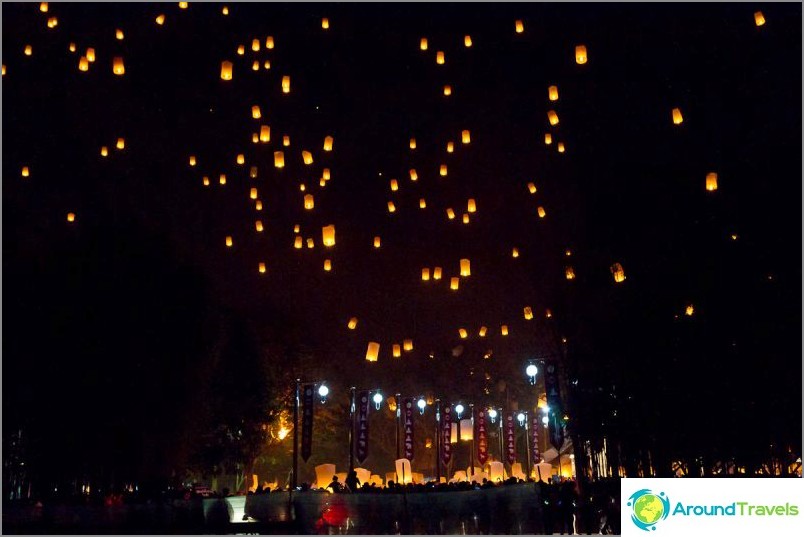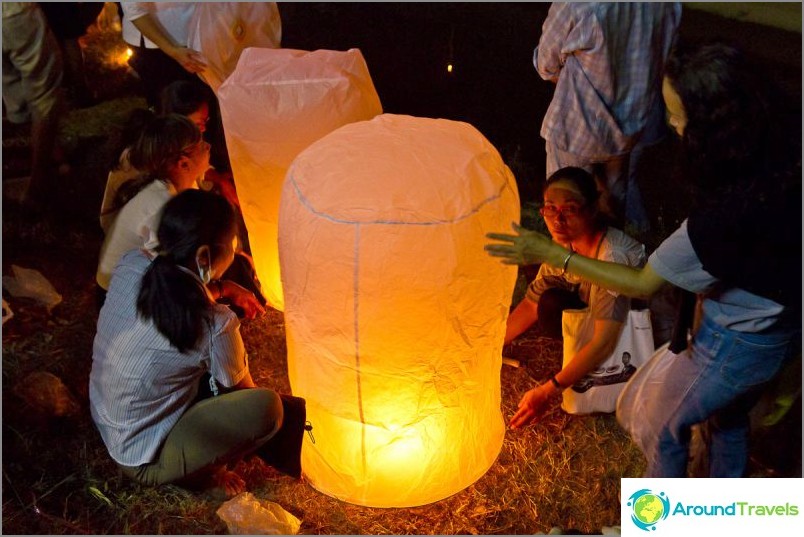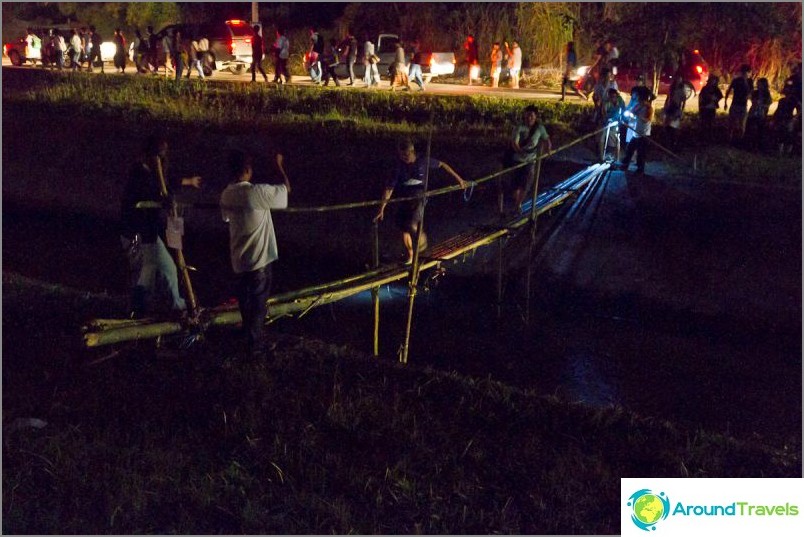 P.S. Anyone who has not seen this holiday once, I highly recommend to visit. Only book hotels in advance, preferably for several months, but it may not be available rooms. And in order to navigate a little, I recommend our Guesthouse overview in the historic center of the city.
P.S.S In the top places, it is the northern cities, such as Chiang Mai and Sukhothaiand not southern. I have nothing to compare with, but judging by the stories, everything is much bigger in Chiang Mai.
Life hacking 1 - how to buy a good insurance

Choosing insurance is now unrealistically difficult, so to help all travelers, I compile a rating. To do this, I constantly monitor forums, study insurance contracts and use insurance by myself.

Life hacking 2 - how to find a hotel 20% cheaper

First, choose a hotel on Booking. They have a good offer base, but the prices are NOT the best! The same hotel can often be found 20% cheaper in other systems through the RoomGuru service.

Discount hotels