The total experience of obtaining a Thai visa in Cambodiabased on the personal experience of the reader and reviews of people in Runet. I decided to raise this topic because most readers already understand something about what to expect in Laos. Malaysia or Myanmar. But Cambodia, until recently, was hardly seen as a place to get a Thai visa. And information on the nuances of this process, the network is not so much. I am referring to the fresh nuances, which is very relevant in connection with the latest tightening of the nuts in all Thai embassies, starting in Moscow. For example, it helped you to pay a thousand baht and get a visa twice as fast without certain documents (as was the case in 2012) you will not be able to.
The content of the article
Registration of a Thai visa in Cambodia
The Thai Embassy in Phnom Penh is exactly the same.the choice of tourist visas, as everywhere else: tourist one-time and tourist multivisa. Tourist multivisa is a lump of hassle and unimaginable sums in the accounts, which will have to be confirmed, so I will not even consider it in the framework of this post. Moreover, in Cambodia, it is given only to Cambot citizens, or those who are able to confirm their place of permanent residence in Cambodia.
Visa in Cambodia can be made only in Phnom Penh (Phnom Penh).
general information
Single entry tourist visa valid for 3 monthsfrom the time of issuance and allows the passport holder to stay in Thailand for 60 days with the option to extend the stay for another 30 days, for a total of 90 days (and not three months, please note). To extend, you have to go to the Immigration office at your place of residence, from one and a half hours of your time, and 1,900 baht for each passport.
Attention! At the time of this writing (February 2018), I would not recommend "forgetting" about extending the visa to children. Now there are frequent cases when the whole family is denied entry to the whole family because of the children's overstay, and everything goes to the fact that they will soon begin to fine both adult oversteers and children.
Consular fee, term of registration
For tourist one-time ask $ 40
For a multivisa - $ 200
It is obligatory to pay in US dollars and without change, bills of 2004 and older are not accepted.
The term of registration is 2 working days (as they say onembassy website), but in fact - 3 working days. On Monday morning, I passed it - after lunch I took it on Wednesday. There are no more moves that speed up obtaining passports with visas (very often they were written about in the reviews of 2007-2012).
That is, there are still offices in Cambodia,which help prepare and apply for a visa, but now they only pay bribes for the work itself and have no effect on speeding up the process. Against this background, I would recommend using the services of the office of visitor services, which take care of all the problems with the documents and settling customers for three days in budget accommodation.
Consulate opening hours
The timing of registration may seriously affect the schedule.Thailand holidays, so always calculate your travel dates in advance. Here you can see a list of official weekends in government institutions in Thailand. The embassy is open from Monday to Friday, except for holidays.
The reception of documents: from 08:30 to 11:00. In fact, they can pick their nose until 9:30, until they finish all their morning business. For the time being, this deficiency is smoothed out by a small number of visitors, but if the flow rises, it will be fun.
The time of issuance of documents: from 15:00 to 16:00. Here, too, purely Thai amendments to the wind are possible, but in general, after lunch they are already moving more lively.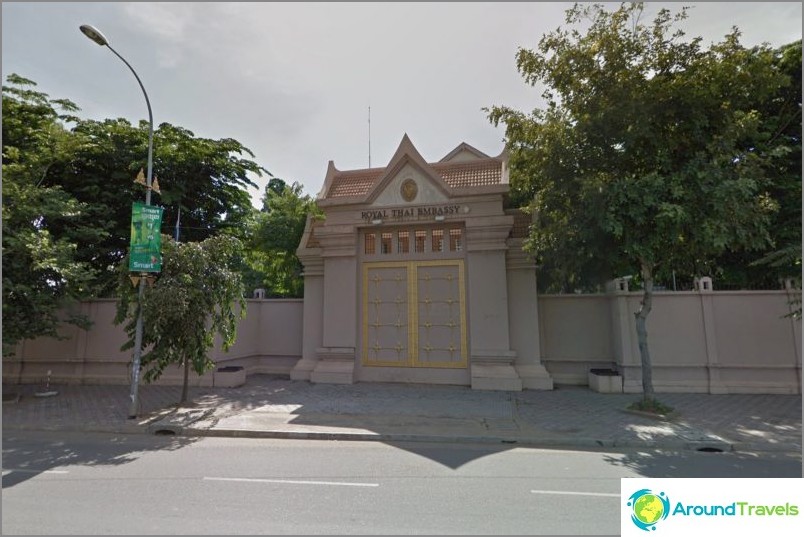 List of documents for visa in Phnom Penh
A burning question for newbies and experienced,considering how Thais like to make sudden corrections or recall laws overgrown with moss with restrictions and requirements. So, what does the embassy require on its website for one visa:
Filled Visa Application form (download in advance, print and fill out here).
Two photos of size 3.5 x 4.5 cm. If the pictures are old, where the difference in age is clearly visible - they will not be accepted.
A passport that expires at least 6 months at the time of submission.
Copy of the passport
Tickets to Thailand and back. And it is not stated that it should be exclusively air tickets. Travel tickets are travel documents.
Confirmation of financial status. For one-time $ 1000 per person, and $ 2000 per family. It is not written how to confirm, show cash or bank statement.
Confirmation of booking accommodation.
Well, then follows the postscript that the officerembassies have the right to demand any document if necessary, can conduct an interview without warning, and that the money that you pay when you apply for a visa, in case of refusal is not refundable. And now briefly about what we have in fact, from the personal experience of the author and accomplices in Runet.
Tickets to and from Thailand are preferred.show air, despite the lack of direct hints. As practice shows, land transport tickets are often not accepted as a travel document. Moreover, the tickets back then require and check on the bases, then do not require or give back. Actually, a wonderland and momentary mood.
Do not forget to invest, and do not lose, in principle, an important piece of Thailand departure card. The site is not written about it, but asked at the embassy.
A copy of the passport is usually returned at the application submission stage. But I do not recommend not taking it with you, for the buddha knows at what point they will need these copies.
Bank statements meanwhile check in half-eyes. That is, there are no test calls to the bank (yes, there no one will explain anything to them), they do not find fault with the absence of live stamps, and in principle, if there are adequate numbers on the account (not three million euros and not 1,000 rubles) for questions does not occur.
What is typical of Phnom Penh - I have not met anywhere elsementions that a family member traveling at the expense of another family member must present a sponsorship letter. So, you can write it just in case (in English), well, and if there is an inspiration in someone at the embassy, ​​you will show it.
Personal experience of one of the subscribers
As it turned out, to apply for a visa wasan account statement is required, and that there is money for the whole family and for the entire stay. And round-trip tickets, these two moments disturbed me the most. With money, in principle, there were no problems, except for one thing - how to get the original discharge from Moscow in Phnom Penh. Already even pondered and calculated the option with UPS, and then decided to take a chance and printed the document on the printer. The printer turned out to be of high quality, made an almost perfect color copy. To this copy, I added a listing of actually booked airline tickets with dates that corresponded to the entry-exit from Thailand.
Money from us for three was $ 120,plus one photo for each person and one completed application form, no more papers were asked. I filled out the forms immediately at the embassy, ​​handed over the documents somehow suspiciously quickly, and just as quickly received it in due time. Obviously, they cannot verify the bank statement, and if it looks convincing outwardly, then it is not examined very carefully. Most likely it's the same with tickets, but here I can't say for sure if they were checked or not - but the embassy has such a possibility. "
In general, after careful study of the English andthe Russian segment of the Internet, I got the impression that the office in Phnom Penh is classified as a hemorrhoids. In spite of their (for the time being) sloppy attitude towards checking the provided proofs, it is worthwhile to come here only in extreme cases. Not the most friendly staff, carping to passports with a long history of travel to Thailand, a free attitude to the schedule of work, well, everything in that spirit. Every trip to them is a lottery. Some write - in general, the fool slipped with a number of deficiencies in the documents. Others spit and cannot leave for two weeks due to the fact that they did not fall into the trick with holidays or innovations, or with the ambassadorial mood.
On the map
Thai consulate
Thai consulate
In Cambodia, only in one city you can get a Thai visa and this is Phnom Penh.
In Cambodia, only in one city you can get a Thai visa and this is Phnom Penh.
Life hacking 1 - how to buy a good insurance

Choosing insurance is now unrealistically difficult, so to help all travelers, I compile a rating. To do this, I constantly monitor forums, study insurance contracts and use insurance by myself.

Life hacking 2 - how to find a hotel 20% cheaper

First, choose a hotel on Booking. They have a good offer base, but the prices are NOT the best! The same hotel can often be found 20% cheaper in other systems through the RoomGuru service.

Discount hotels