Last time I talked about food in Thailand in Thai cafes and in Thai supermarkets. The story will be incomplete if you bypassmarkets for vegetables, fruits and other foods. Many interesting things are sold in the markets, and you will probably want to try everything. At least, therefore, it is worth going there. Also get the opportunity to touch another side of Thai life, integral, so to speak.
Thailand is one big food marketsold everywhere. Imagine how convenient it is when on the street there is an opportunity to eat chopped fruit for a symbolic price, or when you cooked Pad Tai. This is especially true of crowded places - close to shops, on popular streets, beaches, during holidays. By the way, the last is the tradition of Thailand, well, there can be no good celebration without tons of various food.
The content of the article
Markets in Thailand
Market opening hours
Usually markets in Thailand are daily,morning or evening, or on some days of the week. Moreover, in one place the market can be in the evenings of Fridays, and in the other - in the mornings of Mondays. The place where the market is usually held may look like a concreted site with rows of trays under the roof, or it may be an ordinary dusty waste ground in non-market time. Market hours need to be found out in a particular area / resort from the local, they will tell you exactly what and when.
There is also a type of market callednight market, which translates as "night". But in fact it is the evening, from sunset (17-18 hours) and until the evening (20-21 hours). As a rule, this is just a mixed market, where clothes, trinkets and various ready-made foods are sold, ranging from the traditional Pad Tai, to the prepared chips and fruit necks.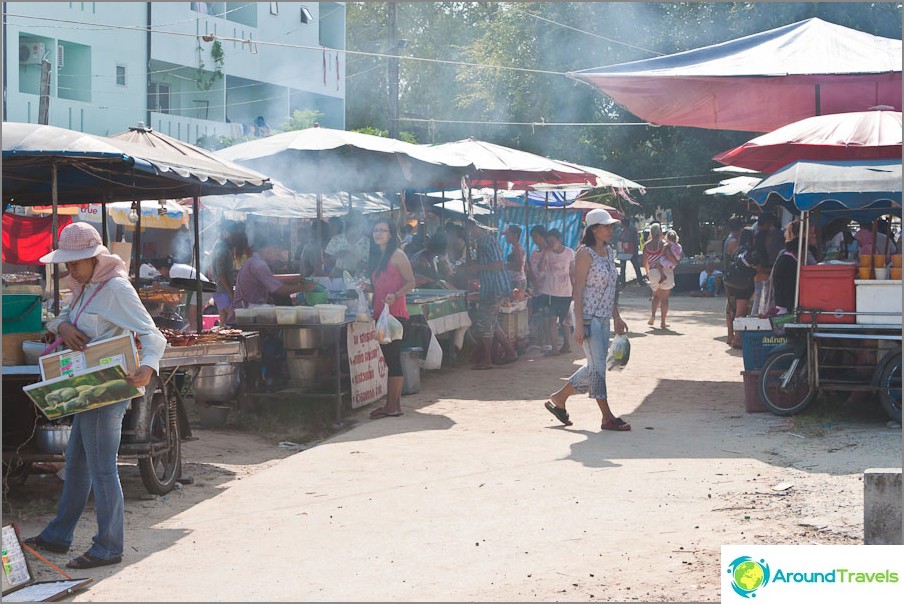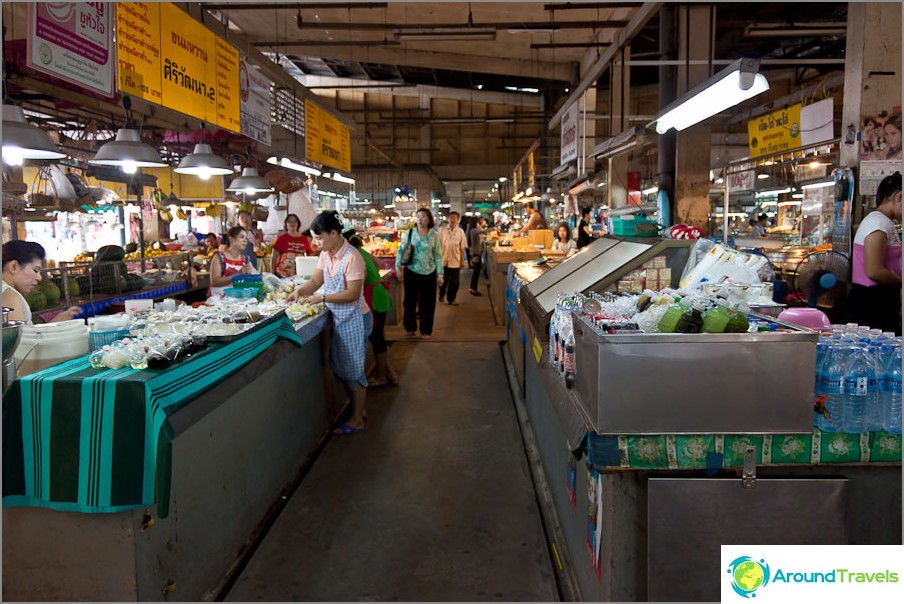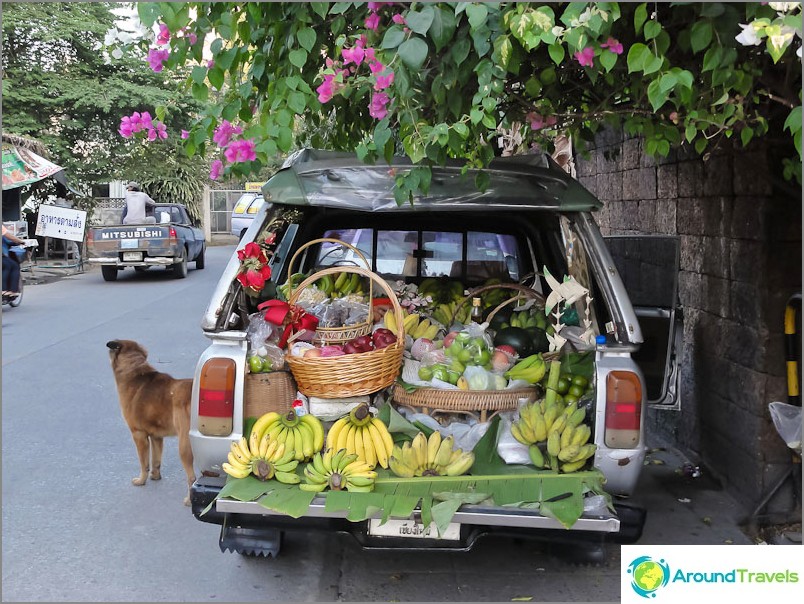 Product prices
Prices in Thai markets are not always strongdiffer from the prices in large supermarkets such as Tesco Lotus and Big C. When the season begins with some local fruit, it can be bought on the market for almost a penny. This applies to litchi, longans, rambutans, mangoes, durians, pineapples and other Thai fruits. Bananas, coconuts, papaya, watermelons can be bought almost all year round.
The cost of some products in the markets:
Watermelon - from 20 baht / kg.
Bananas mini from 10 baht for a small branch.
Mango - from 10-25 baht / kg for green and from 70 baht / kg for large yellow mango, it is possible to buy yellow at 35-45 baht / kg, if in season and they are small and slightly overripe.
Coconut - 15-40 baht piece. On the market, coconuts are often sold unprocessed, whole. Upon request, they can open a nut with a large cleaver right in front of you
Thai sushi - 5-10 baht per thing. The taste is not very impressive, but for a change you can try.
Thai sweets, donuts, cakes, pies - from 5-15 baht for things.
Already cooked fish - from 25 baht for two small fish. There is a big fish cooked in salt, around 100 baht apiece.
Pancakes with fillings (usually a banana with an egg, buthappens mango, etc., at will can pour condensed milk, chocolate or jam) - 35-40 baht apiece. Just as there is shaurma in Moscow, and shaverma in St. Petersburg, these pancakes are called differently in different regions. Somewhere it is "banana pancake", somewhere "rotee". At the bottom, watch the video, how they are prepared.
Fried rice, noodles, salads in a package, broths - from 25 baht per serving, usually 35-45 baht.
Chopped portioned fruit in a tray - 25-40 baht.
Durian - from 90 baht / kg.
Rambutans - from 20 baht / kg.
Mangosteen - from 30 baht / kg.
Papaya - from 20 baht / kg.
Pineapple - from 30 baht apiece.
Tomatoes, cucumbers, etc. vegetables - from 20 baht / kg.
Mussels - from 45 baht / kg.
Large shrimp - from 150 baht / kg.
Snails, scallops, etc. - from 120 baht / kg.
Tiger shrimps - from 350 baht / kg.
Ready-made pork skewers on skewers, balls, sausages - around 30 baht apiece.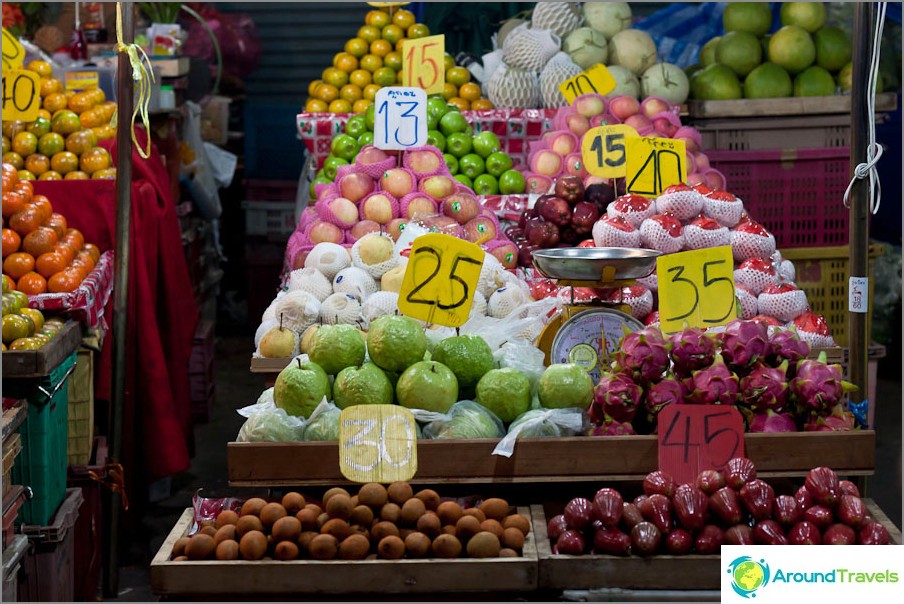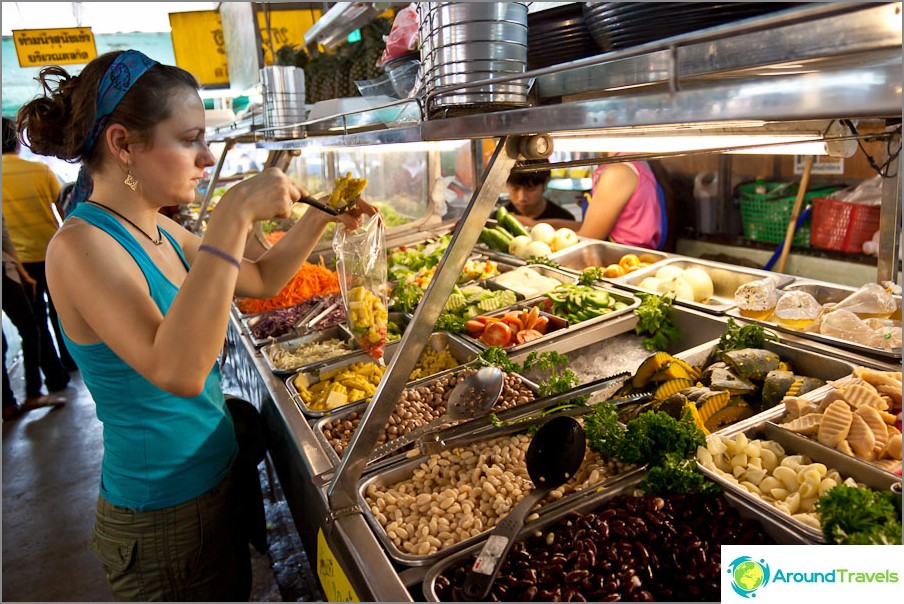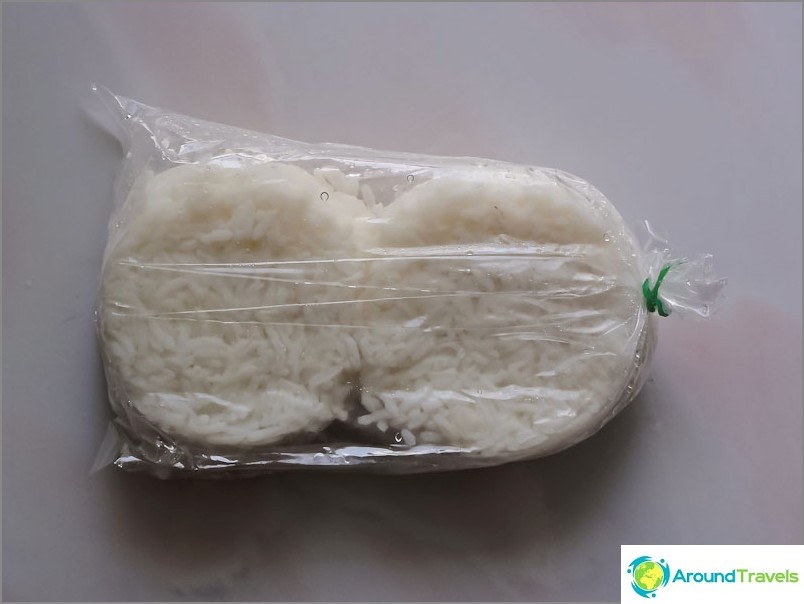 Clothing prices
Prices for clothes and shoes in the markets begin almostthat from scratch. The most unpretentious T-shirt-cap-pants can be bought literally for 50 baht. Cotton children's dresses - from 30 baht, rubber children's slaps - from 30. Of course, this is all the cheapest and of the lowest quality, "for one day". But if it is not Chinese game and synthetic, the option "for the beach and the village" can be bought there. Thais are very fond of the method of "buy 3, get a discount." For example, a children's dress for 50, and three - for 100. A skirt for 80, and three - for 200. Women's blouses in the markets can be bought from 100 baht, jeans - from 300, shorts - from 200. In those places where clothes are sold , calculated on foreigners, prices are certainly more expensive. Usually these are "ethnic" colorful bags, dresses, skirts, blouses. A la handmade. In this case, dress-dress will be more likely for 400-500 baht and above, blouses and tops - from 150 baht, beach shale - around 100 baht, children's clothing - from 200 baht.
What can you buy in the Thai market
Markets in Thailand are divided into pure fish (seafoodmarket), fruit and vegetable and mixed, where they sell not only food and ready-made food, but also clothing. We can say that there are markets where only clothes and other accessories are sold, but they will still sell food there too. Yes, there may not be fruit-vegetables and meat-fish (or there will simply be a small choice), but in any way ready-made food will be sold.
In tourist places also happenexemplary markets for foreigners. Fruits there are pretty, selective, mostly those that are popular with tourists. There are also often sold plastic baskets for transporting fruits (especially to carry in the plane in hand luggage). Prices in such places are higher than in ordinary markets "for the people".
clothing
In addition to products in Thai markets, more are sold.clothes, shoes, various household goods, etc. In the markets for local residents, clothing is sold the simplest, cheapest, in most cases, synthetic Chinese. These are t-shirts, shorts, dresses, baseball caps, etc. From shoes - rubber slaps, fake crocs, sneakers. There are clothes for children. There are a lot of Muslims in the southern regions of Thailand, so there are also specific clothes for Muslim women in the markets - long-sleeved dresses, headscarves.
If it's not synthetic, but cotton, then something ismarkets can be bought, but rather as a beach option or souvenir. Because the quality is not very good, and there is no place to try on clothes on the market. But if suddenly you like the fun "authentic" skirt or a simple children's cotton sarafan or men's shirt with short sleeves - it is quite possible to buy, everything is very cheap in Thai markets, prices start from 25 baht.
In places where tourists gather at every stepsmall markets come across with specific goods for holidaymakers: swimsuits, inflatable circles and sleeves for children, swimming pools, all sorts of plastic buckets and paddles for children, shorts, T-shirts, T-shirts, baseball caps, dresses. These are clothes for foreigners, the locals don't wear such clothes. It is slightly better quality than in the very rural markets. But all the same, it's rather designed for spontaneous buying in the wake of vacation enthusiasm. Although we must admit that colorful sundresses and puffy skirts to buy in Thailand is more pleasant at prices than in Russia.
Fruits
In Thailand, I became practically an idolatermango and papaya. As it turned out, not everyone likes papaya (unlike mango). I also did not try it right away. But then she became a frequenter of my breakfast.
And of course, I can not say a few words aboutmango. Its taste can be compared with good sex, as it never bothers and every time the taste is so strong, as if for the first time. Imagine that every time you eat a tomato, you will exclaim - "oh my God, how tasty!" Is it hard to imagine? Yes, tomatoes are not the same now, but with a mango it will be like that.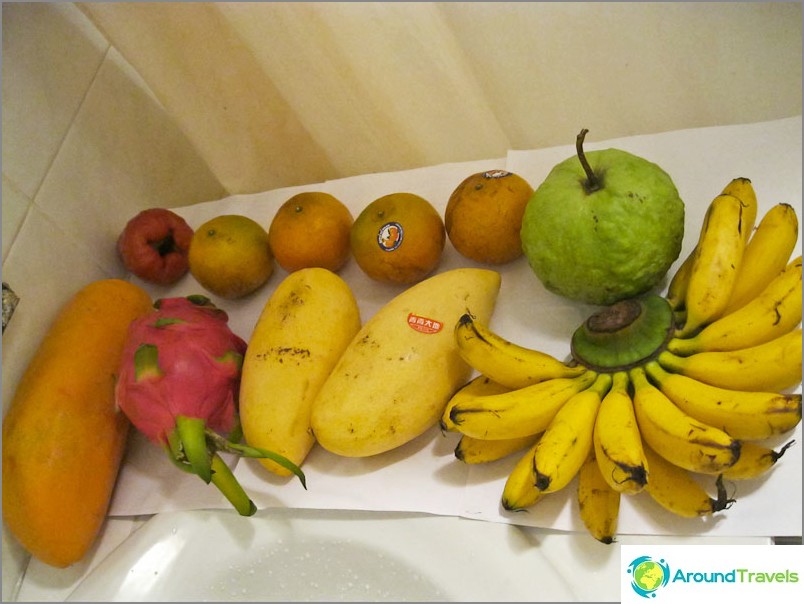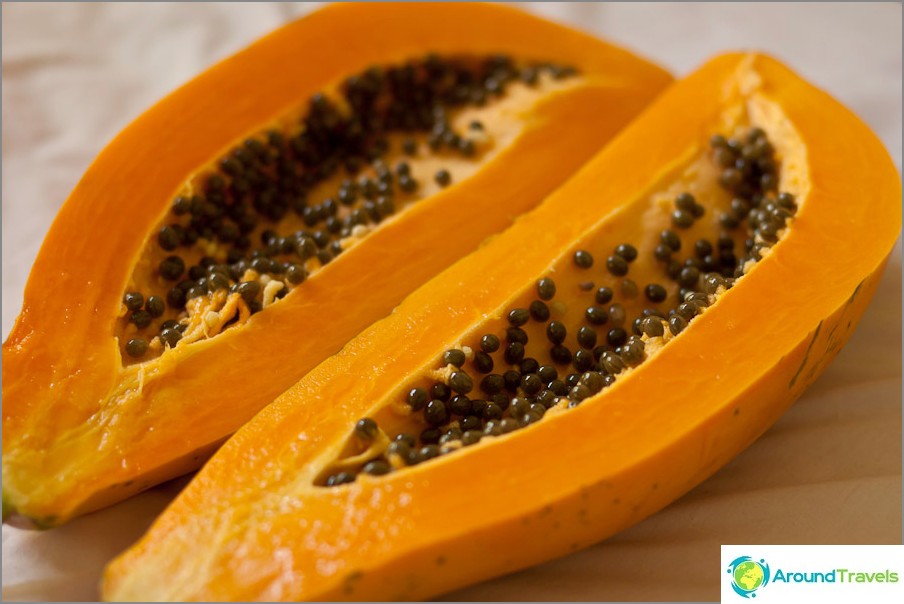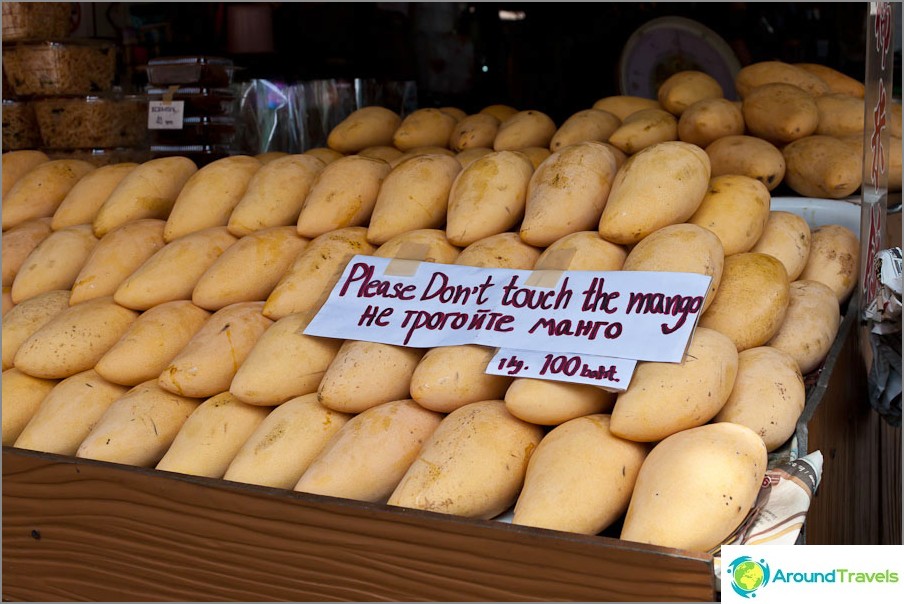 Durians - another "cult" Thai fruit. He is either adored or hated. There are legends about him, after which not everyone dares to try it. Durians even confer the honor of being mentioned in official rules and signs in public places - they cannot be carried on the plane, and some hotels prohibit them from being brought into the rooms. In general, this is a very specific Thai fruit, covered with legends. The fruits of durian are very large, green in color, with sharp thorns, and inside the tender flesh is slightly yellow. Since it is very difficult to cut durian for a beginner, their flesh is often sold in individual pieces, in a tray under the film. Inexpensive durians are only in season, and in general they cannot be called cheap fruit. I personally like durian to taste. I even made a separate post about him with a video - What smells like durian.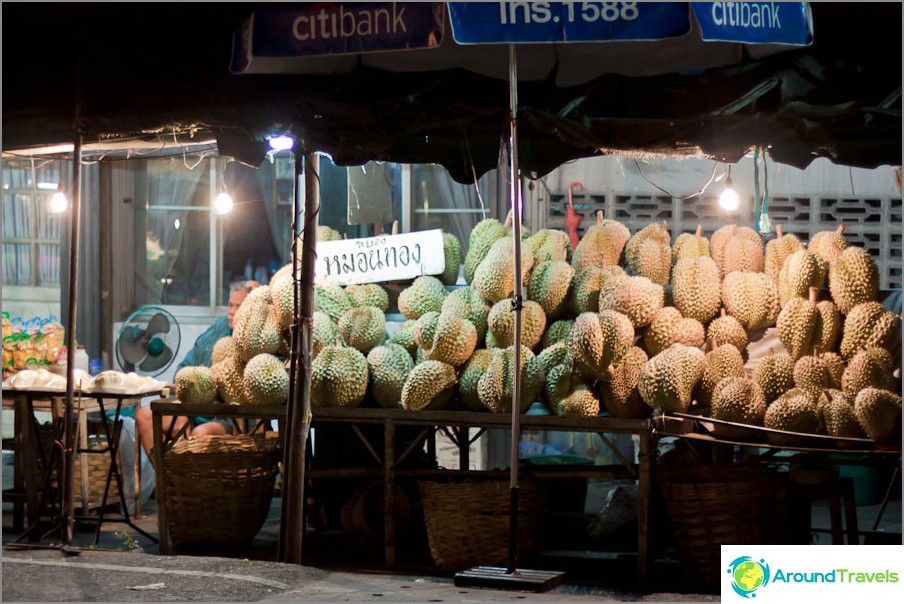 When in Thailand begins the season of somefruit, they are sold in the markets literally by carts - big mountains are piled up in pick-up trucks, they are transported through the streets, they are sold from trays on the roadsides. These are mostly inexpensive pure Asian fruits: longan, rambutan, lychee, tamarind, salak, mangosteen, guava, sapolilla, rose apple, sugar apple, carom, jackfruit. Yes, there are a lot of fruits in Thailand. All of the above is quite specific, but it is interesting to try it. From what foreigners usually like, coconuts, already mentioned mango, passion fruit, pomelo, dragon fruit, pineapples (in Thailand, they are much tastier than those we sell), tangerines (Thai tangerines with green peel). From the fruits we are accustomed to in the markets, watermelons are sold (and the variety is oblong and yellow inside, but they taste the same), small bananas (also very tasty, much better than ours), apples and Chinese pears.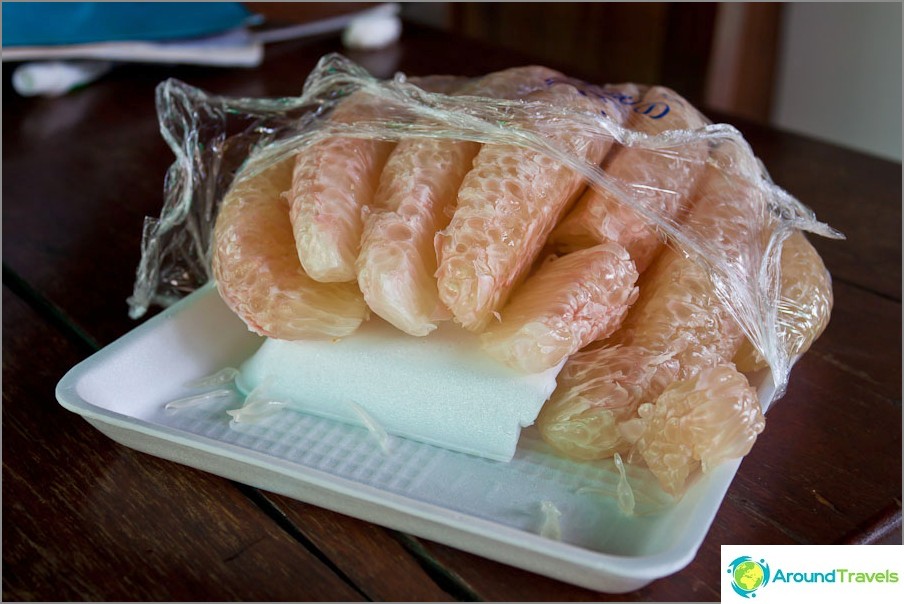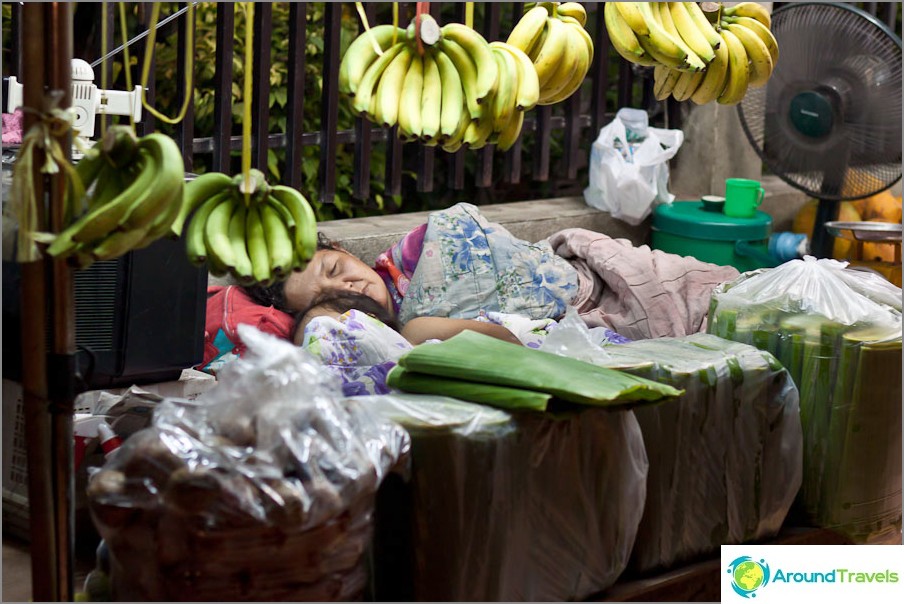 Vegetables
If we talk about vegetables, they are not in ThailandA lot of species and they are cheap. In addition to the usual potatoes, carrots and cucumber tomatoes, the markets are still sold a huge amount of all greens and lettuce leaves. From habitual cilantro and parsley to tufts of ugly-looking weed. Among the products that are not very familiar to us and loved by Thais are asparagus sprouts, green eggplants and Thai zucchini, green beans. I also personally liked Morning Glory and Kale grass, they can be added to salad or to omelette.
In addition to fresh vegetables and fruits, a large number of various seasonings are sold in the markets in the form of powder, pasta or whole dried fruits.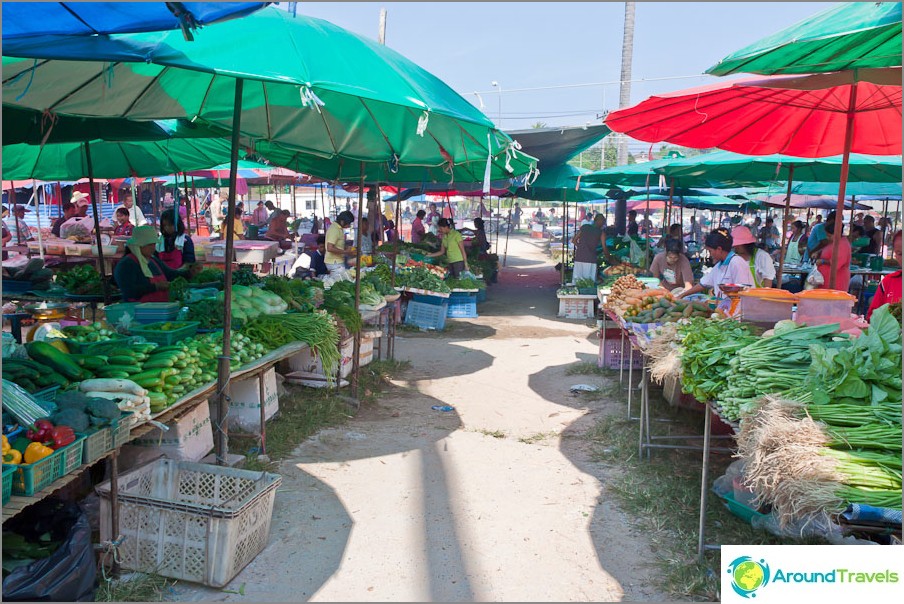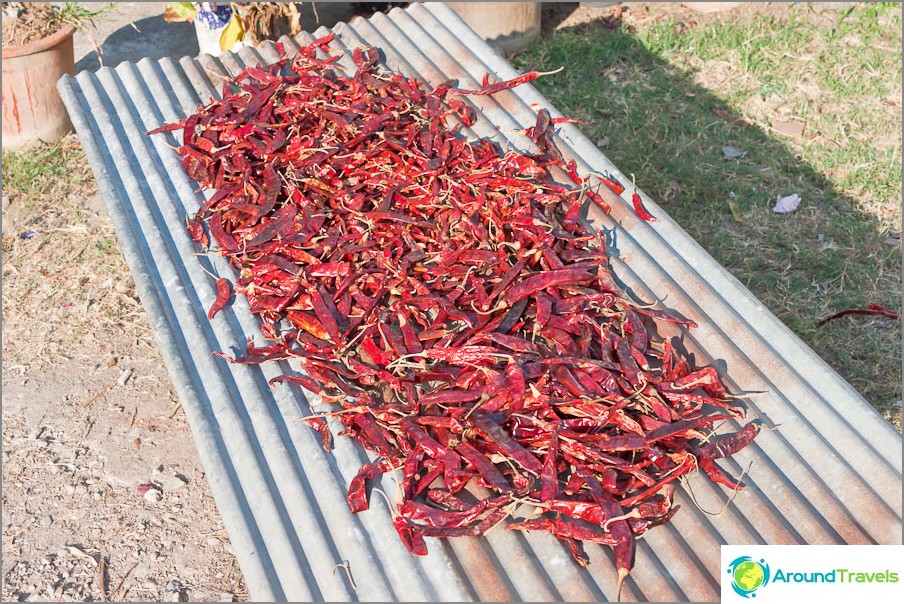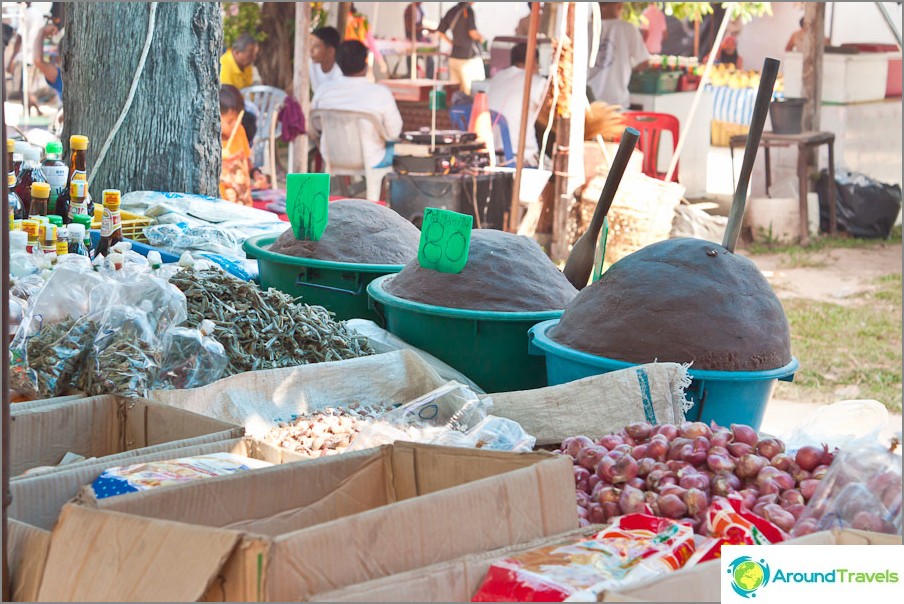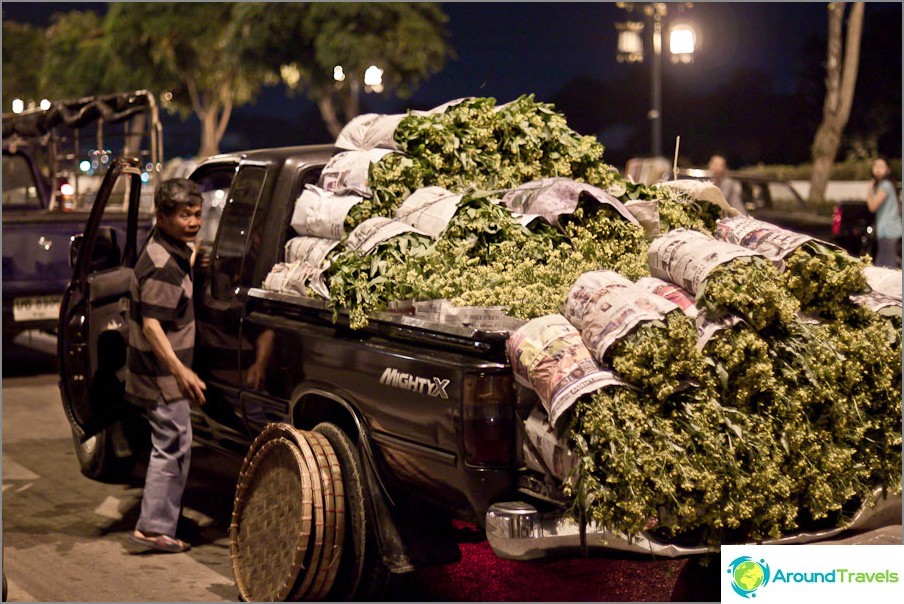 Meat and fish
In Thailand, quite often and in any locality.there are Seafood market or seafood markets. There, besides the fish itself, you can find crabs, shrimps, various varieties of shells and mussels, snails, swordtails and other marine exoticism. It costs it all in different ways. From inexpensive mussels in shells to very expensive (especially with the current ruble exchange rate) tiger prawns for 450 baht per kg.
Fish and seafood are sold fresh, usuallymorning catch Spread everything on the ice. Of course, the smell in the fish rows is present and the flies also fly, but for a long time seafood on the shelves does not linger, everyone quickly makes out. So it happens that by noon nothing is left.
Raw meat in markets in Thailand also sell, but given the climate (and flies flying over meat), not all foreigners decide to buy it in the markets.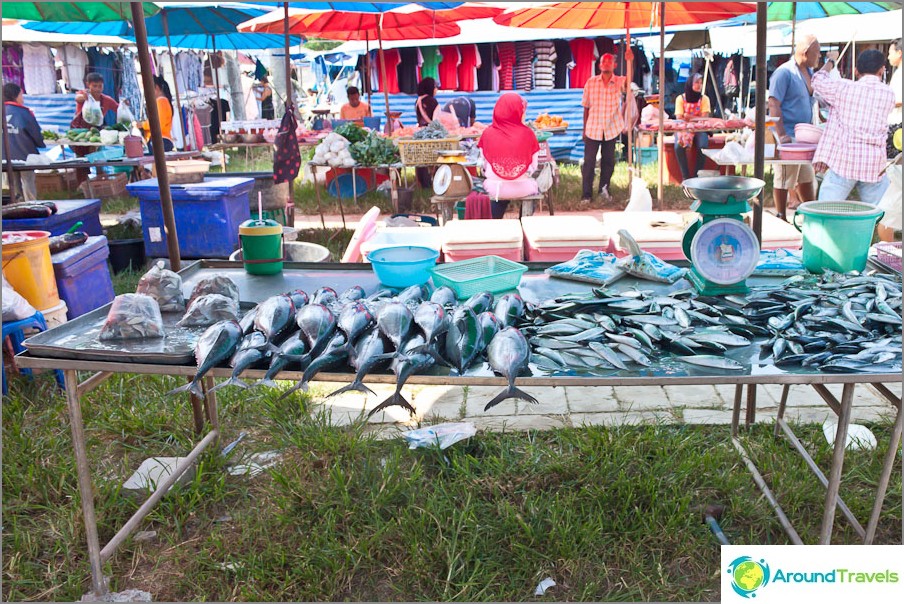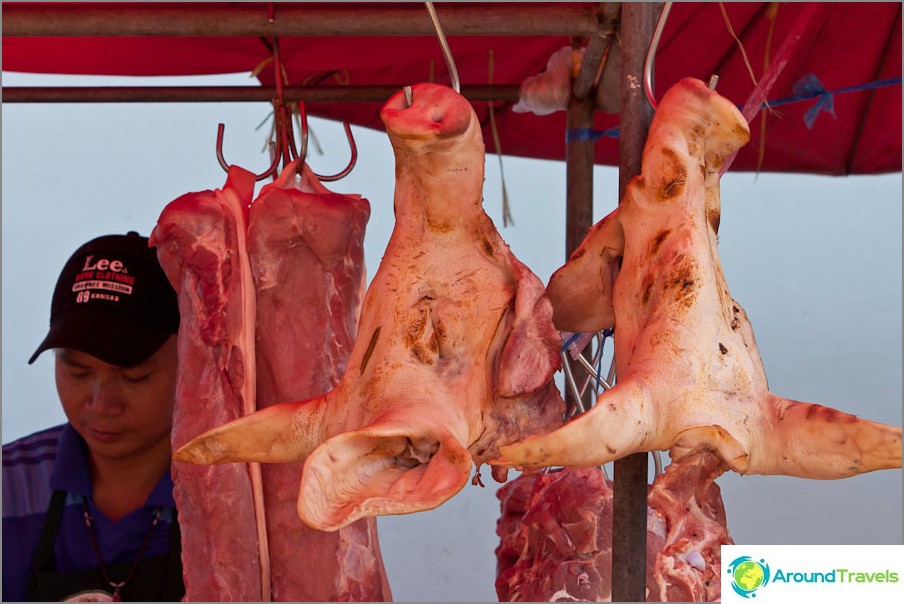 Ready meals
One of the main differences between Thai markets and ours isthere in large quantities is sold ready-made food, which can be eaten immediately on the spot or taken home in a tray or sachet. I always eat on the street, very tasty and inexpensive.
The most common dish on the market - rice noodles PadTy Although personally I don't really like it in the markets, because it's not always real Pad Thai, but rather just fried noodles. I also often buy vegetable spring rolls with spicy-sweet sauce or shrimp in batter. And the whole business is washed down with a fruit mango or pineapple neck. Many more like shish kebab on chicken or pork skewers, but squid are pretty tough, for an amateur.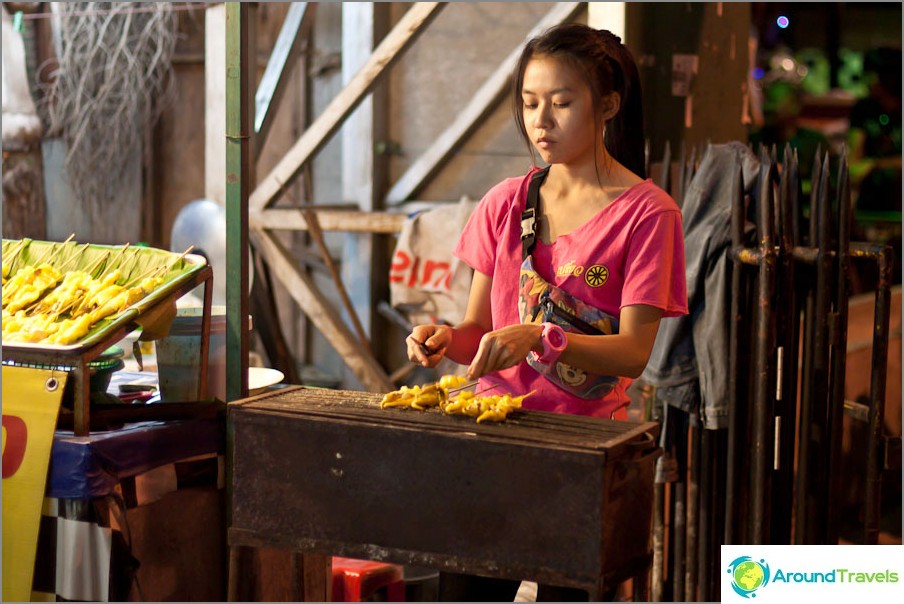 Generally the markets sell mostly fried andboiled, in broth, sauce and very spicy. Dried meat and fish, all kinds of noodles — both in broth and fried, rice (where you can go without it), Thai green papaya som salad — steamed vegetables, all kinds of fried pies, donuts, and pastries. You can also often see trays with Thai rolls and sushi. Including with green caviar. They do not really taste, but for a change you can try.
There are also trays in the markets whereingredients to collect a salad. And it happens that such salads are sold ready-made, in inflated bags. Often in the markets you can buy duck stew slices, with rice, in the form of a second dish or in broth. Among tourists, rotee or banana pankace - banana and condensed milk pancakes are always popular. In general, the variety of Thai food can be described endlessly, but it's better to still come to the market and see it all (touch, smell, taste) yourself.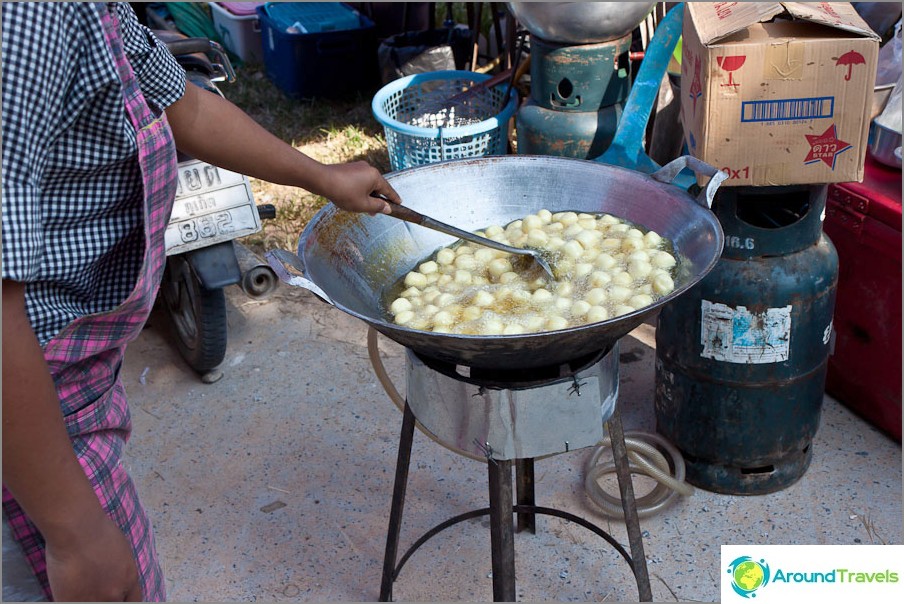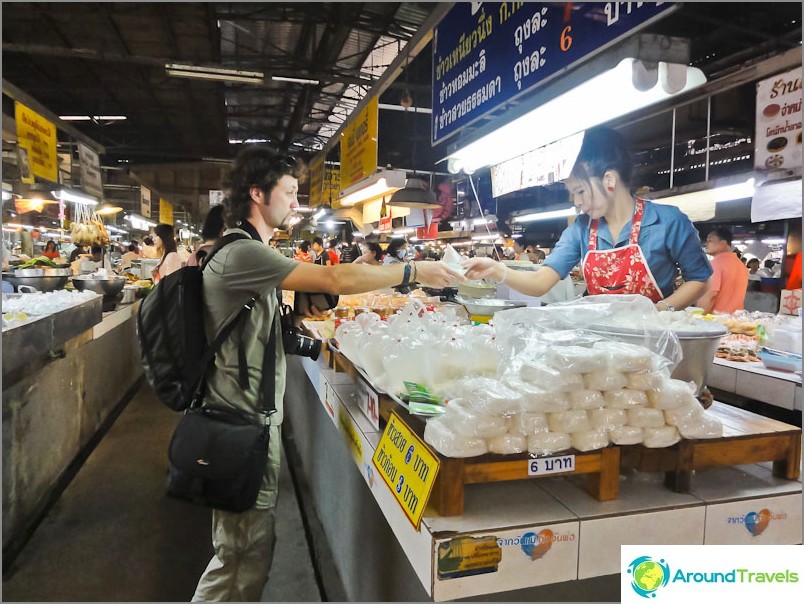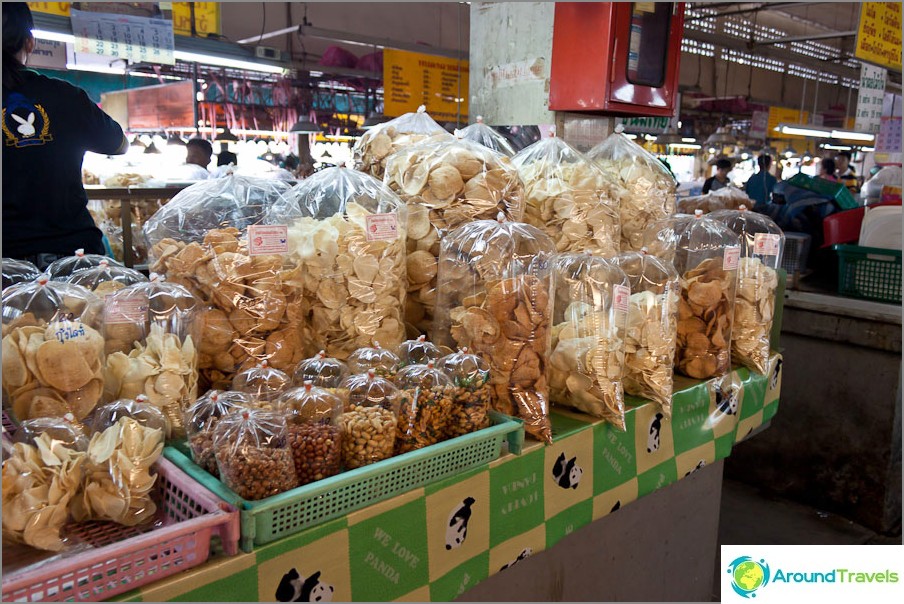 Exotic Food
It is believed that in Asia they often eat what is difficult to imagine for us Europeans. But for everything wintering in Thailand From exotics, I saw only fried insects and live frogs, and not in every market. But when I was in China and went to the market to them, that's right there, a lot of good stuff that is scary to watch.
So in Thailand you will not meet something muchunusual, especially if we talk about the resorts and their markets. Still, everything is pretty sharpened by tourists. It is clear that Russian man and mango are exotic, but still this is not sea worms.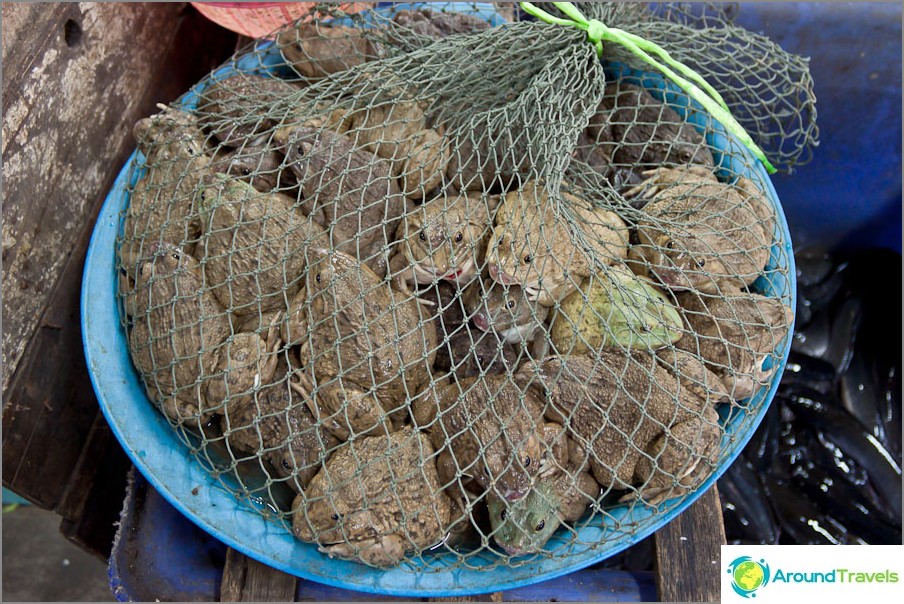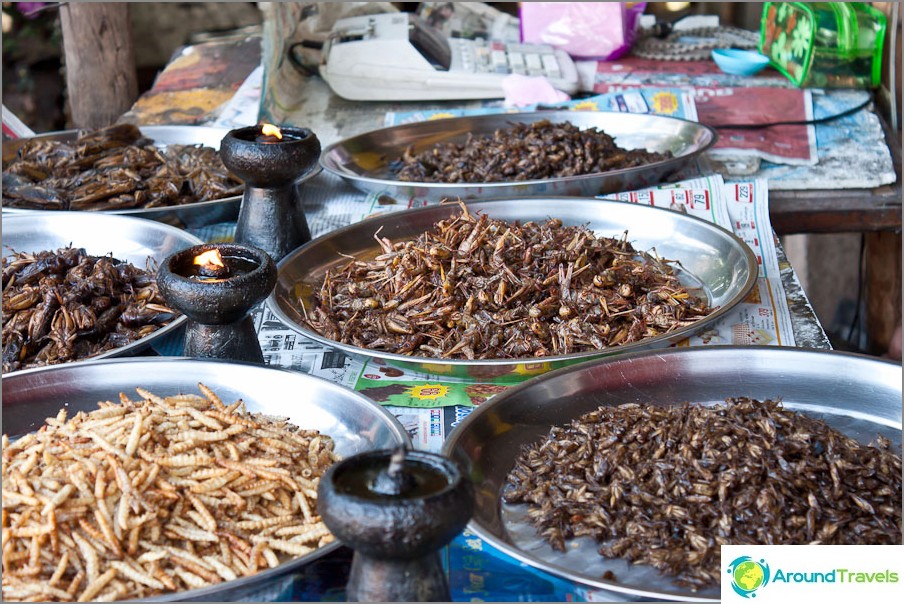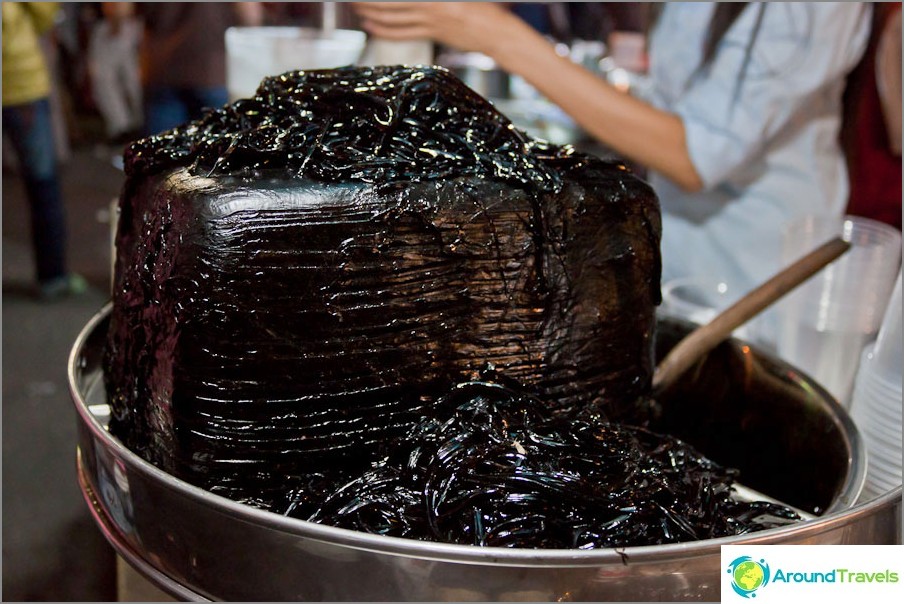 Video
And "for a snack" is a video about how I eat grasshoppers and the process of cooking Thai pancakes.
Life hacking 1 - how to buy a good insurance

Choosing insurance is now unrealistically difficult, so to help all travelers, I compile a rating. To do this, I constantly monitor forums, study insurance contracts and use insurance by myself.

Life hacking 2 - how to find a hotel 20% cheaper

First, choose a hotel on Booking. They have a good offer base, but the prices are NOT the best! The same hotel can often be found 20% cheaper in other systems through the RoomGuru service.

Discount hotels