Separately, I analyzed the general theme. health insuranceIt's time to add information on the blog.insurance in Schengen, because there are some nuances. Starting with the fact that it must be done, ending with the fact that it is often more profitable to do annual insurance, and not for specific dates, which not everyone knows.
And such an important moment. Insurance can be done in Europe, and it is possible for a Schengen visa. It seems to be the same, but below I will explain what the difference is.
The content of the article
Schengen visa insurance
Why do I need medical insurance
Next will be a long text and links to my complementary posts about everything that concerns Schengen. Therefore, to start:
I highly recommend the Cherehapa service, whichin one place, you can compare the prices for 16 insurances at once, filtering them out by option is very convenient. Also, the support is very friendly and will answer any of your questions, I constantly appeal to them myself. Well, when you buy a policy from them, it will be cheaper than the insurance company, since they have special conditions.
If you are new to insurance, be sure to read My main post about insurance. From it you will learn why asistents are so important and what it is, how to choose insurance correctly, how to use it and avoid failure, what options it does not make sense to add.
The choice is always yours, if you want to choose something specifically for yourself, you will have to read, compare and analyze.
Medical insurance for a trip to Europe is obligatory, it will not be possible to do without it for three reasons:
First, insurance is required for Schengen visa registration. Requirements for different countries may vary, so before you make out insurance, it is better to clarify whether it will be accepted at the consulate of a particular country.
Secondly, insurance can be checked forthe border. And those who "forgot" their home insurance can be sent home for this insurance. Well, or offer to issue it immediately, at the border, if there is an insurance company office.
And finally, for purely mercantile reasons: medicine in Europe is very expensive, there are no cheap "for cash" hospitals, as in Asia. Insurance in Europe is relatively cheap, you can buy a policy for 300 rubles - it is cheaper than eating once in the same Europe.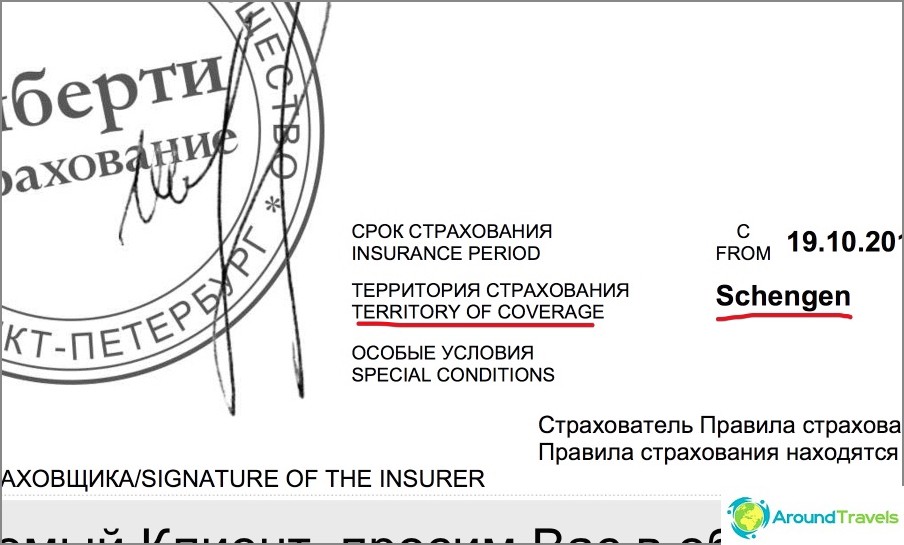 Sum Insured
According to the rules, for a Schengen visa you need insurance withcovering at least 30 thousand EUR (not dollars). Just in case, I will write what it is. What is called "coverage", and it would be more correct to call it the "sum insured" - this is the maximum amount of payments on the insurance. That is, in which case the insurance will pay the costs until the total amount of payments reaches this figure. This is in theory, in fact, everything is a little different.
Insurance for a year and for specific dates
Insurance can be purchased as onetrip, and just a few. In the first case, insurance is issued for specific dates, for example, for 2 weeks from such and such to such a date. In the second case, not only the dates of insurance are indicated, but also the number of days of insurance, for example, insurance for a year from such and such a number and number of safety days 14. I will explain what the difference is.
In the first case, you will be insured exactly 2weeks and all. And if for some reason you leave earlier and stay, let's say in Europe only 1 week, then the rest of the insurance will burn. In the second case, you will be able to enter Schengen several times during the year, and the insurance will end when the total number of days in Schengen exceeds 14 days. Annual insurance is convenient for those who often travel to Europe, you can buy for a year at once, specify, for example, 90 days of insurance, and that's all, you can stop thinking about insurance for a whole year. Naturally, you need to buy for as many days as you have in total during trips throughout the year. If these are two vacations for 14 days, then it is enough to buy an annual insurance with 28 days of stay.
Directly for a Schengen visa,both annual and five-year, it is enough to make insurance for the first trip, it is not necessary to make insurance for a year. Here everyone chooses for himself what is more convenient and better for him. But! Annual may be cheaper, which is why I am writing about it here.
What is the reason? Those who buy a whole year of insurance rarely use all the days. Those who buy specific dates almost always use them. Here, simple arithmetic, we calculate probabilities - hence the cost of insurance.
Average cost of insurance
In his post Top 15 cheapest insurance in SchengenI made a whole rating with prices. Be sure to check out, there are interesting options.
Insurance for specific dates. It is possible, or all these days to spend abroad, or only part of this term, having entered earlier or later, but the insurance will still be valid only on the declared dates. On average, the cost of such insurance is about 0.7-1.7 euros per day. For 10-14 days, such insurance will cost 500-1500 rubles. But there are possible options for choosing an insurance company (almost everyone has this type of insurance) and, most importantly, assistance, although the price may not be the cheapest.
Annual insurance for a certain number of days. For example, a total of 30-60 days during the year. That is, the number of trips is unlimited and the days are counted for all trips. Usually, this is the cheapest insurance if a person travels abroad several times a year. Such insurance may cost 500-1500 rubles. The cheapest way to do it in a visa agency, I recommend the Eurotour, which has been proven over the years and a lot of people. The link will be a special price for readers of my blog. From insurance companies, however, such policies are offered, for example, by Liberty.
Annual insurance without limiting the number of trips,but with the limitation of the duration of each trip. Usually the duration of the trip should not exceed 45-60 days. After the trip, you must return to Russia (namely to Russia, and not to go to a neighboring country). So to say, reset the counter and go to the next trip (insurance starts to act again). Sometimes such insurance is attached to travel bank cards, for example, AllAirlines map.
Please note that insurance for longcontinuous travel usually costs more. Therefore, if it seems to you that there is no limit on the duration of one trip and at the same time insurance has a low cost (less than 100 euros for 180 days), it makes sense to double-check everything.
In general, before buying insurance, call your bank. It is possible that you already have excellent insurance with a bunch of additional bonuses, just activate and print it.
Where to buy insurance
I recommend Cherehap service, where you can comparePrices at once for 16 insurance. The service has been around for a long time and there are all the necessary insurance in their list. Now there is no need to look at a dozen sites of insurance companies and compare prices, insurance terms and assistance. Everything is in one place. In addition, they still provide normal support (which cannot be said about insurance, where managers who know nothing are sitting) on ​​insurance claims and can advise on various issues related to the insurance contract, the choice of insurance, and so on. It's funny, but some insurance still hasn't even bought a policy online ...
And such an important point - they being mediatorsplay a very positive role, service customers are in a more privileged position than other insurance clients. This is a fact I checked myself when I got on the whole sum insured. If something is not clear, then I have detailed instructions, how to compare insurance on Cherehape.
Insurance is not for the trip, but for the visa
I specifically put it in a separate subtitle,because it is important. As I wrote at the very beginning, you can make insurance for a trip to Europe, or you can only for a visa. The fact is that our Russian insurance companies work so-so; therefore, some travelers prefer not to make any insurance at all, but to have a credit card in stock or cash. The option in my opinion is doubtful, but having already had experience with insurance and often reading reviews about them, I can understand this position too, especially if a person has money.
So, if you are going to use insurancein a trip for the full program and carefully approach this issue, then this paragraph is not for you. But if you rely more on credit card / cash, then read on. Since it is impossible not to make insurance at all when traveling to Europe (they just won't give a visa), you can make the cheapest insurance just for getting a visa. There are different options, but I would recommend making Eurotour agency, it costs mere pennies. But I recommend, I'm not only because of the price (although you will not find it cheaper anyway), but because it is also working! You get insurance from Alfa Insurance with Savitar, but if you take it directly from Alpha, then there will be a completely different price and a very bad GVA assistance.
What is assistance?
If you need to not just buy insurance forvisa, and you still expect to receive medical care, then you need to sort out this issue a little. This is especially true of those who are going to engage in extreme sports in Europe, for example, skiing (you need an active leisure package). Since I am not extreme, I usually apply for insurance when the child has a high temperature (insurance experience in Poland).
An insurance company that sells you a policy andthe company with which in the event of an incident you will communicate by telephone is two different organizations. Each insurance works with one or several assistance companies. When you buy a policy, it shows an assistance company that will support your policy. It is necessary to pay attention to what assistance is indicated exactly in your policy - it often happens that the information on the site is different from reality, and the operators from the call-center do not look around at all in this matter. It is advisable to know the assistance in advance.
It is the assistance you will call if somethingwill happen. It will be from assistance and his contracts with hospitals that it will depend on which hospital you will be sent to and how the treatment will be paid. In the end, the assistance depends on how polite and adequate the operator will be and in which language the support will be conducted. If bad reviews about insurance work are related to such problems, then look who was the assistance and look for insurance working with another assistance.
But problems with payment, refusal to pay for transport, the speed of coordination of any monetary issues are already the shoals of the insurance itself, and you can choose another insurance with the same assistance.
And most importantly - remember that the insurance policyworks according to certain rules. Most of the negative reviews and claims to insurance are based on ignorance and non-compliance with the rules of this insurance. Read carefully the rules written on your policy (not on the site - namely, on the copy sent to you on the email, they may differ). And if something happened - first of all call the assistance. Insurance can refuse to pay any medical expenses that are not agreed with them.
P.S. Read more about the nuances of choosing an insurance company, about the rating of assistants, about how to use insurance, read in my post - traveler insurance.
Life hacking 1 - how to buy a good insurance

Choosing insurance is now unrealistically difficult, so to help all travelers, I compile a rating. To do this, I constantly monitor forums, study insurance contracts and use insurance by myself.

Life hacking 2 - how to find a hotel 20% cheaper

First, choose a hotel on Booking. They have a good offer base, but the prices are NOT the best! The same hotel can often be found 20% cheaper in other systems through the RoomGuru service.

Discount hotels