Military Beach, that is, Military Beach, heSaikaew Beach. Numerous Pattaya tour operators selling transfers are called Blue Lagoon (Blue Lagoon). The average price of a transfer from Pattaya through a travel agency is about 350 baht. Some also offer lunch included in the price, but then the price rises to 600-700 baht. The best price voiced is 200 baht. When buying a tour from the hotel, they take around 9 hours (someone offers an earlier time, someone later), from the beach a mini-bus with tourists goes to Pattaya around 4 pm
The content of the article
Beach description
Saikaew beach is approximately 400 m long, in the form of a lagoon between two hills. From the mainland side, too, it is fenced off by low green mountains.
The sand is light gray, almost white in the sun. The water is clear, azure color, silt at the bottom is small. A lot of round slightly prickly shells in the sand at the bottom, there is also other animal species. This is especially noticeable at low tide.
The peculiarity of this beach is that it is located on the territory of a military base. In Thailand, very cute military: allow tourists to swim in their possessions
The advantage of this location is that on the beachvery clean, tidy, quiet and peaceful. No extra crowds of people, there is the necessary infrastructure - and rental and shower. But nothing more. No cloudiness, fresh air and solitude. In addition, this place is located very outside the city and is surrounded on three sides by mountains. The downside is that the choice of shops and cafes and housing for rent is still very very limited. On weekends, despite the closeness, there are a lot of people here - mostly local, both Thais and foreigners who live permanently in Pattaya.
Another feature about which you should notforget - when entering the base at the checkpoint, they are asked to leave some identity document. Passport or Thai driver's license will do. You can pick up your documents when leaving the base. Also at the second checkpoint you have to pay 100 baht collection. If you buy a transfer in a tourist office, this fee is included in the price, but the documents may not be asked.
Recently ceased to let on their vehicles to the territory. It is necessary to go on a motorcycle taxi for 40 Baht, then you pay 100 Baht per person, then you are taken to the beach with a tuk-tuk, and this seems to be free.
Sunset, depth and waves
Sunset in the water is shallow, with children swim very muchconveniently. At low tide, the water goes quite far, first leaving small sandbars, which then turn into islands surrounded by shallow water - ankle-deep to an adult. But it is interesting for children to run on this water mirror. There is a fenced swimming area. This is convenient and it makes sense, because around wishing to ride on water bikes and bananas. There is usually no big wave here.
Sun beds and shade
Sun loungers can be rented at the box office at 30 baht, bedding - at 20 baht. Low palm trees and other trees giving shade are planted between the path and the sea. There are also bamboo arbors.
Beach photo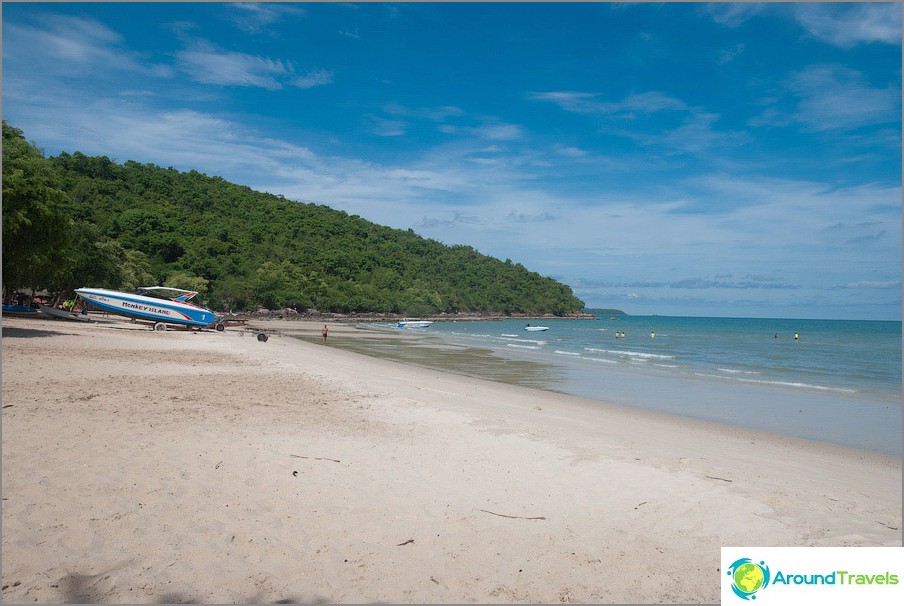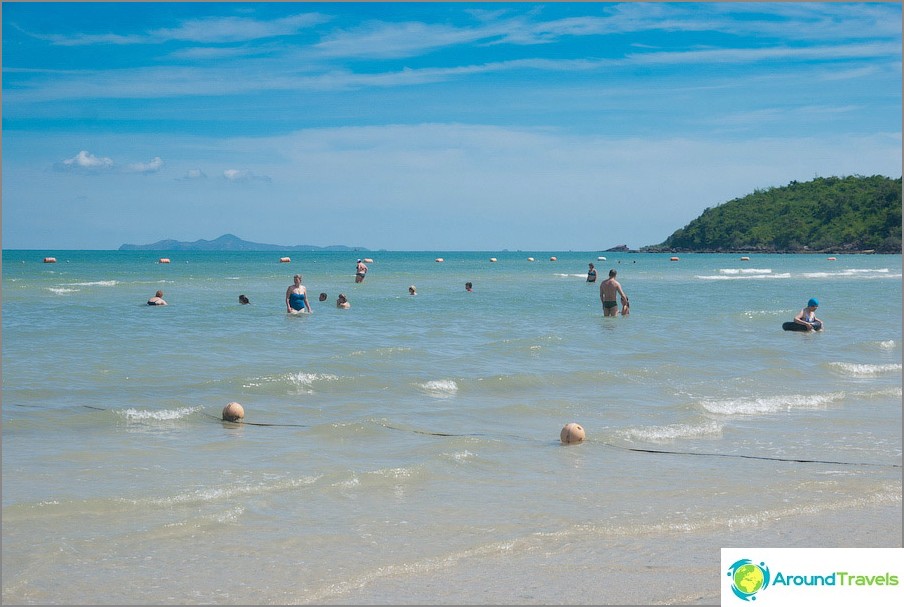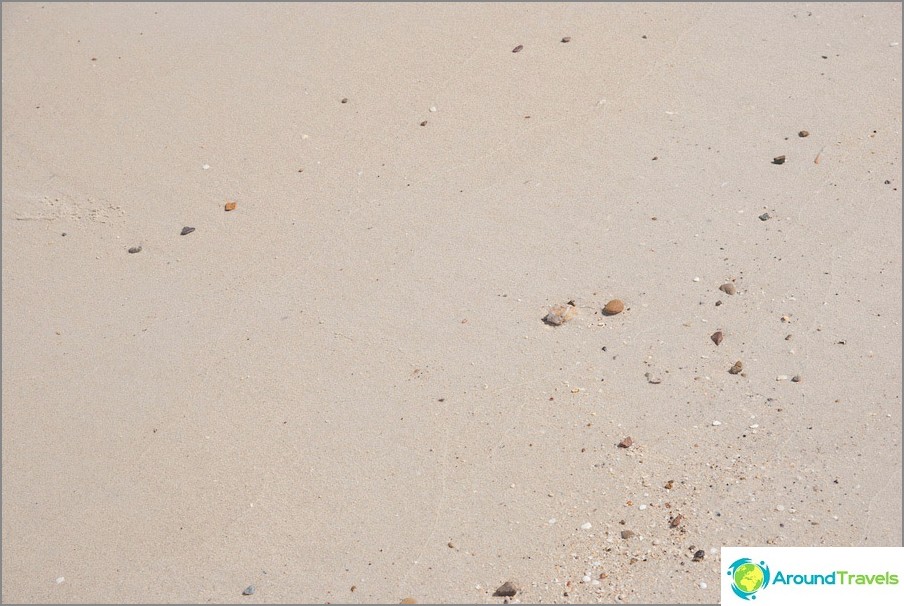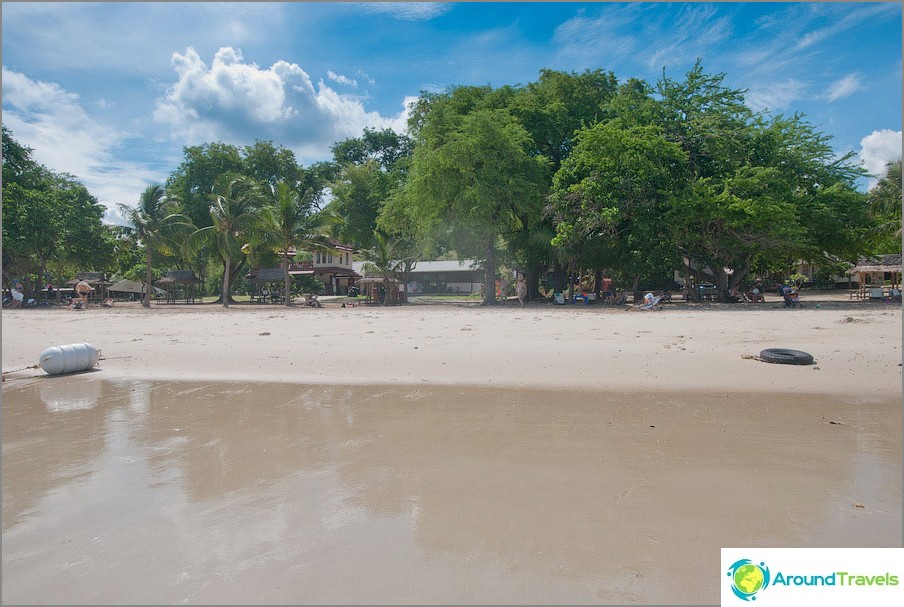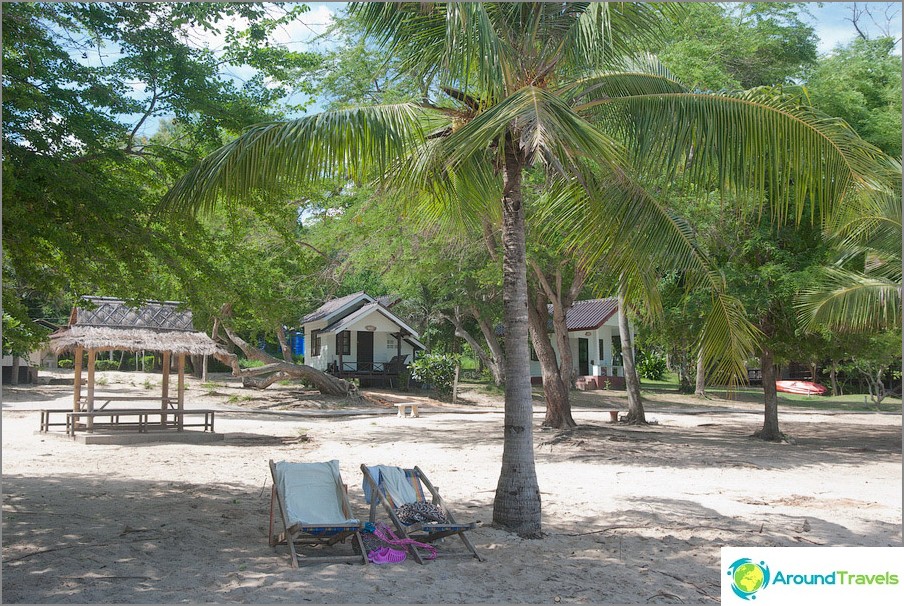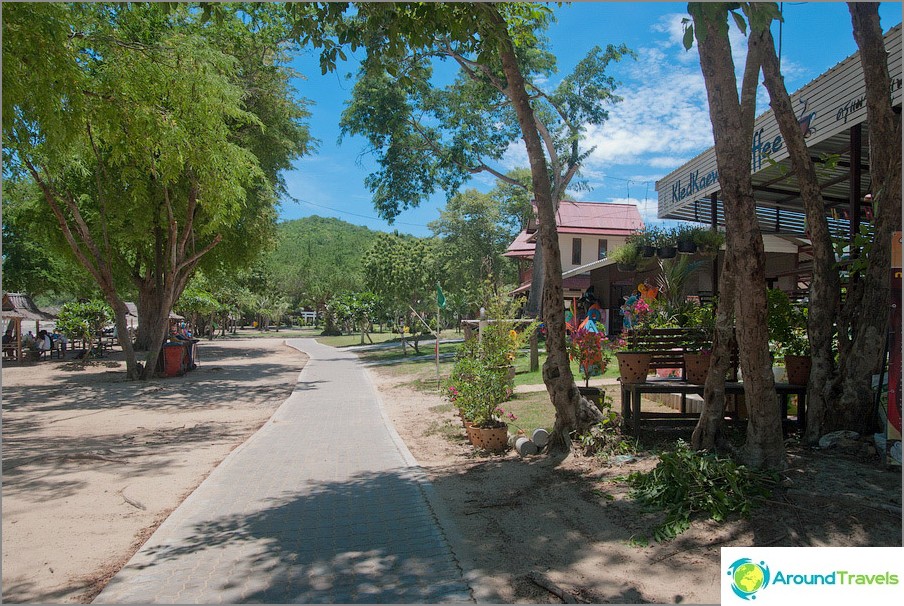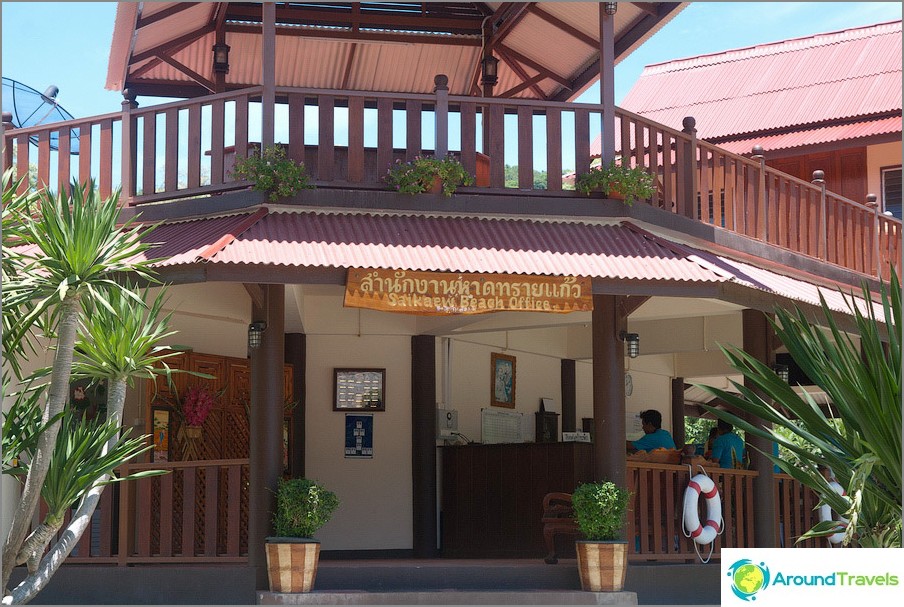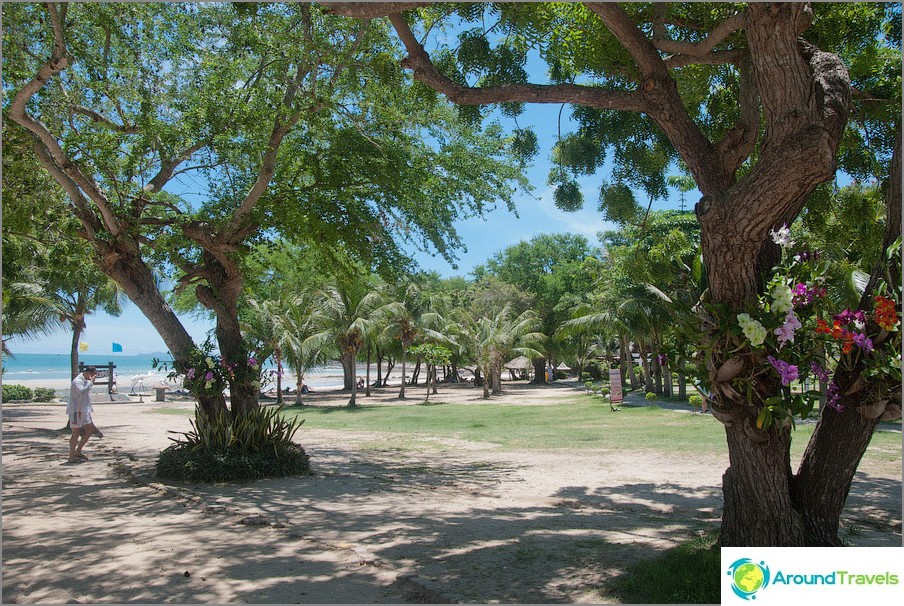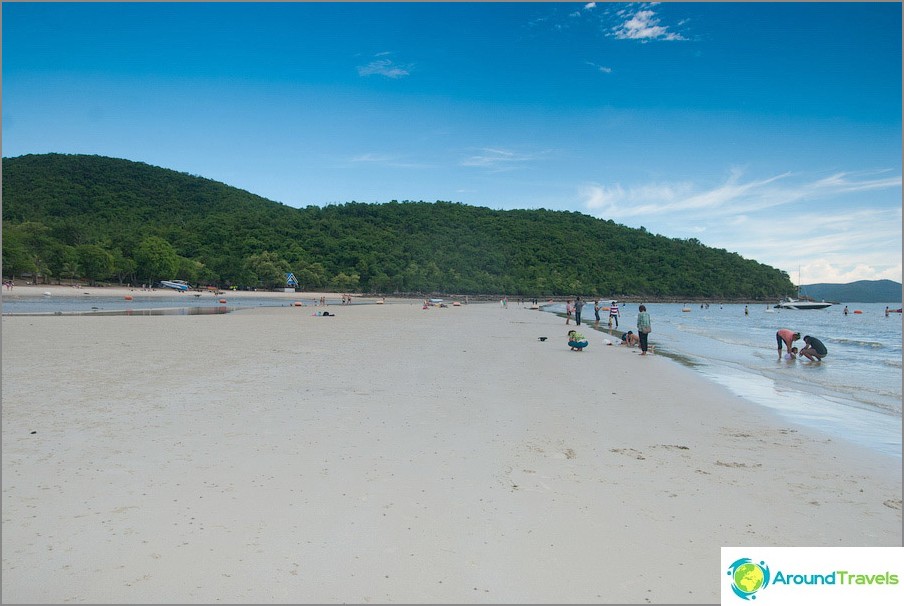 Infrastructure
Along the military beach is not very widea paved path, next to it, interspersed with flower beds, several cafes are scattered around, rental of deck chairs, bedding and other tourist equipment. There is a free toilet and a shower just in the depths behind the boring bungalow-houses.
Location in the military base hasits pros and cons. It is quiet and clean, there are few people, but at the same time there is no infrastructure and nightlife as such. It is almost 3 km to go to the nearest checkpoint, and then only in order to reach the closed territory at least as much again.
There is still some kind of shop on the territory, but this, of course, is far from Big C.
Houses and hotels on the beach
Housing for rent here a bit, which is not surprising. Military base, not the city center. There are bungalow-houses for rent, judging by the form, without any special amenities, but right on the beach. In general, only some privacy lovers can live here for some time. Although the day it will be broken brought by tourists from Pattaya.
How to find the beach
From Pattaya to Saikaew Beach can be reached byown transport, or buy a transfer in a tourkontor. Ride from the center of Pattaya about 20-40 minutes, depending on the type of transport and traffic jams on the road. 15 minutes on Sukhumvit and as many more on the territory of the base itself.
Military beach on the map
Saykeo Beach Map
Sikeke Beach Map:


Life hacking 1 - how to buy a good insurance

Choosing insurance is now unrealistically difficult, so to help all travelers, I compile a rating. To do this, I constantly monitor forums, study insurance contracts and use insurance by myself.

Life hacking 2 - how to find a hotel 20% cheaper

First, choose a hotel on Booking. They have a good offer base, but the prices are NOT the best! The same hotel can often be found 20% cheaper in other systems through the RoomGuru service.

Discount hotels