In fact, the theme of mobile mobile Internetin Thailand is quite extensive. However, most of the information is not needed. Therefore, I decided to do this: it will be just a guide on how to get 3G / 4G mobile Internet on your phone or laptop. Actually, I myself do it, because in my opinion, this option is the best / most convenient.
The content of the article
We get mobile Internet from Dtac
Where to buy sim card DTAC in Thailand
My advice to you is to take Simka immediately at the airport upon arrival at the airport of Bangkok and Phuket, so that you do not look for it later!
Internet is 2 times cheaper. Buy in advance through the Internet local Thai sim card on the site Klook (for Bangkok and Phuket) and get 4G Internet for 8 days for just 131 baht instead of 299 baht. Your sim card will be waiting for you right at the airport at the Klook kiosk. This is just a gift, there are no such prices anywhere else. Tariff is more than enough for instant messengers, browsing websites, google maps and so on.

Simka DTAC is 2 times cheaper, Bangkok>

Simka DTAC is 2 times cheaper, Phuket>
Airport Bangkok and Phuket. At the exit from the baggage claim area there are counters of Thai operators. Buy a sim card and one of the tariffs offered there. If the packages do not fit, ask for a sim card for 49 baht only. Package then connect yourself. But remember, leave the airport without the Internet. It is better to take at least from point 1. On the packages below.
Minimarkets 7-eleven or Family Mart. Come and say: DTAC SIM or DTAC SIM CARD (pronounced "dItak"). Sometimes you can see or hear the phrase Dtac Happy or just Happy, it's the same thing, just sim cards that are sold to tourists go under the brand Happy. Cons of the way - DTAC sim cards are not always found there and you may have to bypass several stores.
Dtac offices. Located in shopping centers and in the shops of sellers of phones / charge / wires.
In the envelope with a SIM card, it will immediately be normalSimka + Micro + Nano. From the usual sims squeezed out the necessary, micro or Nano. Instructions for using a sim card (comes with a sim card) sometimes contain Russian. Although there is nothing to do.
Universal sim cards for travel>
As an option, do not buy a local Thai sim card andtravel to many countries with universal travel sim cards. In Thailand, the cost is more expensive than local, but if you need a little traffic, then the travel sim card will be more profitable.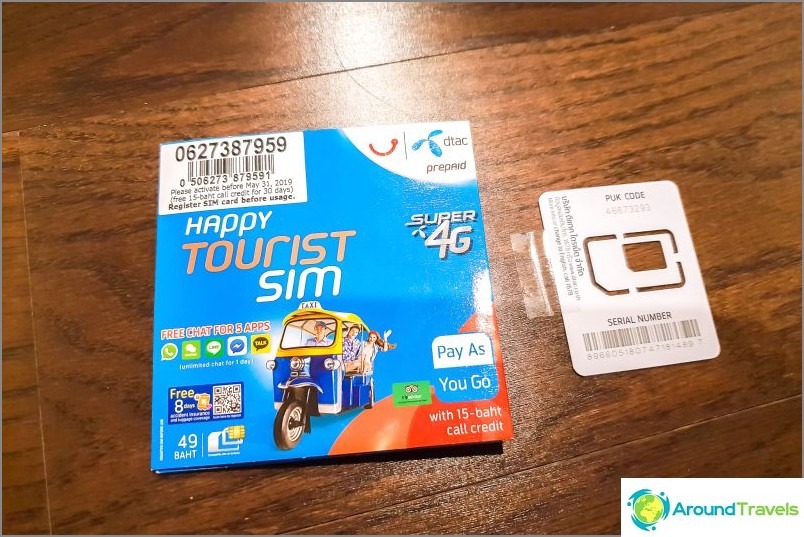 How much is SIM and tariffs
Thai sim card itself without internet costs 49baht and 15 baht will be on the bill. There are different SIM cards with different names, but if you don't bother (you're not going to call a lot and you're not interested in promotions), then it makes no difference what to take. You can see for yourself what SIM cards are on the official website in the Prepaid / SIMs section.
In 7-eleven, SIMs are usually sold withConnected Internet packages such as Happy Tourist SIM (for 299 baht or 599 baht). And these sims will offer you at the airport. Nobody bothers to buy one, exhaust the package, disconnect it and connect another one. But it is better to take a sim card for 49 baht without a package.
AT separate post Wrote about roaming, tariffs for calls and special codes to make it cheaper to call from a Thai sim card to Russia.
Documents to buy SIM
Only international passport.
From July 31, 2015, all Thai SIM cards must be registered with their operators. Previously, SIM cards in Thailand were sold freely and no documents were required for their purchase.
To buy you need a passport and everything, nofilling out forms. The SIM card will be registered by the seller, which is at the point of sale of Dtac, which is in 7-eleven. The whole procedure takes no more than 5 minutes. One passport is enough to register several sim cards.
Tariffs with limited volume of Gigabyte
Please note that the prices for packages are indicated without VAT, that is, 7% must be added to this price, it is this amount that will be deducted from your account.
I said above that you can not connect packagesInternet at the airport, and buy only sim for 49 baht. So, you will be offered there tariffs a bit more expensive than on the official website. Better to take in advance through Klook.
And below I have a sign of tariffs from the site DTAC. They are limited to a certain amount of traffic, what buy, so you will have. After exceeding the specified number of gigabytes, the speed is greatly limited. We in Russia also. If you need really unlimited tariffs, see the next section.
Cost 99 baht per week 149 baht per week 199 baht per month 299 baht per month 499 baht per month Traffic volume at maximum speed 2GB * 5GB * 1GB ** 5GB * 10GB * Activation code * 104 * 342 * 9 #

* 104 * 315 * 9 #

* 104 * 349 * 9 #

* 104 * 325 * 9 #

* 104 * 320 * 9 #

* The maximum speed is 100 Mbps, and after exceeding the traffic volume, the speed is limited to 64 Kbps.
** The maximum speed is 100 Mbps, and after exceeding the traffic volume, the speed is limited to 128 Kbps.
These restrictions are such that the Internet can not be used.
Full information on all packages with a certain number of gigabytes is on the Dtac website in the Prepaid / Add-on Packages / NEW section! Super Max-Net.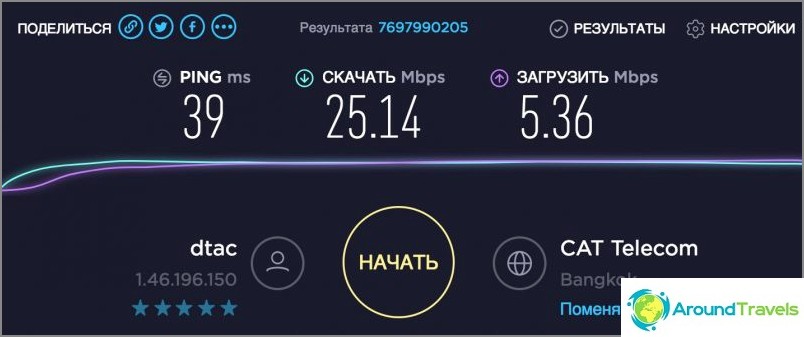 Unlimited rates from DTAC
Not so long ago, DTAC appeared, indeed,unlimited packages. The above packages were given, which are only conditionally unlimited, because when a certain amount of traffic was exceeded, the speed was pretty much cut. And then the speed will be enough for surfing the net and watching videos. Only here the torrents are blocked, but not everyone needs them. You can buy 2 sims DTAC, one for unlimited internet and one for high-speed.
Cost 100 baht per week 150 baht per week 300baht per month 500 baht per month 199 baht per week Maximum speed 1 megabit / s 4 megabit / s 1 megabit / s 4 megabit / s 10 megabit / s

* 104 * 388 * 9 #

* 104 * 379 * 9 #

* 104 * 389 * 9 #

* 104 * 398 * 9 #

I gave only the basic packages, and the description of all unlimited packages is in the section:
Prepaid / Add-on Packages / Net No Limit: Unlimited Internet with No Speed ​​Drop.
I also recommend paying attention to the No tariffs.Limit, they are also unlimited, but they also include 60 minutes of free calls. They are located in the section: Prepaid / Add-on Packages / Go NO LIMIT: Unlimited Internet + Free Calls.
Helpful information
How to disable Internet package
Such a question arises among those who have exhausted theirtraffic before the end of the reporting date. For example, you bought the tariff for 5GB for 30 days, but the traffic ended in 2 weeks. And you either disconnect this package and connect a new one (the same) again, or wait another 2 weeks (until 30 days have run out), until the subscriber signs in again and you are not given traffic again. Moreover, if there is no money in the account, that is, the subscriber cannot subscribe to the package, the package will be disconnected. But you can turn it off before.
The easiest way to log into your personal accounton the DTAC website (enter the phone number and confirm by text message) and disconnect there. There are not so many settings, so it is not difficult to find: My Package (in the top menu) => Add-on package => Current => Recycle Bin Icon.
Call the call center and disable the package Internet. They speak English.
Find the DTAC office and ask the Thais to disconnect there.
Internet settings Dtac
Usually Internet settings are crammed into a sim card andYou do not need to do anything specifically, well, except to connect the selected Internet package. So once, I had something wrong with the phone and all the settings went off. If suddenly the Internet does not work for you, then the settings of the access point should be checked first, and if the access point is not assigned, then create and add a new one.
For Andrioid: Settings -> Mobile networks -> Access point -> Add new.
For iPhone: Cellular -> Data Settings -> Cellular Network -> Cellular Data (APN, Username, Password). And then enter all that is written below.
Name: Dtac
Access Point (APN): www.dtac.co.th
Do not touch the remaining fields.
Next you need to poke on the created access point,making it active. You may still have to restart the phone, but it usually works for me without rebooting, you just need to turn on mobile data.
How to top up the balance of Dtac and other operators
Life hacking. You can use the promotion code * 104 * 757 * 9 #, which will give 2GB of traffic for 7 days, it costs only 50 baht. But any traffic packet must be initially connected. That is, you can connect the cheapest monthly package and then add these promotions.
Come to either 7-eleven or Family Mart andbuy a payment card. Speak: money card Dtac 100/200/500 baht. 100/200/500 baht is the face value of the card, that is, how much you want to put on the account. Then erase the protective layer from the reverse side and see the code. Dial on the phone * 100 * code1 code2 #

after which the money is immediately credited to the account. Everything is written there, on the card, you will not be mistaken.
In these minimarkets and supermarkets (Tesco, Big C, etc.) you can put money through the cashier. For this you need to know your phone number.
An even simpler option to replenish a credit card on the site DTAC, without leaving the hotel. Payment by credit card.
For e-money users, there is an optionreplenish Dtac through Webmoney, as well as through this exchanger. And I would recommend doing it through the exchanger, there are better courses there, and you can replenish with WMR too, and not just with WMZ. Although in the case of payment via WMZ there is no difference. Recharge instant. Similarly, you can replenish the balance of other operators.
Remember, SIM cards have a validity period. At each balance replenishment period is extended for a certain number of days. The maximum renewal period is 1 year.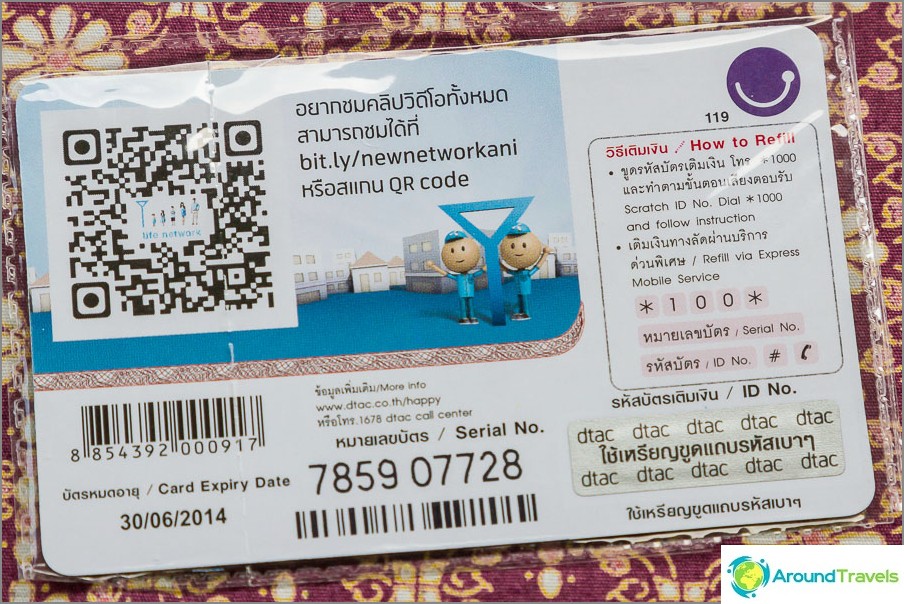 How to check balance with Dtac and other codes
* 101 * 9 #

- check your balance
* 101 * 1 * 9 #

- check the rest of the traffic in the Internet package
* 102 * 9 #

- find out your phone number
* 4000 * 9 #

- get login and password for Dtac wifi
* 113 * 30 #

- extension of validity for 30 days, costs 2 baht
* 113 * 90 #

- extension for 90 days, costs 6 baht
* 113 * 180 #

- extension for 180 days, costs 12 baht
Here are some other codes.
Useful phone numbers
National Police Phone - 191
Fire Service - 199
Traffic police - 1193
Tourist police - 1155
Criminal Police - 1195
First Aid - 1554
P.S. I would be glad to add helpful comments.
Life hacking 1 - how to buy a good insurance

Choosing insurance is now unrealistically difficult, so to help all travelers, I compile a rating. To do this, I constantly monitor forums, study insurance contracts and use insurance by myself.

Life hacking 2 - how to find a hotel 20% cheaper

First, choose a hotel on Booking. They have a good offer base, but the prices are NOT the best! The same hotel can often be found 20% cheaper in other systems through the RoomGuru service.

Discount hotels