I myself wanted to write on this topic, but my hands are notWe've got it, so I'm happy to post a great guest post (titanic work is simple), which is very useful for all of us when traveling. Its author originally wrote about applications for iOS, but half of the applications are also for Android in Google play. Links to them will not be duplicated, they can be found through a search. I would be glad if in the comments write what applications you use when traveling on smartphones and tablets.
Greetings to all travelers, my name isArtem (my youtube channel), I, like many of you, love to be in unknown places and get new impressions. In addition, I actively follow mobile technologies and am a fan of Apple products. I will not argue about preferences, persuade you to use the iPhone, iPad and other "apple" gadgets, but just tell all like-minded people how iDevice can help on a long trip.
Many people know that Apple is not onlyhigh-quality phones, tablets and computers, but also ease of management, elegant design, and most importantly - a large number of diverse applications. They help to unleash the full potential of devices. In this article we will talk specifically about programs for the iPhone, iPad and iPod Touch, which will be useful in the journey. Each trip consists of different stages, I will also consider applications for each of them. There are a lot of programs in the AppStore, for each stage three alternatives will be offered. My choice does not claim to the truth of the last instance, I just share my experience and talk about what I use myself.
The content of the article
Where to go?
Like any important thing, a journey begins withplanning, it is necessary to determine the direction of the trip. Sometimes we know where to go in advance, and sometimes we are determined shortly before departure. In any case, you need to find information about the host country, features of entry into it, residence, etc. I prefer to use for this application
Redigo guides and maps: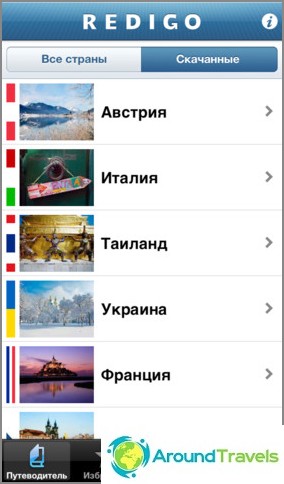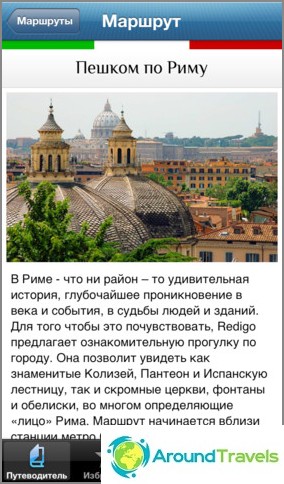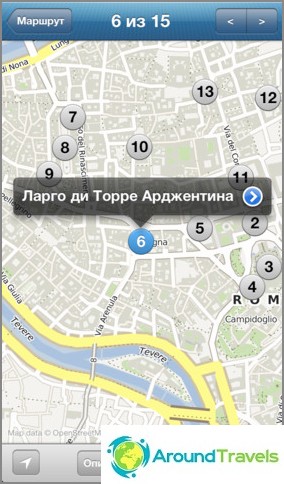 general information about the country (visa, time zone, currency, language, how to get there and much more);
main attractions and entertainment;
data that does not require Internet access for its work;
photo gallery;
basic phrasebook in seven foreign languages;
The application will help not only to determine the route, but also to navigate on the spot. Redigo is available for free for both iPhone and iPad.
Poster-World: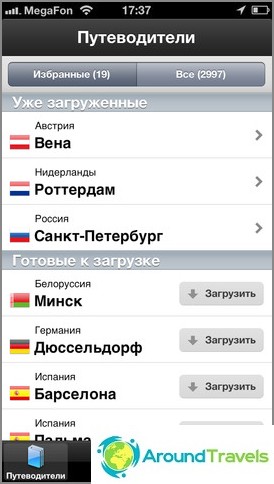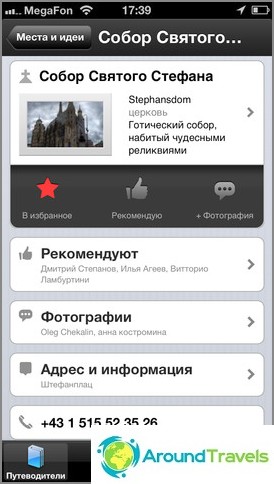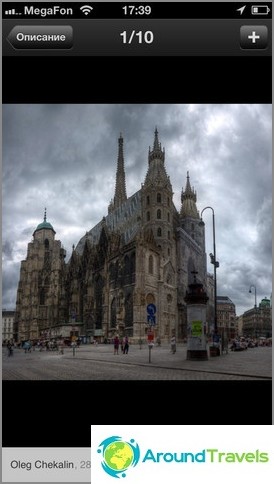 Information on where to live, where to go and what to see
Travel guides and maps without internet connection
Recommendations from friends and other users of the service
The ability to add new places, opinions and tips yourself
The program is a kind of wikipedia for travelers. All information is collected by travelers themselves. Afisha-Mir is available for free for iPhone and iPad.
Ask a Nomad - Travel Guide: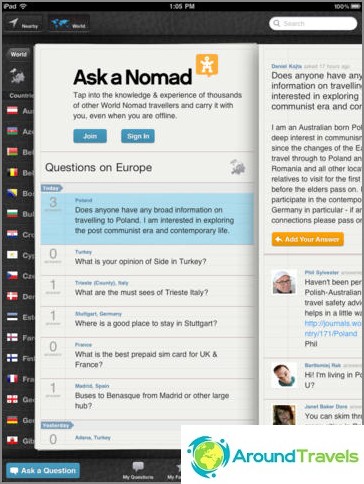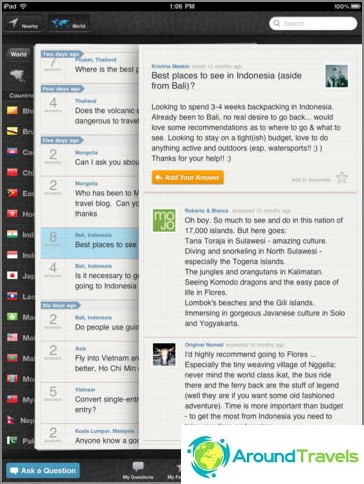 Large base of answers to frequently asked questions
Information from other travelers and locals
Ability to ask a question yourself
Get quick answers and tips
The program is an FAQ-directory in whichYou can independently ask an interesting question about travel and get an answer from other users of the service or find an answer among the already described tips. The application is English, but it is not difficult to understand the basic knowledge of the language. Ask a Nomad is a free app, suitable only for iPad.
Where to stay?
Immediately after choosing a route, you should decidewith accommodation. You can book a hotel in one place for the entire trip, and you can find guesthouses or hostels throughout the journey. Someone would prefer to order everything in advance, others will be determined on the spot, but having addresses, contacts and descriptions of places for spending the night or living on hand will not hurt.
Booking.com: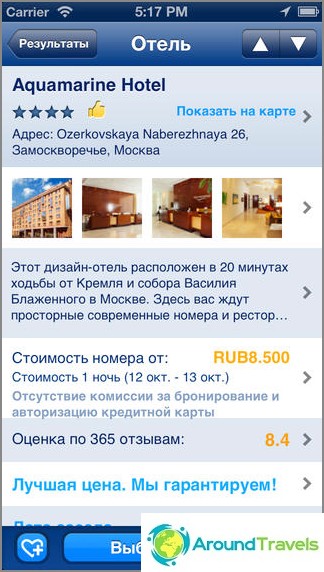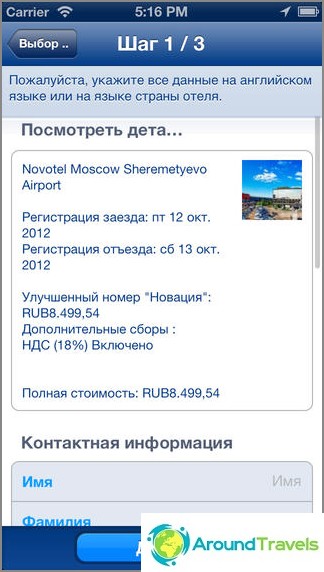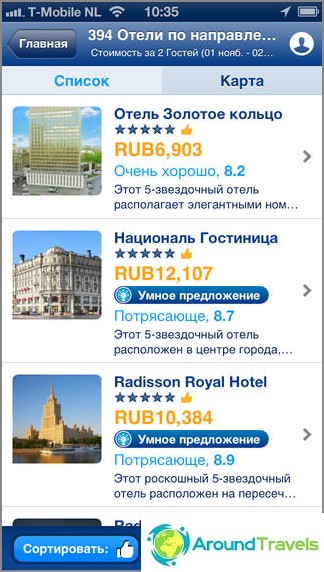 The official app of the best hotel booking service
330,000 accommodation options in 41,000 directions
Beach villas, resort hotels, sea yacht hotels, motels, campgrounds, apartments and other places in one application
Description, reviews and ratings for each institution
Booking, payment and confirmation directly in the app.
This service is used by millions of people around the world, now you can install the official application on your iDevice. Booking.com is a free app that can be installed on an iPhone or iPad.
Ostrovok.ru: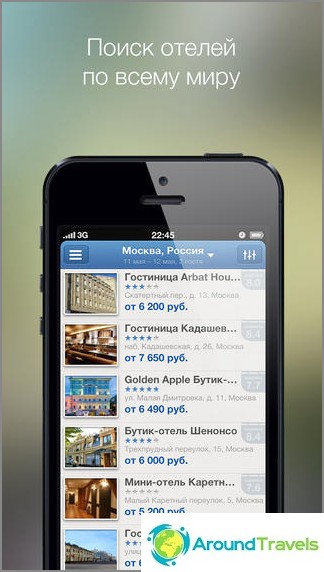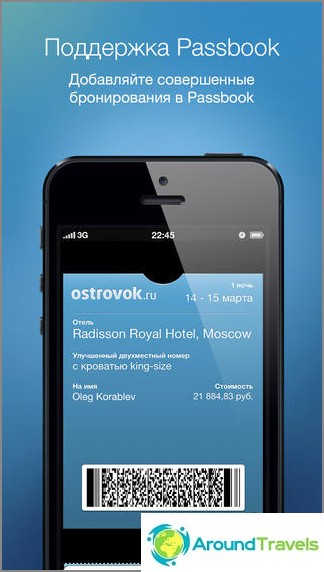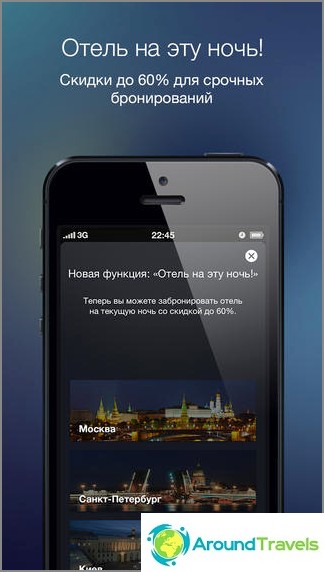 Russian-language equivalent of the world famous booking service
Ability to view hotels on the map, photos of places of residence, favorites list
The function "Hotel for this night" allows you to quickly find where to spend the night a day.
The application is similar to the previous one, as long as it has a smaller database of hotels, but it captivates with a number of interesting features. Ostrovok.ru can be downloaded free of charge and installed on an iPad or iPhone.
Hotel Tonight: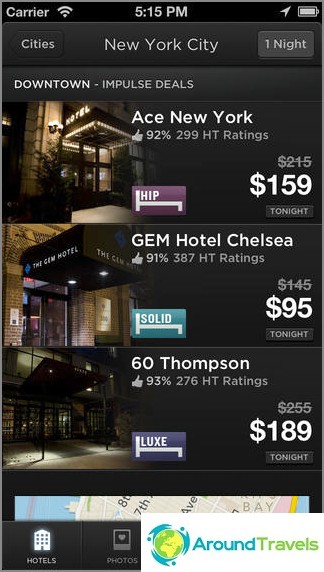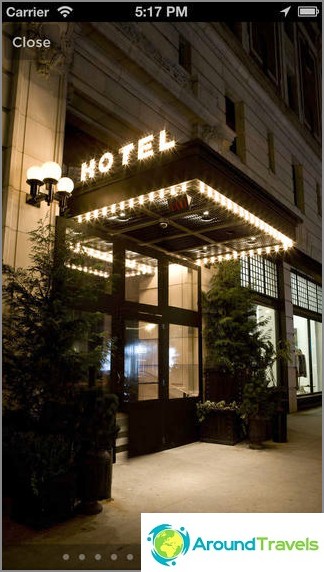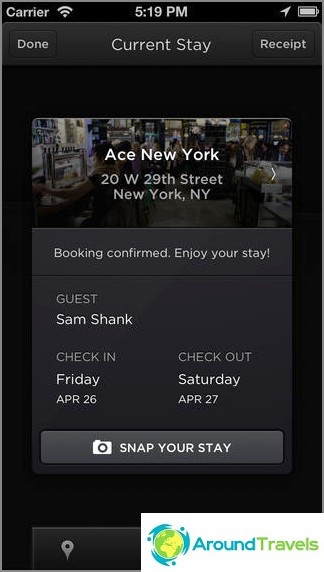 Search hotels "for today" at the lowest price
The possibility of booking and booking until 2 am
Rating for lodging places
User support by e-mail 24/7
The program is aimed at those who do not orderhotel in advance, and book it on the spot. With its help, you can find and book an overnight stay on the spot, please note that in this case you need an internet connection. Hotel Tonight is distributed free of charge and is suitable for iPhone and iPad.
How to fly?
Now is the time to decide how best andmore profitable to get to the place of rest. As you know, the price of the flight may vary depending on the day or week of departure. It is always appropriate, knowing the approximate date of the trip, to check prices for the next or previous week. This can be done in convenient applications of special services.
Aviasales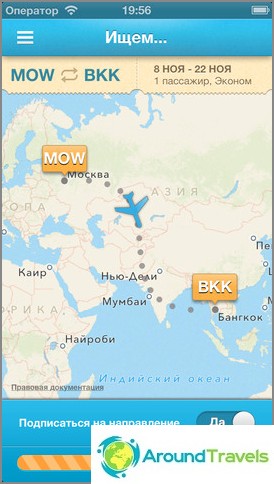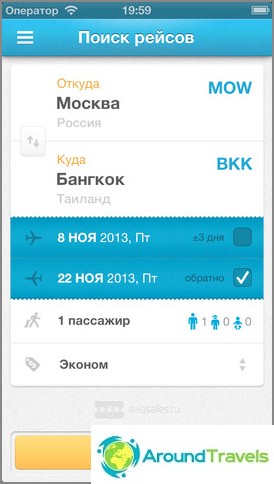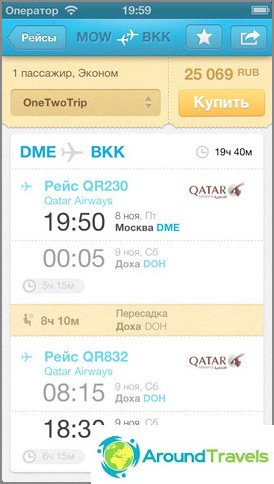 Adding airline tickets to Passbook and Calendar applications
Airline Reference
Search in 40 agencies and 728 airlines
Ability to leave a rating
Quick purchase and reservation confirmation
Ability to customize notifications when necessary tickets appear
The application allows you to track prices andbook tickets for the best deals. In addition to one of the most extensive databases, there is integration with other iOS applications with the ability to schedule an event in the calendar or add a ticket receipt to the Passbook.
Universal program Aviasales suitable for iPhone and iPad.
AnyWayAnyDay: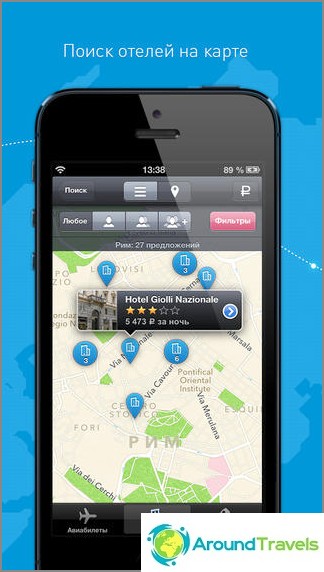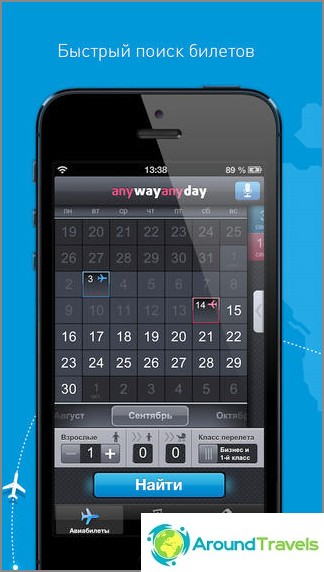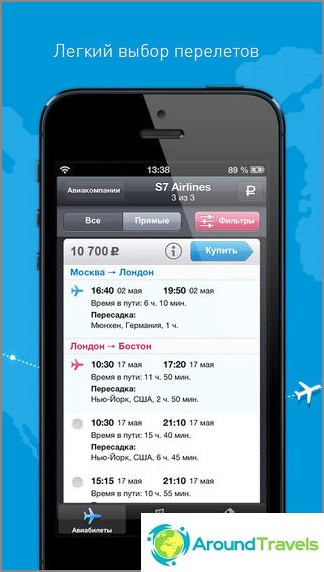 Possibility to book tickets with 800 airlines
Passing booking of hotels with a base of 330,000 hotels
Cancellation feature
Several ways to pay for tickets
The application is an improved equivalentprevious program. Despite the lack of integration with standard applications, AnyWayAnyDay has several features. You can book hotels and tickets in one program, and make payments in a convenient way for you. AnyWayAnyDay works great on iPad and iPhone.
Skyscanner: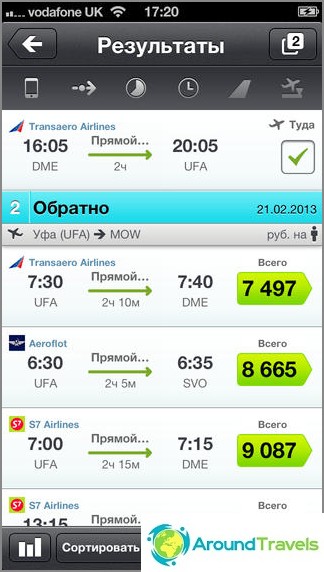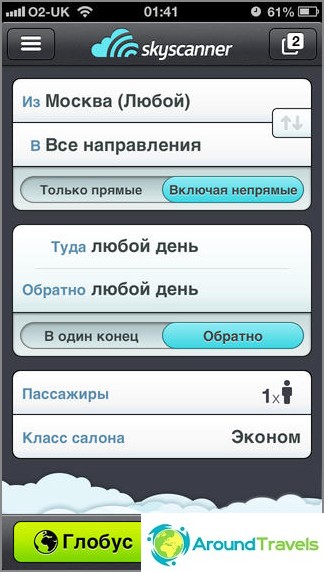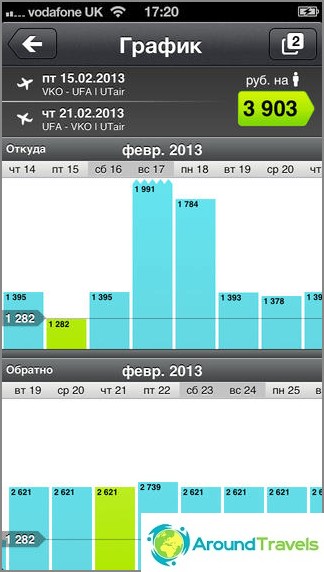 Flexible sorting of tickets found by date, price or flight duration
Price chart for the week, month or year
The program allows you to find tickets in the selected area at a given price, it will allow an undecided traveler to fit into the established budget
The application is an official clientworld-renowned reservation system. A distinctive feature is a large price chart that allows you to compare long periods of time without additional downloads. Order a flight through the client is much faster and more convenient than through the company's website. You can download the program for iPad or iPhone.
How to communicate?
The topic of language barrier is always relevant. Some tourists do not have enough knowledge of languages ​​to communicate with the local population; sometimes, the latter, due to their illiteracy, cannot understand us who speak English or another common language. To avoid misunderstanding, it is recommended to have a phrasebook with you.
Google translate: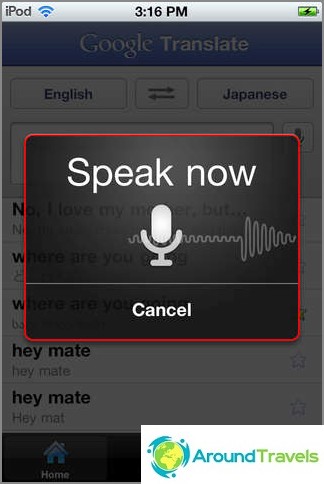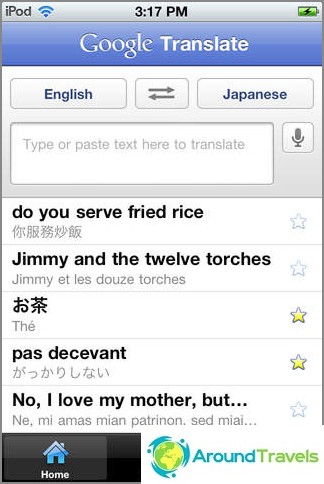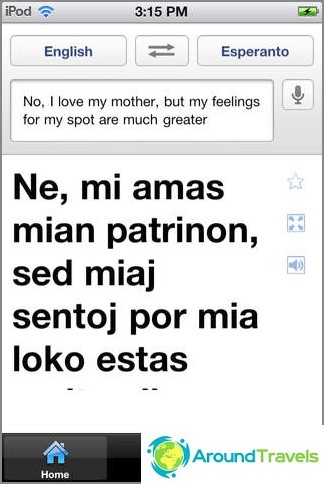 One of the best (if not the best) dictionary base
A huge number of languages ​​and directions of translation
Ability to translate not only words but phrases entirely
Pronunciation of words and phrases in many languages
Possibility of voice input of a phrase for translation
The application has proven itself well and notneeds a presentation. The translator from the search giant will help in any situation; the pronunciation of the translated text and the introduction of the phrase by dictation are especially useful. It has only one significant limitation - all functions work online, while in another country, you will need to provide access to the Internet. You can download the free version of Google Translate in the AppStore, the application is universal and will work on any iDevice.
Word Lens: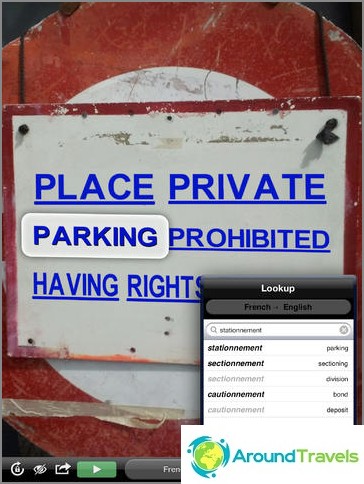 Ability to translate inscriptions from five languages ​​into English
Translation and drawing graphics on the fly
Ability to save translated fragments
A rather unusual application thatdesigned to translate signs, symbols and instructions from five languages ​​(Portuguese, German, Italian, French and Spanish) into English. Implementing a service is like a trick or a trick. You point the camera at a sign with a foreign inscription and see the English text on it. The program will help navigate when there is no one to ask for advice or assistance. Like the previous application, Word Lens requires an internet connection to work. Download the program for free for iPad and iPhone.
Rousseau tourist: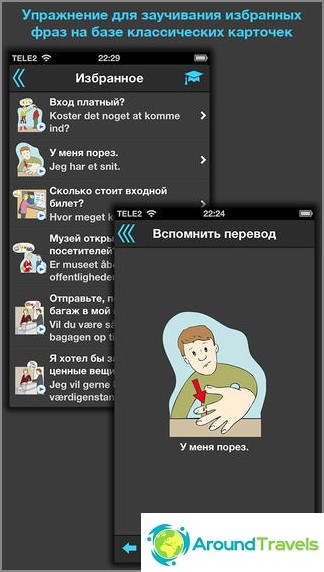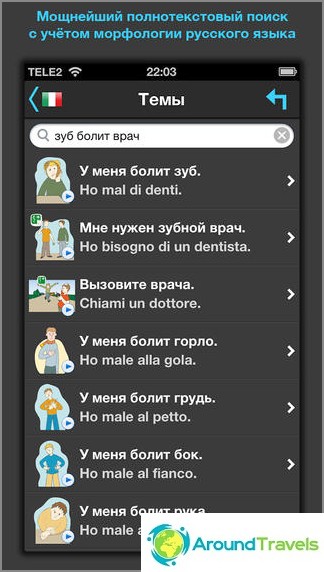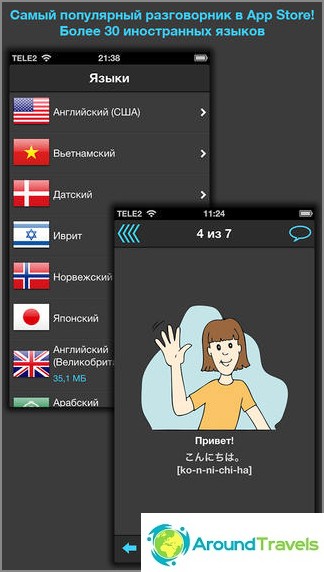 33 most common languages ​​for communication
Ability to choose the necessary translation directions to save space
Ability to download data and continue to use offline translator
"Favorites" section for quick access to frequently used phrases
The function "Learning" allows you to memorize the necessary words with the help of simple exercises
The application is well developed, works withoutaccess to the network (after preloading data) and contains an illustrated dictionary that will allow to communicate even in a language that is not in the system. Just show the picture to the interlocutor and he will understand you without further ado. Programs paid for the version for the iPhone and iPad will have to pay $ 4.99.
How to communicate?
In order to communicate with loved onesat home or share data with other travelers, best-known and proven Internet instant messengers are best suited. Of course, they can be used only when connected to the network.
Whatsapp: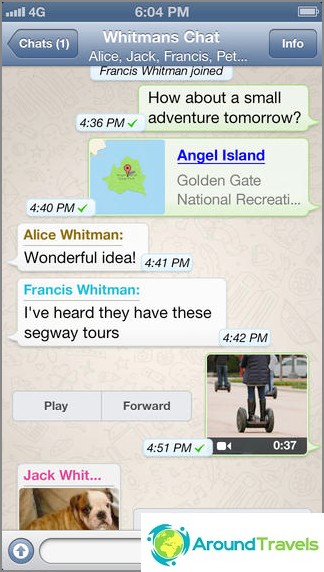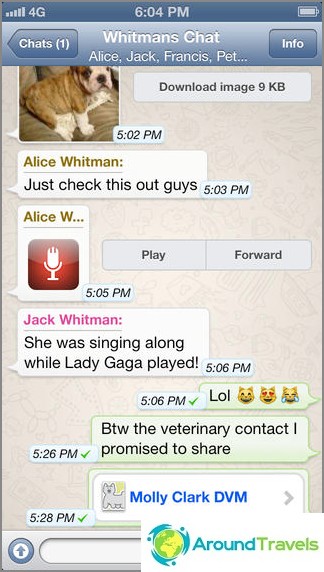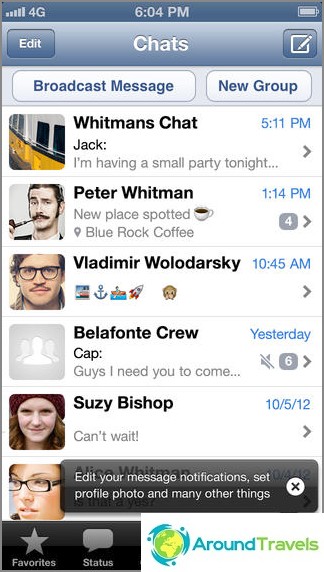 The ability to create group chats
Easy exchange of photos, videos and contacts through the application
Saving messages offline with further sending when connected to the network
Cross platform
The most common and proven Internetinstant messenger for now. Millions of users have already chosen it to communicate. Greater popularity of the service gives cross-platform. Download WhatsApp for iPhone is free.
Viber: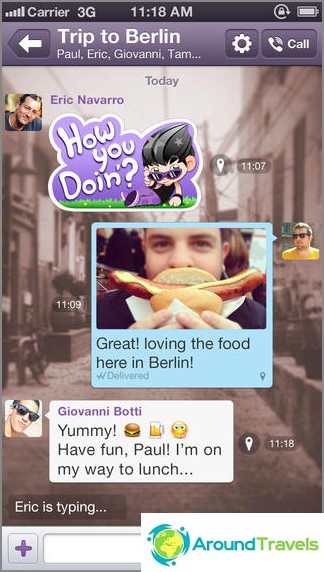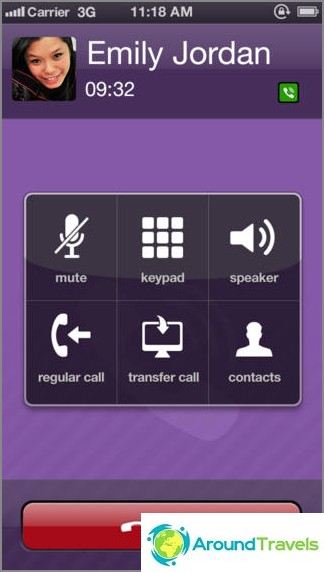 The ability to transfer text and audio messages
Better voice quality when calling among competing applications
Ability to send your location, photos and videos from the device
Localization into a large number of languages ​​(Russian including)
Slightly less promoted, but no less popularCross-platform messenger that boasts excellent voice quality. Integration with the phone book, automatic display of users from the address book who use Viber. The application recently received a client for computers (OS X and Windows) with the ability to integrate with a mobile application. Download Viber for iPhone and iPad for free.
Skype: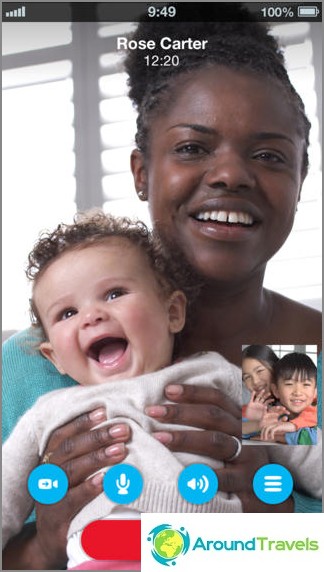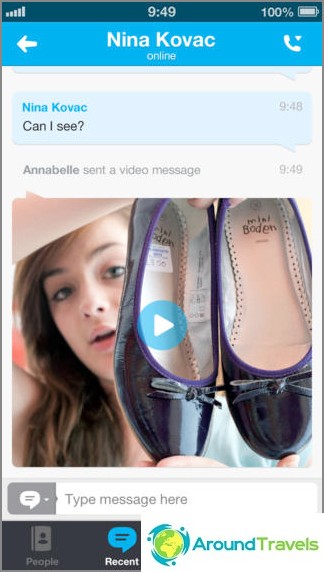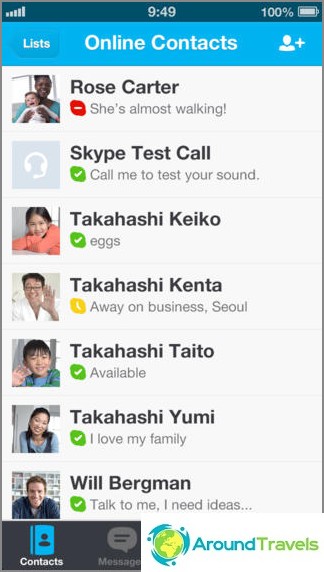 The most popular video calling app in the world
Work on any mobile platform and in any OS on a computer
Text messaging, audio calls, video communication
The ability to share any type of file
The ability to make calls to mobile and landline numbers in any country (for an additional fee)
Despite the fact that Skype appeared long beforeits counterparts described above, recently the program has lost its former popularity. This is due to new trends (text messages and emoticons are now in vogue, and video is used less frequently) and the voracity of the application. Skype more strongly discharges the device's battery, but does not require authorization via a mobile number, like previous instant messengers. Unlike them, Skype has a full-fledged application for the iPhone and iPad. All known operating systems are supported (not only on phones, but also on PCs), and for an additional fee you can make calls to mobile phones anywhere in the world.
How not to get lost?
In order not to get lost in a foreign country, you must have a map of the area. Conveniently, in addition to houses and streets, they will be shown sights, cafes, hotels, etc.
Google Maps: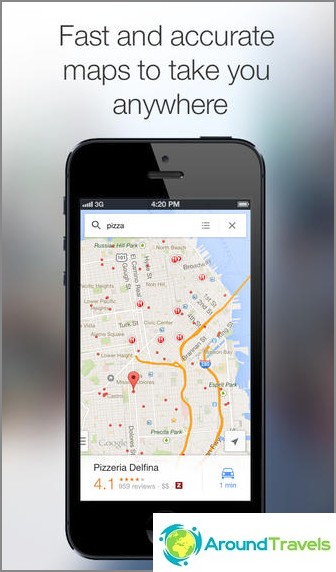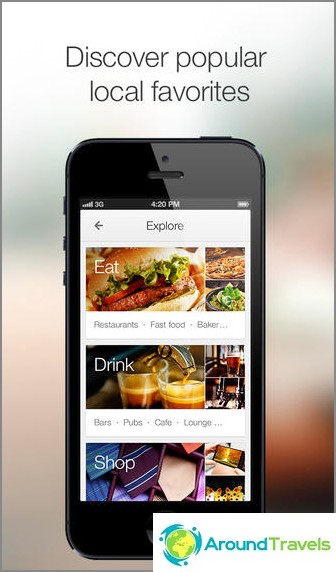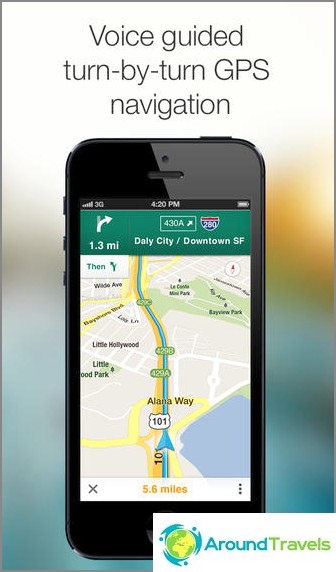 The best app for navigation and geotagging
The most extensive and updated database of cards
The ability to view images of the terrain from space
Street view mode with 3-D panoramas for major cities
Online creation of travel routes by personal or public transport
Search for the necessary objects and information about them
As with the translator, maps from Googleare the best in the world in terms of coverage and fullness. You can use them either through a browser or using a mobile application. Full functionality requires a network connection. In offline mode, you can only view the saved maps and their location on them. Download Google Maps for iPhone and iPad for free.
City Maps 2Go: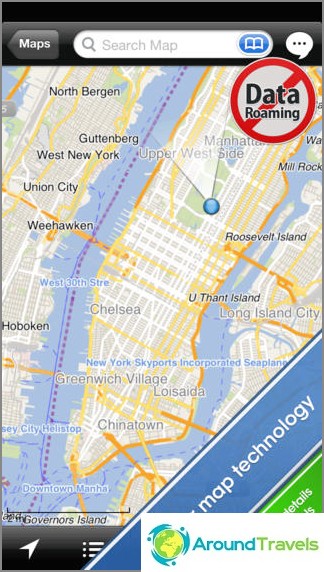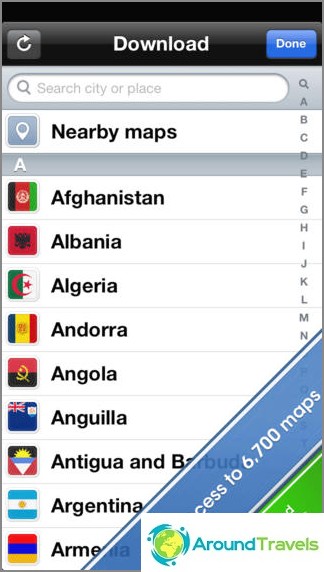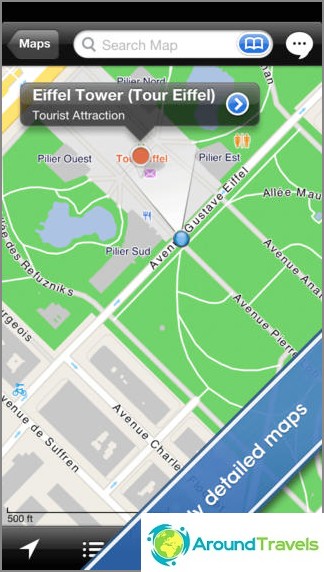 Ability to download maps and use them offline
100% functionality with no network connection
6700 interactive maps for most cities and tourist areas
Wikipedia Traveler's Guide - shows information about the area and attractions.
The application is 100% suitable for travelerswithout mobile internet. Pre-download the map and guide Wikipedia for the desired region and the whole journey does not run in search of wi-fi. Maps work quickly and accurately, unfortunately, there is no routing and Russian localization. Download City Maps 2Go for iPhone and iPad for $ 2.99.
YandexMaps: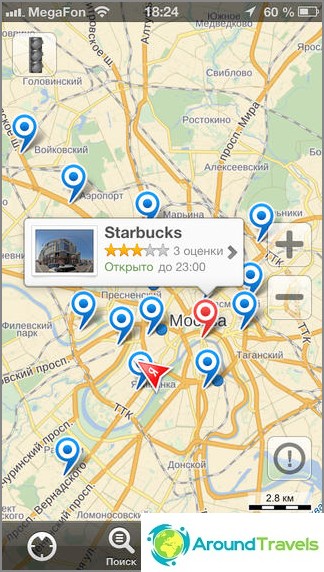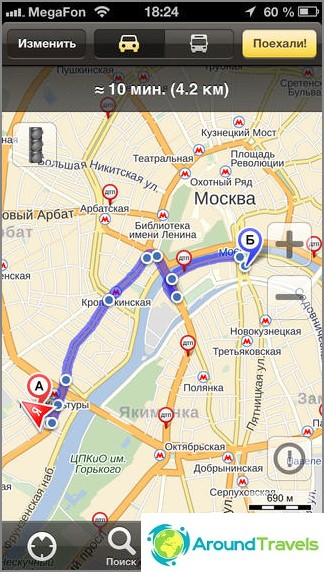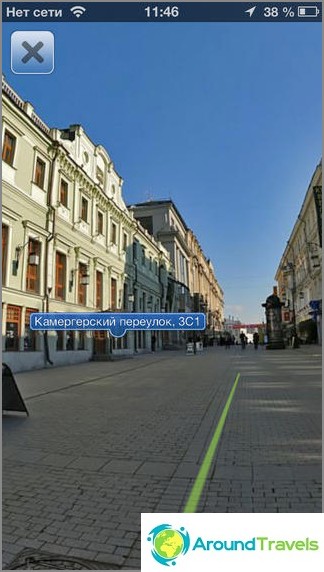 Maps of 380 cities in Russia, Ukraine, Belarus and Kazakhstan
Ability to download cache cards and use them offline
3-D panoramas for 260 cities
Additional information about objects on the map
Data on traffic jams and accidents for major cities
While the domestic search engine in the field of maps is notwill be able to compete with Google in terms of territory grip. Recommend the application can only be used to travel around the CIS. But the accuracy and reliability of maps in the near abroad is more accurate, and additional information and a form of traffic jams can be useful for drivers. Download Yandex.Maps for free, they are suitable for both the iPhone and iPad.
What to see?
When did you get to the place and get aroundmap, the question arises, what can be seen from the sights, where cultural values ​​are located nearby, and where - mass events. Of course, you can follow the proverb "The language will bring Kiev to you" and rely on your knowledge of a foreign language, but it's better not to depend on the hospitality and sociability of the local population to have a list of attractions and their locations.
Localscope: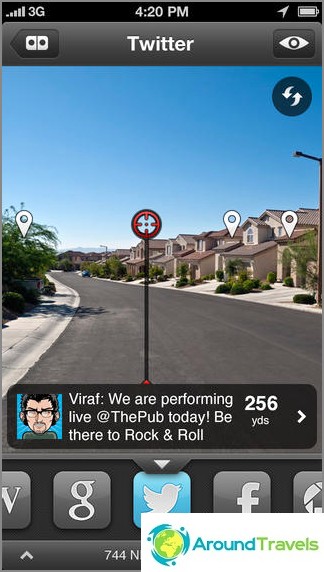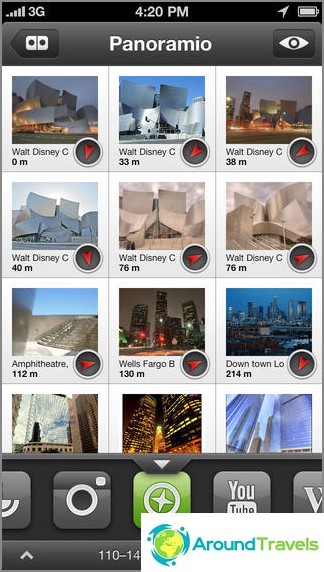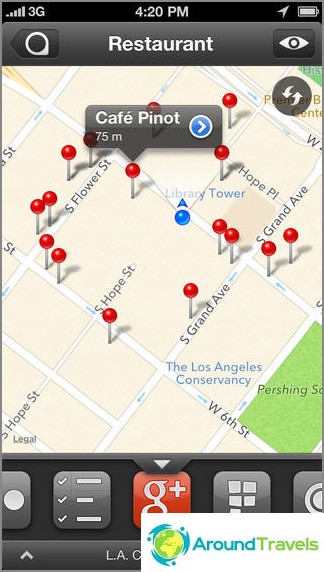 The application supports 21 languages ​​(including Russian)
The program collected data on attractions, places of interest, cultural values
Data collected from more than 20 databases of map services
Exact determination of the distance to the selected object
Extra reality mode
The program is an aggregator of data aboutlocation of objects with the largest base. Of particular interest is the function of additional reality in which data on objects are superimposed on the image from the camera of your iDevice. Pointing the camera to the streets you will see notes on monuments, cafes, banks, etc. with their name, description and additional information. The Localscope application is suitable for iPhone and iPad, its price in the AppStore is $ 1.99.
Tagwhat: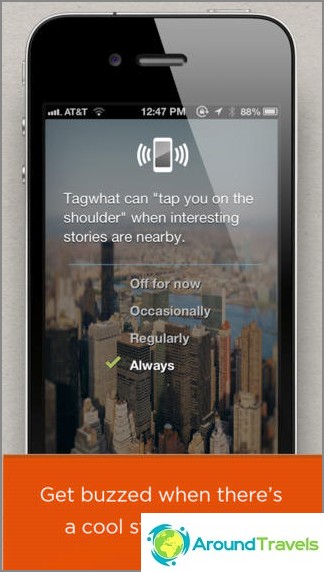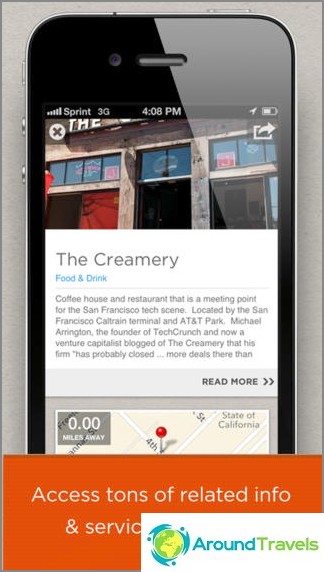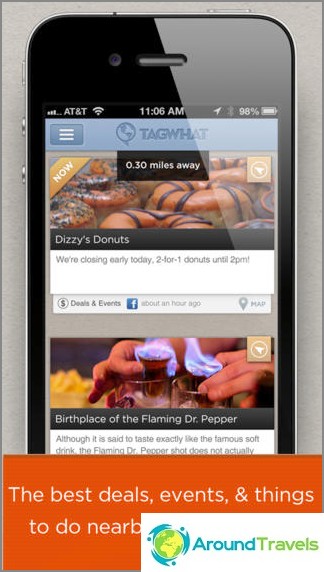 Very large tag database with different types of establishments.
Display not only the distance to the object, but also the estimated time of the journey
Information about events nearby (fairs, sales, shows, shows)
Notification of a new event near you
A good utility that will not missall the most interesting in the place of your stay. It is focused on short-term events and actions near the service user. Download TagWhat for free for iPad and iPhone.
TripAdvisor Offline City Guides: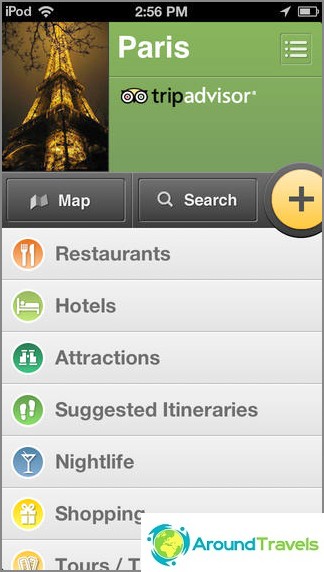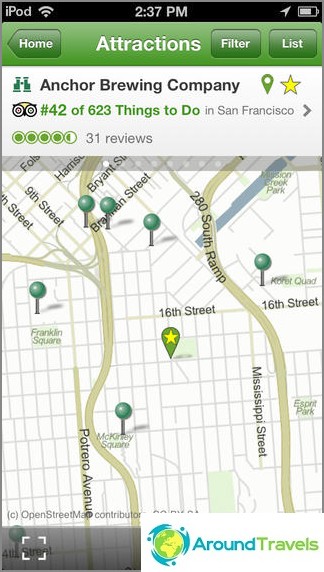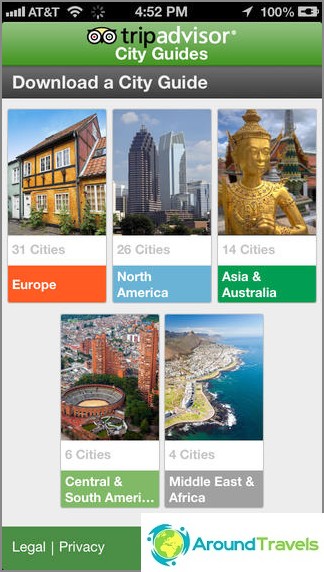 Traveler Guide to the most popular tourist cities
Easy user navigation and display of objects on the map
The ability to preload data for future use offline.
More than 50 million reviews and tips from other travelers
Despite the fact that the program is in Englishlanguage is not difficult to use. It is enough to load the necessary city or country and you are provided with a personal guide for the entire duration of the trip. TripAdvisor can be downloaded for free and installed on an iPhone or iPad.
Where to eat?
On any trip or travel matter of nutritionoccurs daily. Of course, if you are relaxing in an all-inclusive hotel, this concern will pass you by. For all others, it is recommended to have an application for quick search of food items. Please note that many of the above programs already have a search for food places, below will be described the applications in which this is the main function.
LocalEats for iPad: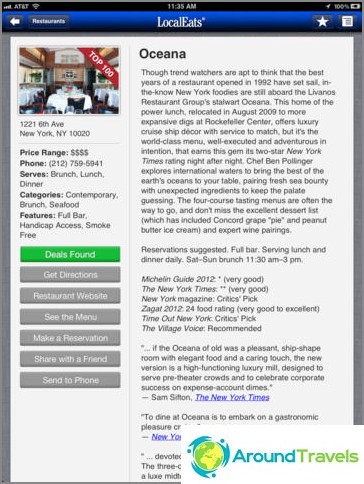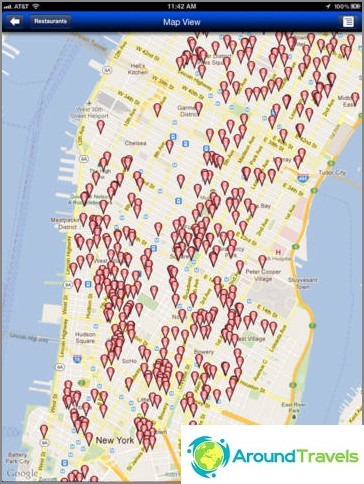 Search for food places in all US cities and major cities of Europe
The ability to sort places by rating, type of kitchen or location
Visitors and critics from print publications around the world
The app is perfect for real gourmets.or kitchen lovers who are accustomed to focus on the opinion of authoritative experts. At this stage, the not so wide base of cities grieves. The program can be recommended for trips to the USA or Europe. The program is free and suitable only for iPad.
Zoon: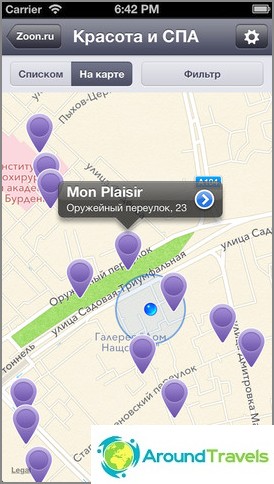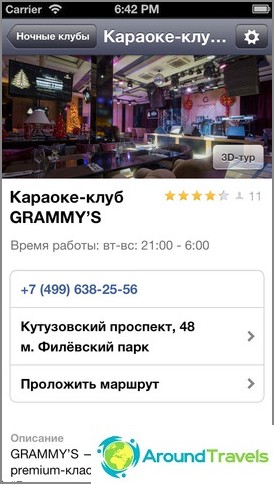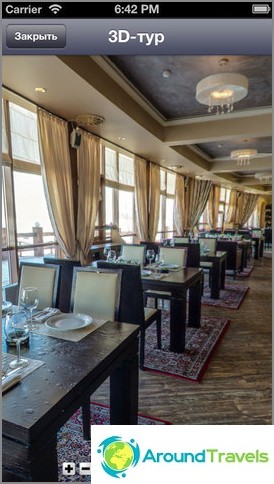 Large base of catering establishments (and not only) in large cities of Russia
Photos and user reviews about each institution
3-D tour of the selected place
All contacts to order a table or takeaway
The program is constantly updated with new cities.Russia. Recently, the author began to add institutions from Ukraine. You can quickly find not only the place where you can eat, but also objects for further pastime. The application is free and suitable for iPhone and iPad.
Buuuk: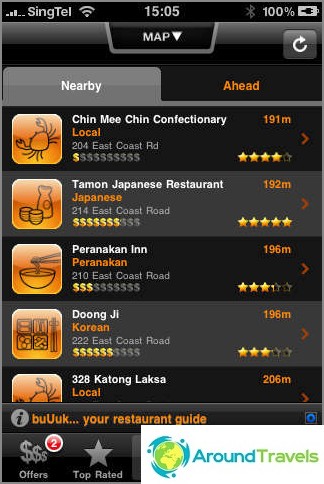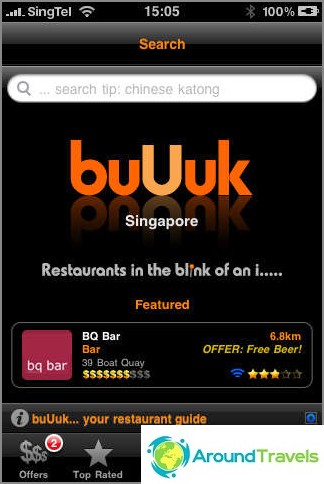 Search for cafes, bars and restaurants (mainly in the Asian region)
Rating of institutions, kitchen, sample menu with prices (not for all institutions)
Convenient display of food places, including in the mode of additional reality using the camera of your iDevice
The program is perfect for finding places.food when traveling to Asian and Arab countries. Excellent function will tell you about the availability of wi-fi in the institution and the various promotions held In addition, you can find contacts to order a meal or table. Download Buuuk for free, the app is suitable for the iPhone or iPod Touch.
What else can be useful?
Any trip must be accompanied by control.weather conditions. It is always good to know what awaits you for or for the next few days. There are a lot of applications for viewing the weather in the AppStore, I decided to stop at GisMeteo: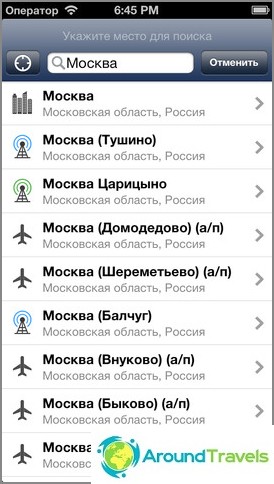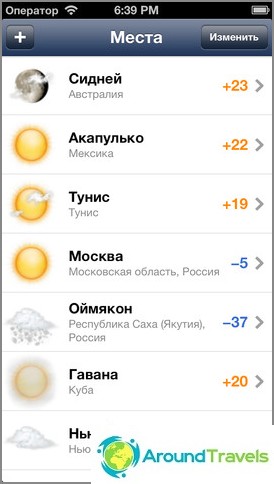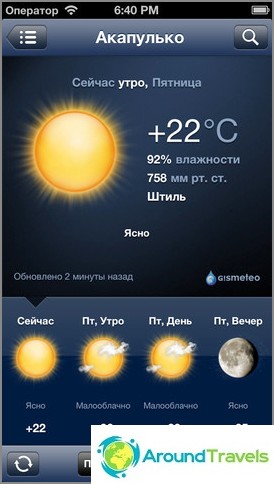 Free Russian-language weather application anywhere in the world
The ability to view detailed data for the next 48 hours or a short one - for 7 days
Warnings about geomagnetic storms or weather events
Displaying weather not only in cities, but also at airports
The ability to watch a previously received forecast in offline mode
For most readers, accounting finances for theirintelligent spending is the norm of life. You can record all receipts and expenses for the day in the evening at the computer, but it is much more convenient to enter data directly into the phone. If your smartphone is always at hand - then accounting for finances will be faster not only on vacation, but also in everyday life. It's quite convenient to use the CashSync application for this: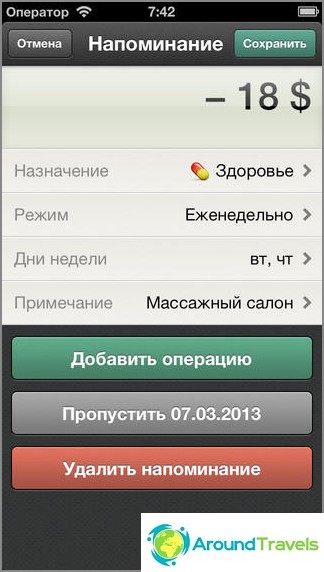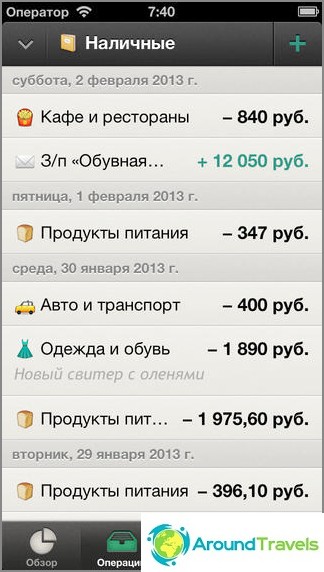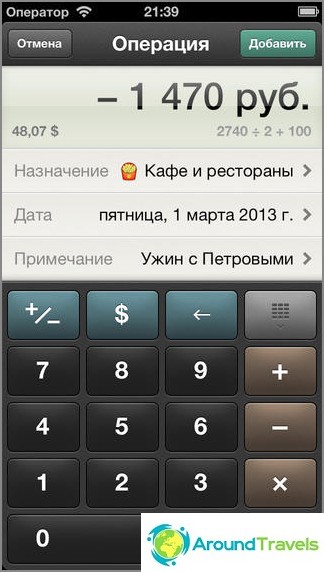 The ability to keep joint account with several users
Sync data across multiple devices
Convenient reminders to keep track of regular transactions
The ability to enter data in the currency of the host country, in the future they are converted at the rate in your base currency
There is a free version of the application with limited functionality.
Most of the programs described require accessto the internet for functioning. Some applications have the function of pre-download and work in offline mode, but it is always preferable to have access to the Internet. To know about all the wi-fi points from which you can go to the network, just download the Wi-fi Map Pro application:
Specifying wi-fi points in many cities of the planet
Display of your location on the map and wi-fi access point relative to it
Passwords from users to closed access points
Work with pre-loaded maps offline
With the program it is enough to download before the tripa map of the city or district and upon arrival you will see all the nearby wi-fi points for closed will be shown passwords that have been entered into the database by other service users. Now you can go online and work with other applications without restrictions.
A little tip for last?
All applications described in the article can workon the Apple technique. This could be an iPhone, iPod Touch Player or iPad. So, as most services are related to navigation and location, I want to talk about a small nuance. For determining your current position, mobile devices can use two technologies GPS and AGPS.
GPS - determines the position relative to the satellites, and AGPS - relative to the cell tower.
The first system works without access to the Internet, does not require money, is available anywhere in the world, however, it searches for longer communication with satellites, may have a bad signal in the mountains or when working indoors.
The second system can more quickly find yourThe location, however, requires a connection to the mobile Internet or wi-fi network. Consequently, it requires money for mobile Internet or binding to a public access point.
Now the most important thing: Not all Apple mobile devices are equipped with GPS modules. They are in iPhones since the 3G model (not only in the old first-generation iPhone). IPod Touch players do not have a GPS module and can only find a location when connected to wi-fi. With iPad tablets, the situation is as follows: there are models with a 3G module (they are also called Cellular in the title), but there are only wi-fi devices. You can recognize them by name or by appearance.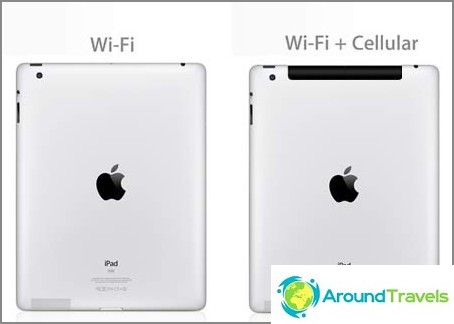 Equipped with a radio module tablets haveplastic cover on the top panel at the back. Behind it lies the antenna unit. In addition, there is a SIM card slot on the case. These iPads are more expensive than models without 3G, but they have advantages. You can insert a mobile operator's card into them and use the Internet through it, and most importantly, they have a GPS module. The wi-fi model does not have this module, sellers do not always indicate this attention. Such tablets will be able to find your location only when connected to a wi-fi network, like iPods.
On this, my story came to an end, I hope the information presented will be useful, write what applications for iOS you use when traveling.
Life hacking 1 - how to buy a good insurance

Choosing insurance is now unrealistically difficult, so to help all travelers, I compile a rating. To do this, I constantly monitor forums, study insurance contracts and use insurance by myself.

Life hacking 2 - how to find a hotel 20% cheaper

First, choose a hotel on Booking. They have a good offer base, but the prices are NOT the best! The same hotel can often be found 20% cheaper in other systems through the RoomGuru service.

Discount hotels