My post is primarily addressedtravelers who for one reason or another save on luggage weight, and also love stubble on their face. Quite a narrow niche, but I myself get into it, so I can not write. For a long time I looked through various reviews of hair clippers, as well as trimmers and razors, and finally came across OneBlade, which just began to be sold in Russia.
The content of the article
Foreword
First of all, I will explain what my request was. I prefer to walk with bristles and give facial hair about 10 minutes a week. More, this is too much for me. And, shaving smoothly makes me so angry at all, as if naked on the street, then I go out
Not to mention the fact that this daily torment,and it would be my will, I would cancel the growth of facial hair in general. Thus, I chose for myself the option of a weekly bristle and a small beard "goatee". In addition to the convenience of this method and the minimization of time for shaving, I also like how it all looks from the outside.
Here you can argue a long time if a man shouldto shave or not, but in fact is a personal matter. Someone won't like a long beard. I also liked the expression that says you just need to find a woman who likes bearded men. That's all, the question is resolved. After all, it is usually women who begin to say that they (do not) like their beard.
So, to keep on the face weeklyUnshaven, I last year used a hair clipper Panasonic ER1420. By the way, a good car, I can safely recommend it (and almost the same model ER1410), as well as its cheaper younger sister ER-131, which I also had. Everything is good, but her charge is very heavy, all together weighs 575 grams. For me, still remains a mystery why Panasonic did so, some kind of nonsense. Plus, when I leave, it's not very good to take a car with me, you may need it here. That's why I was looking for a lightweight travel trimmer. And I found it.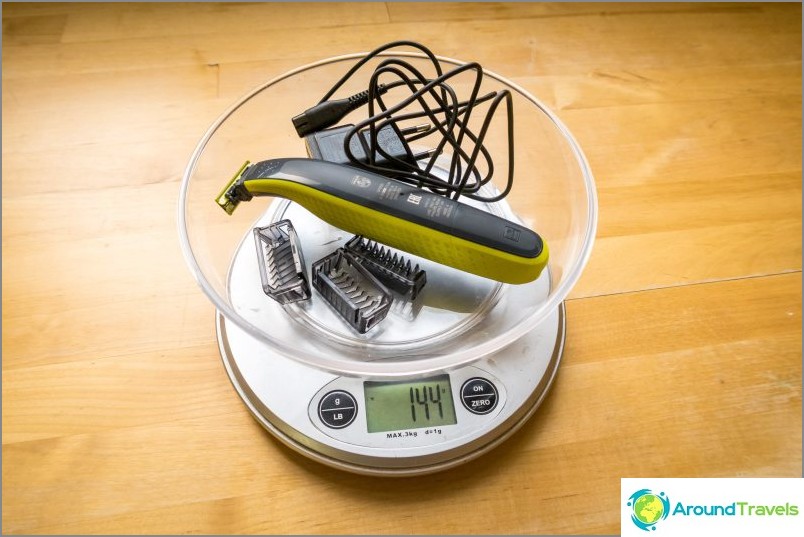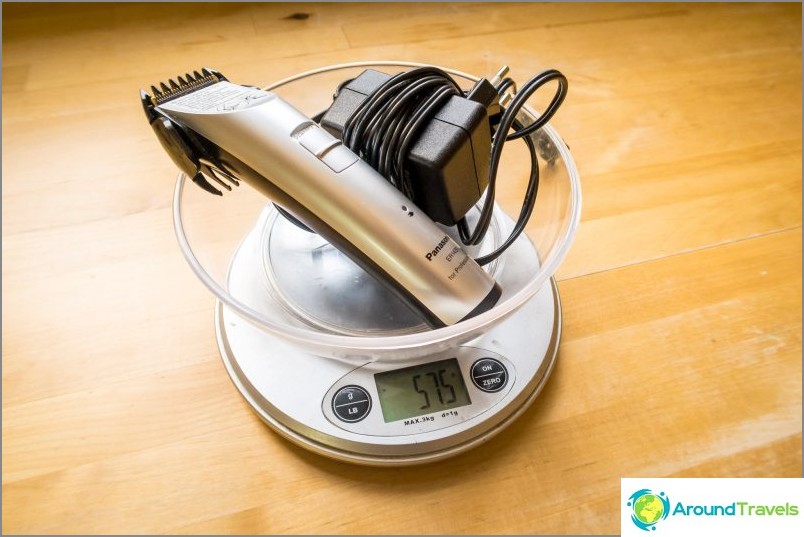 Philips OneBlade
Just the other day I was glad I got mybox with a new device. Now I have 500 grams of luggage will be easier when I go to Thailand. If it were not for photographic equipment, I would have gone with hand luggage, but apparently not this time.
I still do not understand how to call thisdevice, because it is not a razor, but at the same time not quite a clipper. Rather, some trimmer with the function of shaving. Because she cannot shave straight smoothly-smoothly, a little bit (less than a millimeter) still remains.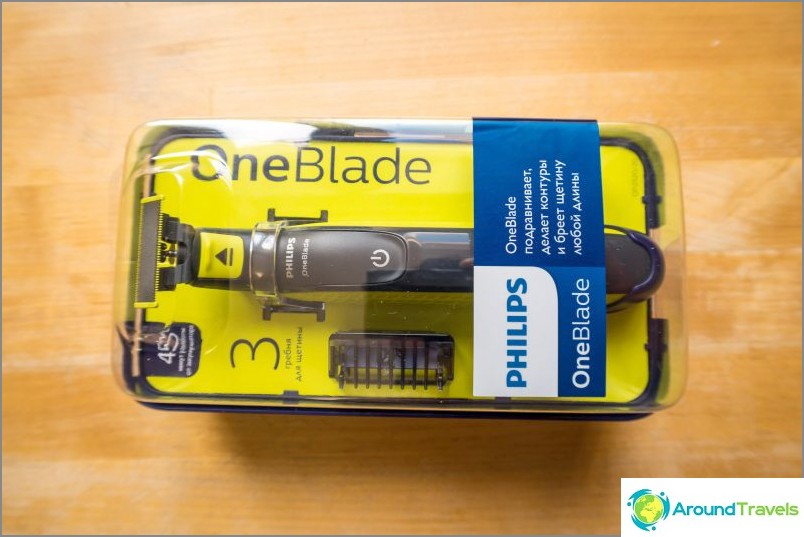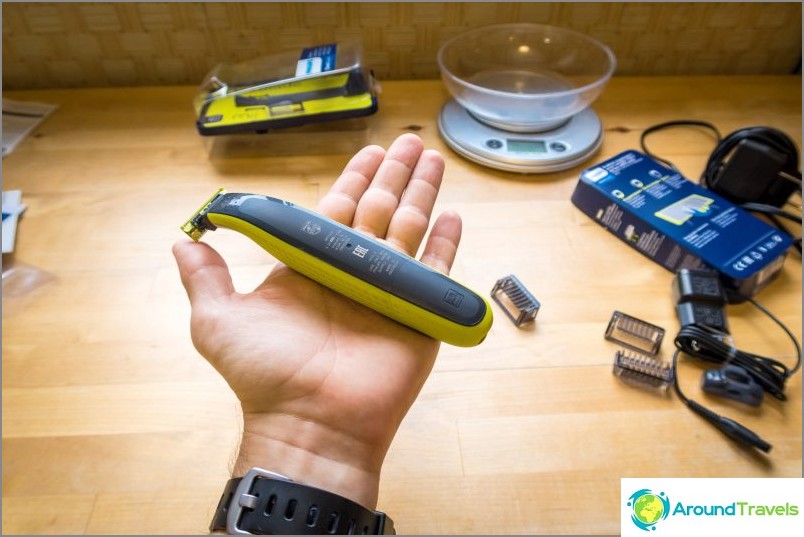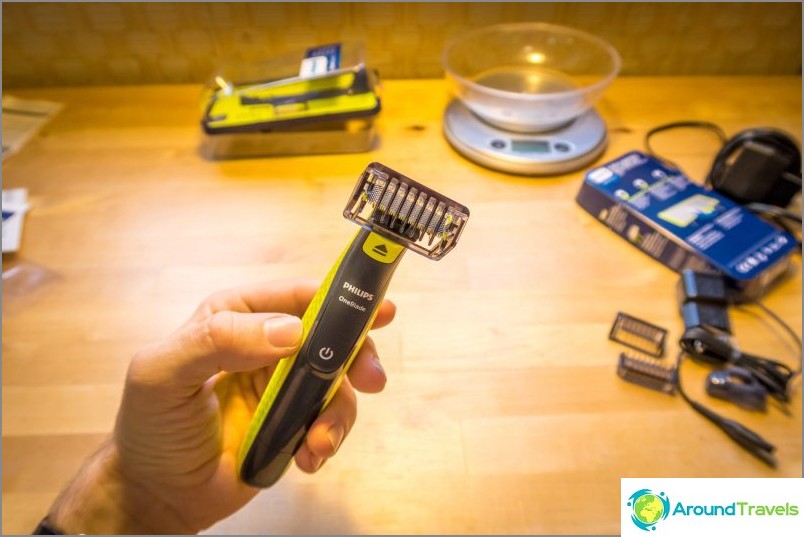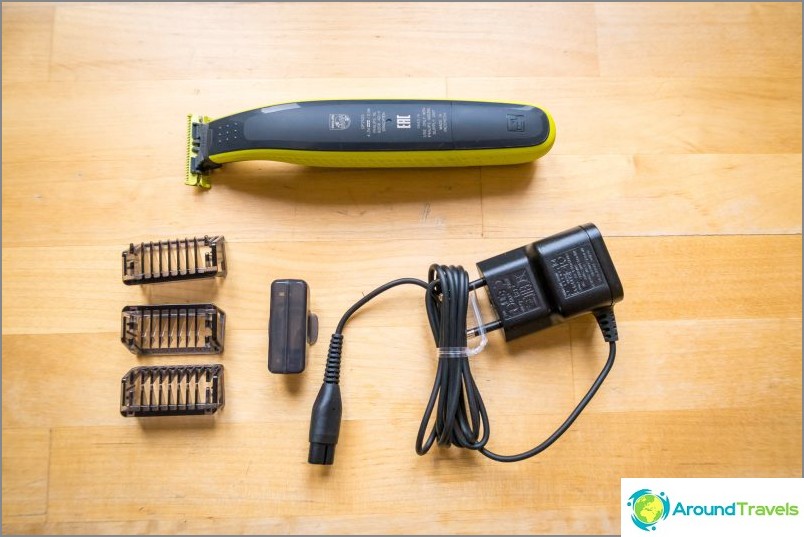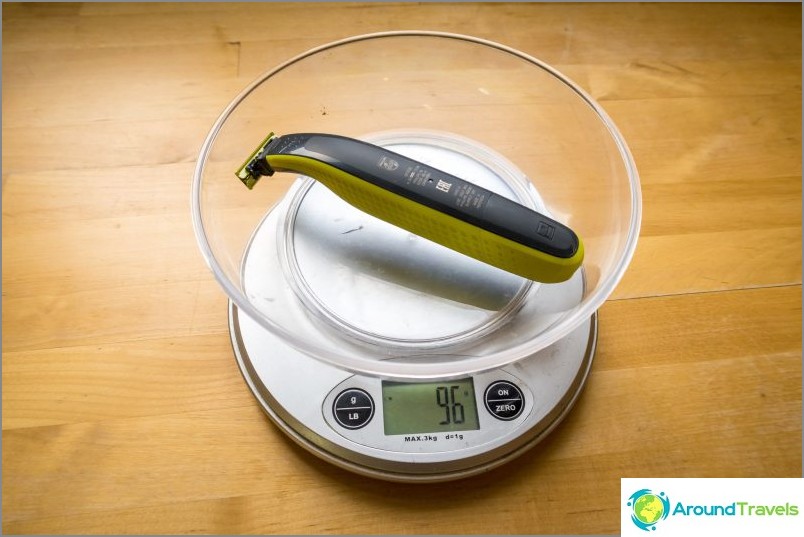 Specifications
- 45 minutes of battery life
- 8 hours of charging (why so long?)
- During charging the machine does not work, the charge indicator is only on charging
- 3 nozzles: 1 mm, 3 mm, 5 mm
- Dry and wet shave, waterproof
- Device weight 96 gr
Price
- Philips OneBlade machine - 2490 rubles
- Replaceable blade - 1190 rubles
- You can buy now only on the Philips's website
In terms of prices it turns out quite interesting. The machine itself is inexpensive, but buying blades in the long term makes it not quite budget. According to the manufacturer of the blade should be enough for 4 months, subject to shaving 2 times a week. I usually shave every 1-2 weeks, so the blades should last for a year. But now I can not say anything, it is necessary to use a long period of time. On the other hand, if you look at the replacement blades for Gillete Mach 3 machines now, then it turns out to be comparable. Although, if we talk about clippers, then many self-sharpening blades.
How to shave
And most importantly, as the device showsyourself at work. In short, the first impression is very positive. I put the nozzle 3 mm and in 5 minutes I turned my 6 mm bristles into 3 mm. It feels that it is less powerful compared with a clipper, but it is quite a handle. Of the advantages, I immediately want to note that it spreads hairs around itself very weakly. With a clipper, it was a real scourge, they flew away by half a meter and then tortured to clean up after themselves. So to maintain the bristles in decent form - ok!
Next, I decided to shave (all but the beard). And it feels like the quality of shaving matches my regular machine. Well, more precisely a little more leaves, not smooth. But I am not a fan of a smooth shave and I do this only in rare cases, for example, to be able to do nothing for 2-3 weeks afterwards (when I go on a hike or go somewhere where I cannot shave). And how convenient it is to make the contours! Really cool, with the machine I did not succeed, because the blade is always surrounded by the edge and it is difficult to accurately calculate how much is left there, is not visible. Thus, now I don't need to take a machine with interchangeable blades for traveling. Profit!
Advantages and disadvantages
To summarize, I got at the moment.
+ Compact and lightweight device, the whole set weighs only 144 grams.
+ A versatile device that personally replaces the hair cutting machine (read the beard trimmer) and the razor for me.
+ Separately, I want to note the convenience of making contours, it is easier than a machine, well, and with a trimmer it could not be done at all.
- The cost of a replaceable blade and the need to replace it. And what if it's time to change the blade, and it is not in stores.
- Does not work while charging
Video review
P.S. And how do you use a trimmer, or a machine at zero?
Write the models of razors / trimmers you like that you take with you on your journey.
Life hacking 1 - how to buy a good insurance

Choosing insurance is now unrealistically difficult, so to help all travelers, I compile a rating. To do this, I constantly monitor forums, study insurance contracts and use insurance by myself.

Life hacking 2 - how to find a hotel 20% cheaper

First, choose a hotel on Booking. They have a good offer base, but the prices are NOT the best! The same hotel can often be found 20% cheaper in other systems through the RoomGuru service.

Discount hotels