Well, so I got to Koh Chang. In the resort, which was the choice, I stopped by a few years ago. At that time I was looking at different options and generally looking for a different type of accommodation, so I linger here, but not with my body. But then it was still in my head that it would be necessary to drop in here on occasion, and for a couple of days.
Well, now, years later, I still found myself inSiam Bay Resort and very unusual turned back to the place where it was once. To return, but by a completely different person, with changed thoughts and circumstances in life.
This part of Koh Chang is quiet, if you can say"Backstage place", where almost no one is there, all roads pass by, and to get to the resort you have to climb up the real hill and then go down it from the other side. There, on the side facing the sea, built only two hotels.
The content of the article
Siam Bay Resort
Price and reservation
Price at Siam Bay Resort

depends on the type of housing (there are only 5 types here) and the season.
In the peak season (this is December-January) the price is alwaysabove. In low season, the price starts at 1400 baht for simpler houses, which, although on the first line, belong to the rocky part of the beach. And the most expensive ones are rented for 2,900 baht, and these are already solid, good houses with access to the sandy beach and with their own private mini-pool.
I chose the middle option - Sea View Villa, house onhillside overlooking the sea. During the high season, prices rise one and a half times and for the simplest house they ask about 1800-2000 baht, and the price of a villa with a private pool jumps to 4,200 baht per day.
Hotels on Chang>
Be sure (and I insist) check availabilitydiscounts or special offers on the excellent Roomguru service. It will quickly and simply show you discounts in all existing reservation systems. In Asia, for example, there are lots of offers on Agoda.com that are much more interesting than on exactly the same hotels on Booking.com.
For example, here is a direct link to the hotel: Siam Bay Resort

. Or here's another link to the second, neighboring hotel - Sea View Resort and Spa

there everything is about the same, and maybe better, I don't know, didn't go.
If you book online in advance, thenthere are discounts, and in principle, often in this case it is cheaper than they will tell you at the reception desk. I booked my accommodation for 1500 baht in advance, and on the spot I was offered it already for 2500 baht. In low season, my house is cheaper. Deposit for key 500 baht.
Interior
Unfortunately, on my arrival, the weather in Koh Chang wascloudy and therefore the photos are not as bright and beautiful as they could be, so try adding sun to my photos with your imagination.
My villa is one large room, where there is a hefty bed-airfield, about 2.5 meters wide, with two matted mattresses under one sheet.
If you are facing the sea, you'll have one and a half aheadMy walls are glass, with a panoramic view of the inner territory of the resort and the sea, and behind me there is a corridor with three small rooms: a shower, a toilet and a sink around the corner. Yes, the sink is in the corridor, around the corner. The original decision.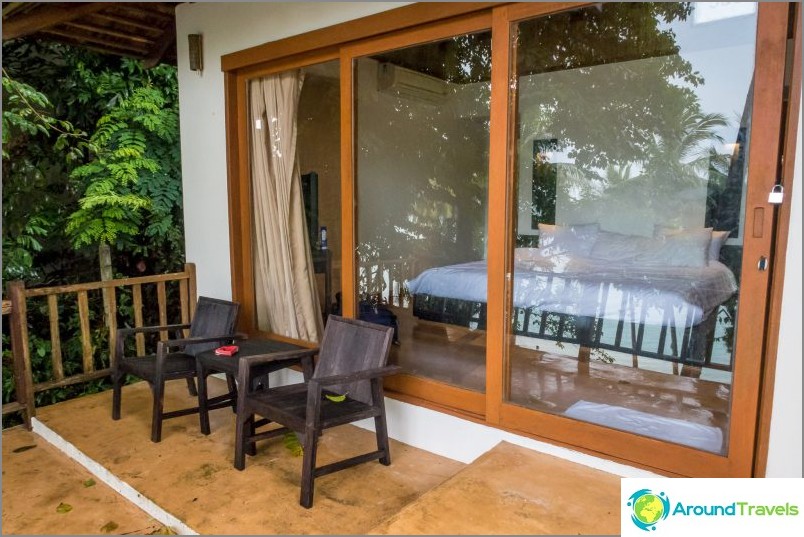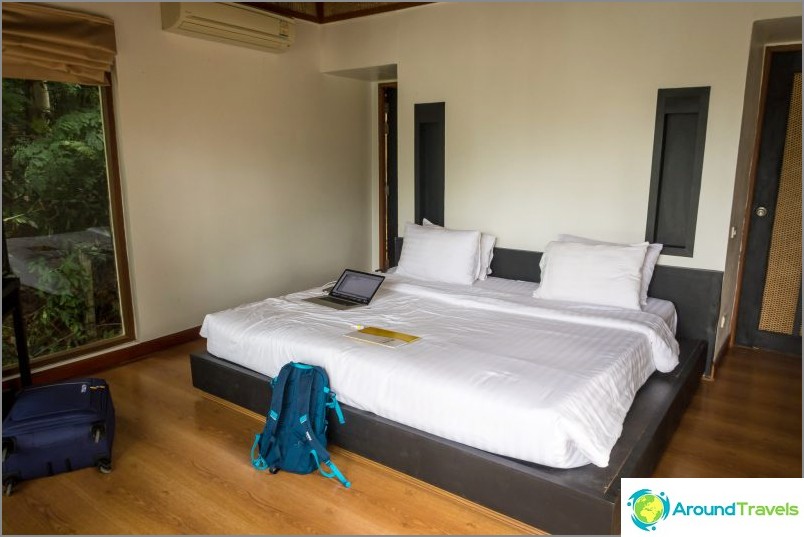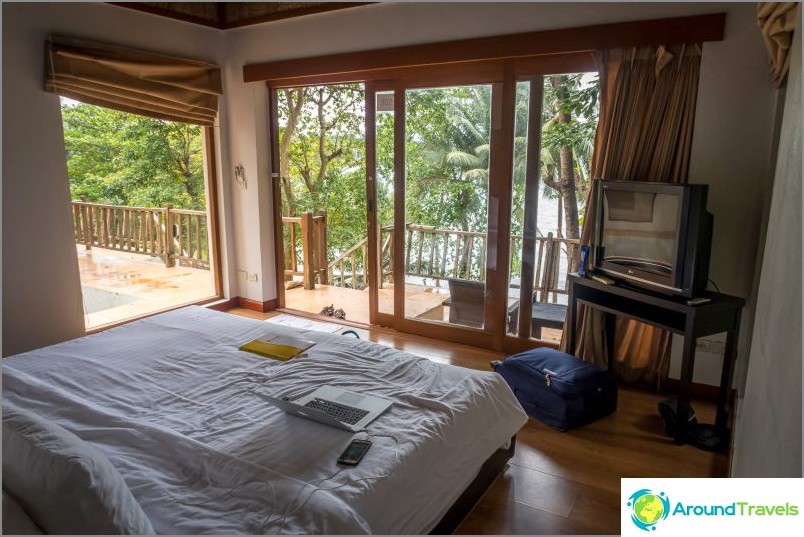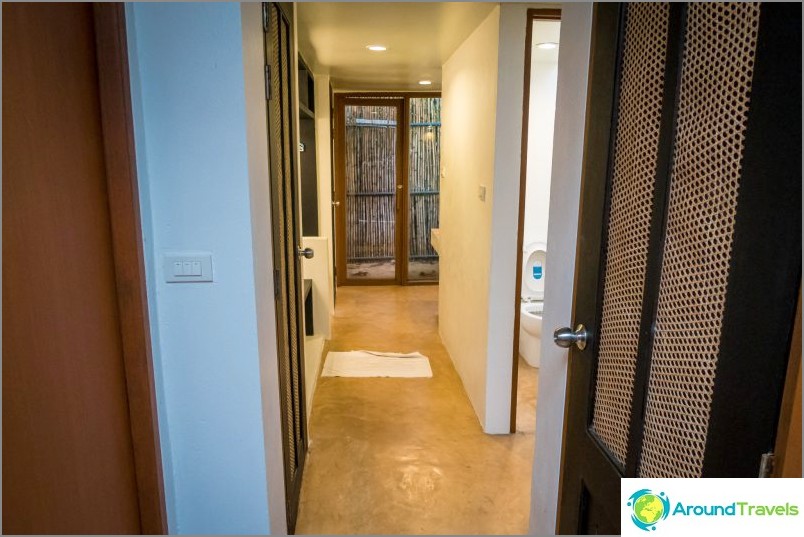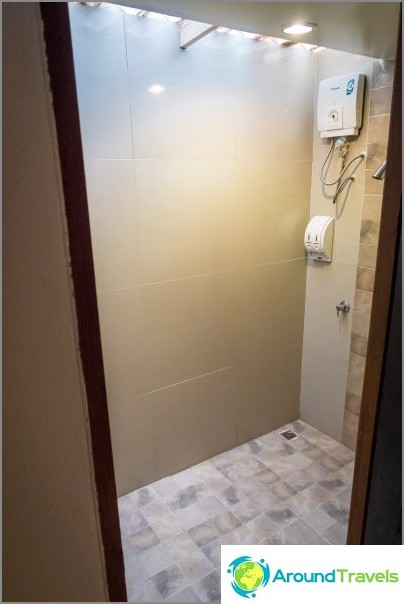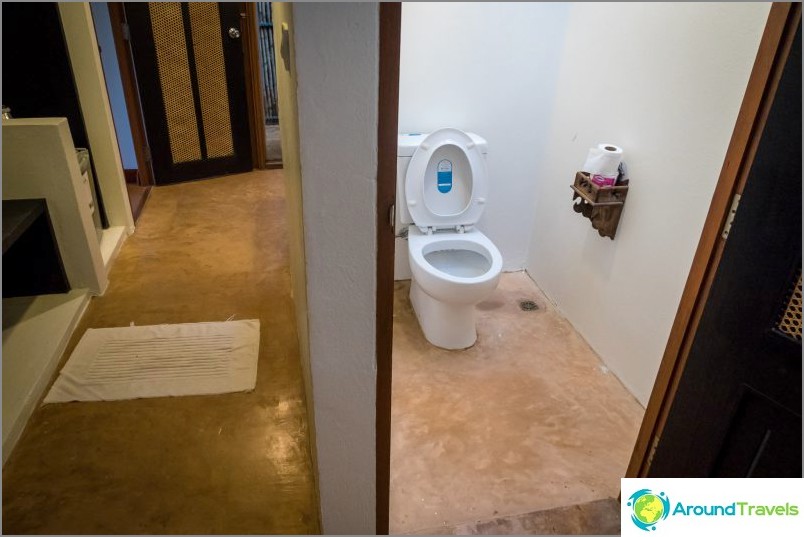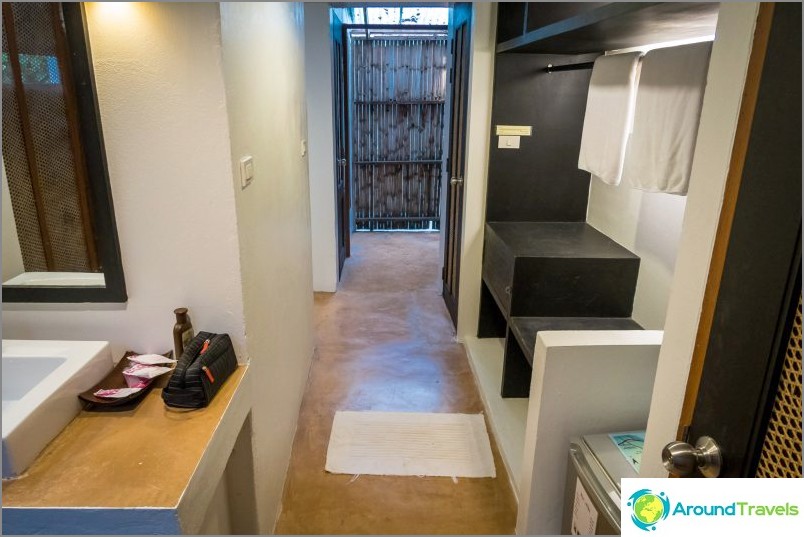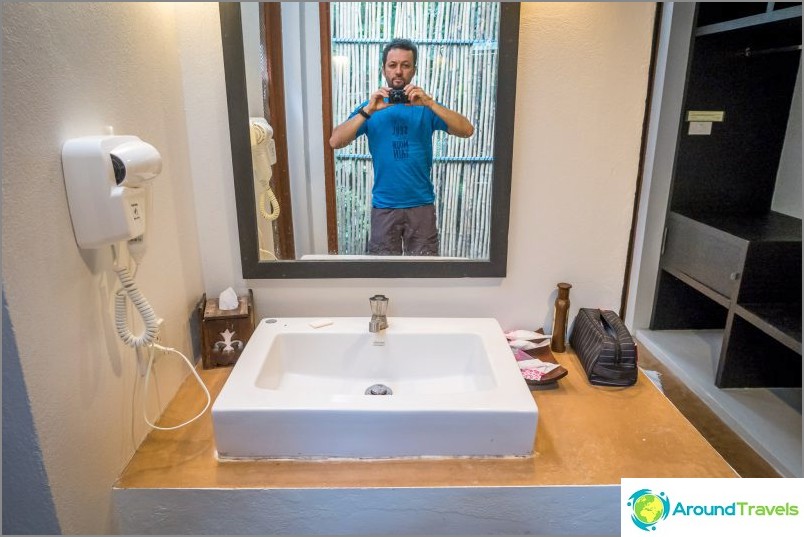 The windows have thick, sun shades thatdo not shine, but provide privacy and sound sleep in the morning. Part of the furniture in the room is made purely Thai, from concrete, into which wooden interior parts are installed. There is a small safe, shower with water heater, air conditioning.
From home appliances in the bungalow there is a TV, smallrefrigerator for drinks in which there are two bottles of drinking water - a compliment from the hotel, kettle and hairdryer. The room looks, frankly, a little tired of life and people.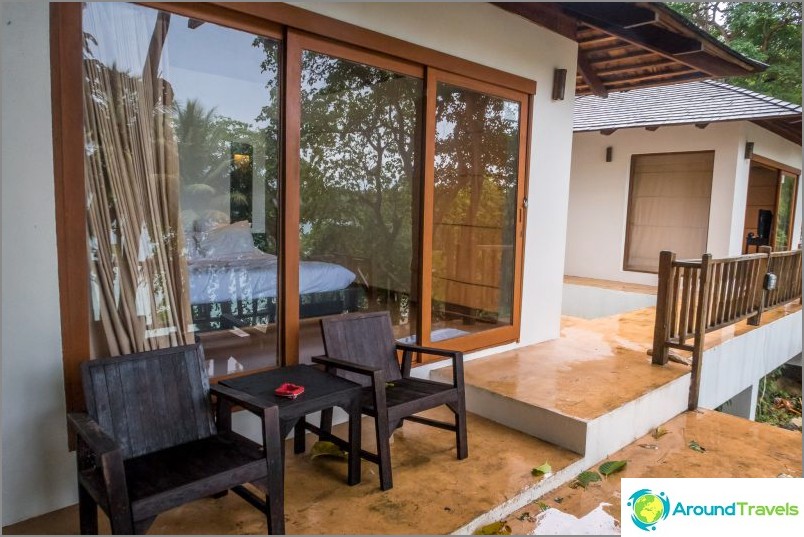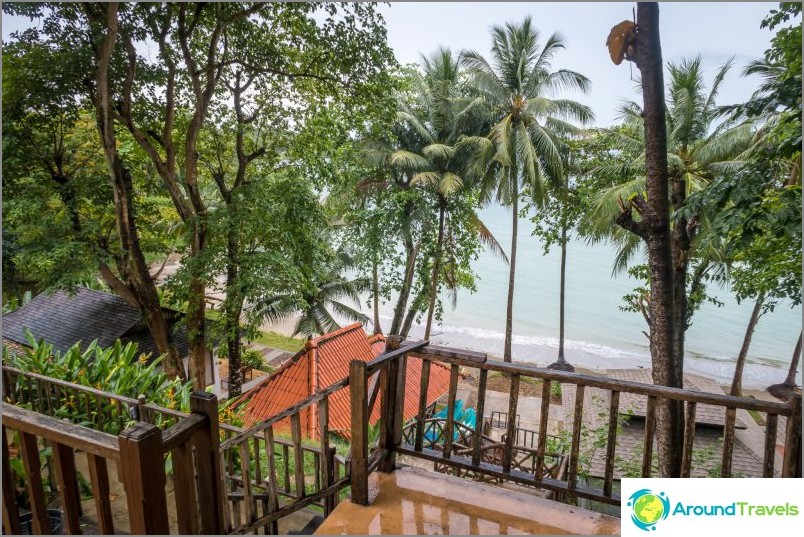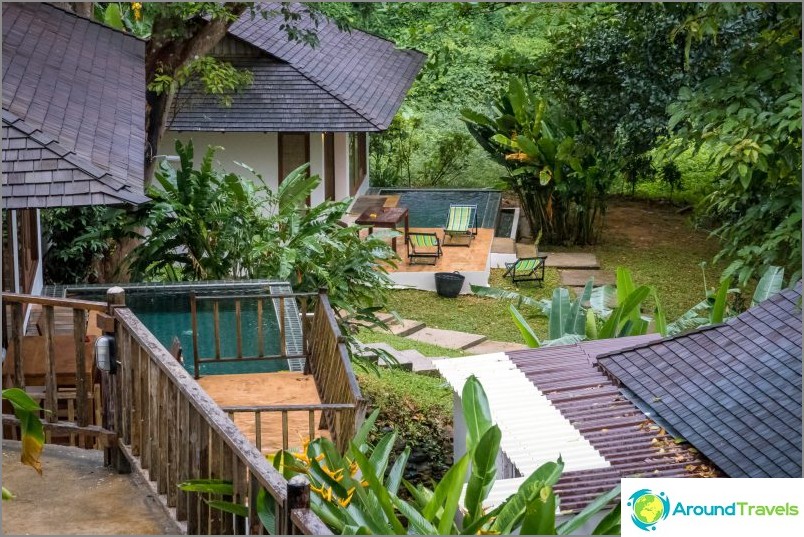 On the terrace is reliable such kondovaya furniture.and, to which I paid attention, the whole terrace is some kind of multi-level. There are a lot of steps, in some places there is no railing where they are supposed to be - well, if you come here with children, then with those who are older. At the same time, the wheelchair will not need to be dragged along the stairs. Although, if you live at the bottom, you won't have to. Another of the minuses should be noted - rather weak lighting in the evening inside the bungalow. Saved on the lights. But Wi-Fi is caught even from the most extreme bungalow, and throughout the hotel there are access points. I checked it myself - I catch it perfectly both in my room and in the lobby at the reception - the quality of the channel can be seen in the screenshot.
Exterior and Facilities
Reception Siam Bay Resort is open from 7 am to 10evenings The territory of the resort is very pleasant, the atmosphere is peaceful, paved paths, two pools, one near the restaurant, with a black wooden floor around (I imagine what it is like to walk on it barefoot at noon on a hot day). And the second is surrounded by a bungalow and with one side overlooking the sea - it turns out, you know, this cool "effect of an endless pool". It still has a paddling pool for children and an underwater sofa for aesthetes who like to sit in the water with a glass of something refreshing. All bungalows are facing the sea, but because of the trees, the view is not the most perfect.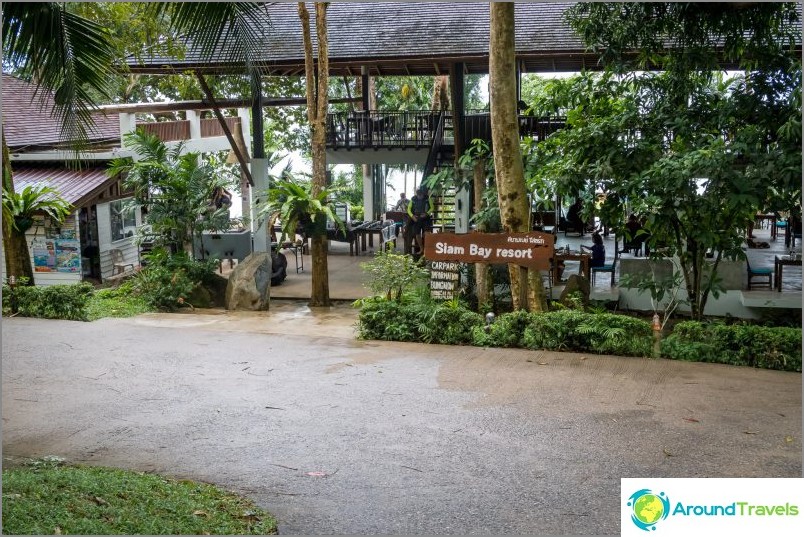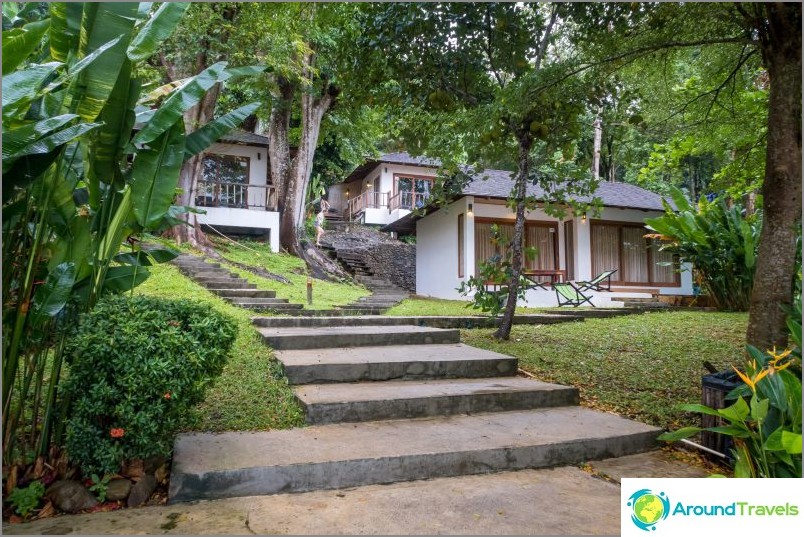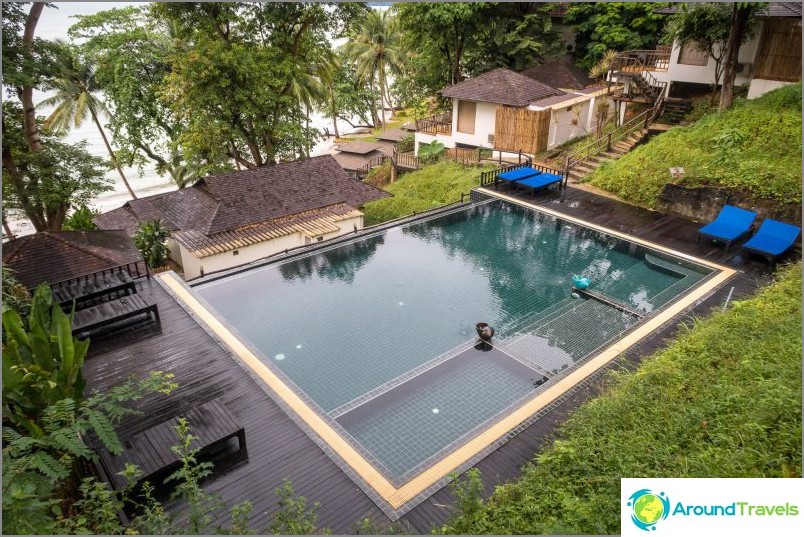 And do not hesitate to repeat - quiet, calma place. Now, when I write this post, I sit in a bungalow looking at the sea, I hear this sea, as it turns there and below, roars. In general, Siam Bay Resort is a good place to relax between the sea and the jungle, for a relaxing soul. It is categorically suitable for those who crave a relaxing holiday.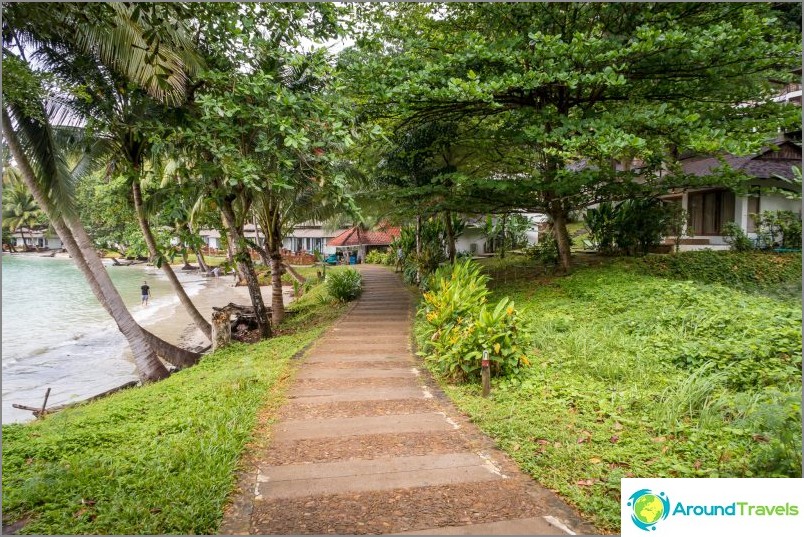 All resort buildings are somewhat authentic. It is obvious that all these houses were built even before Thai hoteliers went to bulk fashion for perfectly smooth shapes and surfaces made of concrete, glass and thermo-tiles.
In Siam Bay Resort, bungalows also have concreteparts, but with characteristic wooden roofs, often use inserts made of straw and bamboo. On the shore there are the main attributes of carelessness - swing on palm trees.
The sea itself is relatively cupable and only intide, the depth will be around the shoulders. And at low tide to swim is unreal, you have to go hundreds of meters. But, we can say that it has its own beach, since there is no one else here except for the hotel guests. If anything, then in general there are no hotels with private beach in Koh Chang.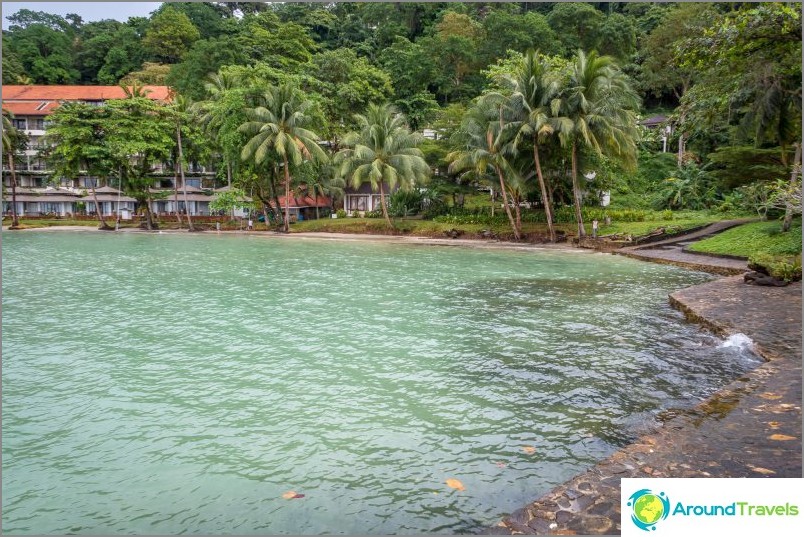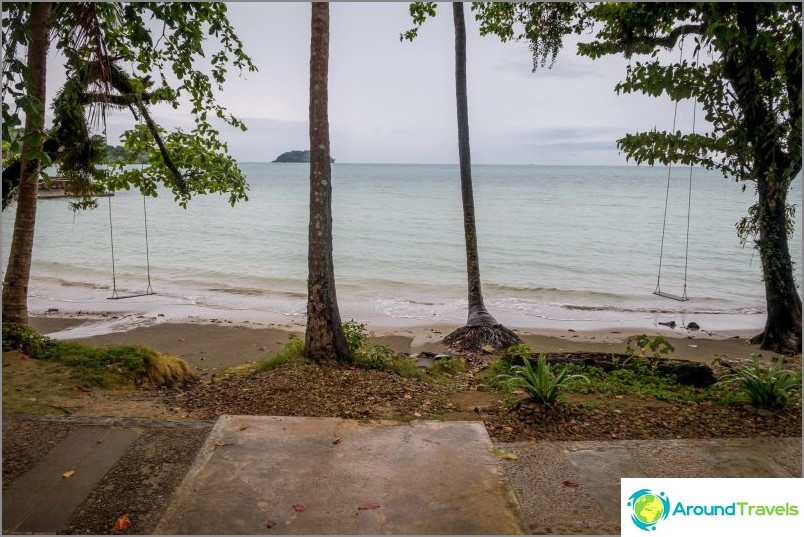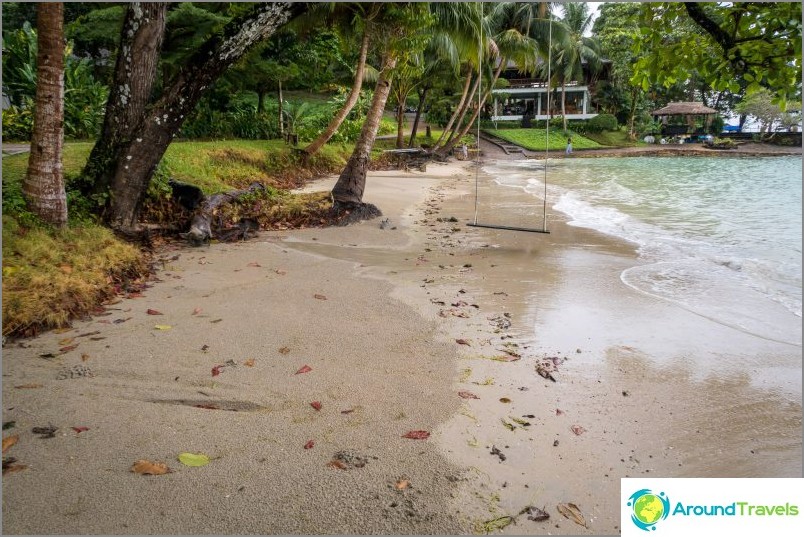 The appearance of the resort indicates that the repairwas done a few years ago. All these ladders to the bungalow from the sea, and their battered wooden railing ... But in general - this all corresponds to the Thai reality and Ko Chang. Siam Bay Resort and does not position itself as a five-star luxury, it should not be regarded as something extraordinary.
I think that for such money - the price is quite adequate. I would stay here completely, it is possible that I will come here again.
The price includes breakfast. Pretty good by Thai standards. It includes several hot dishes: Tom Ka with chicken, sweet and sor with chicken, wide noodles with something that usually nobody eats, sausages, ham for toast, traditionally - corn flakes and muesli with milk, pancakes with honey, Buttered toast, omelet, fruit, a set of chopped vegetables from which you can stir up a salad.
Coffee, tea, some kind of chemic juice - it is quite possibleok snack. And this is convenient, because in the morning, in order to eat outside the hotel, you will have to cut somewhere far enough (Kai Bay), because there is nothing near.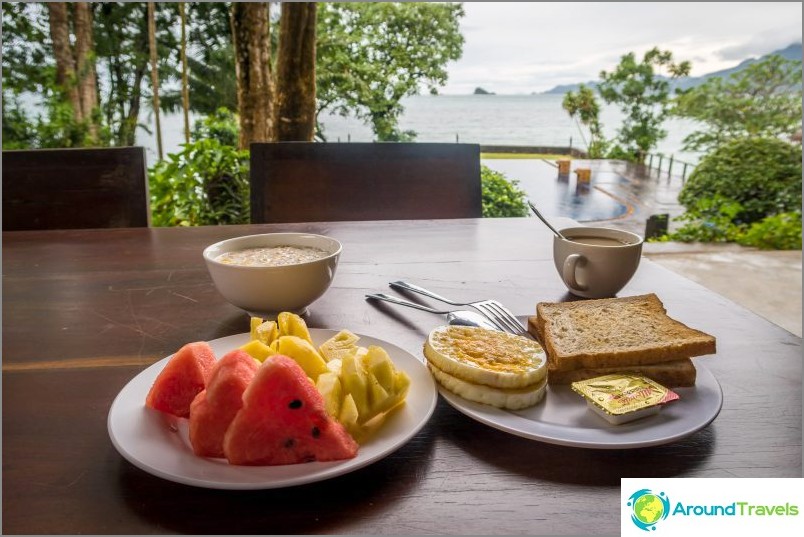 Hotel on the map and location
From Siam Bay Resort, not far from Kai BeachBay, where there is everything you need, including minimarkets, rental of bikes, cafes and other amenities with ATMs. You can reach in two ways: either by a steep road through the hills; either by walking along the beach. By itself, the last is relevant when you are already settled and you do not have a suitcase.
Twenty-minute promenade along the sea, IMHO, will be more interesting and physically much easier to overcome mountain passes. But in the presence of a rented vehicle, in front of you the whole island of Chang opens.
Siam Bay Resort
Siam Bay Resort
Decent room from 1400 baht with kondeem, sea view. Its own beach, no one else, a secluded place, everything is clean and decent.
More about the hotel.
Decent room from 1400 baht with kondeem, sea view. Own beach, no one else, a secluded place, everything is clean and decent. More about the hotel.
P.S. By the way, this is not my first resort in Koh Chang, I have already visited two of them already, but this one has been remembered most of all by a combination of factors.
Life hacking 1 - how to buy a good insurance

Choosing insurance is now unrealistically difficult, so to help all travelers, I compile a rating. To do this, I constantly monitor forums, study insurance contracts and use insurance by myself.

Life hacking 2 - how to find a hotel 20% cheaper

First, choose a hotel on Booking. They have a good offer base, but the prices are NOT the best! The same hotel can often be found 20% cheaper in other systems through the RoomGuru service.

Discount hotels