I wonder why some places bypass meby the side? So it has been more than once. I knew about Doi Inthanon National Park for a long time, but I got into it after a while. Of course, there is nothing mystical here, but it was strange for me to miss this interesting point, here you have the highest waterfall in Thailand and the highest mountain in the country. And then we lived with Darya in Chiang Mai for almost 3 months, which is very close ... But oh well, it doesn't matter, the main thing now I can recommend this place to visit.
Immediately I can say that if you are ardenta fan of national parks, it makes sense to go there for a few days, because for one it's almost impossible to catch everything, as it will only look at the main one and run (in the morning you have to go to get there before dark at 6 p.m.) For most of this will be enough, and it is about such objects and will be discussed in this article.
The content of the article
Doi Inthanon National Park
Doi Inthanon National Park is located inabout 50 km from Chiang Mai (and the highest point is 100 km), and the easiest way to get there is from this city. (If you are going to look for accommodation in Chiang Mai, I remind you that we have Chiang Mai's 22 guesthouses overviewor you can search and book a hotel at RoomGuru) We went there all the time in a rented car,but you can also ride bikes, there are enough gas stations on the way (there is just one gas station in the park itself). The main objects for viewing are waterfalls, two pagodas in honor of the king and queen, and the highest point in Thailand. In addition, there are walking routes through the park and villages with tribes (Mao and Karen) with their well-established way of life.
The park is really big, so move insideit only makes sense to transport, especially if you just go there for a day. For those who are without a car and a bike, there are songteos that run from the town of Chom tong, which can be reached from Chiang Mai by public bus, but I don't know the details. I can also say that the road in the nat park is a constant climb, and therefore a weak engine will cope very badly, our small car barely drove.
The park entrance price is 300 baht per adult, and 150bat with a child. Inside there will be another burden - 20 baht for the entrance to the arboretum near one of the waterfalls, and 40 baht for visiting the pagodas. If you go by excursion from Chiang Mai, the price will be about 1500 baht per person, so it is much more profitable to ride a bike (rent 150-200 baht per day) or car (1000-1500 baht per day).
Be sure to take warm clothes with you, it can be unusually cool (5-15 degrees) at an altitude of more than two thousand meters, especially when the sun disappears behind a cloud or goes below the horizon.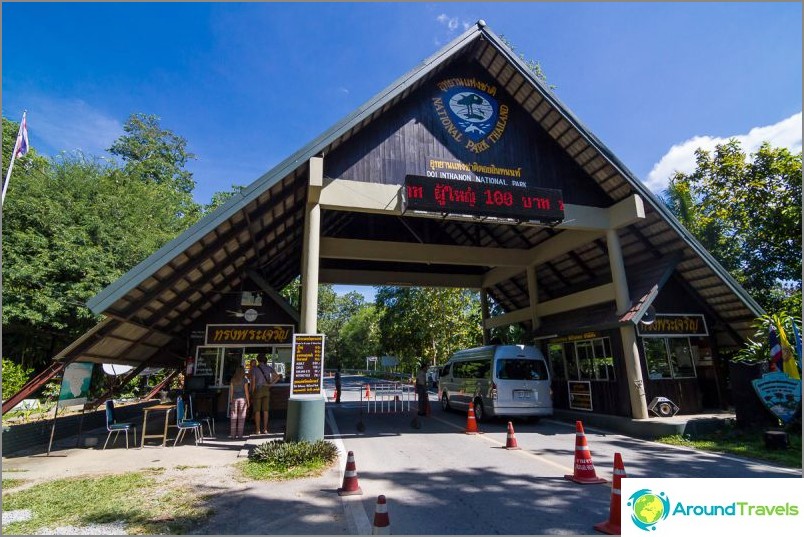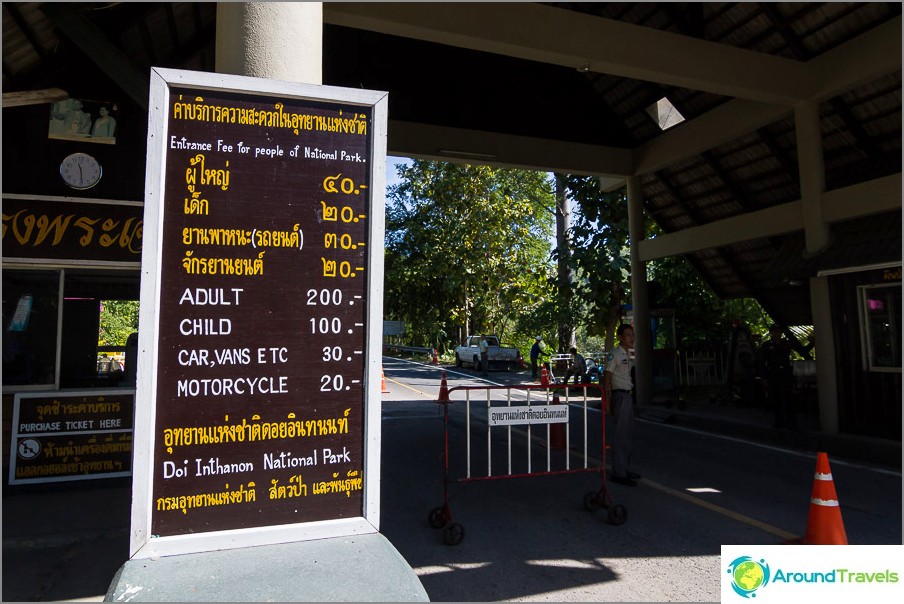 The highest waterfall in Thailand is Mae Ya Waterfall
Mae Ya Waterfall is considered the highestThailand and its height is about 280 meters. Visually, it is much higher than it appears in my photos, but I still do not quite understand where all these meters are. In general, of course, if you count all the cascades that are not immediately visible, then you can count the kilometer.
The road leads to the waterfall with a bunch of turns,so be careful when driving off the track. In some places, you will pass through some narrow courtyard roads. But almost everywhere there are pointers to help, yes, and Google can indicate the way. It is also worth bearing in mind that the waterfall is not located in the main part of the park, and apparently therefore many are passing by. The people in the territory of this waterfall a bit, this is a great place for a picnic and a relaxing holiday. Tickets are the same, so you will not have to pay a second time. I would recommend to come here first, and then go to the rest of the waterfalls and the highest point. The fact is that at 18 o'clock it gets dark, and you can go back from the mountain of Doi Inthanon by the dark, but to watch the waterfall when it is dark is already problematic, and the park will most likely close by that moment.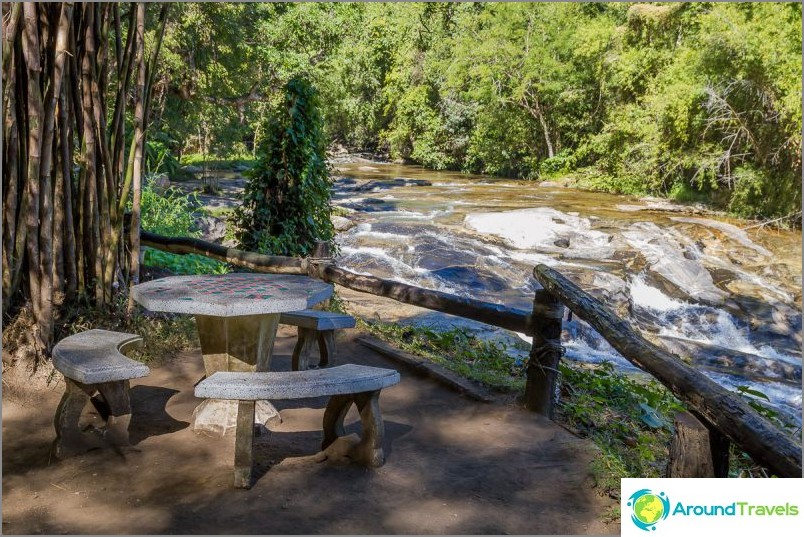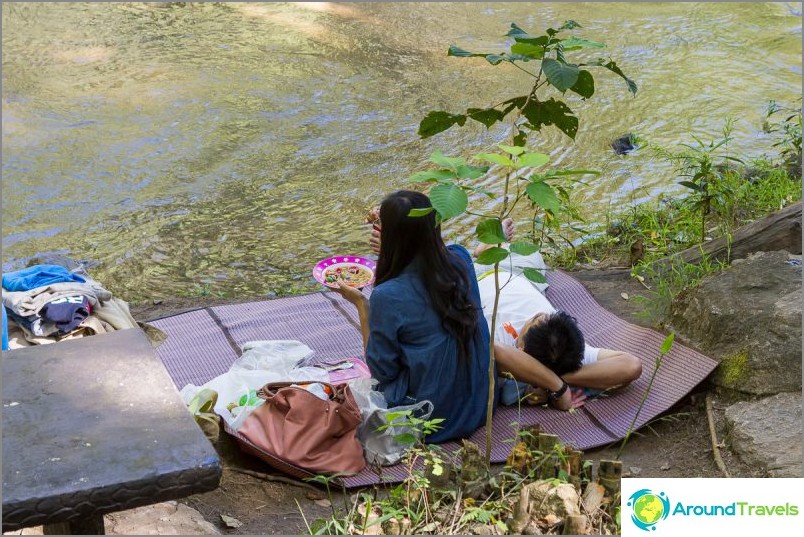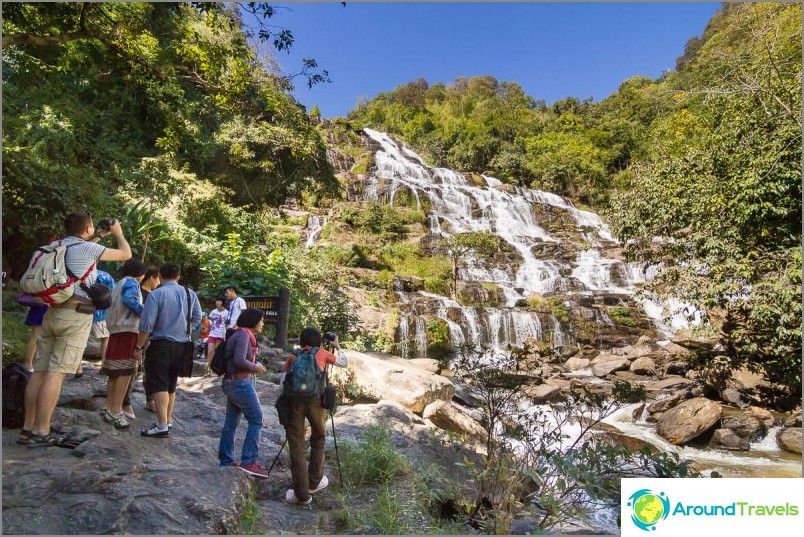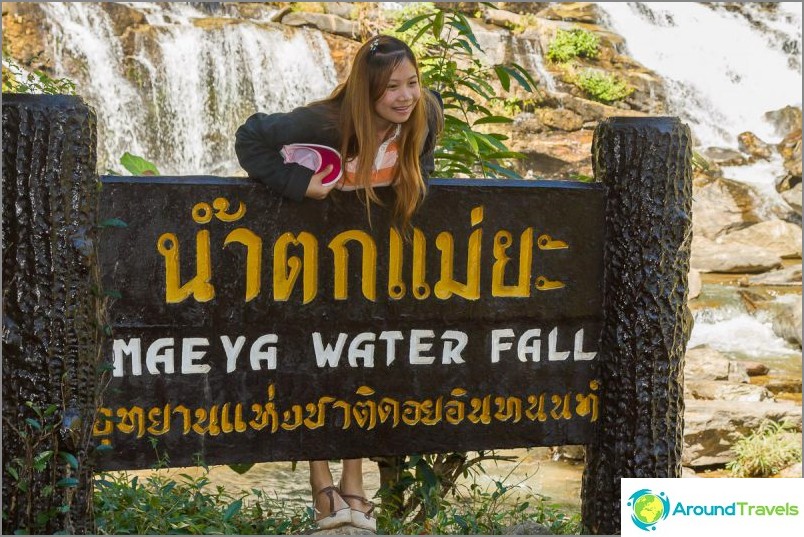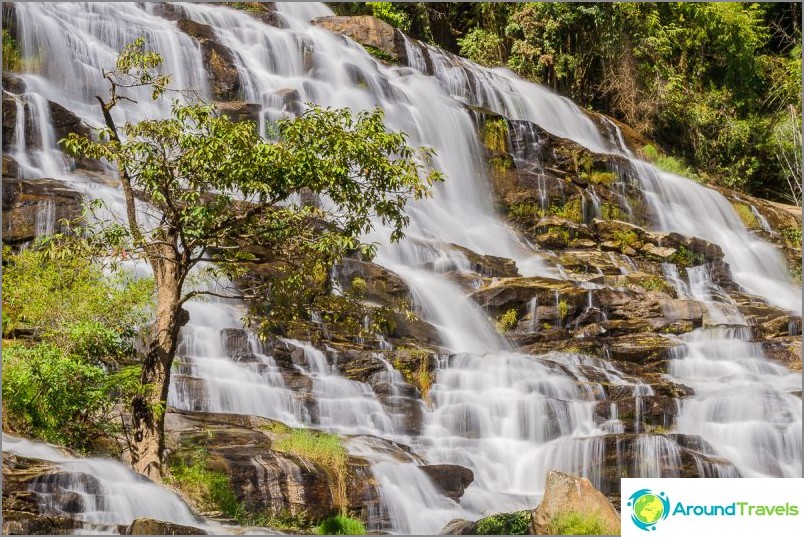 Wachirathan waterfall
Wachirathan is the wettest waterfall. When you stand on the observation platform, it constantly covers with a wave of splashes from head to toe. And there are places where the spray is constantly there and everything is wet around, and there is - where the opa and covered unexpectedly together in the camera. He is also quite loud, and you have to raise your voice during a conversation with the interlocutor. There are a lot of tourists here, and to be photographed at a sign with the name you are almost standing in line. I am glad that tourists are mostly Thai, however, as well as throughout the national park.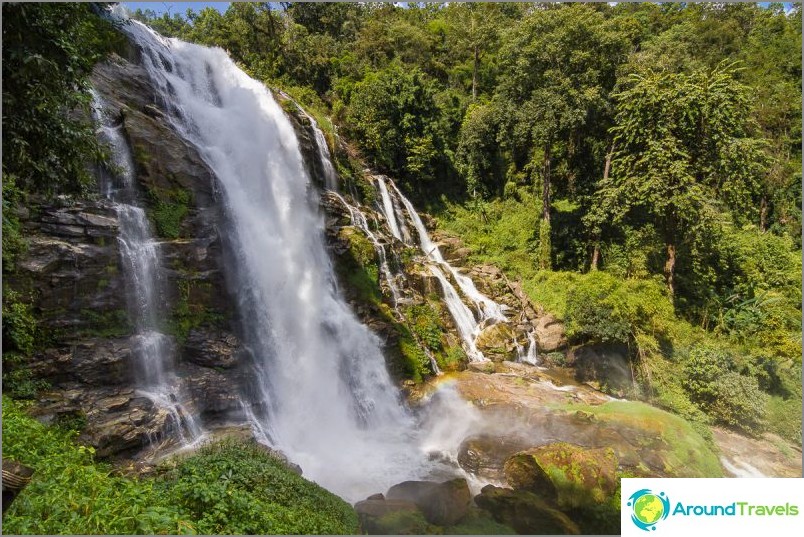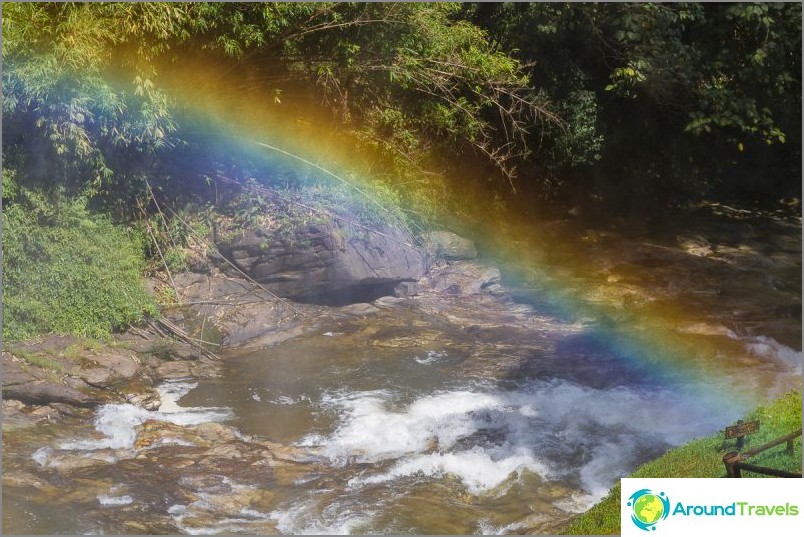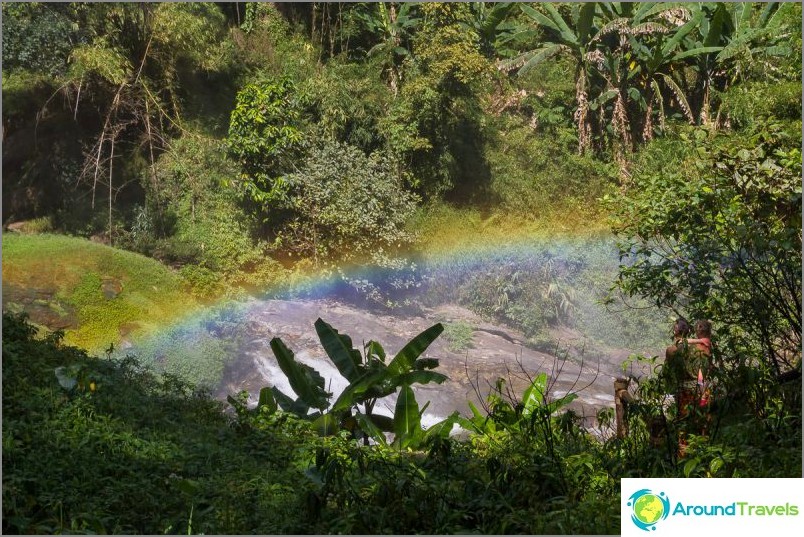 Sirithan waterfall
As I understand it, the Sirithan waterfall is not verypopular, but nevertheless it is right next to the road and worth it to call on him. Spend just 10 minutes in time, but from a high observation platform you will be able to contemplate two cascades of boiling water flowing right in the jungle, and no civilization nearby. The feeling of isolation from the modern world is created, probably, because of this arrangement of the lookout and the absence of nameplates and cafes.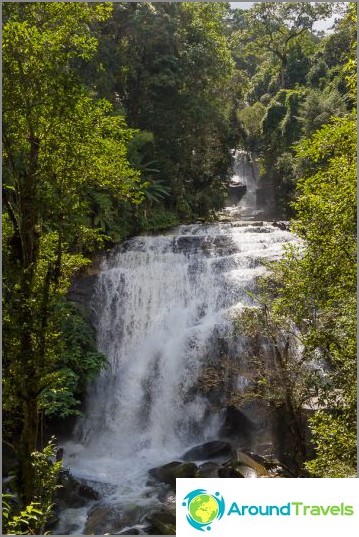 Siribhum Waterfall
Siribhum Waterfall - I also recommend to call. And not the waterfall itself is interesting, but the arboretum near it with plants, flowers and all sorts of paths. But it is also worth walking to the waterfall, because the path leads to it through a real rainforest. The only pity is that the water pipes near the waterfall spoil the whole view. And besides, they are also not very durable, as practice has shown, and it is difficult to pass without using them as handrails. In general, such a park would be nice to have next to permanent housing, to come to him to read a book, take a walk or sit at the laptop. The entrance to the park is 20 baht.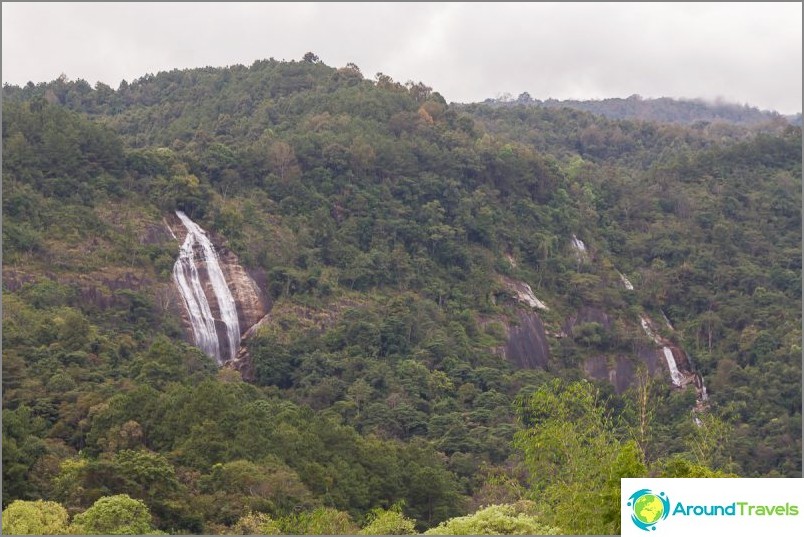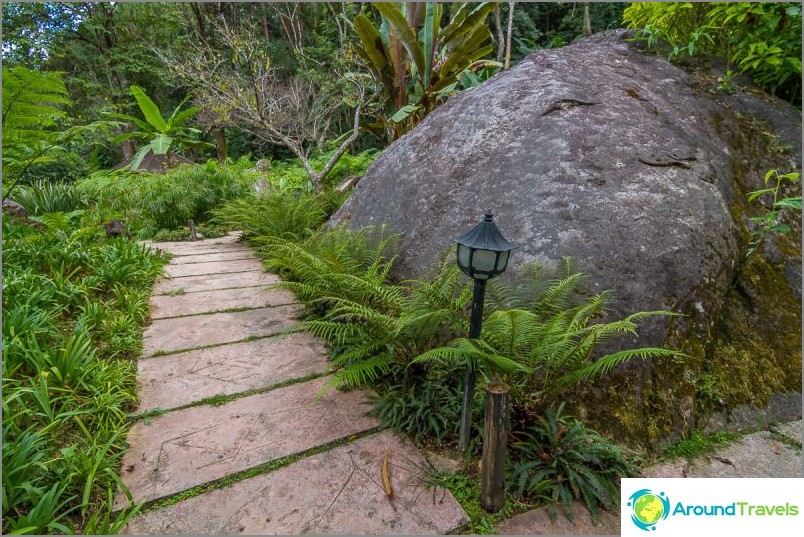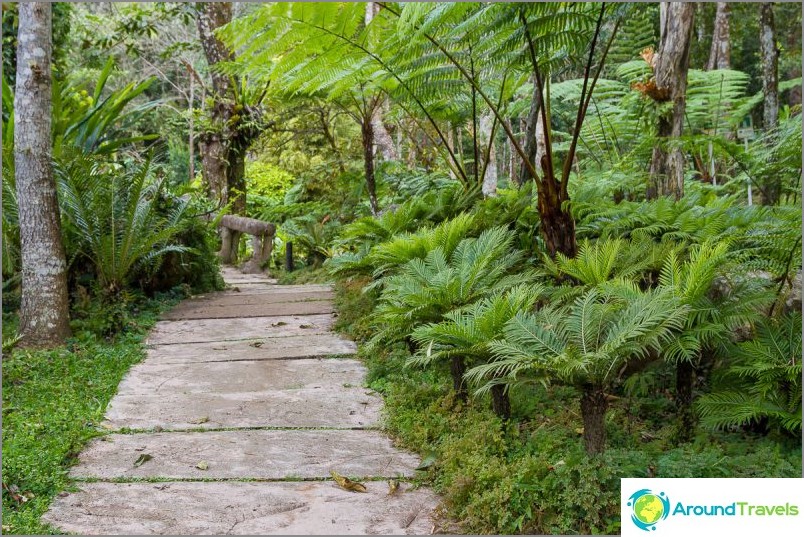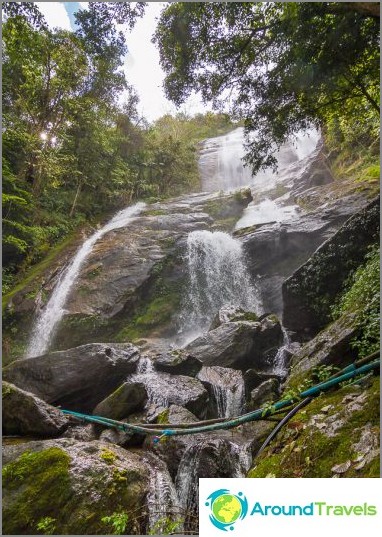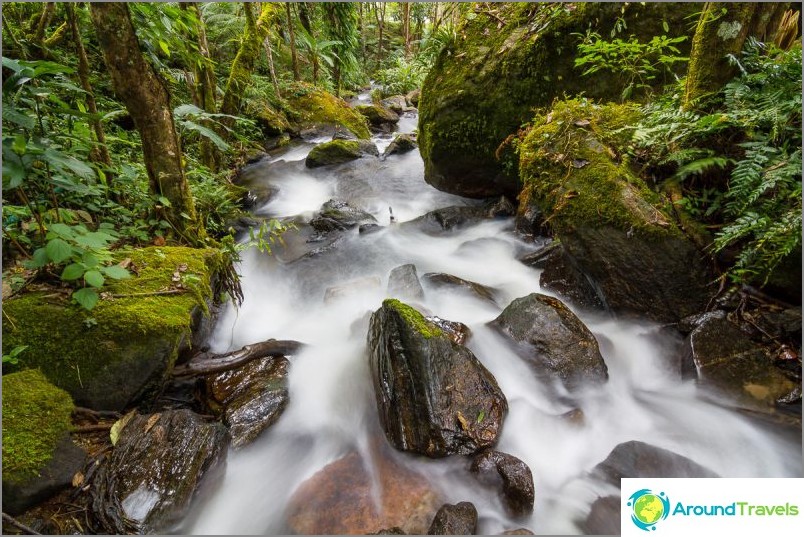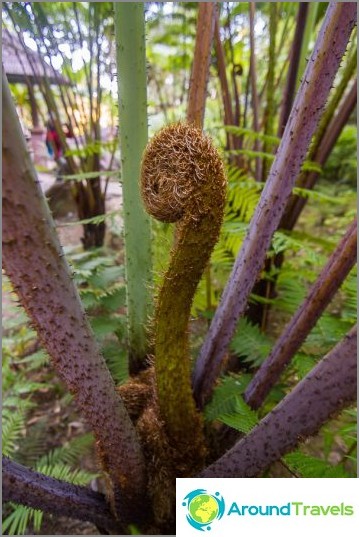 Two pagodas in honor of the king and queen
By themselves, chedi did not attract me very much: different colors, with minimal decoration inside, with quite interesting ornaments outside, terribly icy floors, that's all. But what a magnificent view from here opens onto the mountains of northern Thailand! And after all, in fact, this is the last point where you can see and grind something (~ 2100 m). Because at the very top, where the route of this journey leads, there is nothing to watch. So it makes sense to take a moment, take a walk here in a wonderful park with flower beds and take pictures of the opening panorama. A visit to chedi - 40 baht.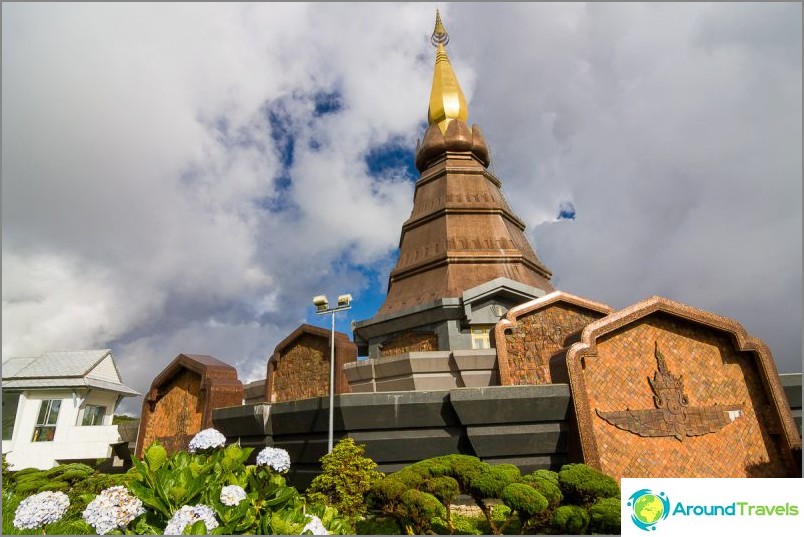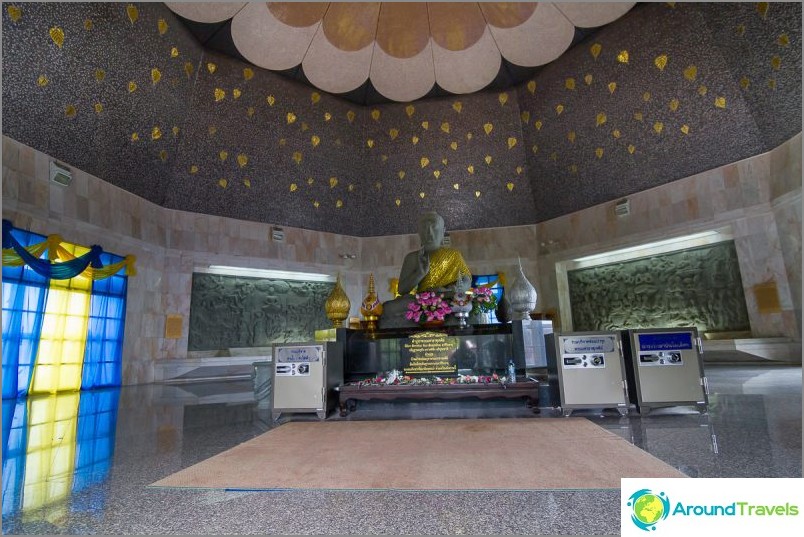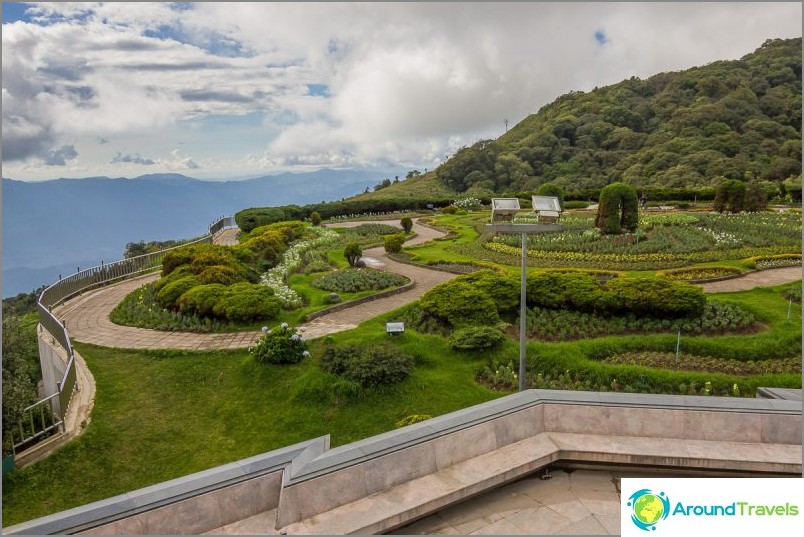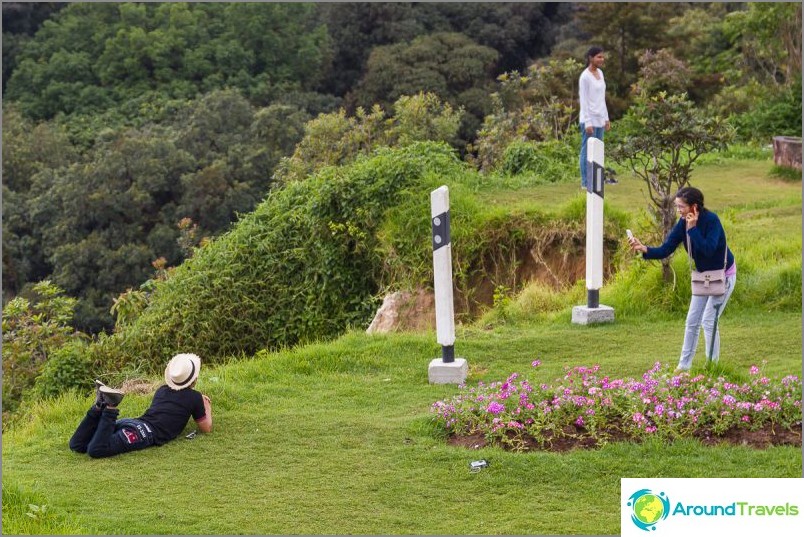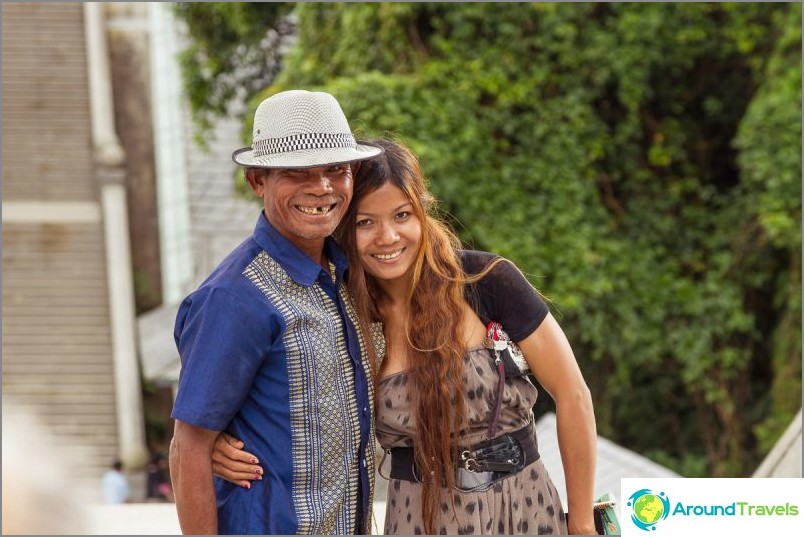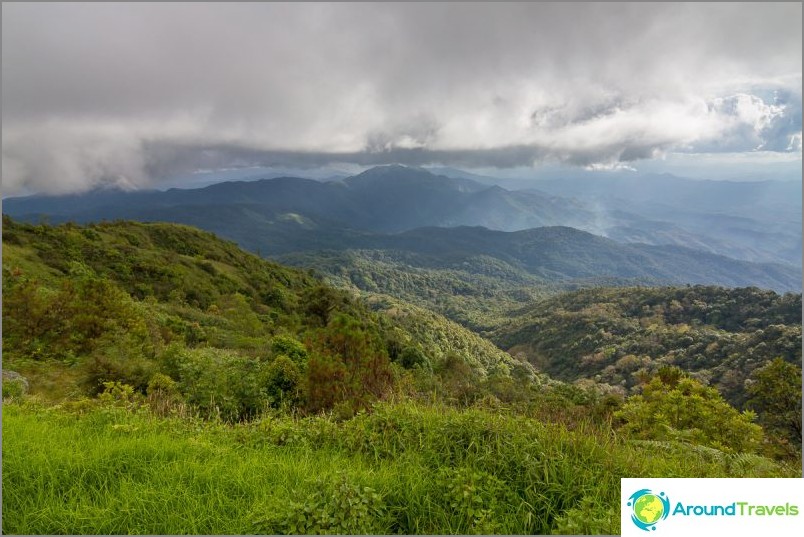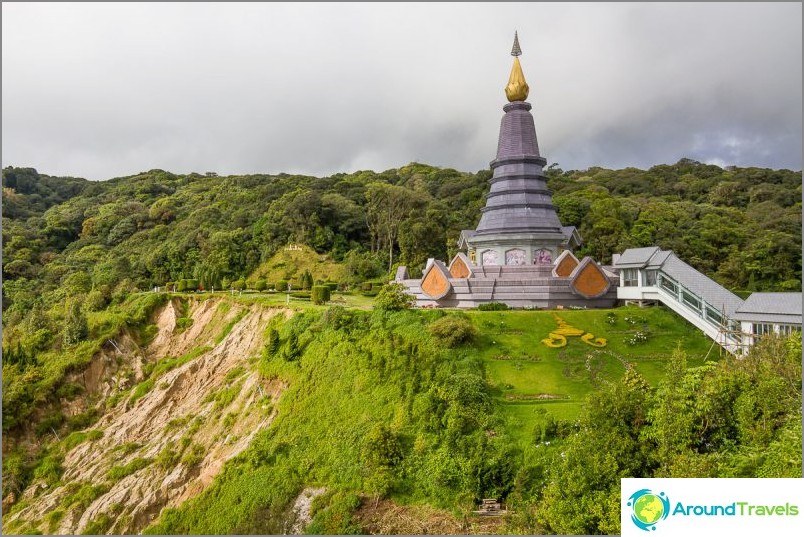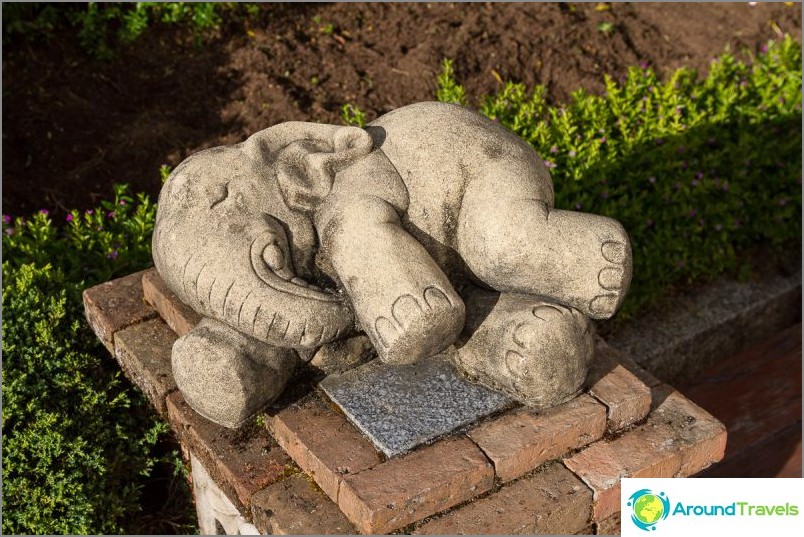 The highest mountain in Thailand - Doi Inthanon
The final point on the route, although someoneperhaps begins with it its way. But for me, it's better to finish it, since there is nothing special to look at and it can be done at dusk, which means we have more time from daylight to other objects. And if you don't need to take a picture for a tick at a sign about 2565 meters above sea level, then you can not come here. It is strange that it stands in a dense forest, because you expect to initially see the peak of the bald mountain, in order not only to see these figures, but to see for yourself at this height. On the other hand, it would be foolish to cut down trees for the sake of tourists, given that the king, after whom they named this mountain, was in favor of preserving the forests. So for viewing here, only the king's crypt, the wooden railing in the moss, and the thermometer showing a very low temperature for Thailand.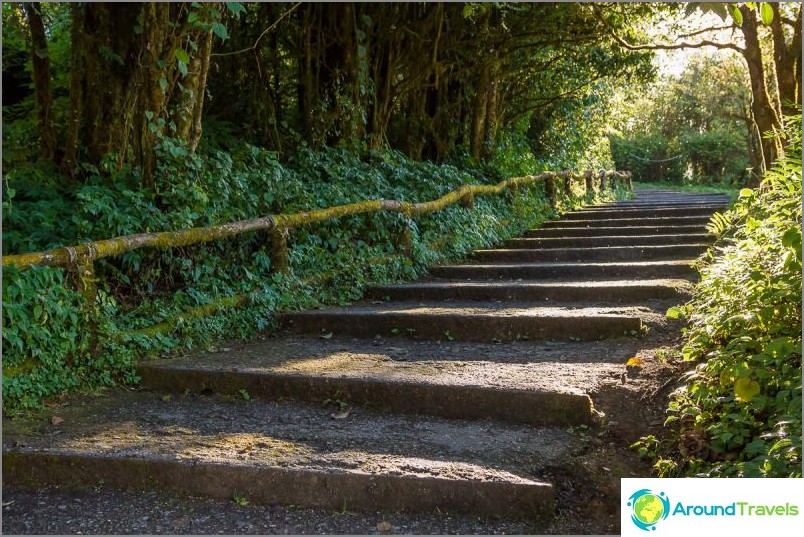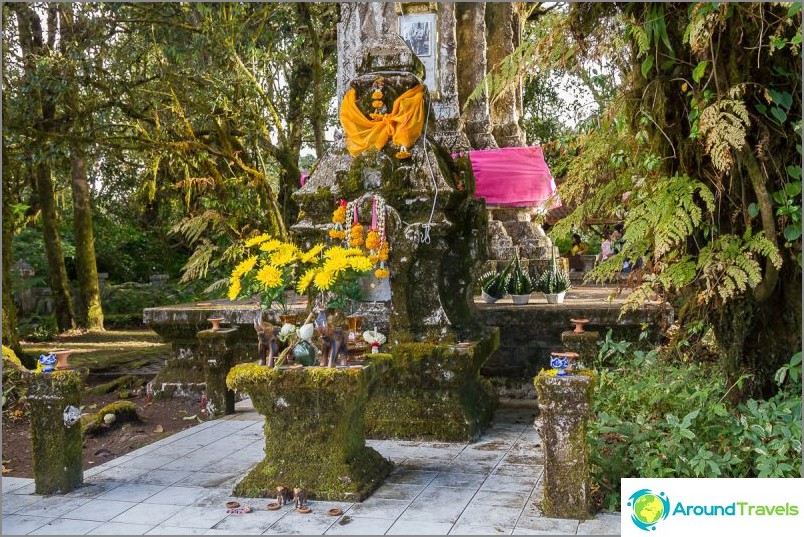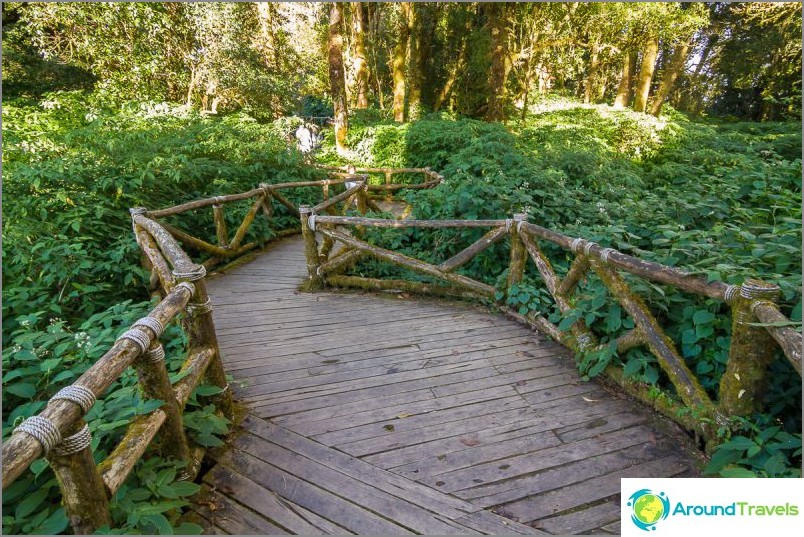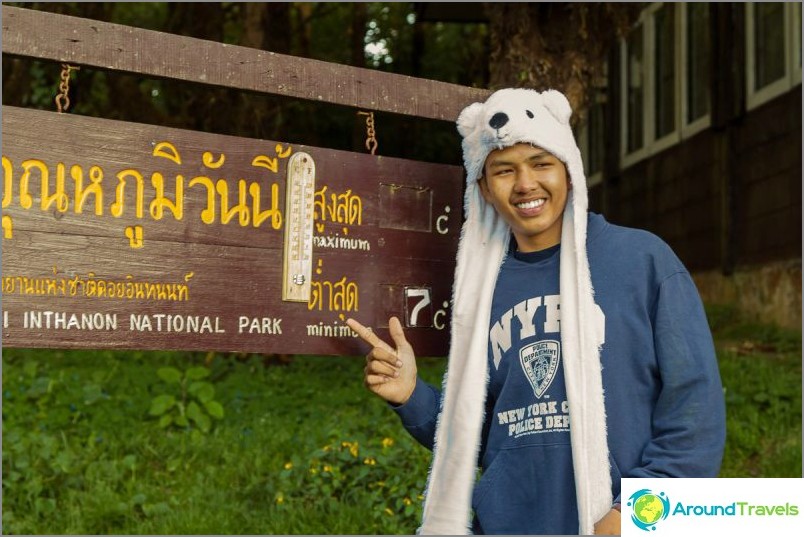 Doi Inthanon card
If you look at Google map, then everything is prettyconfusing, since so many roads. But when you go, there are almost no questions about where and where to turn. Basically - everywhere in a straight line and turn on the signs.
Doi Inthanon: Sightseeing
Doi Inthanon: Sightseeing: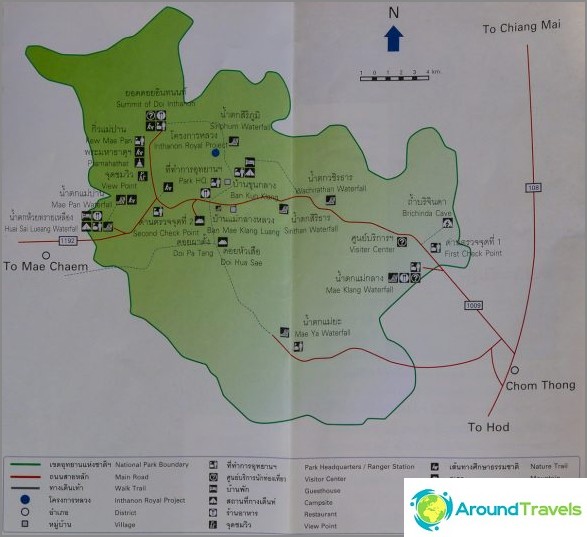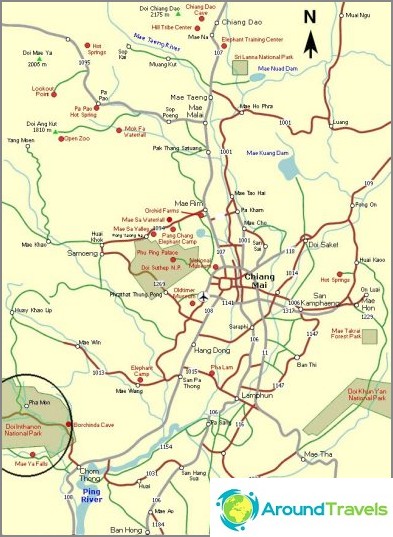 Life hacking 1 - how to buy a good insurance

Choosing insurance is now unrealistically difficult, so to help all travelers, I compile a rating. To do this, I constantly monitor forums, study insurance contracts and use insurance by myself.

Life hacking 2 - how to find a hotel 20% cheaper

First, choose a hotel on Booking. They have a good offer base, but the prices are NOT the best! The same hotel can often be found 20% cheaper in other systems through the RoomGuru service.

Discount hotels