Pha Dang National Park is probably not worth visiting. But if you drive to Doi Ang Khangwhere I recommend everyone to go, why not drop in, you will pass by anyway. The place is nice.
I must say that there is. The main thing is a rather beautiful waterfall, albeit a small one. And the second is the hot springs, where almost no one is there, because the place is not popular at all.
The content of the article
Sri Sang Wan Falls
At first I went to the waterfall Sri Sang Wan. On Google, it is designated as Si Sangwan Waterfall. What is more correct, I do not know. Always with Thais with problems with transcription, sometimes 3-4 options are found
Si Sangwan is like Buatong waterfall, he has the same "cover", if soput it. That is, the bottom is covered with calcite deposits, which is why the bed is the color of creme brulee. Only in comparison with Buatong there is no one here, I walked there alone. In this regard, I really like unfinished places, the air is cleaner.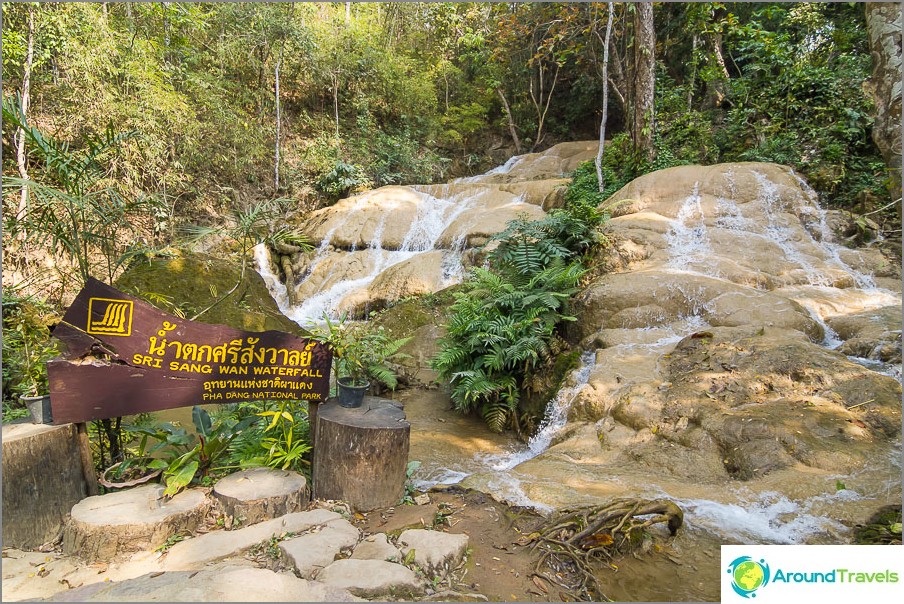 In addition to the waterfall there is a small tropical garden with grass (Herb Garden), but it is clearly not particularly cared for. Everything is overgrown there, and just already looks like an ordinary corner of the jungle.
Near the garden, I met a crowd of Thai boy scouts. Apparently they are being taken here for a couple of days so that they can practice their boy scout skills. It was amusing to watch how screaming and laughing children dangle on a rope crossing over the river. The commanders mercilessly shook the rope to scouts fall into the river, but they kept their last strength.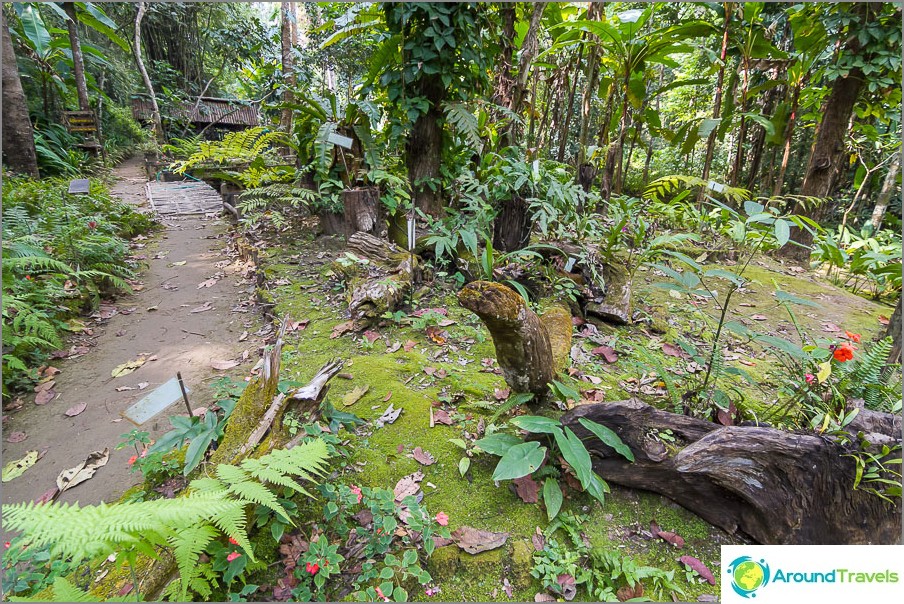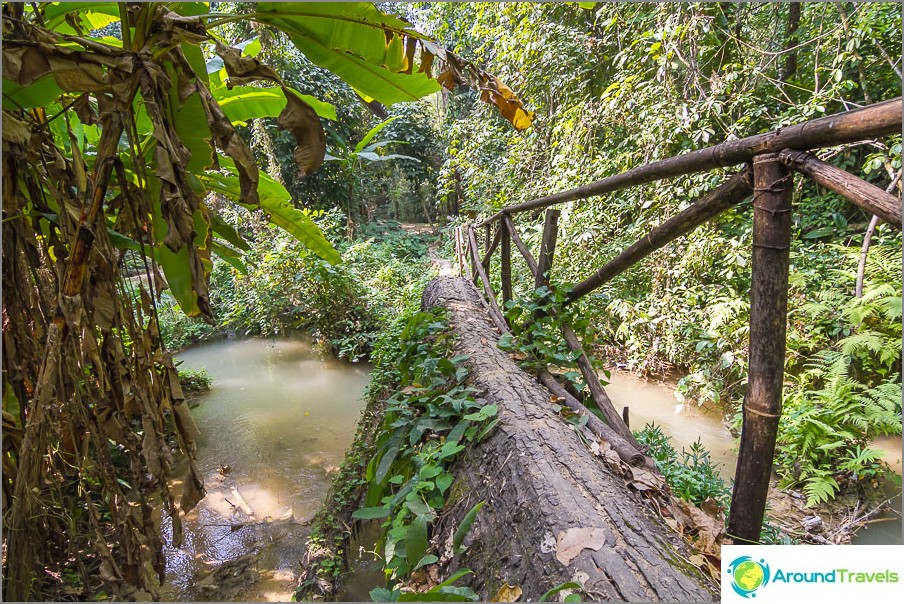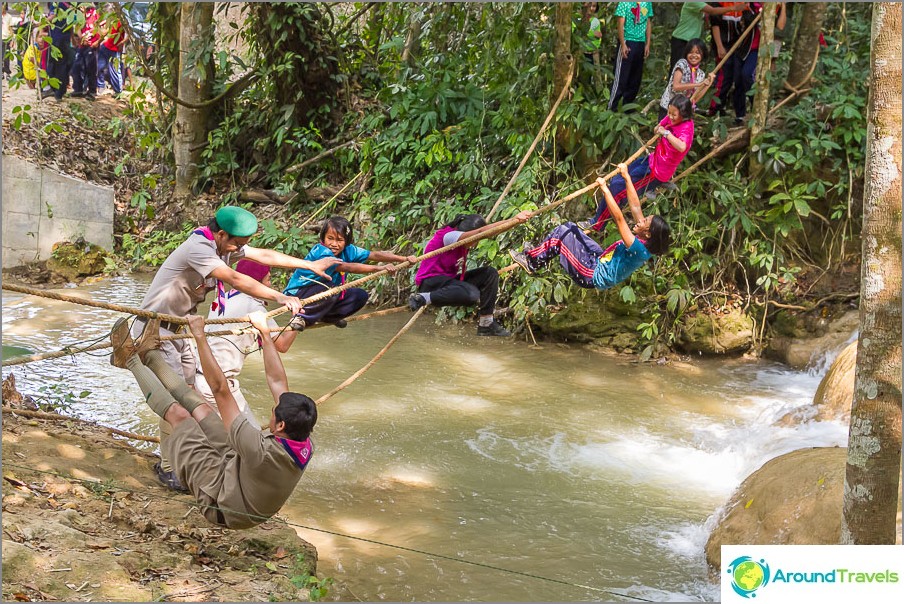 Sri Sang Wan Waterfall Waterfall
Sri Sang Wan Waterfall Waterfall
National Park Pha Dang, there is a waterfall and hot springs.
Read about the park.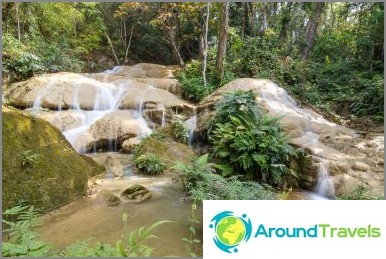 National Park Pha Dang, there is a waterfall and hot springs. Read about the park.
Hot springs Pong Arng
The territory of the sources is quite small. It costs literally 5 minutes. Sources do not amaze the imagination, literally two "smoking" ponds with hot water (there are different temperatures) and a separate font, ennobled by a stone, where you have to climb for soaking.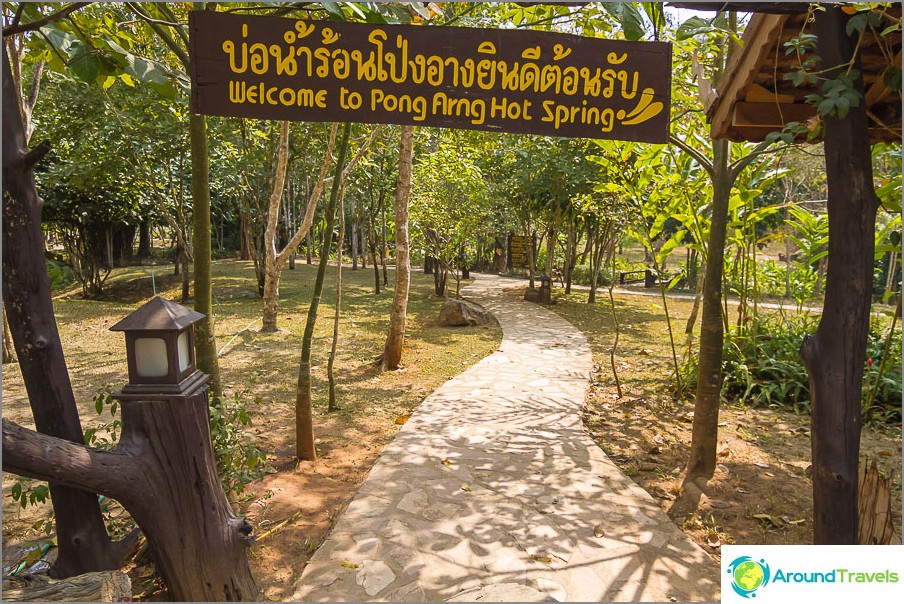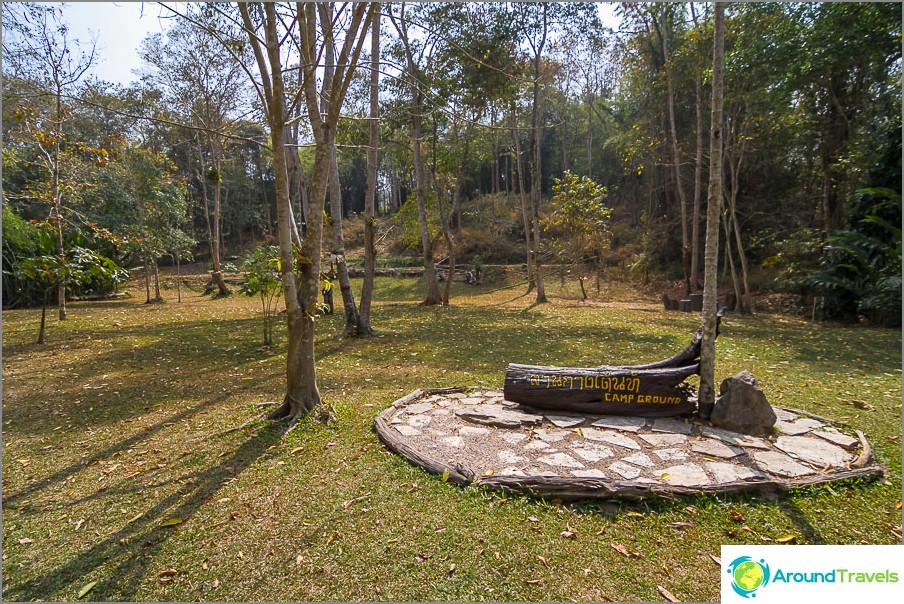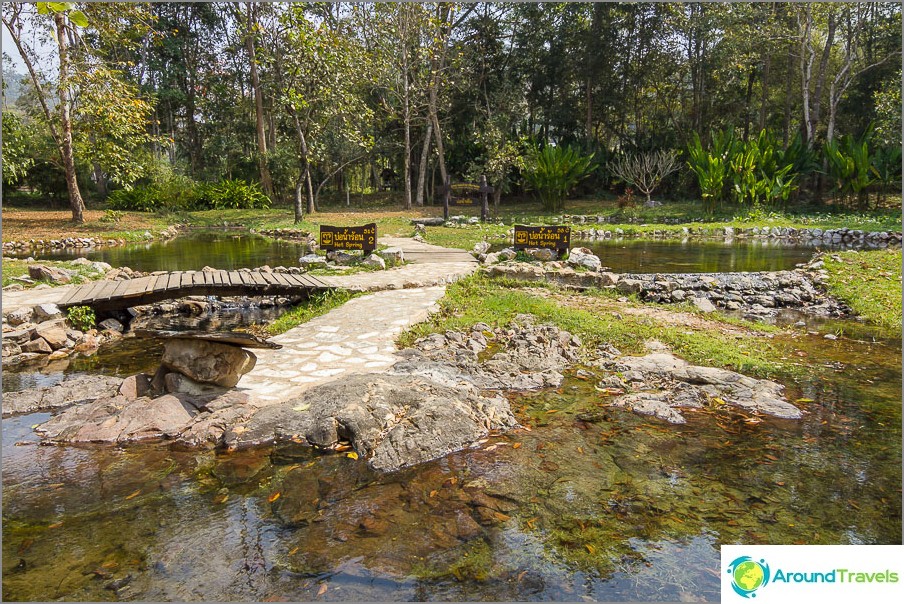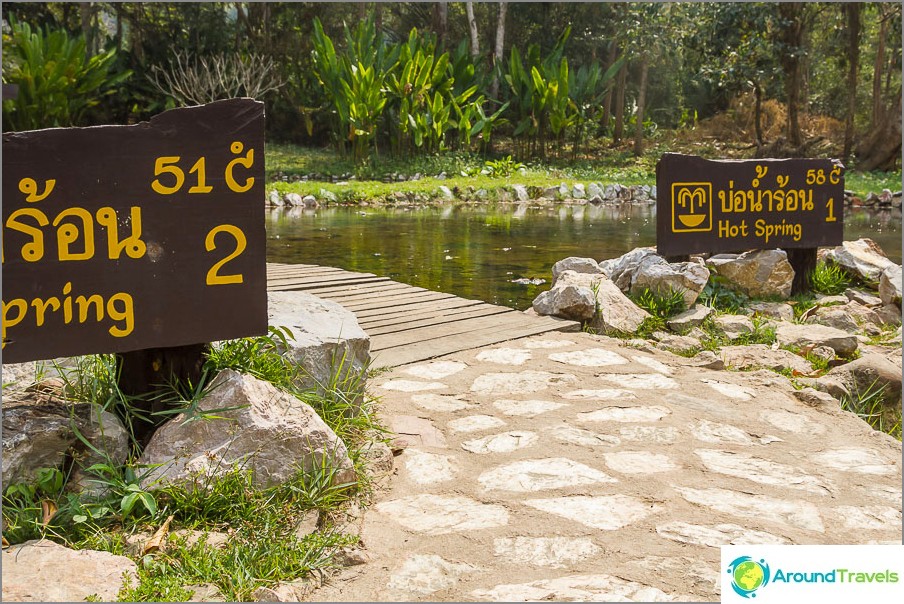 There are no people, I met only workers of the national park andan elderly couple that just took the procedure in this very font. They invited me with gestures, they say, farang, come to us, but I do not like baths, especially those hot in the heat.
In general, the place is pleasant, like all other national parks, Thais are able to make beautifully. That would be even for the garbage in the cities and watched, as is done in the nat parks.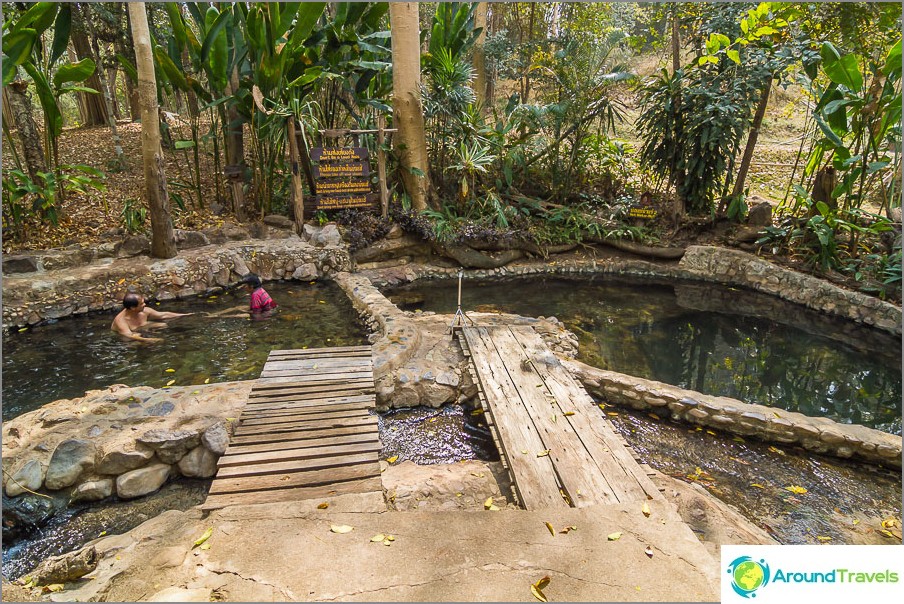 Hot springs Pong Arng
Hot springs Pong Arng
National Park Pha Dang, there is a waterfall and hot springs.
Read about the park.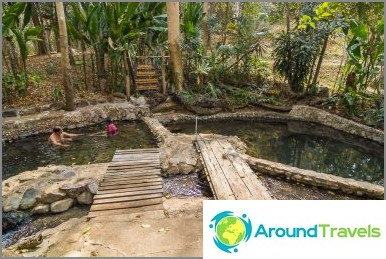 National Park Pha Dang, there is a waterfall and hot springs. Read about the park.
Getting there
Waterfalls and hot springs are located nearby.from each other, but to them are different roads from the road. That is, you will need to visit two places separately and park twice. Signs are on the road.
If you look at the map, and the waterfall, and sourceslocated on one side of the road, sources just below the map. Thus, if we go from Chiang Mai, then first there will be a turn to the springs and then a turn to the waterfall.
If you want to spend the night somewhere nearby, then you need to look for hotels in Chiang Dao, for example, on RoomGuru. And I myself stayed at Chiang dao hut. It's not very close, but it's cool. the cave you can look.
P.S. If you are in those parts and like hot springs, I recommend Fang hot springs, the coolest thing I've seen in the north.
Life hacking 1 - how to buy a good insurance

Choosing insurance is now unrealistically difficult, so to help all travelers, I compile a rating. To do this, I constantly monitor forums, study insurance contracts and use insurance by myself.

Life hacking 2 - how to find a hotel 20% cheaper

First, choose a hotel on Booking. They have a good offer base, but the prices are NOT the best! The same hotel can often be found 20% cheaper in other systems through the RoomGuru service.

Discount hotels