Probably, everyone has already noticed that we are completelychanged the design on the blog. Someone will like it, someone probably will not, we will continue to rule. I have long wanted to put something more modern, with a white background, minimalist and more airy or something. He was going to spend the whole year, but there was still not enough time to sit down and do it all at once. Yes, and I set it up not fully completed, the cap changed several times and was temporary for 2 weeks. But it was necessary to somehow force this process, and when you installed it, you no longer get out of it, do not roll back.
Now the next couple of years will stand thispattern until you want to change it again. And from time to time I will do something with him, in fact, I'm already doing something, then some other questions come out. And even visually, it may seem that not really something is changing now, but in fact the work is going on, just behind the scenes
Current template
Pattern replacement was also caused by technicalobsolescence of the previous one. One could, of course, completely rewrite it, but I absolutely did not want to do this. So I bought the Yootheme Nano3 template, which is written on a separate Warp framework and includes the Uikit framework. Honestly, my knowledge was barely enough to sort it all out, but thank God it didn't have to be too deep. There is absolutely no technical support, they answer in the key "understand it yourself, everything works for us". Therefore, I will not recommend them.
What good is in the template:
Custom view through admin panel. Fonts, indents, block sizes, colors, in general, everything that is in CSS can be configured in the visual customizer. There are several pre-installed designs. But I almost did not use it.
There is no standard sidebar in this template, and the widgets can be placed on the right / left, bottom / top. And the widgets have several different designs that you can choose for any of them.
One of my favorite chips is for all widgets.You can specify on which pages they should be displayed, and on which should not. It is also possible to prohibit the display on mobile devices, facilitating the appearance of the site.
Another nice thing is Font Awesome, a vector font in the form of images, which helps to visually improve certain elements.
Menu bars are truly convenient! How did I get tired that we had many levels of nesting here, and until you reach the desired item, the menu will have time to close.
What have i been doing last month
It's hard to list all the technical issues, andto anything it. In short: I figured out how the template works (everything is completely different there), reworked all sorts of elements, set up a template for custom types, changed non-working plugins for working analogues, struggled with a floating widget and with the work of comments without rebooting (ajax), did a search from Google, open graph and so on. Well, then I will list more noticeable things.
There was a "Say thank you" button. Let's see if there is any meaning from it. Maybe I'll just do it in the form of a counter.
Subscription to the site is now all reduced to a single button "Subscribe" to visually more understandable. And there already, when you press, all the options. And most importantly, without rebooting.
The site is worth Orphus system to fixspelling errors. It is necessary to select the mouse and press CTRL + Enter, after which the error falls on my mail. This feature has stood before, but now below is a more noticeable picture.
Picked up any counters, social network widgets,disabled some scripts and plugins, optimized images. In theory, the site should load faster than before. At least the tests say so. I have 50 mbps Internet, so for me there is not much difference. I will go to Thailand, find out. Acceleration work will continue, not finished.
Began moving to another hosting, for morepowerful, so that you can use all the features of the caching plug-in without exceeding the load. I didn't want to move, because Beget suits everyone, but what to do. I do not want to cut the functionality on the site, so I will have to move. In addition, the server will be abroad, where you can then deploy the site in English and outside Russian jurisdiction. Recent events are completely embarrassing, and apparently the sites have to do there, and not here. I have already encountered problems - the plug-in of cards has stopped working, which refers to a foreign address, which for some reason has become blocked from Russia.
Reworked the menu, now it's one main, insteadtwo. It should be clearer. Also, if you go to the Thailand heading, or to Europe, you will see an additional menu on the sidebar. But I still think about the structure.
Fixed sections Houses on Samui and Houses in Krabi, now everything should work fine there, but the search worked crookedly.
Probably, there is something else, but just do not remember. Therefore, just below the picture for the story.
Previous templates
The previous pattern was actually just one. That is, he lasted as long as 4 years, periodically changing, because I finished it right on the go. He did not quite like the one that was downloaded from the expanses in 2010. In fact, he was present in the 3 visual views on the blog, while remaining within the same.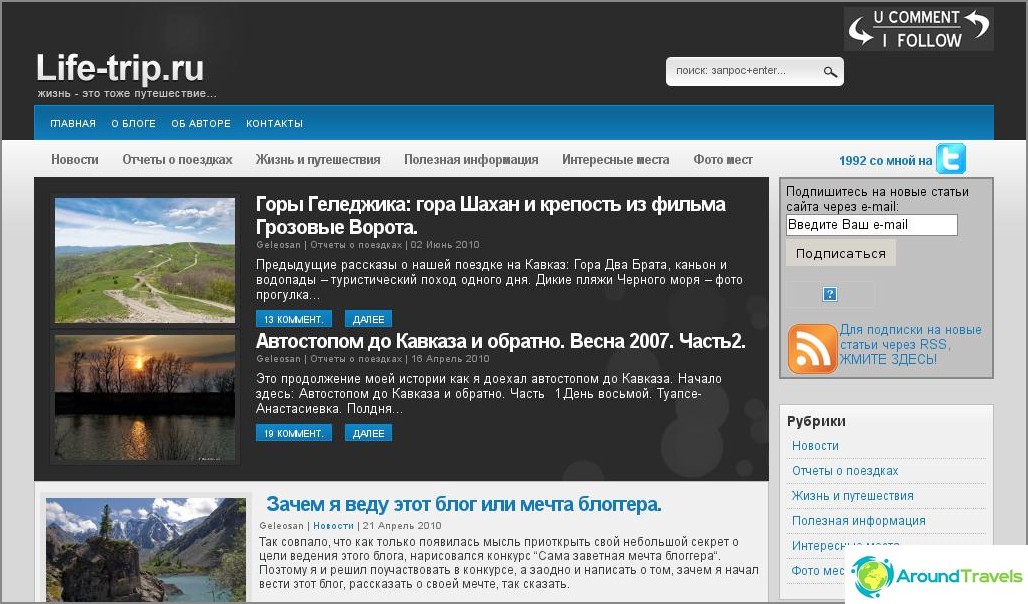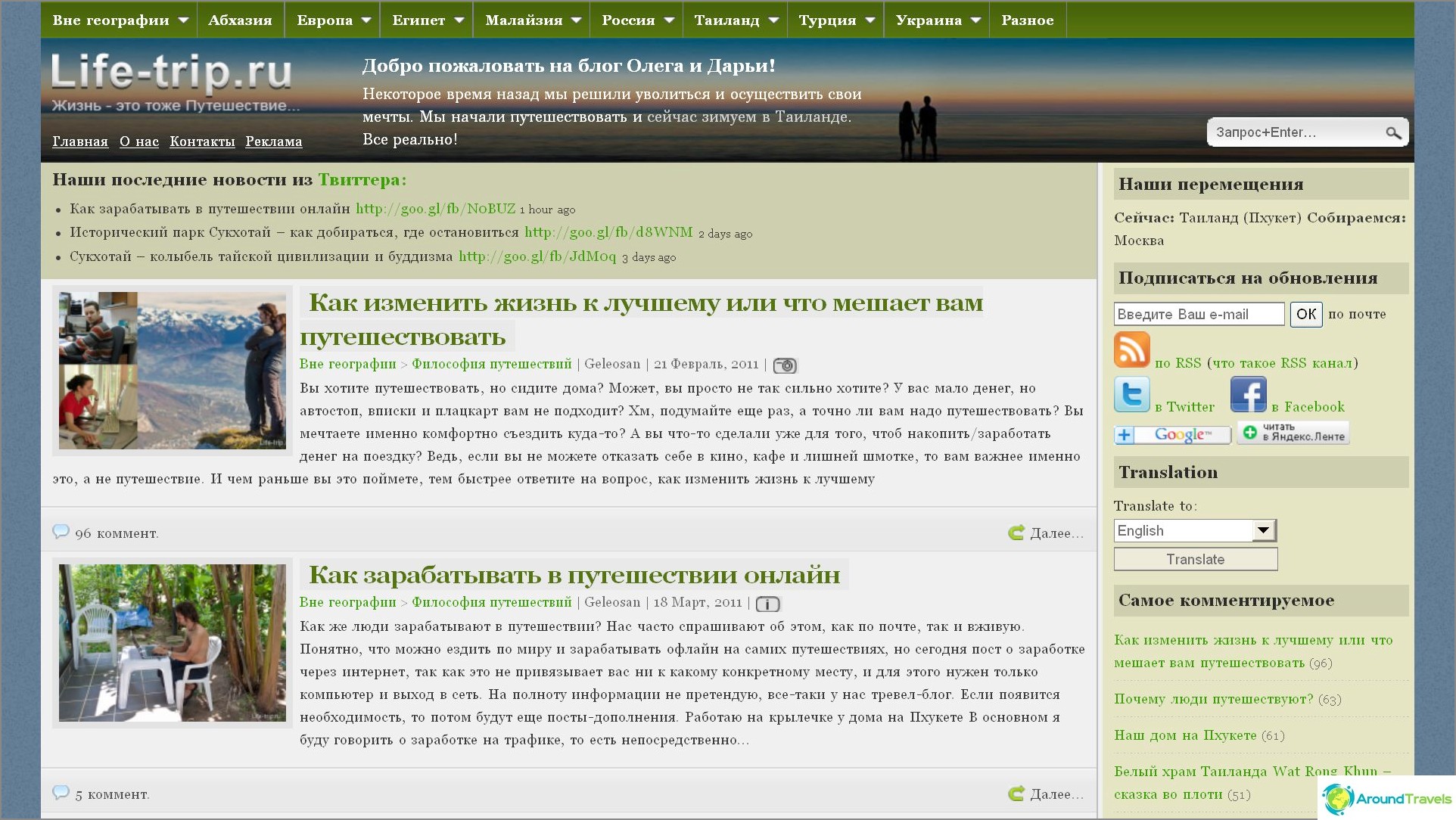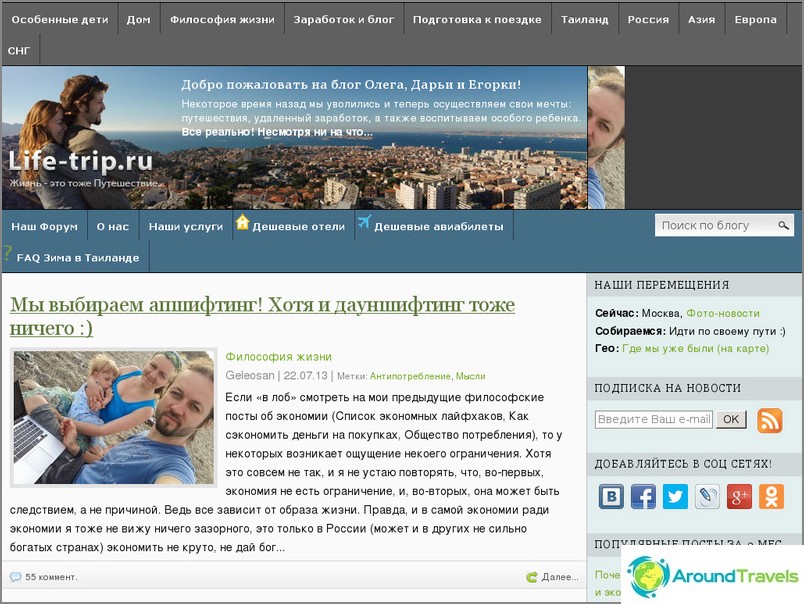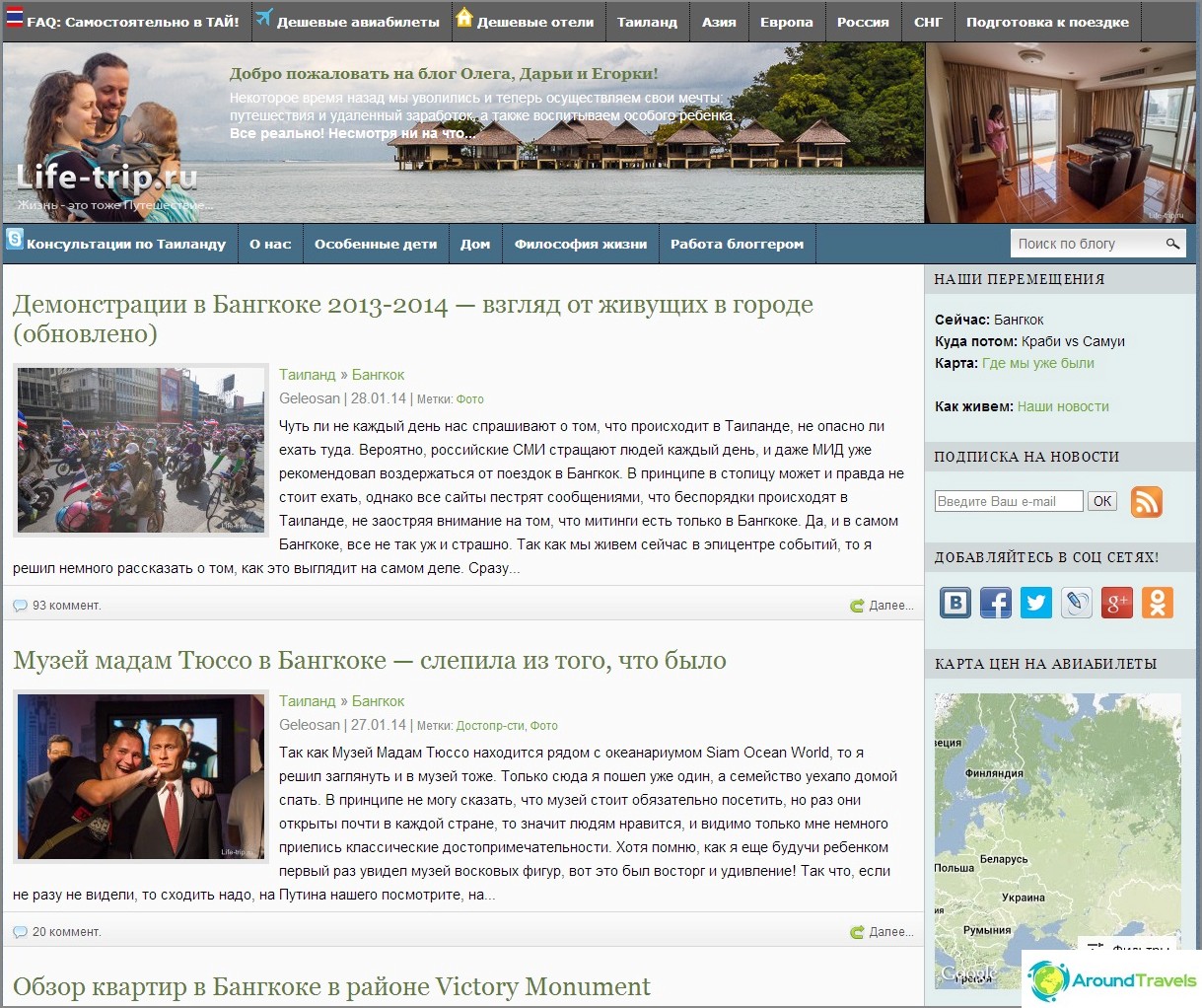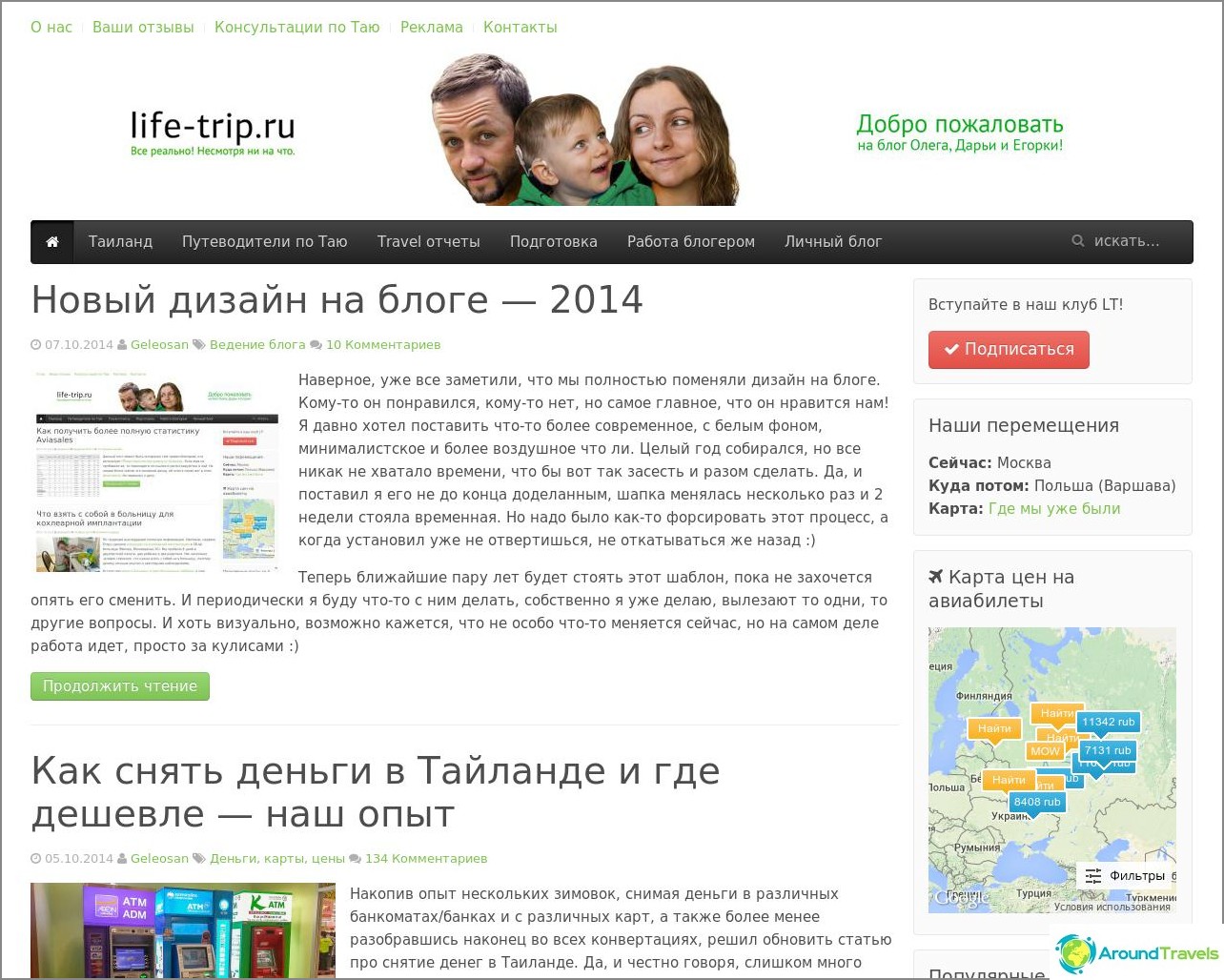 P.S. I have everything for today, I am ready to listen to criticism and suggestions. In general, there is something in it, to be updated sometimes
P.P.S. The cap of most people did not like (judging by the comments), so I removed it. Will there be something else there, I don't know, I don't have my own ideas, and no one has suggested anything.
Life hacking 1 - how to buy a good insurance

Choosing insurance is now unrealistically difficult, so to help all travelers, I compile a rating. To do this, I constantly monitor forums, study insurance contracts and use insurance by myself.

Life hacking 2 - how to find a hotel 20% cheaper

First, choose a hotel on Booking. They have a good offer base, but the prices are NOT the best! The same hotel can often be found 20% cheaper in other systems through the RoomGuru service.

Discount hotels