Nira's Home Bakery is one of the most popularEuropeans have places to come for a portion of well brewed coffee (and this is a serious problem in Thailand - to find good coffee), eat homemade food, indulge yourself with decent baking and take a break from the heat under the air conditioner, with ice cream in a cup. The bakery, according to the islanders, is one of the top 10 restaurants in Phangan, and is one of the few places where you can have breakfast in Phangan. A good location, a large room and a master chef - all that you will find in Nira Bakery.
The content of the article
Nira's Home Bakery
Nira Bakery occupies a fairly spacious room near Phangan's main pier. Tong Sale. There is a rental across the streetscooters, after which begins a narrow strip of shore and immediately the sea. In principle, if you choose a table on the street, then you will even have some kind of sea view, although I would prefer not to gather dust near one of the busiest roads on the island and move inwards. It is both cooler and quieter, and for the comfort of visitors, the exterior windows are covered with a matte film to the level of the belt. That is - you look out the window, but no one looks at what you have under the table - it is important for girls in short.
The dining room is divided into three conditional sections,which at first glance, judging by the different furniture, were added gradually. Then, examining the old pictures of the bakery online, I was convinced of this. The business expanded, the owner rented a nearby room, cut openings in the wall and bought new furniture there. Now there is a uniformly distributed showcase with pastries and a cash register, refrigerators with ice cream, a rack with products for sale and a bookcase.
The quality of the kitchen (and European cuisine is prepared heredishes) is not that fantastic, but - delicious. Large selection of menus, and a huge plus institution for the work schedule: from 7 am to 7 pm. To find a place on the island where you could have breakfast with comfort and tasty - it still needs to be tried. After all, the majority of establishments of such a plan open at best by noon, preferring to scratch the profits from tourists walking in the evenings.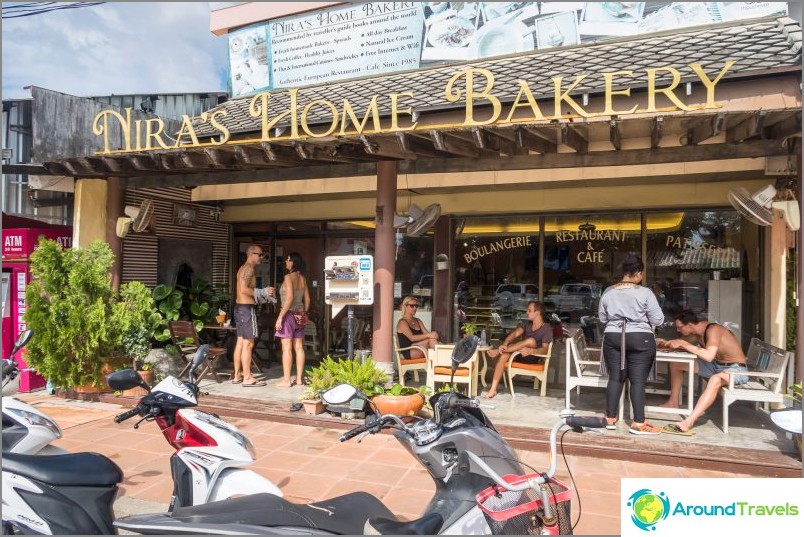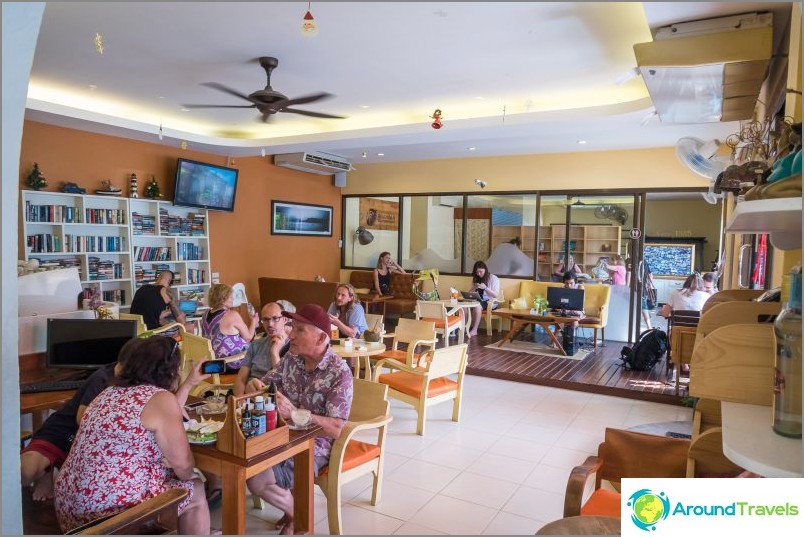 Information to visit
As said above, work from seven to seven. Your parking is not, but located near the road and the whole curb - yours if it is free Great for snacking and waiting for your ferry, you can take away food.
On the map
Cafe Nira's Home Bakery
Cafe Nira's Home Bakery
The cult cafe with good coffee and there Coconut Mama IceCream ice cream
More about cafe.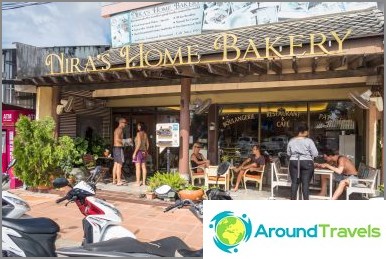 The iconic cafe with good coffee and there is Coconut Mama IceCream ice cream More about the cafe.
Life hacking 1 - how to buy a good insurance

Choosing insurance is now unrealistically difficult, so to help all travelers, I compile a rating. To do this, I constantly monitor forums, study insurance contracts and use insurance by myself.

Life hacking 2 - how to find a hotel 20% cheaper

First, choose a hotel on Booking. They have a good offer base, but the prices are NOT the best! The same hotel can often be found 20% cheaper in other systems through the RoomGuru service.

Discount hotels