Although the name of the hotel contains the word View, butthe view here does not smell, do not even wait. Apparently they specially invented that in order to lure more people, they suddenly buy themselves. But! The hotel in terms of price / quality ratio was very good. I would say the best of those where I was on Phangan. And judging by the reviews and rating, I am not the only one who thinks so. Inexpensive, well located, with normal spacious rooms and a pool.
The content of the article
Price and reservation
In Phangan Island View

I took the number at 1,400 baht, I traditionally searched through RoomGuru, since it is possible to watch prices in all reservation systems at once, which is very important for Thailand, since Agoda is popular there.
Phangan hotels>
Here is a direct link to the hotel. Phangan island view

. But my dates turned out to be cheaper on Bucking, when the previous 5 hotels (Koh Chang and Pattaya) were cheaper on Agoda.
On the eve of the Full Moon Party, the numbers are getting more expensivesomewhere up to 2300 baht, so I was told at the reception. But, if you settle in advance, you can pass at the old price. I extended the room several times for 1-2 days and they told me that they would make a discount and I would have to pay the old price. Outside the summer tourist season, prices for a room fall somewhere up to 800-1000 baht.
Deposit for the key 500 baht, return without problems. The checkout at 11:30 said, but during my time the people checked out without any problems and at 13 o'clock. Consider that there are hotels on Phangan where you generally have to leave at 10 am. What is the reason, I do not know, maybe Pangan tourists like to stay in the hotel until the evening.
Interior
Rating 8.4 - all that is, no less. The very case when I fully agree with the rating, the price fully corresponds to the services received, with which there are difficulties on Phangan when we are talking about hotels. Very often, the price tag is too high, and the numbers are already podubity.
The whole hotel is in a building, there are nobungalow, so wait out the weather here is pretty good. The room is quite ordinary, simple and without any frills, but spacious and has everything you need. Most importantly, he is not old! It's just a scourge on Phangan, a bunch of hotels where cosmetics haven't been made for many years and the walls have almost become moldy. Here everything is clean and the furniture is not killed.
From technology: TV, small refrigerator, air conditioning, hair dryer, safe. They give a couple of free bottles of water every day during the cleaning, it also passes every day. From soap supplies give only shower gel and shampoo, soap is clamped.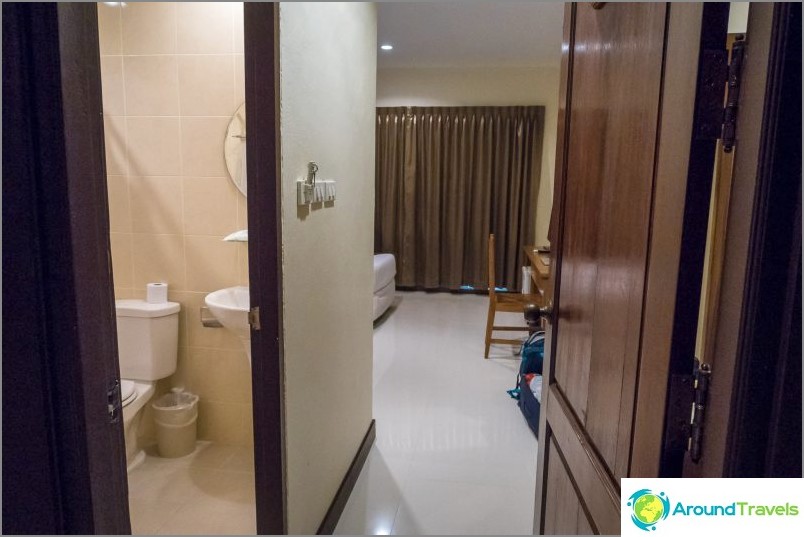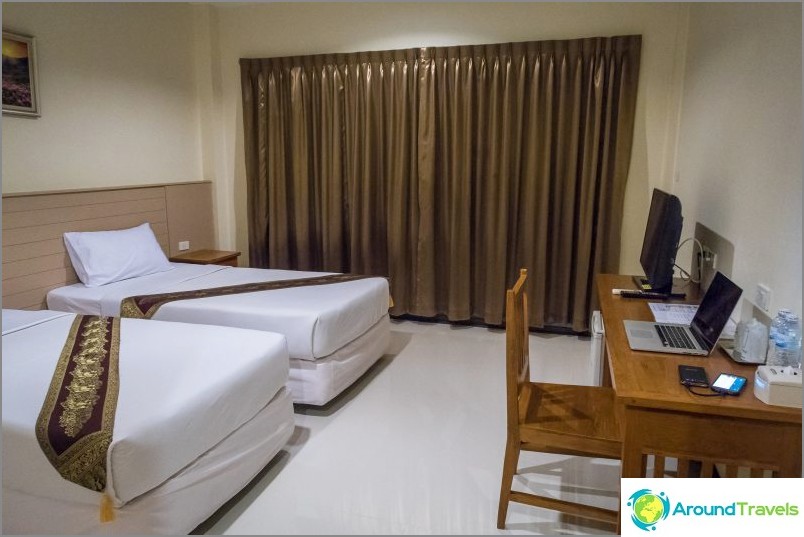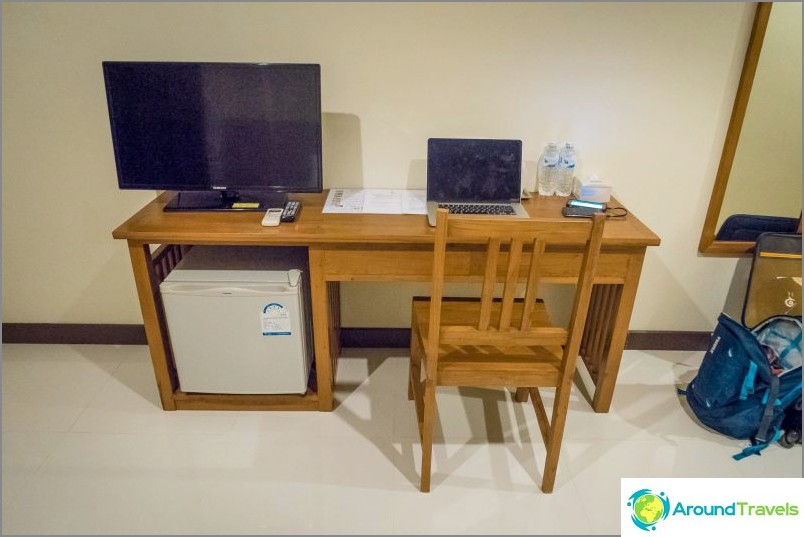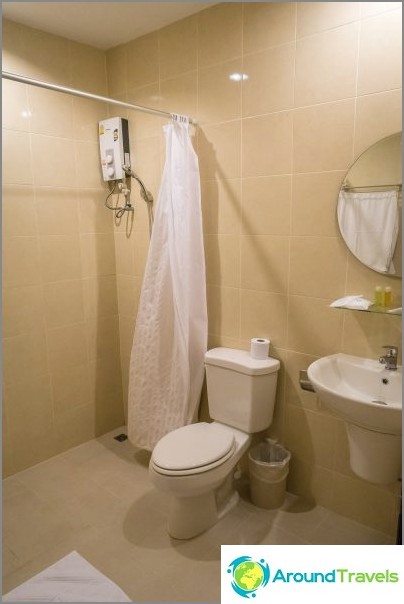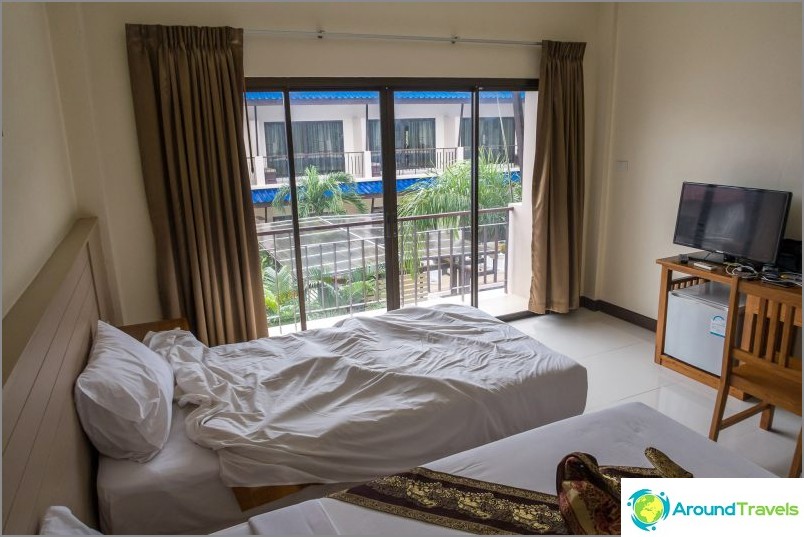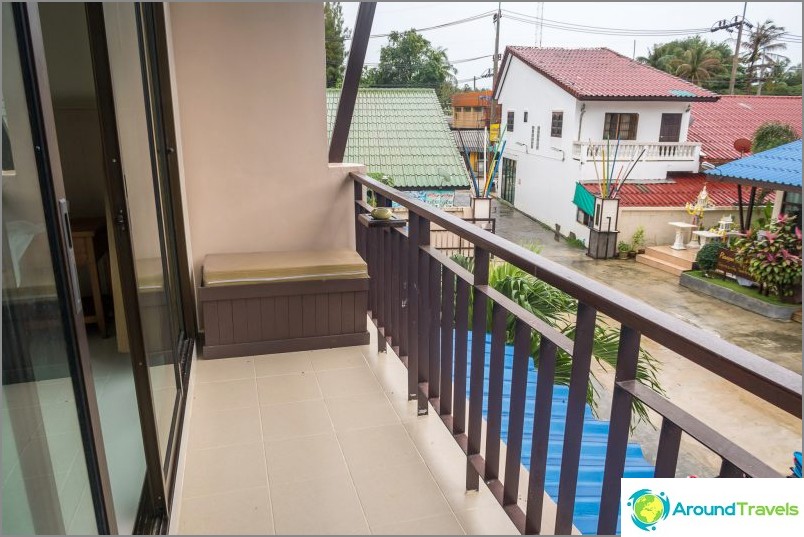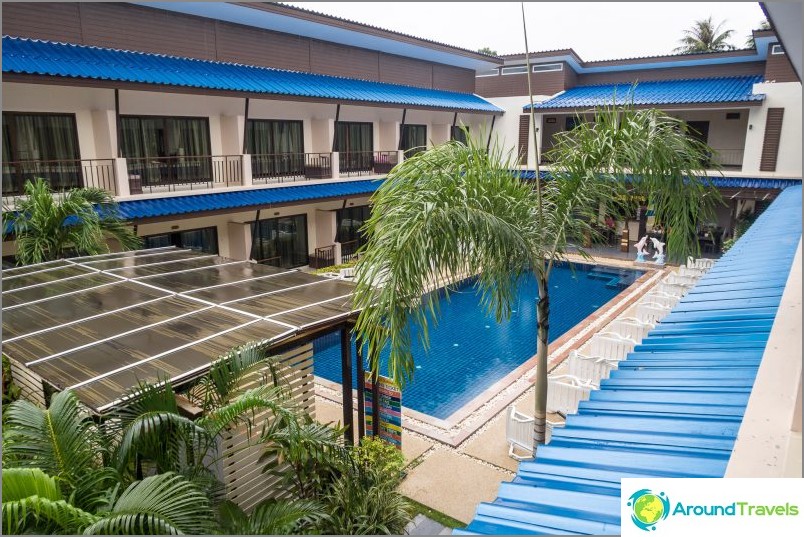 On the first day I could not connect to Wifi, onThe next day and then everything was fine and the speed was also nothing. Periodically podlagivaet, but in general I do not remember that there were problems. For those who do not have any devices with them, there is a pair of computers with Internet access near the reception. IMHO is a relic of the past, now everyone already has smartphones, with them you can easily book a ticket or something else.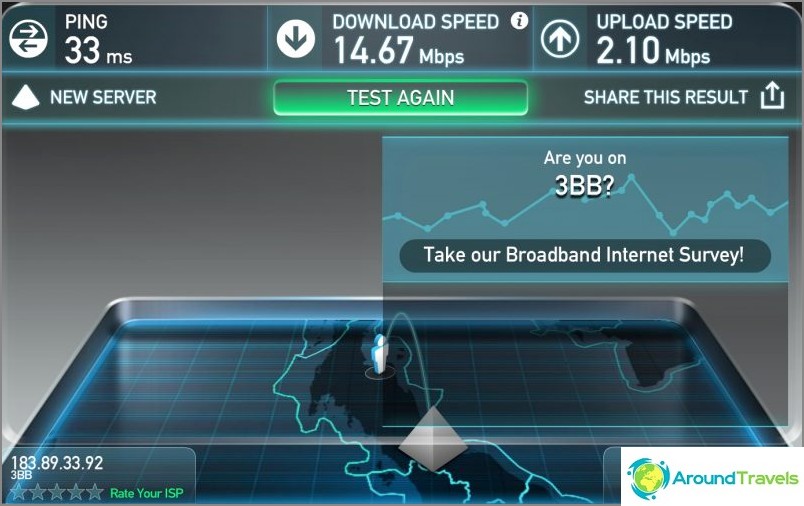 Territory and services
The territory of the hotel, one might say, no. U-shaped two-story building located around the pool, parking - that's all. But this is not a resort, but an ordinary small hotel with a corresponding price.
The hotel can hire a bike. I took. As I understand it, the bikes are not hotel, but simply cooperate with someone. They brought me a bike from somewhere, but I took it and handed it around the reception desk. Divorces on scratches and stuff was not. So they looked at the reception and everything was true, and the bike was covered in scratches. In any case, it is better to take a photo or make a video when you take, you never know what.
Opposite the hotel there are washing machines right across the road.50 baht per wash. But on the balcony of the hotel, there is no dryer or its likeness, where you can hang clothes, so it can be better to take a kilogram, so that immediately with the dryer.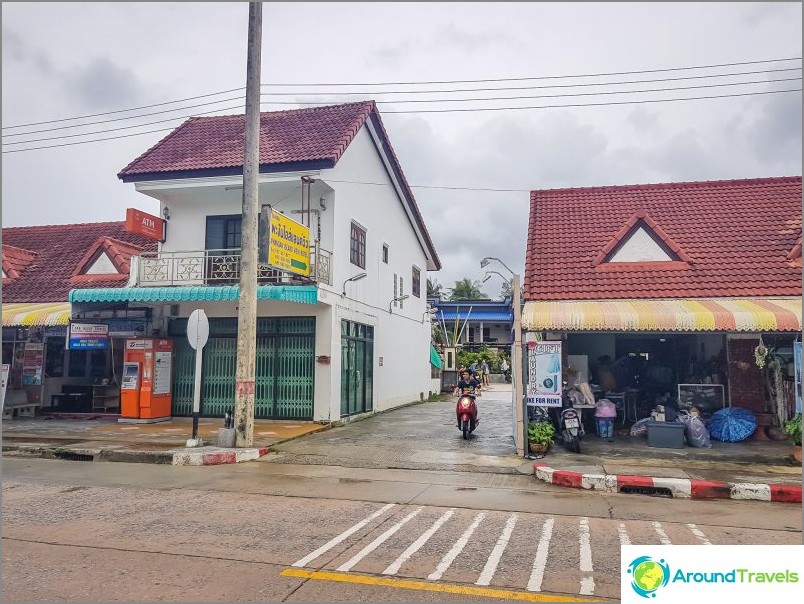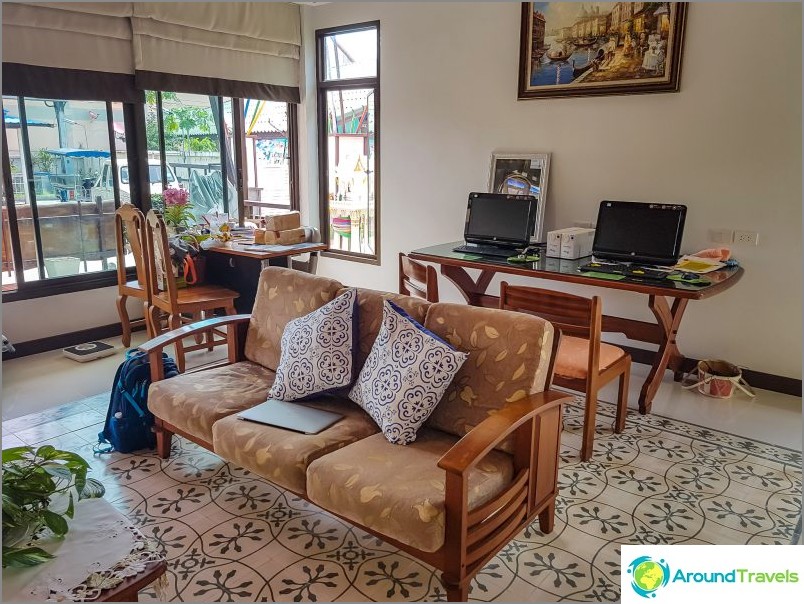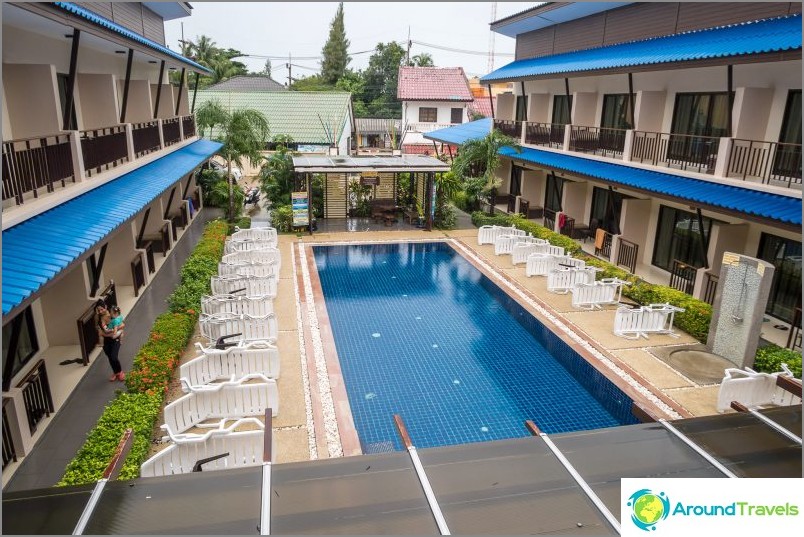 In the opinion of good breakfast at the hotel. Sometimes they are already included in the room rate, but you can take it separately. Cost 200 baht. I did not take them, instead I was hooked on rice soup with seafood for 120 baht, for some reason I wanted something like that in the morning. True, a very long wait, about 20 minutes, probably, until they cook. But I noticed on Phangan in many cafes they cook for a long time.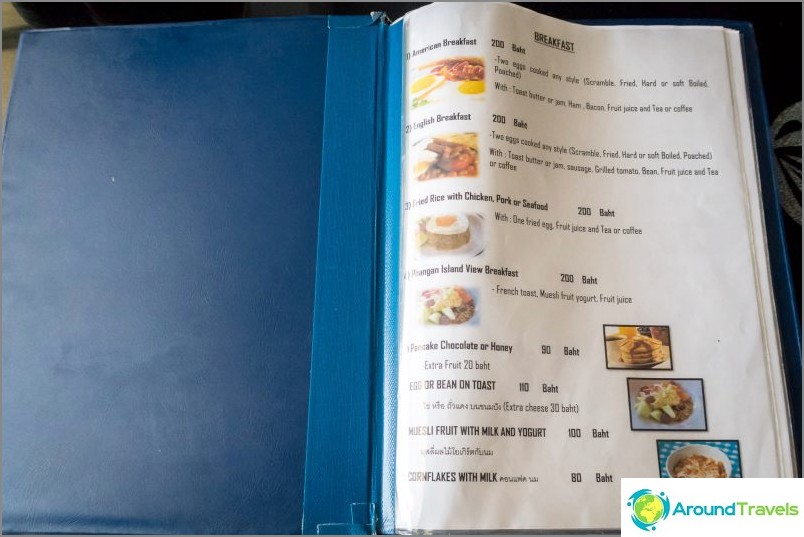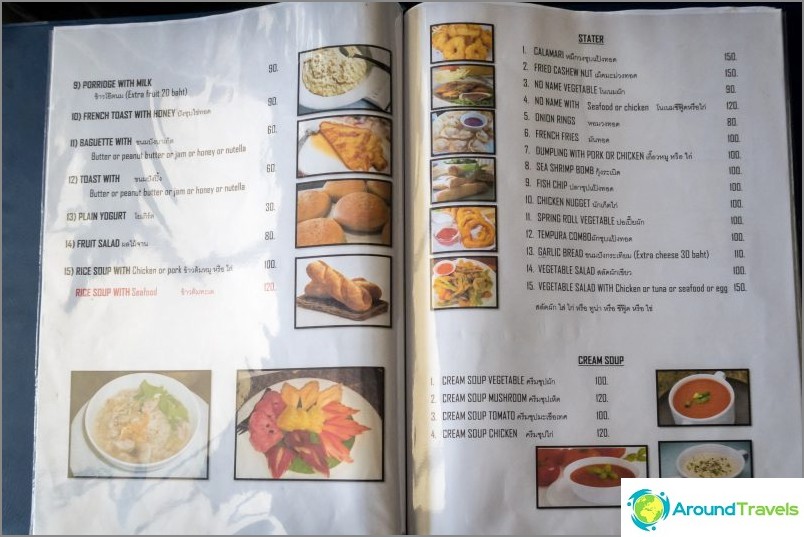 Map and location
In my opinion, the hotel is very well located. Especially for those who come to Phangan for the first time and still do not know the island. Also here it will be convenient to everyone who decided to actively ride around the island (on a bike), since the location is straight centered. In one direction, drive 15 minutes to Haad Rin, in the other, 5 minutes to Thong Sala, 20 minutes to Chaloloлаlam, 20 minutes to Shritan. Also from here it is convenient to go in the direction of the eastern beaches, just near the hotel the road begins there.
Opposite across the road will be Ban Tai Beach (go5-10 minutes), which is far from the best, but you can still buy. But near Tong Sala with its infrastructure (port, market, food court, Tesco, coffee shops, massage, etc.). Also right next to the hotel is a Big C supermarket, a gym, a few cafes and 7-eleven.
Especially for a beach holiday I would not stay here, it's better to go straight to Haad Yao Beach, Haad Salad or Haad Rin.
Phangan island view
Phangan island view
One of the best cheap hotels in Phangan. Conveniently located for those who are going to actively move around the island. He lived in it and wrote a review.
More about the hotel..
One of the best cheap hotels in Phangan. Conveniently located for those who are going to actively move around the island. Lived in it and wrote a review. More about the hotel ..
Life hacking 1 - how to buy a good insurance

Choosing insurance is now unrealistically difficult, so to help all travelers, I compile a rating. To do this, I constantly monitor forums, study insurance contracts and use insurance by myself.

Life hacking 2 - how to find a hotel 20% cheaper

First, choose a hotel on Booking. They have a good offer base, but the prices are NOT the best! The same hotel can often be found 20% cheaper in other systems through the RoomGuru service.

Discount hotels