Bought tickets to Moscow! We return at the very beginning of June just in summer (I hope it will come). We will fly to Moscow via Hong Kong, where we will stay for a few days, so the cheapest tickets went out. Plus, Daria will get some rest and see a new country for herself. I was already there, still under the impression: Victoria Peak. Big buddha. people. city...
But I did not want to talk about it. What do you think is better than Aviasales or Skyscanner?
Something became interesting to me, who uses whatmostly, and it will be useful to collect all sorts of nuances in one place. Especially since I wanted to tell you, on a concrete and recent example, the result of my search for airline tickets.
The content of the article
Aviasales or Skyscanner
From myself I will say that I use both aggregatorsequally, and Aviasales, and Skyscanner. And applications on the phone are also from both search systems. And I fundamentally disagree with the fact that they are very different from each other in prices or principles of work. The whole difference, as a user, I see only in the interface, so I look at something in one, something in another. The last 3 months had to monitor a lot of different tickets. I was looking for tickets from Moscow to China, to Serbia and Sochi, recently I looked from China and Hong Kong to Moscow, and from Moscow to Simferopol. Prior to that, I repeatedly monitored tickets to Thailand and Poland ...
The maximum difference in the cost of tickets by mediscovered, 500 rubles, and often it generally coincides to the ruble, if you look at the same agencies. And not even once (neither recently, nor earlier) did he notice that services remember cookies and begin to increase the price of tickets so that the person would rather buy. Specially opened another browser, cleaned the entire cache with cookies (or included incognito mode) and the price was the same. From where this info about cookies, I have no idea. Maybe in some particular areas in which I have never flown? Or is it a spread myth?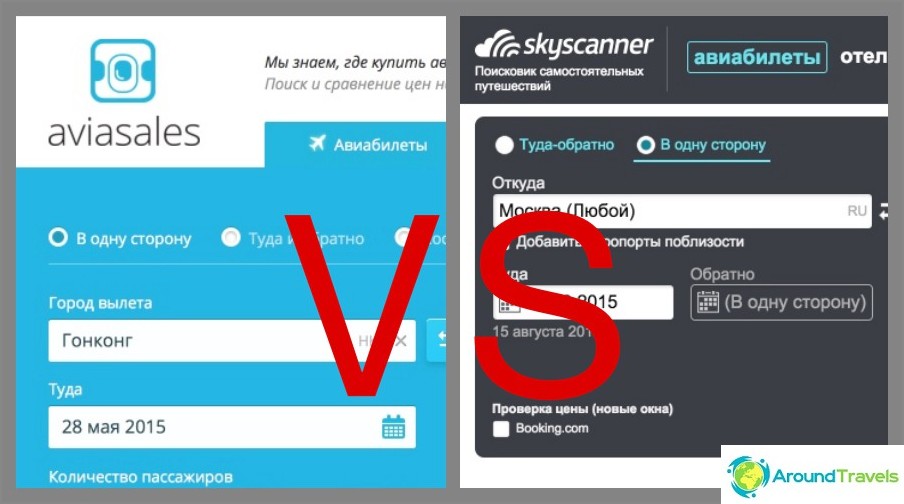 In Skyscanner most like search bymonth, in my opinion the most convenient that there is. You can open the calendar and immediately see which day of the month the flight will be cheaper. However, this applies only to popular destinations, otherwise the calendar will be empty or half empty. Skyscanner doesn't like data obsolescence when you go to the agency's website, and either there's no such flight at all or the price is different. Stumbled more than once already. How to book on Skyscanner.
In Aviasales, I like, above all,manufacturability or something (all sorts of not very necessary, but cool card-type chips) ... and design. But I do not argue, it's all an amateur. From the functional - compound routes and search for 3 days at once, when the service gives the cheapest ticket in the range of + -3 days. Actually, when tied to dates, otherwise it is easier to use the calendar from Skyscanner. Although ... Aviasales actually has two calendars: one in the search results and it's not visually quite obvious (I don't like it), and the second has a separate calendar on the main page, which, on the contrary, will be more convenient for Skyscanner's. In general, the essence of all these calendars, of course, the same. How to book on Aviasales.
An example where both services helped
Unfortunately, I do not have screenshots at hand, so I have to check for the word
Yes, I could now search for something insearch engines, but it would be not quite a real example. So, the real thing is that the tickets to China in February and March were bought just at the agencies (and not through the websites of the airlines), so it was cheaper.
In February, I bought tickets for a direct flight.Moscow-Sanya for Darya and Yegor via Aviasales (at Onetwotrip agency), and in March for a flight with a Moscow-Wuhan-Sanya transfer for yourself through Skyscanner (Svyaznoy Travel agency).
An example of when both services were setting up
Never forget to check prices ontickets on the websites of the airlines themselves! This time it turned out that I bought a ticket to Sanya-Hong Kong and Hong Kong-Moscow precisely on the websites of the airlines, because there were such fares that the search engines did not know about. To be honest, the first time I ran into this was when the difference was quite large. Transaero was particularly surprised (Hong Kong-Moscow), because it had repeatedly bought tickets of this airline and always at the agency was a bit cheaper or also. Perhaps some kind of action, which search engines aggregators do not know.
Hong Kong-Moscow
Added another screenshot of Momondo, since it is also used, and to make it more revealing.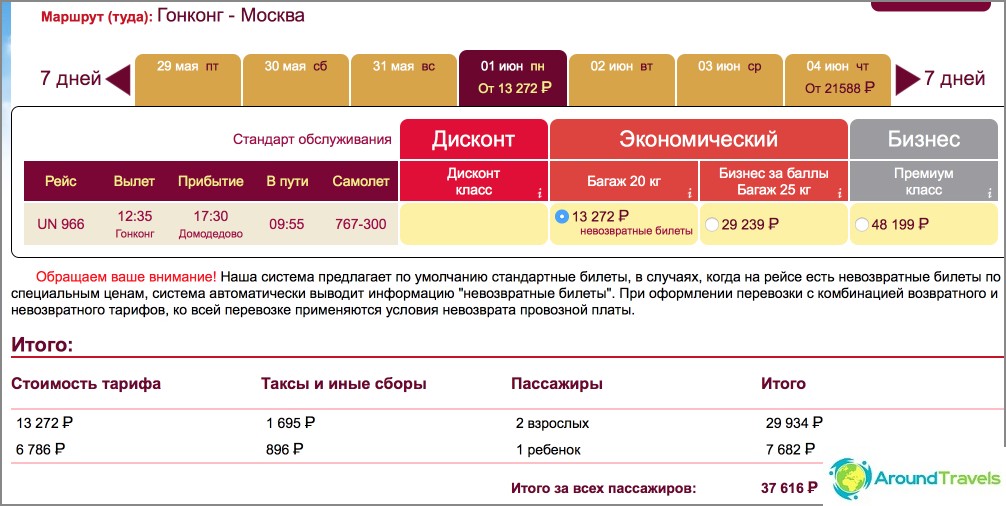 Sanya Hong Kong
But with a ticket from HongKong Airlines on the go nonothing surprising. Apparently, Chinese airlines often do not give the cheapest fares to search engines. A significant difference turned out, 8500 rubles for 3 tickets or 20,000 rubles.
Search engines behaved differently. Aviasales simply did not know about the cheap fare, but Skyscanner didn't know at the time of purchase, and when he took a screenshot, for some reason, he began to show it, only slyly. If you look at the screenshot, then you can see that he offers to buy on the website of HongKong Airlines for 8474 rubles, and in agencies already from 7,291 rubles. Only if you go to any agency, it turns out that this is the price for one person! That is, the total price is all the same as in Aviasales. Not an honest approach.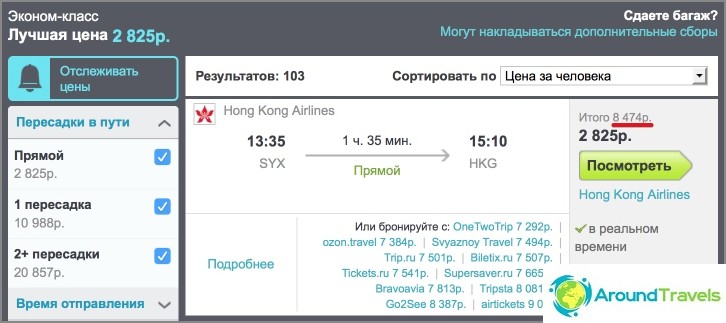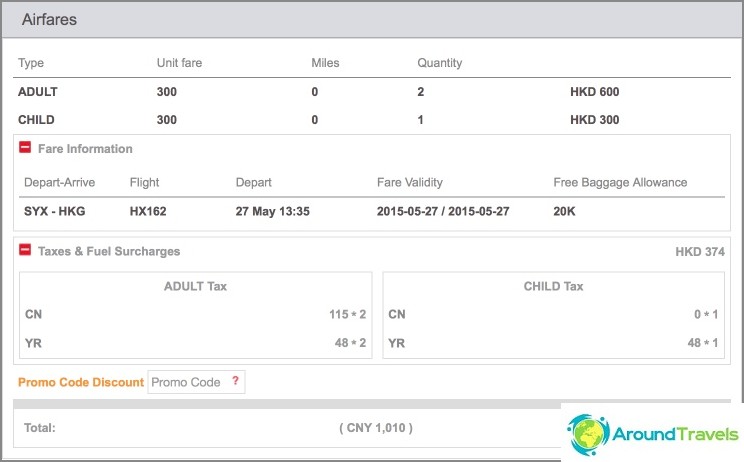 P.S. In any case, it is more convenient to search for tickets (flights) precisely in meta-search engines, and not on the curve websites of airlines. Some are such that you are tortured simply, horror! And much faster you get an idea of ​​which airlines fly to the city you need. I did find the flights I needed exactly in search engines. And, where it is more profitable to buy, it is not difficult to calculate.
Life hacking 1 - how to buy a good insurance

Choosing insurance is now unrealistically difficult, so to help all travelers, I compile a rating. To do this, I constantly monitor forums, study insurance contracts and use insurance by myself.

Life hacking 2 - how to find a hotel 20% cheaper

First, choose a hotel on Booking. They have a good offer base, but the prices are NOT the best! The same hotel can often be found 20% cheaper in other systems through the RoomGuru service.

Discount hotels