We settled down, it's time according to traditionwrite a review of our housing. At the moment we live in the province of Krabi (this is not an island, but the mainland, if anyone does not know yet) in the resort village of Ao Nang. To be honest, we are not very excited about this place, and we do not understand why longsters and winterers are coming here en masse. Here and the sea is so-so, and it's impossible to live on foot from it, and there are a lot of people, like at any resort. But I am sure this is our subjective perception, and of course you can live here. In general, we liked Samui because of a combination of factors, much more, but we wanted to see a new place, and also we would soon fly to Russia, and it was much easier and cheaper to do it from here, because next to Phuket, where charters fly from, so nothing do not regret.
For information: if you rent a house, then read my post-booking instructions. How to book a house in Thailand - 5 ways. Also remind that we have personally collected me catalog of houses in Krabiwhere more than 70 houses with a map and photo. Housing the same for a short period, while you are looking for a house, you can forget it through RoomGuruThis is the most convenient service.
The content of the article
Our home in Ao Nang
I spent somewhere looking for 2-3 full days,reviewing many options. Although as a result we settled in that house that I saw on the first day (thanks, Pavel Gorbokon, for the help). I can say that in March the season is not over yet, so even though there are a lot of free houses, at least two miles away from the sea, the single beds were also within walking distance. Thus, if you go to Ao Nang in March, you can not bathe, you will find accommodation for anyone. We are very picky now, and we, the lack of greenery on the territory did not suit, then a small area, then level drops inside the house, the terrace was very dangerous.
I also looked at the villas with good technique,furniture, normal layouts, but they were 3-4 times more expensive at once, which was too much for Thailand, and for our budget too. So it seems, and is ready to pay 5-10 thousand baht more for the best equipment, but no, there are very few such houses and they are occupied for a long time. Unfortunately, in Thailand there is very little "intermediate" housing, or taistyle for 10-15 thousand, or expensive and large villas for 40-60 thousand.
If you are traveling to Thailand for the first time, thenI recommend to book a house or apartment in advance. This is done only through a realtor. Yes, they are not engaged in the cheapest housing and take a commission, but this allows you to avoid unnecessary trouble in an unfamiliar country. Believe me, independent searches on the site is a difficult task and it is not worth it. You're going to rest.
Send me a request, advise a trusted realtor, whom I myself trust. And then in recent times a lot has become a scam.
Send request>
Interior
The house we rented a two-bedroom, because with usgrandmother and definitely need a second bedroom. Condo is in each bedroom (not in the living room), ceiling fans everywhere (a very handy thing), mosquito nets on the windows, there is basically enough furniture (3 tables), but only one mattress. The bathroom has a washing machine, which is rarely found in rented houses, apparently someone lived here for a long time and bought it for himself. The house is large, the main area is occupied by a spacious living room, which allows our little boy to crawl into the will. The living room is combined with a less equipped kitchen: there is a small fridge and a gas stove with an oven. But I would prefer a normal refrigerator instead of an oven, because after each trip to the supermarket Tetris begins, an attempt to fit all the products on two small shelves.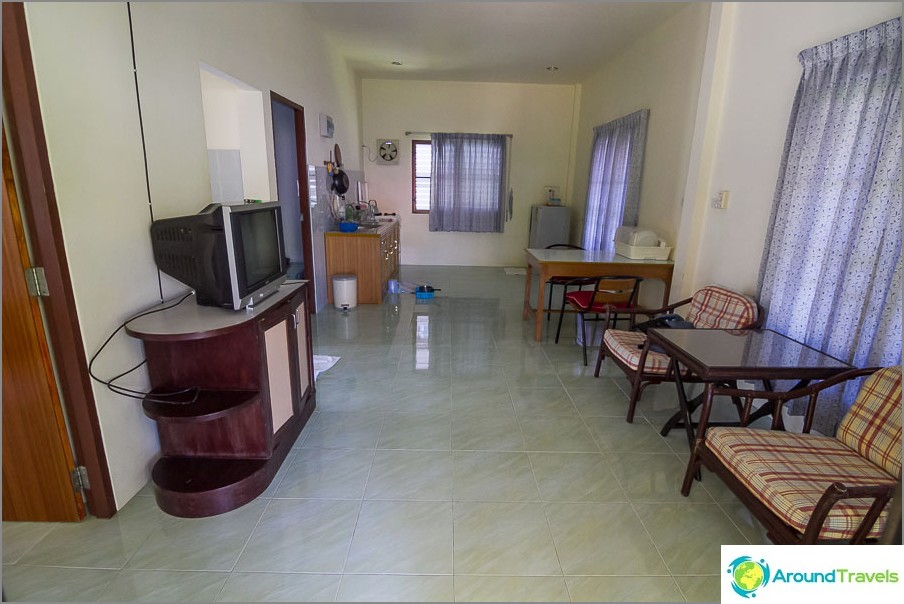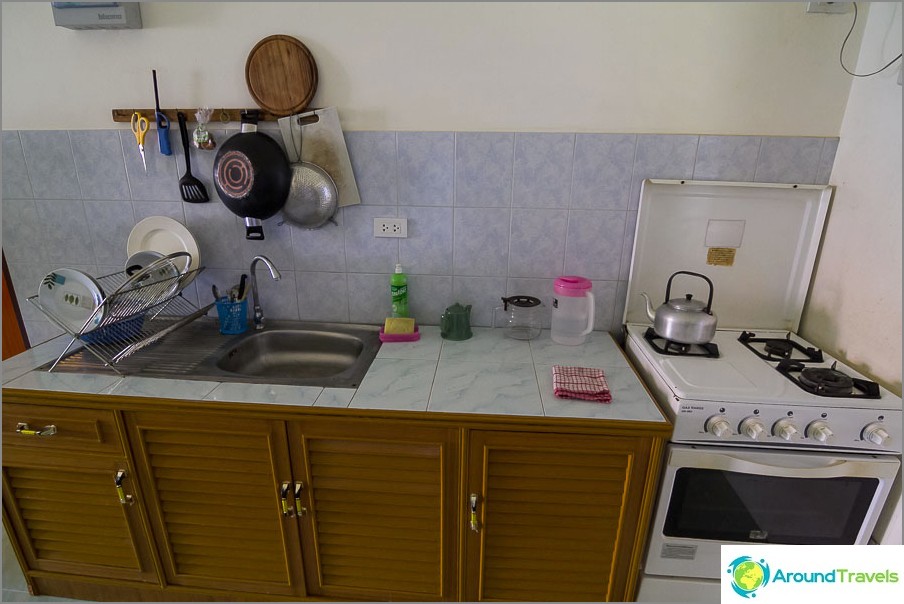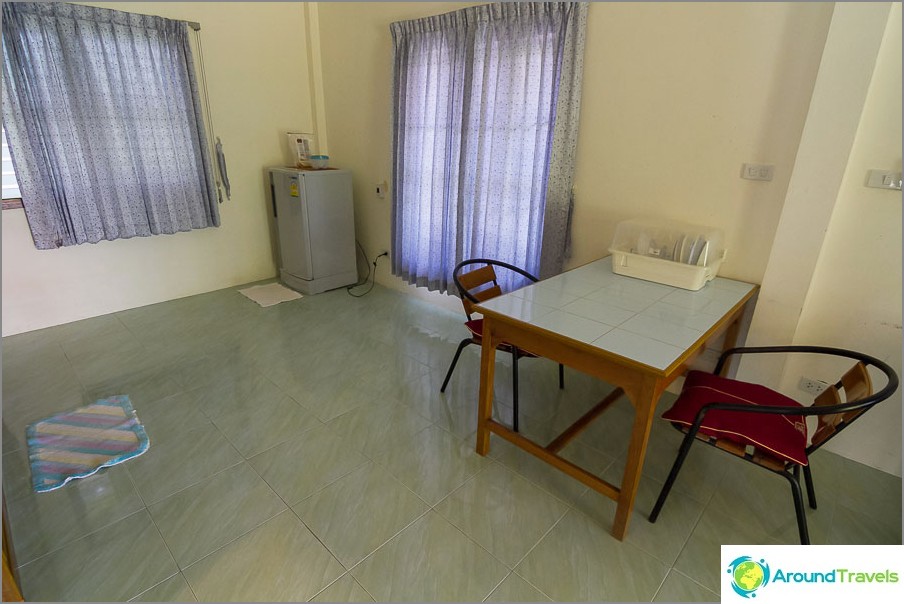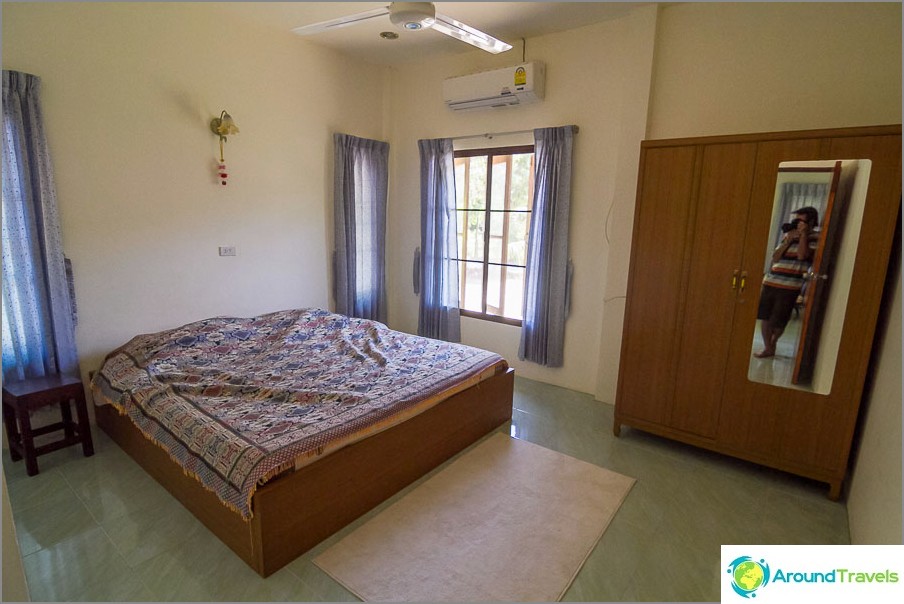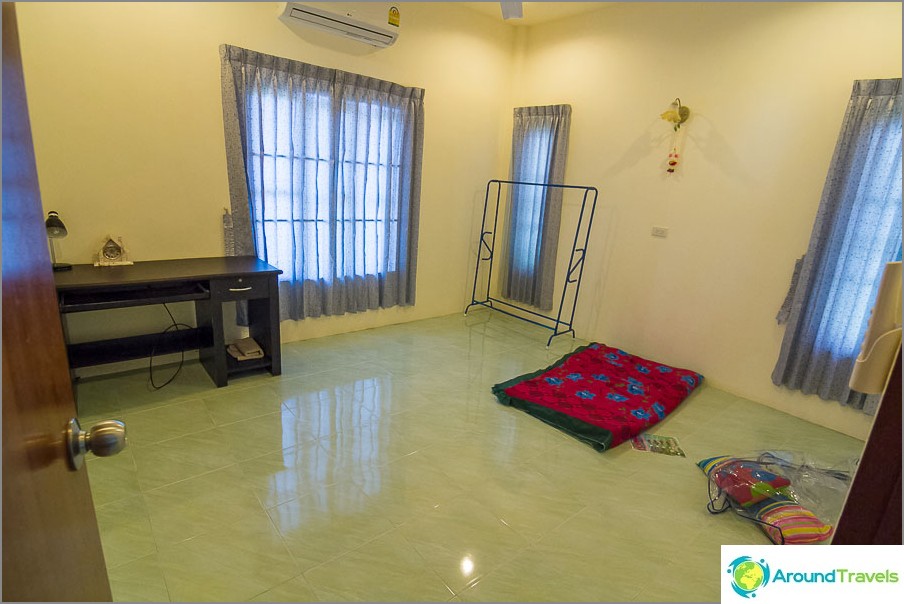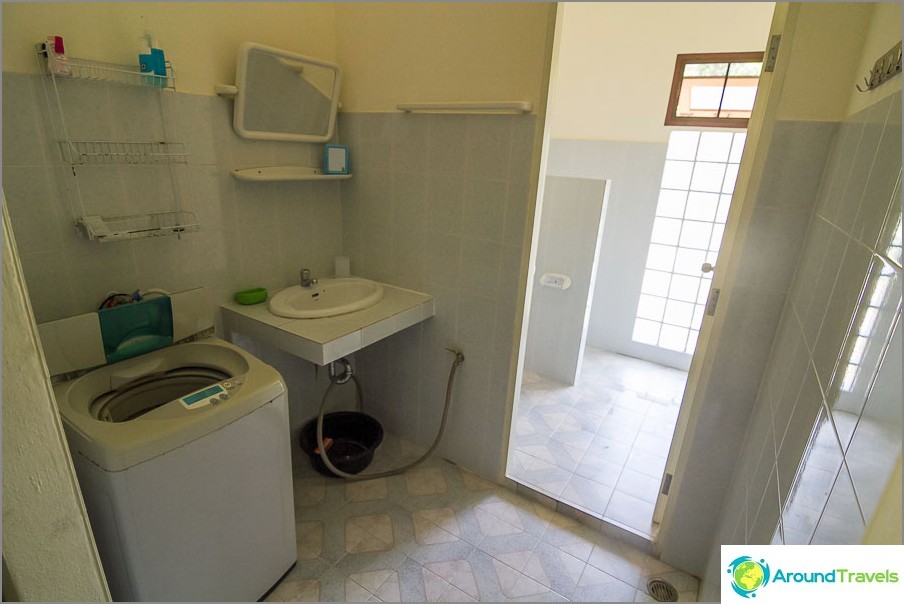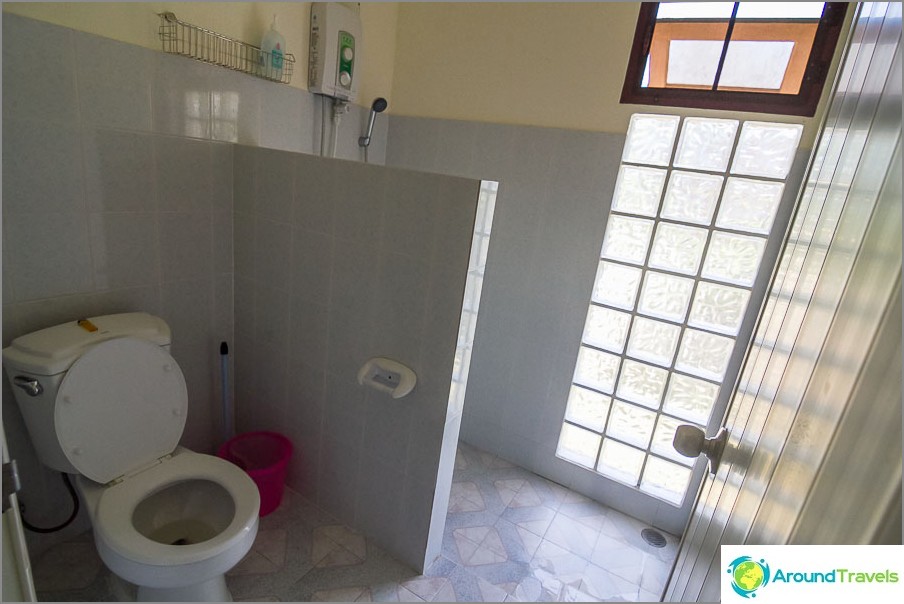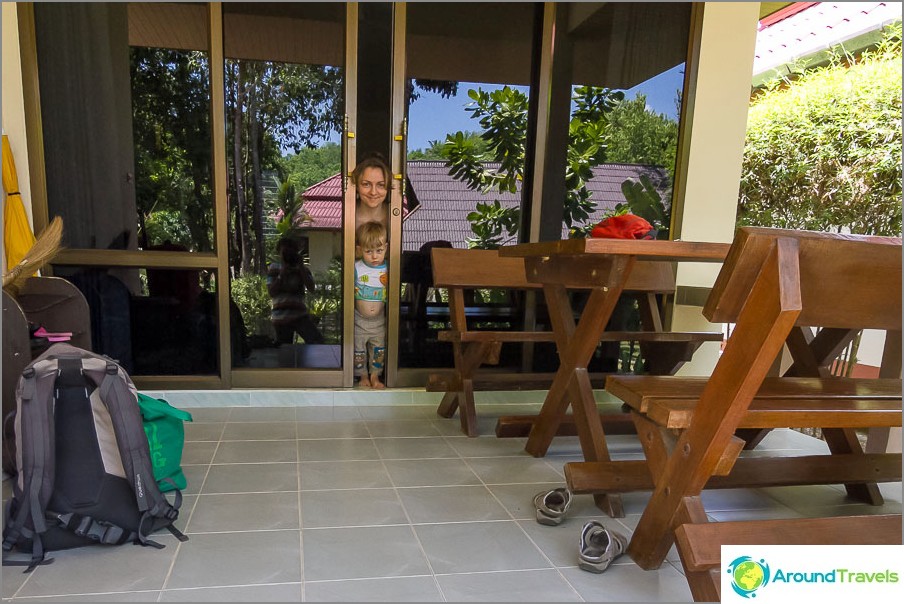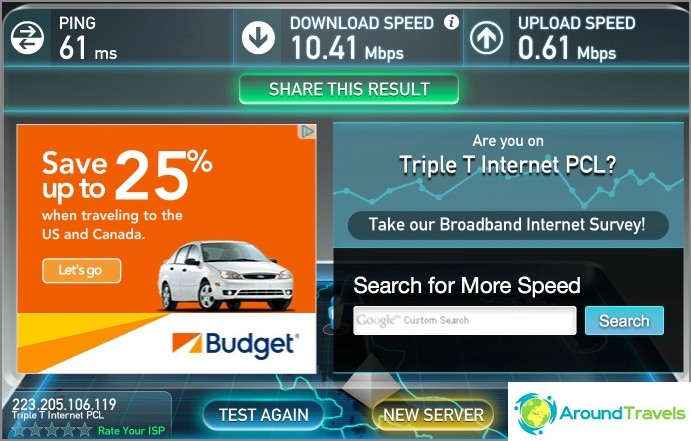 After entering, we bought a mattress, a rack, another table with chairs, a water chest, moved furniture and scattered toys around the rooms. The house took on a habitable appearance.
And because of the spans on the terrace we had to weave a web and stir up bamboo slats.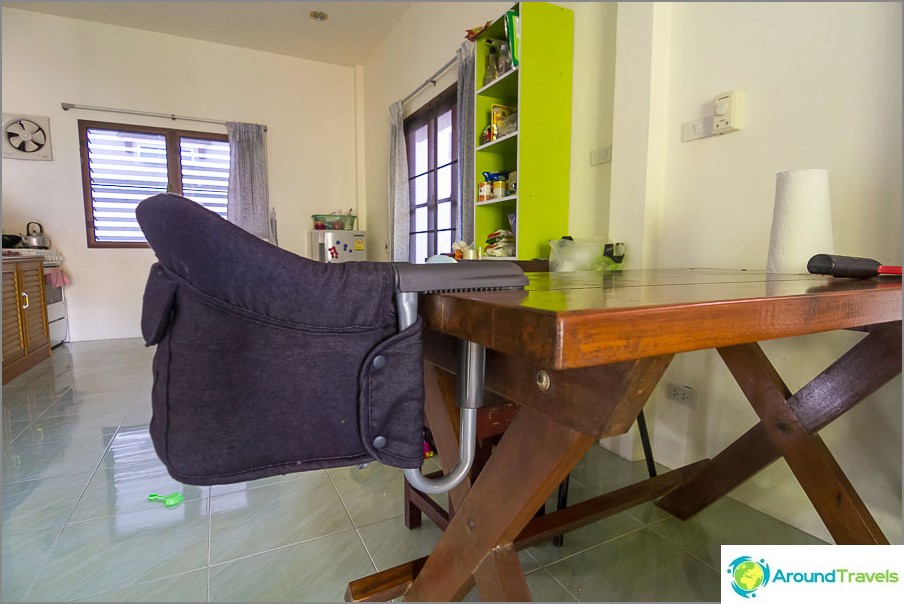 Our house is in a quiet place, and even to the road100 meters, but we don't hear it at all, apparently because it is fencing off several buildings from it. The area around the green and pleases the eye. Actually, I saw houses where the earth was scorched by the sun or crushed stone, and not a tree around, the horror was simple.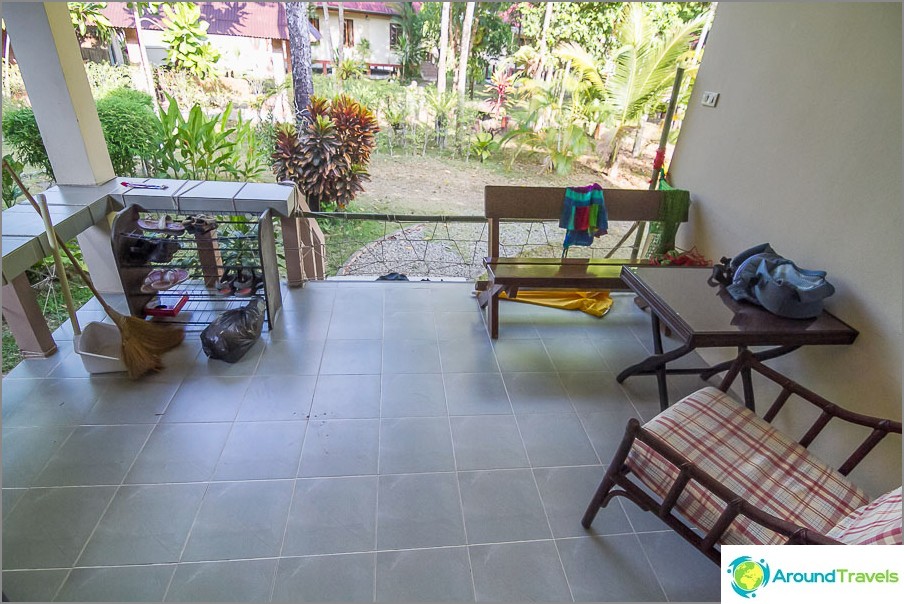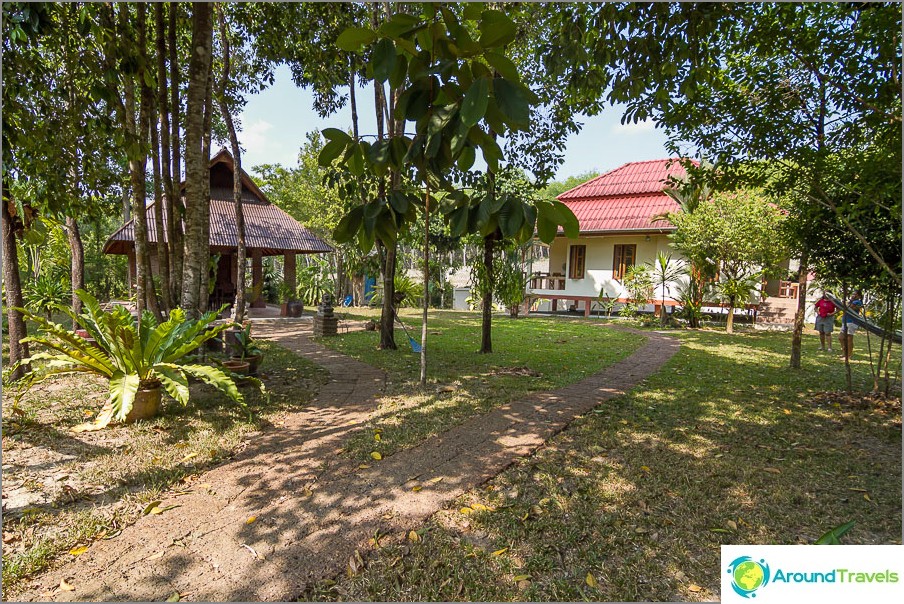 Toad
We got the house with a toad ... The guys who are herelived, told where it came from, but I forgot, almost brought from Samui. I only remember that they tried to resettle her, but she came back. The first couple of days she was not visible, either she missed the previous owners, or we were very noisy, but now she has returned again.
Price
For the house we pay 15,000 baht per month, which is duethe fall of the ruble in 2014 is about 17,000 rubles. Plus electricity and water separately. For such conditions and the price area is pretty good. To the sea 4-5 km, and there you have to move by transport.
Compared to Samui, I can say that in Ao Nangprices are slightly lower for housing, but comparing them is not entirely correct, because Samui has a lot of housing within walking distance from the sea, and this increases the cost, as is well known, therefore houses on Samui seem to be more expensive. In general, it seemed to me that the choice of houses on Samui is much wider, in fact, like the beaches (6 beaches against 3, if we are talking about the main ones).
transport Rentals
By the way, we decided to rent a car again, just like onKoh Samui, only I couldn't find anything budget, and I rented a Toyota Vios manual for 16,000 baht / month from a large Avis distributor, it was they who offered me the cheapest option, cheaper even than the well-known Mr Kord and Bee. I do not exclude that you can find more budget, because I did not spend so much time searching. Sometime later I will write about renting a car in more detail. In the meantime, I will get used to the manual box ... Somehow it is quite unusual that it is on the other hand, and something I spilled quite here on the machines.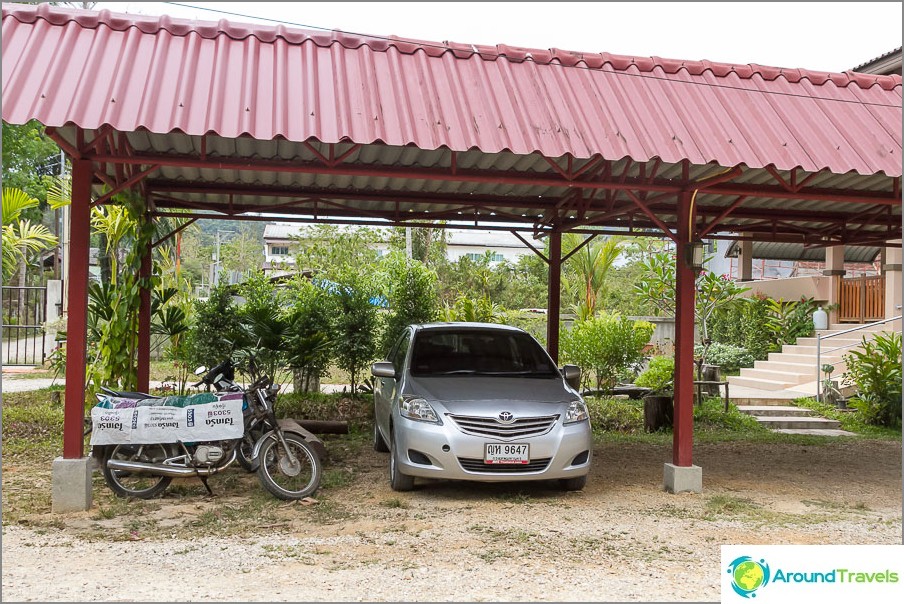 And most rides on bikes or even tuk-tuk. We may also try the bike before leaving (there will be a space per week, when we return the car already). I ride on it here, the movement is quite calm, the roads are easy.
Video
P.S. Other houses, and ours in particular (map + contacts)look in catalog of houses in Krabi. Specially made for the convenience of all wintering
Life hacking 1 - how to buy a good insurance

Choosing insurance is now unrealistically difficult, so to help all travelers, I compile a rating. To do this, I constantly monitor forums, study insurance contracts and use insurance by myself.

Life hacking 2 - how to find a hotel 20% cheaper

First, choose a hotel on Booking. They have a good offer base, but the prices are NOT the best! The same hotel can often be found 20% cheaper in other systems through the RoomGuru service.

Discount hotels