Well, the dream has come true! One more ... We will directly implement them one by one. At first they wanted to travel often - it was ready, then they spent the winter in warm lands - done. Now, here, we live in a dream house 10 minutes from the sea.
Honestly, at first I was a little againstgo to Phuket and live in a house. Because costs at once increase, both on habitation, and on meal. However, as soon as we brought the things to the rented house, put them on the shelves and sat down to rest, I realized - there it is, what I always wanted. And to hell with them spending, we can afford to live a couple of months as we dreamed.
The content of the article
The house is not an apartment
If you rent a house, then read my post with tips - Renting a house in Phuket and my booking instructions: How to book a house in Thailand - 5 ways. And housing for a short period (while looking for a house)can be booked through the search engine of hotels and guesthouses RoomGuru, this is one of the most convenient hotel search services (it searches all existing bookings in the databases at once), and we also have a personally composed review of the best hotels in Phuket.
I can not say exactly why, but living in an apartment and living in a house are two big differences. There are, of course, obvious things, why is it better to rent a house, and not an apartment, eg:
- more space, and usually more furniture
- clean air and silence, if the house is not in the city
- no neighbors behind the wall
- you can work / rest / drink tea not only in the house, but also next to it
- you can hold your own internet
But this is not why some day already euphoria overwhelms us, and I want to run around the house, jump and laugh silly
Probably the main reason that in the house itselfyou feel at home, the apartment is more like a hotel room ... It may well be that it is your green space around that creates such an impression. Outside the window, I see now not the city, but green trees and flowers, we have all the windows and the door wide open, and the wind brings pleasant aromas, and after taking a few steps I find myself on a terrace surrounded by palm trees.
Here I got the feeling that at the momentI have everything I ever wanted. Of course, I have long felt for a long time that Thailand is a place where you can live very comfortably and not plow, as it is abnormal at work and idle in traffic jams for hours on the way to it. But it was in the house that awareness was fully formed and now I can say - in the material sense, I don't need anything else.
Straight ode turned out for renting a house in Phuket. Okay, I will not agitate anyone, but just tell you what we did.
If you are traveling to Thailand for the first time, thenI recommend to book a house or apartment in advance. This is done only through a realtor. Yes, they are not engaged in the cheapest housing and take a commission, but this allows you to avoid unnecessary trouble in an unfamiliar country. Believe me, independent searches on the site is a difficult task and it is not worth it. You're going to rest.
Send me a request, advise a trusted realtor, whom I myself trust. And then in recent times a lot has become a scam.
Send request>
Our home in Phuket
We found a house in just two days of languid searches (evenfor 1.5), looking only about 8 options. I thought it would be harder and more expensive when I read the blogs of other travelers. We found the first 7 houses while riding a bike, the 8th, which we rented through an ad in an electronic newspaper. So do not neglect this option.
As a result, for 9,500 baht / month we rented a house forPhuket is not far from Rawai Beach, and we will live in it for two beautiful months. Water is free, electricity is charged (as a result, we paid 370 baht per month). The internet is free wifi 10 megabit both ways, which is very cool for Thailand. True, with stability he is just as bad as in the whole country. At the owner, we also rented a bike with a box machine for 3000 baht / month, although they usually give up for 3500 baht (how to rent a scooter in Thailand).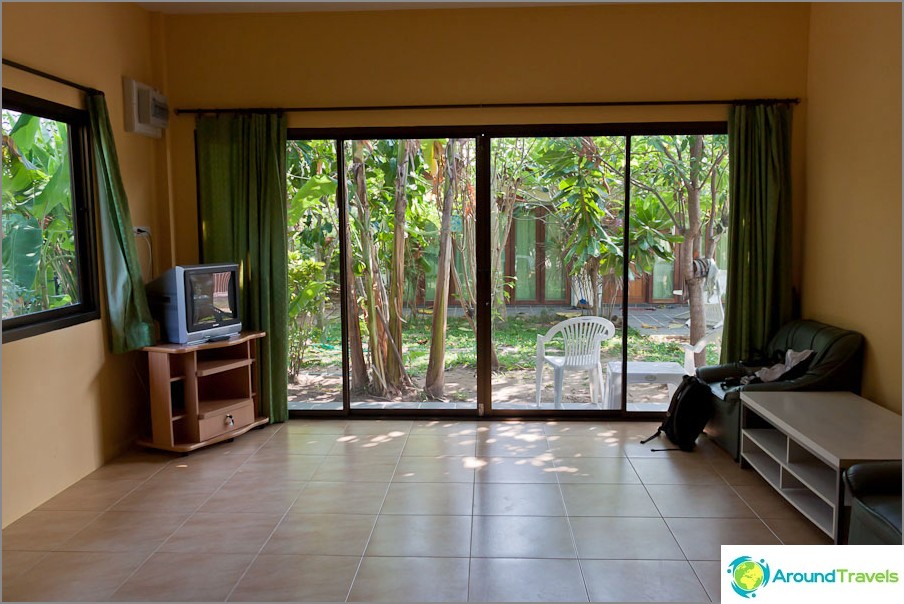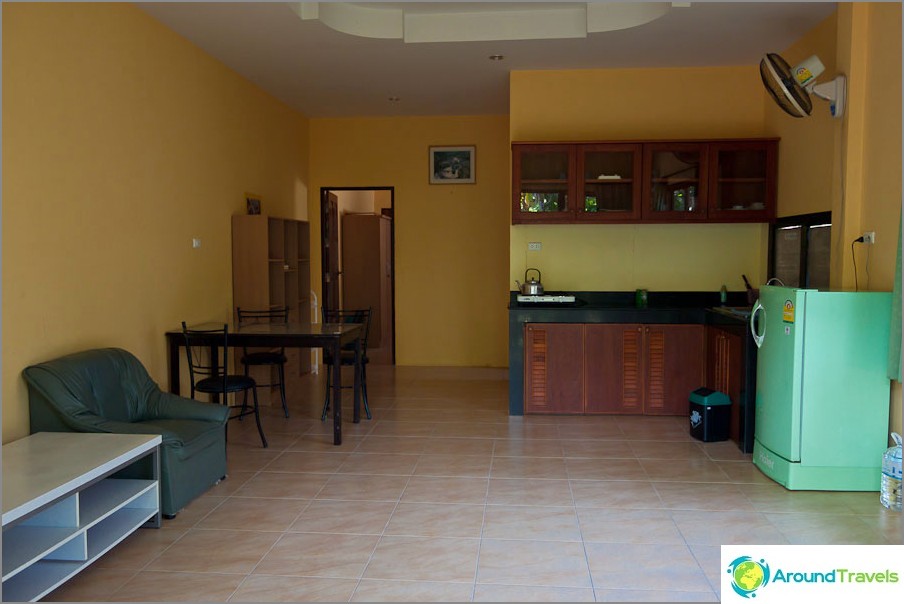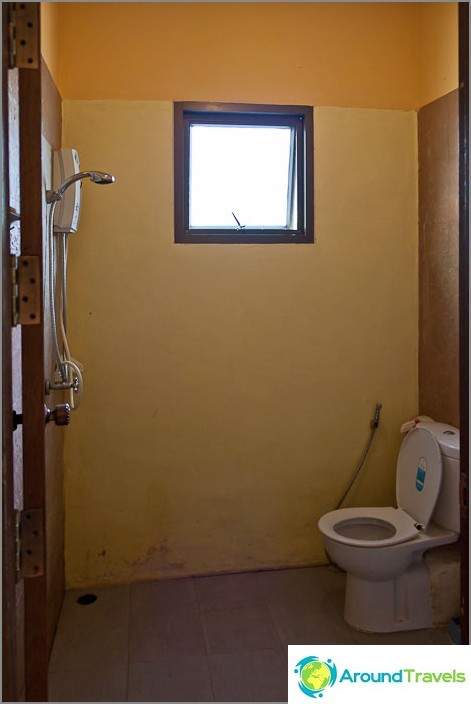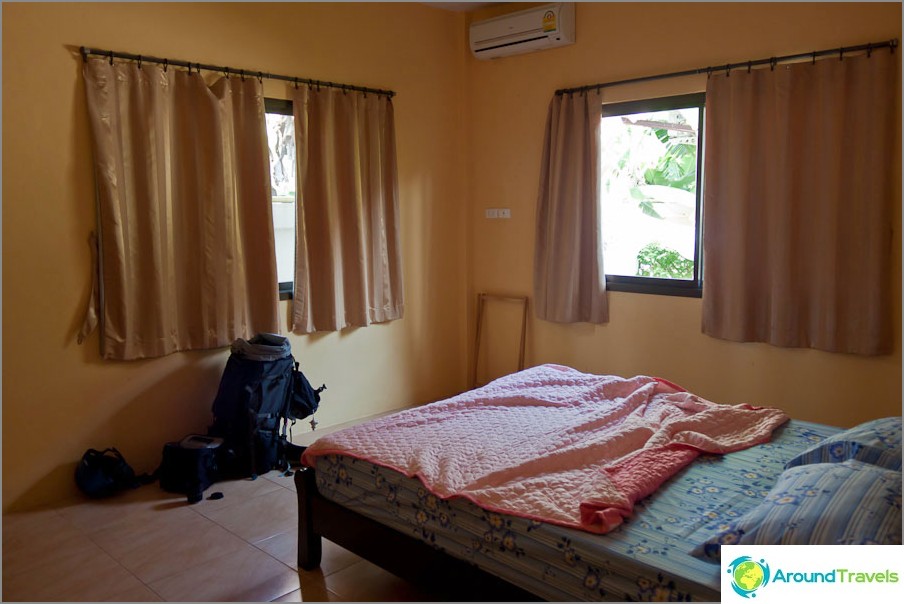 Since we now have a stove, we are trying to cook Thai food by ourselves. Pad Tai, though outwardly turned out to be different, but no less tasty than the original in Thai cafes.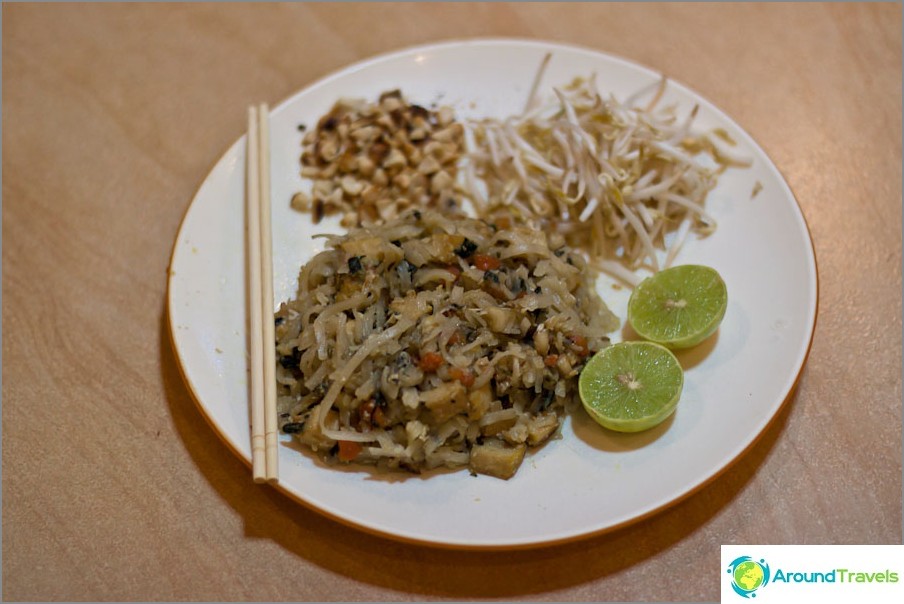 And we are very lucky. Not far from us lives the master of yoga, who came to Phuket to conduct classes. And now every morning, at 6 am, we sit in all sorts of asanas to the sound of the surf or under the rustle of pine forest.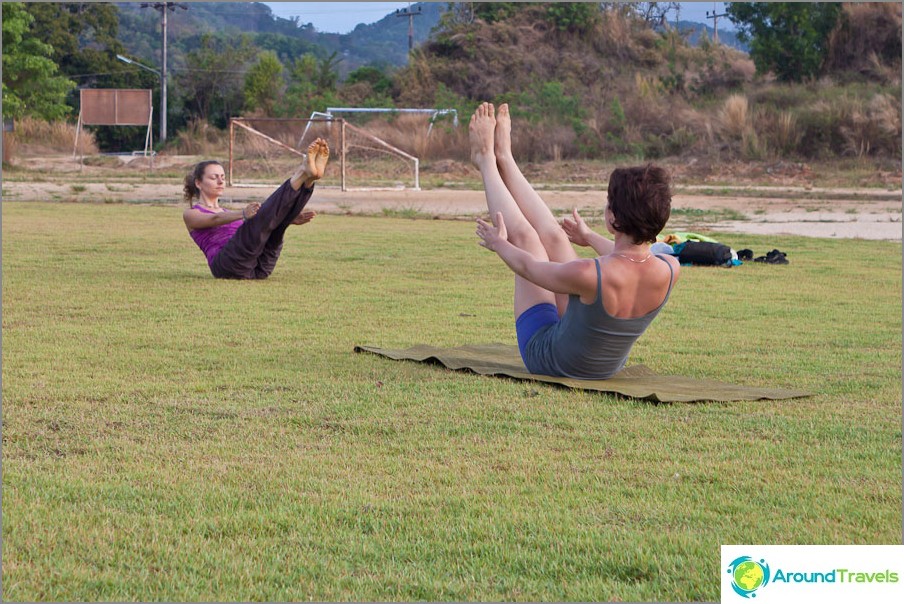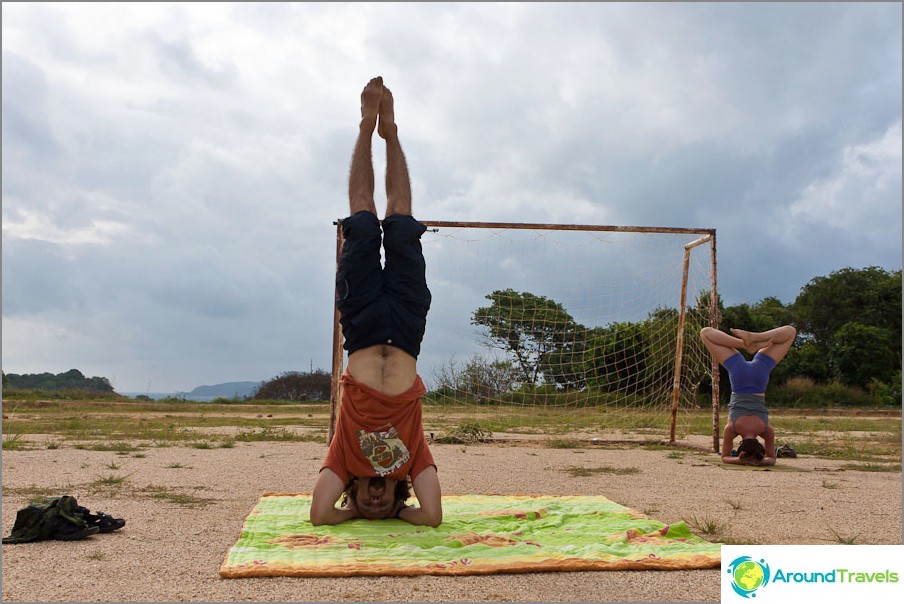 Area around
We have here 6 houses with common guardedterritory, surrounded by a common fence. We are just looking for this, so calmer. The house is almost immersed in greenery, we live here, as in the forest. And in the appendage we got a pool. So great that in the intervals between work, you can swim a bit. Especially in the rain, or even more correctly to say in the shower, which is already the second day, and because of which we were left without the Internet for a while.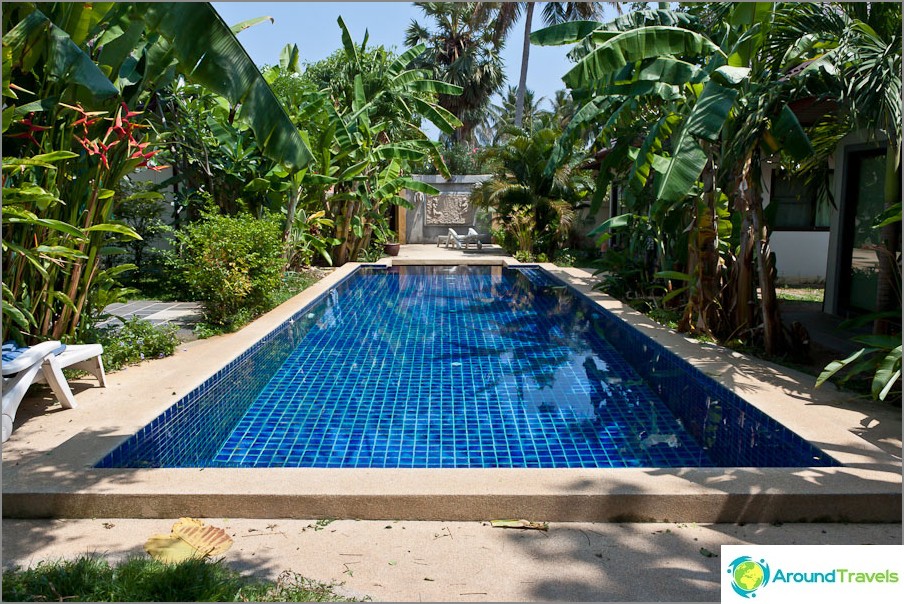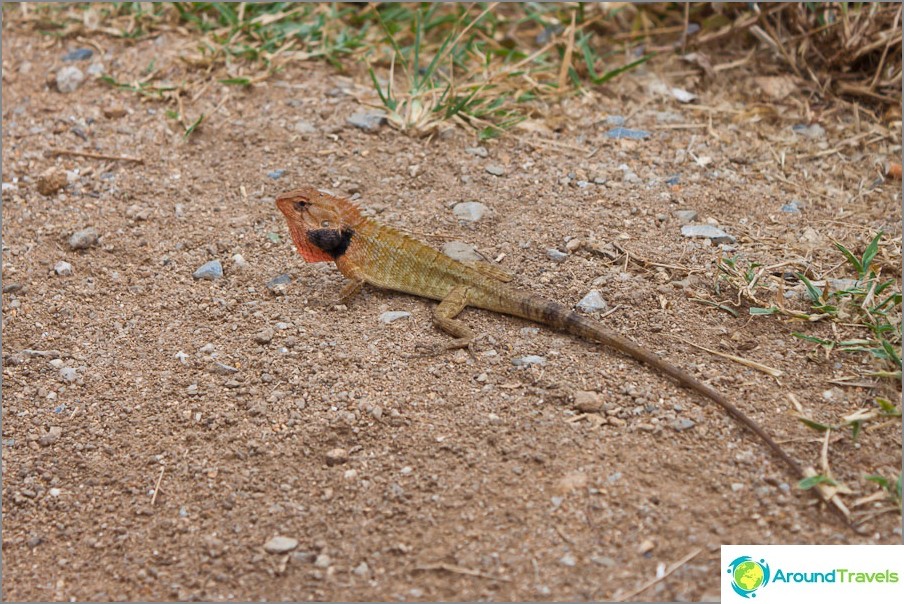 About animals, by the way, wrote a separate article - dangerous insects of thailandso that there are fewer questions. And yes, everyone usually asks for proximity to the sea. I answer, even though we did not have such a criterion when looking for a house in Phuket, but it turned out that the beach where you can swim is about 10 minutes on a bike, to another where it is impossible - 5 minutes.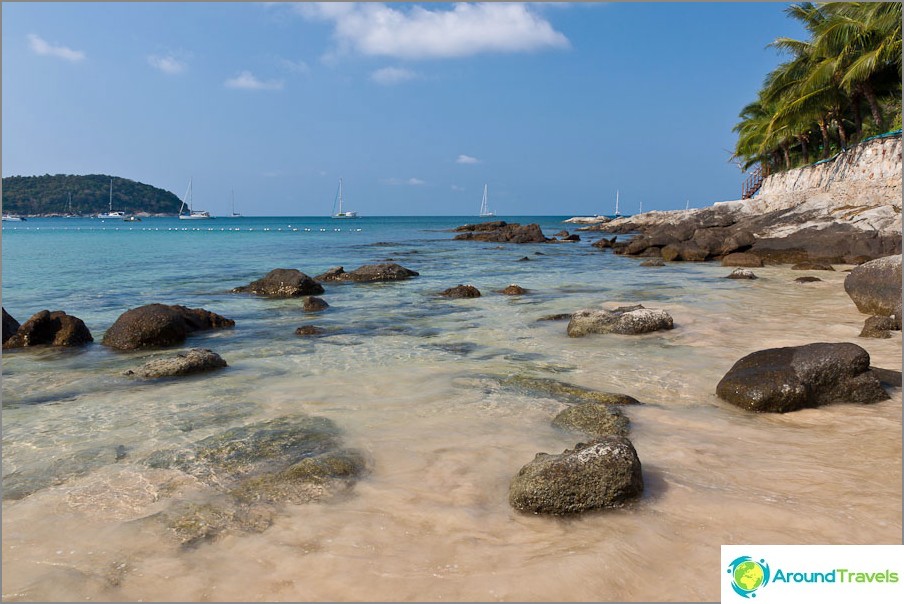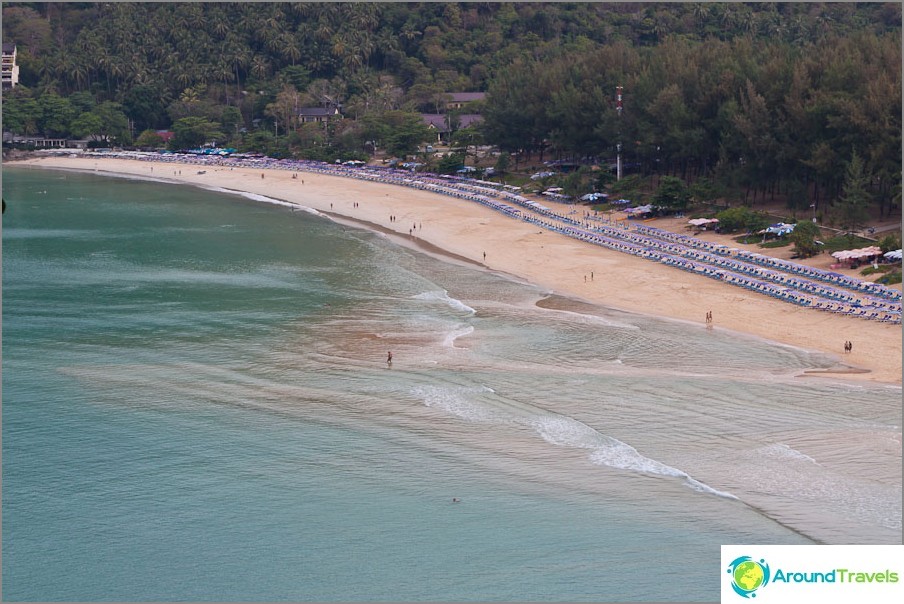 And we have a number of crematorium! And the smoke of the burned bodies at night envelops the entire area (Homeric laughter behind the scenes) ... Scary? Just kidding, in fact, looks very cute, like an ordinary temple, only the pipe sticks out, and the monks sing periodically. I would not say, I would not even pay attention.
After that, at home, we ended up in another and not quite at will. Read more here:
Our new home in Phuket - eviction and relocation.
Life hacking 1 - how to buy a good insurance

Choosing insurance is now unrealistically difficult, so to help all travelers, I compile a rating. To do this, I constantly monitor forums, study insurance contracts and use insurance by myself.

Life hacking 2 - how to find a hotel 20% cheaper

First, choose a hotel on Booking. They have a good offer base, but the prices are NOT the best! The same hotel can often be found 20% cheaper in other systems through the RoomGuru service.

Discount hotels