Today I want to bring to your attention ourThule Urban Glide stroller review, which we were given for a test. The stroller is not simple, but running! When I first heard about such a combination, I thought that it would not be in demand with us. But no, I have already found reviews that some parents buy directly for running. And it's great that the activity goes to the masses! Although, of course, most use it as a normal baby carriage, for it is amazingly comfortable. The closest analogue of the famous models of Mountain Buggy Terrain, only it is heavier by 4 kg, and costs twice as much.
The content of the article
Specifications and price
Thule Urban Glide Sport Strollerpositioned as universal: for the city and for running with a child. There is one more model of Thule Glide (without the Urban prefix) with large wheels, a fully fixed wheel, here it is straightforwardly running. But I think it will be less popular, too narrow a niche.
Three-wheel stroller. The front wheel is rotatable, but can be fixed in two positions.
There are shock absorbers on the rear wheels, a power reserve of about 10 cm.
Weight 10 kg, load capacity 34 kg. We actually Yegor heavy.
Handbrake is not, there is only a foot. It is tight, but its construction is unkillable, and holds very well.
The back reclines to 160-170 degrees somewhere, that is, not completely horizontal.
Rear wheels with a diameter of 40 cm, front 30 cm. The rear wheels are easily removed by pressing the blue button on the center of the wheel, the front only with a screwdriver. The rear wheels are 65 cm wide.
The length of the stroller when disassembled, the handle inhorizontal position, front wheel turned forward - 136 cm. Length, if the handle is lowered - 115 cm. Dimensions when folded, 89x40x53cm with wheels removed.
Seat width 28-32 cm, depth 21 cm.
The price for August 2015 is 32600 rubles. You can buy here in this store.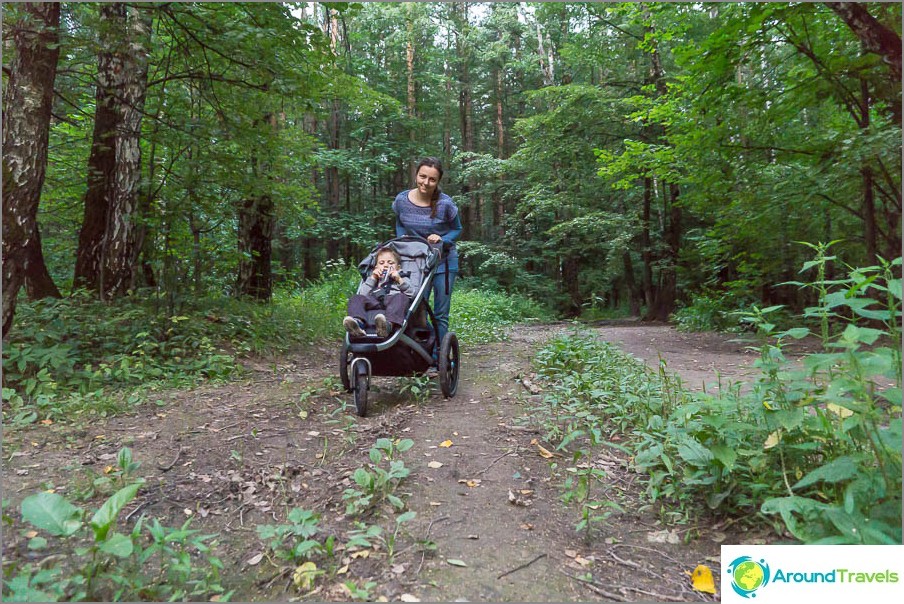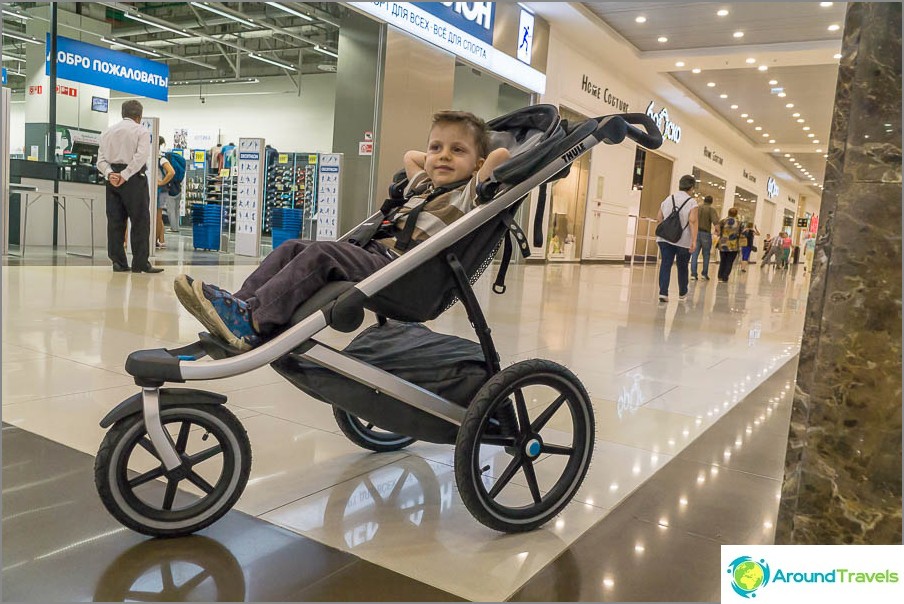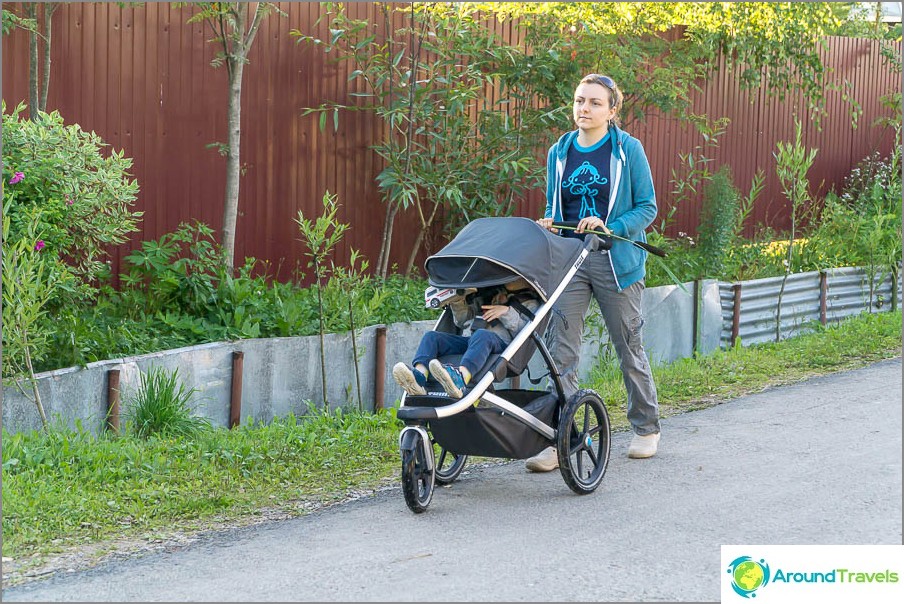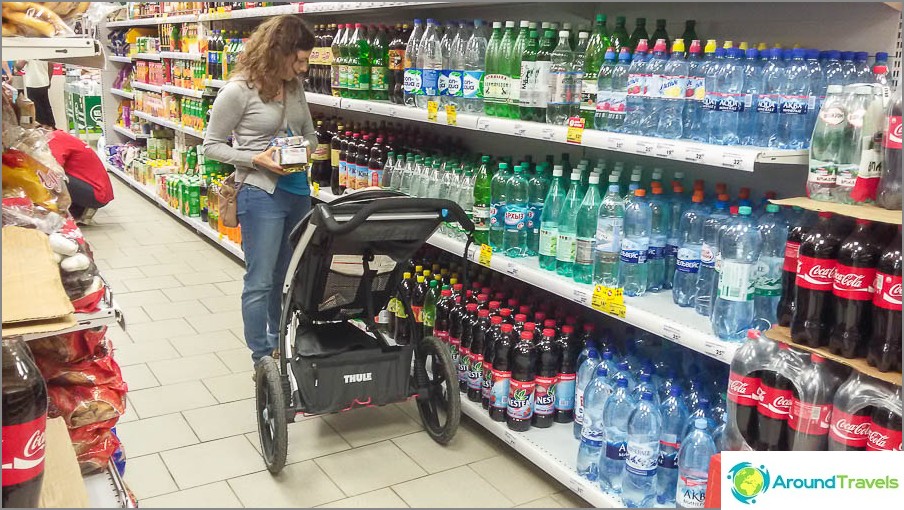 There are no photos during the run, but this process is captured on video.
Review and photo
Let's move from numbers to impressions. I think you already understood that we really liked the pram. The first thing you pay attention to is how well it is made, it's nice to even touch it. The second thing you notice is control! No, I knew that tricycles are easier to steer, but to be so maneuverable ... I don't know how fragile women are (although Daria liked it too), but I can easily control Urban Glide with one hand, which is very useful in some situations. Moreover, it has such an easy course that even on a small slope one cannot leave it without a brake, it will roll. Well, and lastly, you would try to fold it, we have not had a single baby carriage (and we have already changed 5 pieces), which would be so easy to fold, she does it herself. In the video, I filmed this process.
Enumerate the various nuances of the points.
The stroller just "floats", apparently due to the largewheels With such it is more convenient not only to run, but also just to walk, both along the streets and off-road. We specifically walked around the city and shopping centers, in the country on asphalt and rubble, through the woods and potholes to check. SUV!
As I said, the permeability is at the height, buton its own three-wheeled concept of an amateur. For example, at the exit from the curb (especially at an angle to it), the front wheel gets crooked because of which the wheelchair is leaning. It is unlikely that it will collapse, but it is necessary to hold the handle firmly, you never know. With four-wheel is much easier in this regard. Probably, this is the only significant minus.
It weighs only 10 kg, that is, less than their classmates. It feels easy, although, looking at the figure, you can't say it right away.
The fabric is thin like a raincoat fabric, read that in the heat on it the child can sit hot in the face, but we didn't come across this, Egor did not sweat.
Unfortunately, there is no bumper and for us this is a minus, somehow we are already used to it. But you can buy a table for 2700 rubles, if someone strongly needs.
In the folded state can not stand (as withwheels, and without), just leaning on the wall. In general, in terms of storage, the stroller is a bit cumbersome and not for small apartments / corridors. However, if you have a classic four-wheeled carrycot quietly standing on the staircase or in the hallway, Thule Urban Glide will stand up for a long time.
The front wheel is fixed in two positions: under the carriage and in front of it. In the latter case, the wheelbase increases, and it is more convenient for running. However, I ran with the wheel unlocked.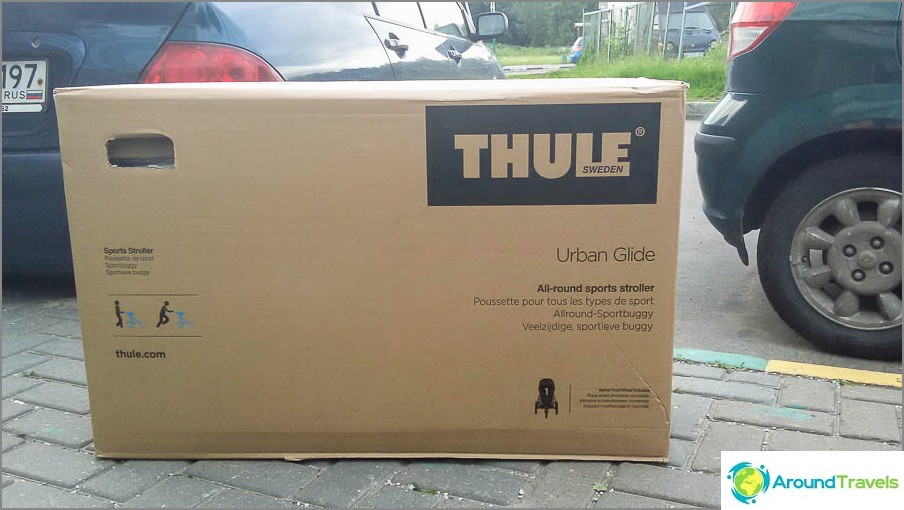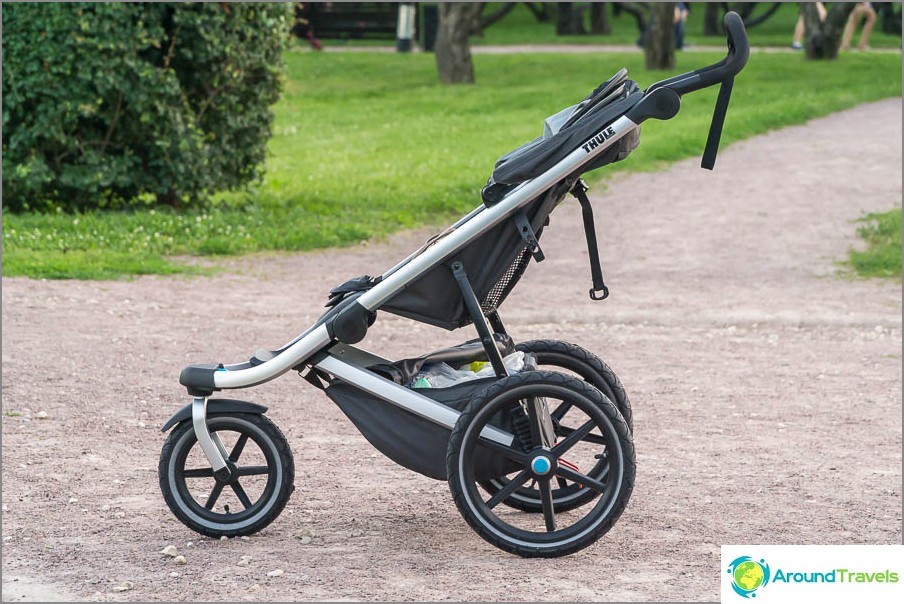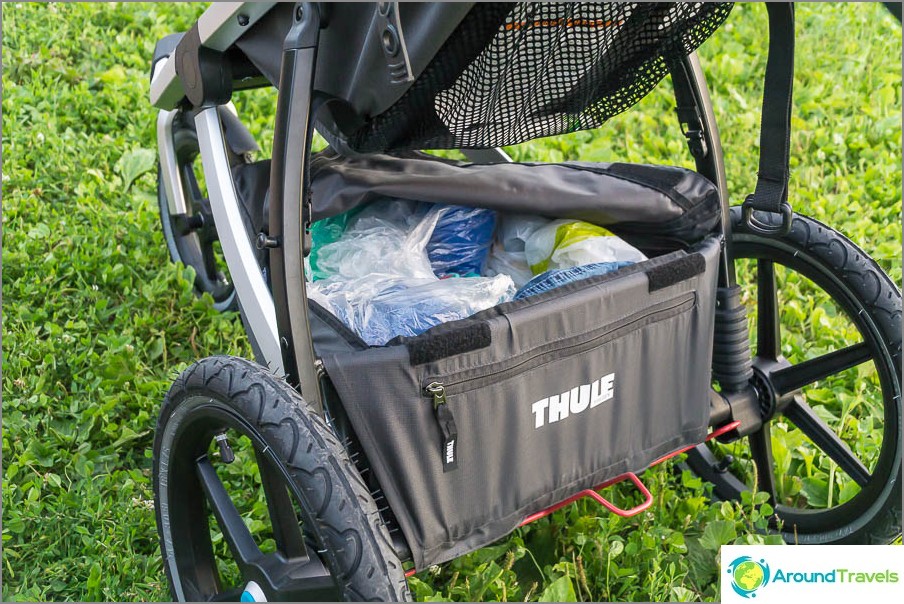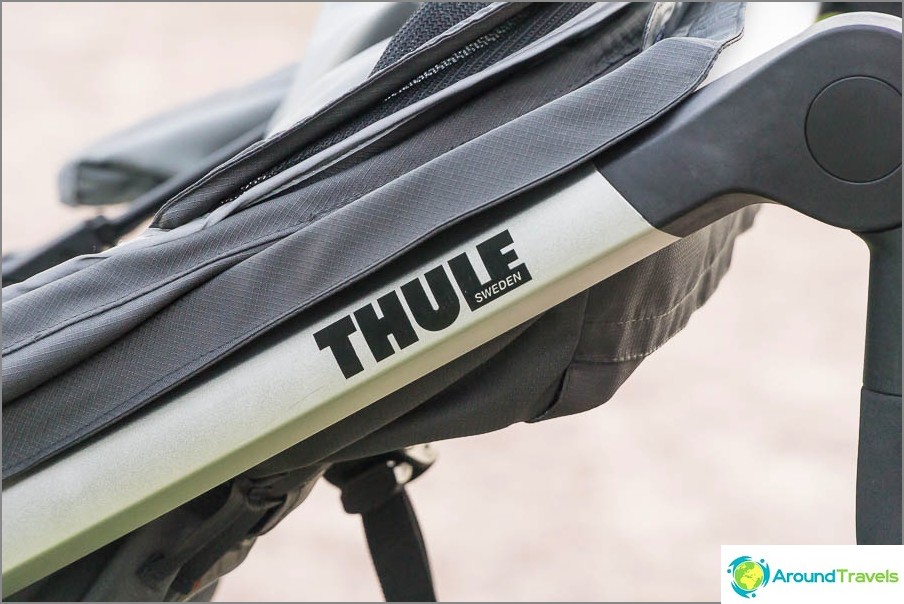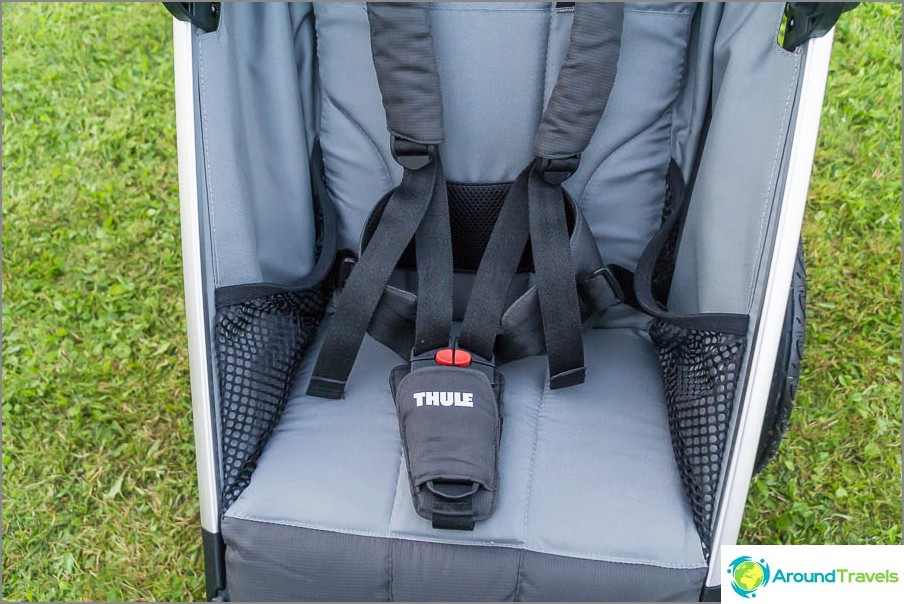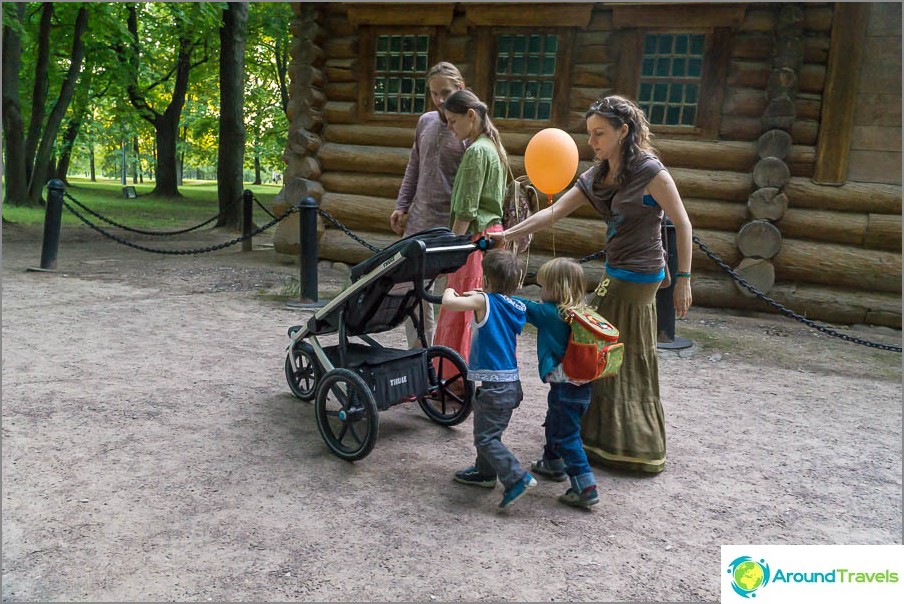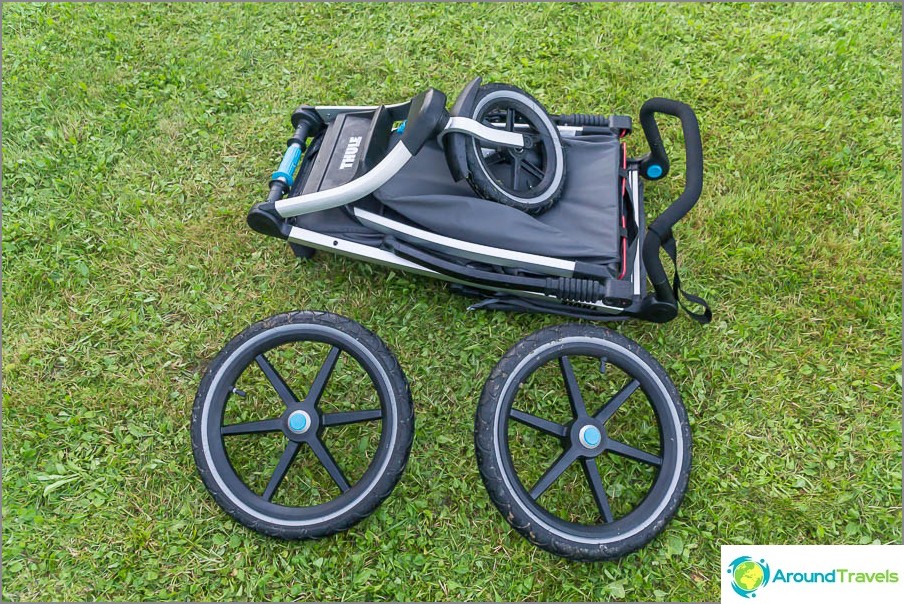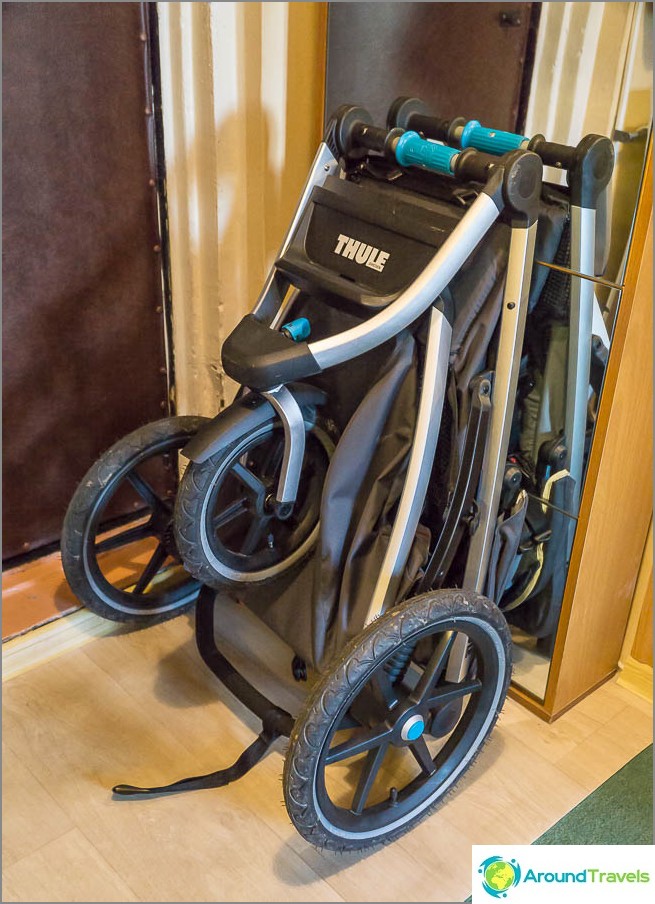 The only thing that does not fit much inRussian realities - a combination of wide rear wheels and small shops and elevators in residential buildings. In Auchan and Perekrestok, you will enter and purchase without problems, but in a small store where you install either a narrow door / ramp, or narrow rows available, it will be crowded. In some places do not go. The same with elevators, for example, in our house we are placed with a carriage in a small elevator (we also have a cargo), and it comes with great difficulty for the parents to come into the elevator, we have to push the doors apart. However, this is more the problem not of this particular stroller, but of our stores / elevators, because with the usual pushchair there too, the way is ordered.
Do I need a stroller to run with a child
I am not an athlete and I run occasionally, but inOverall I liked the idea. In reality, there is such a situation, when there is half an hour of everything, and you can combine the benefits for yourself (to run) and for the child (to be in the fresh air). Only now it is desirable to choose surfaces for running equally, because if you run along ordinary streets, congresses, curbs and other elevations are strained, although the wheelchair absorbs, but the child jumps at each obstacle. I will not say that this is directly critical (the child did not express displeasure), but I personally would like more even streets. I can say the same about our woods driven by quad bikes, you don't run around with a carriage, however, it's not super comfortable to run there without it, and you won't walk with a regular carriage at all.
Ideally, it should be compared with other runningstrollers, but I do not know such others. Therefore, there is only one experience. At first it is very unusual that the hands are in a fixed position, but after 5-10 minutes you get used to it and run, as if nothing had happened. Daria said about the same.
Video
P.S. Our usual stroller Peg Perego Pliko Mini did not last even a year, our potholes finished it off. More precisely, it is alive, but some loose now. Let's see how Thule will behave.
Life hacking 1 - how to buy a good insurance

Choosing insurance is now unrealistically difficult, so to help all travelers, I compile a rating. To do this, I constantly monitor forums, study insurance contracts and use insurance by myself.

Life hacking 2 - how to find a hotel 20% cheaper

First, choose a hotel on Booking. They have a good offer base, but the prices are NOT the best! The same hotel can often be found 20% cheaper in other systems through the RoomGuru service.

Discount hotels