Initially, we arrived in Bangkok for 2 months, but we liked the lessons at the local center of North Light (Daria is already writing an article about him) and we decided to stay for another month. Unfortunately, our apartment on the 29th floor did not want to extend, so I had to move. Actually, I was not engaged in the search for new housing, the agency that rented out our first apartment offered itself an option in a condominium opposite. Apparently they have their own personal arrangements with the owners, otherwise no one would have passed anything for 1 month, we would have to live in a condo-hotel for a lot of money (overview of apartments and apartments in our area.
Our apartment in Chewathai
If you need to find a hotel in Bangkok, thenIt is convenient to choose RoomGuru (this is a service where you can compare prices for hotels in different booking systems). If you need a home, my booking instructions can be found at: How to book a house in Thailand - 5 ways.
Apartment in Chewathai has become smaller than the previous oneand more "empty." It usually happens, there is only furniture. But we have already gained enough good, so we transported it with us: dishes, a slow cooker, a kettle, a blender, bed linen and towels. So there is no problem with that.
The only pity is that in Krabi we don't sweat it, it's just that it doesn't fit into the suitcases, and there it's most likely not to be in a rented house either.
What is our apartment
The apartment is about 40-50 m2: living room + kitchen (stove, microwave, refrigerator) + 2 bedrooms + 1 bathroom + small balcony. Air conditioning in each room (3 pcs), two TVs, DVD player.
Small pool.
Good fitness with exercise equipment.
The air-conditioned lobby on the first floor with tables, sockets, free Wifi (10 / 0.5 mb).
Water heater, coin-operated washers on the 6th floor. There is a room like a library, you can work there.
cost of
Rent - 22.000 baht / month
Deposit - 44.000 baht, returned at the end of the term
Electricity - 5 baht / unit
Water - 18 baht / unit
Internet is not, it can be done only if you live here at least 2-3 months.
Swimming pool and fitness are free for all tenants.
Apartment with "design" and very cute: everything is clean, the furniture is new, good plumbing, the floor is laminate (it is softer to fall on it than on the tile). In general, we like everything. There are only three real drawbacks: the lack of internet, the sunny side (you have to shut the windows and turn on the kondei) and low furniture. The latter, in general, suggests thoughts about the fact that this is such a bachelor's apartment, completely unsharpened by a little boy who is happy to get into all the drawers and throw everything off the bedside tables. Of course, you can still find fault, and include here: a small refrigerator, a cramped kitchen without a table, a glass dining table, and no personal washing machine. You quickly get used to good
On the other hand, the apartment assumes that you live here for a long time, and you yourself acquire the furniture and appliances you need.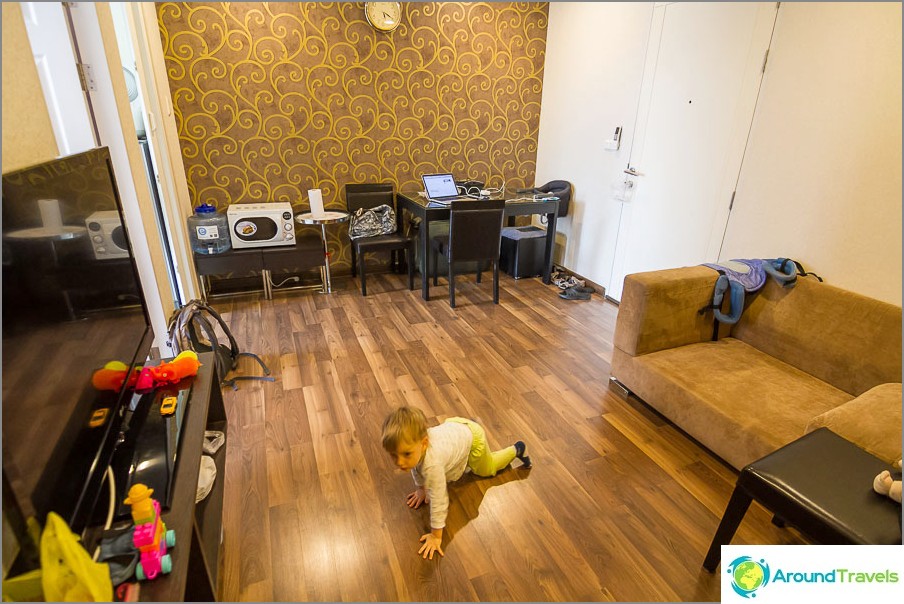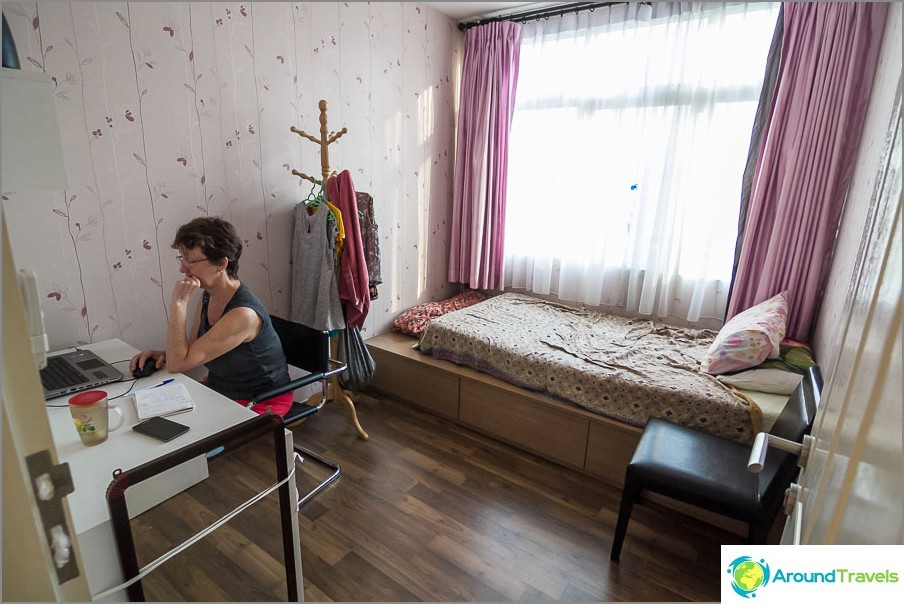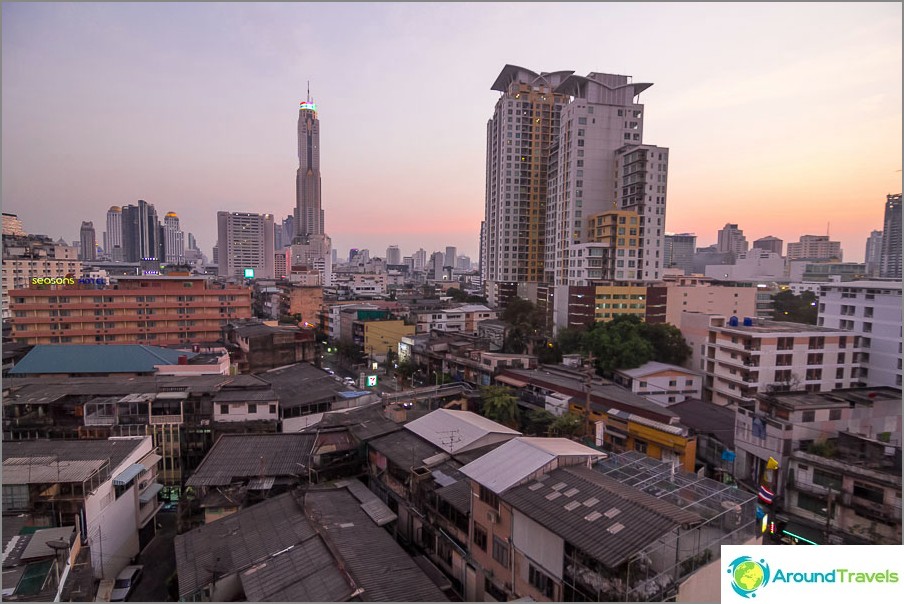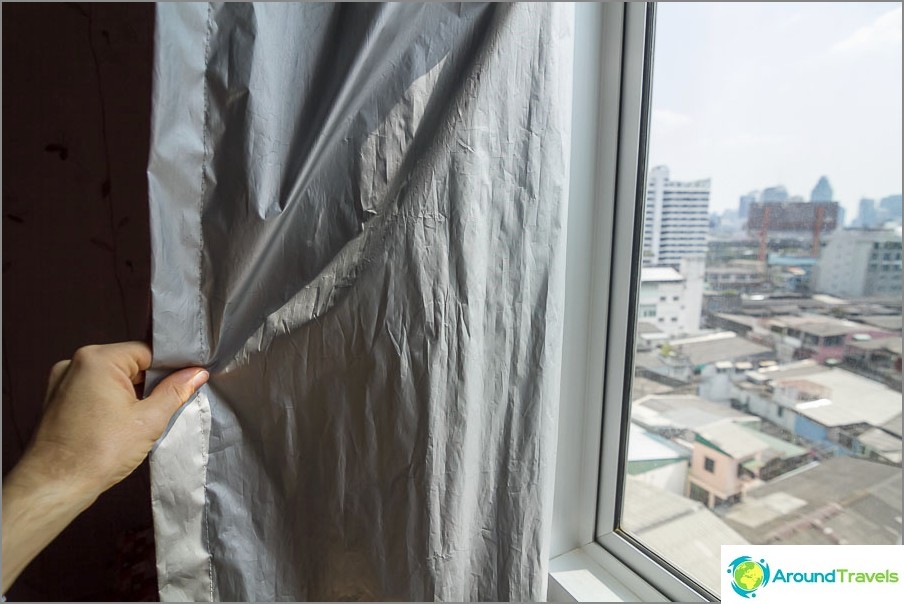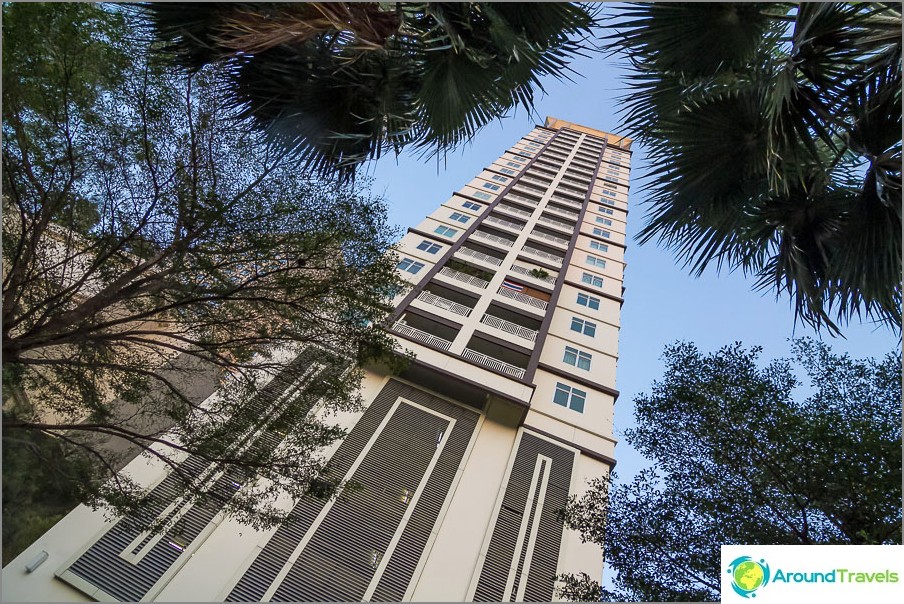 But in general, I am still amazed by the love of Thaisfor inefficient, angular and sometimes too bulky furniture - only one round glass coffee table is worth something. We spent the whole day thinking about where to stick him so that nobody would drop him, in the end, they tied him in general. Also finishes the ill-conceivedness of some things: the doors stumble on each other, in the kitchen FIG turn around, there is not a single shelf on the wall (so you want to drill holes and hang something), not a rational use of space. This concerns not only our current apartment, but in general. Although, for sure, it is not only among Thais.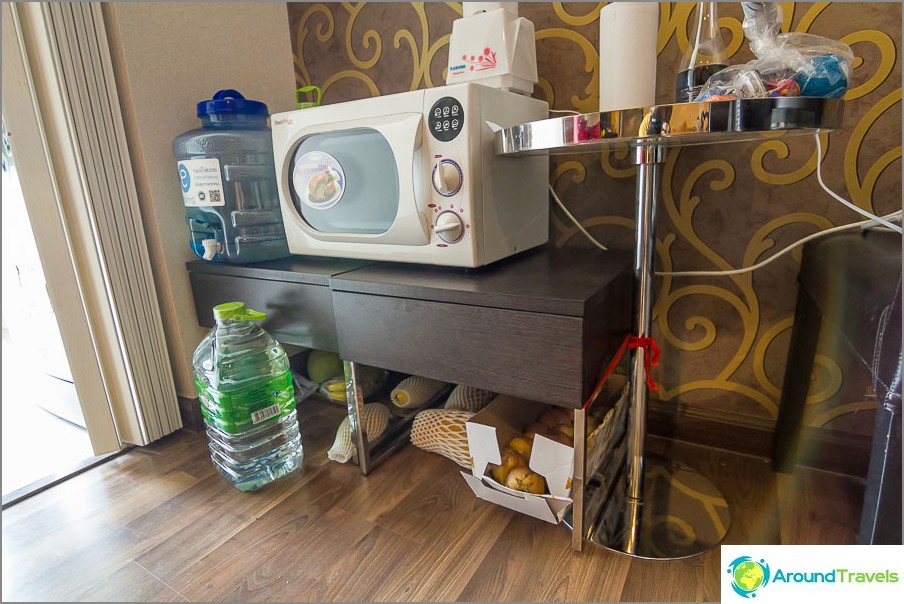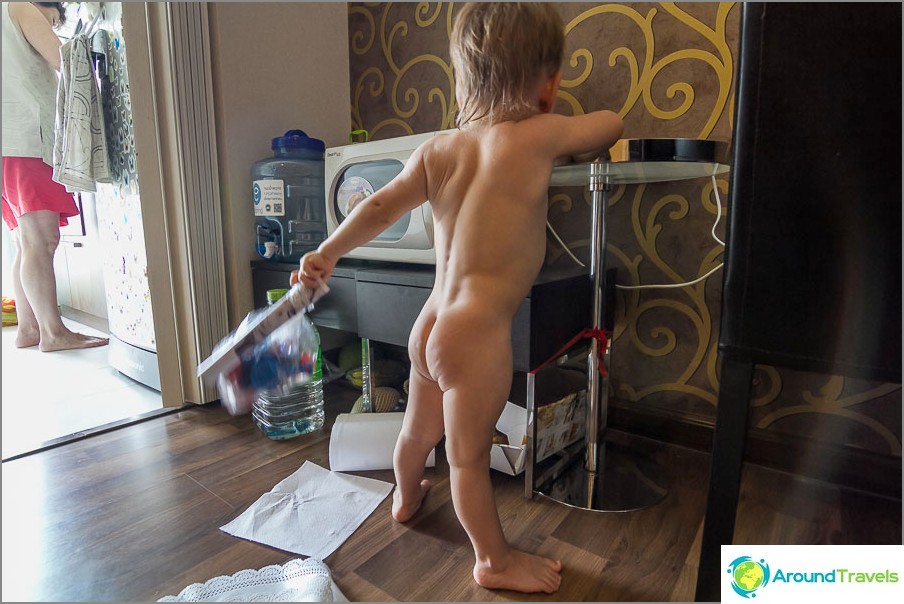 Facilities
There is good fitness in our condominium. Yes, this is not a full-fledged gym with barbells and a full range of simulators, but very well. I personally have enough
I can't say anything about the pool at the moment, I don't like swimming, but I hope that the water will be there without cooling, otherwise Egor will not want to enter the water again, as in the previous apartment.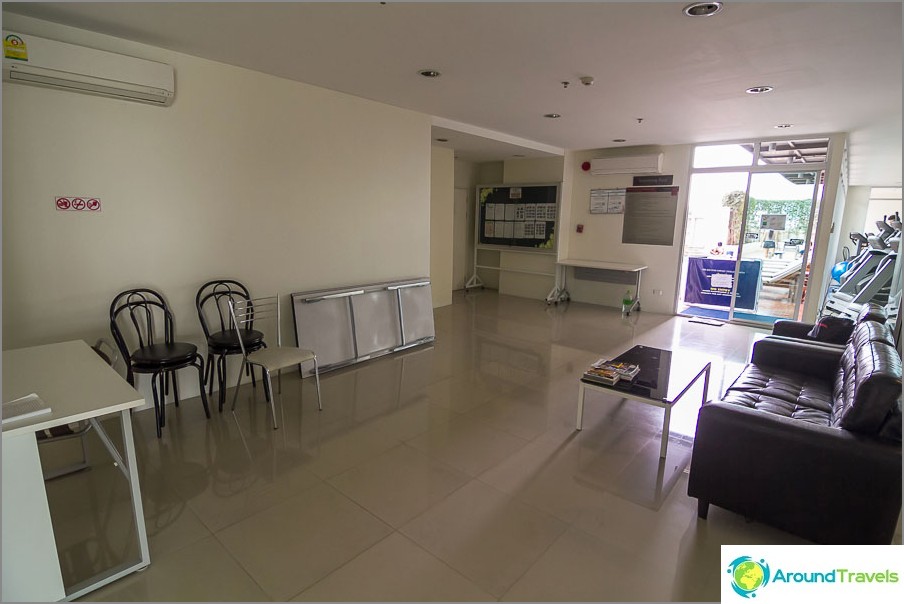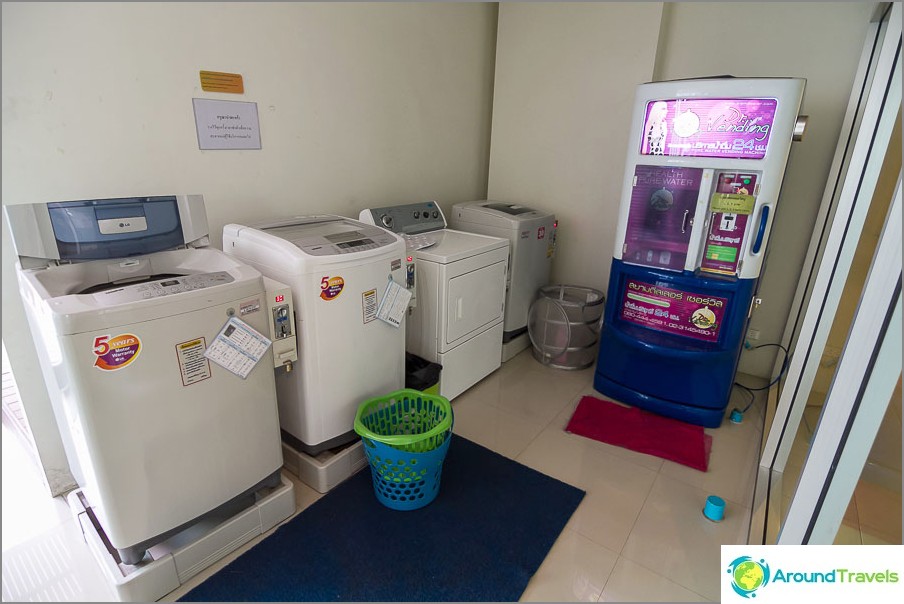 the Internet
Now we live on the 9th floor, and the phone catches much better than on the 29th. Although, 3G from Dtac for some reason does not like these heights. Checked on the 6th floor and there everything is in order. And since we do not have a fixed Internet (too short a period), we really need a mobile Internet. While here we have found an option in temporary use Internet from True Move.
There is also an Internet in the lobby on the first floor. But it's kind of strange: it works somewhere until 20 o'clock, and in the daytime the laptop also does not always connect, you have to completely delete the stored wifi there and create it again. And in the lobby mosquitoes! Straight hordes, the day is not very disturbed, but closer to the evening you sit right in the cloud. Hello island!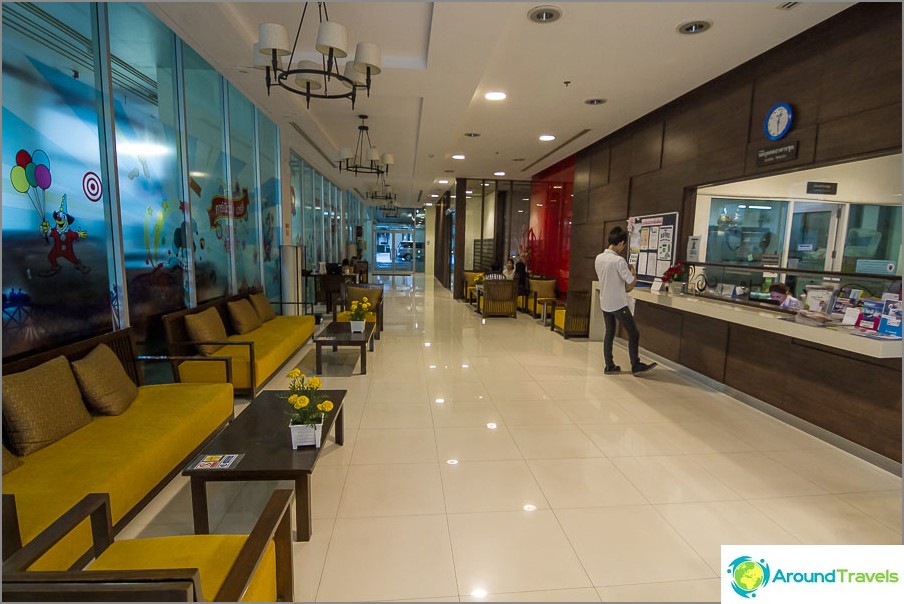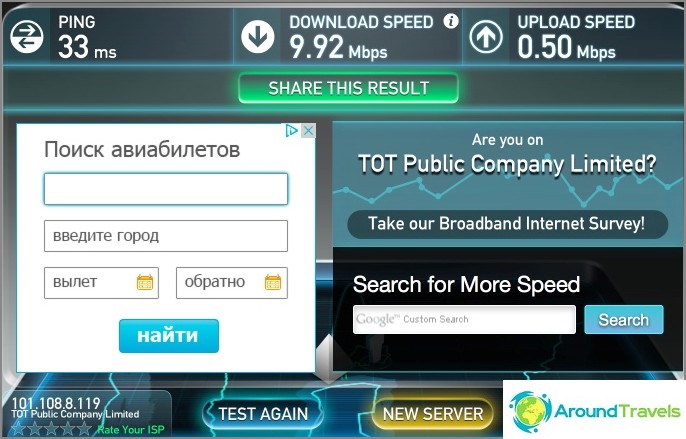 Chewathai
Chewathai
Condo Chewathai. Read more about condo.
Condo Chewathai. Read more about condo.
P.S. In this condominium there is no possibility to rent an apartment through the reception. Therefore, two options, or go to the agency that is located below condominium Complete Rajaprarop, or search for hosts on classifieds sites. How to look for an apartment in BangkokI already wrote.
P.P.S. After leaving the apartment, we were charged 1,000 baht for cleaning, and this includes washing the master's bed linen.
Life hacking 1 - how to buy a good insurance

Choosing insurance is now unrealistically difficult, so to help all travelers, I compile a rating. To do this, I constantly monitor forums, study insurance contracts and use insurance by myself.

Life hacking 2 - how to find a hotel 20% cheaper

First, choose a hotel on Booking. They have a good offer base, but the prices are NOT the best! The same hotel can often be found 20% cheaper in other systems through the RoomGuru service.

Discount hotels