Well, so we moved
Initially, I was not very enthusiastic about our first homewhich reminded me of a "plywood" summer house inCrimea or cottage. But Daria insisted that she wanted to live with a beautiful view from the window, plus with Yegor it is so much more convenient to go swimming. As a result, the general cleaning of dust and debris, a month of life overlooking the Gulf of Siam, and the opportunity to be at sea 30 seconds after leaving the house, did their job - we generally liked the house. And when I drove and looked for more housing on Bang Po, Maenam, Chongmon, I generally understood that the first line for 15 thousand baht per month is a very, very good price, considering that our house is really large in size ( very important), and payment for electricity comes at government rates! Conde works with us for 14 hours a day, which adds a good amount per month. So, let anyone write that our first home is expensive / bad or something else like that, but for this money, indeed, there are very few such options.
The content of the article
Thought, doubted
If you rent a house, then read my post-booking instructions: How to book a house in Thailand - 5 ways. Also remind that we have personally collected me catalog of houses on Samuiwhere more than 70 houses with a map and photo. Accommodation for a short period while looking for a house can be booked through RoomGuru, it's just a mega-service, you can immediately see in which booking system (Booking, Agoda, Hotels, etc.) the desired hotel is cheaper.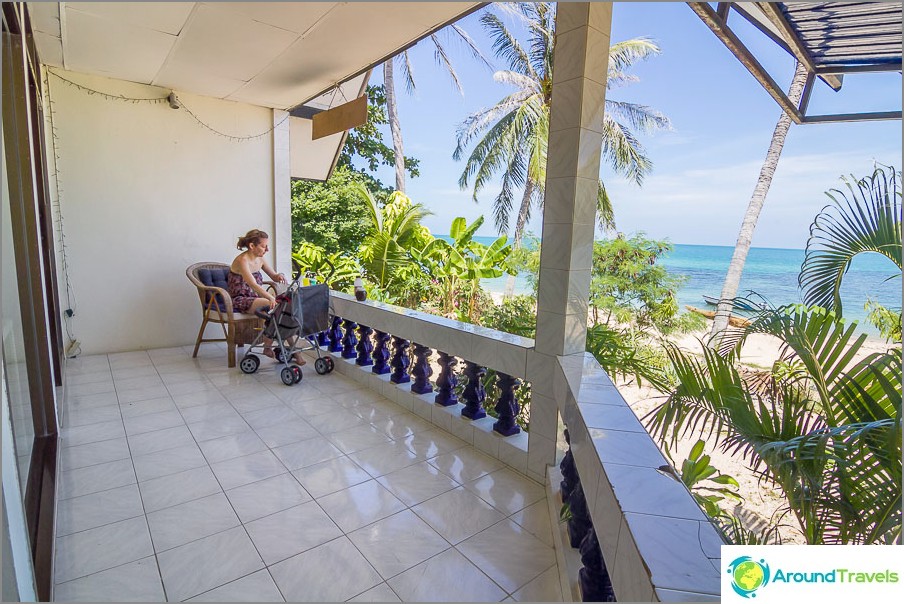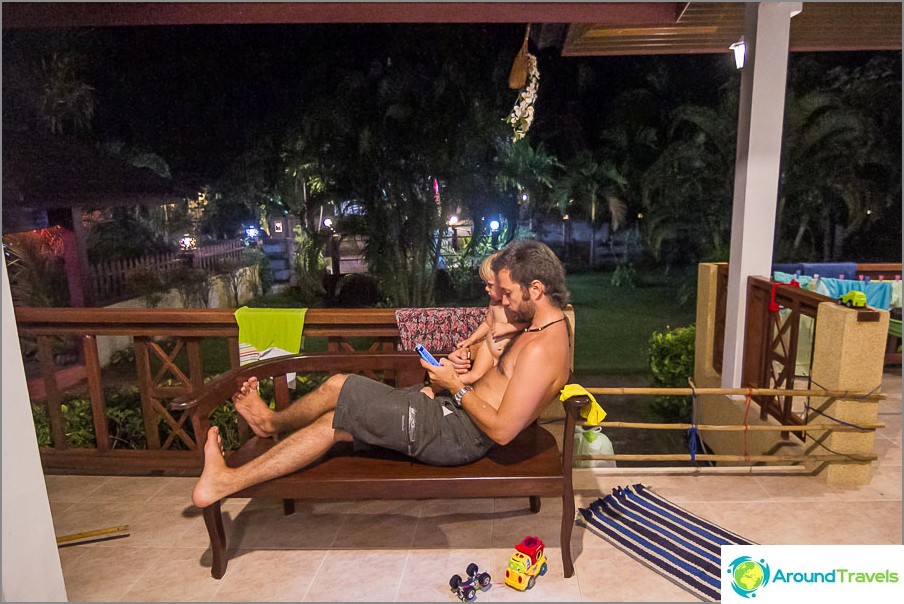 In general, we had long doubted to leave here ornot. I will even say more, there is already a line lined up on this house, because people can not find something like that. At Bang Po, it's almost the only option at all, because those houses that are better and more expensive are booked for years in advance, and not everyone will be willing to pay 30-40-50 thousand. By the way, the Bang Po area is considered not only a good place for me: it is quiet and calm, the entrance to the water is shallow and without stones, which is ideal for young children, there is never anyone on the beach, there are very few people here, that there are Europeans and Thais. Imagine, you go to the beach, and there are a couple of people all over, a fairy tale is simple! This and valuable Bang Po. Yes, there is no infrastructure at all, but if there is car or bike, then 4 km and you are on Maenam, where the market and cafes, or 11 km and you are on Bo Phut, near BigC / Tesco and in the center of teeming life.
Once again, I am convinced that we have some kind of non-standard apparently views on housing and beaches, however, like our friends and acquaintances longsters
Very often, agents or those who know the type know more to me, they say one thing (you won't find a place, you can't take a car, the beach is awful), but in reality I've got completely different.
Why did we decide to move
If everything is so good, then why did we leave? It's simple. First, in any case, we need to check whether we need the first or second line from the sea, or 10-20 minute walk or 5-minute machine availability is enough. Perhaps we will be back on Samui next year, and then we will be better aware of what criteria are in priority. Secondly, we are now pretty quickly tired of life, so it should still be more comfortable. Although in reality, so far none of the friends have understood why we need to move, because all our "taps are flowing", "the levels are different", "the furniture is not very much", "the windows are rusty" did not convince anyone
I still remember our past trips as I lived in the closetor how we lived in house with worms. Eh, how great when there are few requirements, housingIt is searched very quickly and you don't need to set a substantial budget for it. And I miss traveling with a tent ... A dream to load a car with all sorts of camping accessories and go around Europe, or even let some Pine Paradise in Arkhipo-Osipovka.
Our second home on Samui
Immediately clarify what I mean by eurostyle. In my understanding, Taystal is when the kitchen near the house is on the ground, that is, on a different level, as well as those small houses that are made of wood and look more like a bungalow than good-quality buildings. That's all that is not, for me Eurostyle. I don't know what to call anymore. So here in Tae almost all the houses in this price category are Thaistal and unlike European cottages and chalets.
Initially, we thought to live in a house for 12 thousand2 minutes from the sea (near Maenam Resort). There is a nice green area, clean and comfortable houses, a wifi access point right in the house, a great beach, but unfortunately a small area, and our crawling boy would be very, very boring in a day. So I found a bigger house. I accidentally got rid of the link to the agency where info was about good houses, but where they weren't specifically mentioned on the site. Thanks to Uncle Holmes's deduction method, I finally calculated their location, although now I understand that it was difficult not to notice them if I traveled in that area.
If you are traveling to Thailand for the first time, thenI recommend to book a house or apartment in advance. This is done only through a realtor. Yes, they are not engaged in the cheapest housing and take a commission, but this allows you to avoid unnecessary trouble in an unfamiliar country. Believe me, independent searches on the site is a difficult task and it is not worth it. You're going to rest.
Send me a request, advise a trusted realtor, whom I myself trust. And then in recent times a lot has become a scam.
Send request>
Price
Rent - 15,000 baht / month (through an agent of 18 thousand)
Wifi - 1000 baht / month
Water - 300 baht / month.
Gas - 390 baht for the average tank, because it was empty.
Electricity - 8 baht per unit.
Total, we can assume that the house is 16690baht / month, as usually everywhere the Internet and water for free. Plus, the electricity will come a good account, because 8 baht / unit is a bit too much. But in my opinion, even the total price is quite normal. Although, frankly, it was possible to not connect the Internet, I have enough of my 3G mobile via DTAC. We were also promised cleaning once a week, if it turns out to be normal, this is a saving of 1000-1200 baht per month, you can deduct from the cost.
House
The house is big: a spacious bedroom (two beds would fit in), a small living room turning into a kitchen, a typical sauna room and a rather big two-part veranda. In one we have a hammock, in the other there is a table where we tear durians into pieces with our bare hands, and I periodically work. The kitchen is equipped with a gas stove, a refrigerator, a thermowat and a toaster. The house is clean, solid and light, we really like it. Mosquitoes are not everywhere, but enough for us, because we don't open the windows in the bedroom, the air conditioner often works there, and in the rest of the rooms, in any case, the doors are wide open. In addition, there are also fewer mosquitoes here.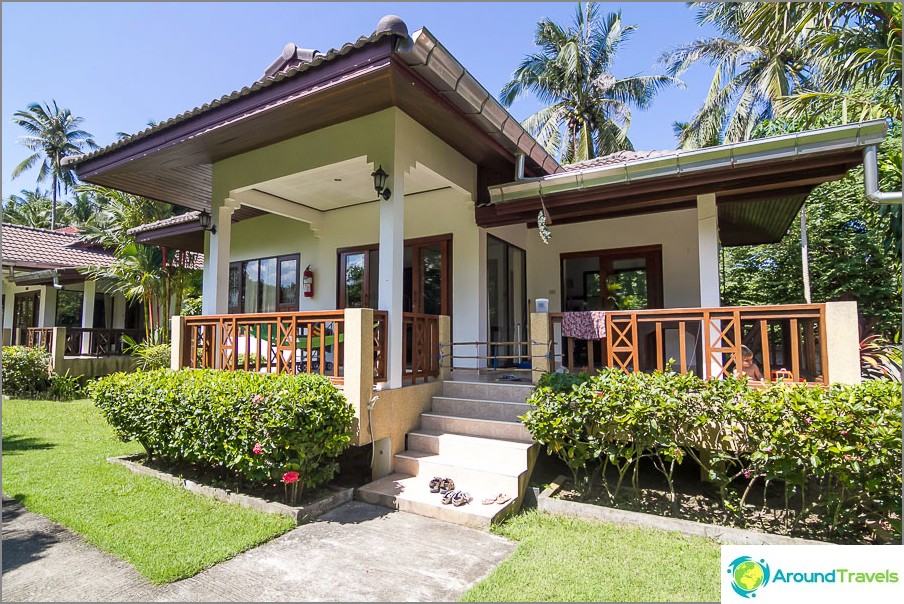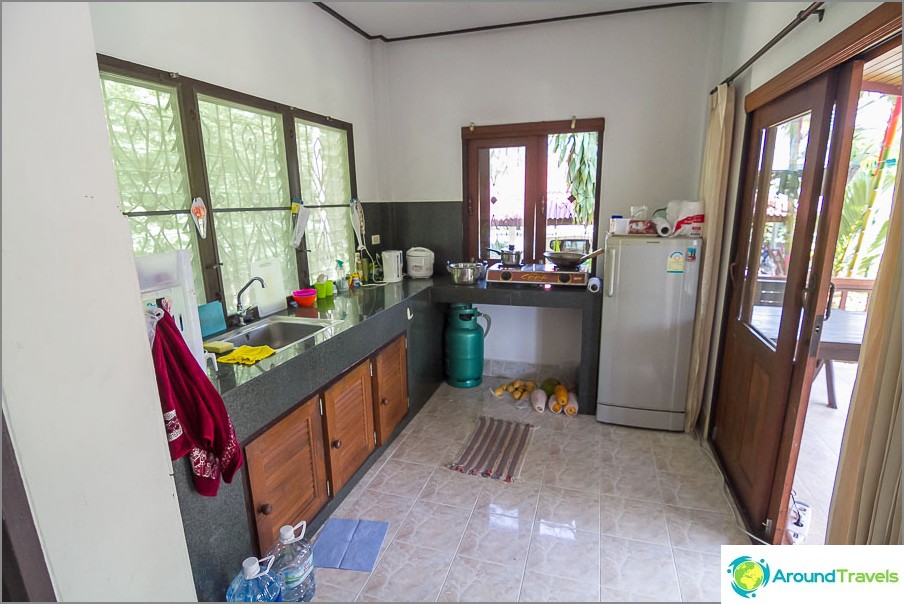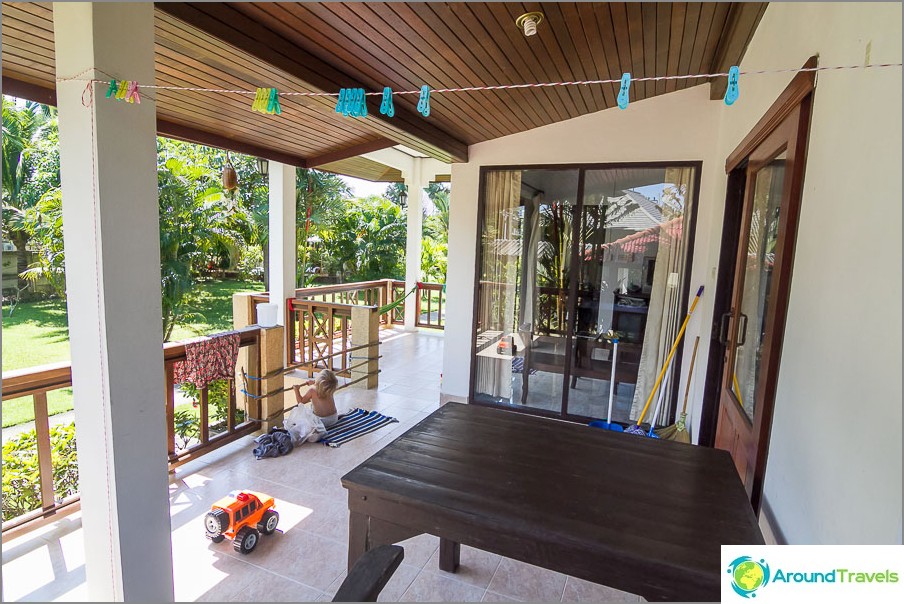 By the way, due to the fact that the house has two exits to the veranda and everything is now on the same level, it is easy to see where Yegor crawls. Previously, the kitchen was, it can be said separately, and it was very uncomfortable.
the Internet
Internet, as I said here dear. The speed standard for Tay is 3 / 0.5 Mb / s or so. Since wifi is common and divided into all houses, it periodically falls, but for my needs it is quite normal.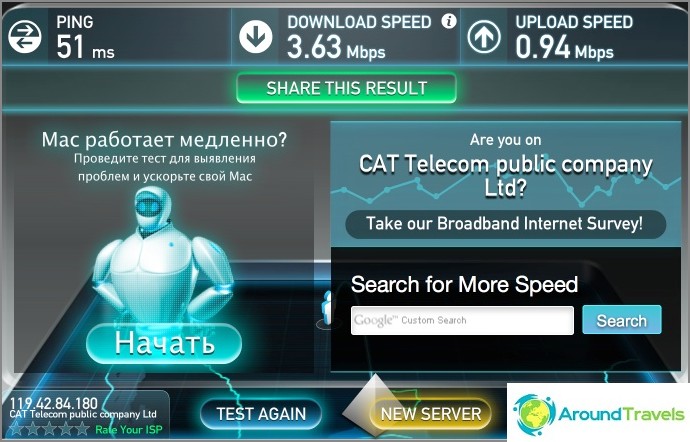 Beach
Go to the beach about 10 minutes. Beach - Maenam near the pier Lompraya. The best place on this beach is not straightforward, but you can walk along the coast a little further away from boats and ferries, and it's already pretty good there, people from neighboring resorts seem to like it. We will periodically go to Bang Po.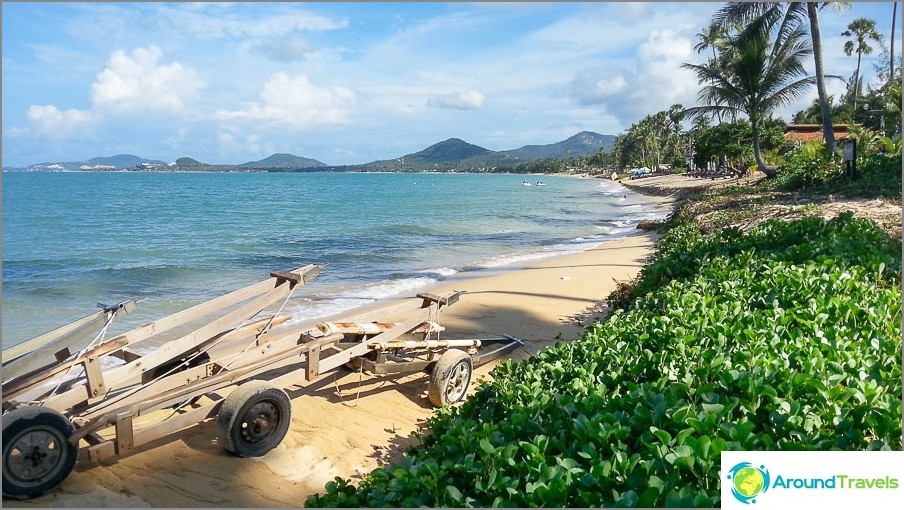 Territory
The advantage of this place is also the territorygrass near the house is a very necessary thing. Although there is still enough verandas for crawling. There is also a pool, in which, according to reviews, a lot of chemistry is thrown, as well as straight. But I swam and I'm fine, or the skin is not so sensitive, or the reviews are outdated.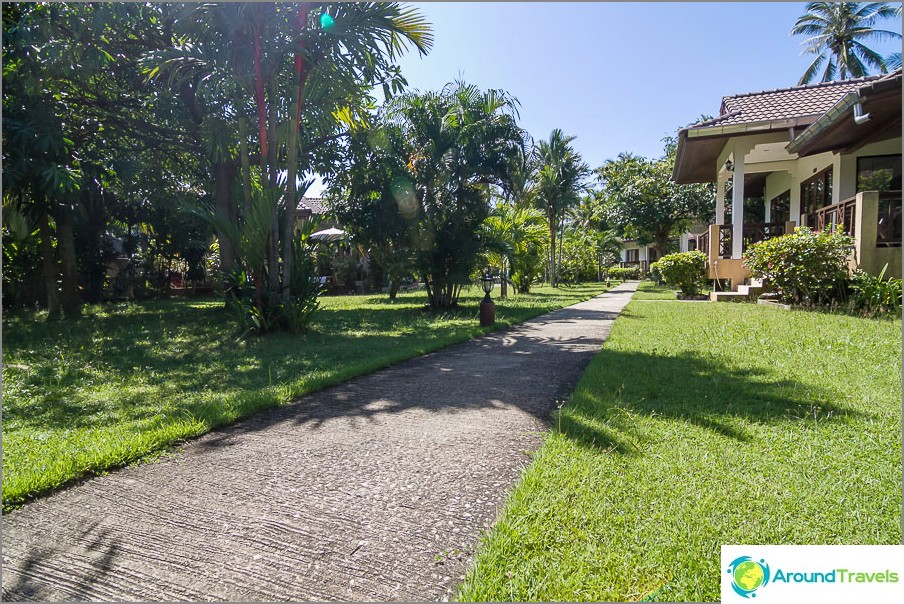 At this stage, we all like it, although we missby the view from the window to the sea. And now Daria will jerk me almost every day so that I take them to the beach. Unfortunately, we sometimes have only 10-15 minutes to swim, and if we walk, then they came and immediately went home, in fact, you can not walk. Therefore, we will drive more often by car. By the way, I am again removed the car and again for 12 thousand baht, this time Honda Jazz.
P.S. Other houses, and ours in particular (map + contacts)look in directory of houses in Samui. Specially made
Life hacking 1 - how to buy a good insurance

Choosing insurance is now unrealistically difficult, so to help all travelers, I compile a rating. To do this, I constantly monitor forums, study insurance contracts and use insurance by myself.

Life hacking 2 - how to find a hotel 20% cheaper

First, choose a hotel on Booking. They have a good offer base, but the prices are NOT the best! The same hotel can often be found 20% cheaper in other systems through the RoomGuru service.

Discount hotels