When we arrived on Samui, one of the questionswho stood before us - where to play the child. More precisely, not even "play", and where it can be a good crawl. Of course, first of all, Samui has a sea and a beach where a child can spend a decent amount of time, and then he doesn't need anything extra. But in our case, the child is still crawling, so he did not always have time to get tired on the beach - he didn't really like crawling on the sand, he cannot be on the sea by himself either. In addition, we lived on samui during the rainy seasonand I wanted to spend part of the day indoors, not on the street.
The review, unfortunately, will be incomplete, so if you know more good places, please write.
Playgrounds on Samui are in Big C, in largeTesco and Fairways. Now I'm talking about the main, large sites. As I understand it, there are much more small ones on the island, and all of them are located on the territory of various cafes and hotels. For example, there was a playground in Children's cafe Mickey-Mickeywhere we often went because we lived nearby. But then she was gone, either removed for a while, or washed into the sea. But maybe she will appear again.
If you, too, are going to live on Samui with children and are looking for a suitable hotel, where there is a playground nearby or something else interesting to the child, you can see for yourself personally catalog of houses on Samuiwhere more than 80 houses with a map and a photo. Accommodation for a short period while looking for a house can be booked through RoomGuru, it's just a mega-service, you can immediately see in which booking system (Booking, Agoda, Hotels, etc.) the hotel you need is cheaper. And we have our detailed review. best hotels in samui.
The content of the article
Playground in Big C
The cost of 40 baht for 45 minutes.
Opening hours until 20.45, you can enter the site at the latest at 20.00.
Children are allowed to grow from 90 to 130 cm.
Located on the second floor near the food court (on the left, facing the cash register) and at the slot machines.
This is our favorite, we like the most. We were here every time we went to the supermarket. Sometimes they even specifically went to the playground, it really hurts to exercise therapy like all kinds of rollers and slides. In a small area, the whole maze was done with a bunch of obstacles. And the most important thing is that everything soft around will hit hard. Plus a dry pool with a normal number of balls. Although they should be pre-assembled from the floor and re-set, or else the children are thrown around and empty in the pool. Egor left here so that he could not even crawl
It is in the Big C rules associated with growthviolated, and so our little boy was also allowed in there. And also let Daria to be with him. That is, the parent, or even both, can come along with the child.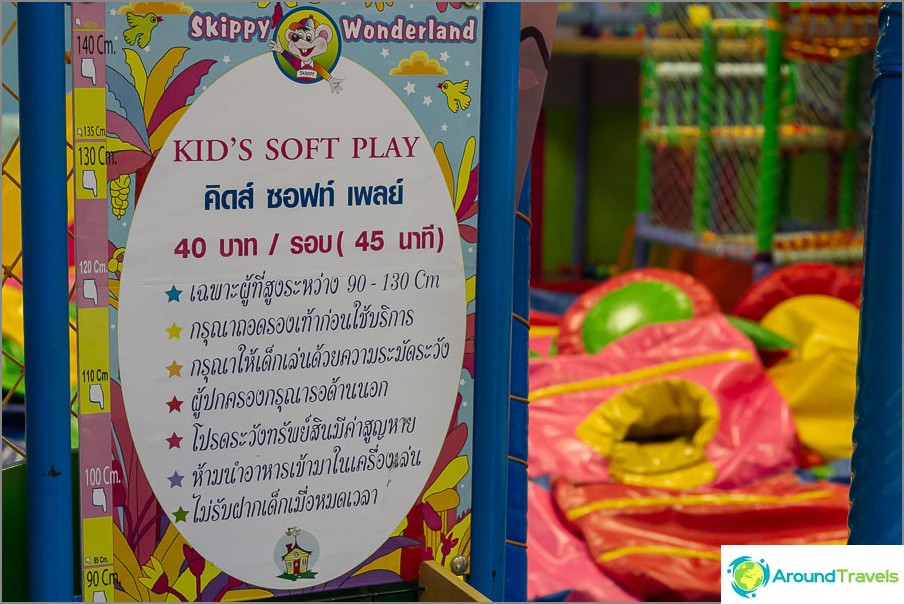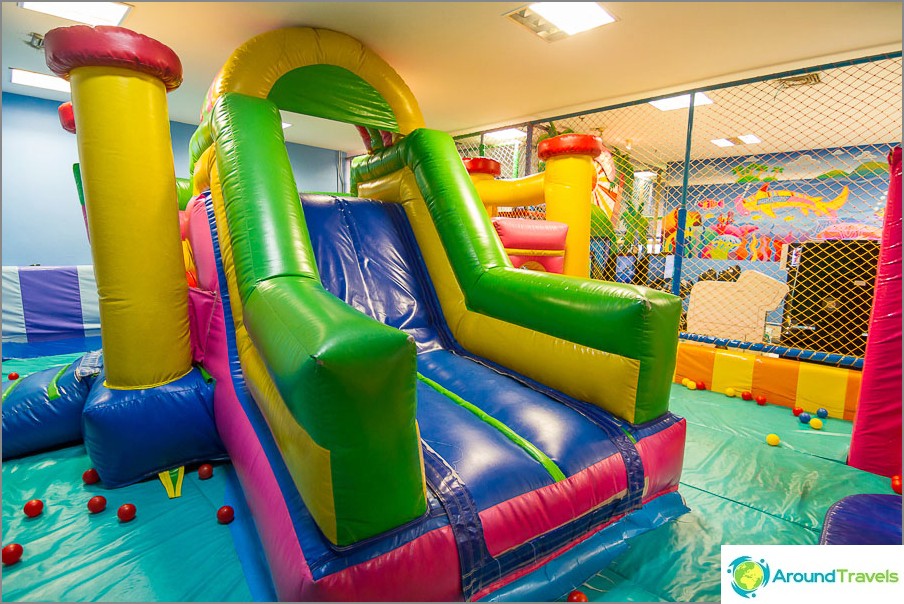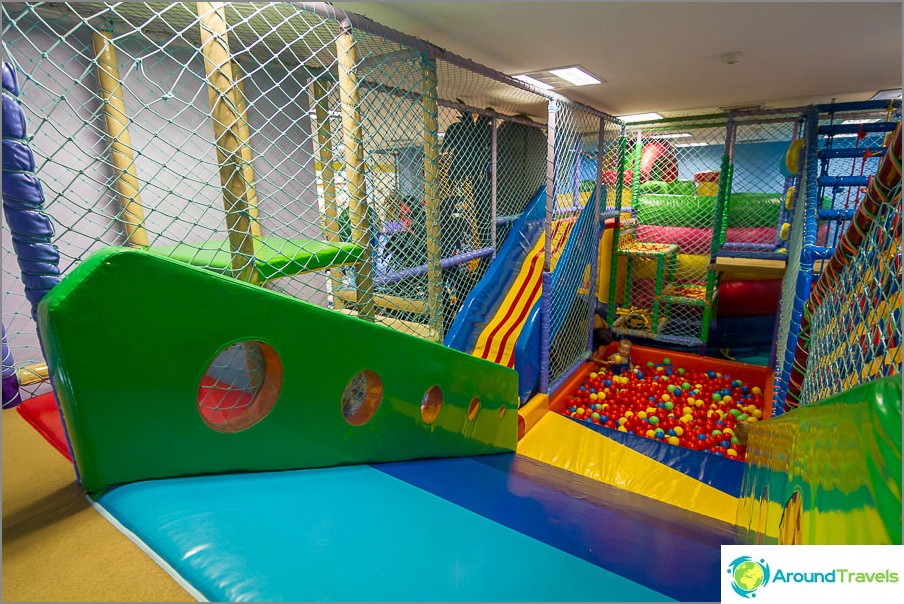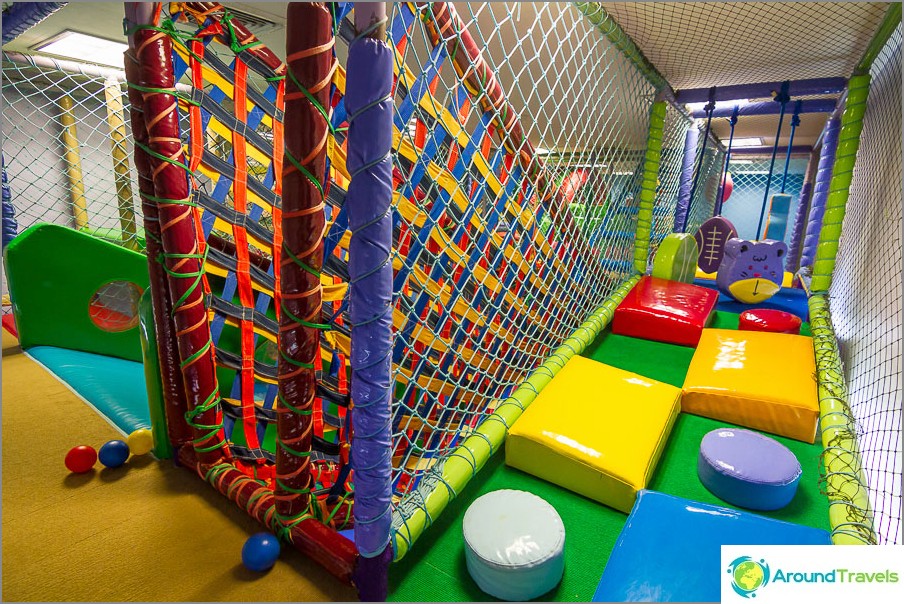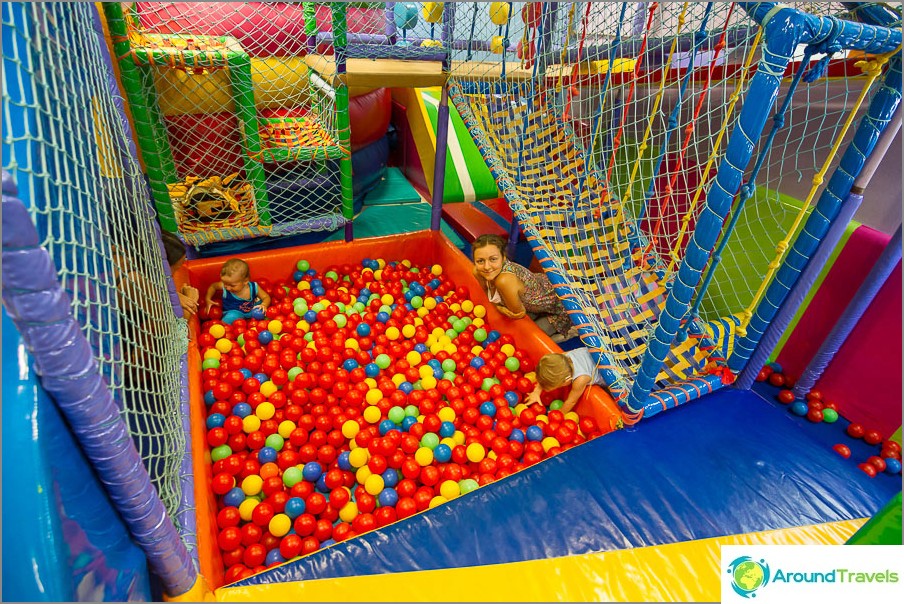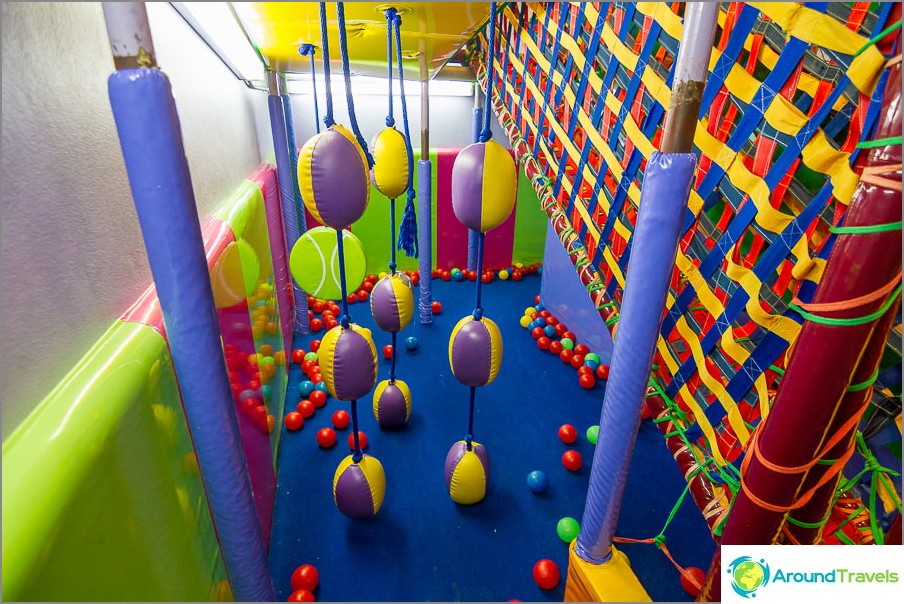 Tesco Playground
The cost of 40 baht for 45 minutes.
Children are allowed to grow from 90 to 130 cm.
Unfortunately, we were not allowed here. Egor is too small and the parent can not. And what is there to do a little crawling boy without a mother? So I just took a picture of what the playground looks like outside. Actually, I didn't really want to, after Big C it's boring and uninteresting here.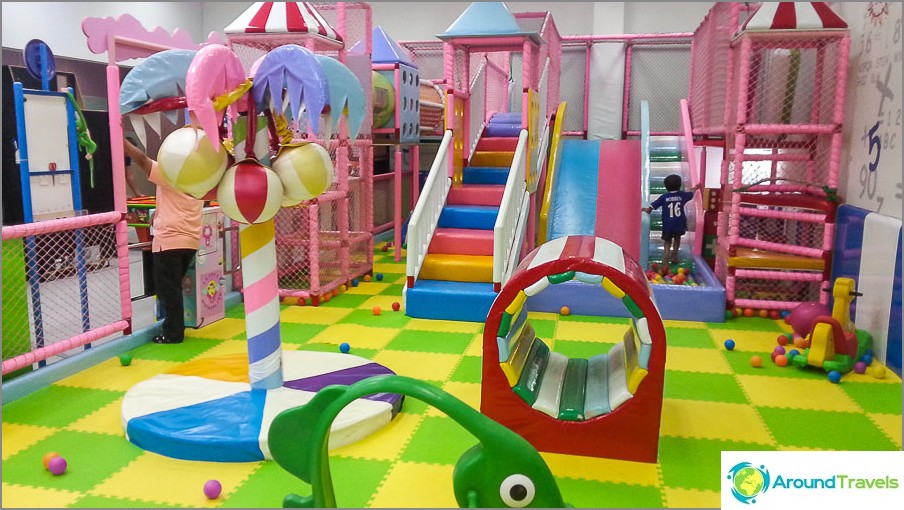 Fairways Playground
100 baht per day per child, adults free.
Children from 18 months to 8 years.
Works from 10 am to 18 pm.
Children's playground near the airport. There they also have a kindergarten. We were not there, because it was far to go, and we usually drove in the evenings when they were already closed. There is a cafe where adults can relax. The reviews are contradictory.
Rest
I met the description of other sites, but they are notsaw. Firstly, there are playgrounds in kindergartens and schools, but I think they are not free to visit. Maybe it will be possible to somehow agree to, for some fee, take the child there without study, but not a fact.
Secondly, playgrounds are found in cafes andhotels For example, there is a playground at the Ibis Hotel and Peace Resort on Bo Phut, Chaba Cabana Beach Resort and Chaba Samui Resort on Chaweng, Banana Fan Sea Resort on Chaweng, Paradise Beach Resort on Maenam. I cannot list all of them, for information is from the Internet. Yes, and in a good way, if you live on Samui in a house, not in a hotel, then you are not in a hotel, you will not be allowed somewhere, but somewhere you will need to buy something in a cafe (a shake for example) to not just like that. Yes, and boring in most of them, judging by the photos. So I'd rather go to Big C or Fairways.
There is also a playground on the temple grounds.near the big tesco. If you go from Maenam, then drive through Tesco, at the nearest traffic light, turn left, and almost immediately to the right to the gate of the temple. At the end of soi 4 there is a small playground on Maenam. And also in Nathon near the hospital, but very few people live on Nathon.
Here is another list kindergartens on samui, it is incomplete, but what I could find on the Internet.
Life hacking 1 - how to buy a good insurance

Choosing insurance is now unrealistically difficult, so to help all travelers, I compile a rating. To do this, I constantly monitor forums, study insurance contracts and use insurance by myself.

Life hacking 2 - how to find a hotel 20% cheaper

First, choose a hotel on Booking. They have a good offer base, but the prices are NOT the best! The same hotel can often be found 20% cheaper in other systems through the RoomGuru service.

Discount hotels