I decided to find out the expectations of the audience and conduct a survey. I hope you will help me with this. In the next 2 weeks, we now need to decide where to go, or maybe even stay in Moscow. Understandably, if we are somewhere for several months, then I will write about these places anyway. Therefore, the thought came to find out what would be interesting to you personally.
I ask to vote on the basis of what is interesting for you, and not on the fact that we could have come better because of Yegor, or for some other reason.
The content of the article
Options
Serbia
If we go to Serbia, we will live in NoviSade. I hope we will go to Belgrade for a walk, see the main sights, and I would really like to take a drive through the mountains and maybe visit the eco-settlement. From Russia to Serbia we will drive by car through Minsk, Krakow and Budapest, with a stop in each of the cities for a couple of days. Maybe we will go through Warsaw, but this is a hook, so I'm not sure.
Thailand
If we go to Tai, then development optionsEvent two: Chiang Mai and Phuket (Samui). Chiang Mai is good because you can climb the north, go to the mountains, and finally go to the most difficult to reach province of Umpang. Well, and Phuket (Samui) is clear than good - the sea every day. Yes, and climbing is also where. For example, go to the National Park Khao Sok and Lake Che Lan.
Sochi
If we go to Sochi, it will be possible to walkin one-day trekking around, and also to go to Krasnaya Polyana in winter. I do not know how to ski and snowboard, but you can just try. Plus, along the coast you can ride up to the Crimea.
Moscow
If I stay in Moscow, I will be anywaygo on business trips while mine are at home. From near cities I am going to Kazan and Yaroslavl, from distant ones - to the same Novi Sad, or else where to Europe, but not for long.
Voting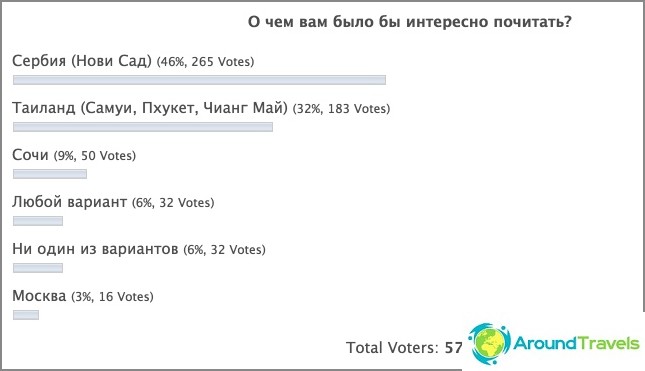 P.S. Immediately make a reservation, in the end we can choose not the direction that will lead in the results. The survey is conducted more for educational purposes, to be borne in mind and, if possible, adjusted.
Life hacking 1 - how to buy a good insurance

Choosing insurance is now unrealistically difficult, so to help all travelers, I compile a rating. To do this, I constantly monitor forums, study insurance contracts and use insurance by myself.

Life hacking 2 - how to find a hotel 20% cheaper

First, choose a hotel on Booking. They have a good offer base, but the prices are NOT the best! The same hotel can often be found 20% cheaper in other systems through the RoomGuru service.

Discount hotels