We went here recently with a friend with a tent on the Okato reboot. And he had to, and me. Just stay in the lap of nature, make a fire and spend the night in a tent. In fact, we didn't intend to go to the reserve itself, but we passed by a pointer, and I couldn't pass by, because then there would be nothing to write about
From here and this post. I must say, you can go, but expect something unusual from this. Also it will not be interesting for small children, I think it's necessary to go there with him not earlier than 5 years, and better still later.
The content of the article
Prioksko-Terrasny Reserve - my review
Prioksko-terrasny reserve was created withstudies of plants (therefore it is biospheric), which, in theory, should not be here, the strip is not the same. Part of the plants listed in the Red Book. A little later, bison also began to be bred in the reserve, joining the international WWF program. Actually, he became famous for the bison, because not every idle traveler or office worker will go to see the grass and stuffed animals of familiar animals in the mini-museum.
So it is not contact zoo, not an amusement park, it's just a forestwith a huge pen for bison, which in a large area is not always possible to see. It is worth going here for educational purposes, but not with entertainment. Otherwise, the trip does not justify itself, as they say, and some reviews on the Internet.
Separately, I want to say about young children,who will be bored here. The tour takes about 2 hours, which includes visiting a small museum, moving along a usual forest road to a nursery with bison (about 10 minutes to go), inspecting "duty" animals, and, possibly, inspecting bison themselves. All this is accompanied by stories about why nature reserves are needed, and who such bison are. I am sure that a small child will not understand anything from the tour, so you need to go with those who are ready to listen to encyclopedic information. Adults are also useful for self-education.
Bison
In 1948, there were only 48 bison left in the world,that is, almost extinct species. Listed in the Red Book. Now there are more than 4 thousand thanks to the efforts of the reserves that participate in the program, including the Prioksko-Terrasnyi tried. They produce their bison in the Vladimir region, on Kamchatka and somewhere else. That is, not in the Moscow region, do not expect to meet in our area, there are too many people.
The reserve itself is not fenced, so it should be,need free exchange with the external environment. But each family of bison is contained in a separate pen, each of which is about 25 hectares. That is also as close as possible to nature. But from this follows a not very pleasant conclusion - it's not a fact that you will see these bison, they don't fit the fence upon request. Therefore, so that visitors do not get upset at all, there is a "duty" bison and a "duty" family of sika deer right after entering the territory of the bison nursery. They are for all and otduvuyutsya.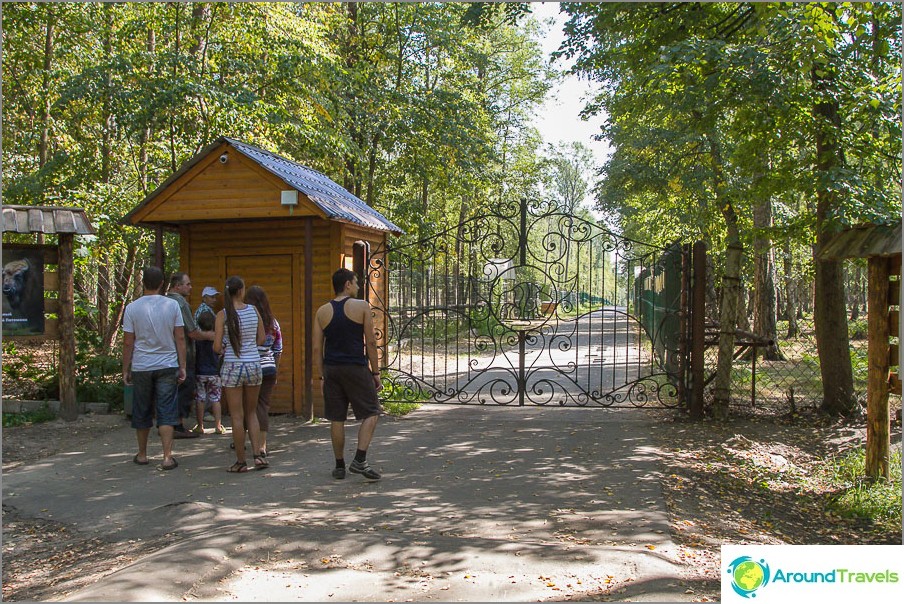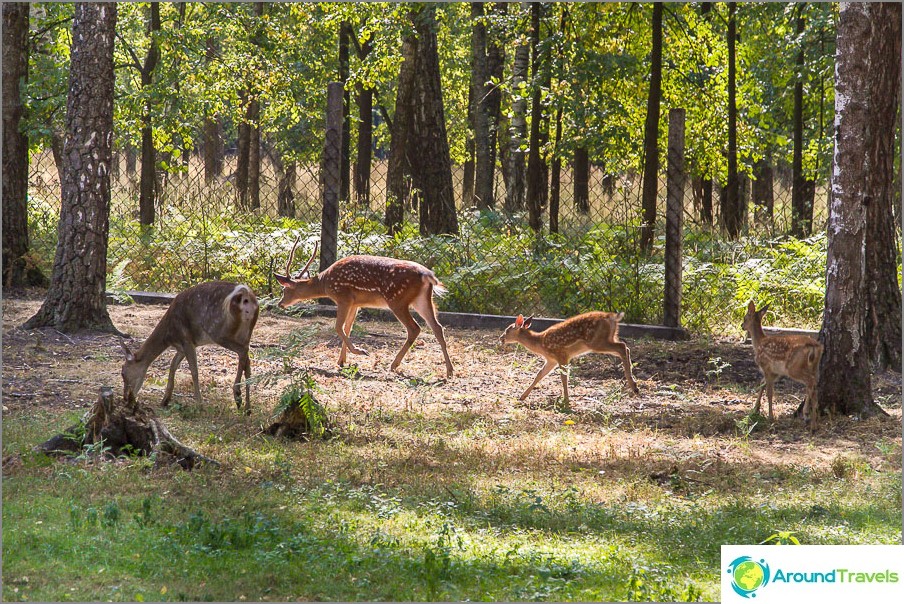 The guide immediately warned us not tocounted on the spectacle. However, we were lucky, and when we were at the feeders, all the bison were assembled, regaled. Choose the time of the excursion, either the most morning one at 9.00, or the latest one at 15.00, then there is a chance to see all the families.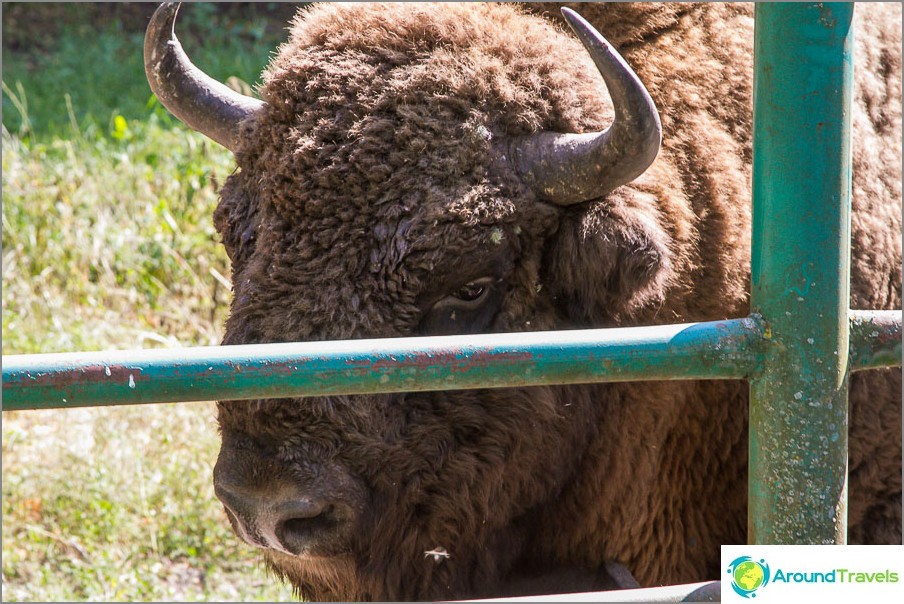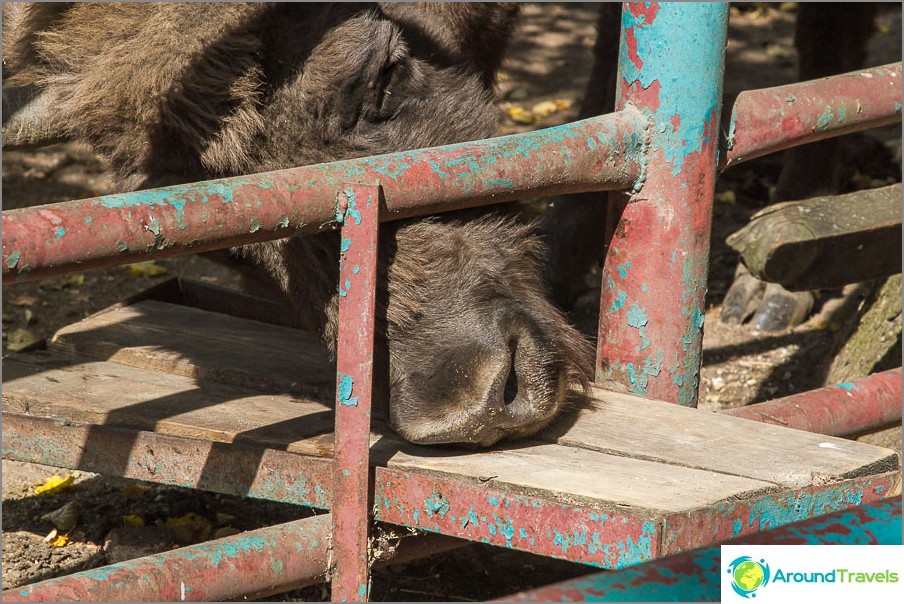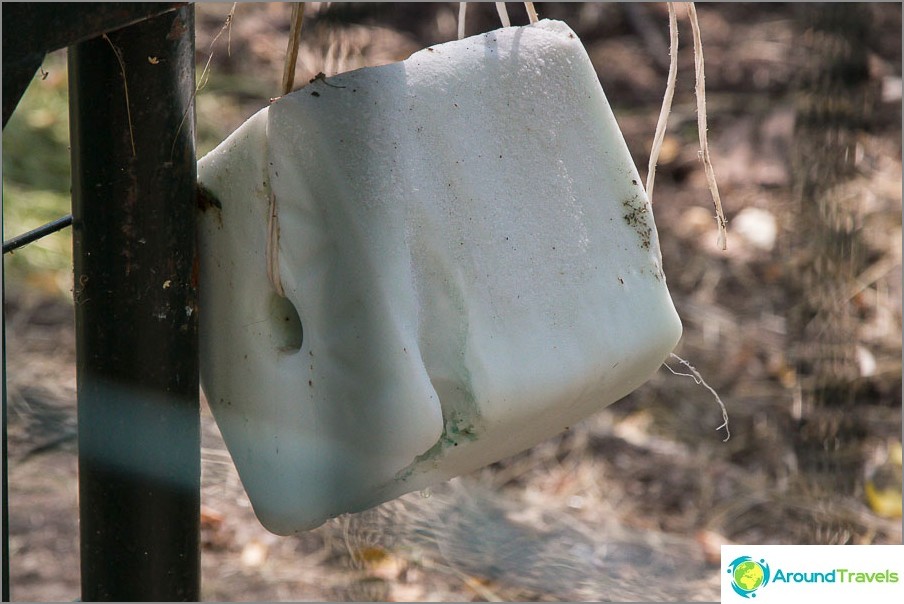 Bison are very powerful animals, as someone said,specific. Weigh under a ton, accelerate to 60 km / h, jump over a two-meter fence. To make it easier to understand what it is, there is a good comparison with the Zhiguli, they also drive 60 km / h and weigh the same. Just imagine how the Zhiguli fence jumps, it will immediately become clear what kind of animal it is.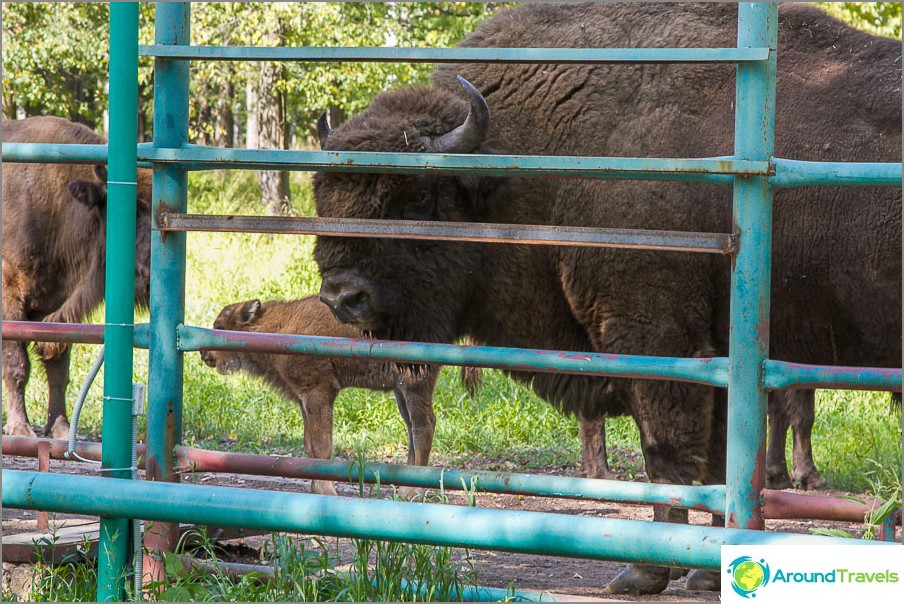 Money at the reserve is not enough, so the last10 years, the program "Adopt a Bison". Anyone can take custody of a bison by paying for its maintenance - about 50 thousand rubles a year. For this you will receive moral satisfaction, the opportunity to visit him during this year, and also be able to give him a name starting with "Mu". According to the rules of the international program, each country has its first two letters. I wonder why Russia got exactly "Mu"?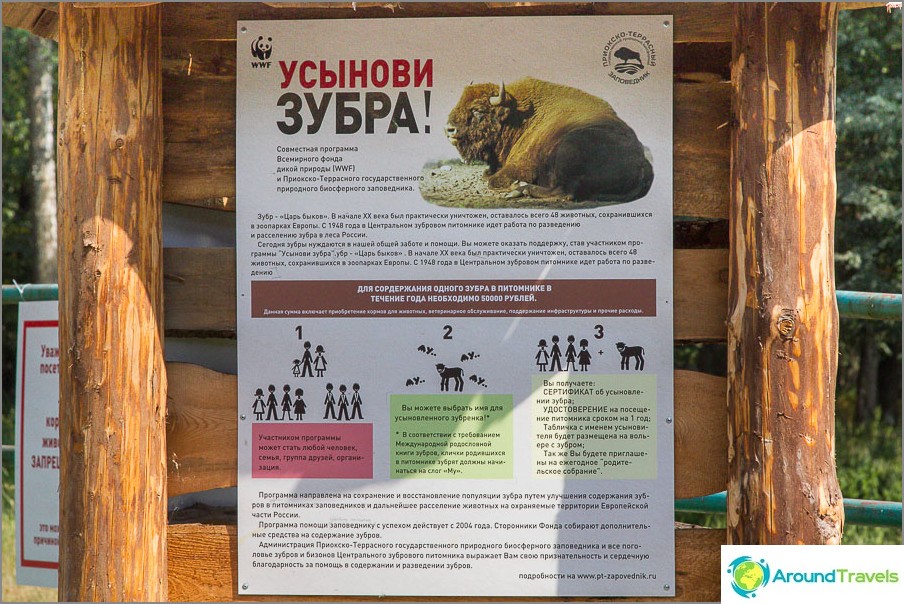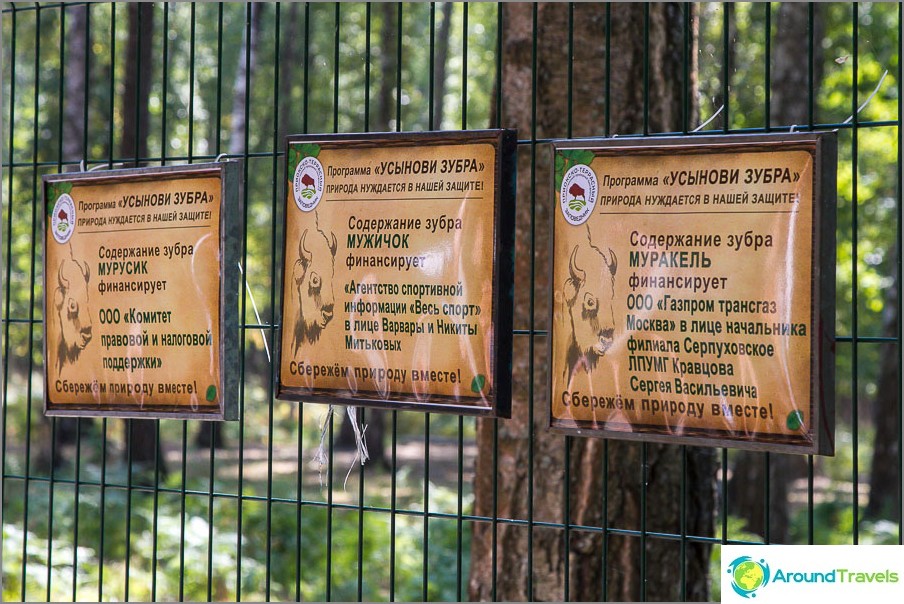 Mini-museum
The museum is located in the reservenear the ticket office. Usually they lead to it either before the excursion, or after. Frankly, a boring museum. A pair of halls with animal carcasses and stands with information about the reserve. On the other hand, so that there could still be, not mammoths with dinosaurs. The last place I've been is Kharkov Museum of Naturethat's interesting there.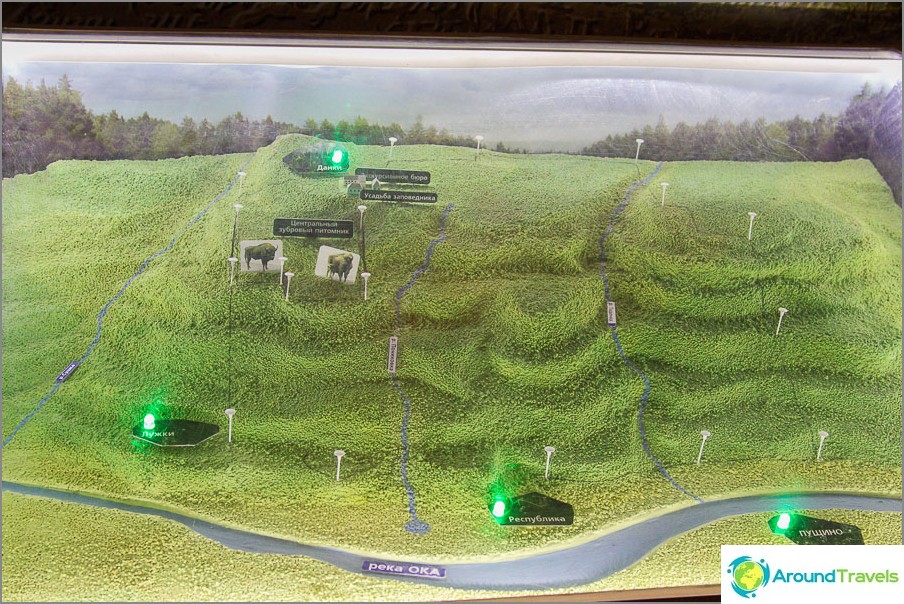 Information to visit
The official site of the reserve
The cost of excursions in the reserve 300 rublesadult, 150 rub children's ticket. Or 1500 rub, for individual service. It is also said that this price is valid for groups of at least 4 people, but when we asked how to be, if there are two of us, and the group does not reach, we were told that nothing, let's go at the usual price. And without a guide, you can't watch bison.
Tours are held once an hour. The first tour at 9.00 am, the last at 15.00. We were on weekdays in the summer, and groups were recruited without problems. There are even more people on weekends. On the territory there is a cafe.
How to get to the reserve and map
In principle, if you look at the map, then everything will beclear. You need to go from Moscow along the Simferopol highway, and take the sign for Serpukhov and Danka. This turn will be to the right from the road, but then you need to immediately left under the bridge. After passing Danki, you will see on the right side of the road a large pointer in the form of an oak; it is impossible to drive past.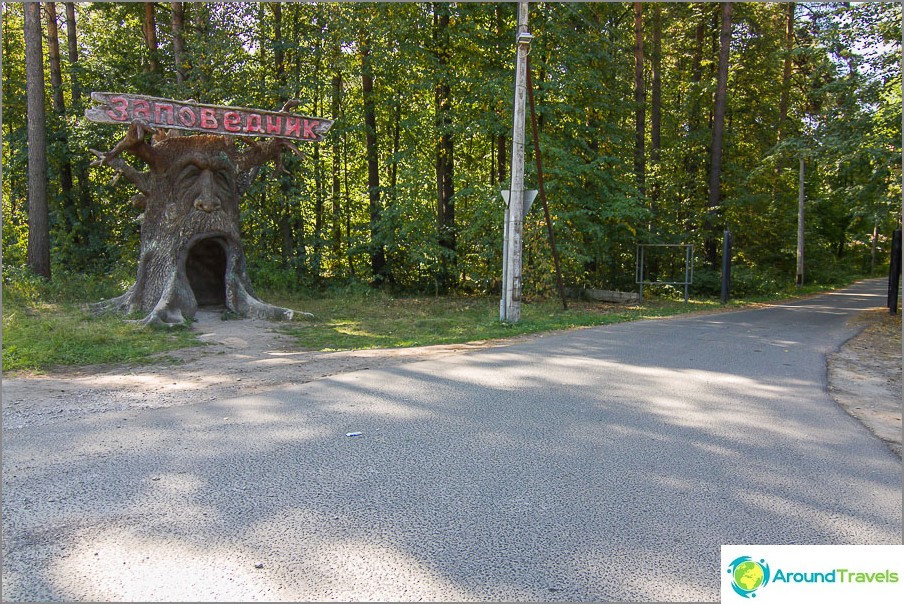 Prioksko-terrasny reserve
Prioksko-terrasny reserve
Reserve with plants and bison nursery. Opening hours 9-15 hours, the cost of the tour is 300/150 rubles.
Reserve with plants and bison nursery. Opening hours 9-15 hours, the cost of the tour is 300/150 rubles.