Beach Andaman Beach Resort

can be called private, even if it goes toa cut with Thai legislation that enshrines the ownership of the entire coastline of Thailand for the royal family. In fact, more often it turns out that the hotel built on a small beach itself determines whether to let strangers through its private territory or not.
In theory, they should always leave free.a passage outside its fence, but this requirement is often ignored. To get to this magnificent tropical beach, you have to smile a lot to the hotel administrator and come up with a very good reason for the passage. Guaranteed to work, "Aime Looking wanted for Hanimun".
The content of the article
Beach description
The beach is very wide, about 50 meters from palm trees tosurf line. The length of the beach is also quite comfortable - about 250 meters. And there is a walk where, and people do not crowd at arm's length. Wet sand has a yellowish tint, but dry begins to cut the eyes with a dazzling white color, fascinating and delighting.
The beach of Andaman White Beach Resort is a truly beautiful place, well-kept and authentic, devoid of crowds, annoying vendors and trash. And it is very difficult to get here.
Sunset, depth and waves
The beach is incredibly flat and smooth, howeverafter 30-50 meters under water, the depth reaches frightening values. It is an ideal beach for swimming, where there are waves in windy weather and in the storm season. On calm days, there are idyllic landscapes, stunning color of the sea and fascinating play of waves in the surf.
Real tropical bounty, if you want. Sunset in the water is clear along the entire length of the beach, but in some places you can find boulders sticking out of the stones - they are difficult to step on, they can be taller than you are.
Sun beds and shade
Sun loungers provided by the hotel. And if the shadow in the hotel you get from the garden and palm trees, then on the beach, in addition to umbrellas, you will be offered double VIP canopies.
There are not so many of them, and I didn't ask - forthey must be rented for an additional fee, or they are distributed to guests according to the principle "who first got up, that and sneakers" In general, taking into account the fact that it is almost a private beach of one hotel, a beach holiday here is provided with everything necessary.
Beach photo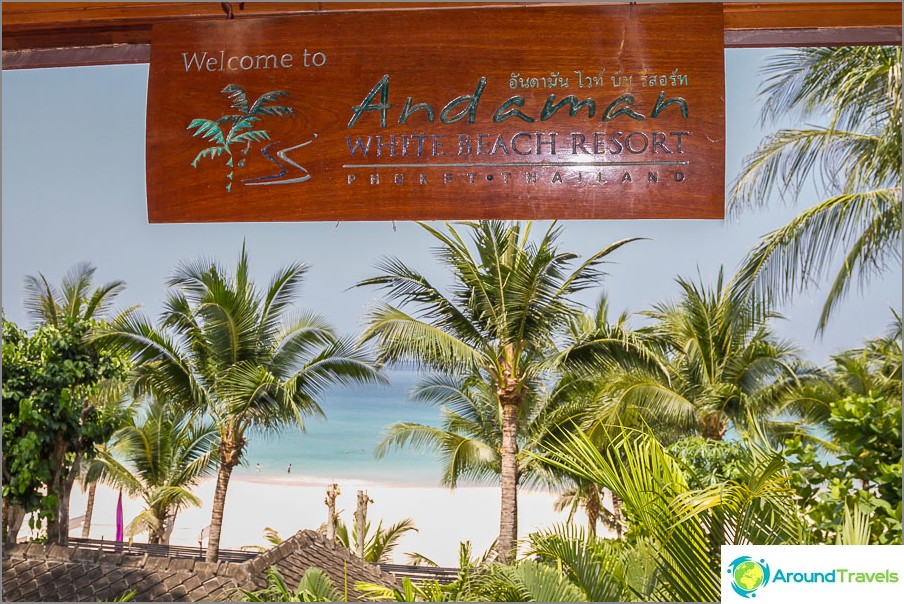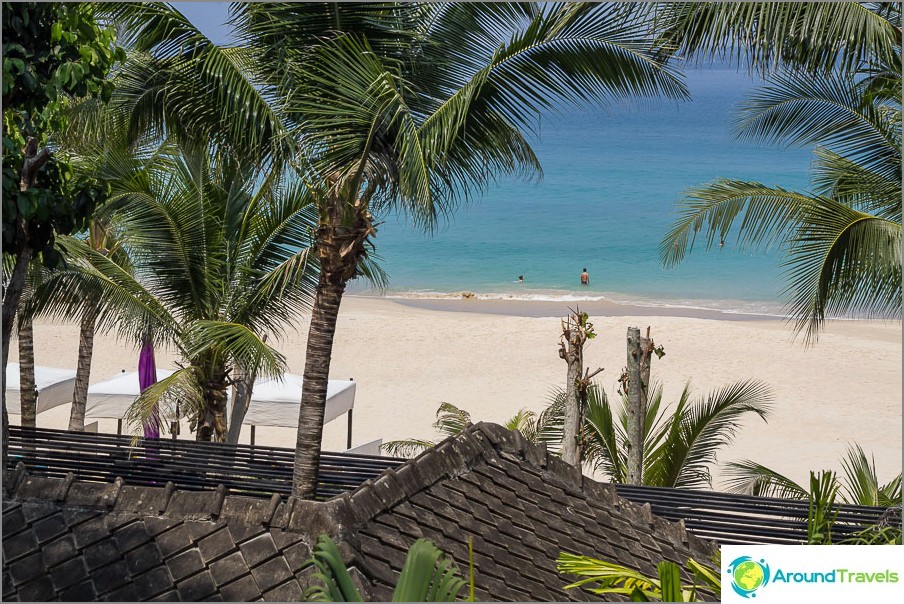 Infrastructure
The infrastructure on the beach is the only one that canoffer the hotel itself. Within a kilometer around the beach there is not a single outlet or tourist service - everything is in the hotel. So you have only three options to spend time here normally - bring the right one with you, buy the right one at the hotel or book a room here and spend a vacation.
In my opinion - the third is much preferable, although reviews about the hotel are not always very enthusiastic.
Houses and hotels on the beach
The one and only hotel on the beach - Andaman Beach Resort

. But if you find it unattractive for any reason, try clicking the green button below.
Hotels near the beach>
Be sure (and I insist) check availabilitydiscounts or special offers on excellent Roomguru service. It will quickly and simply show you discounts in all existing reservation systems. In Asia, for example, there are lots of offers on Agoda.com that are much more interesting than on exactly the same hotels on Booking.com.
For the lazy, here's a direct link to the above hotel: Andaman Beach Resort

How to find the beach
You can come here for some crazymoney for a taxi, or independently - on a rented vehicle (write yourself a label on the card). From the sea you will not get here - boatmen will refuse to moor on this beach.
In case you are interested in reading about other places on the island, I have a short overview of all Phuket beaches, will help you decide on the choice of the beach.
Beach map
If you want to book a hotel here in advance or search for accommodation on other beaches, I have selection of hotels in Phuket with a good rating and reviews.
Andaman White Beach Resort Beach Map
Beach map of Andaman White Beach Resort:


Life hacking 1 - how to buy a good insurance

Choosing insurance is now unrealistically difficult, so to help all travelers, I compile a rating. To do this, I constantly monitor forums, study insurance contracts and use insurance by myself.

Life hacking 2 - how to find a hotel 20% cheaper

First, choose a hotel on Booking. They have a good offer base, but the prices are NOT the best! The same hotel can often be found 20% cheaper in other systems through the RoomGuru service.

Discount hotels