Maybe someone remembers that earlier I, too, hitchhiked. I have posts here, and about myths, and about hitchhiking rules, and about hitchhiking in thailand. I won't say that I drove a lot in my whole lifekilometers, but this travel format has always been to my liking. Now, however, I don't travel that way, but this is due to the fact that all my trips are working, and the process of gathering information and publishing posts is difficult to combine with hitchhiking, there is no time for such a format.
Tell me, do you bring stop workers or do hitchhiking yourself? What stoplers do you come across?
The content of the article
Negative experience
Always, if there is such an opportunity, then I take stopmen. And it's just interesting to know who and where is going, and I want to help, and I work on karma, I, too, have been driven a lot
So in the last trip it turned out to give a lift to 3times, and 2 of them had to turn on full ventilation and try to get to the destination as soon as possible and disembark the person. It seems to be possible to immediately land, but somehow it is inconvenient or something, as long as you speak through the lowered glass, it is not clear what kind of person. Although it may be necessary to overpower yourself and planted for edification right away?
Moreover, it looks quite normal, dressed innormal clothes, with hiking packs, not bums. But the smell! Is this what you need to do with yourself, or not to do so to start stinking ?! There are rivers, lakes, the sea, or you can take a shower with friends when you stop. It was summer in the yard and the warm sea 200 meters away! We remember, and in the offseason, bathed in campaigns, and in Altai, in sub-zero temperatures, it's impossible to be dirty for a long time. I can not imagine how many days I must not wash and do not rub off, so that there was just such a bomzhatsky smell. In an amicable way, even if you do not bathe for a week, this will not happen, but in a week, in fact, you can drive half of Russia.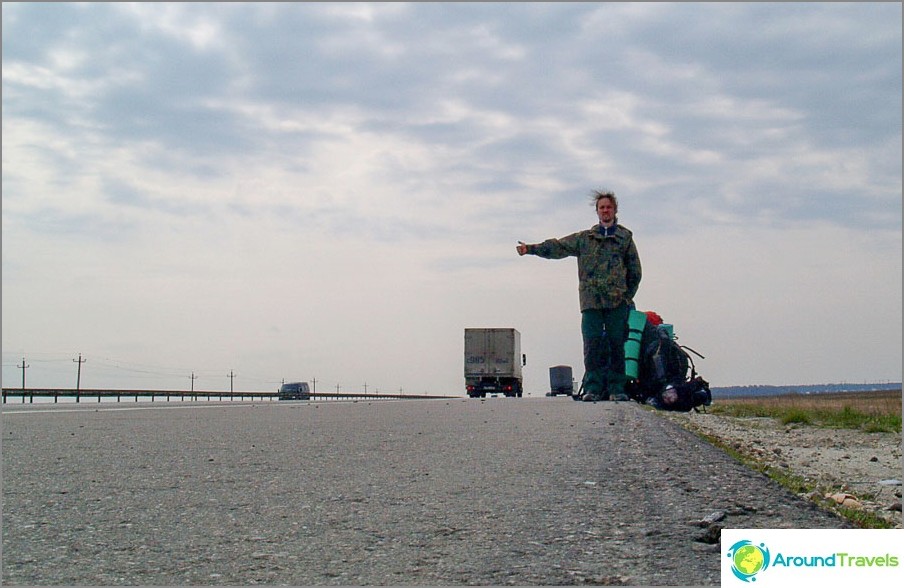 Wrong stopmen
My conclusion suggests only one - thisSome wrong stop workers were. Someone will give a lift and then he will not want to plant anyone else. Or maybe, on the contrary, autostop traffic in the bulk is? Type rogue and freeloaders, including the homeless and vagrants, moving not for fun, but from despair. And I just do not understand anything in this life. Or the answer is banal and lies in the fact that it is impossible to generalize, and any people can hitchhike. I just "lucky" to run into unscrupulous.
It's just weird how many friends know whohitchhiking, and there is not one such. And he, too, just rolled around to expand the horizons, so to speak. And now sometimes there is a desire to also ride, however, for a short distance.
By the way, recently one of my friends, often transporting people through the BlaBlaCar service (applications: Android, iOS), told a similar story. That is, even for money if you are lucky, there are still no guarantees.
To take or not to take?
I am now confused, to take or not to take, to be or not to be
After all, you can not determine from afar, face control is notwill spend Prior to that, it always came across young adventurous guys, and the last two people, because of whom, actually, this whole post, are some strange. I still have a suspicion that they are also thumping hard, so that it is not so hard to live ...
On the Internet, as always, holivar on this topic,starting from the fact that you are not figs to help freeloaders, for they only drive such ones, ending with the fact that hitchhiking gives some kind of mega-freedom and in general it is necessary to travel around the world only for free.
Life hacking 1 - how to buy a good insurance

Choosing insurance is now unrealistically difficult, so to help all travelers, I compile a rating. To do this, I constantly monitor forums, study insurance contracts and use insurance by myself.

Life hacking 2 - how to find a hotel 20% cheaper

First, choose a hotel on Booking. They have a good offer base, but the prices are NOT the best! The same hotel can often be found 20% cheaper in other systems through the RoomGuru service.

Discount hotels