After we visited about 30 apartments in Chiang Mai, we lived in two of them, and wrote an article Overview of apartments in Chiang Mai and Phuket Apartments OverviewI decided to write some tips to those whohave never done before. And although everything is quite simple, and it is recognized on the spot, I would have been useful when I was sitting in Moscow, looking for information about housing in Thailand.
Other articles about rental housing in Thailand, as well as related topics that are interesting for independent travelers, are collected in our information FAQ Winter in Thailand. If you have any questions, first look there.
The content of the article
Housing in Thailand
Accommodation in Thailand is of several types. Everything is simple - condotels (or condominiums), guesthouses, private houses and hotels. I advise you to do the search and selection of housing through RoomGuru, this is the best service for Asia and the whole world. Immediately see prices in all existing reservation systems. My instructions for booking houses can be found at: How to book a house in Thailand - 5 ways.
Condoteli
Apartment buildings. They can be both multi-storey and multi-corpus, or just one building in three floors. Apartments most often studios - one room with a shower and a toilet, happens also 2 rooms. Visually no different from the rooms in the hotel. Only need to separately pay for water, electricity, Internet, and the cost per month is much lower than the hotel. The cost starts from 2500-3500 baht per month for a simple housing, and from 4000-5000 baht for housing with everything you need. Daily too surrender, but not always, and more expensive than guesthouses.
Guesthouses
They are very different and are located mainlycloser to the center and downtown. Often the cost of renting a monthly lower daily. But the rooms themselves are small and not quite suitable for longer stays. There are exceptions. The cost of 200-300 baht per day.
We have on the blog Chiang Mai's 22 guesthouses overview.
Private houses
Differ greatly in price, depending on the city,distance from the center and other things. But the prices compared to Moscow are very encouraging. You can rent from 6-10 thousand per month a small house. As a rule, owners prefer to take for long periods - from six months.
If you are traveling to Thailand for the first time, thenI recommend to book a house or apartment in advance. This is done only through a realtor. Yes, they are not engaged in the cheapest housing and take a commission, but this allows you to avoid unnecessary trouble in an unfamiliar country. Believe me, independent searches on the site is a difficult task and it is not worth it. You're going to rest.
Send me a request, advise a trusted realtor, whom I myself trust. And then in recent times a lot has become a scam.
Send request>
Apartments for rent in Thailand
Apartments in Thailand, or in a local way - condo,the most affordable type of housing in large cities, they are here on every corner. In order to find an apartment, simply walk around the desired area. In small towns, or on islands, it will be easier to rent a house or a guesthouse.
Tips for finding housing in Thailand, namely apartments:
- Find the desired address is not a trivial task. As a rule, there are no house numbers and sometimes street names. Also, street names often do not coincide with names in Google Maps, so it's better to mark a point on the map in advance, and go counting intersections, or use GPS. Maps placed on the sites of condotels can enter into a trance even an avid fan of orienteering.
- Reception in a condominium usually works until 16-18 hours, so it is better to start the search for housing in the morning.
- If you are looking for something special, it makes sensenot only walk on their own, but also read reviews on the Internet about a particular condotel, because the same Wifi check is not always possible on the spot.
- Condominiums in which Thais live are cheaper than those where foreigners live. But accordingly, the interior there will be dirtier and poorer. Thais furnish the rooms themselves.
- There are condominiums, in them apartments are not originallyfor rent, and for purchase, that is, an analogue of our apartment buildings. However, you can rent a house by agreeing with the owners themselves. There are ads near the reception, or the girls at the reception will be informed where you should go.
- Prices for 1,3,6 months may vary, but may not. But as a rule, the longer the rent, the cheaper it is to pay per month.
- Kitchens in apartments are rare, sinceThais are used to eating at a cafe, but you can find it if you try. A full kitchen is found in large two-bedroom apartments, which are usually more expensive. An inferior kitchen increases the cost slightly, and is an extra sink, table and rarely a small hotplate.
"Sometimes it's easier to call to find out if there is room to save time." Especially, it makes sense to do in high season.
- Do not believe the pictures on the sites of condotels. Often they were made by professionals immediately after construction, but since then, much has changed.
- Often there are two cost of living. One for just a room, the other for a room with cleaning and linen.
- In the high season it is better to look for accommodation in advance, wellor as soon as possible, that is, do not pull with it. Good places, often booked a few months in advance. During the New Year holidays, many apartments and guesthouses only surrender daily.
- How to ask for Internet parameters: how much megabits? internet share? internet for all? Something like that. The word share is best understood. But the best way to know the speed of the Internet is to take a laptop with you and do it yourself.
- Thais do not always understand what you are asking. And they can just happily throw off your head, they say, yes, yes, everything is ok. So if you are not sure, ask again, draw on paper, check it yourself.
Internet in Thailand
Sick, so about the Internet in Thailand,a separate item. There is simply no good Internet in Thailand, well, such people are used to in Moscow, so you need to understand this in advance and prepare yourself morally. Moreover, the speed may be high, but there is no stability. It also happens that the provider has closed access to some sites and closed ports for the torrent, but not often. If anything, then there are workarounds - Tor and Vidalia.
Internet in Thailand in condominiums can be 3 options:
One channel comes to the condotel (guesthouse) anddivided into everyone in the building and distributed via Wifi or LAN. Accordingly, the larger the building and the slower the speed of the channel, the worse. If someone turned on the torrent, then the Internet tupit at all. The most frequent case.
The same thing, only a few channels come to the building, and is divided between a certain number of apartments. Rarely encountered.
Each apartment has its own personal Internet, whichyou are not sharing with anyone. Options: already held, or have the opportunity to spend, agreeing with the provider. Most often, this option is available in condominiums, where housing does not rent, but is sold. And already the owner of a single apartment has its own Internet or the ability to connect. In the condotel, this option is much less common, but occurs.
Conclusion: The larger the building and the slower the speed of the Internet channel, the worse, and vice versa. Therefore, it makes sense to look for low-rise low-rise buildings. Multi-storey condotel with 100 apartments, and a shared internet of 2 mb is a very dubious option. Much better than 10 apartments and 12 mb channel.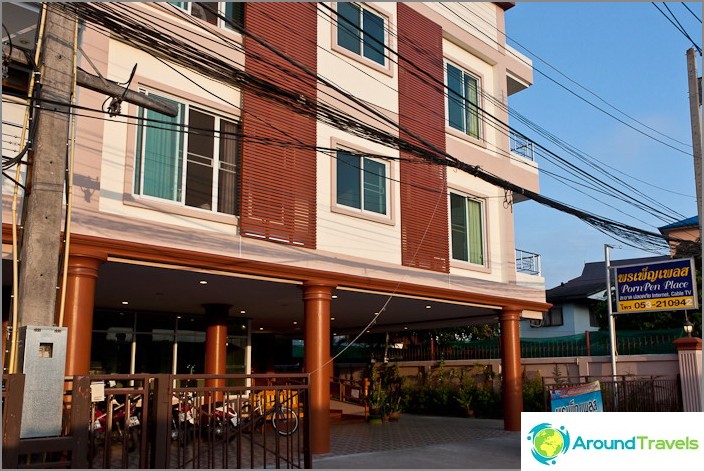 I recommend reading my newer article - how to rent an apartment in bangkok, there is a little more information and there are specific examples.
Life hacking 1 - how to buy a good insurance

Choosing insurance is now unrealistically difficult, so to help all travelers, I compile a rating. To do this, I constantly monitor forums, study insurance contracts and use insurance by myself.

Life hacking 2 - how to find a hotel 20% cheaper

First, choose a hotel on Booking. They have a good offer base, but the prices are NOT the best! The same hotel can often be found 20% cheaper in other systems through the RoomGuru service.

Discount hotels