In Krabi, or rather in Aonang, there are only 2 places,where it is worth taking a bike. And I took in both. In all the others, and I walked along the main road to the sea and went in everything, they would want a passport as a deposit. I do not think they will breed, like on Phangan, but I do not recommend leaving my documents to strangers. Given that there is a choice, then let them go to the forest with their requirements.
The main post is about how to rent a bike in TaeI already wrote. There you will learn all the details and nuances, ranging from the contract, ending with the controls of the scooter. And then only about Krabi and local rents.
The content of the article
Local checked rentals in Ao Nang
Scroll
You can safely rent from Evgeny Khamitov, herehis Facebook page on MotoKrabi bikes and website, phone + 66-9-1413-7811. The rare case when it is better to turn to the Russian-speaking. Full tank, which is never the case with the Thais. In the presence of several dozen bikes, a few cars, there are a couple of tuk-tuk for rent and motorcycles with mechanics. Do not need a passport as a deposit and in case of damage will take the real value. Normal helmets. Since there is a free bike delivery to your home or hotel, the minimum rental period is a week. Shows how to drive, tell you where to go. Very adequate people and most importantly, really for those state bikes following.
Mr Kord. Almost everyone knows this chela here, he has a lot of bikes, occupy half of the street. And the office itself (office) is very small, it is easy to pass by. You go from McDonald's to the sea and in 100 meters to the left will be its office. Do not need a passport as a deposit, only a copy. Loyal to scratches (I broke the mirror, took a little). There is insurance on the bike, like if you break for an extra price. Prices are normal, rent from the 1st day. One minus is the ushatan bikes, and they are not particularly concerned with their technical condition, check when you take that the rubber is normal and the brakes are working and in general it was driving. Don't take Kord's car, it monitors their condition even less than that of bikes. Friends of the brakes failed, and this is not the only case! Better in Motokrabi take or from the network.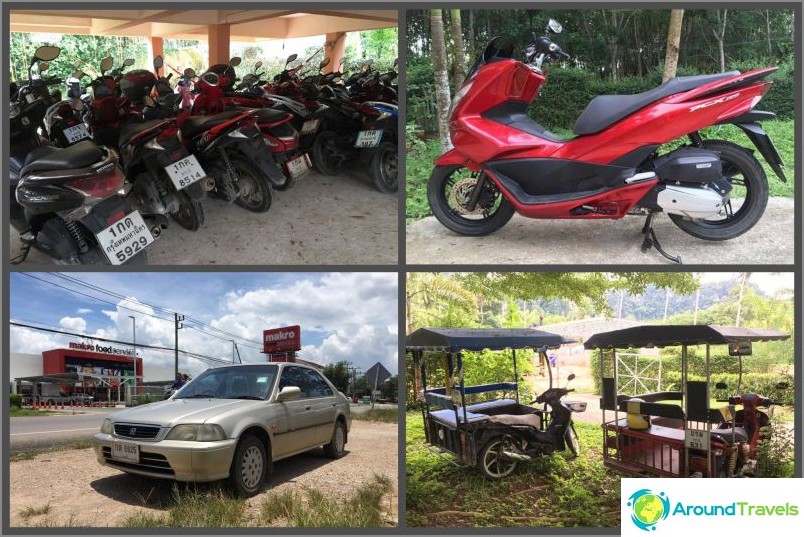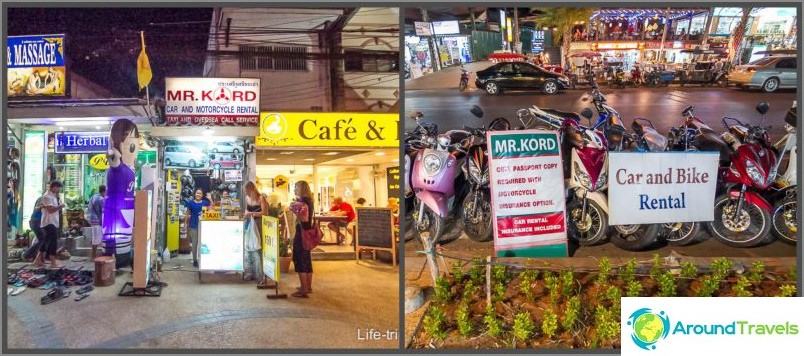 Bike rental price
On average, you can count on 200 baht / day fornormal bike, like Honda Click. More expensive only with insurance or bikes more tricky. For a month, such bikes are rented for about 2500-4000 baht, depending on your ability to bargain, the novelty of the bike and the length of time (for a few months it will be cheaper). Speech about AoNang, on Klong Muang, for example, wanted 300 baht / day for a not new bike.
MotoKrabi
Price for a simple bike - 1300 baht / week or 3000baht / month If you take the Honda Click, Yamaha Nouvo and Grand Filano (125cc) - 1500 baht / week and 3500 baht / month. Honda PCX or new Aerox, as well as NMax - 2500 baht / week and 6500 baht / month.
Mr Kord
Normal bike 200 baht / day, 280 baht / day withinsurance. Deposit 3000 baht and a copy of the passport. If you rent with insurance, then no deposit. In a month she wants 3,500-4,000 baht for a Honda Click (depending on the condition), but you can bargain.
International distributors
It is best to take the car is not from local Thaidistributors, and the international network of world-famous, which are located in all airports of the country. There will be fewer problems and surprises - they are just fine with contracts and insurances. Especially, I recommend to do so, if the car is needed for several days or weeks, and not months, then there will be no difference in price.
In this case, it's about Krabi Airport. Of course, it would be most convenient to fly to the airport and immediately get a car upon arrival. Just need to book in advance, and then without any problems get it at the counter.
I myself have done this several times already, and a coupleI took it even for a month, it turned out also, like that of small private traders - 16-18 thousand baht. Then it was the company AVIS with discounts. For a few days / weeks, I usually get on Hertz, which is considered to be expensive, but if you know how to book, then the cheapest is often the case. For the past 3 years, most often they take the car in the end. How to book below.
Car rental in Krabi with discount>
So my advice is not to take directly from internationaldistributors, and through the service Economybookings. Firstly, through it the prices are lower, as I said, especially in Hertz. Secondly, it shows at once all prices from all distributors, you can always choose those who offer the best price or conditions. Here is my mega informative post, how to rent a car in Tae.
On the map
Services in Krabi (Ao Nang)
Services in Krabi (Ao Nang):


Life hacking 1 - how to buy a good insurance

Choosing insurance is now unrealistically difficult, so to help all travelers, I compile a rating. To do this, I constantly monitor forums, study insurance contracts and use insurance by myself.

Life hacking 2 - how to find a hotel 20% cheaper

First, choose a hotel on Booking. They have a good offer base, but the prices are NOT the best! The same hotel can often be found 20% cheaper in other systems through the RoomGuru service.

Discount hotels