I already wrote a detailed post about bike rental in Thailand. It contains all the information you need: do we need rights, models of bikes, how to manage, how to rent and all the other nuances. Separately, I want to lay out rolling offices checked by different people, or those offices that do not require a passport. Of course, on Samui there is no such problem as on Phangane or Taocan only be diluted if you damagebike, but still I would not recommend leaving a passport as a deposit. Moreover, there are so many rental offices on Samui that there will always be a choice, on any beach.
The content of the article
Verified rentals on Samui
Few proven rents from local expats. Honestly, I myself did not encounter personally the problems of renting on Samui. Yes, and to find a rental is not difficult, unless, of course, you have not drilled somewhere deep. For example, we lived on Bang Po and there are very few offices there, so they beat prices, did not bargain, and sometimes they wanted a passport as a pledge. But it is worth going to Maenam, Bo Phut, Chaweng and Lamai, and there the choice is already hoo.
In the area of ​​Chaweng, rental at the guesthouse, whose owner is Italian. He still has a pizzeria in the same area.
On Chaweng, at the end of the oneway road, among Nepalese
On Chaweng, near the ring - ThaiMoto, Russian-speaking service
Hakuna Matata on Chaweng and Lamai, they have 2 points. He himself took from them, everything went well.
On Bang Po, across from The Sea Hotel
On Lamai, the ring road, across the street from Bangkok Bank, they also sell tickets for buses and boats, the Tourist Information sign on the glass
On Maenam, between the 7th and 5th jays, from the sea there are two rents that do not ask for a passport as a pledge.
on Maename, just before the turn to the hotel FloristThe resort, next to the tray where they sell necks and coffee, there are also washing machines in the depth, and next to them under the roof there are about five bikes, with a sign "For rent" and a phone number.
On Maenam on Walking Street near the former pier.
On Maenam, a hundred meters to the left of the Honda salon, there is a Bike Point, the owner of a Thai man named JJ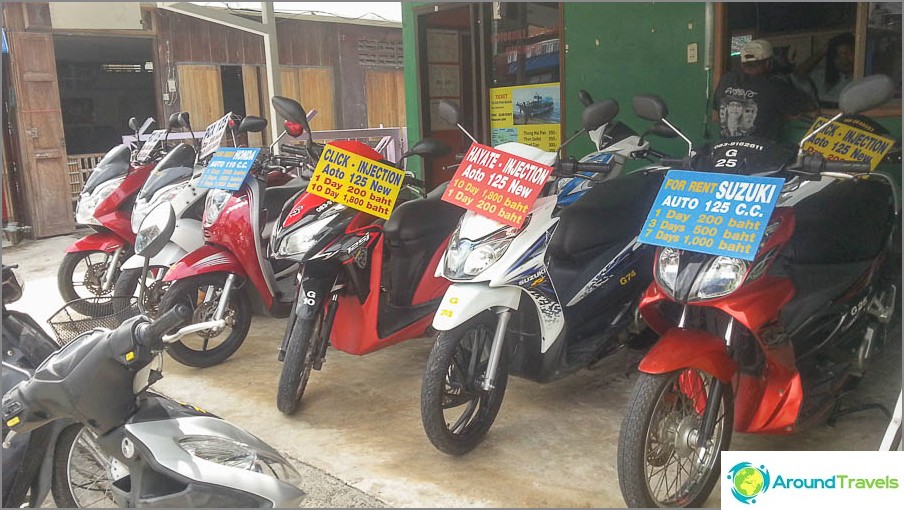 The cost of renting bikes on Samui
In general, you can count on 200-300 baht / daywith short-term surrender, and at 3000-3500 baht with a monthly Honda Click 125. PCX per month usually rent somewhere for 6000 baht and 600 baht / day. The prices are approximate, that is, they may be different, but I would not click to take more than 250 baht / day more expensive, this is bourgeois, let them go to the forest.
Separately, I also wrote about car rental on SamuiI took several times.
On the map
Services in Samui
Services on Samui:


Life hacking 1 - how to buy a good insurance

Choosing insurance is now unrealistically difficult, so to help all travelers, I compile a rating. To do this, I constantly monitor forums, study insurance contracts and use insurance by myself.

Life hacking 2 - how to find a hotel 20% cheaper

First, choose a hotel on Booking. They have a good offer base, but the prices are NOT the best! The same hotel can often be found 20% cheaper in other systems through the RoomGuru service.

Discount hotels