First of all read my detailed general post. about renting bikes in Thailand, there are all the nuances. And about the rights, and about how and what to rent, and about how to control the bike. Here is just a little info on Pattaya. In fact, there is no problem renting a bike, rolling offices are found at every turn. And if you do not ask for a passport as a deposit, then in principle you can take it everywhere. Usually divorces are found on Koh Phangan and Tao, separately I am about also wrote, read to be aware of.
Several proven offices in Pattaya
At the Botany Beach Hotel (Jomtien)
On the street Bu Kao in the center
Jomtien Condotel Complex
On Beach Road near Royal Garden Plaza
At the intersection of Teprazit and Tappraia streets, next to the Food Mart supermarket
On Teprasit Street - towards the Sukhumvit highway,opposite the gas station, on the other side of the street, there are motorcycles on which the "Rent" and "Sale" signs hang, first of all it is a repair shop and only for the second rental.
On Soi Naklua 12. This street leads to the Temple of Truth, there are several offices halfway to it on both sides of the road.
As I said, a lot of rentals. I myself took a bike several times just somewhere near the hotel and did not look for anything on purpose. But I always take in places where they do not require a passport as a deposit and photograph the bike from all sides (so that the owner can see it), and then there will be no cavils to me.
The cost of renting bikes in Pattaya
Since there are a lot of offers, it's realistic to findpretty cheap bikes. The average price is about the same (or slightly lower), as in the whole of Thailand, 200-300 baht / day for a regular scooter on a machine and 400-500 baht / day for PCX.
Monthly price also varies, depending onyour ability to find something cheap. You can remove the usual bike for 2000-2500 baht / month, and you can for 3000-4000 baht. PCX is naturally more expensive. Someone even manages to find it almost for free, for example, from the owners of a rented house. By the way, a good option to look for farang in VKontakte groups, they usually rent their bikes cheaply. Well, and of course, do not rent a bike in the Walking Street area, there will be a farang price.
Also in Pattaya you can rent a bike with a sidecar. I have not seen this anywhere else
For example, in Krabi they hand over tuk-tuki, but this is quite another matter. Thank you, our reader shared info and photos.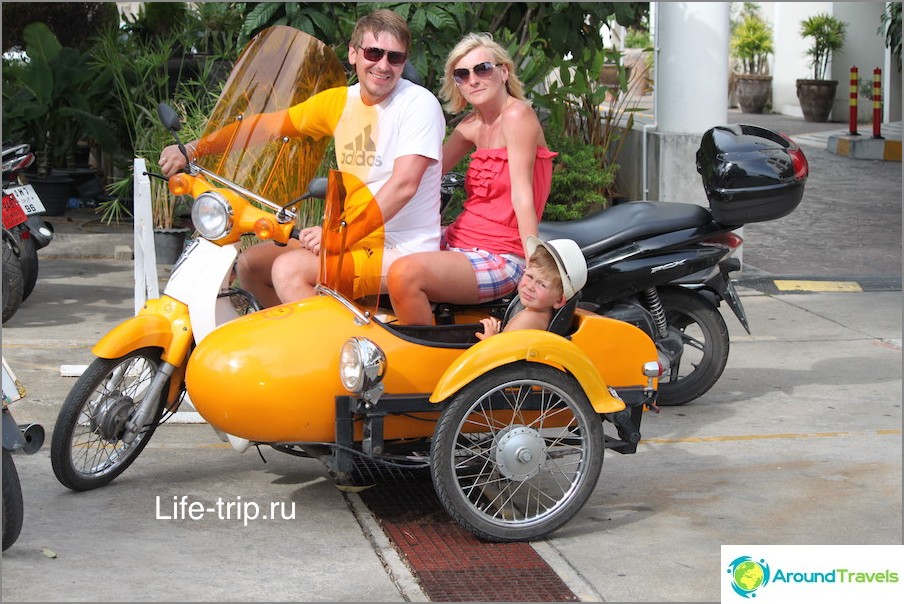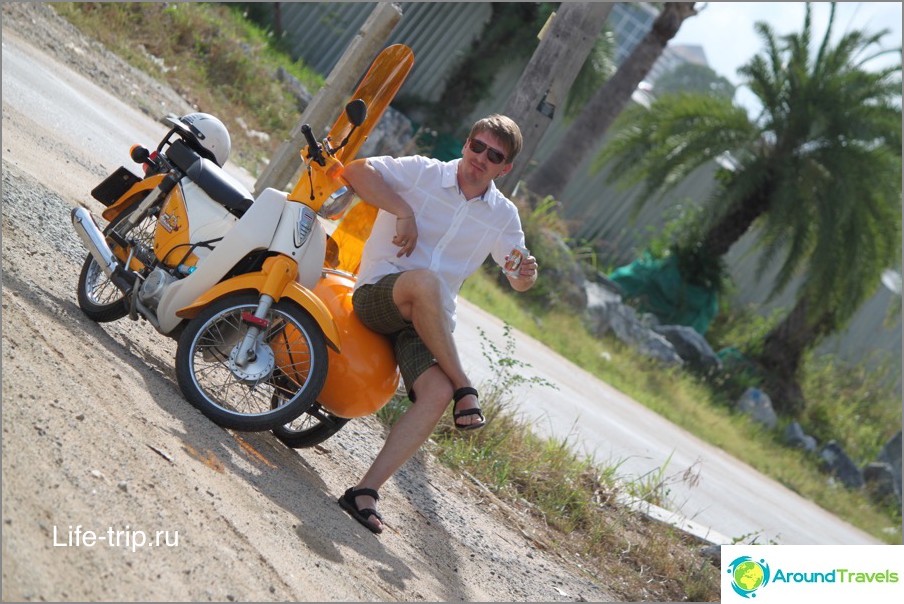 P.S. C rent a car in Pattaya, too, there is no problem. But read my detailed post about car hire in thailandwhat options there are, what is better to shoot in large network rentals or in small ones, what docks you need, and how insurance works.
Life hacking 1 - how to buy a good insurance

Choosing insurance is now unrealistically difficult, so to help all travelers, I compile a rating. To do this, I constantly monitor forums, study insurance contracts and use insurance by myself.

Life hacking 2 - how to find a hotel 20% cheaper

First, choose a hotel on Booking. They have a good offer base, but the prices are NOT the best! The same hotel can often be found 20% cheaper in other systems through the RoomGuru service.

Discount hotels