A series of posts "Rent a bike on ..." was created specifically so as not to interfere in a heap the main issues on renting a motorbike in Thailand and local nuances in each of the resorts. In a general article, I have described in detail what rights, characteristics and advantages of different bikes, management fundamentals, rental tricks and a number of other life hacks are needed on the topic. As part of this article, I want to share with you my work and the total experience of Runet users in renting a motorbike in Phuket in offices that do not require a passport as a deposit. The main feature of renting a scooter in Phuket is that this island is huge, and there is a huge selection of rental companies, among which are still dominated by those who strongly disagree to give their scooters without a passport as a deposit.
The content of the article
Proven Rentals in Phuket
The main question in Runet, on this topic: "Tell me where in Phuket it's cheap to rent a motorbike without a passport pledge?" Surprisingly, the most standard answer is "everywhere". Moreover, such answers often come across in 2016-2017, but much less frequently by the age of 13-14. Still, progress in this area is slowly breaking the long-standing established habits of rental owners, and tourists have more places to go. True, by observing the latest trend in the work of the police, which is increasingly checking drivers not only helmets, but also the availability of rights of the right category, one can soon expect changes in this service sector.
On huge Phuket you can find a place everywherewhere you will be given a scooter for a photocopy of your passport and cash deposit - it is just a matter of time to search. Rental offices are located almost every 100 meters, the competition is very high, prices with terms of rental dance everywhere differently and almost everywhere now there is an alternative guarantee - money. The most lazy option is to rent a hotel where you live or ask the landlord if he has the right person. The most expensive option is to score a search in Google and get three to five top-end products with sites, a shop window and a payment interface. Well, the easiest option is to ask the local community on VKontakte or Facebook with a question.
Proven and recommended rentals in Phuket:
Весь Пхукет. Сергей, контактный e-мейл: [email protected], по нему же легко гуглится и сайт товарища
Phuket Town PanaPorn, Thai rental, coordinates: 7.881950, 98.392645, do not fight money for the repair of plastic.
Patong, north of the district, near the waterfront. Cheap as Chips. Quite a famous and popular office,
where low prices and do not take a passport as a deposit. But in season, it's problematic to rent a bike there, the bike park is not very big.
Patong. Phuket Moped. Russian-language rental. A deposit of $ 100 and a passport photo in WatsApp, delivery in Patong is free. Contacts: +79250779209, Thai number: 0949370522 - Alex.
Vladimir Lomonosov, private VKontakte, without a passport pledge, phone +66 954 25 0004, VC profile is googled by name and phone
Khun Pirun, Thai private trader, telephone 081891605
Kamer Calio, prices below street, with delivery to the hotel.
Russian-language rental. BikePhuket24, +66934100077 (Whatsapp, Viber)
Russian-language rental. Phuketautorental, +66823030400 (Whatsapp, Viber)
Chalong Family Business, Nina's Cars +66 89 648 0499
Motobike with a stroller. Private owner Marina Valgutova.
Motobike with a stroller. PSX 150 with a full-fledged stroller, after turning to the pier, 200-300 meters on the left side.
Tip Top car rental, contact owner: Saorapa Sa
Tattoo Salon opposite Chanalai Flora Resort, $ 200 deposit
Alex Sabai, private owner, Russian-speaking.
Andrey Tovchigrechko, private trader, Russian-speaking.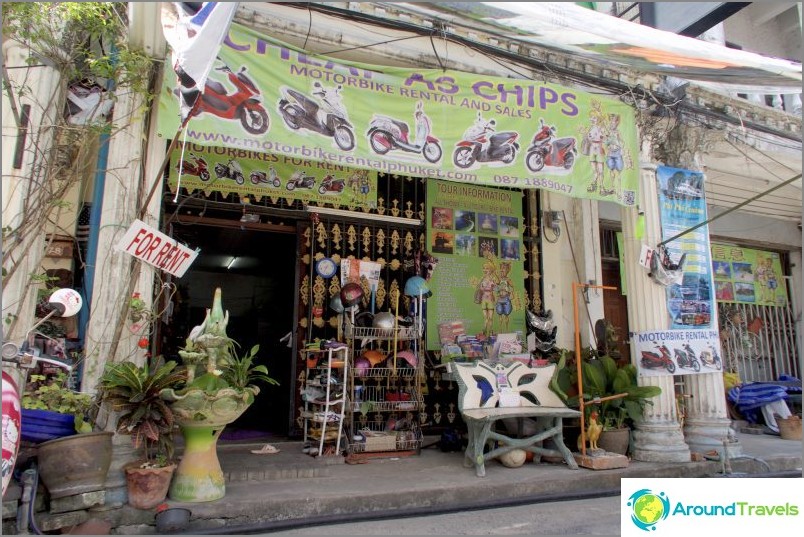 The cost of renting bikes in Phuket
With all the shortcomings of Phuket rentals, herehigh competition and more opportunities to rent a motorbike in Phuket cheap. Ideally, if you rent a house from a Thai who also owns a rental office, or he just has a small motor park, discounts can reach 40-50 percent for a long-term rental. The difference between rent for a day and a month is of course tangible, as is the difference in the freshness of the scooter itself. On the example of the most popular motorbikes (Honda Click and Honda PCX) it will look like this:
Per day click on average 200 baht. For a month: 3-3,5 thousand baht.
PCX per day averages 300-350 baht. For a month: 4.5-6.5 thousand baht.
Prices are, in fact, very, very different andIt affects both the year of manufacture, engine size and the season in the yard. In the low season, you can very nicely ride the minimum price, and in the high season you will have to look for a more or less decent scooter already in the high price range and it's good if it's free.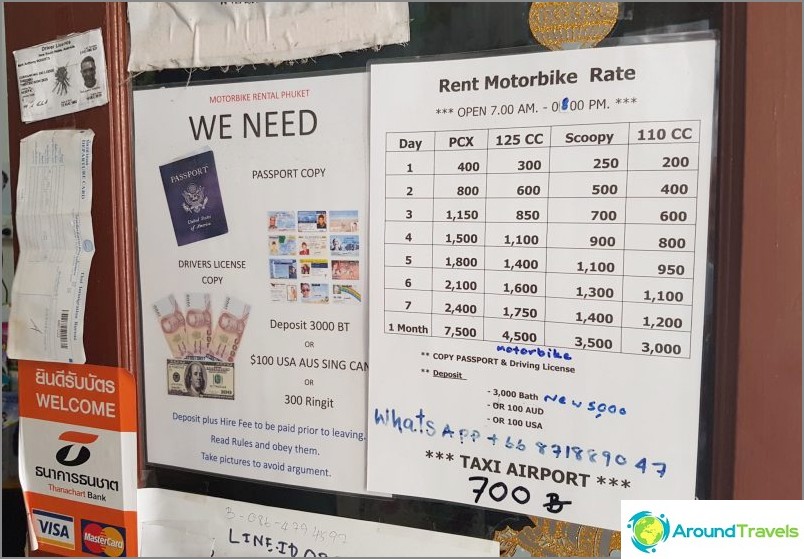 On the map
Phuket Services
Phuket Services:
P.S. Write in the comments your verified points for renting bikes.
Life hacking 1 - how to buy a good insurance

Choosing insurance is now unrealistically difficult, so to help all travelers, I compile a rating. To do this, I constantly monitor forums, study insurance contracts and use insurance by myself.

Life hacking 2 - how to find a hotel 20% cheaper

First, choose a hotel on Booking. They have a good offer base, but the prices are NOT the best! The same hotel can often be found 20% cheaper in other systems through the RoomGuru service.

Discount hotels