We recently went to clerk in cambodia and for this we took the car for rent. Since Bangkok is a very big city, you just can't go out on the street, just like at a resort, and you can't take a car for a couple of days. Since time was running out, it was decided to book a car over the Internet in order not to waste time searching. True, I ran into another problem - there was almost no free cars anywhere because of the New Year holidays, everything was dismantled (the same can happen with housing, so for sure I advise you to choose hotels in advance, for example, RoomGuru). But first things first.
General information on car hire in thailand I already laid out. Under the link you will learn about the types of insurance, the required documents, deposits, as well as the difference between small rolling offices and large network offices.
The content of the article
Rent a car in Bangkok via the Internet
Broker and network distributors
As already said, I did not look for a car in smalloffices and went directly to the large, whose names are familiar to many other countries (Hertz, Avis, Sixt, etc.). Pre-read reviews and realized that in general, there is no fundamental difference between them in Thailand.
In my case, the problem, as I said, wasthat everywhere everything was already taken on my dates, it is understandable - I started looking too late (for 4 days somewhere), and there were already New Year holidays on the nose.
Therefore, having seemed to check all the sites, I rememberedthat there is an Economybookings broker, where you can punch through the presence of all existing network distributors. And it turned out that I completely forgot to look at National. So take note of the fact that it is best to start with a broker, and then break through prices at the distributors, if something suddenly does not like. Although, as a rule, the broker will be cheaper.
How to use reservation sites
To take the car and then use it for you.you will need: a passport, international rights (national rights may also come down, but in case of problems no one knows how the case will turn out) and a bank card. And you should also be more than 21-23 years old.
Use car booking sites thatbrokers, that the distributors themselves are very easy: everything is the same as when searching for hotels or air tickets, as on Aviasales.ru and Skyscanner.ru, for example. Choose a country, city, place in the city (airport, office), the desired dates, your age and click search. After that, you are given a list of free cars.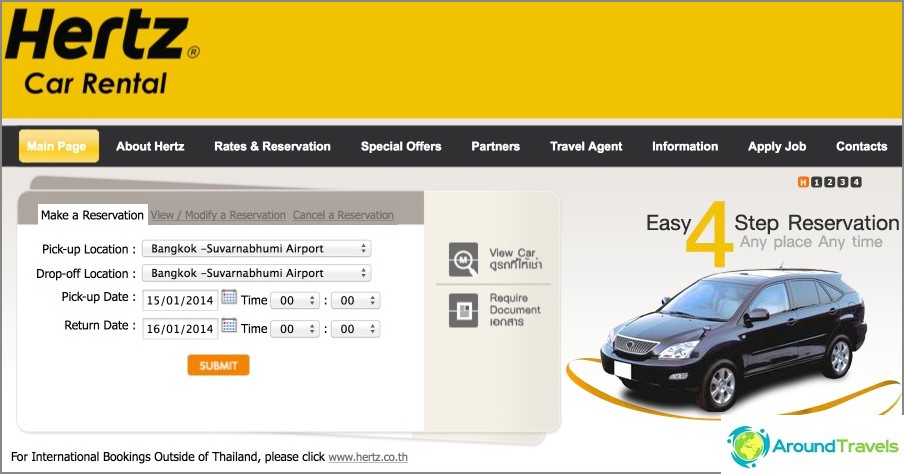 Often the model of the car is not specified specifically,for example, "Honda Brio or similar (COMPACT Group)". This means that you will get a Honda Brio or something similar to it, that is, in this case only the class of the car is indicated (Compact, Economy, Intermediate, Standart, etc.). Unfortunately, sometimes the class may differ from your ideas about it, order "Toyota Vios or similar", and you will be given Honda Jazz on the spot, because according to their concepts it is similar.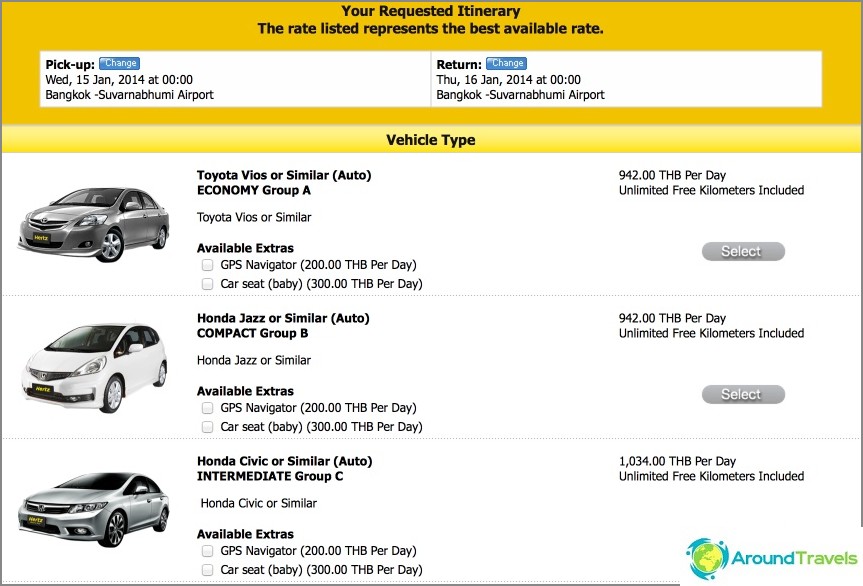 Choosing from the list of suitable cars, you goto the reservation page where you can add various options: full insurance, additional driver, child seat, navigator, car delivery to the hotel. All this will increase the cost of rent. As a rule, initially you are offered insurance with a deductible, but you can expand it to full for an additional fee. About that What is a franchise and what are the insuranceI already wrote. Sometimes all the listed options can not be added to the site, and then it will need to be done on the spot upon receipt.
As a rule, to reserve a car (booking), you will need to enter your bank card details (what to choose for travel). Depending on the particular firm, you may be charged the full amount for the rent, part of the amount, or nothing at all. You will pay the missing money on the spot (using the same bank card) when you take the car. A deposit will also be taken from you there, it will also be written off from a bank card. Do not worry, he will come back after a while (from several days to a month) after the end of the lease.
Be sure to read what is included in the price.rent and what are the conditions of insurance. Even if through a translator to read, everything will be more or less clear. Note that even full insurance may not cover, for example, mirrors.
Toyota Vios by National car
In the end, I booked myself a "Toyota Vios or similar" for 2 days at a price of 1,500 baht / day in the National car. This amount includes unlimited mileage and compulsory insurance with a franchise of 5,300 baht.
Point of delivery (pickup locatiion) I initially chose to Suvarnabhumi Airportit's convenient because you can get thereMetro (City Line), which branch is located near our house. I arrived there at the appointed time. Since I did not pay anything through the site (there was such an opportunity), then at the distributor's desk I had the rent amount taken from the card for 2 days and a deposit of 20,000 baht. Next, I signed a contract and took the car on the inspection sheet (recorded all the scratches and fuel level). The car was a new, white Toyota Vios with a mileage of 11 thousand and almost in perfect condition. She had only one minus - tinted windshield. They like to tint everything in a circle.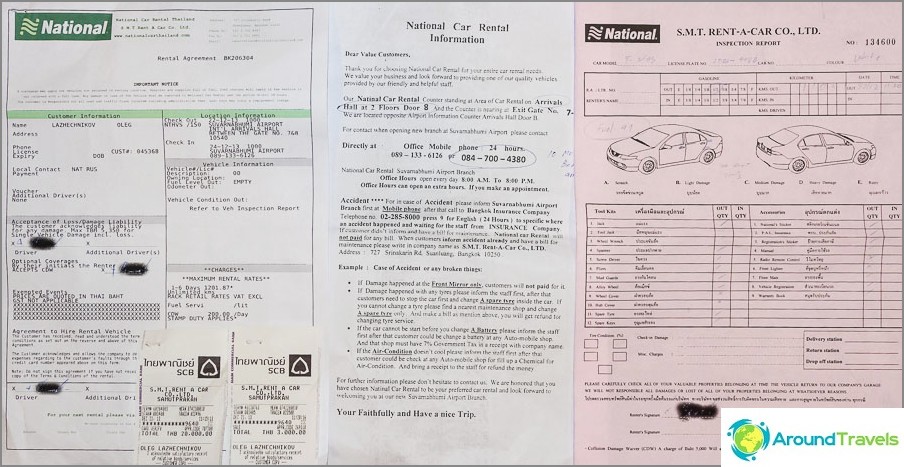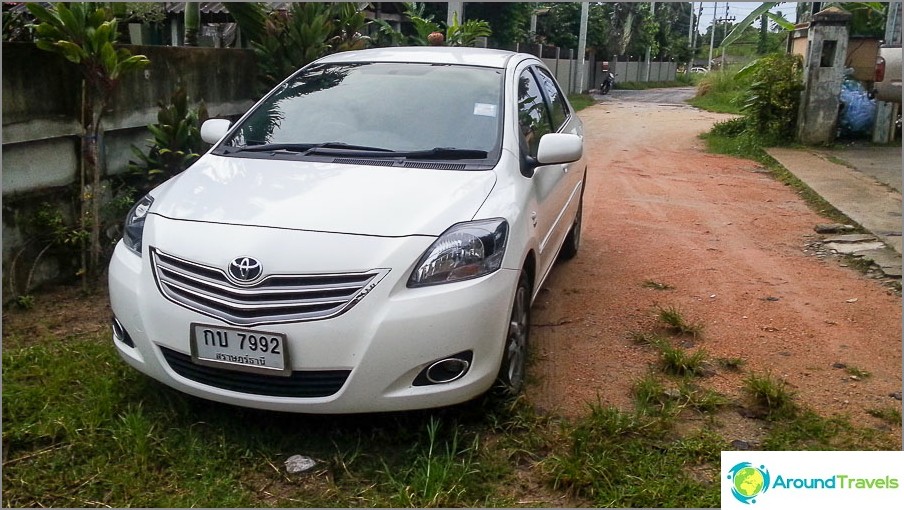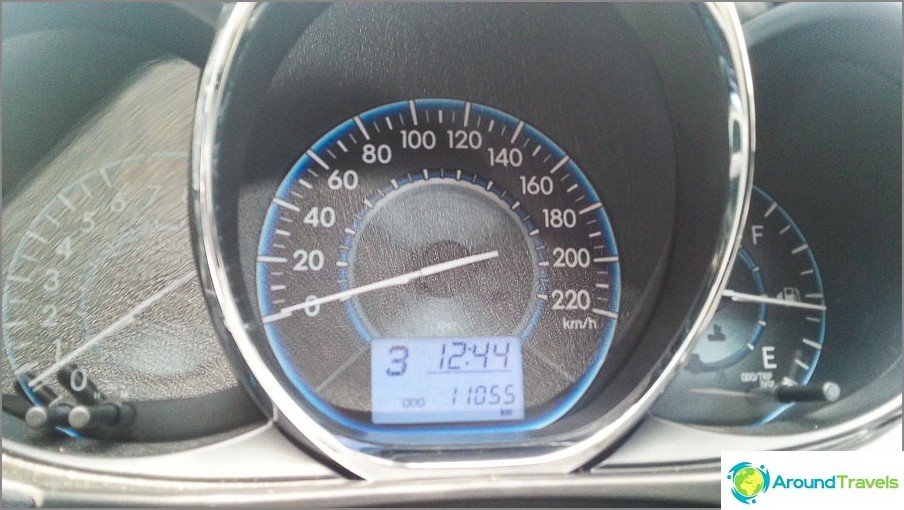 Hertz Toyota Vios
Another time, we decided to go from Bangkok toKrabi by car and I took the car already from Hertz. For 7 days I paid 6125 baht, quite a good price! The scheme is the same, I will not repeat, only 10,000 baht were frozen on the account. Reserved through Economybookings, arrived at the airport and took the car. Almost new, too, on the machine and with a mileage of about 5 thousand. And yes, lobovuha again tinted, well, why?!
The only difference with this rental is that Igave the car in another place, that is, in Krabi. Almost all offices want extra money for this service. BUT! If you take for a period of 5 days, then this service is free (not at all, but Hertz for sure).
Return car and deposit
I handed over the car in both cases, too, without any problems. We looked around quickly in a circle, checked the fuel, said thanks and that's all. Moreover, in the case of Hertz, I slightly kotsnul Bamber and, in principle, was ready to pay for it, but did not pay attention. Maybe lucky and just did not notice, I do not know.
A deposit from National Car returned to your bank card in about 3 days. They manually canceled the transaction. I know this because they themselves told me that they would do that.
The deposit from Hertz is back after 25 days. In principle, this is a normal practice, because if you do not manually cancel a transaction (and usually no one bothers with this), then the amount lock will hang for 20-30 days, depending on the bank. It seems to me that my amount would also have hung for 30 days (for Sberbank like that), but I wrote to Hertz, after which the money immediately fell into the account, hardly a coincidence. In general, in order not to wait until your own funds return, it is much more convenient use a credit card, then all the same how much time there the amount is blocked.
The principle of renting a car through a broker
Separately, now I will write about the broker aggregator. Its main advantage is that its prices are often lower than those of the distributors themselves, and you can also get a free bonus in the form of an additional driver. And there is no catch here, it has already been verified by many people. Here are the ones I use most often: Economybookings
Discounted car rental>
All exactly the same, go to the site, choosecountry, city, start the search and you are given the results. Choose options and book on the map. Then, on the spot, the distributor will take another deposit, block it on the card.
Broker can also give you a bonus or for a smalla fee to offer full insurance without deductible on my own. It can be more profitable than taking a car with full insurance from the distributor. It works like this: you hire a car from a distributor, where there is insurance with a deductible. If damage occurs, you pay the bill within the franchise on site to the distributor. After that, write to the broker, he says what documents you need to send, and returns you this amount to the account. The chip is working, proven. Only sometimes the refund takes a long time, as the distributor behaves, they will expect an answer from him regarding the damages and the amount.
A couple of small offices in Bangkok
Detailed experience rental in small offices described in my article Rent a car in Samui. No matter where you find yourself, even if not on this island, the principle is identical and the nuances are the same. Prices are similar too.
While searching for a car in Bangkok, I came across a couple of companies where people took cars. Here are their addresses and contacts.
Lumpinee car rent center
Address: 167/4 Wireless Road, Lumpinee, Pathuwan, Bangkok 10330
Tel 02-255-3482-3, 02-255-1966-8
Maneeda tour (near Suvarnabhumi airport)
Lat Krabang Rd, Khwaeng Lat Krabang, Bangkok 10520
[email protected]
+ 668-1933-9226, 08-9667-5551
P.S. If there are any questions about booking cars via the Internet, ask, I will try to answer.
Life hacking 1 - how to buy a good insurance

Choosing insurance is now unrealistically difficult, so to help all travelers, I compile a rating. To do this, I constantly monitor forums, study insurance contracts and use insurance by myself.

Life hacking 2 - how to find a hotel 20% cheaper

First, choose a hotel on Booking. They have a good offer base, but the prices are NOT the best! The same hotel can often be found 20% cheaper in other systems through the RoomGuru service.

Discount hotels