They piled me with questions about renting a car inThailand. Decided to make a series of articles to tell the most complete about the lease. Experience is already enough: I rented in Bangkok, Phuket, Samui, Hua Hin, in Chiang Mai. Moreover, he took the car, both daily and monthly, took from trusted network companies and private traders. If you are interested in information on bikes, then read about scooter rental in thailand.
In this general article I tried to talk aboutall the nuances of car rental in Thailand: where it is better to book, what documents are needed, whether to make insurance, how the contract is made, whether a deposit is taken, etc. That is about everything practically.
The content of the article
Brief instruction
Essence for those who do not have time to read.
Monitor prices through Economybookings brokersor Rentalcars. They are always cheaper than directly, and Economybookings in general often offers 50% discounts. I repeatedly booked through both, no problems. All cars will be only from proven large international distributors, with insurances, contracts, no left.
Discounted car rental>
You need to start the search and book at least a week, at least 3 days before the trip, otherwise there may not be anything available during the peak season, and you also need a day to confirm your reservation.
Then book with a bank card. The same card is desirable to have with you when you pick up the car on the spot. I recommend the maps of Tinkoff, Corn, Sber Mastercard.
Upon arrival at the airport you go to the desired counterFor example, to Hertz and begin the process of registration. You will need a passport, driver's license (preferably international, but you can and ordinary), a bank card. Sign the contract, charge the rent from your card (if it was not written off before) and freeze a deposit of about 10 thousand baht on it, which will be returned to you 10-20 days after the end of the lease. I recommend to immediately issue a full insurance without a deductible, so as not to be afraid to scratch the car.
Go to inspect the car and in the inspection sheetindicate all damage, as well as the level of gasoline in the tank. The car is issued with a full tank and also need to be returned. If you have taken full insurance, you can not inspect the car.
Daily should always be taken from internationalnetwork companies to not have problems. They have everything clearly and debugged, cars with small runs, and prices are the same as everywhere else. It just does not make sense to hemorrhage and look for private owners and local distributors. Booked through the Internet, picked up at the airport and travel!
Also international distributors give the opportunitygive the car in another city. My last trip to Phuket Koh Lanta Krabi was just that. Took on Phuket, gave in Krabi. Very cool trip turned out.
But if you are going to take the car for a longterm (monthly), then you can look at the local small distributors, perhaps it will be cheaper. But you need to be ready to search on the spot and bargaining. It is also worth considering that during the peak season (December-January) local distributors may not have cars available, prices may fly into space. Be sure to check the availability of the contract, insurance. And do not take the car from those Russians who retake them (such as sublease), they often do not have the right to do it.
For monthly rentals it also makes sense to askfrom their friends / neighbors, where they rent a car and for how much. You can also check with the owner of the rented house if he is renting a car. If you come not just from the street, you can try to knock out a discount.
Where to rent a car in Thailand
You always have 3 options where you can rent a car: small companies, large network distributors and brokers.
Small companies
By small rental items, I attribute all localcompanies as well as private individuals. As a rule, in such companies, cars are rented on site, after searches. We arrived, went around 3-5 offices and removed something suitable. Occasionally there is a reservation via the Internet, but usually it is offered by Russian offices (or even just intermediaries). It makes sense MONTHLY to take a car in a small company, then it will be cheaper and the time costs are justified.
In small companies, you can agree on something,to bargain, you may not be asked rights or take a small deposit in cash. But there may also be ambiguities with insurance, with drawing up a contract, there may be no inspection sheet and a divorce for money later. Moreover, the smaller the office, so everything will be "easier." With a private person in general, you may have to negotiate orally. Of course, if the company has been on the market for a long time, then everything will be fine in it. In general, not everyone trusts such companies, there is more crap, from search to guarantees. Detailed rental experience in a small office, described here - Rent a car in Samui.
Large network companies
Network companies are those that do not work.only in Thailand, and generally in the whole world. Their names you may know from trips to Europe or somewhere else (Hertz, Sixt, Avis, etc.). They all have similar requirements (passport and necessarily rights), there is always insurance (with or without a franchise, to choose from), all conditions are clearly stated on their websites. In this regard, everything is safe and guaranteed, the procedure is the same. The prices for the DAILY surrender are the same as in small companies, so I personally prefer to rent them daily (usually right at the airport).
The car is booked through the site (no need to go andsearch), and then paid by credit card. Deposit is also removed from the bank card (freeze). Detailed rental experience through network rental is described here - Rent a car in Bangkok. I recommend to book through a broker, but more on that below.
Brokers - discount rentals
In fact, this is not the third type of lease, butSimplify the search for cars and reservations in large network companies. In fact, this is something like the usual search engine tickets, sometimes they are called brokers. One of these proven services that I myself use constantly in my travels is Economybookings.
View prices from Economybookings>
Brokers have a lot of advantages:
Through brokers is often 2 times cheaper than taking the car directly from the distributor. A steep discount is coming out, which is why many use brokers, they like the type of dumping they like.
A service such asadditional driver (when the two are driving). Also, some offer their personal full insurance against an accident with a zero franchise, that is, they compensate everything that the distributor can take.
You do not need to walk on the top ten sites of variousoffices, compare prices and find out if there is a necessary machine in stock. This is especially true in the season when there are few cars left, and on one site you will see all the options from all possible distributors at once.
Compare specific prices
Specially made a comparison, booking yourselfcar from December 15 to December 29 (14 days) to go on it to Koh Chang. Took in Bangkok at Suvarnabhumi airport and returned there too. Yes, prices are higher in the season, but still significant. Moreover, most often it is during the peak season (December-January) that everyone goes somewhere.
At first we will look at the prices at the most popular rentals in Thailand: Hertz (19998 baht), National Car (15022 baht), Sixt (37543 baht). See screenshots below.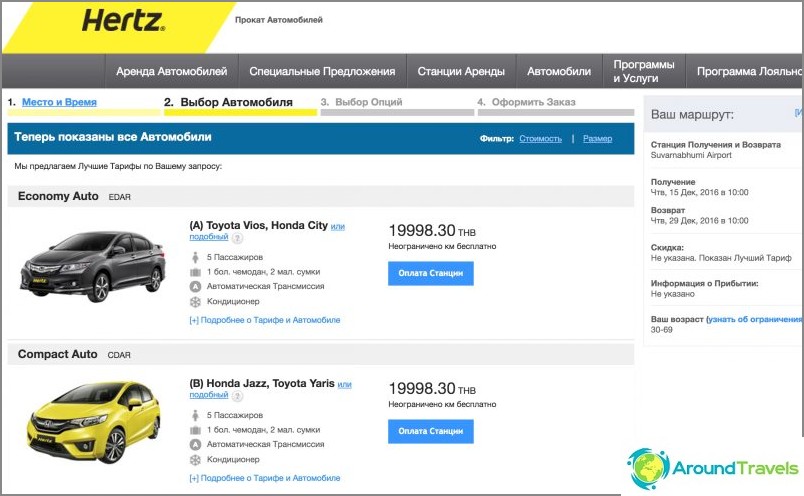 So-so picture is obtained. Well, more precisely, if you know in advance that you can rent cheaper. I already knew something, not the first time I book. But, okay, now let's see what Economybookings offers.
And he offers a compact car for the price of just 9899 baht from Hertz. That is what I took, saving 5-10 thousand baht out of nothing. Hertz then gave me a new Honda Jazz in very good condition.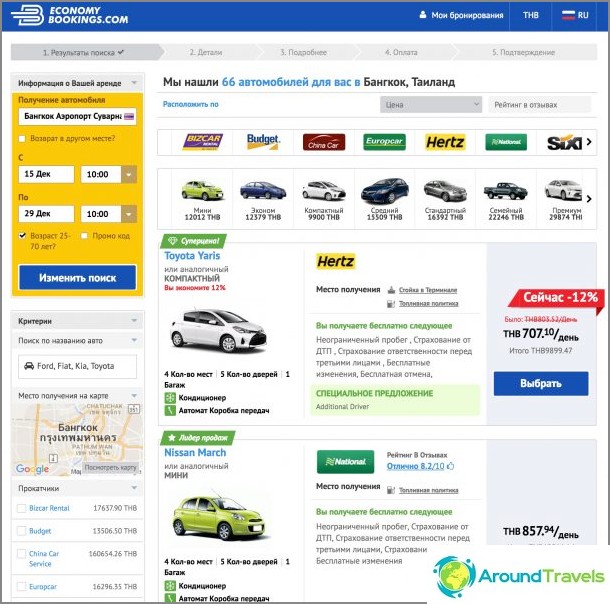 Full instructions on how to book a car
Average rental price
As for the car rental in Thailand, the averageThe cost of a regular sedan will be about 1000 baht / day, regardless of whether the network is a company or a private owner. The cost depends on the season, model and rental period. The cheapest are subcompacts and pickups with a manual gearbox. And in terms of duration, then somewhere from 5 days discounts already begin. In principle, the price does not depend on anything else.
The average price per monthly rent is15-25 thousand baht / month Usually this price is offered only by private traders and locales. Network international offices, with the exception of Avis, do not give a weighty discount monthly. Although I somehow stumbled upon a similar price from the Sixt.
If you still separately talk about renting fromprivate owners, then sometimes they can find old (dead) options conditionally for 500 baht / day or 10-15 thousand baht / month. Yes, budget options will have to search, and it is not known how long it will take. But here everything seems simple to me: either you pay with money, or you pay with time. As an option, if you are a god of bargaining and can somehow bargain for a normal car. I don't know how to bargain and I don't like it, I never get it. And another such moment, do not forget about the season, on New Year's Eve a car can be taken off it will be problematic everywhere, even for expensive.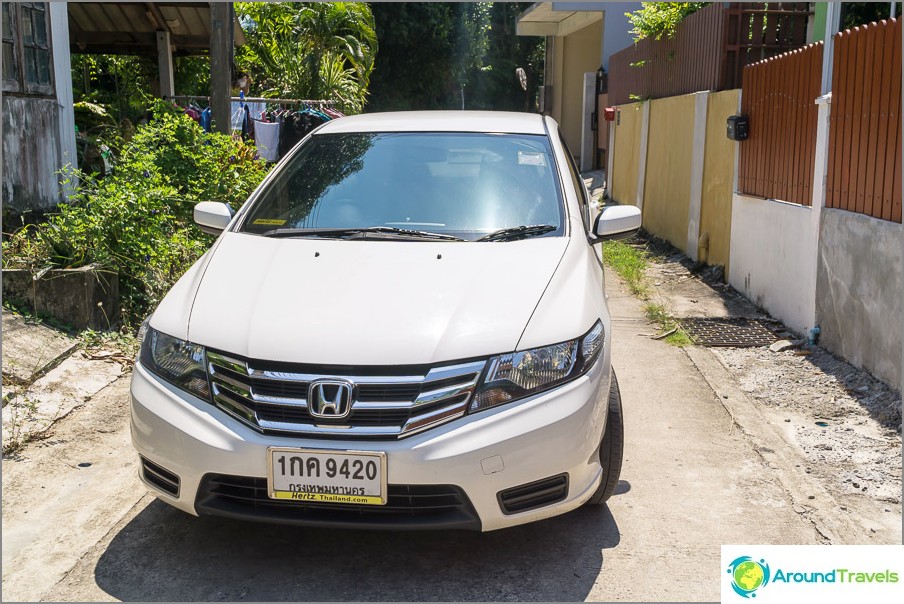 Documents for rent and restrictions
Do I need an international driver's license?
For rent only two documents are required: passport and driver's license.
Different distributors have different descriptions.rights requirements. In small offices, no one can ask any rights at all, and large distributors most often want your international rights (IDPs), although I last took Hertz under ordinary rights, gave the car without any problems.
It is believed that the requirement for the IDP is notdistributors, and the insurers, which is why the website and the contract can be written about the presence of the international driver license. The police also asked me for the IDP, although they stop very, very rarely. Thus, in the event of any accidents it is difficult to say what will result in the absence of the IDP. I know that Thailand signed the Vienna Convention and here it seems like you can ride on national rights. Do you want to prove it to the police and insurers? Your right ... And I have an IDP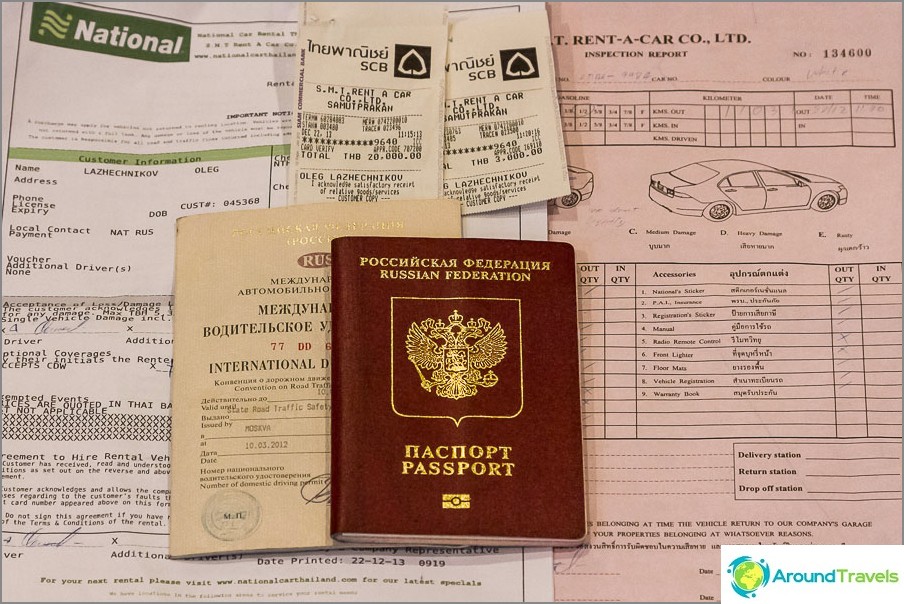 Restrictions
There are restrictions on the age of the driver - youmust be at least 21-25 years, depending on the conditions of a particular office. Another limitation relates to the use of the machine - you can not go abroad, that is, in a country neighboring Thailand. And on the islands at small offices often meet the requirements to ride only here on the island, not to go on the beaches and country mountain roads. Kilometer usually all unlimited.
Bank card and deposit
Do I need a credit card?
Credit cards and debit cards are accepted, despitethe fact that everywhere it is said that they do not accept debit. There is such a nuance, many Russian debit cards "fight", like credit cards, for example, Tinkoff and Corn, which I recommend for traveling (a selection of cards). I repeatedly took the car for them. But in general, make yourself a normal AllAirlines travel credit card (link 1000 rub card gift) and get a good cashback on it.
If you book a car online,upon receipt of the car, it is desirable to have this same bank card on which you made the reservation. Also, a bank card will be used at the point of hire for debiting the rent and deposit.
To check on your cardgoogle BIN check online (here is one of the services), and from the first 6 digits of your card, you will know if it is defined as DEBIT, or as CREDIT. For example, Tinkoff debit and debit Corn go as credit cards, and debit Sber MastercardThe standard is breaking through now, as a debit. Sometimes, you will still be able to pay for a rental car, but it's better to make normal travel maps, Tinkoff is the first in my rating, I have been using it for 4 years.
Deposit
Cash deposit is quite a normal practice. Private distributors always take a deposit in cash, and network ones, on the contrary, withdraw (freeze) only from a bank card. The deposit of a private trader can be 5-30 thousand baht, network take 8-10 thousand baht.
And if with private everything is clear - you give the car away.and your cash back to you, this is not the case with large network distributors. The network distributor will freeze the deposit on your bank card, which will return approximately 20-30 after the end of the lease, you do not need to do anything for this purpose. For example, HERTZ freezes 5,000 baht in your account, and Avis 8,000 baht. IMHO this is not a problem, the money is quite small and will not go anywhere.
From personal experience: National Car returned the deposit after 2 days, because they made a cancellation. Hertz was returned after 25 days, just the automatic cancellation of the transaction.
Passport as a deposit
When renting a car you may be askedpassport as a deposit. It should not be given, it is not correct, then you can get a divorce. Practiced by small private owners, international offices never take a passport as a pledge. But among small offices there are those where there are enough copies of a passport and a cash deposit, look for them.
I personally never give a passport as a pledge.
All about insurance (types, deductible)
Whenever you take a car, ask aboutinsurance One can hope for the best that nothing will happen, but I would take only with insurance, at least with one where there is a deductible. For example, you can't take care of network distributors at all without insurance; by default, it is already included in the price. And do not forget about travel insurance, God forbid, to be useful, but it is better to have one too.
Types of insurance for cars
Third Party Insurance, by type of our CTP
Theft Insuranse
Damage Insurance (Damage Waiver), some types of hull insurance
Personal Liability Insurance (PAI)
Damage insurance with and without deductible
CTP is included in the basic package, insurance against theft is usually already for extra money. Damage insurance has two different options:
With the franchise, where the amount of the franchise, say, 10,000 baht. Usually referred to as CDW (Collision Damage Waiver).
Full insurance or with zero deductible. Usually referred to as SCDW or ECDW (Super Collision Damage Waiver or Extra Collision Damage Waiver).
All English names are from siteslarge network distributors, that is, they may differ. In the case of full insurance (SCDW) for any damage, you do not pay anything, and in the case of a franchise (CDW) there is a liability limit of about 5-10 thousand baht. The limit of responsibility - this is a franchise. Suppose you scratched a car. If the insurance is complete, then it is not your problem, if with a franchise, then you will be billed, but not more than the amount of the franchise. That is, in the case of insurance with a deductible, you will get a maximum of 5-10 thousand baht, usually this amount appears.
But there is an exception. If the car after the accident has become a total loss, that is, written off for scrap, then even with full insurance, you will be charged some amount. For example, Hertz will take 30 thousand baht. In principle, for a completely killed car it is a bit, but still not a complete hull insurance.
Should I take insurance with a deductible?
Besides the fact that you yourself can somehow damagebody or bumper, there is still such a moment with a franchise. Employees of the rental may try to attribute not your scratches to you to earn a little, and here you can't prove anything. I myself did not come across this, but it happens. Therefore, if you are too afraid of divorce, as well as scratching something, then your option is full insurance, even if it is a bit more expensive. I personally take full insurance so as not to bother myself.
However, not everything is so scary. At the moment when you take the car, you inspect and fix all the scratches in a special document. In large network offices without it can not be. Therefore, really, go around and look at the car, where and what. But more about this will tell.
If you take the car monthly, the costfully insured and deductible leases can vary greatly. And here you need to look as far as you decide what you need. For example, you can rent a car for 15,000 baht / month with a franchise of 10,000 baht or 20,000 baht / month and with full insurance.
Contract and car inspection
When renting a car, it is advisable to draw up a contractwhere the terms of the lease, the cost of the lease, and the conditions of insurance will be specified. The last is the most important. But small offices and individuals may not offer you any contract. Here you can decide how much you trust them. You can insist and at least write down the conditions in a simple form. I rented a car once in Hua Hin and in Chiang Mai without a contract. It was risky, but it was interesting to get experience.
Network distributors always offer a contract and all the necessary documents, everything is standardized.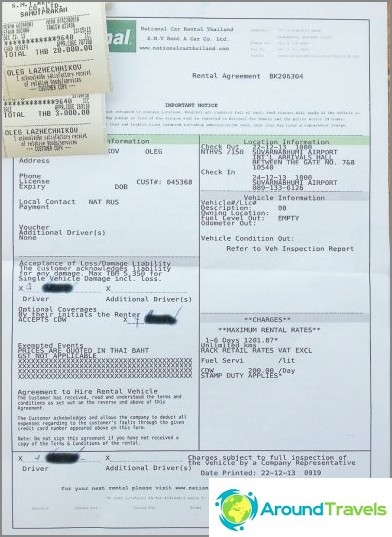 Now, about the inspection. If the office is large, they will give you an inspection sheet of the car themselves, and there you will be able to put marks on the picture of the body and sign where there are any scratches and dents. Well, or any other comments. It also indicates the level of fuel. If the office is small, then usually they do not bother with such things, neither the level of fuel, nor the sheet of inspection. In this case, to protect yourself, write down all the damage in the contract in free form (another photo can be taken).
Also check with what level of fuel you needreturn the car, otherwise upon return you can roll out the missing at triple price. Large network distributors in Thailand always provide a car with a full tank, and you should return it with a full tank. Otherwise, you will pay about 400 baht for each division of the fuel level (as Hertz takes). Therefore, I always refuel before giving away the car. Brought such a rule - to refuel a maximum of 50 km to the point of return, enough that not a single division is gone.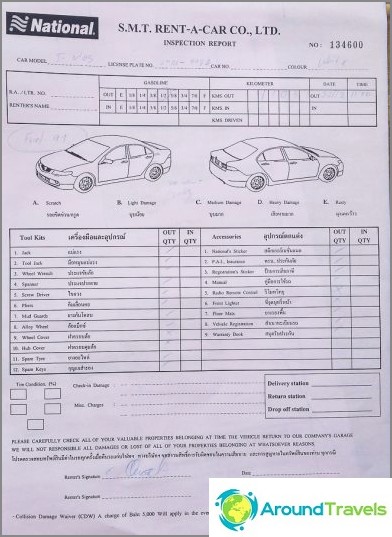 And regarding the inspection. I've been doing this lately: I take a car through Economybookings from some Hertz and with full insurance, and therefore I'm taking a look at the inspection in general, because in any case, insurance covers everything, they won't get sick anyway.
Traveling in Thailand by car
Roads and rules of the road
The most basic difficulty in driving a carThailand is a left-hand traffic (in the other direction, not like ours) and right-hand drive cars. A couple of hours was enough for me to get comfortable, but I know that for some it causes great difficulties. Unfortunately, I can not give any advice here, except that you take the car on the machine, then you will not need to think about changing gears and driving easier.
The second difficulty is a fussy movement.motorbike. If you hardly notice it on the track, then here in the city the bikes are scurrying there and there. If you go quietly, do not rush, give way to them, then everything should be fine and without incident. Just try to remember them, often look in the mirrors and in front of you.
The rules of the road are similar to ours, the colors at the traffic lights also match
But at the traffic lights there are often arrows, not quite the same as ours and we should pay attention to them. Also turning left when the red is lit is a normal situation.
Roads in Thailand are normal, even good, I wouldsaid But the markings are sometimes faded, which makes it difficult to move in the dark (after 6 pm). They also have crazy drivers of buses and buses, with one lane overtaking on an opposite for a sweet soul.
Petrol prices in Thailand
Petrol prices in Thailand can be viewed in the photo below. On the islands (Phuket / Samui) is more expensive, in Pattaya is cheaper. Update from November 2018. Read more about prices and fuels.in my post on the link. Read, and then immediately it does not always work out.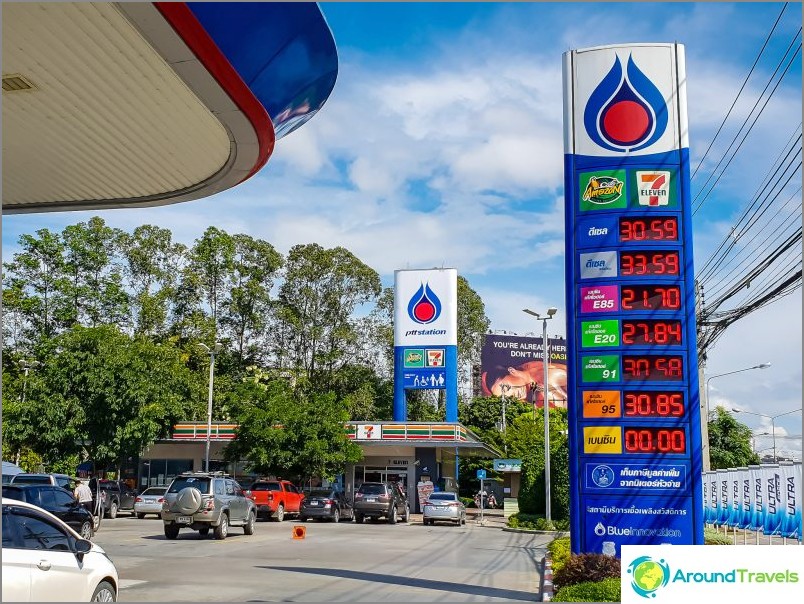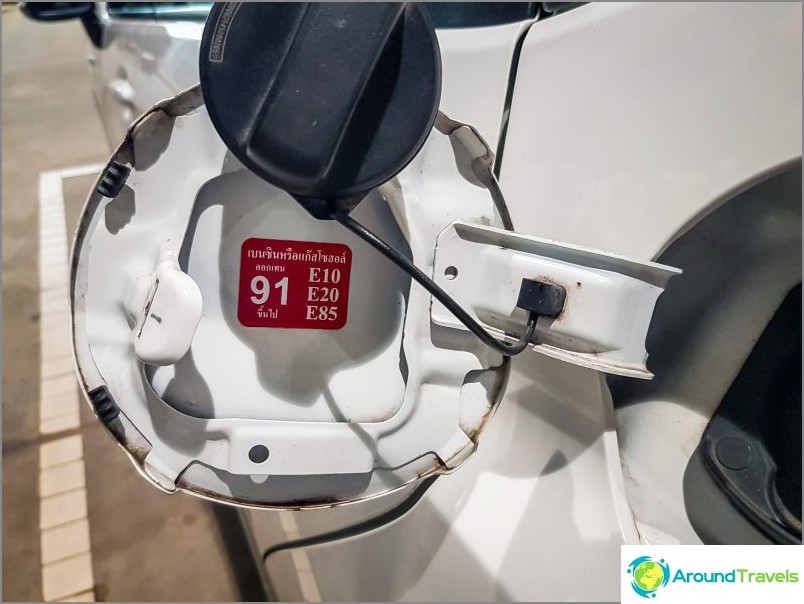 P.S. Got something to add? Welcome to the comments! I will be glad to your additions.
Life hacking 1 - how to buy a good insurance

Choosing insurance is now unrealistically difficult, so to help all travelers, I compile a rating. To do this, I constantly monitor forums, study insurance contracts and use insurance by myself.

Life hacking 2 - how to find a hotel 20% cheaper

First, choose a hotel on Booking. They have a good offer base, but the prices are NOT the best! The same hotel can often be found 20% cheaper in other systems through the RoomGuru service.

Discount hotels