Anyone using a motorbike to rideThailand, including the islands of Phuket, Samui or the resort cities of Krabi, Pattaya, involuntarily faces the problem of repair and maintenance of their bike. Employees of Thai workshops may not speak English, or you risk becoming a victim of inflated prices, as an ingenuous tourist, but nobody wants to pay more. About the average prices for the repair of iron friend and this article will be. All data is collected in the open spaces, in particular, collected by my friend Eugene, from whom you can rent a bike in Krabi, I can safely recommend. And about nuances of renting bikesI already have an article, be sure to read it if there is no experience.
The content of the article
Price for repair and maintenance of bikes
It should be understood that prices vary independing on the region. In places of a congestion of tourists they are higher, however, problems with communication will not be. Official services, contrary to domestic opinion, work cheaper than private offices, at least regarding the main problems (oil change, brake testing, etc.). Other work or do not perform, or deliberately delay deadlines. For example, in the event of a plastic part breaking, it will most likely be refused to be repaired, they will be offered to be replaced. Therefore, your path will lie to the private masters.
The following prices are regional averages: Krabi, Koh Lanta, Koh Phangan, Suratthani, Trang, Hua Hin and the northern provinces near the city of Chiang Mai. In the popular resorts of Samui and Phuket, the upper bar of the price range will be slightly higher.
Engine, chain, cooling, carburetor, tank
Changing the engine oil (once in ~ 4000 km) - 150 baht;
Motorcycle chain tightening - 30-50 baht;
Topping up the fluid in the cooling system is 10-30 baht, often for free when changing the oil, if you ask the service technicians;
Adjust and clean the carburetor - 50-250 baht, depending on the complexity;
Elimination of rust in the fuel tank and fuel line - 400-500 baht;
Box and Clutch
Oil change in the variator - 100 baht;
Replacing bearings in the variator - 300-400 baht;
Replacing the variator belt - 500 baht;
Replacement clutch - 1200 - 2000 baht;
Wheels
Replacing the camera in the event of a puncture - 150 baht (up to 200-250 baht on the islands);
Tire replacement (heavy wear, puncture) - 300-1200 baht, the price depends on the size of the tire and motorcycle model. On average, it costs 500-600 baht;
Vulcanization of a punctured chamber - 30-100 baht (up to 150 in tourist areas). Repair of the car wheel will cost from 150 to 250 baht, depending on the car and the condition of the tire;
Replacing the spoke disc - 600 baht;
Pump the wheels can always be free for a smile. Or you can pump the wheels yourself in any garage or gas station.
Brakes
Adjust the front disc brake - 30-50 baht;
Adjust the rear drum brake - from free replacement to 30 baht;
Replacing brake pads on disc brakes (front + rear) - 300-400 baht;
Plastic, mirrors and license plate
Grouting scratches on plastic - from 50-100 baht per item, near headlights and deep scratches, will cost you more;
Replacing plastic case parts - 1 part from 100 to 1000 baht, maybe more, it's about the bike brand. On PCX, parts cost more by about 20 or 30%;
Complete replacement of all plastic on the bike with a choicecolors - usually somewhere around 5,000 baht, not more. If you were asked for about 10 thousand baht for a seriously tattered bike, then you should simply look for another service;
Replacing side mirrors - 150-300 baht for onemirror. Replacing is done in a set, in the case, if you need to change only one mirror, then the new one will be left to you for a reserve. It is rare when a mirror in a single copy is in services, but it may be lucky if the bike model is popular;
Replacing and installing a new license plate - 100 baht;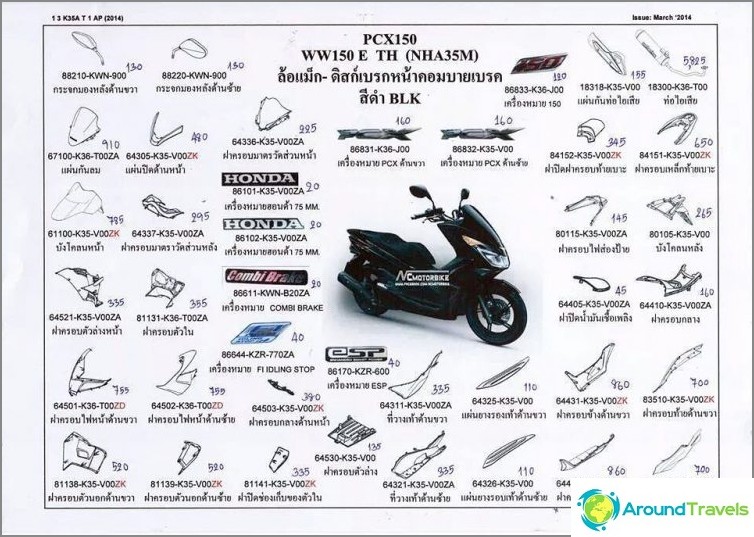 Filters, candles, battery
Clearing the air filter - 30-50 baht;
Replacing the air filter (after 10 000 km or once a year) - 200-400 baht;
Replacement candles - 100-200 baht;
Replacing the battery - 500-900 baht, the price affects the size of the battery and power;
Running gear
Replacing a pair of rear shock absorbers - 2000-3000 baht;
Replacing bearings in the hub - 300-500 baht;
Replacement of spare parts and oil in the front fork - up to 1500 baht (drive carefully!);
Washing
Washing the bike - 50-60 baht;
Wash the motorcycle - 80-120 baht;
Important nuances
From the above price list it can be seen that the cost of repairing a bike in Thailand is available to anyone. But you need to know some moments for a clearer understanding of the maintenance of your bike.
If you are offered to change the oil in the scooter tospecialized motor oil (with additives), you should ask about the reasons for this. In ordinary Thai scooters (but not in motorcycles), ordinary oil with a viscosity of 10w40 is used. Dry transmission in a scooter (with the exception of the Yamaha T-Max) does not require additional friction oil additives.
The belt in the variator is designed for ~ 25 thousand kmrun You shouldn't believe a technician about belt wear, if you know for sure that your motorbike's mileage is much less. The belt can be torn, but not worn. It is better to advance, when the mileage will be close to 20 thousand km, purchase a spare belt and throw it in the glove compartment of the bike, it costs about 1500 baht.
The standard gearbox is poured into the gearbox.transmission oil. Changes on the data sheet of a particular bike model, that is, at some bikes, every 20 thousand km, at some a couple of times a year. The serviceman may try to get you a replacement, saying that it is dirty. But this oil becomes opaque a day after using the bike. In general, pay attention.
Coolant is green, blue andred flowers. Green and blue need to be changed once a year and can be mixed together. Red changes every 5 years and in no case can it be interfered with blue and red coolant. If you suddenly change the green / blue to red, then note that the cooling system will have to pre-rinse 2-3 times with distilled water. In the future on the services do not forget to check the fluid level.
Light scratches on plastic parts can beeliminate in the service in just an hour. Details will look almost like new. Deep scratches are also removed, but the work is more expensive, so it may be easier to buy a new plastic.
When choosing a bike (purchase, rent) pleaseattention to the sound of the engine. It should be smooth. In private rents rarely twist mileage, but the salons with b / y bikes can be. There are a couple of signs of a big run - it's a scratched ignition key lock and a worn license plate (Thais rarely change it). But signs are indirect, because the lock and the sign can be replaced.
Life hacking 1 - how to buy a good insurance

Choosing insurance is now unrealistically difficult, so to help all travelers, I compile a rating. To do this, I constantly monitor forums, study insurance contracts and use insurance by myself.

Life hacking 2 - how to find a hotel 20% cheaper

First, choose a hotel on Booking. They have a good offer base, but the prices are NOT the best! The same hotel can often be found 20% cheaper in other systems through the RoomGuru service.

Discount hotels