Everyone loves to relax. And this is understandable, because we always need a change of activity and environment, especially in our modern world, a world of fast paces and fuss.
We all look forward to vacation, choose a placewhere to spend the cherished 2 weeks. For the last ten years, trips abroad have become something trivial and you will not surprise anyone. However, some people still prefer holidays in Russia to the sea. And this is understandable, the quality of service is gradually improving, new hotels are being built, new types of entertainment are emerging, without the need to make a visa in advance, or a foreign passport.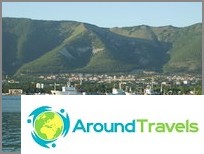 But in Russia there is not only the sea and hotels. There is also a wild rest. Not every country can boast of so many mountains, forests and lakes. Probably, therefore, from year to year, people go on horseback and hiking tours, float along the rivers, or just go for a weekend holiday with a tent.
Of course, if we are talking about vacation in Russia,This is most often meant a vacation in the Krasnodar Territory. In summer, almost half of the country flows here. After all, there is everything for any rest, both civilized and wild. This region is probably just and valuable for its diversity, given that the summer here lasts about six months. Beach lovers can choose one of the many resorts on the Black Sea coast, which stretched for several hundred kilometers. Hikers will find here a large number of routes through the mountains of the North Caucasus, amazing nature, mountain rivers and waterfalls.
If we talk about beach holidays, the first to mindcomes rest in Gelendzhik. This small resort has become popular relatively recently and every year wins the love of tourists more and more. The calm sea of ​​the Gelendzhik Bay, Pizundian pines along the whole coast, not such a large number of people as in Sochi, interesting sights such as waterfalls, mountain gorges, dolmens - distinguish this town among others.
There is a lot of rest on our planet,whether Russia or abroad, and each of them has its pluses and minuses, its charm and appeal. And it is not always worth going somewhere far away, since we have lots of wonderful places under our nose, we just need to be able to rest, so the choice is yours.
Life hacking 1 - how to buy a good insurance

Choosing insurance is now unrealistically difficult, so to help all travelers, I compile a rating. To do this, I constantly monitor forums, study insurance contracts and use insurance by myself.

Life hacking 2 - how to find a hotel 20% cheaper

First, choose a hotel on Booking. They have a good offer base, but the prices are NOT the best! The same hotel can often be found 20% cheaper in other systems through the RoomGuru service.

Discount hotels