You may have noticed that I like the company.Thule and therefore I sometimes do reviews of their products, as, incidentally, the goods of other companies, if I liked them. Suddenly, one of you will have to choose a city backpack or a backpack for hand luggage / travel, I hope someone will come in handy.
I now have 2 backpacks from the companyThule. At first I bought myself a Thule Crossover 25L, and then they gave me a Thule EnRoute Blur 2 test. They are somewhat different, somewhat similar, so I will compare them a little. Urban backpacks, without any frills, but made with high quality. Looking ahead, I will say that as a result, Crossover is in the closet, and I have been using EnRoute for the past six months, he traveled with me to Thailand for 2 months and now went with me to Israel.
The content of the article
Brief conclusion
As usual, I would like some mix of twobackpacks to do. But I come across this all the time, I always want to redo something. Sometimes I even think that it is possible that some day I'll ripen my own backpack to be made specifically for me to sharpen. Yes, yes, many may not understand, but I have a weakness for all sorts of carriers, so I often change backpacks and bags in search of perfect ones. I remember I had a whole saga with what is the camera wearing.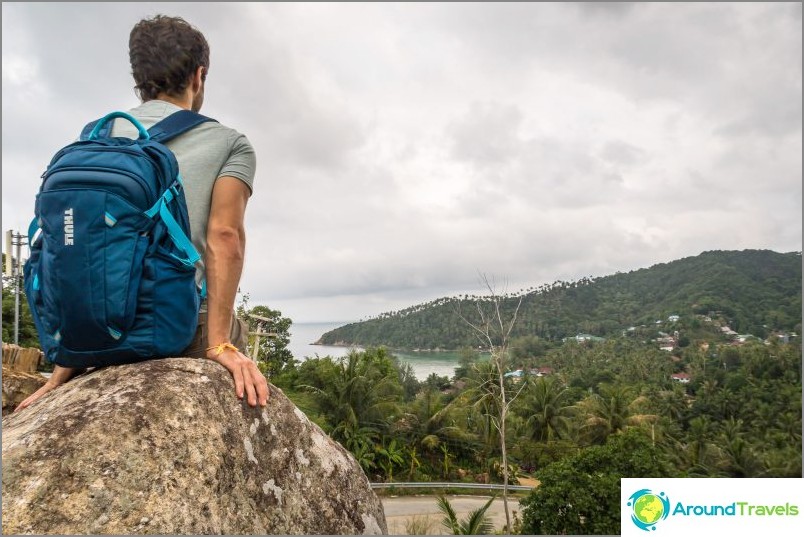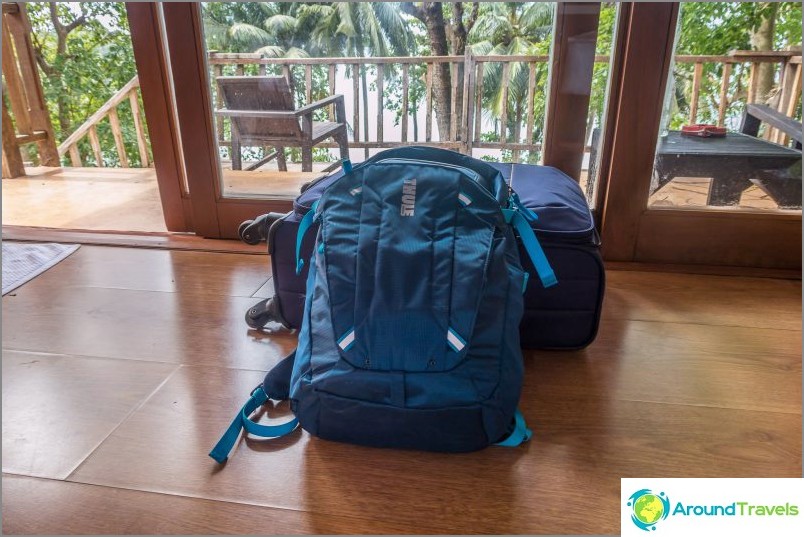 Cumulative factors I liked moreEnRoute Blur 2. It is more suitable for travel than the Crossover Backpack 25L. First of all, at the expense of two full-fledged offices instead of one, although the volumes of these backpacks are the same. I also personally liked EnRoute to have a secret pocket where you can put documents and money, an external open pocket for quick access, and an increased volume of case for glasses.
Thule has other backpacks, in particularCrossover Backpack 32L, larger and with two full compartments and one small one with an organizer. For hand luggage on the plane, he would have approached me more, since I have a lot of equipment that needs to be taken into the cabin, but its volume is also a minus. At the place of arrival, while walking around the city, I would have to walk with a large backpack, which is inconvenient. When I had a separate backpack for hand luggage for a long time, and for the city I took another one with me (it was traveling in a suitcase in luggage), but this solution is too redundant, one universal backpack is better and for me these are backpacks of about 25 liters.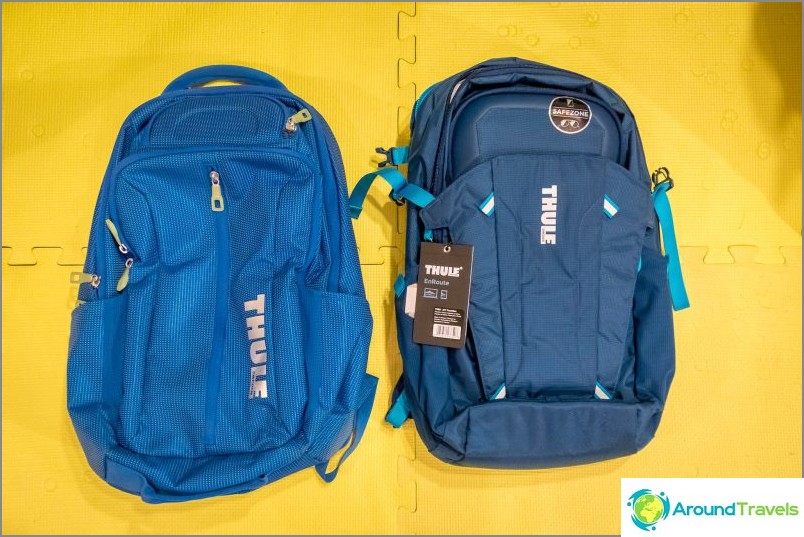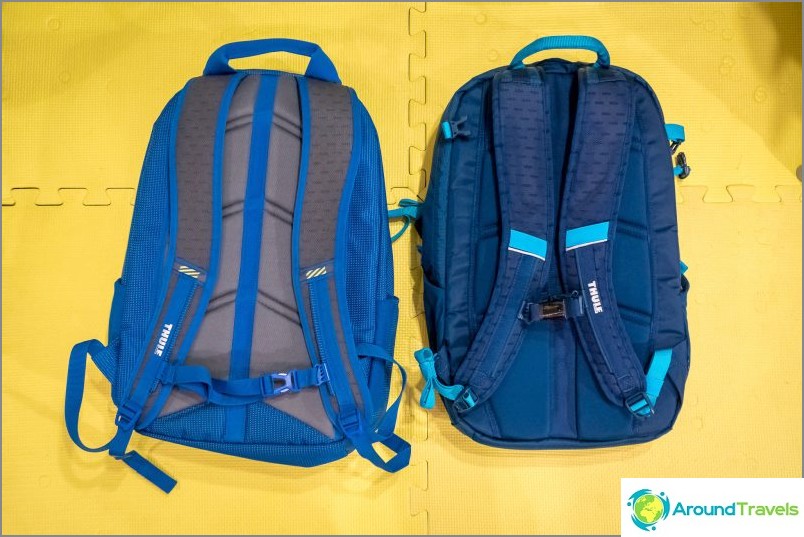 Thule Crossover Backpack 25L Review
Specifications
Size: 32 x 26.9 x 48 cm
Dimensions of the laptop compartment: 38.5? 3.1? 26.7 cm
Weight: 0.88 kg
Volume: 25 liters
Material: Nylon Dobby
Price: 139 Euro
Product on of the site
The crossover is made of rather coarse fabric ontouch But coarse does not mean unpleasant, it is just tough and somehow reminded me of a Cordura, which is usually used only for the bottom of backpacks. To be honest, at first it was unusual, but then I even liked it more than the soft and more ordinary fabric of EnRoute. The presentation remains for a long time.
The manufacturer says that the fabric is waterproof. I deliberately did not stand in the shower, but fell under the rain, and everything inside remained dry. Although, I suppose that with a very strong rainstorm, the water can still get inside, as the lightning is normal, and not special water-resistant.
Since I recently started wearing glasses, I'mI really liked the idea of ​​SafeZone. This is such a built-in box for glasses or other fragile things. In the official reviews of Thule there is supposed to put the phone there, but I would not, because they can steal it, and it is much more convenient to get it from the pocket in the city. The built-in box can be got, then the size of the compartment will increase, but it will not become rigid.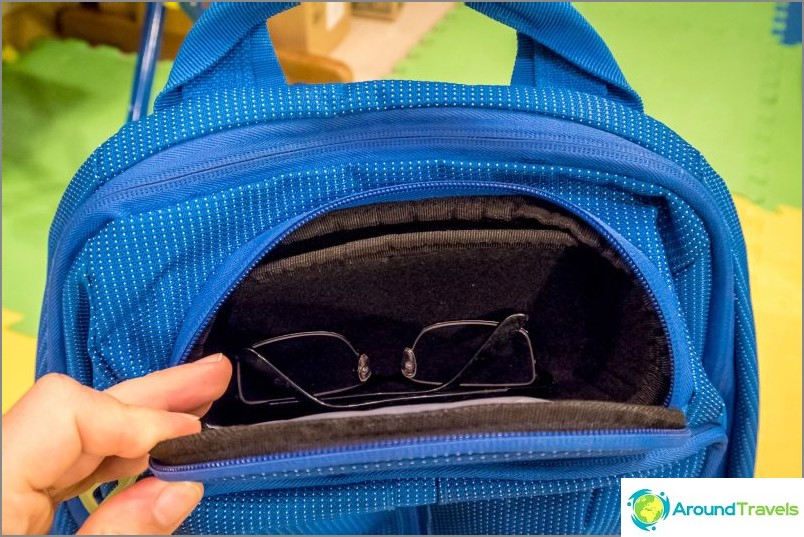 Now about the most important thing - about the offices. In the Crossover, only one full-fledged branch. In which lies a laptop, separated by a partition, in which you can put a tablet, and other things. If things are few, then basically normal. But ideally, I would like the laptop to be separate. Did I get a Macbook 15 without any problems? and there was still room.
There is also another small branch - the organizer. But it is rather a pocket with different small pockets.
In addition, on the outer wall there is a pocket withvertical lightning. At first I was quite skeptical about this kind of pockets, but it turned out that it was much more convenient to get something out of them. Also there it is convenient to put passports and boarding passes, which are quite long. On the sides of the backpack 2 pockets for a bottle of water. They are not made of mesh, so stretch average.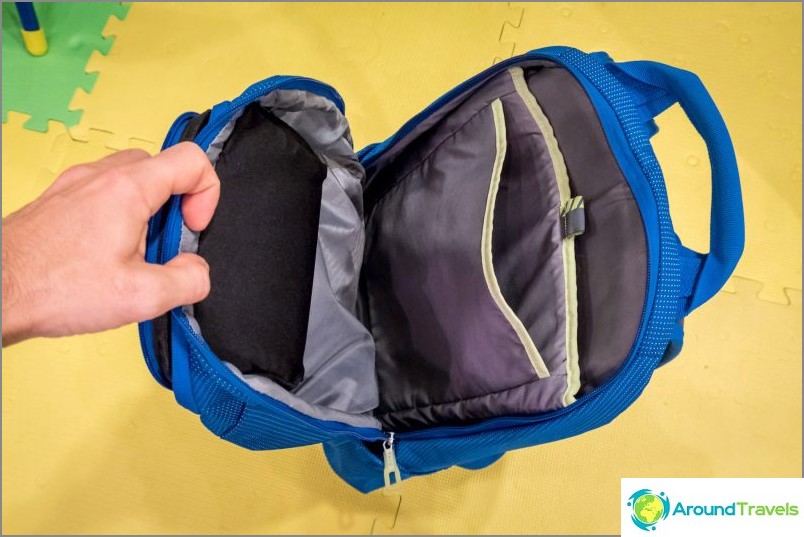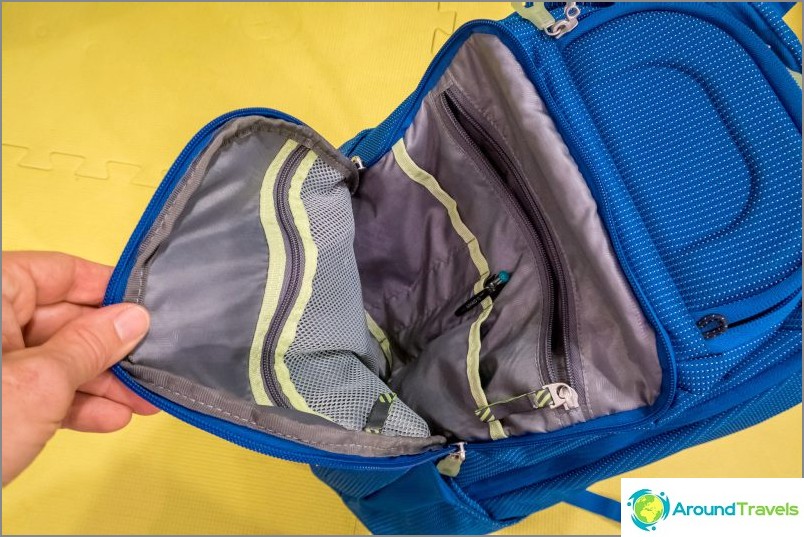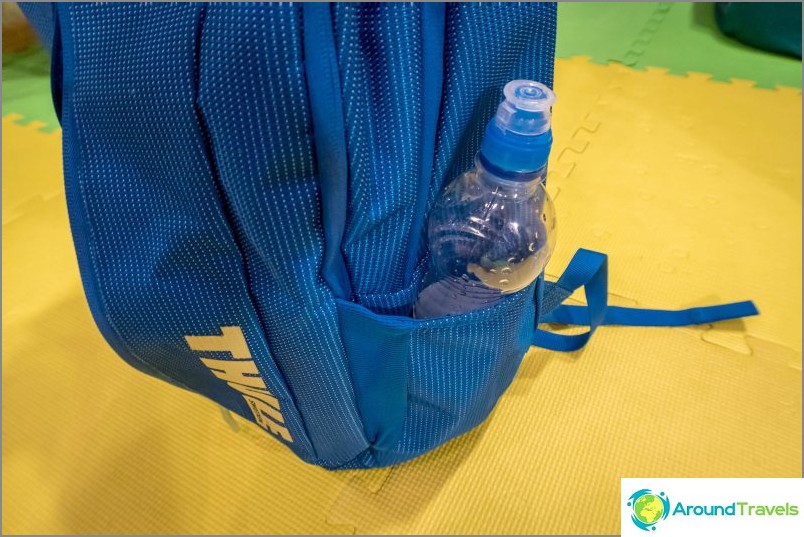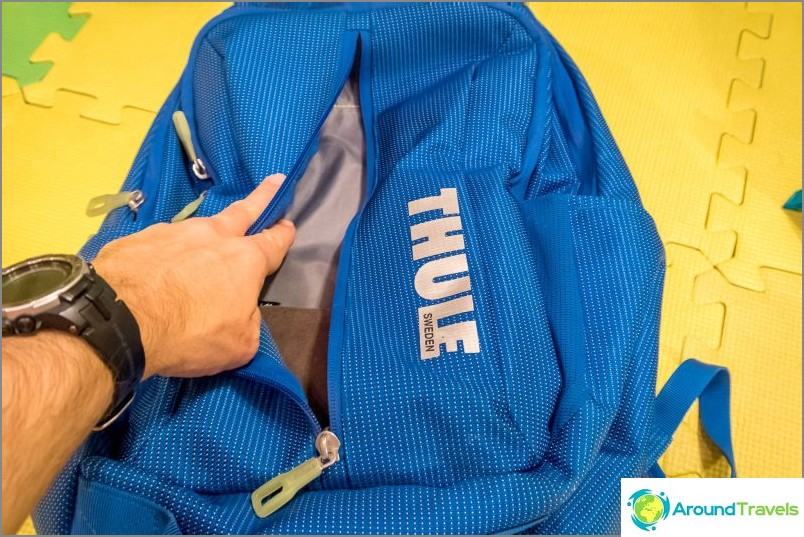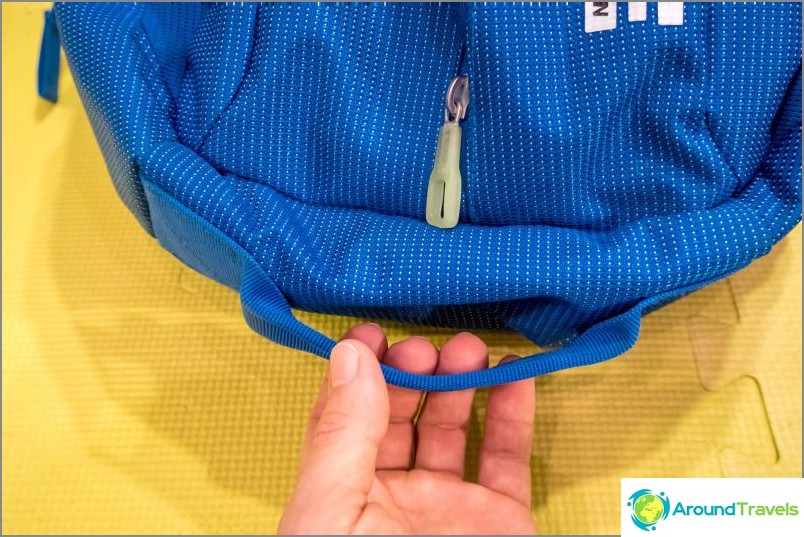 Thule EnRoute Blur 2 24L Review
Specifications
Dimensions: 29x33x46 cm
Dimensions of the laptop compartment: 38.5? 4.4? 26.7 cm
Weight: 0.98 kg
Volume: 24 liters
Material: Nylon
Price: 122 euros
Product on of the site
As I said, this backpack is made ofsofter fabric and more pleasant to the touch than the crossover. I also have Samsonite and a couple of Arpenaz backpacks from Decathlon, all of them are made of soft fabrics. But the back of sufficient rigidity in EnRoute, if anything, keeps the shape. That is, you can fold it hit, but I would not.
Unfortunately, the fabric is not waterproof, it gets wet. Inside, of course, no streams flow, and the same notebook I stayed more or less dry after the rain, but even just contact with a damp cloth is clearly not good for him. In the place of the manufacturer, I would replace it with a waterproof fabric, or at least soaked it with impregnation.
The EnRoute backpack also has a SafeZone,only larger. Almost 2 times increased, it is much more convenient! Now you can stuff a couple of glasses here (for example, ordinary and sunny), a phone or documents, some other trifles.
Enrout has 2 full offices, which is muchmore convenient than one. Here the laptop is located in its personal compartment, which is divided into 2 parts by a partition. Thus, we put a laptop to the back, and in the second part a tablet or a not too thick folder with papers. Did I get a Macbook 15 without any problems? and the place still remained.
The second full compartment is made for things andit seemed to me that it was the same size as the only one at the crossover. It seems to be the same volume, but visually EnRoute looks a bit thicker if it is completely filled. So, the second branch is combined with the organizer. This is not very convenient, because if you score everything with things, you will not have access to the organizer. On the other hand, I rarely put in the organizer enough interesting things. And in Enroute it is better to put them in SafeZone or in an open external pocket. Which is made so that if you do not turn the backpack upside down, then nothing will fall out of it. I sometimes put napkins, camera, sunscreen, mosquito liquid on it. Also there you can shove a fleece or something for insulation. On the sides of the backpack there are pockets for a bottle of water, made of mesh, so it pulls well.
Separately, I will say about the secret pocket. It is under the external open pocket and has a vertical zipper. In fact, it is not a secret at all, but simply unobtrusive. I found it myself not immediately, but a week after use. Lightning merges and hides in the folds, so it is not clearly visible. A great place where you can remove money, cards, passports and so on.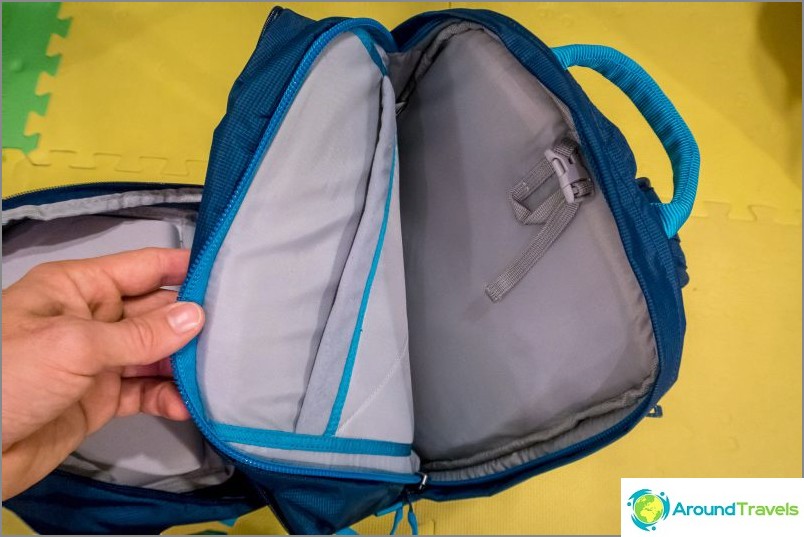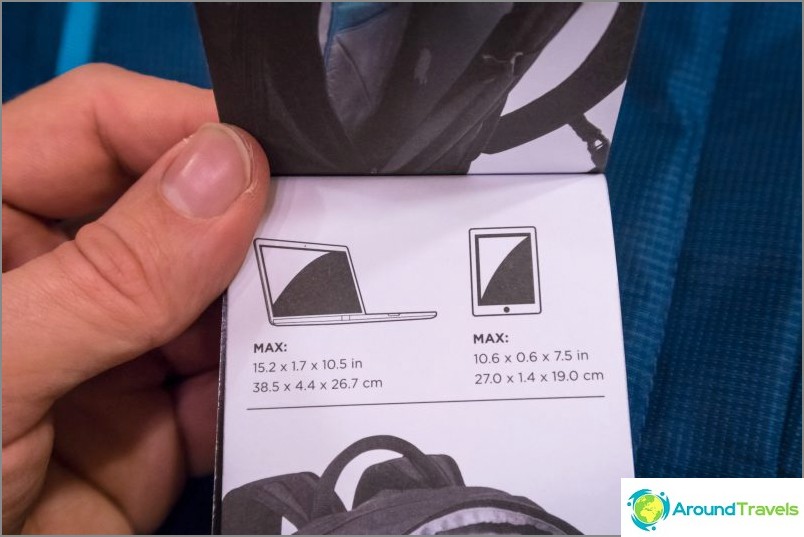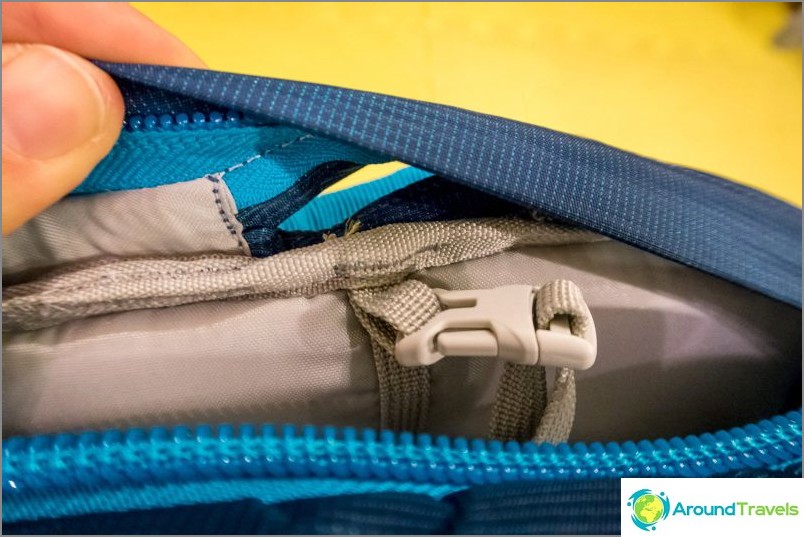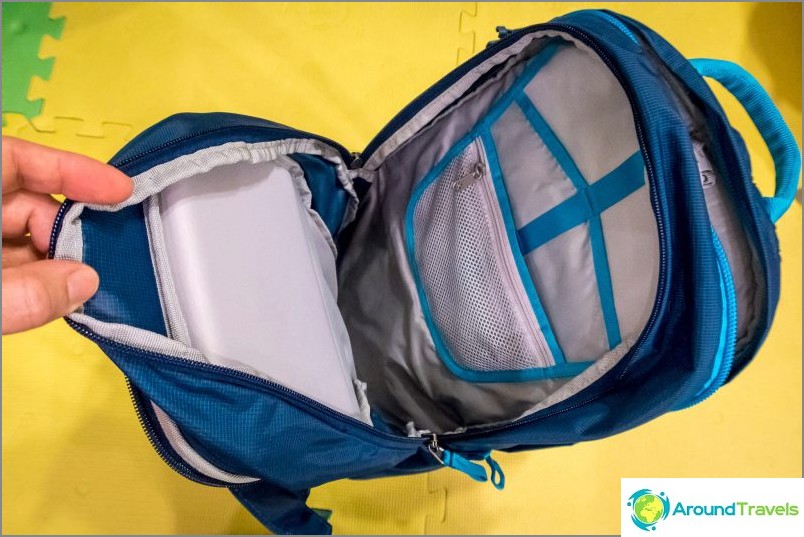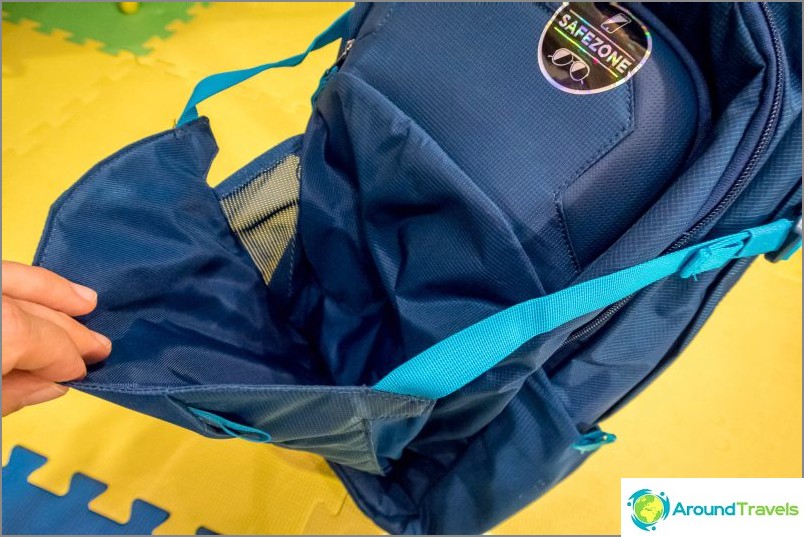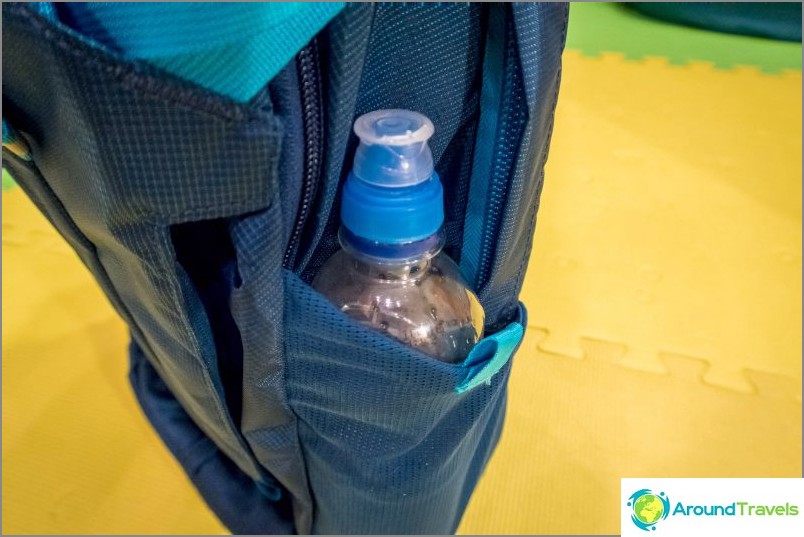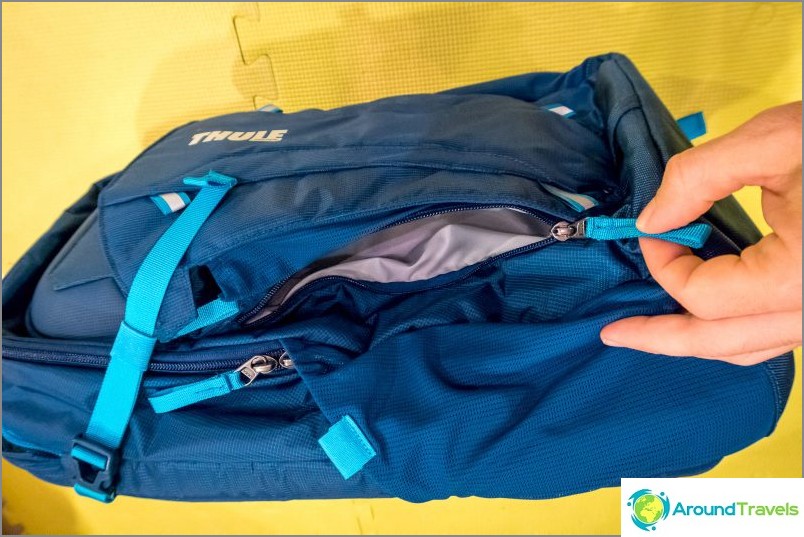 P.S. Despite the prices, I like some Thule products. It seems to be nothing special, but everything is done well. Unfortunately, the cost of all imports has risen; it is not only Thule concerned. Get the same MacBooks ... But, let's say, branded things are not buying for the sake of economy, not for the sake of compromise. Although this is another topic for another post.
P.P.S. Have questions? And yes, write, please, what models of backpacks do you use, like city ones, as hand luggage, for traveling and so on. Maybe they came up with some interesting chips.
Life hacking 1 - how to buy a good insurance

Choosing insurance is now unrealistically difficult, so to help all travelers, I compile a rating. To do this, I constantly monitor forums, study insurance contracts and use insurance by myself.

Life hacking 2 - how to find a hotel 20% cheaper

First, choose a hotel on Booking. They have a good offer base, but the prices are NOT the best! The same hotel can often be found 20% cheaper in other systems through the RoomGuru service.

Discount hotels