I did not think that I would like to write separately about the small airport on Samui, but it is so pleasant that we were delighted with it. At one time I was amazed Suvarnabhumi in Bangkok, its size and modernity, the abundance of glass and shiny metal surfaces, it is understandable. It would seem, what might like a local and very small aeroportik?
The content of the article
Samui Airport
How to fly to Samui
The airport is owned by Bangkok Airwaysand she sets the rules here, or rather the monopoly. The well-known Thai low-cost airlines AirAsia and NokAir do not fly here, which means that ticket prices are not as attractive as the other resorts. If you fly here from Russia, there are no direct flights, there will be at least one transfer. Very detailed, I figured out this issue in the post how to fly from Moscow to Samui.
Usually the flight from Bangkok to Samui is somewhere3000-3600 baht (with charges), but we somehow got to the share, and the flight cost was 2800 baht, which is more or less comparable to the flight from AirAsia, if you fly with 20 kg baggage. In addition, Bangkok Airways provides free baggage space of 10 kg per infant (up to 2 years), unlike other companies, which can be very useful.
Tickets for Samui can be found through the search engines tickets Aviasales.ru and Skyscanner.ru. You will see offers from all airlines, lower in the calendar you can estimate prices in different months.
Online board of departure and arrival in Samui
Below is an online scoreboard with arrivals anddeparting flights. Information on the board is displayed in real time and you can always see which flight is expected, which one is delayed and so on.
Departure area
Samui Airport is called SamuiInternational, USM code. Located in the northeast of the island. Despite its compact size, it passes through itself more than a million passengers a year. The airport is unusual in that it has no walls ... In general
Blown from all sides.
Once upon a time I also wondered, but there isthere is an airport on Samui, and it turned out that only two islands can fly: Samui and Phuket. All other islands will have to get in other ways. Cheap: bus + ferry, more expensive: plane + bus + ferry. Therefore, do not be surprised that, for example, AirAsia has tickets to many islands of Thailand, because in reality these are not direct flights, but transfers.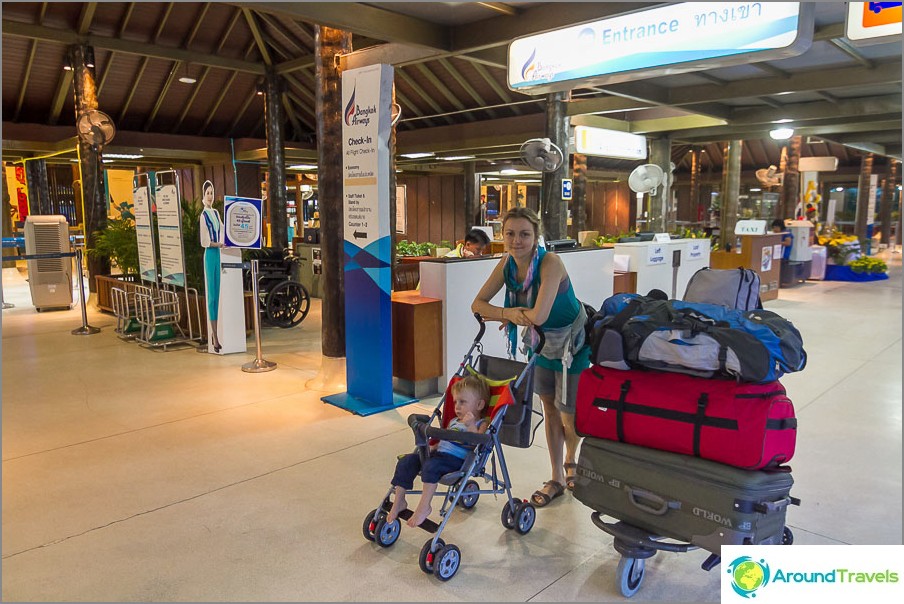 Our impressions and photos of Samui Airport
First, he really has no walls likeas such, and the entourage is as if you are in a big straw bungalow on the seashore. Warm whiffs of the wind only contribute to this feeling. Secondly, it is as beautifully European. Flowerbeds, lawns, tubs with trees, paved paths, small shops, wicker furniture from the waiting room - all, as in some fashionable resort. What is missing is a pond and a mini-waterfall. Although I would not be surprised if it is there somewhere in the corner. And you will be taken to the plane not on a regular bus, but on an open golf car.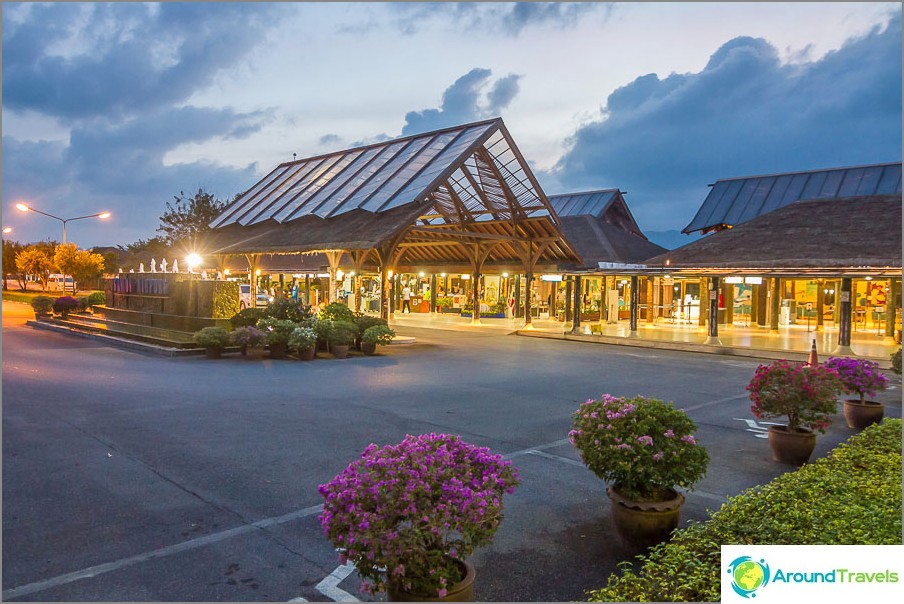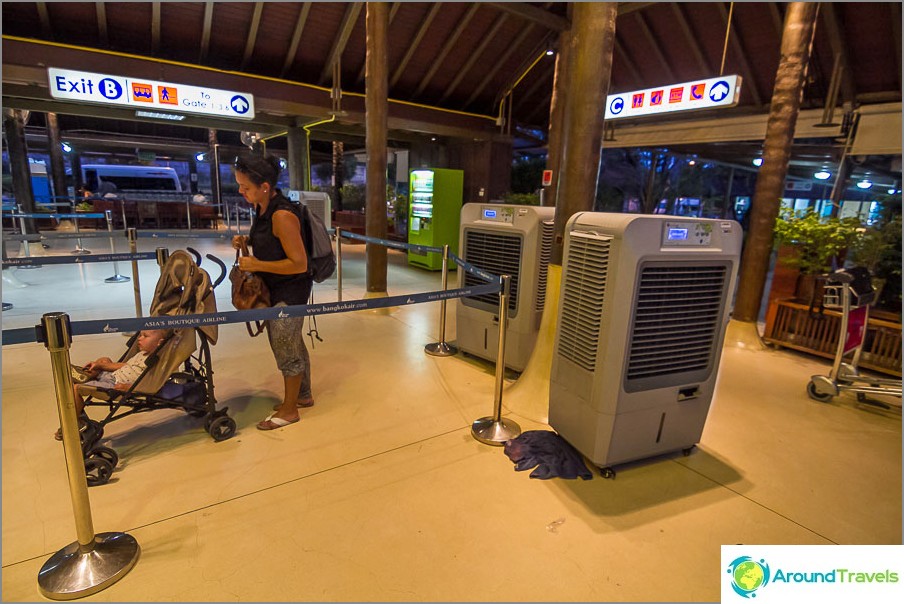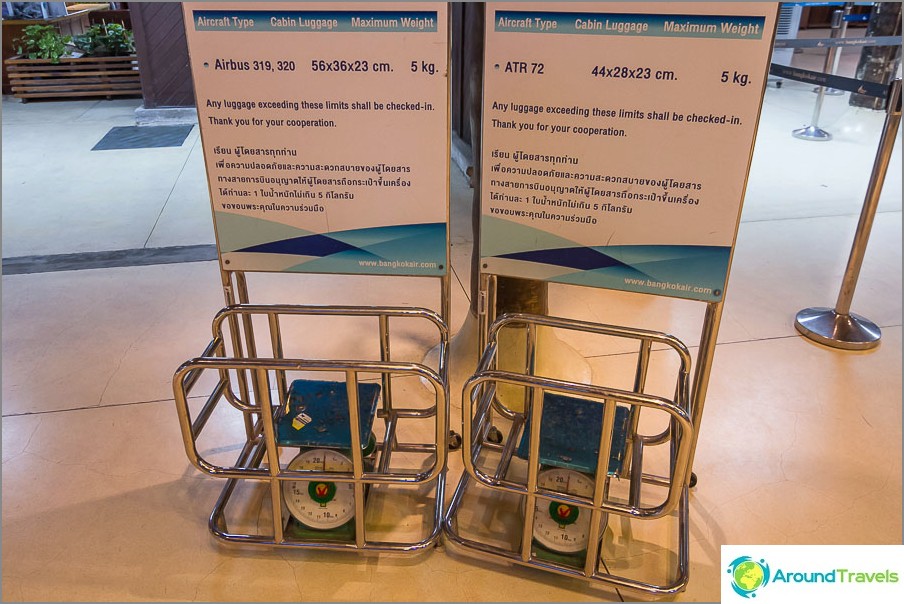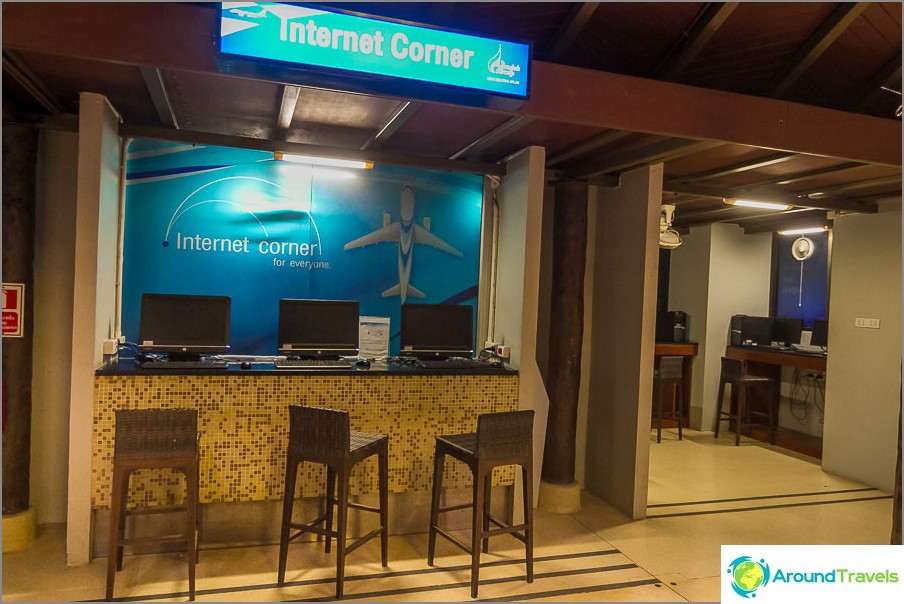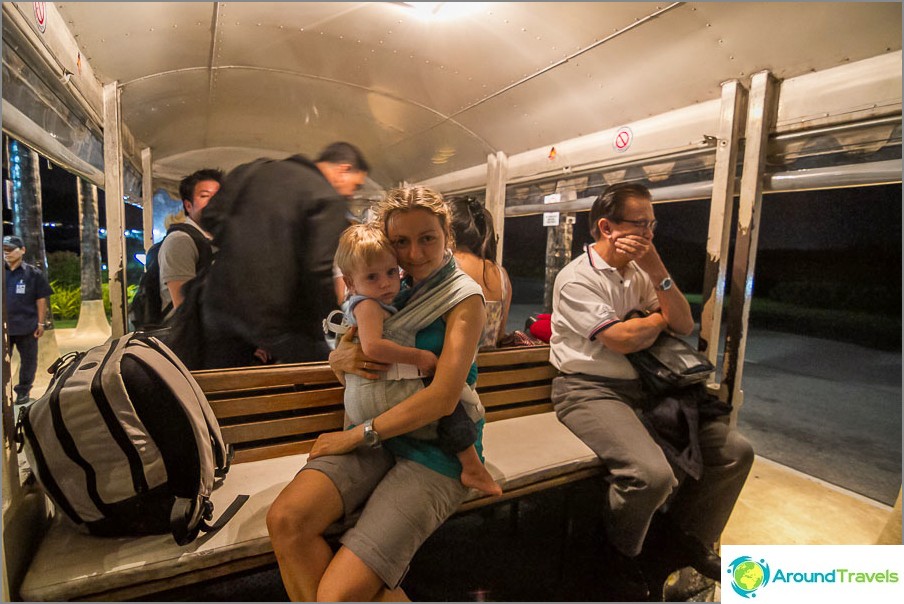 Thirdly, at Samui airport there was a nursery.playground. Now we pay attention to such things, because our little boy is quite difficult to entertain with something. Even in the waiting room, you could drink free coffee, tea, cocoa, eat a couple of cake options and cheese sandwiches, eat popcorn while sitting in a comfortable chair, and connecting your laptop / phone to wifi. I will not say that this is directly necessary, because you do not wait long, but it's still nice.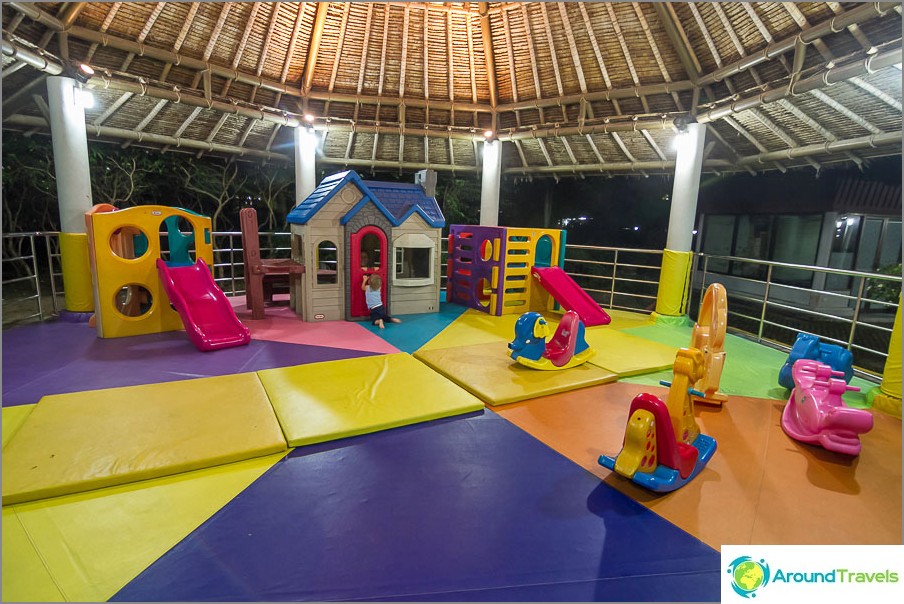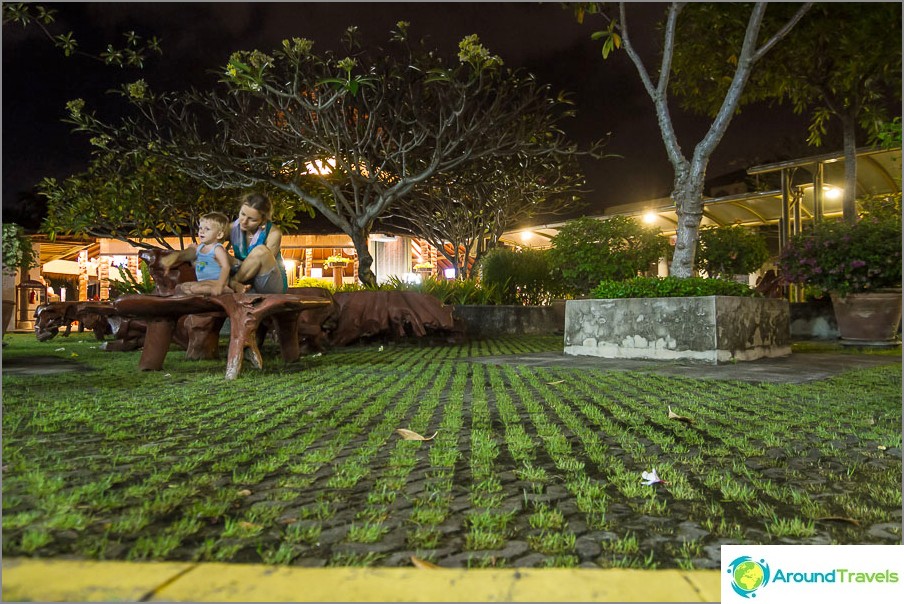 When we first flew to Samui fromBangkok, quickly ran out into the street and even somehow did not have time to look around. We returned back to Bangkok, arriving a couple of hours before departure, and it was time to quietly walk. Although it's not necessary to arrive so early, the airport is small, all procedures are done in no more than 20 minutes, and boarding begins about half an hour before departure.
How to get from Samui Airport to the hotel
I will not write for a long time, but you have in fact 4 options for everything: take a taxi, rent a car, order a transfer, a minibus.
Minibass
The most budget option is a mini-bass. Go as far as filling. Therefore, after arrival there is no need to waste time, go immediately to them. Stand from 100-200 baht per person depending on the desired beach, small children for free. But I think it is clear that this option is more beneficial for solo travelers than for families with children. Since in a taxi you pay for the car, not for a person.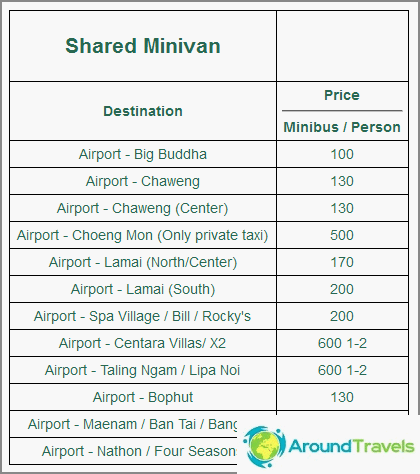 Taxi
Although the airport is not far from the nearestpopular places, but a taxi costs decent money for Taya, 400-600-800 baht or more, depending on the beach you need and the person you hit. But in general it is easier, probably, to take a taxi right at the counter at the airport.
If you want to search for accommodation near the airport, you can look at us personally drawn up catalog of houses on Samuiwhere more than 80 houses with a map and a photo. Accommodation for a short period can be booked through RoomGuru, it's just a mega-service, you can immediately see in which booking system (Booking, Agoda, Hotels, etc.) the hotel you need is cheaper. And we have our detailed review. best hotels in samui.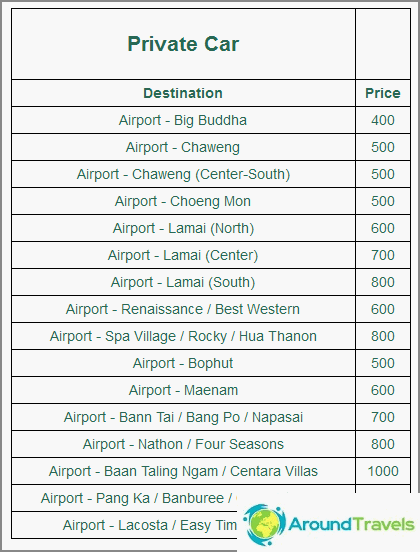 Online transfer
Anyone who wants a minimum of gestures canin advance via the Internet to book a transfer to Kiwitaxi. You will be met in the arrival hall, you will take luggage, put you in a car and take you to the right place. The method is good because there are no problems at all. I have already traveled several times and described them your experience. It was in Phuket, but the meaning is the same.
Transfer to the hotel on Samui>
You can also book a transfer at the hotel (if you havesuch a service) where are you going to live. Or in Google, you can search for different sites of private traders that offer transfers. Here the price is different, but it is comparable to the cost of a taxi.
Car rental
You can rent a car in advance via the Internet and get it upon arrival at the airport. If you need a car for several days / weeks, then this is the most convenient and best way. By reference Read my post-instructions on all the nuances of renting, about insurance and deposits, driver's licenses and other documents.
Car rental discount>
I highly recommend to book through verifiedEconomybookings website. Their rent is cheaper, sometimes even 2 times. Not once already took and saved. They have only international large distributors. That is, there will be no problems with insurance, deposits, etc. But from private traders, I no longer take, well, what for, the price is the same, crap more. I arrive at the airport and the car is waiting for me.
Where is the airport on Samui
Located in the northeast of Samui between Chaweng and Bo Phut. Also nearby is a good beach Chong Mon and, on the contrary, the so-so Bang Rak beach, where the Big Buddha stands.
Samui Airport
Samui Airport
The only airport on the island. Bangkok Air has a monopoly on it, so AirAsia cannot be flown in here. Very interesting wooden airport, with almost no walls.
Read more
The only airport on the island. Bangkok Air has a monopoly on it, so AirAsia cannot be flown in here. Very interesting wooden airport, with almost no walls. In more detail
Life hacking 1 - how to buy a good insurance

Choosing insurance is now unrealistically difficult, so to help all travelers, I compile a rating. To do this, I constantly monitor forums, study insurance contracts and use insurance by myself.

Life hacking 2 - how to find a hotel 20% cheaper

First, choose a hotel on Booking. They have a good offer base, but the prices are NOT the best! The same hotel can often be found 20% cheaper in other systems through the RoomGuru service.

Discount hotels