Today I want to talk about Thai mail, ormore precisely about how to send a parcel to Russia. Got a series of questions about this, so I'm writing. Now it is very important, many wintering men are returning home, and they want so much bring yourself something from Thailand in memory, as well as their relatives and friends. And given that cheap clothes and toys are here, you can simply stock up on the future.
We ourselves just recently sent to Moscow 18kg Imagine? This is the weight of the whole suitcase! Let us omit the question of where so many things come from, it's necessary to ask my women, they went to the store for blouses, yeah. So it all cost about 2900 baht, or with Russian money at 3000-3200 rubles (depending on the course), and the package reached as much as 18 days. Wow! Honestly, I did not expect such prices and efficiency.
The content of the article
Thai mail
From June 2, 2015, when sending packages weighing 2 kg or more, a passport is required. This applies to sending parcels from both Thailand and within the country.
What is it like
About Thai mail will not talk for a long time. I can only say that it makes a pleasant impression, where smiling people work. Usually represents a small room with chairs for waiting. At the entrance you take a number and then you trace your turn on the screen. The conditioner works, sometimes there is a TV, everything is pretty quick and efficient. I sent letters and parcels several times and never waited for more than 20 minutes even if the hall was full of people. And the old-timers say that 5 minutes before closing you will not be expelled and will accept your package.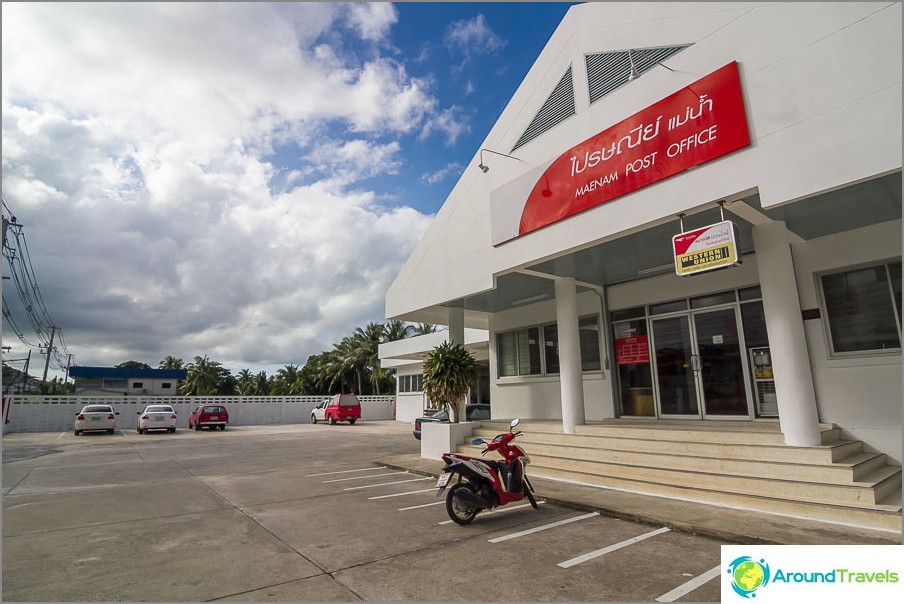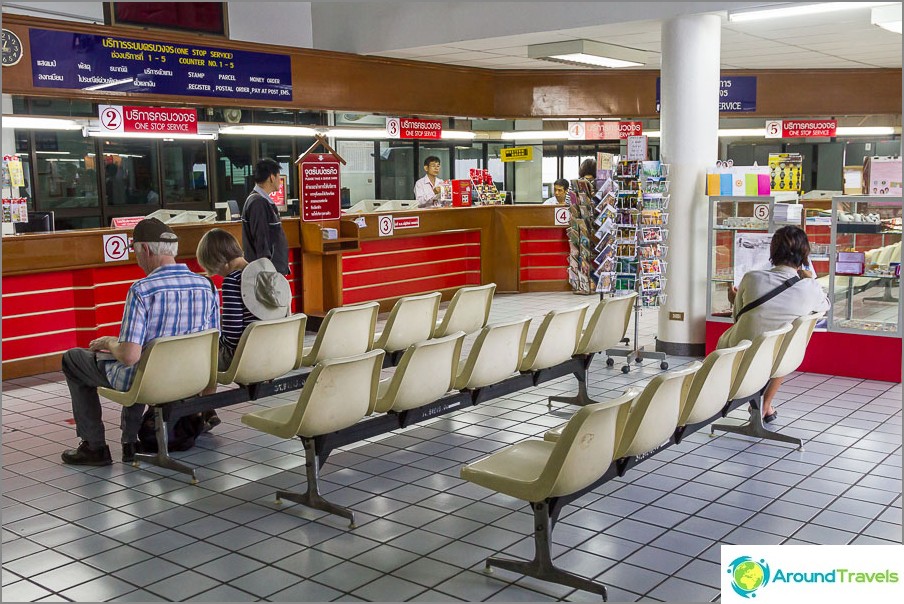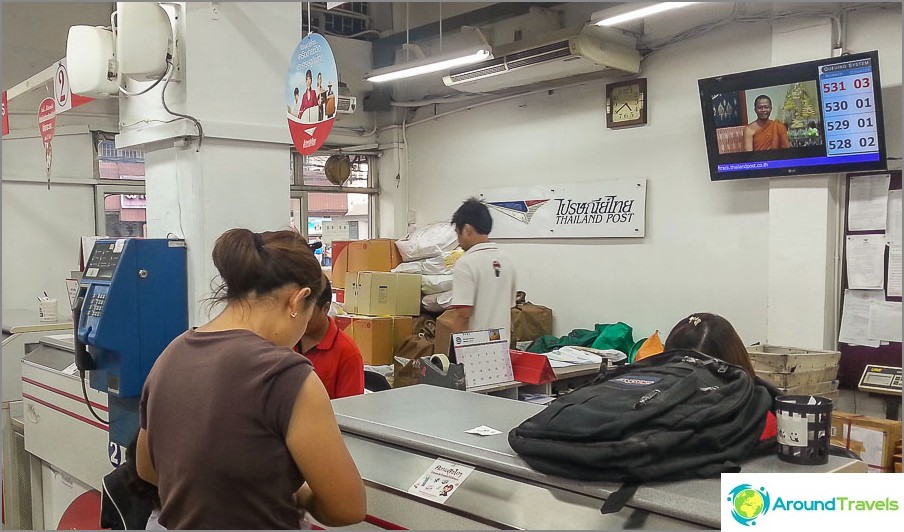 How to find Thai mail
Post office is not difficult to find. Visually, it is very clearly visible. As a rule, this is a stand-alone building with a red banner, on which is written in white letters Thailand Post, it is difficult to pass by. The easiest way to find out where is to ask your neighbors who know, or homeowners.
If you ask no one, then open GoogleMaps, zoom in to the area / city / island where you are, and specify the Post or Post Office query. You can also write Post Samui, Post Phuket, Post Bangkok and so on. After which you get points on the map. How many have tried, always Google found what you need.
Thailand Post Hours
The time of post offices in Thailand is about the same. On weekdays from 8 am to 5 pm, on Saturday from 9 am to 12, and on Sunday, a day off.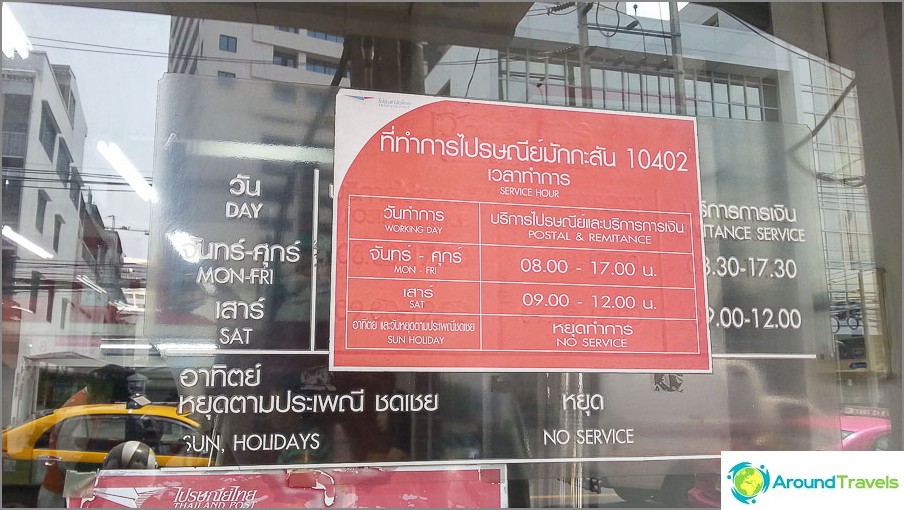 How to send a package from Thailand to Russia
Boxes, Address Filling, Packing
You do not need to think about packaging, you can buy itat the post office. Come see what boxes are offered, choose and buy. If the box needs more, then ask some employee. Just gesturing that you need a big box. Price 9-50 baht depending on the size. I took the biggest one for 50 baht.
You can pack, both at home and on the verymail, it does not matter. But, if you do it at home, you will have to come first for the box, and as a result, go to the post office twice. That is why I just came with the packages, estimated their volume, bought the box and packed it immediately. Scotch tape will also be given to you on the spot so that you paste over the corners and close the box. And if it is big, like mine, then it will still be sealed with plastic tape.
The maximum you can send 20 kg.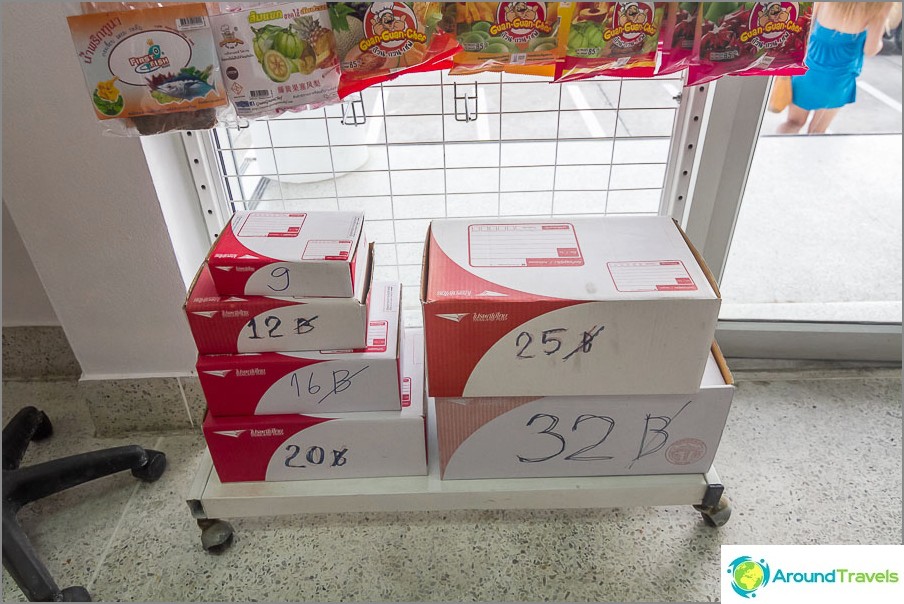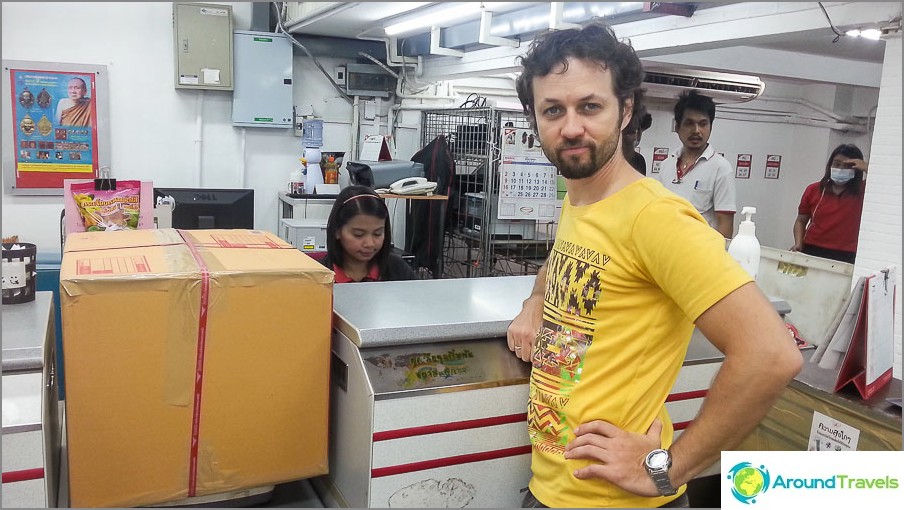 Fill in the address and form
On the box itself there will be fields to fill in the address.and name. It makes sense to specify everything in two languages: English and Russian. Thai mail in general, in fact, you need to know only the country and the city of destination, and the rest is already needed by the Russian postmen, but just in case I indicated everything. You can also specify your phone and the one who accepts this package.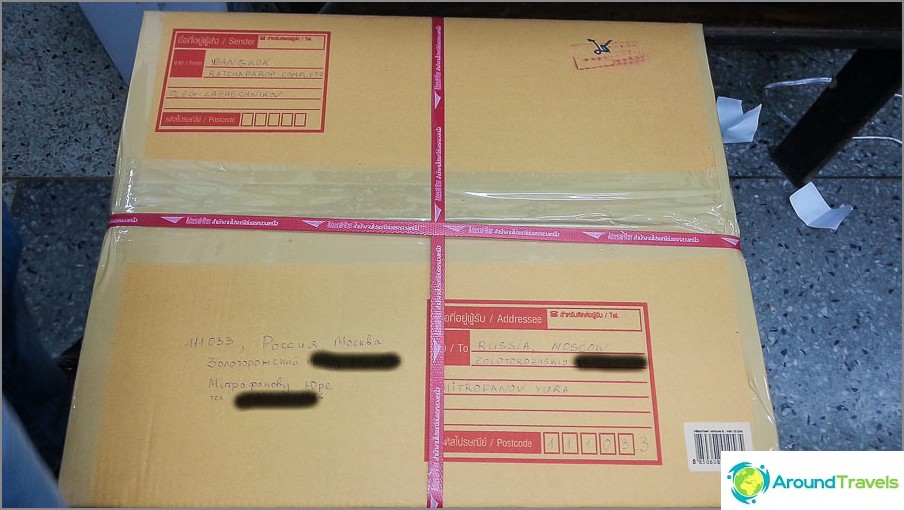 In addition to the address on the box, you need to fillA receipt form where you write again the address, your data, and a list of all the things in the box. It is necessary for customs, as I understand it. The field for the list of things is very small, so I did not write a list of all things, but only listed "classes": children's toys, children's clothes, rice cookers, pants, t-shirts, tea. Here's something like that.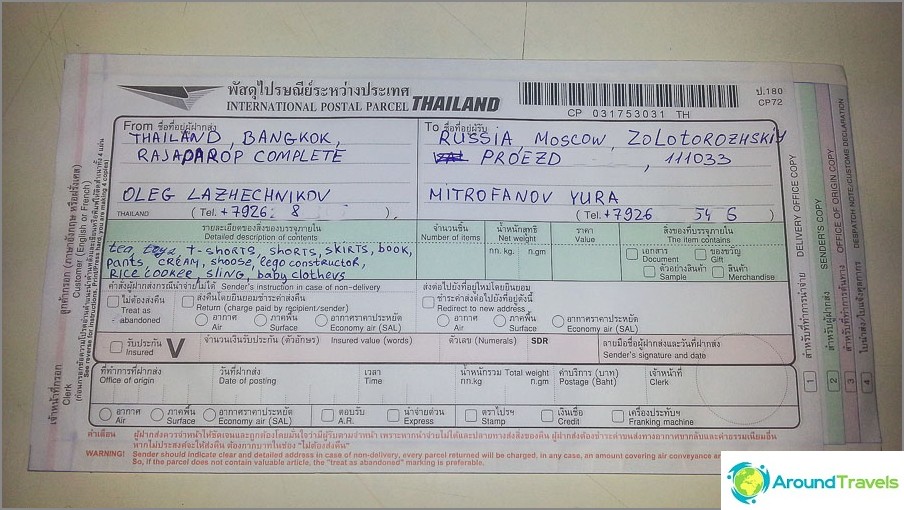 How much is a parcel to Russia and delivery time
The cost of the parcel depends on the country of destination,weight and delivery time. You can find out the price on the official website in the block at the top right - Calculate Fee. There you need to select a country and specify the weight in grams. Do not be surprised when you fall out a large list of options. These are all types of delivery, it is a little more detailed.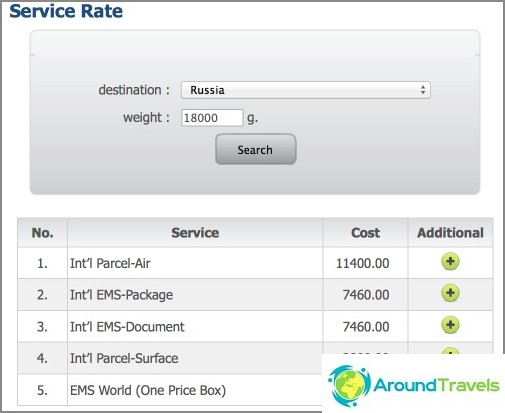 By and large, we are interested in 3 options:
Int'l Parcel-Surface. The cheapest option, delivery is by land, it takes 2-3 months.
Int'l EMS-Package. Express mail, the parcel must arrive in 1 week, sent by plane. The option is good when time is important, and the weight of the parcel is more than 2 kg.
Int'l Parcel-Air. The most expensive way, the usual air mail. Delivery time 2-3 weeks. It is strange that despite the fact that the parcel goes longer than EMS, it costs more. True, if the parcel is less than 2 kg, then it will be cheaper EMS.
For example. Our package of 18 kg (rounded to a greater number) cost Int'l Parcel-Air 11400 baht and Int'l Parcel-Surface 2890 baht. There is a difference, yes? Naturally, we chose the second option, because we are not in a hurry. Int'l EMS-Package cost 8,100 baht, and if urgency was needed, they would be sent to them.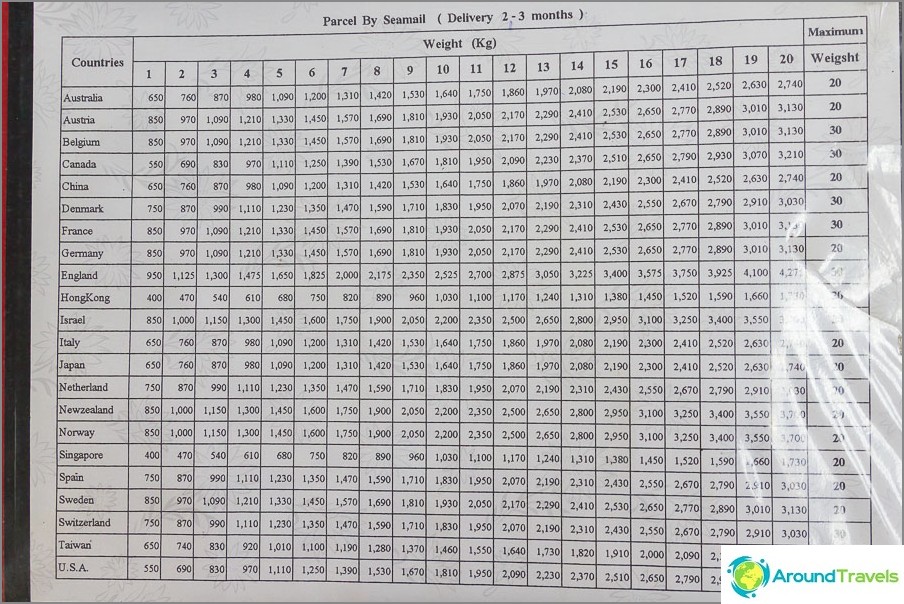 As a result, our package did not reach in 2-3 months(Parcel-Surface), as promised, but in just 18 days. But you should not count on it, I know, a bunch of examples, when she went a month, and two, and three. So we were just lucky. Well, it is worth considering that in Russia it seems like all the parcels come to Moscow, and from there they are further down the country. So, plus the idle time at customs and transportation by Russian mail across the country. Actually, our parcel turned out to be in Moscow in general after 10 days and for 8 days it got customs clearance and was delivered to the address. Yes, it is worth laying another 3-4 days to deliver the parcel from your location to Bangkok, because everything goes through it.
All delivery options, transcript
Int'l EMS-Package - express mail EMS, up to 20 kg, is 1 week
Int'l EMS-Document - documents by express mail EMS, up to 20 kg
EMS World (One Price Box) - 1400 baht per box D (22x35x14cm) and less are those that cost 9-20 baht
Int'l Parcel-Air - parcel with things, regular air mail, the most expensive, up to 20 kg, takes 2-3 weeks
Int'l Parcel-Surface - parcel with things, mail by land, the cheapest, up to 20 kg (in fact, often also flies by plane, just with stops), it takes 2-3 months
Int'l Letter-Air - delivery of letters by air, up to 2 kg
Int'l Letter-SAL - delivery of letters by sea and land, up to 2 kg
Int'l Letter-Surf - delivery of letters by land, up to 2 kg
Int'l Printed Paper (Book) -Air - delivery of documents and books by air, up to 5 kg
Int'l Printed Paper (Book) -SAL - delivery of documents and books by sea and by land, up to 5 kg
Int'l Printed Paper (Book) -Surf - delivery of documents and books by land, up to 5 kg
Int'l Small Packet-Air - a parcel up to 2 kg by plane, sent unsealed, you can only tie a rope
Int'l Small Packet-SAL - parcel up to 2 kg by sea and land, also not sealed
Int'l Small Packet-Surf - a parcel up to 2 kg by land, also not sealed
Package Tracking from Thailand
When you pass the package and pay, you will be givencheck. Do not throw it away; your tracking number will be listed there - a set of numbers and letters of the type CP067879484TH. You need it to track the path of your parcel. It must first be entered on the site of the Thai mail, here, and after a while on the site of the Russian mail here.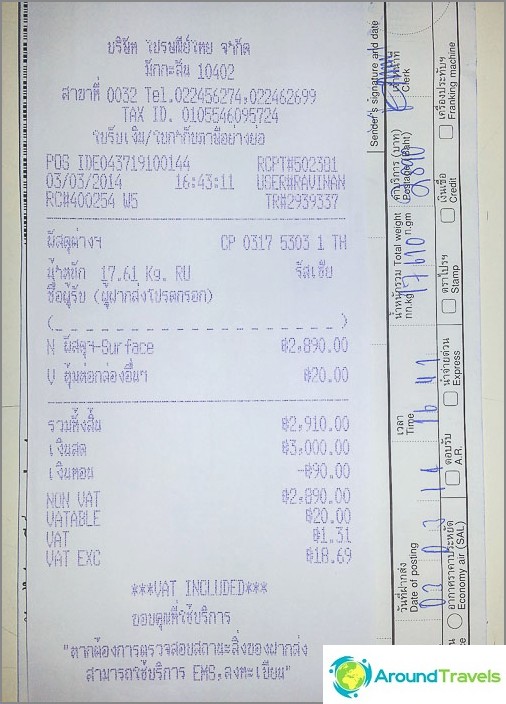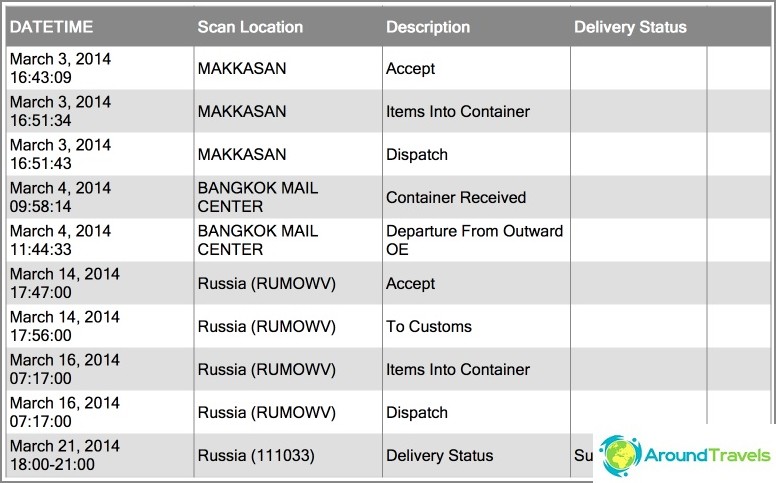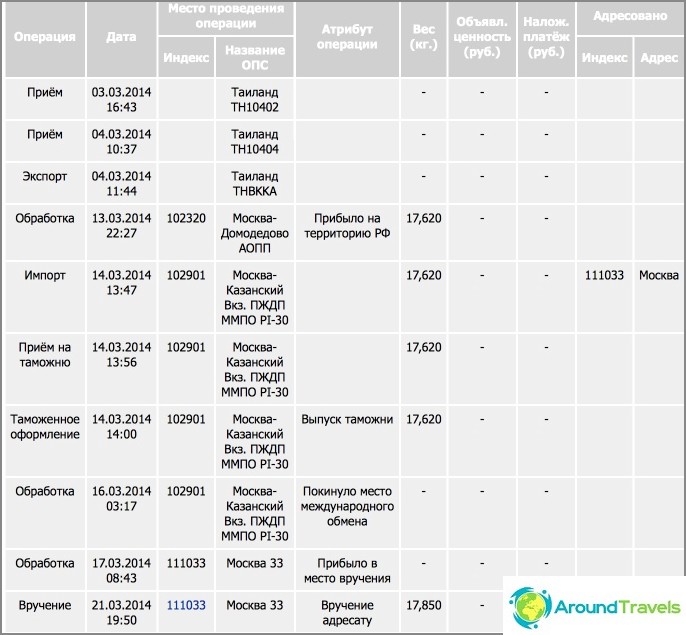 Customs restrictions
I do not know exactly all the restrictions, it is betterclarify with those who often send goods from Thailand by mail, well, and not only from Ty. If in general, your parcel should not look like products for sale. That is, 10 brand new iPhones in boxes are wrapped in customs anyway. We sent things without labels and without packaging, and we also had an explosive mix there, including the old things that we used, so I was not puzzled by this question.
I read that there should be less than 5 products of onename, and there should not be more than two parcels per month for one address. Also, there was information that some had launched a package in Bangkok, when it contained perfume, cream and sauces, that is, liquids. If anyone knows more about the restrictions, please add in the comments.
P.S. In my other article read how to send a letter from thailand. The scheme is similar, but different price.
Life hacking 1 - how to buy a good insurance

Choosing insurance is now unrealistically difficult, so to help all travelers, I compile a rating. To do this, I constantly monitor forums, study insurance contracts and use insurance by myself.

Life hacking 2 - how to find a hotel 20% cheaper

First, choose a hotel on Booking. They have a good offer base, but the prices are NOT the best! The same hotel can often be found 20% cheaper in other systems through the RoomGuru service.

Discount hotels