I recently listened to a webinar about independenttraveling, and it turns out, many people still do not know about such a thing as an online ticket search engine. Although it seems to me that this is so obvious ... So one of the most popular search engines at the moment is the Skyscanner service. It appeared a long time ago, and when I did not blog at all and knew very little about travel sites, I used it for my rare travels (for vacation). Now, of course, many services of this kind have already appeared, but there is a feeling that they are simply copying all the functionality. Yes, their bases may differ, or the principle of how they work, but the result is about the same, well, except maybe some specific areas.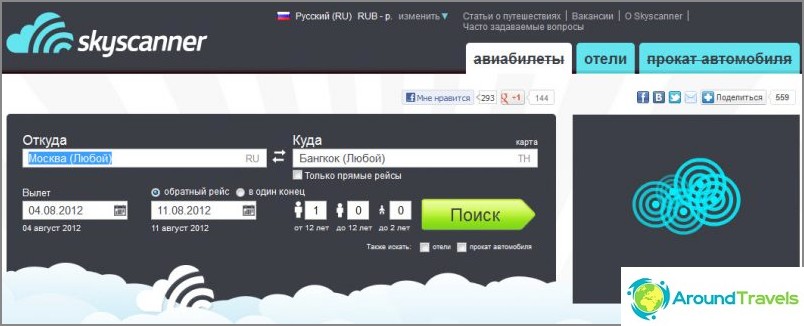 The content of the article
How does Skyscanner work
In short, the whole essence of the work of this sitelies in the fact that it analyzes the prices on hundreds of airline sites and gives you them in ascending order. In addition to the standard parameters (cities of departure and arrival, dates), you can set additional criteria (number of transfers, flight duration, etc.) for issuing results. This is very convenient, because if there was no such site, you would have to shovel a lot of airline sites in order to find cheaper tickets. Imagine if the dates are not fixed, then such a search may take more than one day. Immediately in a few clicks we get a list of all flights of all airlines. And just, if the dates are flexible, then there is such a thing as "show prices for the whole month" or even a year.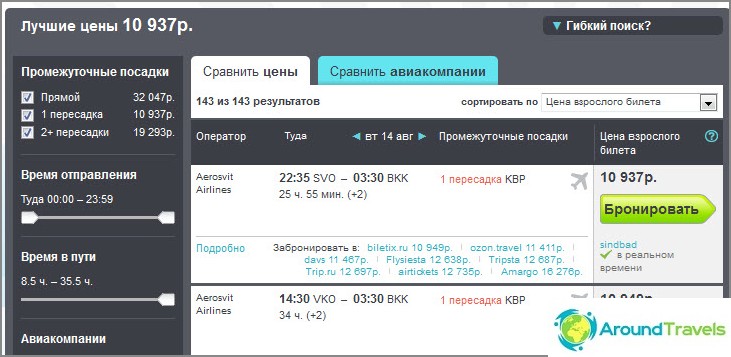 You cannot buy tickets on the site itself, it's onlysearch engine, akin to Yandex and Google. A purchase is carried out, either on the airline's website, or on the website of the agency that sells tickets. Skyscanner cooperates with several dozens of agencies, and their prices vary slightly, so you can select a specific agency in the list of search results. As far as I know, they are all proven, and if people have problems, then rather out of ignorance.
Buying tickets online safely and conveniently
The last two years, I myself and my friends are buyingtickets are this way over the Internet. It is convenient and safe, we have never encountered any problems. I hardly imagine the purchase of an air ticket through a standard ticket office with a trip through the whole city and a waste of time in a few hours. And, if this is a foreign country, it is generally not clear how to do this. Therefore, sitting at home or in a hotel, it is much easier to do this, because for the purchase you only need internet, and a bank card.
Of course, everything should be approached with a head andin advance to be interested in your fare, return policy, baggage allowance on the flight. Usually, people are faced with questions of this particular plan, and not related to the fact that they were sold a "left" ticket. So, this information is most relevant on the airline's website, and not somewhere else, so you should not blame other third-party services. I remember that I had to ring around 5 airlines in order to check their baggage allowance for carry-on baggage, as I was carrying a whole bag of photographic equipment with me.
What are the cons
Naturally, no cons anywhere. And the most important of them is the obsolescence of flight information. There is a flight at this price in the search results, but in reality it is not and cannot be bought.
Everything is simple and there is no deception here. The fact is that due to large volumes of information, flight data is not shown in real time, but in the last 24 hours, and only those flights that users have already searched for. I don't know more details, but it works something like this. For all the time of use, I literally ran across missing tickets a couple of times.
P.S. By the way, not so long ago, Skyscanner updated its design (along with some improvements in functionality) and added a search for hotels, car rental, and useful information on airlines. And also released an application for mobile devices. Develop, however.
Life hacking 1 - how to buy a good insurance

Choosing insurance is now unrealistically difficult, so to help all travelers, I compile a rating. To do this, I constantly monitor forums, study insurance contracts and use insurance by myself.

Life hacking 2 - how to find a hotel 20% cheaper

First, choose a hotel on Booking. They have a good offer base, but the prices are NOT the best! The same hotel can often be found 20% cheaper in other systems through the RoomGuru service.

Discount hotels