What do you associate with rest in Egypt? Of course, first of all, bright sun and beach rest come to mind: the Red Sea with its amazing inhabitants, diving and snorkeling. However, those people who are not indifferent to the culture and history of other countries will immediately think about the Egyptian pyramids. And at least once in your life to see with your own eyes this is one of the most ancient seven wonders of the world.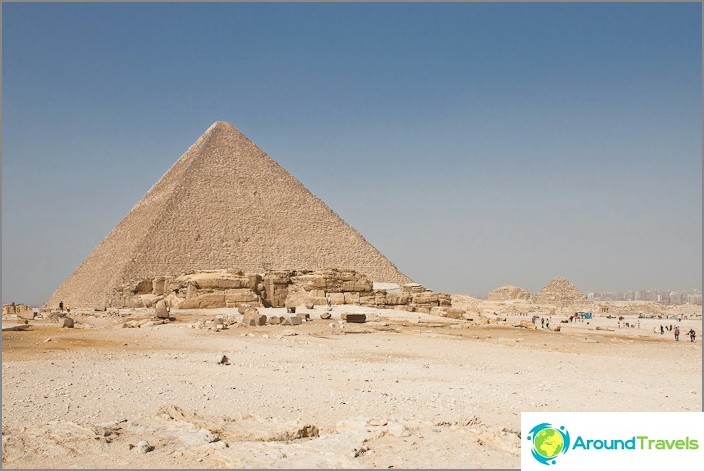 Despite the fact that in Egypt, many pyramids,the most famous of them are the best preserved Great Pyramids in El Giza (Cairo). There are different ways to get there. The easiest option is to book a special tour directly at the hotel from your tour operator or buy a cheaper tour from local travel agencies. In this case, the bus with the rest of the tourists will take you to the pyramids and bring back to the hotel. But "as a gift" for this excursion you risk getting a visit to the papyrus shop and the aroma oil salon, a ride along the Nile and dine in a restaurant. At the same time on the pyramids themselves you will spend a disastrously short time, no more than an hour. Advantages of this option: you do not need to think about anything, and the relative cheapness of the rest, especially if you fly on a last minute trip to Egypt.
The second option is to fly directly toCairo, and here already on the spot to come in the morning to the pyramids, to have a whole day in reserve. Of course, this is more suitable for independent travelers or those who decide to buy a tour to Cairo itself. In these cases, the cost of the trip increases, but at the same time you can fully experience the majesty of this place and stay on the pyramids as much time as you need. As practice has shown, the time allotted for an ordinary excursion is not enough.
The third option is to fly a burning ticket tothe sea to Hurghada, and then set aside a day to visit the pyramids on your own and return to the hotel. The option will be more laborious if you live in Sharm el-Sheikh and not in Hurghada, since Cairo is located far enough away from it.
You decide what suits you better. Our world is full of other wonders, so if you have already been to Egypt for some time and are thinking of visiting some other available country, then think about holidays in Turkey, with its ancient ruins, good services, and rich history.
Life hacking 1 - how to buy a good insurance

Choosing insurance is now unrealistically difficult, so to help all travelers, I compile a rating. To do this, I constantly monitor forums, study insurance contracts and use insurance by myself.

Life hacking 2 - how to find a hotel 20% cheaper

First, choose a hotel on Booking. They have a good offer base, but the prices are NOT the best! The same hotel can often be found 20% cheaper in other systems through the RoomGuru service.

Discount hotels