As usual, the post to help selftravelers wishing to visit the Historical Park Sukhothai. Maps of the area, points marked on google maps, places where we were, our guesthouse, and so on. Our impressions of visiting this place can be found in the article. Sukhothai - the cradle of Thai civilization and Buddhism. In short, I can say that it is worth going there, especially if you like ancient temples with their energy.
Sukhothai is in the northcountries, roughly between Bangkok and Chiang Mai. A historical park Sukhothai is located in the west of the city, about 15 km, and is called the local Old City. So if you take a tuk-tuk or santeo, then that's the way to say. The city itself is not worth watching, there is nothing interesting there, well, only if you go to the market for fruit. But the historical park is another thing!
The content of the article
General map of Sukhothai
For a start, a map of Sukhothai on google for a presentation of what will be discussed. It features a bus station, our guesthouse, and temples that we think are worth seeing.
Hotels in Sukhothai
Where to stay
There are two options for where to stay: near the city and bus station, or next to the historic park. The second option is more convenient, since you do not need to spend time on delivering yourself to the historic park, but I don't know that there is a little worse with accommodation and prices, but there are many nice cafes there, and the situation is more pleasant.
We chose to live near the bus station in 4TGuesthouse, and went on a bike to the park, as well as on the songteo (20 baht per person to the old city). There was also a Guesthouse Garden House nearby, closer to the main road and close to 7/11, where the cost is about the same.
Price and description of 4T Guesthouse
In this area I can advise our guesthouse inSukhothai, which brought us a tuk tuk from the bus station for 50 baht, and located 10 minutes walk from it, if you go straight (marked on the map with a blue line). It's called 4T Guesthouse, you can book here, and it is better to do this in advance, it is popular, often everything is taken. Cost - room with fan 300 baht, with air conditioning 400 baht.
We found our guesthouse through the reservation system, read reviews, chose in advance, very convenient. You can also see accommodation in Sukhothai on the service. RoomGuru.
Interior
There is a small pool, cafe, free wifi, andbike rent at 250 baht per day, or 300 baht per day. Wifi only works in cafes, or in houses that are right next door, so if you need internet in your room, then ask near the cafe.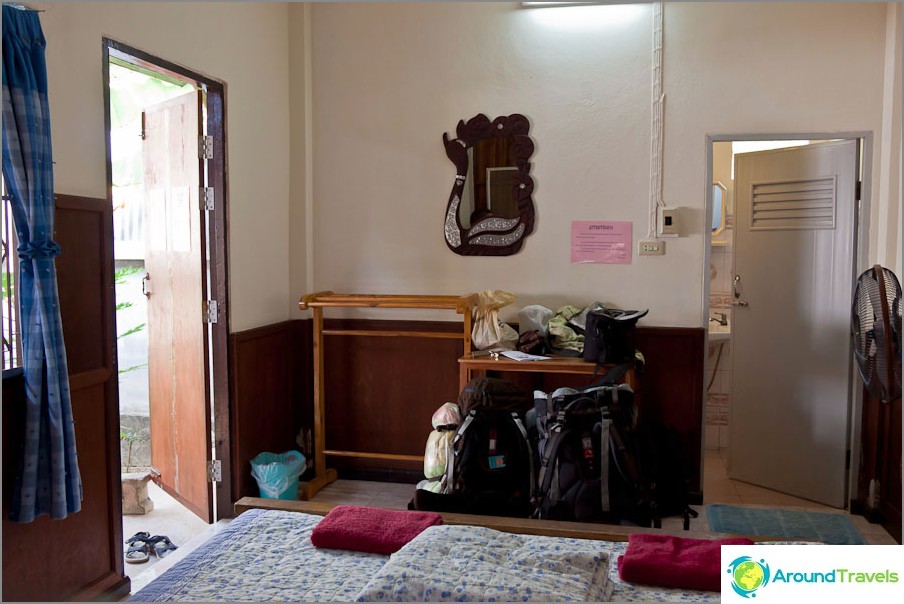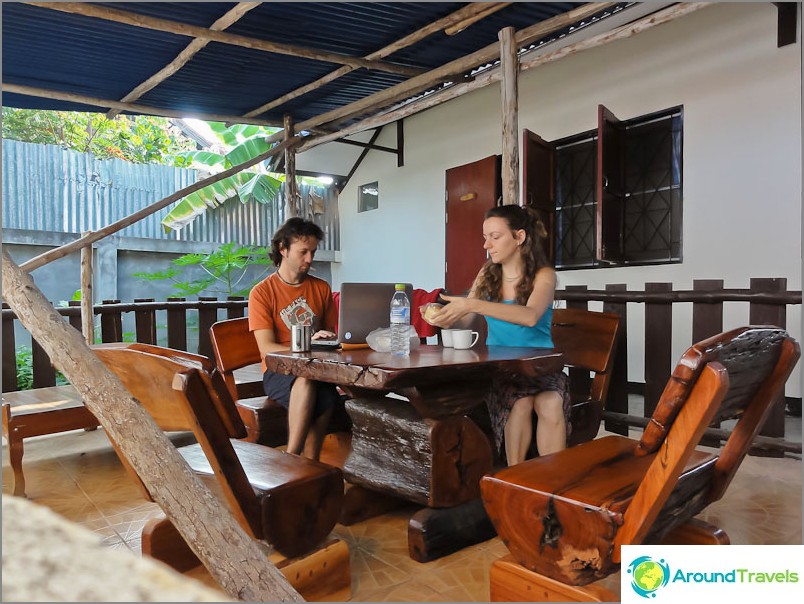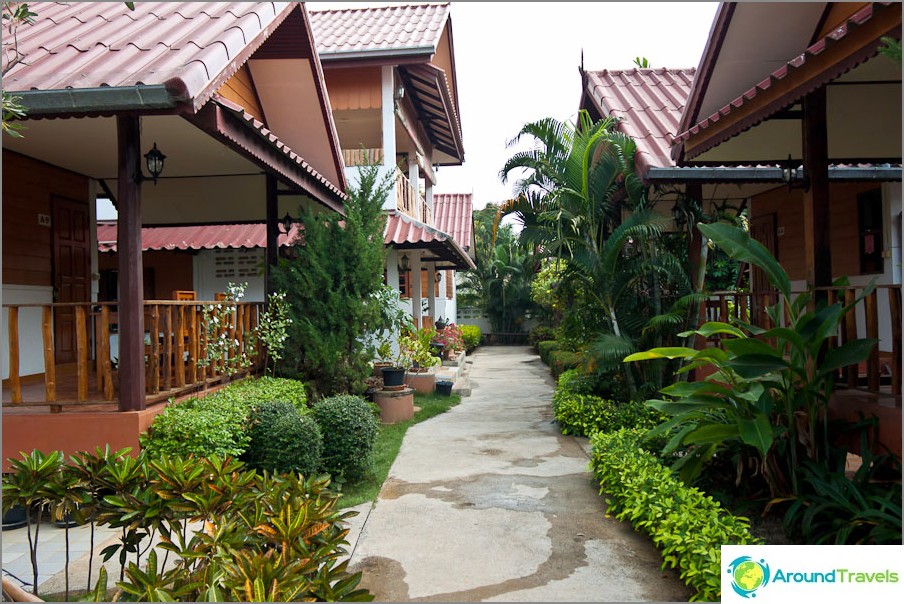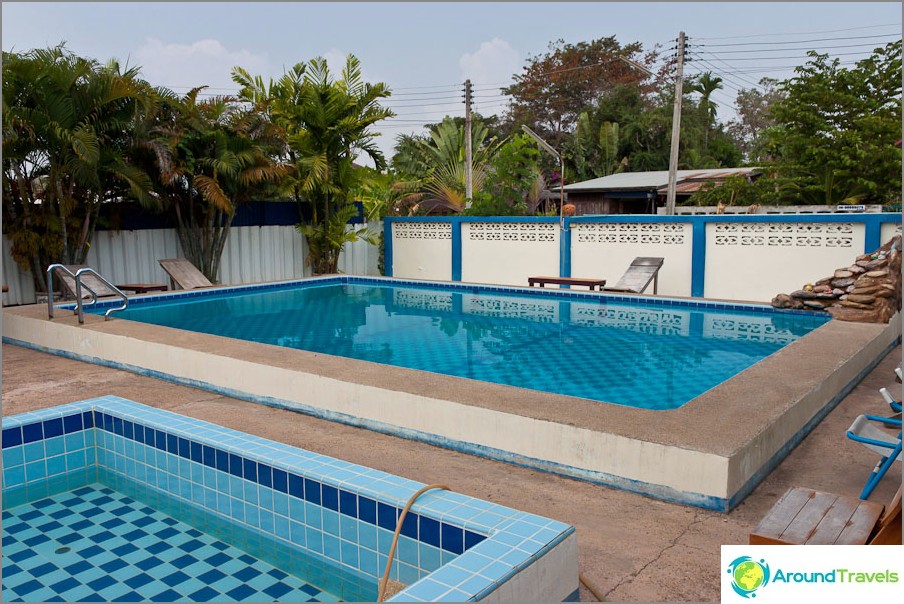 Where is the guest house 4T
4T Guesthouse
4T Guesthouse
Good budget guest.
Read more.
Good budget guest. More details.
How to get to Sukhothai and back
As it turned out, Sukhothai is very easy to reach. There are two options:
Search for a direct bus to Sukhothai
Similarly, buses go from Chiang Mai (Arcade bus station), Bangkok (Mo Chit), Khon Kaen. Accordingly, from Sukhothai can go back to these cities directly.
Since Sukhothai is small, the buses do not goso often. We were traveling from Chiang Mai, on the morning bus (ours was at 8.45, there were only a few buses in the morning), the journey time was 5 hours, the cost was 218 baht (218 rubles).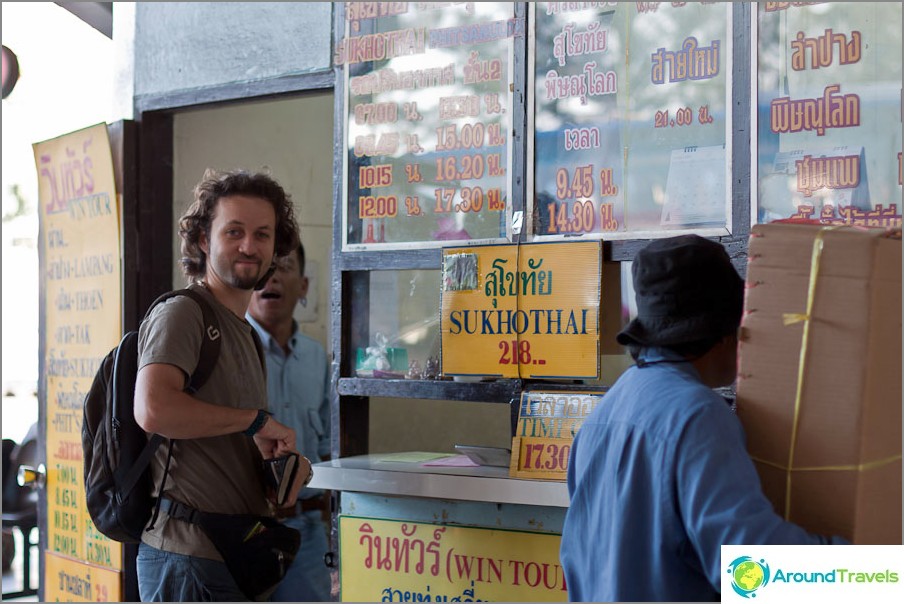 Drive through Phitsanulok
Phitsanulok is a larger city, and an hour's drive from Sukhothai, small buses run between these cities every hour. Cost 40bat (40r).
There is a railway station in Phitsanulok, so you can take a train from Bangkok or Chiang Mai. Buses here are, as it seemed to us in almost all directions, and go quite often.
If anyone needs it, then the bus schedulePhitsanulok - Udontani (they gave us such a schedule - 8.30, 10.30, 12.00, 18.00, 20.30, 23.00, 23.50, 24.00, 01.00, 02.00), travel time 6-7 hours, cost 280bat (280r)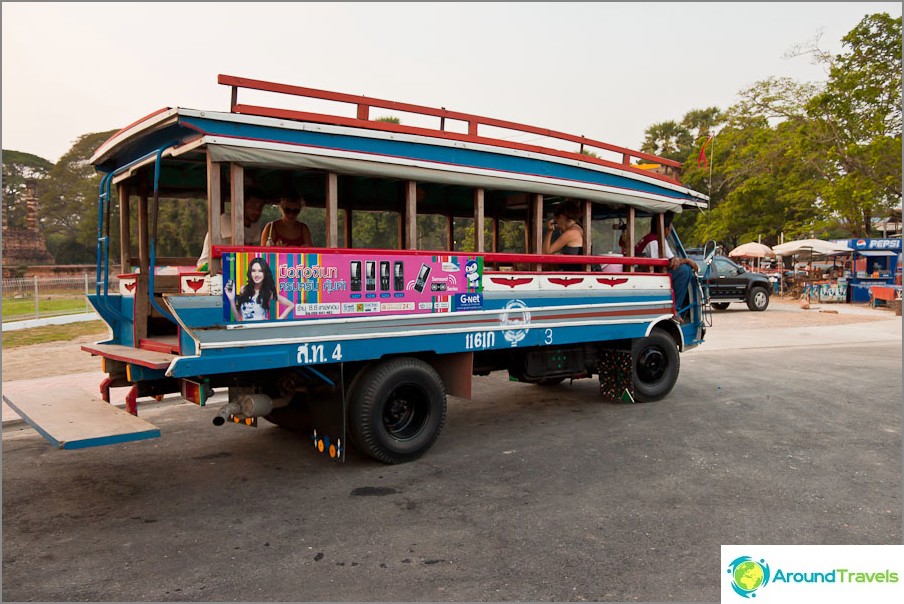 Sukhothai Historical Park
Historical Park Map
So, for starters map historical park (clickable image). You will be given it either in the guesthouse (like us), or you can take it in the booth, where tickets for the entrance to the historical park are bought.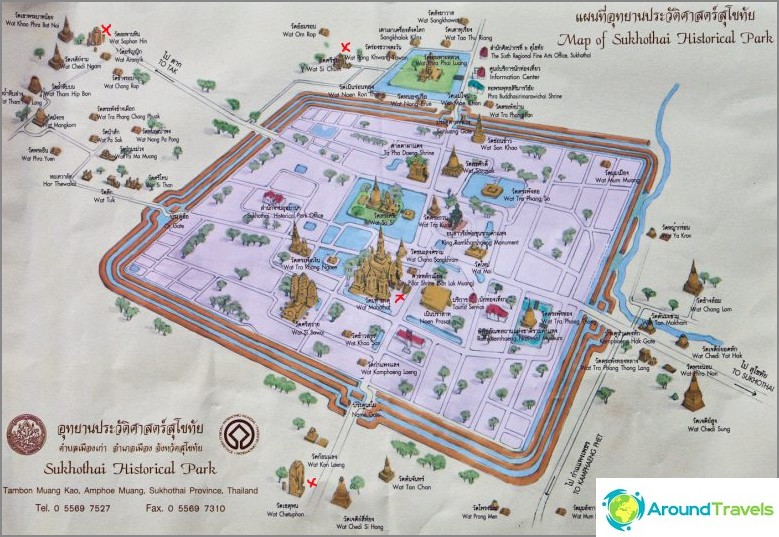 In terms of sightseeing,you can calmly keep within one day, quickly run around, take a picture of everything, and drive off home. However, if you want something more, then you should stay here for at least a couple of days, and spend a few hours next to some temples, just relaxing from the worldly fuss. Still, this historic park is a place of power, for hundreds of years people have been naming these stones.
The cost of visiting the park
Sukhothai Historical ParkSukhothai) is divided into three parts: central, northern and western. On the map, I circled them in red. The working hours of the central part are from 8 am to 6 pm, northern until 5.30 pm, western until 4.30 pm. There is also the southern part, but it is free, and there are literally several temples.
The entrance to each of them costs 100 baht. There is no single ticket. For the entrance with the bike another 10 baht, with a motorbike 20 baht. It is possible to pass and free, if confused. And in the western part, in general, the booth is only on one road, and if you go from the other side, you will not know that you have to pay for it (it happened by chance).
Bicycle rent
Near the entrance to the central part of the historicPark Sukhothai, there are rental bikes for 30 baht per day (30R). If you are going to visit all parts of the park, then it is worth taking it, if only central, then it is not necessary, it is not very big. Great, by the way, so-so, walking and urban.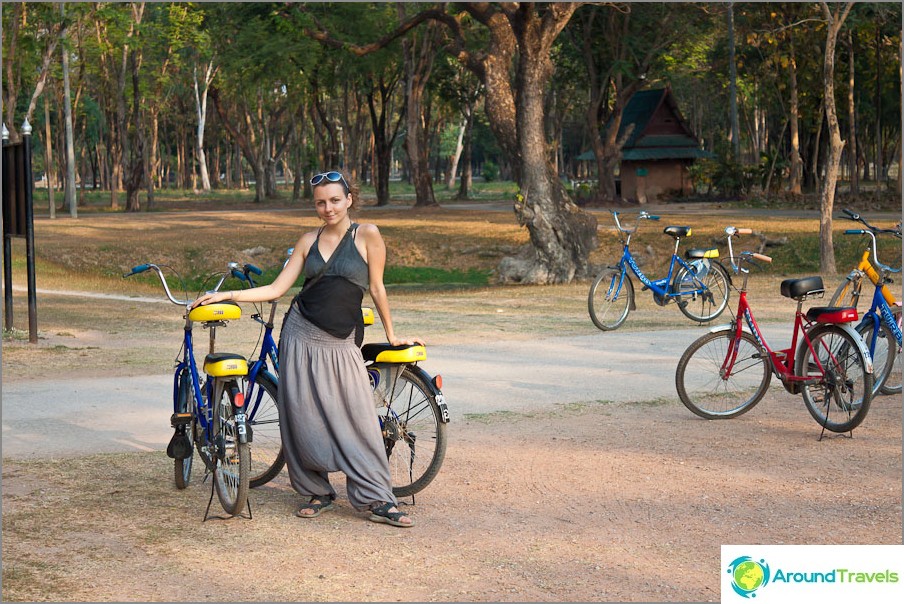 What temples are worth seeing
When you walk for two days in the Sukhothai Park, then the eyebecomes blurred, and the temples already seem similar to each other. Therefore, we often just hung out for a few hours at one of them, in order to just sit and think, enjoy the moment. We have succeeded everywhere except in the central part, since it is mostly for the people. Although, it is a good park with many cozy places to relax.
Most of all, we remember 4 temples:
Wat Mahathat - the central part
Wat Si Chum - the northern part
Wat Saphan Hin - the western part
Wat Chetuphon - the southern part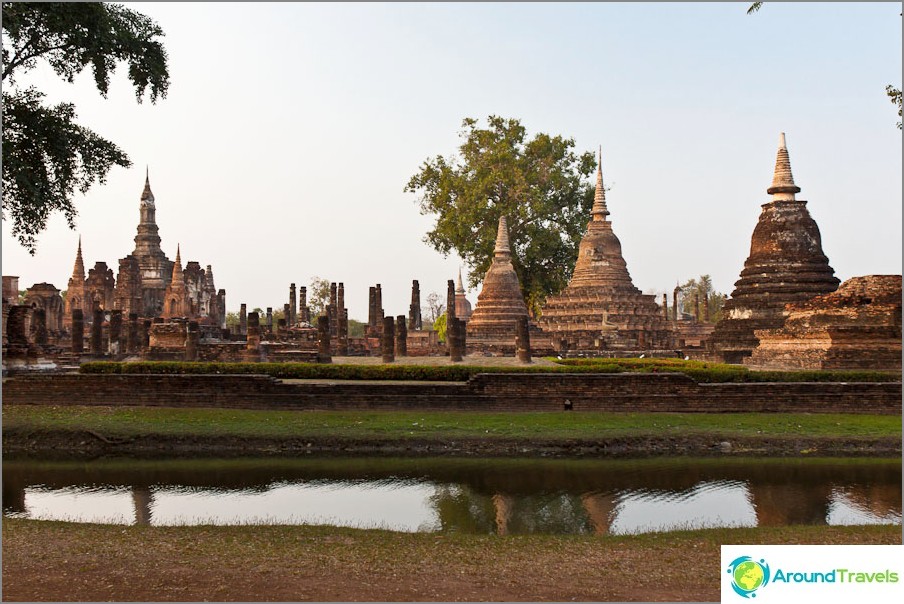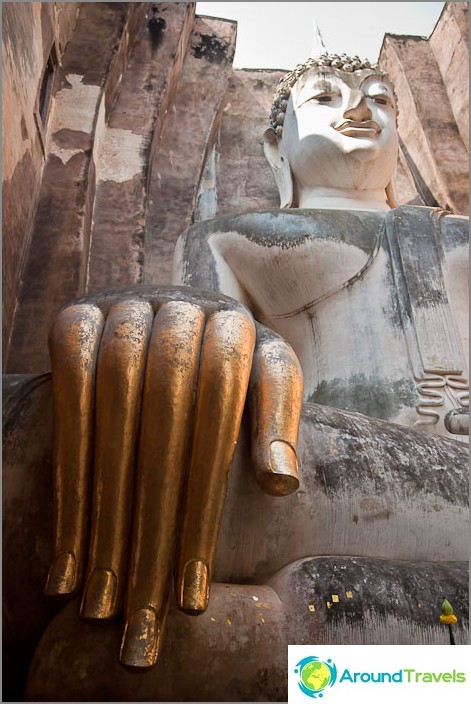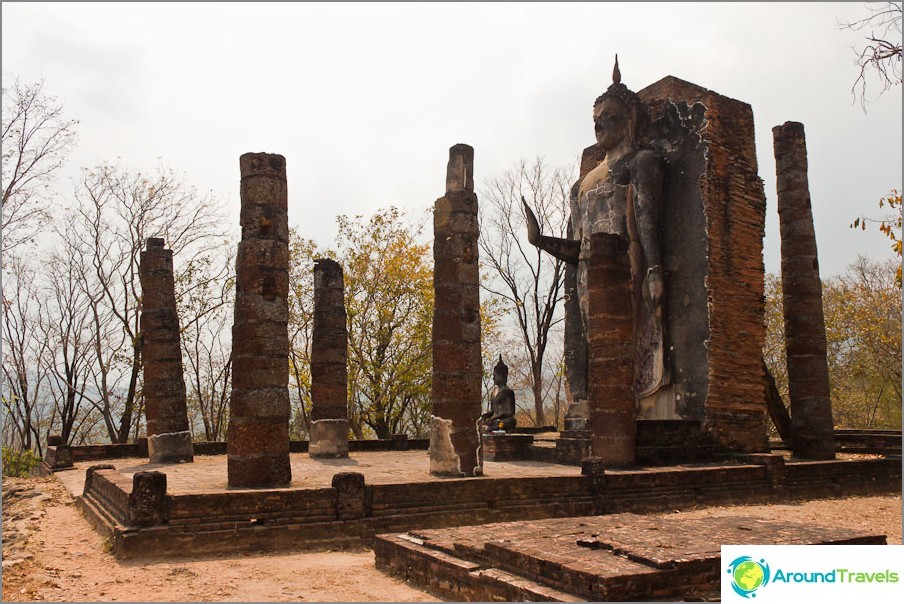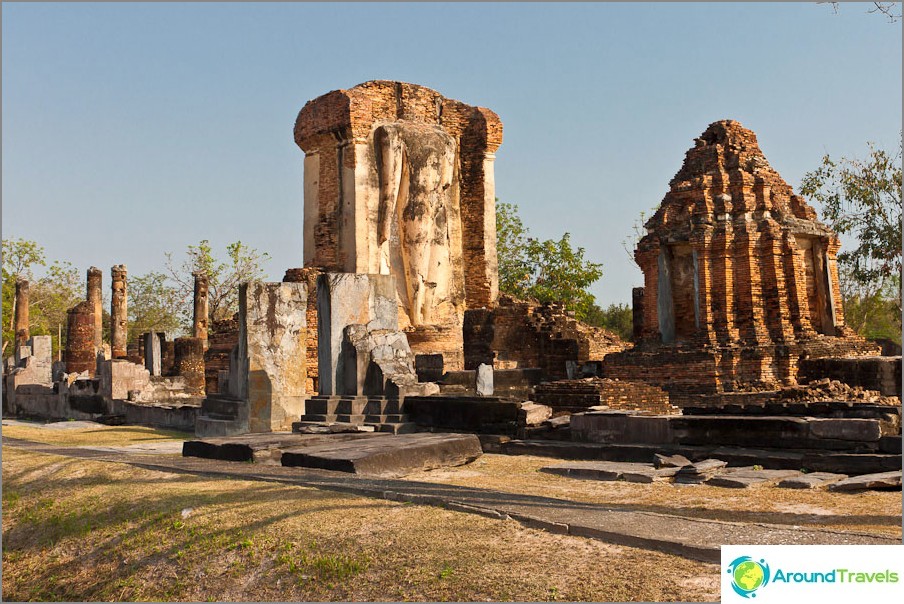 Have a nice trip!
Life hacking 1 - how to buy a good insurance

Choosing insurance is now unrealistically difficult, so to help all travelers, I compile a rating. To do this, I constantly monitor forums, study insurance contracts and use insurance by myself.

Life hacking 2 - how to find a hotel 20% cheaper

First, choose a hotel on Booking. They have a good offer base, but the prices are NOT the best! The same hotel can often be found 20% cheaper in other systems through the RoomGuru service.

Discount hotels