I completely forgot that recently wetested light and breathable sneakers GlaGla. We were given two pairs for a test, and I promised to write my opinion, although it is not necessary. It's just interesting for me to tell you about it. I will try to leave no biased review, because I liked something, but something did not. In general, I can say that the shoes are not bad, and it has its own niche for use, for example, fitness. We experienced them directly while traveling and not in the most sterile conditions.
So, given: Breathable sneakers weighing 175 grams (1 shoe). The price is 1700-2500 rubles. Ventilated from all sides, including the sole, there are also slots. We went to Gelendzhik and moved to them everywhere within a month, no less.
The content of the article
Sneakers GlaGla in urban environments
When walking in the city, no unpleasantno features were noted. It is easy, not hot, well, if the temperature is within reason, because the built-in air conditioner is not there. Sometimes the foot gets a little tired, because the sole is thin.
Indeed, the sneakers are very light and almostfelt on foot. In terms of weight, they are more like beach slippers, not sneakers. True, I am used to trekking membrane shoes, and I haven't had anything like that yet. As a rule, or I go in sandals, or in tourist crosses. In general, it is really unusually easy!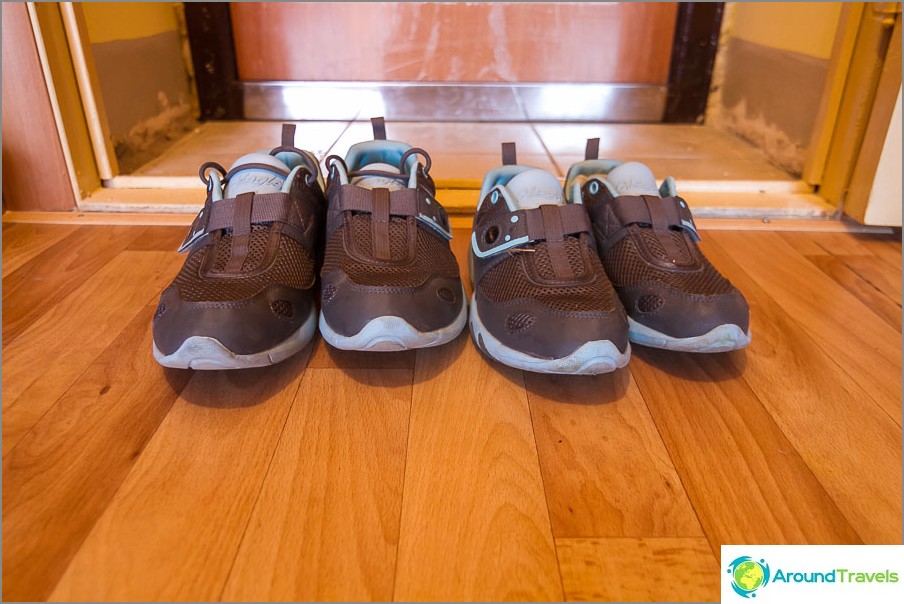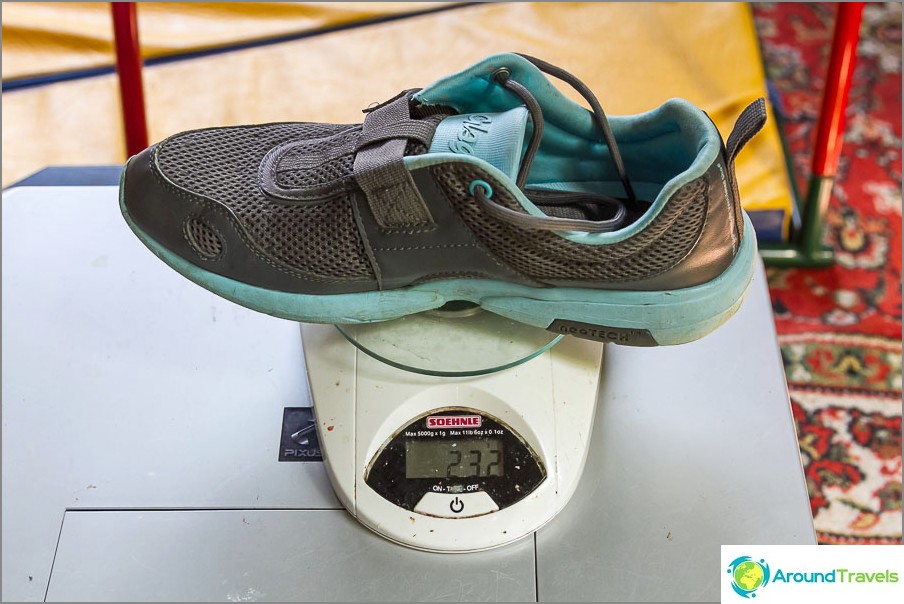 A great opportunity is to wash them inwashing machine. Here the other shoes rest, few sneakers can afford it, especially membrane. Dry too quickly, because there are only synthetics and rubber.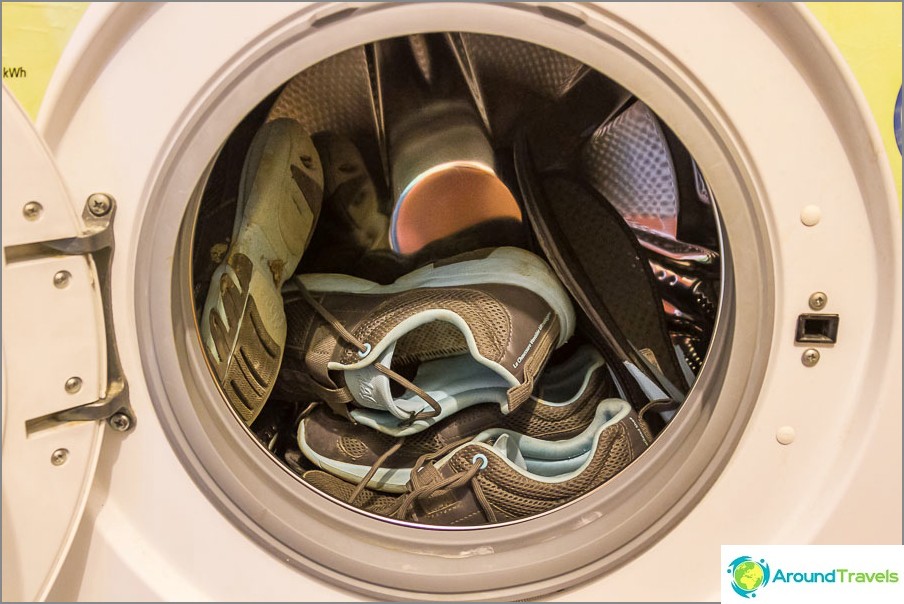 Sneaker flow through is good, especiallythere is, when the wind blows, straight draft inside. So, if you wear it in the cold, you can freeze. The cuts, as I said, are on the sole, and the fabric is mesh from all sides.
Crosses quickly put on, are removed, because the lacing on them is rather conditional, although it is fixed more loudly with it. But there seems to be different models, you can choose, and the colors are fun.
Sneakers GlaGla in travel
All features begin on a journey. I drove in them 3500 km, Moscow-Gelendzhik and back. This is talking about long journeys. Since we went to the Black Sea for a month, the whole month I walked and drove by car exactly in Gla-Gla sneakers.
In general, I liked everything, the car is comfortable to drive. The pedals are well felt and, again, not hot to the feet, this is important when you go 8 hours a day, without really stopping.
The only thing that did not like - you can not walkover the puddles, this is a fee for good ventilation and "holey" soles. So in the rain, get ready for wet feet, but not with sweat. Get out of the car in the rain at the gas station and in a puddle is better not to attack. And one more thing connected with the sole - stones get into the slots, which then need to be picked out.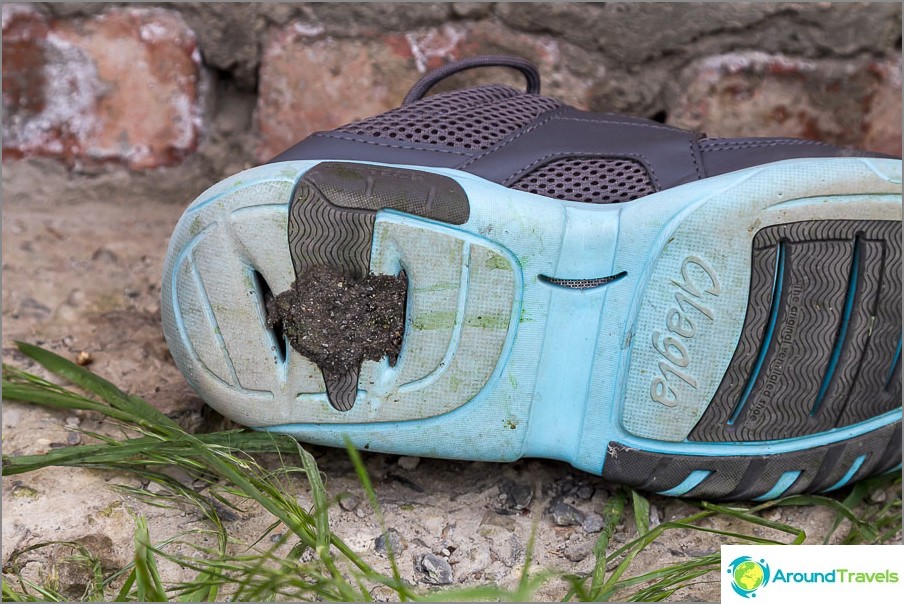 Resulting Feedback
Sneakers GlaGla occupy some intermediateniche. Before buying, you need to answer yourself what kind of summer shoes do you need and for what. My conclusion is that GlaGla are good for long journeys and walks, but without going out in bad weather. The ideal option are flights when you walk around the airport and sit on the plane, that is, they are needed by those who fly a lot. Also not bad for a gym and treadmills. Can serve as an additional shoe (shift) wherever it is required, and when weight is important in a backpack, bag or suitcase.
Actually, the company is positioning itsshoes: walking, bus tours, transfers by car, long flights, that is, without any extreme. Despite this positioning, I ended up going to them all summer and keep on walking for now, because I feel hot in sandals and I'm not afraid of rain.
P.S. What else would such a test and review done?
Life hacking 1 - how to buy a good insurance

Choosing insurance is now unrealistically difficult, so to help all travelers, I compile a rating. To do this, I constantly monitor forums, study insurance contracts and use insurance by myself.

Life hacking 2 - how to find a hotel 20% cheaper

First, choose a hotel on Booking. They have a good offer base, but the prices are NOT the best! The same hotel can often be found 20% cheaper in other systems through the RoomGuru service.

Discount hotels