Bangkok is probably the only city in Thailandwhere it is really very convenient to use a taxi. It is also cheap when compared with Moscow and St. Petersburg prices. Yes, there are taxis in the resorts, but there are usually such prices that it's easier to rent bike or car and do not depend on anyone. In the capital of Thailand, he just went out into the street, waved his hand, and after a while you sit in the air-conditioned cabin, looking at how slowly the counter is spinning.
We lived in Bangkok for 2 months and to the fullappreciated this opportunity. With fairly frequent movements (3-5 trips per week), the total cost of a taxi for a month was about 3,000 baht, which is less than if we rented a car, and even less than if we rented a bike! Why ask, spend too much, think about parking, give the insurance deposit for an indefinite period, when there is a taxi? Well, and those who want to save more, you need to use metro and buses, as well as more walking.
The content of the article
General Taxi Information in Bangkok
For those who live long in Thailand or Bangkok,I will not open America. Perhaps I myself do not know enough, but my knowledge is enough for me, and in combination with GPS I don't feel any lack of them.
Taxi colors
As soon as you find yourself in Bangkok and get off atthe street, you "zapestrit" in the eyes of a large number of taxis of different colors. Taxis are: yellow, pink, green-yellow, green, orange, blue. This only means belonging to a company. I did not notice any other differences. The only thing, it seemed to me that more green-yellow, because we moved on them more often, and also on pink ones.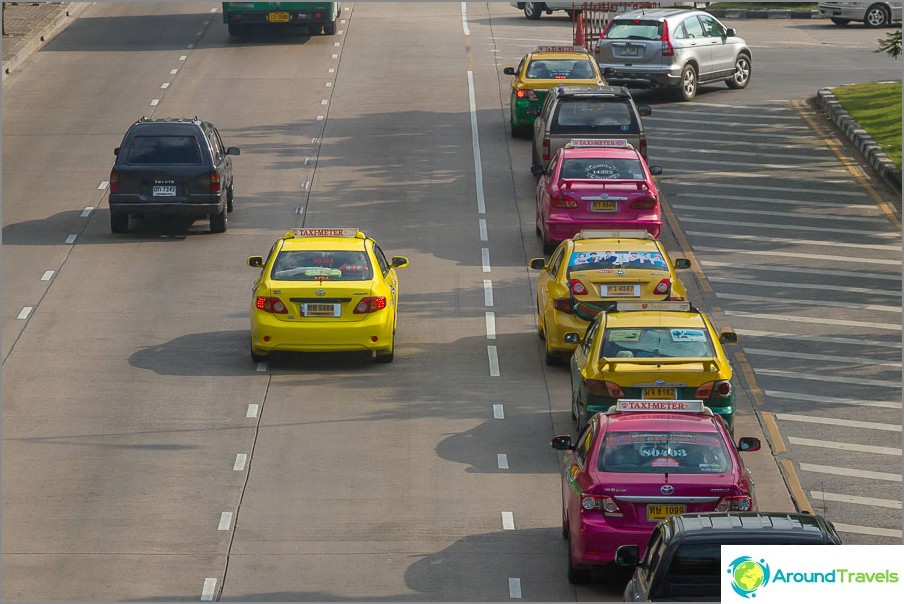 Free taxi
If the taxi is free, then in the lower right corner (withside catching a taxi), the Thai red cracker will burn. Wave your hand and stop. In the dark, you can see perfectly, on a bright sunny day so-so.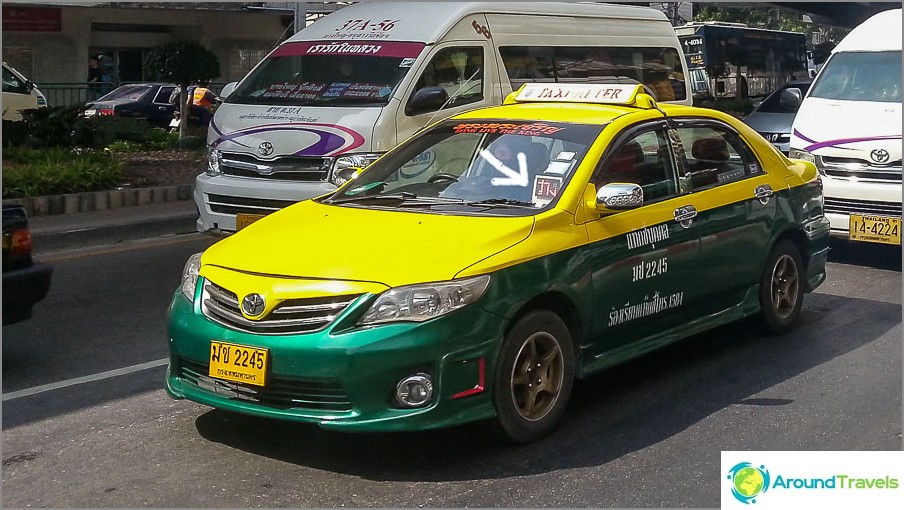 The cost of a taxi in Bangkok
You can take a taxi by the meter or byfixed price. But everything is much simpler than in Vietnam, where you need to be a hardened traveler, so that you will not be deceived, and know the volume instructions for using a taxi. Counters in Tae do not wind up, so if you drove over the counter, you can relax.
For landing in a taxi you pay 35 baht. It is from this figure that the counter starts. Further mileage and downtime will be counted (two small numbers on the meter). Therefore, sometimes you can "insist" in traffic a good amount, almost without moving forward. But even taking into account traffic jams, taxis in Bangkok are cheap: we went to the hospital several times (3 km) were paying somewhere between 60-80 baht, depending on traffic. Ha two is obtained, as on the subway.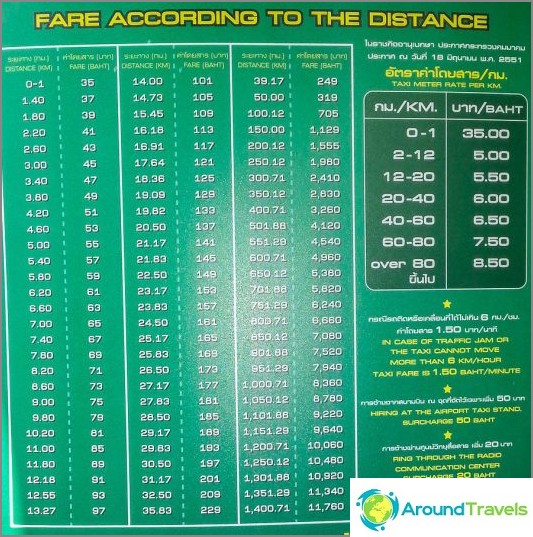 Fixed price usually in 1.5-2 times higher than the one that will be on the counter. I try to drive only over the counter, you just need to know how. Although in rare cases it is necessary to take a ride at a fixed price. Yes, please note that the meter is valid only in the city, in Pattaya. Hua Hin and so on, you will go only at a fixed price.
Toll road
For the toll road is paid by the passenger, in caserides over the counter. In the case of a fixed price, sometimes it is immediately included in the indicated amount. Prices are small 25-30 baht (per passenger car), so do not worry, but you can get there quickly. The toll road looks like any other toll road, with barriers and payment booths.
Divorces
In fact, I met only with two types of divorces: a fixed price and a route with a hook.
The first case is the most common. As far as I understand, taxi drivers should ideally only carry over the counter. And here is a simple way out: I do not like the fixed price - do not drive. On the sign Taxi-Meter, painted on the roof, do not pay attention, it is on every taxi and nothing depends on it.
The second divorce is that the taxi drivermay not be lucky along the shortest path, or make a special hook. You can fight this either by knowing the city or having a GPS with a built-up route. Just learn, a taxi driver can drive around traffic jams, you don't need to scold him for nothing. In any case, you should talk about his mistake more softly and with a smile, if at all, because it is unlikely that you will change anything, and you will lose a little in money. Faced with this recently, as the taxi driver obviously took with a big hook. And I tell him, dude to us in the other direction, let's turn, and he just nods "okay, okay" and goes through the next turn. In general, it was only possible to get out of a taxi, but we were late, so we decided to go further. As a result, they overpaid about 30 baht more and lost 10-15 minutes extra.
How to explain where to go
Destination Address
You need to know the destination address and aboutIt is worth taking care in advance. Only the addresses here are not quite the same as ours. You need to know the street and the lane (soi) where the object is located. Sometimes it is desirable to say the area of ​​deployment or some well-known object nearby. Remember, your pronunciation of Thai names will be very different, so if you don't know how to pronounce it, then it's better to have it all written on paper and preferably in Thai. Although some areas of taxi drivers will be able to understand with any pronunciation, because, or pronounced like, or because areas are too tourist. For example, Khaosan (Khaosan road), where 50% or more foreigners travel, it is difficult to distort.
Hotel card or voucher
If you need a hotel, then know its name,sometimes it will be enough, especially if he is famous. Also print the hotel voucher (just a screenshot on the phone), or have your hotel card with you. There will be listed all the necessary data and the phone where the taxi driver will call if something is not clear to him. So the hotel is easy to get to. Again, GPS is useful when the hotel is unknown and is located on an incomprehensible jay. Help the taxi driver at the entrance. Or just get out of the car and stomp a couple of hundred meters to the right place. By the way, if you want to find a hotel in Bangkok in advance on the Internet, it is convenient to choose accommodation RoomGuru, is a service where you can compare prices for hotels in different booking systems.
Specific example
We live in condominiumwhich is located on the street Ratchaparop. But the street is long, and the lane of our house has no name. Therefore, I always call the neighboring lane Rang Nam Soi to indicate the location. That is, I stop a taxi and say: Rachaparop, Ran Us soy. And I speak in turn, when the taxi driver understood the first name, I say the second. Sometimes I repeat 3 times, because my pronunciation is lame. Next, when approaching Rang Nam Soi, I indicate where to go next.
A center for training with Egor, we go to anotherpattern. I asked the employees of the center to write in Thai where it is located, and just immediately show this description on the phone display to the driver. Perhaps there could have been done with the previous scheme, but there they are in a muddy place.
How to ride the counter
At first I will write the easiest way isGrabtaxi application. Put it on your smartphone, register by phone number (it's better to indicate local Thai, as taxi drivers will call it) and then order a taxi by the counter. For the use of the application will need to pay an additional 50 baht, so for short trips is not entirely relevant. The minus of the application is that it does not know all the addresses, and you cannot choose an arbitrary point. True, in Bangkok, this is not a problem, you can just choose the nearest point, there is a lot of things. Also, when ordering, you can specify the destination, then there will be less problems to explain to the taxi driver where to go. Another of the nuances is that when the taxi driver calls you, I will be on the way to you, you can tell him "GPS", and most will understand that you need to go at the point indicated in the application. Because otherwise it will be difficult to explain, the language barrier.
Another way is basic and more traditional: stop the taxi, call the address if the taxi driver agrees, point to the meter and speak the meter. Further, if he says ok, then sit down and drive. If he refuses and calls a fixed price list, then just close the door and catch the next taxi. Sometimes all this can take time, and sometimes even have to agree on a fixed price.
In a non-tourist area, most likely alreadyThe first taxi will take you to the counter, and in the tourist 5th in a row. You also need to know that during rush hour, taxi drivers are reluctant to carry over the counter. But this mainly concerns those cases when you need to go through traffic jams, that is, in the center of Bangkok.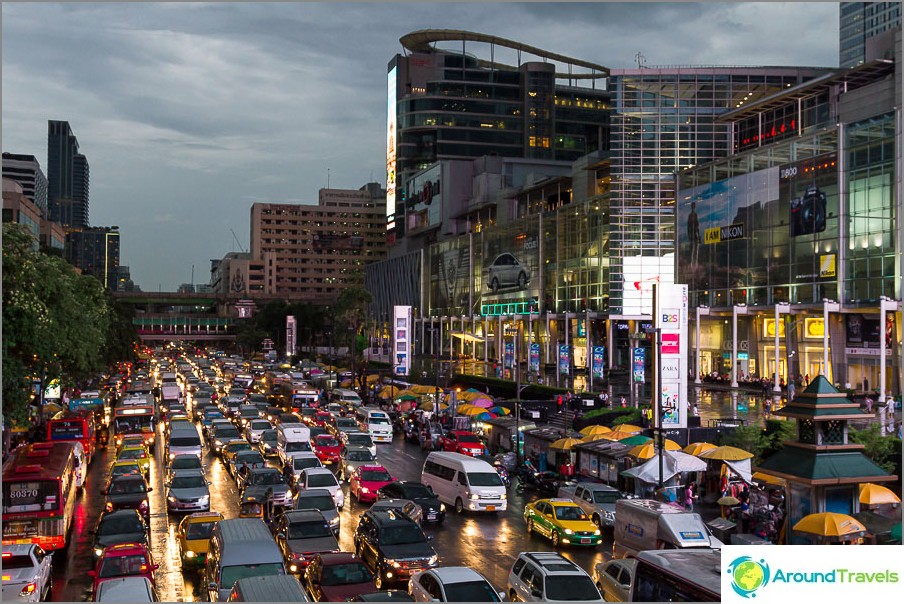 "Stop the taxi" I wrote for good reason, becausewhat exactly needs to be stopped. Those taxi drivers that are parked will not take you over the counter. Together with tuk-tuker they wait for those who go on a fixed price. And they will convince that traffic jams, fixed price is cheap, and so on. Therefore, I immediately ignore them, say "No" and do not enter into polemics, and just silently catch passing taxis. By the way, a taxi on the counter almost always turns out cheaper than a tuk-tuk.
As an option, if you want to quarrel, thenyou can, without asking anything, just leave the taxi immediately to get into it, call the address and turn away through the window, saying that they don't care, take it. Further, there may be different layouts, the taxi driver will either be lucky, or pretend that he does not understand where he does not speak a word in English at all, and maybe he will come up with something else, like a taxi broke. In the lower left corner of the windshield has a sign with his name and phone number. There you can call and complain that such and such, was driving around the city with a "free" badge, but does not want to take you over the counter.
Taxi from Bangkok Airport
AT Suvarnabhumi Airportwhere most travelers arrive,taking a taxi over the counter is very easy. Go down to the first floor (it is the second in a row, because the bottom one is ground or zero) and look for the Public Taxi sign. Go out on this sign and go to the terminals with the inscription Public Taxi. By and large, you can exit from any exit on this floor and just look around, the terminals can not be overlooked. There may be a small queue, but usually not long to wait.
Just in case I remind you if you need a ticket.on the intercity bus or train, you can buy them in advance through the Internet on the site 12go.asia. This is now the only service to buy tickets online. Payment by credit card or PayPal. Site checked, I recommend!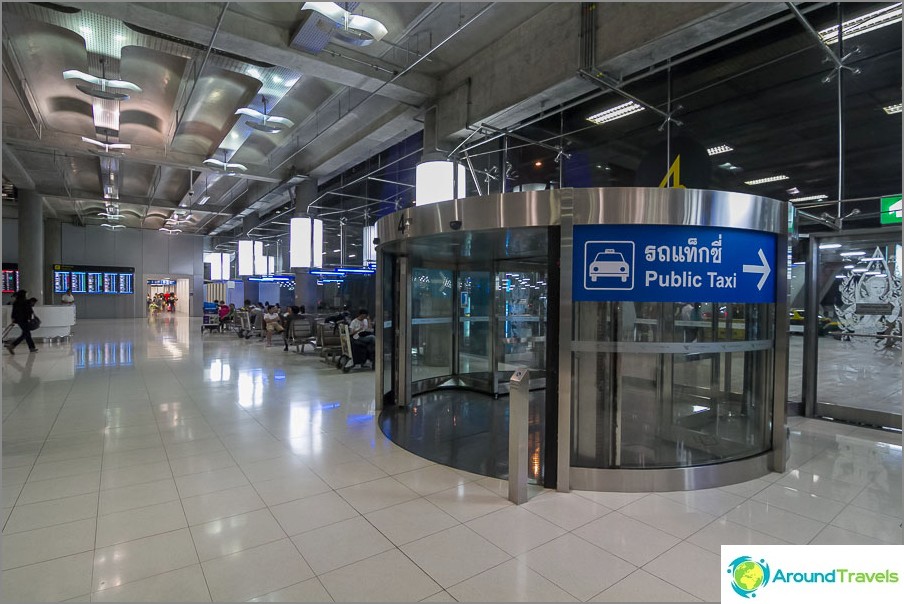 Recently, the queue made e, you cometo the terminal, press the button, you are given a voucher with a parking number. Then you go to the parking lot with this number (it is lit on the display above each parking space), give the ticket to the driver, say where to go and leave.
For landing in a taxi, you pay a standard 35 baht,but there is still a separate airport tax of 50 baht, it is paid by plus to the amount on the counter at the end of the trip. Also, the taxi driver can go on the toll road, then plus 30-50 baht, paid near the collection box for paying the fare.
From the airport to the city center, we usually get there.on the counter somewhere for 300-500 baht with all fees. If you drive a little further or in traffic jams, you can get 600 baht. But it should no longer, although it depends on where you are going. Back to the airport, the taxi will want to guide you at a fixed price. Bargain, for 300-400 baht it is quite possible to leave the city center.
Life hacking 1 - how to buy a good insurance

Choosing insurance is now unrealistically difficult, so to help all travelers, I compile a rating. To do this, I constantly monitor forums, study insurance contracts and use insurance by myself.

Life hacking 2 - how to find a hotel 20% cheaper

First, choose a hotel on Booking. They have a good offer base, but the prices are NOT the best! The same hotel can often be found 20% cheaper in other systems through the RoomGuru service.

Discount hotels