I have long wanted to use the transfer from the service.Kiwitaxi, to which I sometimes give a link to a blog, gain personal experience, so to speak. Therefore, I ordered it on the route from Phuket Airport to Patong. Now I will tell you how everything went, starting from online shopping on the site, ending directly by the transfer itself. Let it be such instruction and review based on my experience.
The content of the article
Buying a transfer on Kiwitaxi website
Fill out the form fields, the service knows very manylocations Usually indicate, or city, or airport, or beach. In my case it was Phuket Airport> Patong. By the way, it makes sense to go through different names, sometimes the prices differ slightly.
Next, see what cars you fall inresults and choose. In Thailand, it is enough to choose the very first option, despite the fact that it is called Micro. It will be an ordinary sedan, where an ordinary family with 1-2 children can easily fit. Actually, I chose Micro.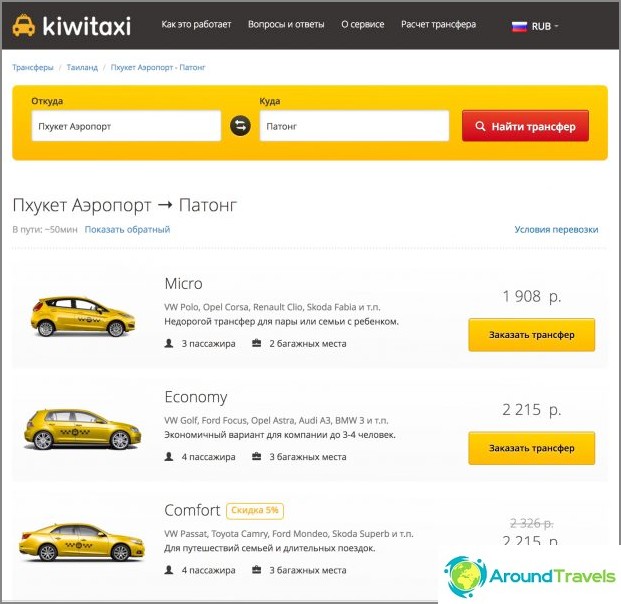 After that, fill in all data, including the flight number (so that in case of delay, transfer is transferred), and pay by credit card (payment in rubles).
There are two options: prepayment and full payment. The last option seems to me the most convenient, because when you arrive, you do not have local cash and you can not change the currency at the airport. You can safely go to the hotel, sit, relax, and then look for an exchanger or ATM.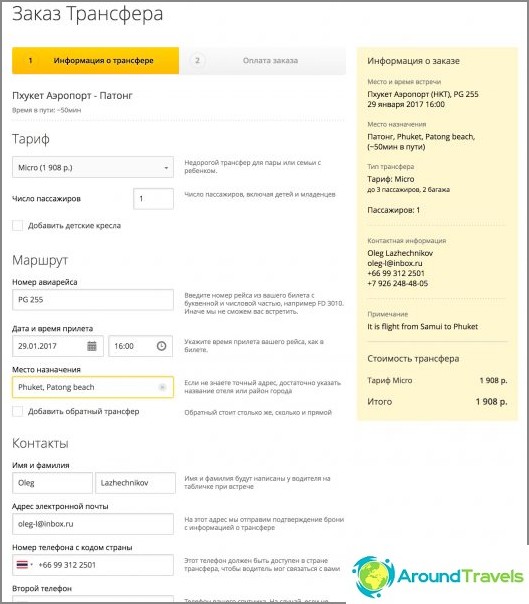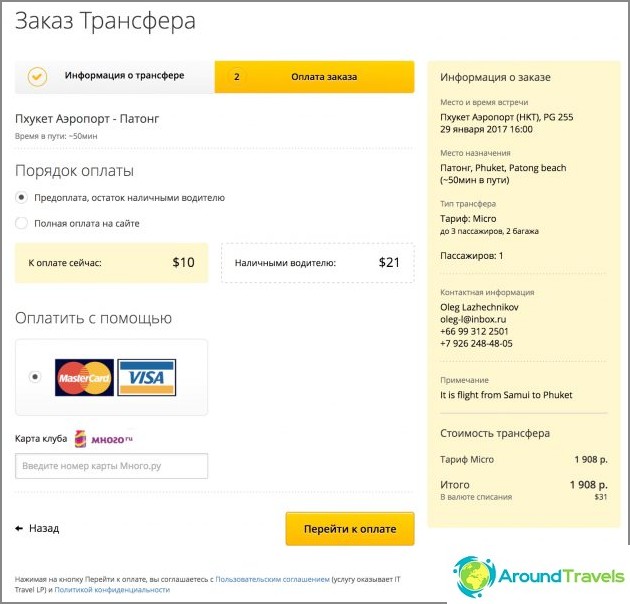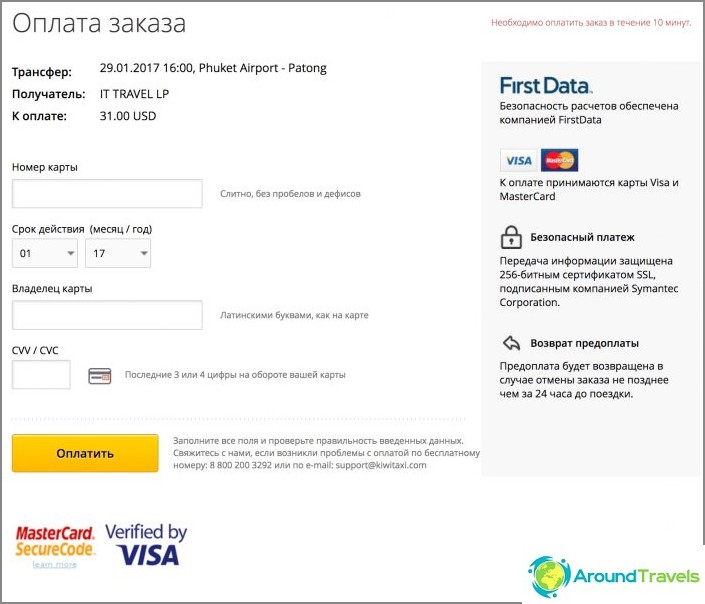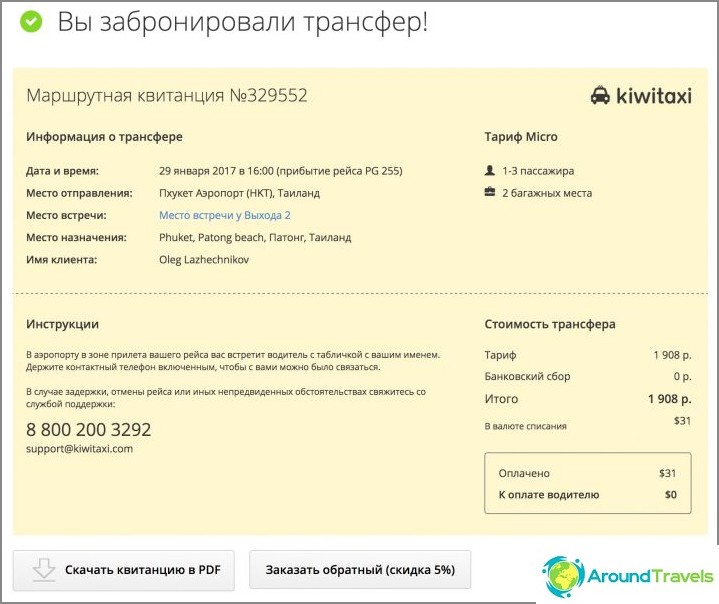 After the payment is sent by mail confirmation anddispatcher's phone, where to call, if that. The number is Thai. Later, some time after payment from this number, I also wrote to Whatsup that we were waiting for you, such a flight, they sent a photo of the exit, where they would wait. Messages were all in Russian. I was thinking, really and the driver will be Russian ?? But looking ahead, I will say that the Thai turned out to be. Apparently this is exactly the dispatcher (consider tech support), which controls the Thai direction.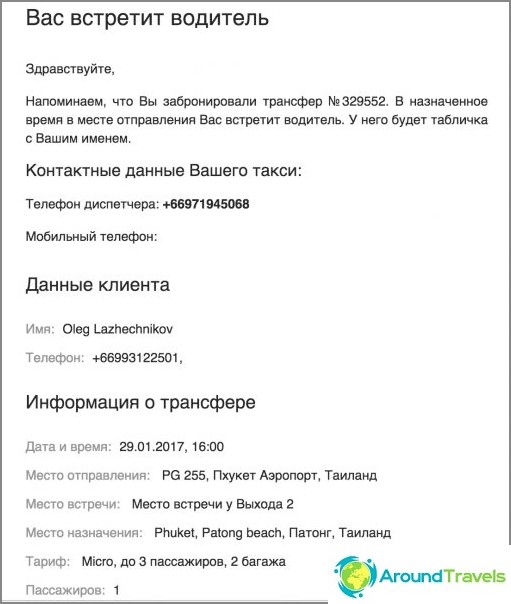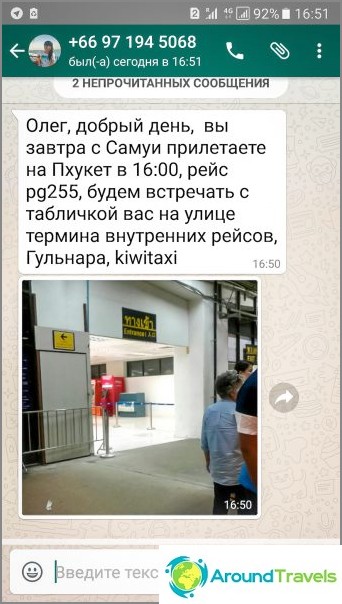 How was the transfer to Phuket Airport - Patong
Upon arrival, I was really greeted witha sign with my name at the very exit where they promised. A girl was sitting near the sign (not the driver himself), who immediately called the driver when I appeared. That is, I waited and then waited for another 10 minutes until the car itself arrived. But at the airport in Phuket at that time was a kipish, they opened a new terminal, everything was blocked, so a traffic jam was created from the cars.
"Micro" actually turned out to be Toyota Altis, whichexpected, because in Tae only sedans are used for transportation. We reached Patong in an hour. The driver did not ask for money, since I paid for everything in advance. But I specifically focus on this now attention, because it was interesting how everything is harmoniously working. You know, I once had it, came to a hotel paid for through Bucking, but they want money, they say, we know nothing, there was no payment.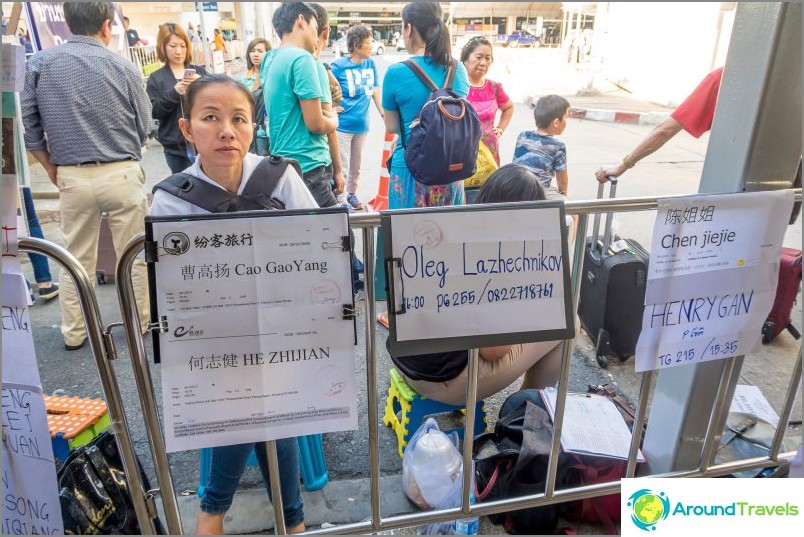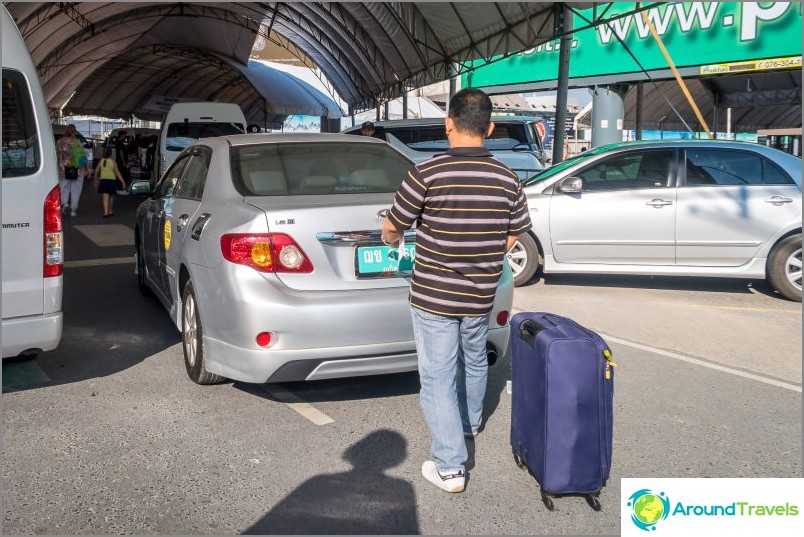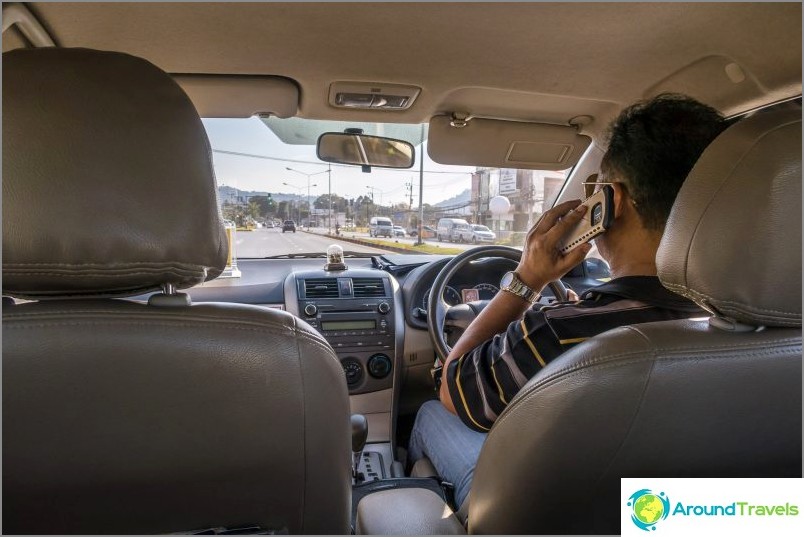 So there is really nothing to complain about. Letters warned, they wrote in Votsap, met them on the spot without any problems, drove to the hotel. Transfer, as a transfer, everything is as it should be.
Of course there are travelers who many timesI've been to Thailand and traveled by taxi around Phuket or Bangkok, knows that there are taxis on the meter and a fix, already has experience in how to get them on the counter, knows about the Grabtaxi application, in which Thai Simka is desirable for registration. Travelers with Kiwitaxi experience do not need much, I agree. But it can be difficult for beginners to understand the nuances and the transfer can make life easier.
So, if you want to know everything and there is a need to save, you will have to spend time preparing for the trip, or be ready to settle all the issues on the spot.
Advantages and disadvantages
Finally, a few pros and cons. I don't initially consider the option of transporting myself from the airport to the hotel by public transport, so I'll only compare with a local taxi.
Pros:
You do not need to read anything in advance about what types of taxis are and how to use them. And, accordingly, there is no need to look for anything upon arrival in an unfamiliar place, no need to bargain with the taxi drivers.
There are no problems with the language barrier, because there is no need to talk with the driver, everything is known in advance.
Online purchase on the site, no need to change / withdraw currency at the airport to pay.
Actually for parents with children! You can order a child seat in advance, which is never in ordinary taxis.
Minuses:
The price in many directions in Thailand is more expensive than if you take a taxi on the spot.
You need to book a transfer in advance, and when choosing as the departure point of the airport, you need to specify the flight.
As summary:
Such transfers are primarily intendedfor those who want maximum comfort and minimum problems. That is, for those who come for a couple of weeks to rest and for whom the difference of several hundred baht will not play any role in the overall budget of the trip.
Also, such transfers are convenient for those who fly toFIRST time in Thailand, does not know the nuances or does not have time to read about them. After all, upon arrival you will have to wait with a sign and without any questions will be delivered to the hotel.
Well, the last category - parents with children. In Thailand, child seats are not yet available. Someone from the parents is exactly the same as the Thais, scoring, and someone almost brings a car seat from Russia (usually those who plan to live long in Tae and buy a car). Alternatively, use transfers, where there is an opportunity to order a child seat.
P.S. Specifically, in the directions "Phuket Airport - Kata Beach", "Phuket - Krabi" or "Bangkok - Pattaya", transfer from Kiwitaxi costs the same as a regular taxi.
Life hacking 1 - how to buy a good insurance

Choosing insurance is now unrealistically difficult, so to help all travelers, I compile a rating. To do this, I constantly monitor forums, study insurance contracts and use insurance by myself.

Life hacking 2 - how to find a hotel 20% cheaper

First, choose a hotel on Booking. They have a good offer base, but the prices are NOT the best! The same hotel can often be found 20% cheaper in other systems through the RoomGuru service.

Discount hotels